POS Reports: Getting Beyond The Basics
Expert Analyst & Reviewer

UPDATED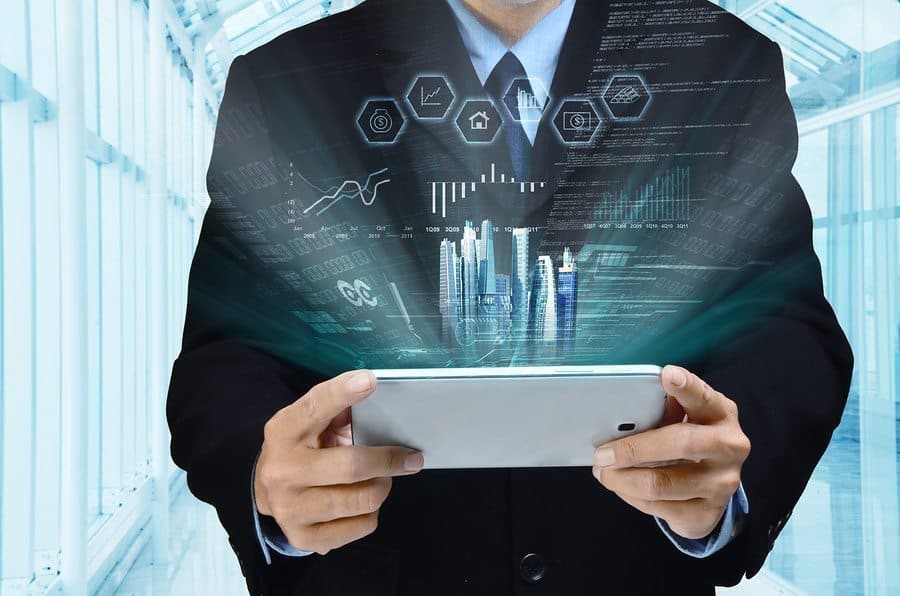 In my last post on cloud point of sale reporting, I discussed the 5 types of POS reports that should come standard with your POS software. This time, I want to go a little deeper to show you some specific, more advanced reports that your POS reporting system might include. From real-time delivery reports to sales-by-variant reports, this data lets you take full advantage of your POS, and thereby take your business to the next level. And who wouldn't wanna do that?
Of course, not all POS's offer advanced reports, so for each report I list, I'll give examples of point of sale systems that provide this type of report, along with a sample screenshot of that POS report.
1. Loyalty Rewards Report
Loyalty programs help your business build a loyal "fan" base in exchange for exclusive offers. If your POS system has integrated loyalty rewards software, you can track your customer base and the offers you extend to them. You can also measure the success of your loyalty program to calculate revenue and make tweaks as necessary.
A "loyalty program" or "rewards" POS report should show you all active rewards cards/accounts and detailed information about all of these customer accounts, from points balance to eligible promotions. You should be able to generate a loyalty program report for a specific campaign or product, and also on an individual customer basis.
A POS integrates with loyalty programs by capturing customer information at checkout. The loyalty program may be native to the POS software (e.g., ERPLY), or the POS may integrate with a third-party loyalty software like App Card or Perkville.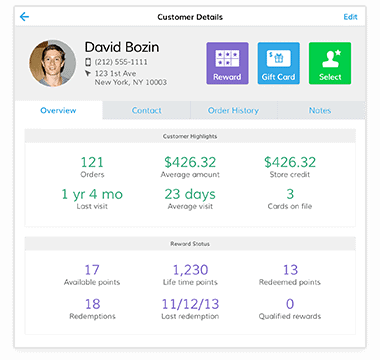 Example: Bindo POS allows you to generate individualized rewards reports for each customer, displaying their rewards status, gift card balance, and store credit information.
2. Catering/Delivery Report
Food-based businesses that deliver or cater need smart reports to track pending orders and their delivery status, as well as analyze past orders. These are things you can do if your POS includes a delivery management feature.
Some such POS's, like Toast, will let you generate reports showing information on pending, in-progress, and completed catering/delivery orders. You can also track how long each driver takes to make each delivery. Other POS's like Revel even report on a delivery driver's progress in real-time.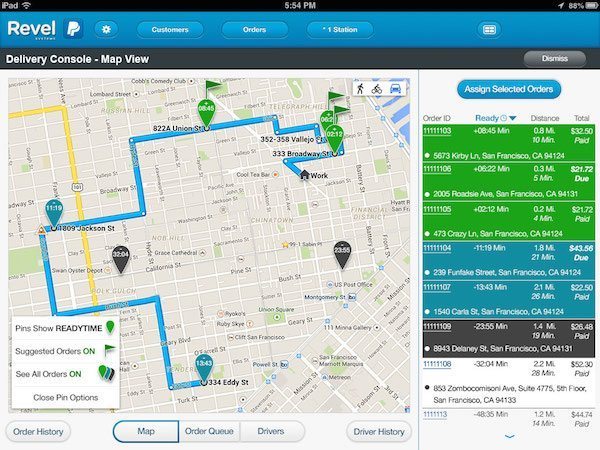 Example: Revel's delivery management reports let you keep tabs on your orders currently out for delivery, in real-time.
3. Discount Report
Even if you don't have a dedicated loyalty program you probably offer discounts at times, and you need to know how these discounted sales are affecting your business. A POS that provides programmable discount functionality and multiple price books will allow you to seamlessly apply special discounts, and also generate reports with information on these discounts. This way, you don't have to manually input price reductions or try to track those discounts by hand.
Not all POS's offer in-depth discount reports that you can sort by item or reason (ala Revel), but at the very least, you should be able to generate a sales exception report which shows all discounts (as well as voids and returns). This type of report allows you to see discount totals and the employee who applied each discount.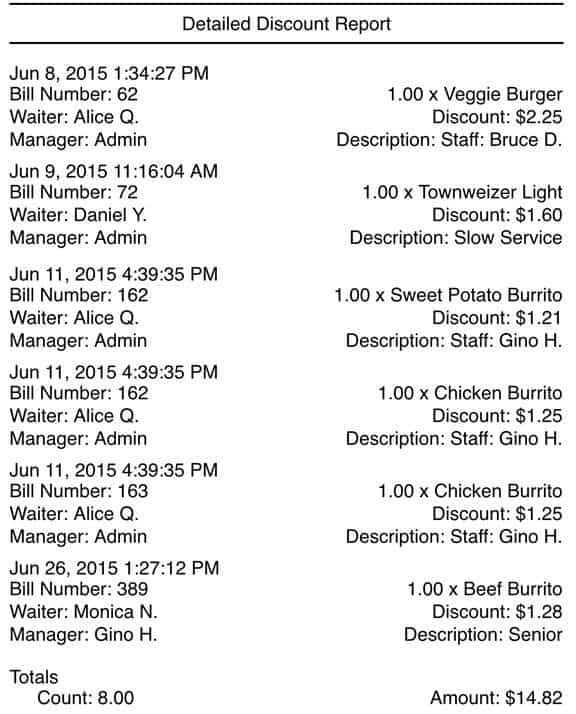 Example: TouchBistro POS gives restaurants a detailed discount report showing the discounts applied to menu items, the staff who applied the discount, and which manager approved the discount.
4. Sales by Product Variant Report
A report displaying sales by product variant is valuable for retail businesses that sell several variations on the same product—for example, a pair of sunglasses that comes in three different sizes and colors. This type of sales report provides in-depth insight to give you a more complete picture of your sales. As a result, it will be easier to hone in on your top-selling and worst-selling sizes, colors, etc.
Some businesses may only need to see a report showing sales by item title, but if you sell item variants, then you could certainly benefit from the more granular view this type of report offers.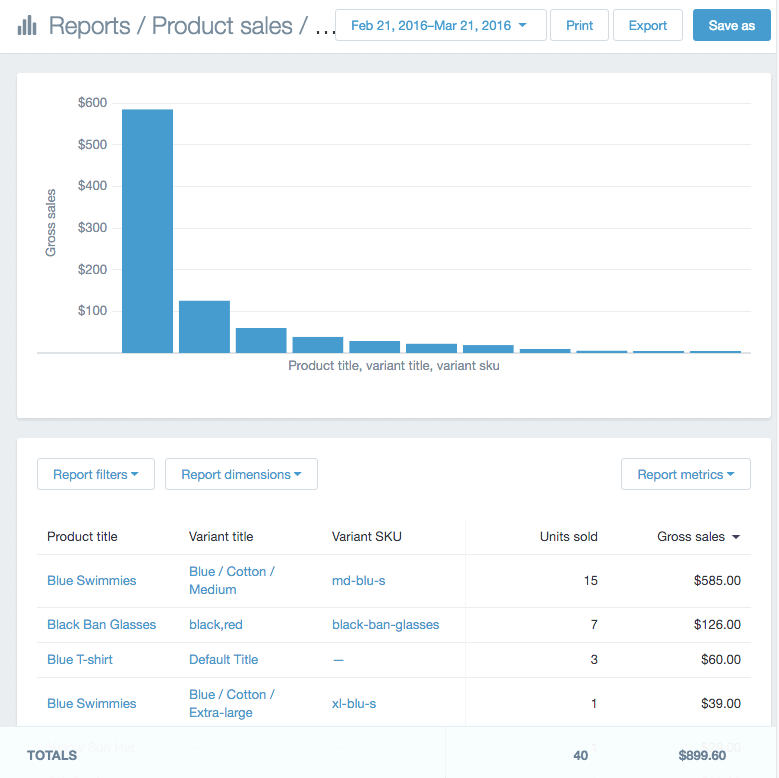 Example: Shopify POS has a "Gross sales by product variant SKU" report that displays gross sales of your top-selling products, broken down by the product variant.
5. Online Sales Report(s)
Businesses that sell at both brick-and-mortar locations and on a website have some unique reporting challenges, and a cloud POS is well-suited to meet them. "Online sales reports" is an admittedly vague category of POS reporting, but the important thing here is that your POS reports on both online and offline sales in an integrated fashion. This way, you can see all of your sales information in one place. For example, you should be able to see in a single report which items are selling best online and which items sell more in-store.
Some POS's, like Shopify POS, are built with eCommerce in mind from the ground up, and will also host your online store for you. Other POS's, like Clover, provide an optional integration allowing you to sync product and sales data with your existing Magento or Shopify store.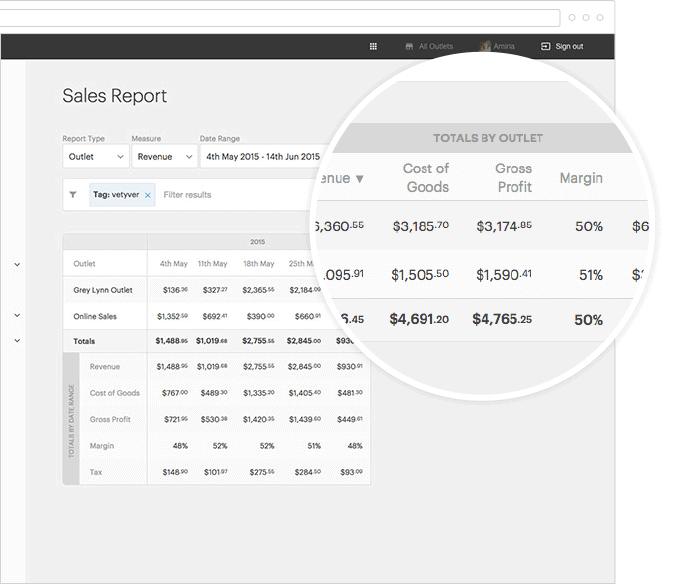 Example: Vend's sortable sales report lets you see revenue and profit information by sales channel (both online and offline).
Time to Take Your POS Reports to the Next Level
If you think you're ready to go beyond your basic POS reporting system and start collecting some really useful, business-enhancing information then you are a smart cookie and I like you. We can even help you upgrade, if you're interested! Contact us if you'd like one of our POS experts to advise you on which cloud POS system you should upgrade to based on your individual needs. Or, if you're totally clueless about what you need, we can help you figure that out too! Just fill out the form or drop a comment on this article and we'll get back to you ASAP.