Simply Business Insurance Review 2023
Simply Business shares quotes from 16 insurance carriers. With plans starting at $26 per month, is this broker a good choice for your small business insurance?
Expert Analyst & Reviewer

UPDATED
Advertiser Disclosure: Our unbiased reviews and content are supported in part by
affiliate partnerships
, and we adhere to strict
guidelines
to preserve editorial integrity.
Simply Business Insurance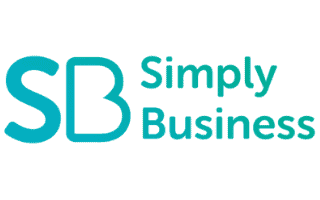 Pricing
Starts at $25.95/month
Types Of Insurance Offered
Basic coverage
Time To Receive A Quote
About 10 minutes
Simply Business Insurance At A Glance
UK-based insurance brokerage firm offering some US policies
Owned by insurance giant The Travelers Companies, Inc.
Specializing in a wide range of industries & professions
---
Pros
Brokerage services deliver quotes from multiple carriers
Variety of carriers represented
Strong reputation
Fast online quotes
Cons
Limited policy offerings
Brokerage fees could increase costs
Can't file claims with Simply Business
What Is Simply Business Insurance?
Simply Business is an insurance brokerage that connects customers with 16 different insurance carriers, including Simply parent, The Travelers Companies Inc., an insurance industry giant.
Simply Business is licensed as a broker to help small businesses find insurance that meets their needs.
Because Simply Business insurance works with various carriers, when you use Simply for business insurance you will get quotes only from carriers that meet your needs.
Insurance Broker VS Insurance Agent
When shopping for business insurance, you may have a choice between working with an insurance broker or an insurance agent. Which is better?
Neither is better; they're just different. Think of the difference between an insurance agent and an insurance broker like this:
An insurance agent represents one or more insurance carriers and helps customers purchase coverage from one of those carriers.
An insurance broker represents the customer and plays an advisory role in finding the right coverage at the right price from whatever carrier is determined to best meet the customer's needs.
Brokers like Simply Business do not cover customers directly. Instead, a Simply customer who buys insurance will receive quotes through Simply and then be handed over to an insurer or insurance agent to secure coverage.
Simply Business Insurance Pricing
It's not easy to find pricing information about most insurance products. And there's a good reason for that! The cost of business coverage depends on a variety of factors, including what type of coverage you're seeking, where your business is located, and what industry you work in.
While Simply Business also relies on personalized price quotes, the company does list a starting rate of $25.95/month for basic insurance coverage.
We rate Simply Business highly in this area because the company is transparent about the variation in pricing and explains up front why pricing is offered by personal quotation only. And Simply Business promises to help you compare the price differences between carriers, so you can make sure you're getting the best coverage for your money.
So how does Simply Business make its money? As a Simply Business client, you won't pay anything for its brokerage service. Simply Business receives commissions from the insurance providers it connects you with.
Furthermore, Simply Business makes it very easy to obtain a quote, with a simple online process and a response promised within 10 minutes.
How To Get A Simply Business Insurance Quote
It's easy to get a quote from Simply Business. You can start the process online by providing some basic information. Or you can call Simply Business on weekdays if you'd prefer to speak to a person vs. completing the online process.
To start online, you'll need to select your profession/industry and the state where you're located. The next step clarifies how and where you do business, giving you five options to consider: on customers' property, out of your home, with employees, and so on.
Next, you'll be offered suggestions for typical coverage for businesses like yours. You can always open the dropdown menu to see other types of coverage available. A chat option is available at this stage if you have questions.
A few more questions about your business later, you'll be prompted to enter your name, email, and phone number. (Don't forget to uncheck the box if you are not interested in receiving Simply Business updates in the future.) Submit your information, and you'll soon receive quotes from insurance carriers.
Simply Small Business Insurance Features
Simply Business doesn't have a lot of features to offer. That's because, again, Simply Business is an insurance brokerage and not an insurance carrier.
If you are looking for features like online claims filing or loss control and risk management planning, you'll do better talking about your options with the carrier or agent you eventually receive coverage from.
That said, Simply Business does offer a reasonable amount of features and support to customers, including an online dashboard you can use to manage your policy.
Here's an overview:
Online Filing For Claims
Because Simply Business is a broker, not an insurance carrier, you won't be able to file an insurance claim with Simply Business. But don't worry. Even though an insurance carrier will hold your policy, Simply Business won't leave you high and dry.
You can start the process of filing a claim on Simply's website. You'll be instructed to check your policy documents to determine who holds your insurance policy. Contact information for all the providers Simply Business works with is provided on one webpage. That includes direct links, where available, to start your claim online.
Small Business Education Tools
You'll find a variety of resources on the Simply Business website. This includes helpful small business information as well as insurance-specific resources.
A company blog called Simply U offers general business advice, tips for getting customers and growing your business, and starting a business, for example. There seems to be a good volume of articles available with recent publishing dates.
Simply Business Insurance Range Of Services
Simply Business does not offer as many types of business coverage as you might expect to find from a direct insurer. However, you'll probably be able to find the basics that your small business will need.
The most obvious omission we spotted was commercial auto insurance. If you have vehicles to insure under your business policy, Simply Business may not be able to meet your needs.
Businessowners Policy
Many insurance companies bundle basic business coverage into one package, known as a businessowners policy or BOP. This bundle usually comes at a discounted price (around 10%).
Simply Business does not appear to offer a BOP. When I asked for a quote from Simply Business, I was directed to choose one or both of the following policies: general liability and professional liability/errors and omissions (E&O).
Individual Business Policies
In addition to general liability and professional liability/E&O coverage, you can obtain the following types of coverage through Simply Business:
Home-based business
Cyber
Sole proprietor's workers' compensation
Self-employed
Inland marine
Industry Coverage
Simply Business works with a wide range of businesses but offers a special focus on the following types:
Contractors
Cleaners
eCommerce
Handyman
Home improvement contractor
Landscaping
Lawn care
Photographers
Specific Size Of Business
Simply Business does not have any restrictions on the type or size of business the company works with.
However, due to the relative lack of coverage types, we think larger businesses with complex insurance needs would do better with another insurance brokerage or by working directly with an insurance agency.
That said, Simply Business seems like a great option for smaller businesses, including sole proprietors. With an advertised starting price of around $26/month for coverage, self-employed workers and independent contractors will find affordable options for basic coverage.
That's true even if you're operating a small business on the side. You won't need full-time income to be able to afford full-time insurance coverage via Simply Business for your small or micro business.
Simply Business Claims
If you obtain coverage through Simply Business, you won't file any claims in the future with Simply Business. Instead, you'll need to contact the insurance agent or insurance agency that provides your coverage.
Remember that Simply Business is an insurance broker, not a direct insurer. Simply Business is licensed and regulated, and it's safe to obtain coverage via Simply Business. However, Simply Business itself does not provide coverage. As a broker, it is the job of Simply Business to connect its customers with licensed insurance agents and agencies.
How To File A Claim With Simply Business Insurance
Although you won't file claims with Simply Business, you can ask the company for help and direction. Simply Business provides claims assistance via phone and email.
On the Simply Business website, you'll find contact information for each of the 16 insurance providers the brokerage works with. Simply Business lists direct contact information for claims for many of the providers it works with.
Customer Service & Support
| Simply Business Insurance Support | Availability |
| --- | --- |
| Phone Support | |
| Email Support | |
| Support Tickets | |
| Live Chat | |
| Dedicated Support Representative | |
| Knowledge Base or Help Center | |
| Videos & Tutorials | |
| Company Blog | |
| Social Media | |
It's easy to contact Simply Business.
You can call the company directly Monday-Friday from 8 AM-8 PM ET. A help center also offers assistance with routine tasks like adding an additional insured to your policy, locating your policy document and details, obtaining a certificate of insurance (COI), updating your policy and payment details, or changing your coverage limits.
You can also find Simply Business on Facebook and Twitter, though the company hasn't posted there since 2021.
Simply Business Insurance Reviews
Simply Business has a solid reputation. For starters, the company is accredited with the Better Business Bureau and maintains a B+ rating and a 100% response rate to customer complaints to the BBB.
There have been seven complaints filed with the BBB against Simply Business in the past three years. The company provided a courteous, detailed response to each complaint that explained the reasons for its actions.
Negative Simply Reviews & Complaints
Although Simply Business is generally well-reviewed by its customers, a few complaints emerge from the comments posted online. Here's a sampling of what we found:
Difficulty getting refunds on canceled policies
Poor communication
Not enough policy types available
Price increases
Positive Simply Reviews & Testimonials
With a total of 498 user reviews on Trustpilot, Simply Business has a composite rating of 4.7/5 stars and an impressive percentage of 5-star reviews. A full 89% of reviewers rated the company 5/5. Here are details of what they like about doing business with Simply Business:
Helpful, knowledgeable representatives provide live service
Easy to find answers via the website or by phone
Helpful general business information provided
Variety of insurance carriers ensures a good fit at the right price
Final Verdict Of Simply Business Insurance
Simply Business is an insurance broker with a solid reputation, backed by one of the insurance industry's titans. Simply Business customers rate the company highly, and we tend to agree.
That said, Simply Business will not be a good fit for every customer.
If you are a small business owner looking for basic insurance coverage, it's definitely worth contacting Simply Business. Ask for a free quote, and you'll receive a few options from 16 insurance carriers. You can choose the carrier that offers the best coverage for you at a price you're comfortable with.
If your business is larger and your insurance needs are more complex, you may not find what you need with Simply Business. We note that Simply Business offers connections to its parent company, Travelers Insurance. You could start with a basic quote from Simply Business, and if Travelers comes back as a top choice for your needs, you can add any additional coverage your business might need, now or down the line, as you grow.
Simply Business Insurance FAQs
---
Featured Free Corporate Card
Ramp


---
Ramp offers a free corporate card for virtually any business. Start earning rewards with your corporate spending today. Get your free card.
Featured Free Corporate Card
Ramp


---
Ramp offers a free corporate card for virtually any business. Start earning rewards with your corporate spending today. Get your free card.