Deddle's Donuts Is Frying Up Sweet Treats & Success In The Baltimore Area
Managing Editor

UPDATED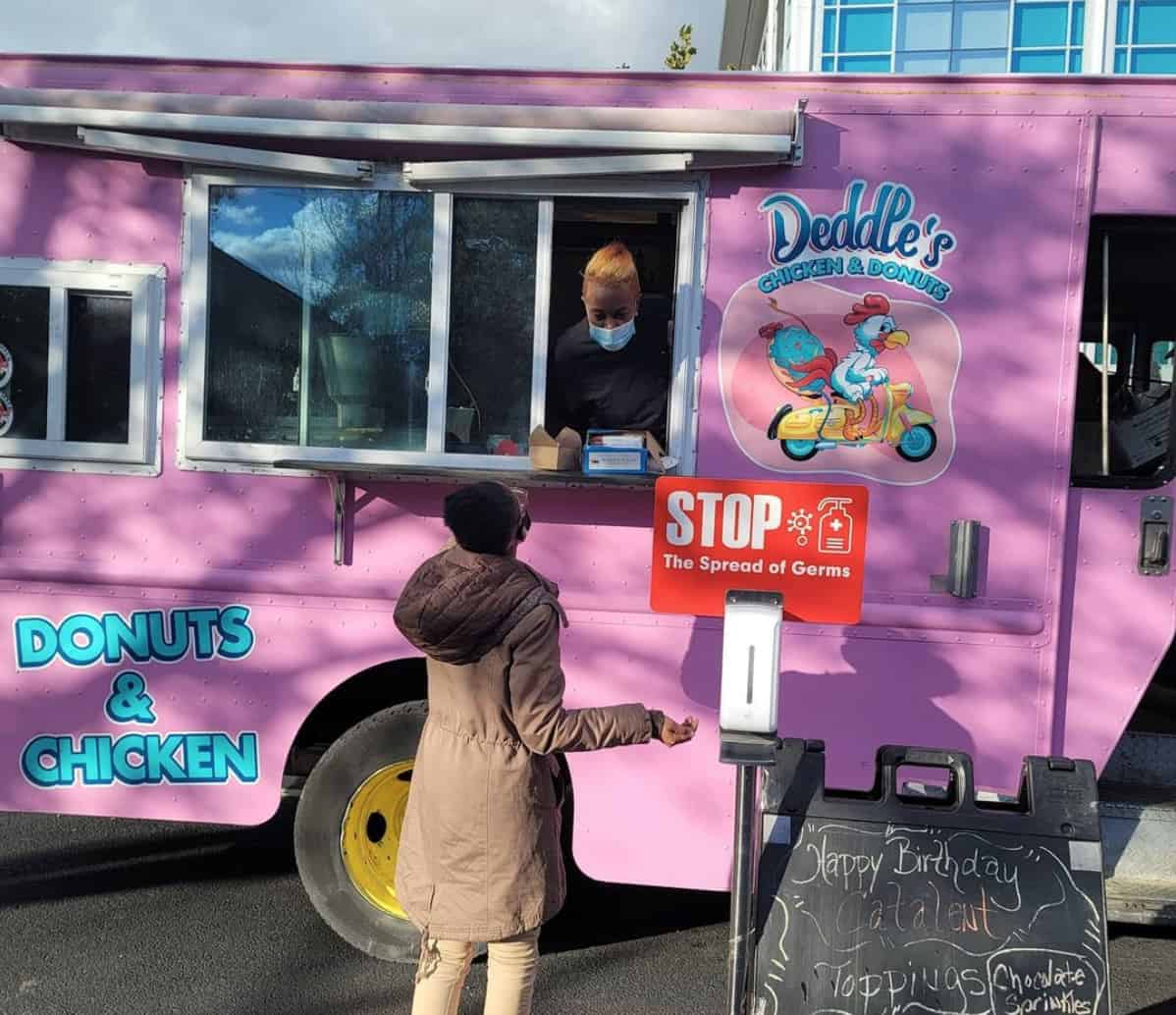 Robin Holmes of Deddle's Mini Donuts opened her big pink food truck, as she says, just on faith and research.
And both the faith and the research have paid off as Robin moves to expand her business — including a permanent location in the world-famous Lexington Market in Baltimore, Maryland. Winner of one of Merchant Maverick's Opportunity Grants, the popular mini donut truck keeps busy with private bookings and [as they begin to open back up] festivals. Especially beer and wine festivals, where Robin's boozy-infused donuts are a guaranteed hit.
Learn more about Robin and her small business journey!
Meet Grant Recipient Robin Holmes, Owner Of Deddle's Mini Donuts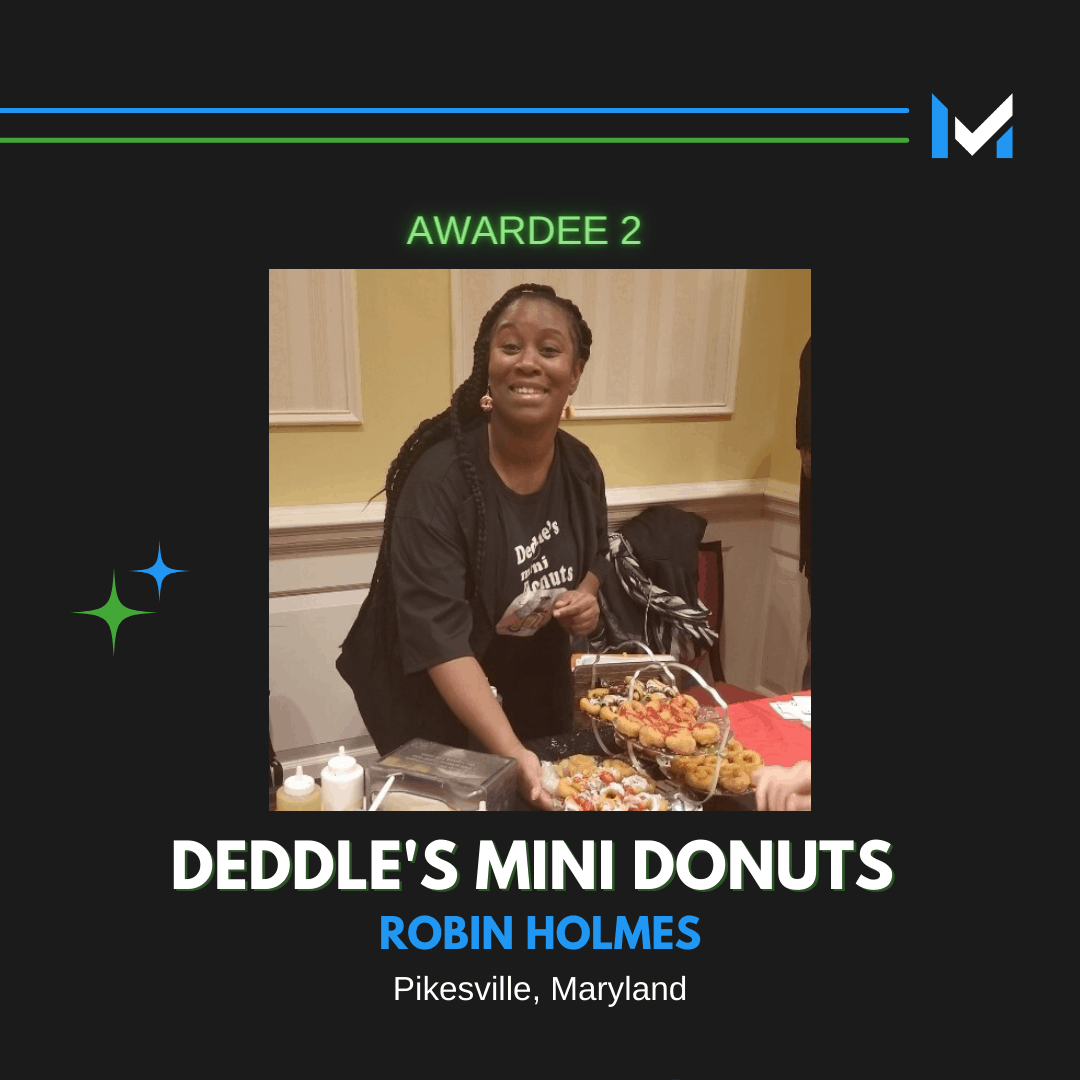 Hello! Tell me about the impetus for Deddle's Donuts — how did the idea for this pink food truck start?
Well, 2016 was when I first started the business, but I had done a little bit of research prior to that. I really prayed about it, because my mom had passed and I was really hurt about the lack of respect she was shown at her job. My life as a child was pretty decent, but my mom's work ethic was so strong that she didn't attend most things. Work came first. And that was fine, that was my norm, but as I got older, I realized how much that meant. So, when she passed, I was so hurt because she gave up so much for this job and they lacked both sympathy and empathy. It was disheartening. That was when I thought, you know what? I'm going to start a business where the employees are treated like family. Jobs don't do that anymore and I want to start a business in my mom's honor.
You opened this business to honor your mom's legacy…and why mini donuts?
Our family comes from a food background. My mom was a cook in a kitchen for many years, and so was her mother, and cooking was always a big part of our family. I've always liked to grill, so I wanted to BBQ, but I said Lord, not my will, your will. What would you have me start in her honor to bless and be prosperous? I did research and I came up with mini donuts.
People asked, "Are you a baker?" No, I'm not a baker by trade. I knew nothing about baking, nothing about donuts. I just went on strictly faith and research.
What kind of research did you do first?
I traveled to Minneapolis to the machine that makes the mini-donuts, and I said, hey, I'm about to put down my life savings on this machine, tell me all about your company, your business, and your product. And after meeting them, I felt really comfortable with moving forward. I thought, okay, I'm doing this.
And what's the mini donut competition like?
Oh, wow. The mini donut scene has exploded since I first started. I'm in a Facebook group, and now so many people are joining … although, not too many in my neck of the woods, fortunately. The mini donut scene is really growing, but what I found while researching over the years is that you have to be very careful — many businesses aren't successful, to be honest — you have to know where to sell and where your location will be. Location is important for any business, but especially for donuts because people are becoming very health conscious.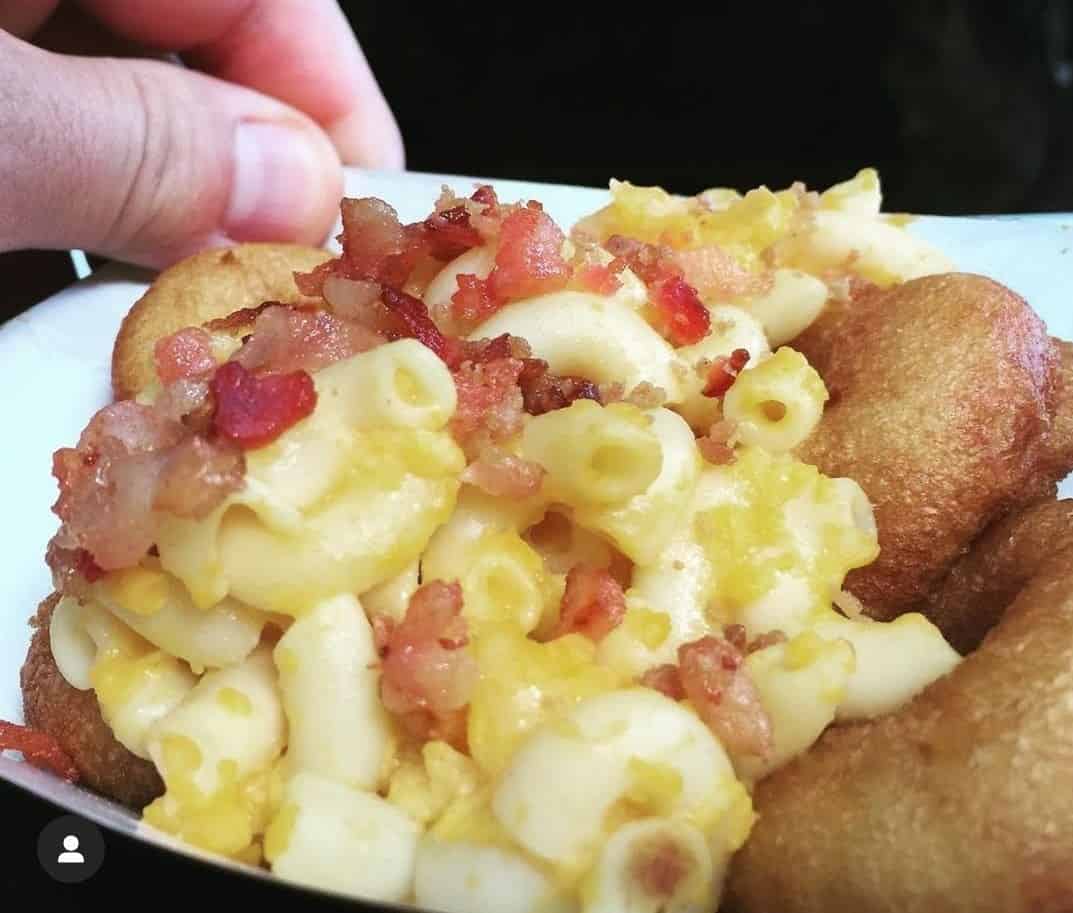 Once I finished the Goldman Sach's program, I thought strategically about where it was best to grow this business. I knew we sold well at festivals, but let's figure out where to grow it — and I thought about corporate catering. And we tried to do lunches, but it didn't go too well.
That's why for me I realized, these have to be seen as a treat. That, or they have to be in an area with a lot of foot traffic because they are impulse buy. Once you see the machine and you smell it? We got you!
I imagine if my kids walked by, it would be hard for me to tell them no…
Actually, you know what? The weird thing is, during festivals, organizers would always want to put me in the kid's zone. But kids aren't the ones that buy the donuts…so, I had them stop. Don't put me in the kid's zone. Adults were buying the donuts more than anything, so any time we heard of a wine festival or a beer festival, we would jump at the chance to make sure we were there. I thought, let's start incorporating some of the [other festival attendees] wines, beers, or whiskeys, and we started to infuse it. And it was awesome.
You've been in business since 2016 and have already seen a lot of growth in these past five years, and we know you are expanding into the Lexington Market in early 2022. What are your plans until then, while you're waiting?
I'll tell you what: It's been kinda hard. With the grant money and award money, we were nesting everything to get ready for Lexington Market, but one of the things I've been speaking to my mentors about is that there is a demand for us and the potential for growth right now.
…there is a demand for us and the potential for growth right now.
I'm so overwhelmed by the potential growth we can have and I am trying to figure out if I should expand the business now — I know the mobile donuts do well — so, do we want another mobile vehicle? Or should we just wait? There is an opportunity for growth right now…right now… or do we hold on until Lexington?
Lexington Market has a lending program I can go through that would help [buy another vehicle] also, but I don't want to be too loan-heavy. March 2022 is a ways off and every day we get inquiries and I just can't handle them all now. The business side is really growing, and I have to delegate to others.
What are the pros/cons of expanding vs waiting?
Financially, there are benefits. I would say the con is, am I ready to handle that much growth and responsibility without having a team to help me right now? It would be like jumping in the water and learning how to swim once I get there.
It would be like jumping in the water and learning how to swim once I get there.
But also, looking at the current market, [business owners] should be thinking about employees. The demand is there, but if you get another truck and what if you can't find employees? Now you still have the same problem, but with an additional vehicle that you can't operate.
Let's backtrack for just a second. What was your background prior to Deddle's?
I worked with the state juvenile corrections department! After I just graduated from college, I wanted to work for the state. Everyone wants a state or government job, and that's what I wanted to do. I wanted to work up to become a caseworker, and I thought I'll start in corrections. Then a year went by, a few years went by, and finally, I was like: I can't hang here any longer. To climb? No.
So, I said, you know what, I'm going back to school to pursue my Masters. But I was also always doing something entrepreneurial on the side, and it was something I knew I always wanted to do. While going back to my Masters, I was sitting in class and most of the people in there were in the non-profit sector because the degree was for Non-Profit or Social Entrepreneurship — I wanted to help people — but I was not hearing good things. You want to help people and it sounds like after a while, that's not what it ends up being. You need to be what others want you to be so you can keep the grant money to keep your business open.
I just came from a situation where you're supposed to be doing good for these kids but no. And so I thought, this isn't going to be what I think it is. I'm going to take a leap of faith and try this — just do it.
Now dream big: What's your goal for ten years from now?
There are so many opportunities for these donuts and it's hard to reel it in. Business plan-wise, the plan was to have a stationary location by five years. We wanted to be in the airport by then. Really, we were on target. It's weird when people say, "Write this down!" because it's amazing to go back and see that things unfolded as I wrote them. I kept my financial projections realistic and we were on point. But COVID hit and that's how that goes [with the airport location].
But the airport has a new program I applied for where they will build you a temporary stall. We'll see how that goes!
But in those next five years, I would like to see some co-branding? I think the donuts would do well in stores — my vision would be to co-brand with a place like Wal-Mart, similar to the Gabby's Donuts model in Puerto Rico. They are in all the Wal-Marts down there. So, that's why I know it will work and can be done.
One thing that's hard right now is that people will ask, "Where are you going to be?" And I have to explain that I am not a street food vendor. I'm not a pop-up. I went in a different direction with my business model. Also, I am very finicky about my donuts. I take them personally. So, wherever I am, I want you to eat them right now.
I am very finicky about my donuts. I take them personally.
I don't like when people box them up! My skin cringes when they close them up. These are supposed to be consumed hot and fresh. Now everyone tells me they are fine later, but no, this is my baby.
And I'm in my own way growing a business because of that. We could do so much if I would be okay with shipping or boxing them later.
Is that a tip for small business owners who are just starting out? Write down your goals.
Oh my gosh, yes, absolutely. People think others are being hard on them by saying write a business plan over and over, but it truly is a living document. You don't write it and put it away. I visit that business plan several times a year. Or at the end of the year, I go back. If I show you my business plan, I have notes in red. This year this worked and this didn't work. It's a living thing for me.
Do you have any others advice for entrepreneurs just starting out?
Mentorship was very important for me. To have someone who listens to you but gives you feedback, and who knows how to help you connect with the right network. For me, I joined the Foodtruck Association and anybody in the food business, I try to connect with them or have the ability to ask them questions.
Do you have a moment that stands out to you as a time when you were really proud of what you've built?
Not long ago, I was sitting at the computer and I realized, wow, you have really accomplished a lot with these little donuts, Robin.
It was a by myself moment. Sometimes when things happen so fast, you don't get to realize some of your accomplishments.
Sometimes when things happen so fast, you don't get to realize some of your accomplishments.
I was filling out the application for the airport, and they asked me about what I've done…and as I started to write all the things we've done out, it was overwhelming. That's why I'm taking three days in New Orleans to rest and congratulate myself!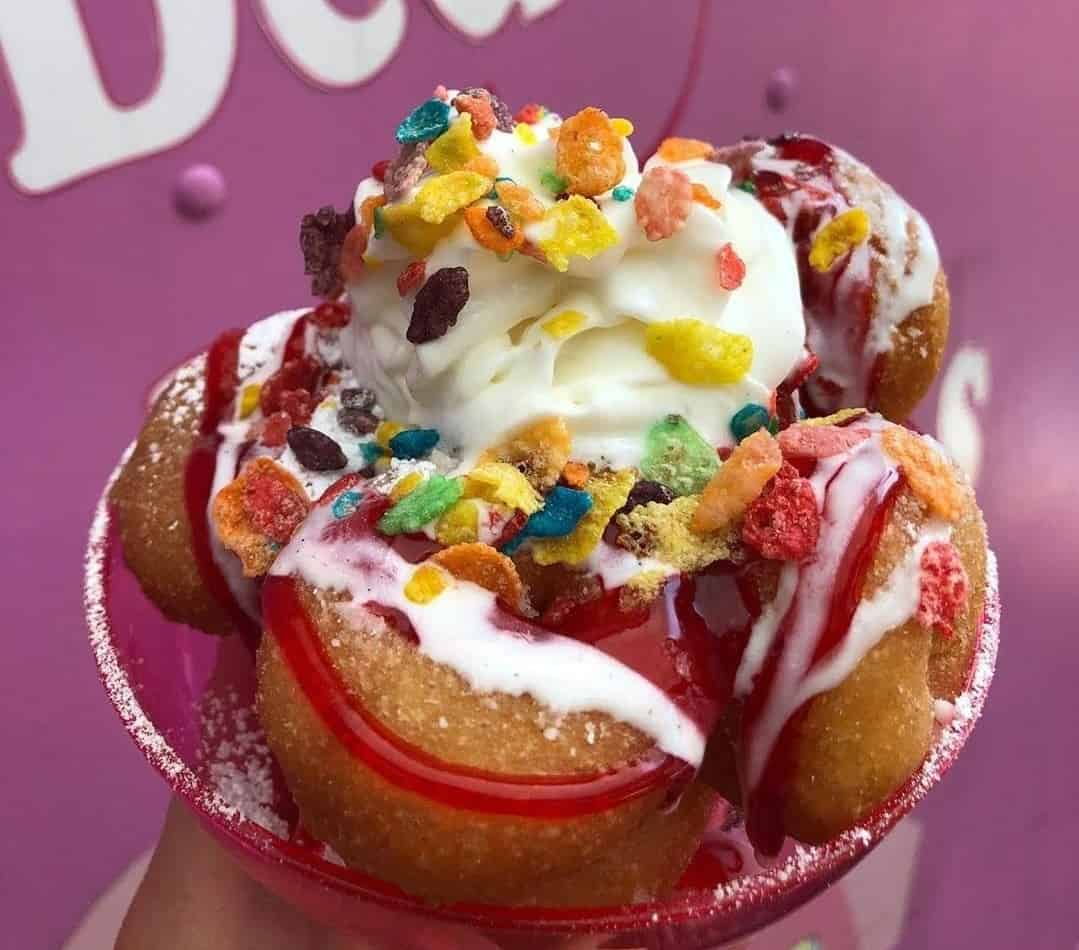 Want to bring some of Robin's amazing donut creations to your party or corporate event? Deddle's Donuts offers catering services for private events. Have a craving for churro donuts? How about a taste of her delicious Flying Pig donuts, smothered with cinnamon sugar, bacon, and caramel? Follow Deddle's on Twitter to find out where the truck is headed next, or check out the Deddle's Mini Donuts page on Instagram for mouthwatering photos and information on where to get your donut fix.
Learn more about the Merchant Maverick Opportunity Grants program and read about the other winners of this year's grant for Black, Female Entrepreneurs.