What Nonprofits Can Teach Small Businesses: Spotlight On NxNE Community Health Center
Managing Editor

UPDATED
The start-up energy is alive and well in the world of nonprofits and it makes sense. In the past decade, registered nonprofits increased by 10% and contributed 5% of the United State's gross domestic product. Let's put it his way: If nonprofits were a country, they'd have the fifth largest economy in the world.
And who starts nonprofits? The same type of people who have the drive and commitment to push any big idea into the light and see it through.
"You have to come with an entrepreneurial spirit to start a nonprofit," said Suzy Jeffreys, Executive Director of North by Northeast Community Health Center, a nonprofit dedicated to Black health in Portland, Oregon. "Wanting to be an entrepreneur has to come first, but then it's knowing how to balance being the big idea person and seeing the next steps for your organization. We see entrepreneurs as having determination and grit — and you need that for nonprofits, too."
North by Northeast was born from that determination and grit, but it also answered a specific need. In the aftermath of Hurricane Katrina, Pastor Mary Overstreet Smith, founder of the Power House Temple Church, sold her own property to bring 40 displaced families without food, shelter, or access to health care to Portland. When Pastor Overstreet Smith discovered there wasn't a free clinic in her community, she knew there was only one answer: To start one herself. According to the clinic's co-founder Dr. Jill Ginsberg, as captured by a local news crew, Pastor Mary "went over there and she said, 'This is where we're gonna do the clinic. When can you get started?'"
Since opening its doors in 2006, North by Northeast has remained the only free health clinic in Oregon dedicated to African American/Black health. According to their mission:
"We exist to improve health outcomes and advance health equity by offering primary care services and health education and promotion focused on the African American/Black community."
The nonprofit has grown, evolved, and matured — what started as a spark of that entrepreneurial energy is now a thriving and necessary part of the community.
What Nonprofits Can Teach Small Businesses
The question, "What can the small business world learn from nonprofits?" was met with an amused laugh.
Jeffreys, the clinic's Executive Director acknowledged that hearing the question framed in that manner was unusual. "The trajectory usually goes the other way," she said. "The think-pieces about nonprofits are built around what can nonprofits learn from the business world. There is this troubling idea that all nonprofits are run out of the goodness of people's hearts and are operating with these low margins and from scarcity. When the image is that nonprofits aren't as savvy or understand how to make a return on investment, people think businesses don't have anything to learn from us. My experience is that's not true."
Nonprofits have plenty to teach small business owners about managing money and people, communicating a mission, carving out a needed niche, writing a business plan, and using social media to tell their story.
To start, as tax-exempt organizations, nonprofits must be openly accountable with their finances. They are skilled in understanding what money is coming in, where it's coming from, where it's going next, and how to reallocate that money into the organization. "We have money coming in from individual donors, corporate donors, grants, payment for services, and government contracts," Jeffreys explained. Each type of revenue is met with restrictions or stipulations; grant money is occasionally allocated by precise percentages. "We need full transparency with directing funds, and so we have both a bookkeeper and accountant who are beyond skilled in managing our accounts," Jeffreys added. Robust donor tracking software and financial software equipped to handle grant tracking are key, and starting with money-tracking in place is essential.
Next, nonprofits are well-equipped to manage their different stakeholders. Led by their mission and vision, beholden to the government and a board of directors, and driven by a commitment to its services, nonprofits are capable jugglers. Having a clearcut service to the community and knowing how to communicate that service is key — also, essential: Hiring great people.
"It's the same fallacy as before at work. There is an idea that nonprofit staff will be fine with less pay because they are choosing to work for a nonprofit. Their work becomes a service, so they should accept and be comfortable earning below their worth. It is problematic to operate in a manner that undervalues your people. Hiring higher quality staff across the board is directly related to your service," Jeffreys said. "Nonprofits and small businesses, both, benefit when employees have a good salary and benefits, and when they can support themselves. If you underpay, that leads to burnout and a high turnover rate. If you can't retain employees, you can't grow."
Growing and scaling to a point where everyone in the company is paid their worth is crucial, but many small businesses cut pay first when trying to manage their funds.
Financing issues account for the number one problem facing small business owners, according to the National Federation of Independent Business (NFIB). That is a concern both nonprofits and small businesses share. However, for nonprofits, traditional loans are not available and not recommended, and it can take up to a year (or more) for the 501(c)(3) paperwork to process a tax ID for charitable giving. During that time, most nonprofits will apply for grants and start-up funds using a fiscal sponsor (a fiscal sponsor is a nonprofit organization aligned with the new nonprofit's vision and mission and will accept and distribute funds on the nonprofit's behalf). Jeffreys encourages all organizations to start with a commitment to pay people their worth — with qualified and happy people leading the way, the good work follows.
In addition to paying staff, Jeffreys emphasizes the need to compensate the community for their stories. "When someone reaches out and wants to talk to a patient of ours for a story, we let them know we expect compensation for that community member's story and expertise. We need to normalize paying people for sharing their lived experiences. Experiences are labor and that should absolutely be compensated," she said.
North by Northeast's Executive Director also says it's also important for employees to have cultural buy-in. "It's important to have a mission to guide you. It's foundational, especially if you are setting out to do any type of racial equity work," she said. Businesses, like nonprofits, should have a commitment to their own mission and to racial equity work; that mission/vision should be a stated part of company culture.
What's Your Mission?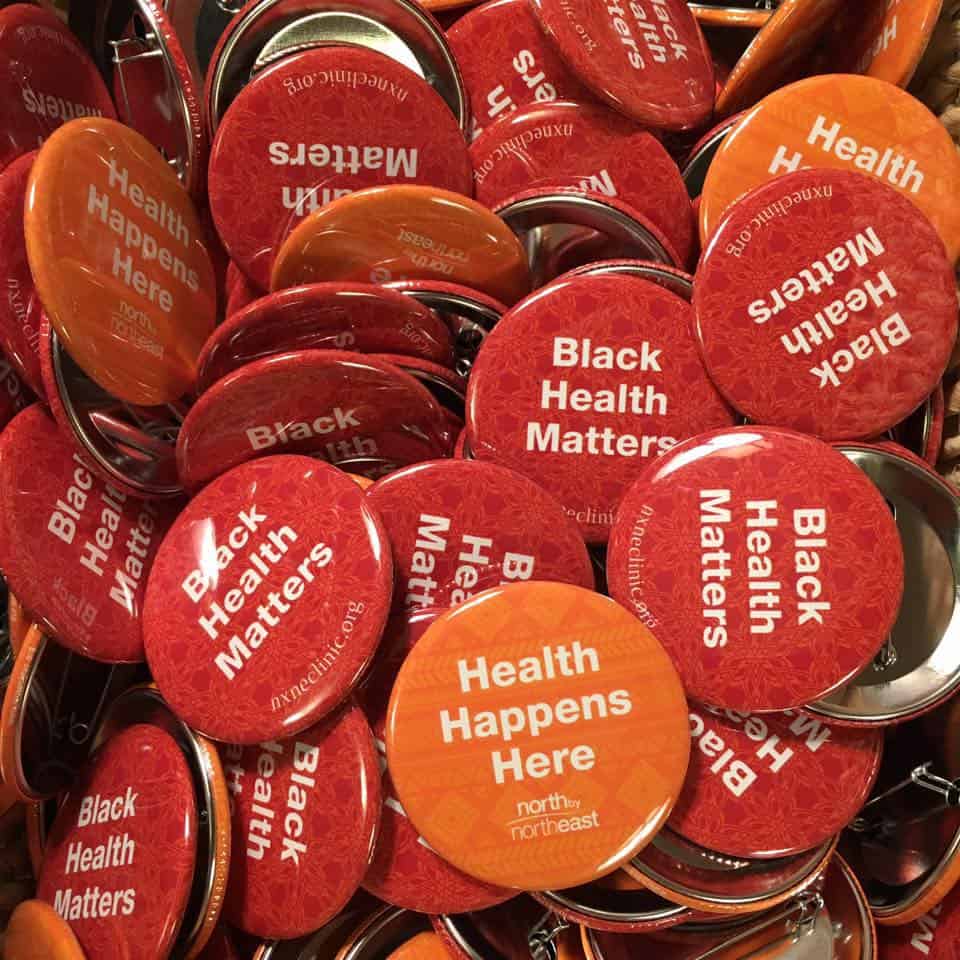 Nonprofits are accustomed to answering the question, "What's your mission?" and Jeffreys says that small businesses and start-ups should get accustomed to answering it, too.
"With a nonprofit, we are there to protect and advance the mission. We provide services and some small businesses provide a product. If someone runs a small business, someone else might ask, 'What do you sell? What's your product?' But really it should be about the mission. Have a mission statement ready, and when you start to form it, start with your stakeholders. What is valuable about your service?"
Jeffreys advises hiring a consultant. It helps to have someone skilled at mission building to look at your business or nonprofit with an outside perspective. "Don't skimp over your staff's opinions. They know the heart of the business better than anyone and they can tell you a lot about what works and what needs work. Ask your stakeholders what their needs are and seek information from your communities."
Once a company can articulate its mission, Jeffreys encourages future nonprofits or mission-minded small businesses to stop and "observe the space." All too often, a well-intentioned big idea person can stomp forward without regard for who is already doing that work in the community. Sometimes the need is already being met and a person could do greater good by joining forces or volunteering with, rather than operate in competition to the organizations that already exist in that space. "Is your nonprofit needed? Can you accomplish your goals by working on policy changes within the government? People need to come into their ideas with humility and ensure they are meeting a need."
Reimagining Competition & Community
Like the business world, the nonprofit world can be ruthless when it comes to securing financing. There are a limited number of donors like there are a limited number of buyers, and competitions for grant money can be fierce. Jeffreys said, "Sometimes a foundation will say, we will issue $2 million for housing and health, and people apply with $7 million worth of projects. That's the nature of it. And you can't build collaboration with the competition." And when it comes to building the health of a community, relying on propping up the health center at the expense of other amazing organizations is exhausting. She hopes there will be systemic change in how foundations give money and view community needs in the nonprofit world.
Perhaps there is a future for business that is built more on collaboration and community and less on competition, too: after all, there are many things the business world can learn from nonprofits like North by Northeast Health Center — they can show you how to apply for grants with your story front and center, your mission and services easily identifiable; they can demonstrate how to manage finances with careful attention; they will remind you to pay your staff well and if you take someone's time in the community, pay them, too. Value the people and what they bring, and the rest will follow.
North by Northeast — thriving for the past 14 years — is a great example of what can happen when big vision meets driven and actionable steps for success. And they will continue to grow and broadcast their mission to educate the community about the needs they meet in their corner of Portland and amplify their message that Black Health Matters.