The Beginner's Guide To Small Business POS Reporting (& 5 Essential Point Of Sale Reports)
Expert Analyst & Reviewer

UPDATED
Advertiser Disclosure: Our unbiased reviews and content are supported in part by
affiliate partnerships
, and we adhere to strict
guidelines
to preserve editorial integrity.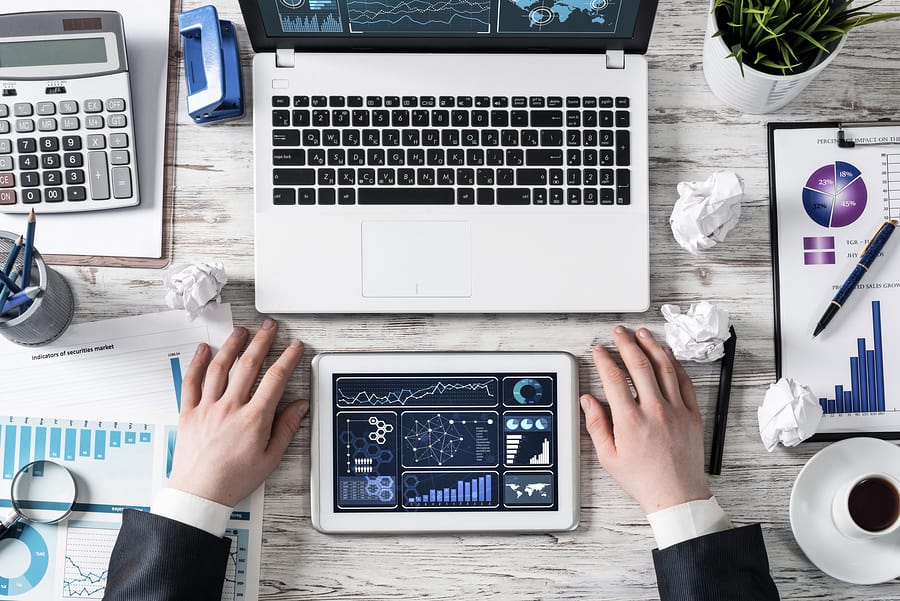 Congratulations! You've finally junked your old cash register or PC-based point of sale in favor of a modern, cloud-based point of sale system for your retail store or restaurant. Today's POS systems, most of which run on an iPad or tablet, include so much more than just the point of sale itself. Most are full-on business management solutions that not only allow you to accept and track sales but also report back to you on various aspects of your business—like, for example, which employees and products provide the most value. POS reporting tools can simplify managing almost any aspect of your business, from inventory to payroll, if you learn how to use your point of sale's built-in reporting features.
So, what types of reports should you look for when choosing a POS? Or, if you already have POS software, which are the most important reports to pay attention to? Read on for a rundown of the top standard POS reports and a sample of systems that provide these reports.
If you're just looking for a POS system with strong reporting capabilities, skip down to our recommendations.
Learn More About Our Top Picks
Company
Summary
Next StepsSummary
Best for sales reports.

Best for sales reports.

Best for employee reports.

Best for employee reports.

Best for payment reports.

Best for payment reports.

Best for inventory & customer reports.

Best for inventory & customer reports.

Best for restaurant reports.

Best for restaurant reports.

Show Fewer Options
Read more below to learn why we chose these options.
What Is A POS Report?
A POS report is simply a collection of data gathered by your point of sale system. Because modern POS systems can track item sales, credit card transactions, or even employee hours, they can also generate a variety of reports on a weekly, daily, or monthly basis.
The biggest benefit to POS reporting tools is the ability to show trends, such as popular items or busiest times, that can feed into making crucial business decisions, such as which inventory to buy, when to schedule more employees, or which time of the year leads to the most sales.
How Does POS Reporting Work?
A POS is much more than just a fancy cash register: it's increasingly a hub for your entire small business. A good POS can deliver reports on essential business functions automatically. Whenever an employee completes a sale, enters an item into inventory, clocks in for the day, or closes out their register, data is collected. Various data points are also sent to your POS from online orders, online customer feedback, online marketing, and other activities. There are even apps that count your store's foot traffic and send it back to your POS. Truly, there is no aspect of your business that cannot be measured and centralized through your point of sale reporting tools.
POS systems with highly capable reporting tools can collect and organizes this glut of data into digestible (and customizable) reports which you can access online. Some legacy POS systems require you to be on premise and at a POS terminal to generate reports. Modern systems allow you to access your POS reports via the cloud and view them anywhere through a web portal. At the cutting edge of POS reporting technology are mobile apps built specifically for tracking business performance. While it's likely these point of sale reporting apps will become a central component, for now most of them exist to supplement POS web reporting suites — that is to say, they're not nearly as robust in their scope of data or their customization.
Is One POS Report As Good As The Next?
There are definitely variances in quality when it comes to point of sale reports. Even with the same POS system, there may be different plans that include different levels of reporting. Advanced reporting, as you might expect, typically only comes with a higher monthly price tier. It's also true that some POS reports might be more valuable to certain business owners than others—for example, you may be especially interested in employee reports if you're not sure if you're over- or under-staffing.
5 POS Reports You Will Find In A Good POS System
In this section, I'll go over the main types of reports that should come with your POS reporting system. As a bare minimum, your POS should have at least one report from each of these categories. A good point of sale reporting suite will have several options for each category. What makes these POS reports so important? They provide snapshots of the main moving parts of your business: sales, payments, employees, inventory, and customers.
1) Sales Reports
Sales are the bread and butter of any business, so the ability to generate detailed sales reports should come standard with any cloud POS. POS sales reports help you figure out which items are bringing you the most profits, which times of the day/week/year are the busiest for your business, and which items are unpopular enough to remove from your shelves. Here are some key metrics to track on your POS sales report:
Top-selling/worst-selling items

Sales activity by day/date range

Sales by employee/product/department

Menu reports (sales by menu item)

Most commonly returned items

Gross profits for week, month, year, etc.

Online and/or mobile sales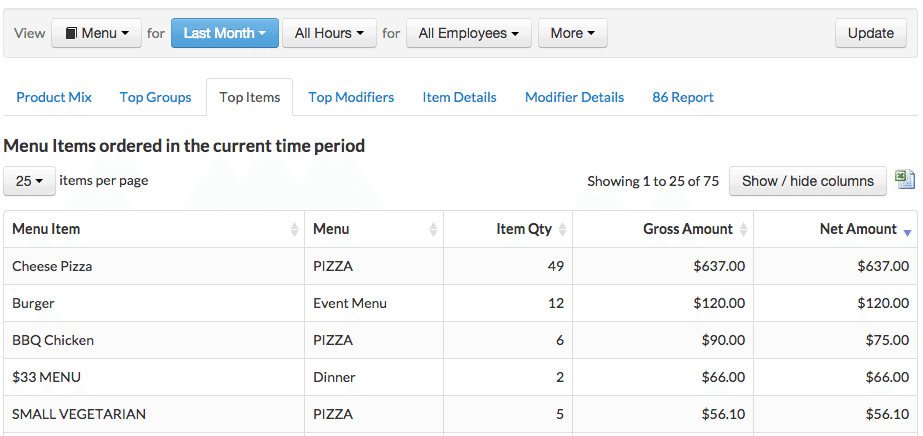 POS Sales report example: Toast POS for restaurants provides a menu report that shows you how your menu items are affecting your sales.
2) Payment Reports
Sales are one thing, but it's the actual payments that determine how much money your business makes . . . or loses. POS payment reports help you track cash flow, credit card payments, and inefficiencies that affect your bottom line. Using the information from payment reports, you can help prevent employee theft and errors, determine how your customers prefer to pay, and figure out how many sales are discounted or sold at full price. Here are some things you should be able to track in your POS payment reports:
Cash events

Taxes paid

Tips and gratuities

Voided sales

Refunds

Discounts

Payments by payment method (credit card, gift card, check, mobile, etc.)

Employee payouts (if, for example, waitstaff takes payouts at the end of every shift)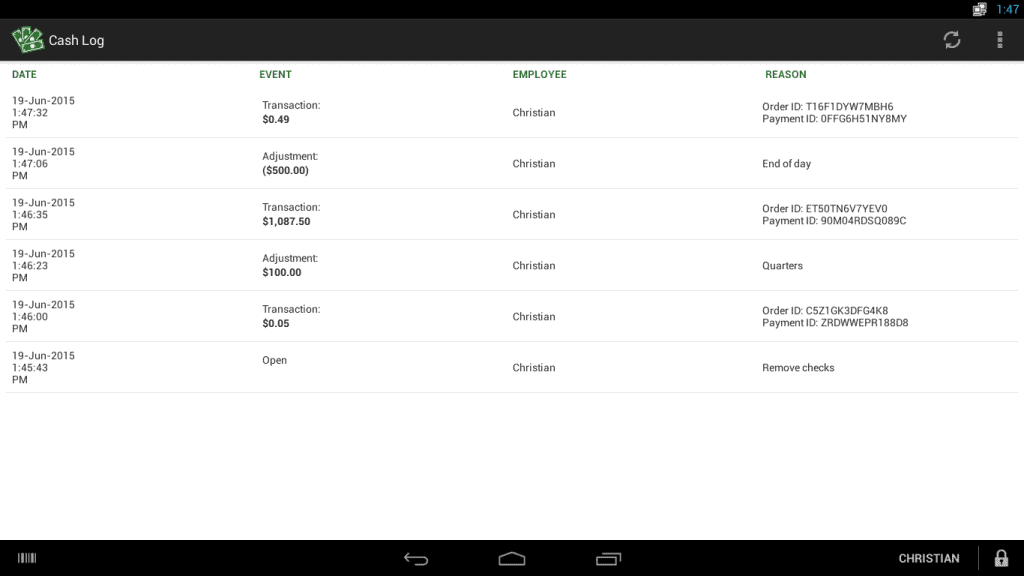 Using Clover's cash log report, you can view the date, time, type, and amount of every cash transaction, as well as which employee handled the cash event and the reason for opening the cash drawer.
3) Employee Reports
They say your business is only as good as the people who work for you, and we couldn't agree more. Nevertheless, it can be difficult to determine an employee's precise value to your business and the areas in which they need further training. Instead of hovering over your employees' shoulders at all times (which we don't recommend), you can use POS employee reports to keep track of your employees and monitor their sales.
Not all point of sale reporting suites will include all of these features, but many systems will include integrations for third-party software to manage elements like payroll and scheduling; at the very least, your POS should show sales-related employee activity, tracking each sale to an individual employee, such as:
Employee time clock/hours worked

Shift reports

Employee till counts

Sales by employee

Commissions by employee

Profitability by employee

*Employee scheduling and payroll
*Less likely to be included in POS software

Revel Systems includes robust employee reports in its POS, including an employee profitability report. This report displays each employee's wage compared to their sales in order to calculate a profit percentage.
4) Inventory Reports
Most POS software includes some elements of inventory asset management software, allowing you to keep your stock volume in line with your sales volume. A POS system with good inventory management lets you generate reports showing your inventory quantities, inventory values, and which items or ingredients you're running low on. In some cases, your POS might integrate with a third-party inventory software service to provide these reports.
Here are some good POS inventory reports to look out for:
Inventory reorder report

Inventory value report

Raw ingredient report (for restaurants)

Real-time inventory tracking report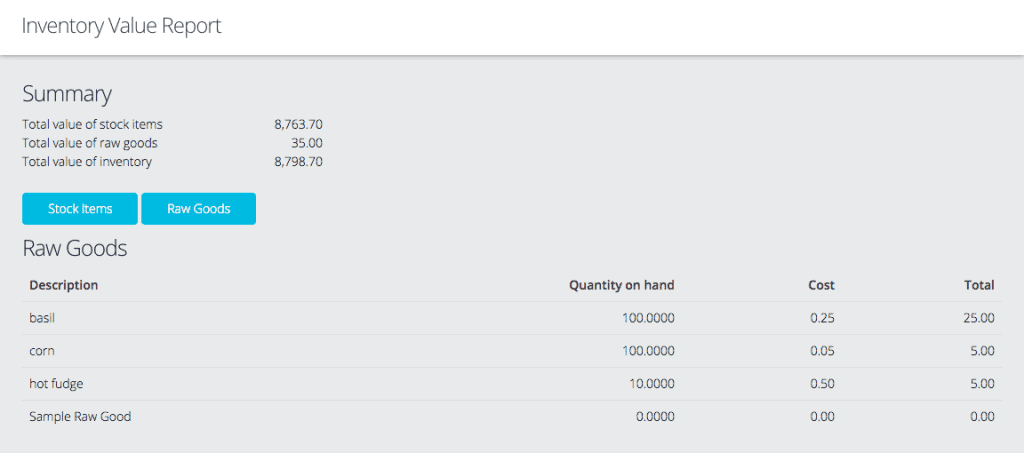 ShopKeep's inventory value report shows the quantity and value of both stock items and raw goods.
5) Customer Reports
If your POS is equipped with customer management features, you can monitor the information you need to track repeat customers, generate targeted marketing campaigns (usually using integrated email marketing software), and even create a custom loyalty program. To get the information needed for customer-related reports, your POS must be able to capture customer details at the time of sale.
For in-depth customer insights and marketing reports, you will probably need to use separate CRM software. Many POS systems integrate with CRM software. For example, Square POS includes free customer engagement tools that show statistics on things like customer satisfaction, new vs. returning customers, and customer visit frequency. For a more complex tool, you can opt into Square Marketing, which syncs perfectly with your Square POS reports. It's a great example of why using your POS as your centralized hub can be a huge advantage.
Even if you don't add on a fancy marketing suite for your POS, here are some standard customer reports your POS should be able to provide:
Total sales by customer

Top customers

Purchase and return histories per customer

Sortable database of customer profiles (with name, email address, purchase history, account balances, etc.)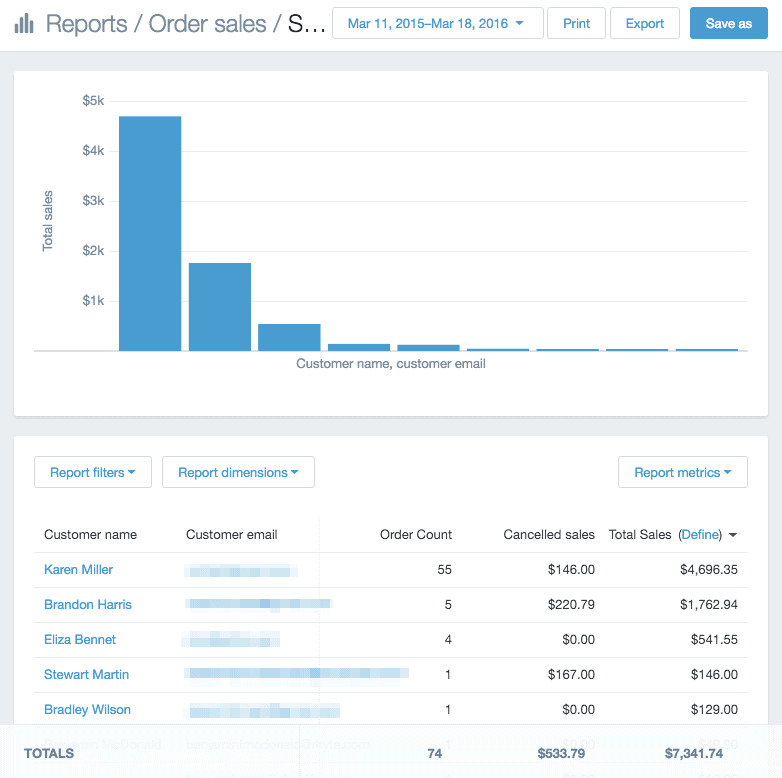 Shopify POS's sales by customer report lets you see a breakdown of orders by customer over a period of time.
5 Point Of Sale Reporting Systems Tailored To Small Businesses
The following point of sale systems feature strong reporting in all of the core reports discussed above. These systems are designed for small businesses, but can be used by businesses with multiple locations. Additionally, all of these POS apps have cloud-based reporting with at least some mobile reporting capability that lets you view reports remotely on your smartphone.
1. ShopKeep
ShopKeep POS


---
Best for sales reports.
ShopKeep is a leading small business POS system for iPad. We like ShopKeep because it has a pretty amazing array of features for its affordable price (pricing isn't listed so you'll have to call for a quote). ShopKeep is used by both retailers and small restaurants such as coffee shops. Some favorite Shopkeep features include detailed modifiers with the option to add notes to clarify complicated orders, and an unlimited inventory matrix with raw goods management that alerts you when you're running low. Smart management metrics also help you make important business decisions; Shopkeep shows you your top-selling items so you know what customers are craving most, and shows you your busiest hours so you know when to schedule staff.
ShopKeep offers a variety of accessible and easy-to-understand POS reports. ShopKeep does not have advanced reporting, per se, but you'll find everything you need to analyze data in all the core areas of sales, payments, employees, inventory, and customers. I would consider ShopKeep's sales reports particularly strong. For example, you can view sales data sorted by parameters such as item, employee, discount, category, department, customer, supplier, location, or tender type. The data can be viewed as a table or a bar graph.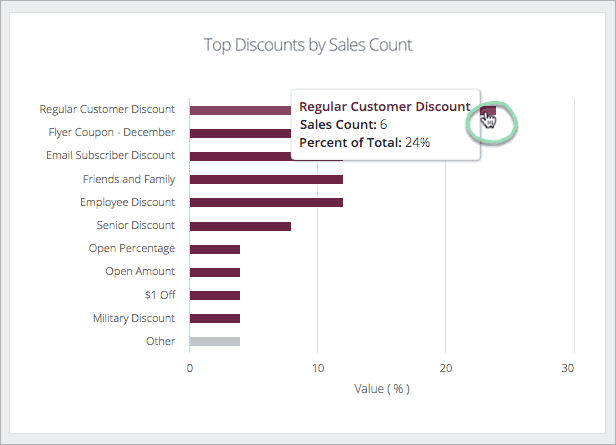 ShopKeep also has mobile reporting capabilities via its ShopKeep Pocket app for iPhone and Android; however, to see more advanced reports such as X & Z reports and combined multi-location sales reports, you'll have to log into your BackOffice online reporting suite via a web browser.
To learn more about ShopKeep's reporting, read our full ShopKeep review, or sign up for a free demo on their website.
2. Revel Systems
Revel POS Systems


---
Best for employee reports.
Revel Systems is an advanced iPad POS, very capable of handling the needs of a full-service restaurant. While it includes many restaurant-specific features, this flexible POS may also be used as a retail POS — or by appointment-based businesses. You can get all of Revel's core features, including reporting and analytics, for as low as $99/month. Revel is one of the pricier options on our list, but it is also one of the more feature-rich cloud POS systems out there and its reports are especially extensive.
Revel's reporting suite synthesizes many sources of data into colorful visuals or a graphical table format. Here are some of the reports you get from Revel in the core areas:
Sales: COGS reports, product mix reports, hourly sales reports, sales by item reports
Labor: See who is at work, who was late today, who worked overtime
Inventory: Real-time view of available inventory, view costs vs. profits on all items
Customer: CRM insights, create segmented customer groups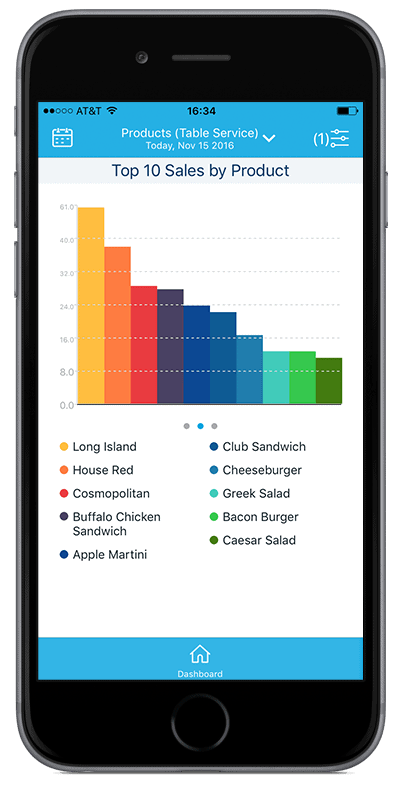 Revel also has an especially strong mobile reporting app called Revel Insights. It has instant notifications about employee activities and lets you change employee schedules from the app. Because of this, Revel could be a good choice for business owners who want to remotely manage their business and employees.
Schedule a free demo of Revel via their website if you want to see how this POS system's reporting works in action, or read our Revel Systems review to learn more.
Get Started With Revel POS Systems
3. Square
Square POS


---
Best for payment reports.
Square is a unique POS that has a fully-featured free POS, as well as paid versions — Square for Restaurants and Square for Retail — which cost $60/month. Square is an excellent all-around POS for any type of small business, from quick-serve to service businesses such as hairdressers, to small retailers. Square is perfect for small businesses that don't have their own merchant accounts, as all Square accounts are tied to Square's flat-rate payment processing services. You can use Square on virtually any type of mobile device or computer with a web browser, though the Restaurants and Retail versions are just for iPad. As for the POS reporting suite, you can log into it from any web browser or from the Square Dashboard app for iPhone.
Square is all about efficiency and simplicity, and its POS reporting features are no exception. Though Square's free reporting isn't necessarily advanced, its core POS reports are sufficient for most small businesses. Being a payments company first and foremost, it should be no surprise that Square's payment and sales reports are especially strong.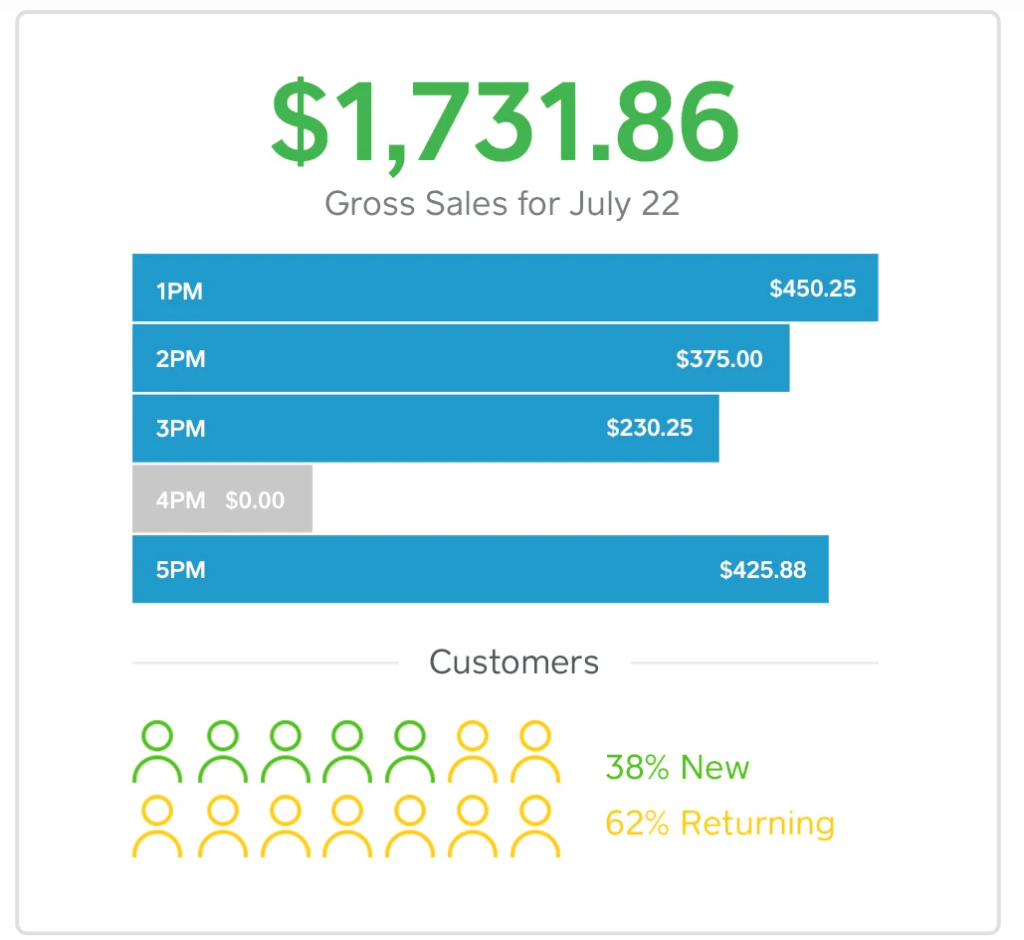 From the Reports screen in your Square Online Dashboard, you can access reports on sales by item, employee, discount, and modifiers, as well as reports on comps, voids, gift cards, taxes, disputes, and more. Square gives you the ability to create custom reports and also makes it easy to see the fees they charge you, which is a good thing to track if you're considering Square vs. a merchant account. Many, but not all, of these reports are also available from the Square Dashboard app.
If you need more advanced POS reporting in certain areas, you might consider a paid Square plan:
Square for Restaurants has restaurant-related reports such as sales by floor plan, sales by bulk or individual modifier sets, and labor costing reports.
Square for Retail has more in-depth inventory reporting, including the cost of goods and projected profits, as well as labor costing.
Sign up for a free Square account on their website to start using their reporting, or read our full reviews of Square, Square for Restaurants, or Square for Retail to find out more.
4. Lightspeed
Lightspeed Restaurant POS


---
Best for inventory & customer reports.
Lightspeed is a small business POS company that's great at everything it does and a favorite of ours at Merchant Maverick. Their POS can run on an iPad or a desktop depending on your preference. Like Square, Lightspeed has two different cloud-based POS offerings: Lightspeed Restaurant ($59+/month or $49/month for Merchant Maverick readers) and Lightspeed Retail ($69+/month). Lightspeed is one of the POS's I talked about earlier that charge extra for advanced reporting. While their "basic" reports are robust enough for many small businesses, larger restaurants and retail stores may opt for the advanced POS reporting option.
Some of Lightspeed Retail's reports include reports like end-of-day, refunds, sales by category, COGS, and bestsellers. Lightspeed Restaurant has reports on labor, ingredients, shifts, receipts, and more.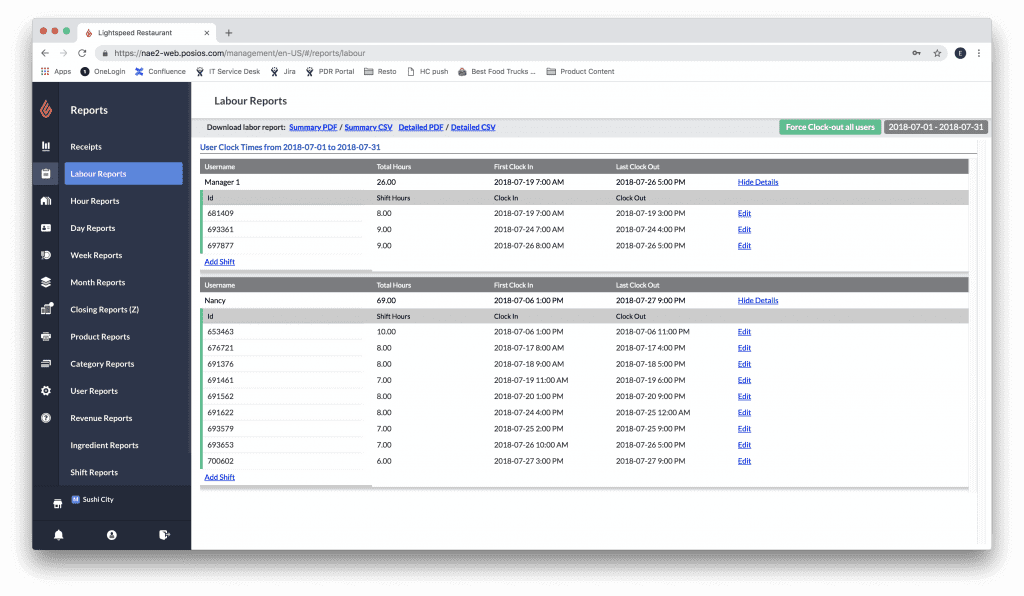 Most Restaurant reports are only accessible on the web dashboard, but a few, including Day, User, and Closing reports, can be accessed from within the POS app itself, depending on the user's permissions. Managers can choose which employees are allowed to see which reports, which is a useful feature for larger restaurants with multiple managers. As for the Retail version, most reports are viewable in the web interface, though owners managers have a separate screen in the POS app where they can view some reports.
Depending on your reporting needs, you may want to upgrade to the advanced reporting/analytics module, which offers a wider selection of reports and lets you build custom reports as well. The Lightspeed Analytics reporting app for the Retail version is especially robust—with super in-depth inventory and customer reports—but you'll have to upgrade to the $229/month package, which may be too much for smaller retail outfits. To add the "Advanced Reporting" module to Lightspeed Restaurant is only another $12/month, but it's not as in-depth compared to the Retail version.
As with the other POS systems on this list, you can read our full reviews of Lightspeed Restaurant and Lightspeed Retail, and/or head to Lightspeed's website for a free demo to evaluate its reporting features first-hand.
Get Started With Lightspeed Restaurant POS
5. Toast
Toast POS


---
Best for restaurant reports.
Toast is a popular POS system for restaurants that want to use a cloud-based tablet POS but don't necessarily want an iPad system. In fact, Toast is an Android POS that runs exclusively on Samsung devices. But despite that distinction, Toast has a lot in common with the other tablet POS systems on our list: it's easy to use and set up and allows servers to take orders and even payments right from their tablets. Plus, it has a lot of cool extras like online ordering, a loyalty program, and delivery management — though some of these features will require you to pay extra.
Toast's basic Starter package, which includes POS reporting, starts at $0/month and you can also finance a hardware kit with no upfront fee.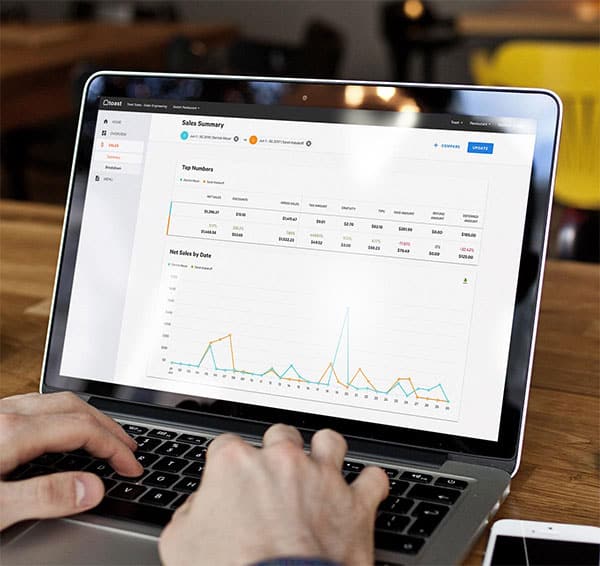 Toast features an extensive reporting suite, perfect if you have a full-service restaurant and need something a step up from what ShopKeep and Square can offer. Unlike some restaurant POS tablets that can only deal with ordering and taking payments, Toast's handheld tablets can access the entire application, including reports.
Some of Toast's POS reporting features include:
Real-time sales, menu, and labor data
An automatic nightly email with the day's reports
Mobile-optimized reports
Product mix report
Comparative reports
Loyalty guest reports
If you want to see Toast's restaurant reporting features in action, you can sign up for a free demo on their website. Or read our Toast POS review to learn more about this restaurant POS.
How Important Are POS Reports To My Business, Really?
Can you make do with your basic reporting system and an old-school method like manual inventory counts? Hey, if what you have is working for you, then it could make sense to keep doing what you're doing. But if you're reading this article, there's a good chance you're at least curious about cloud POS systems and their reporting capabilities. You probably suspect that upgrading to a POS with good reporting could add some value to your business, or save you some time and effort. And you're right!
If you're "POS curious" but not ready to commit, or don't have the budget to commit right now, I'd recommend taking advantage of a free POS, or a POS with a free trial, and playing around with the reports and other features. As mentioned, it's completely free to set up a Square account for your business, even if you just want to evaluate its features and never end up using it. ShopKeep also has a free plan that includes some basic reports.
Looking for an industry-specific POS with good reporting? Here are a few more resources to get you started:
In Summary: 5 Point Of Sale Reporting Systems Tailored To Small Businesses