Giving Tuesday for Small Businesses: Why Your Company Should Get Involved, Plus 5 Fun & Clever Ways You Can Participate
Managing Editor

UPDATED
The Tuesday after Thanksgiving in the United States is officially known as Giving Tuesday, a kick-off to a celebration of charitable giving throughout the world. What started in 2012 as a small act of community activism to rebut the holiday season's abundant consumerism has turned into a global movement of generosity for individuals, small businesses, and corporations. Giving back to your community is one of the most meaningful acts you can do as a small business. If you are looking for a way to capitalize on Giving Tuesdays' influence and reach, keep on reading to find out how.
What Is Giving Tuesday?
Giving Tuesday is a global social media campaign started by the 92nd Street Y and the United Nations Foundation. The campaign's goal is to combat the commercialization of the holidays and raise charitable giving to organizations across the world. According to the Giving Tuesday organizers:
When GivingTuesday launched in the US in 2012, we believed that technology and social media could be used to make generosity go viral; that people fundamentally want to give and to talk about giving; and that the social sector had the capacity to show more innovative leadership, creativity, and collaboration. People and organizations around the world proved us right. In just seven years, GivingTuesday has radically changed how we think about generosity and showed just how much power communities everywhere have to create change.
In 2018, Giving Tuesday donations in the United States exceeded $400,000,000 and received over 14.5 billion social media impressions. Each year, the media attention and hashtag activism create a surge of momentum, and the stats show that consumers (Millennials, especially) make purchasing decisions based on a company's charitable giving.
The concept behind Giving Tuesday is to create a day where our energy and attention focus on how we can help our communities; how you embrace this pseudo-holiday is entirely up to you and your staff. We live in an age where social responsibility matters for your business branding, and it also helps target potential customers who share in your cause. The movement's website does have a way to search for nonprofits seeking assistance in your area if you're looking for a place to start. And if you're wanting to check a charity rating, you can do that through the Better Business Bureau's Wise Giving Alliance.
When Is Giving Tuesday?
Giving Tuesday is set to take place every Tuesday after the US Thanksgiving holiday. This year, the day falls on December 3, 2019. The celebration of giving lasts twenty-four hours.
5 Fun & Effective Giving Tuesday Ideas For Small Businesses
If you don't know the best way to incorporate Giving Tuesday into your small business, Merchant Maverick has some tips for you. Here are five fun ideas:
Choose A Nonprofit Through A Contest
Every year, my credit union holds a contest to donate $10,000 to a local nonprofit in the area. Five charitable organizations are plucked from a bevy of nominations, and customers and people on social media vote for the winner. In this particular version of the event, the nonprofit that wins the contest receives the big prize, but all nonprofits receive a small donation regardless. You want your customers to care about the organization you're backing, so offering the community a chance to nominate their favorite nonprofits is a fantastic and fun way to encourage participation and buy-in. Some companies share their winners on Giving Tuesday, but if that's too late a start for marketing, you could start the contest on Giving Tuesday and extend it through the holidays.
Have Your Entire Company Donate Time/Resources
Giving Tuesday could be an afterthought to an already hectic holiday season. It shouldn't be. There are numerous ways your employees can donate time and resources in your small business's name. Several larger corporations give their employees time off on Giving Tuesday to work/donate their time to a nonprofit of their choice, and other businesses go together as a group to volunteer locally. It's up to you on how you share the news of your giving, but it's more meaningful to focus on the impact you and your business can make to the community. Find places that need you, find a nonprofit that merges well with your business style, and ask how you can help.
Give A Portion Of Your Sales To A Nonprofit
This is an oft-used, tried and true method, but it still has an incredible impact for you and for the nonprofit you raise money for: give money from sales or give goods/services. You can hold hourly contests with giveaways for reaching certain sales goals or keep an updated real-time calculator for social media showing what you've earned. When consumers know a percentage of money is going to an organization they care about, they will be more likely to spend money with you. Is there a special product you could release where 100% of profits go to a charity of your choice? (Think: LUSH Beauty's Charity Pots or Portland's Ex Novo Brewery, where 100% of beer sales target specific nonprofits in the area. Portlanders are always down for drinking with a cause.) There are other ways to use this model that do not cut into sales. There is the TOMS Shoes model (you buy shoes, they give a pair of shoes to someone in need), or the Barnes and Noble Buy a Book campaign for local school children. Is there a product people can buy from you for others? Pick a method that works for your company, whether you are brick and mortar or online, and advertise those Giving Tuesday plans.
Get Your Clients/Customers/Employees To Participate In The #UNselfie Campaign
One of the reasons why Giving Tuesday has momentum and staying power is because of its tireless connection to social media campaigns. The hashtag game is strong with #GivingTuesday. One of those important hashtags is the #UNselfie. An unselfie is a picture posted on social media that lists the reasons why someone might give or where someone is giving their time and resources. The pictures usually involve someone holding up a piece of paper over their face listing the best reasons to give and what specifically is important to them. You can ask customers and employees to take an #UNselfie and post it with your company's hashtag to draw awareness to the day and what your small business is doing. (Maybe hold a random drawing for one customer who posts! Be sure to like and respond to posts, too. Engage with your customers/clients.)
Focus On Storytelling And Go Big On Social Media
I'm a loud and intense proponent of using storytelling to grow your business and help the world. As humans, we are drawn to stories. We want to know who people are, what makes them tick, how we can help. There are many ways to use Giving Tuesday as an opportunity to tell your story or the story of someone who needs help from the community. If you are collecting money for a charitable organization, think about setting certain price-anchors for donations and telling your customers what impact that donation has. (For example, a $10 donation plants a tree; a $100 donation sends a kid in your community to camp.) No matter the organization you choose, it's up to you to tell that story and get the word out. The more relational your Giving Tuesday campaign is, the more success you'll have.
3 Ways Your Small Business Can Benefit From Participating In Giving Tuesday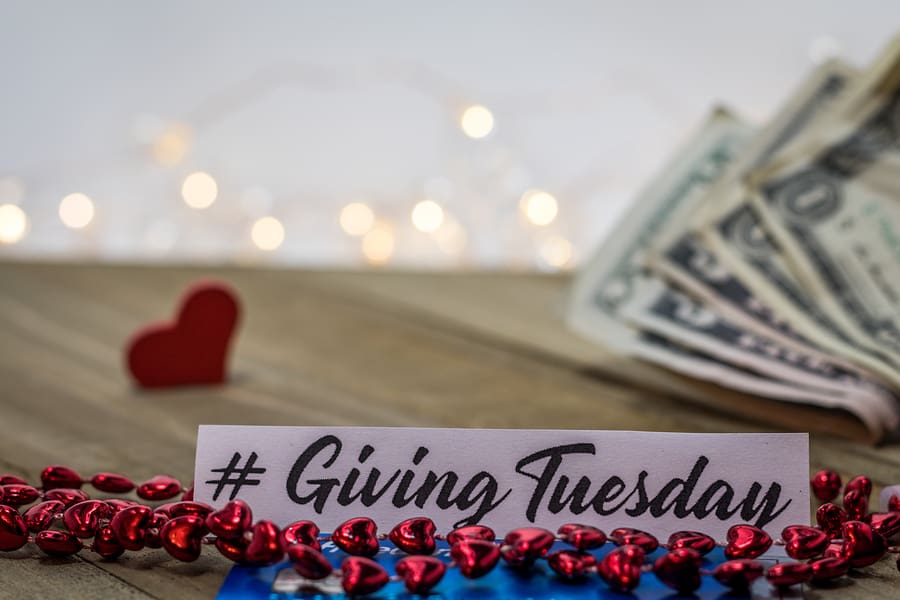 It's important to note that Giving Tuesday is about giving. Can you benefit from participating? Of course! But the who and the why of this day are far more important than the how. Shoppers are savvier than ever before and they know what they like in a business, and they can also smell inauthenticity from miles away. If your Giving Tuesday campaign is too focused on you and not focused enough on who you're helping…you're doing it wrong and it will feel forced and backfire. Getting excited about Giving Tuesday starts at the top and works down, so you set the barometer as a business owner. Still: that doesn't mean the attention to Giving Tuesday isn't worth it for your business. Here are 3 ways you benefit from participating:
Improve Employee/Customer Morale: Today I cried watching a viral video of a little boy finding an empty candy bowl on Halloween and filling it with his own candy before leaving the house. We are moved by selfless generosity and love for others, and when feel-good stories are short supply, boosting morale is no small task. Work is work and business is business. For business owners and employees alike, taking the time out to do something important and generous will boost mood and overall company self-esteem.
Receive Tax Deductions: Tax deductions are helpful and we cannot ignore that they are a benefit to donations. Check out your state and local requirements for tax deductions on charitable giving and follow all the rules.
Establish Yourself In The Community: Your small business is part of a larger community and serving that larger community is a huge benefit to you, your employees, and your customers. Whether it's getting your name out as a partner or ally, communicating your business values, or setting up a system of giving that extends all year long, Giving Tuesday is the perfect place to start your campaign.
Pay It Forward With Giving Tuesday Campaigns
Doing good for the world and your community is good for business. Shoppers care about their communities, they also care about knowing where their money is going, and they want to shop for a cause. While the Giving Tuesday media ramps up and before the hashtags start to fly, decide on the most practical way to contribute this year and build off that foundation. What has your small business done for Giving Tuesday in the past? Do you have any ideas and success stories to share? Tell us in the comments below.