American Express Blue Business Cash Review
Expert Analyst & Reviewer

UPDATED
Advertiser Disclosure: Our unbiased reviews and content are supported in part by
affiliate partnerships
, and we adhere to strict
guidelines
to preserve editorial integrity.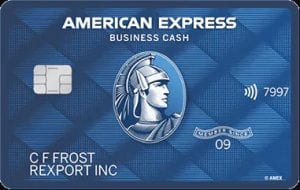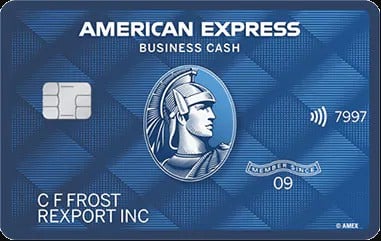 Need help finding a lender?
Date Established

1850

Location

New York, NY
The Blue Business Cash Card from American Express is tailor-made for the small business owner who prefers a straightforward cash back program over a rewards points program. There are no spending categories to track and no annual fee to offset — making it a breeze for any small business to use.
The card's main selling point? You'll get 2% cash back on the first $50,000 you spend on purchases each year, with all subsequent purchases earning 1% cash back. Your cash back will be automatically credited to your account with no action required on your part. I'm sure you've got better things to worry about.
On the downside, the Blue Business Cash Card does not have a bonus offer, so you won't earn any extra cash back by loading up the card with charges early on. Thankfully, the card carries an introductory 0% APR on both purchases and balance transfers for 12 months. Another key perk of the Amex Blue Business Cash Card is the ability to spend above your credit limit, making this card a handy tool for dealing with any unexpected business costs that might pop up.
Read our American Express Blue Business Cash Card review below to see how well this card fits your business spending needs.
Blue Business Cash Card From American Express At A Glance
American Express Blue Business Cash


---


Visit Site

Annual Fee:


---

$0

Purchase APR:


---

14.24% - 20.24% (variable)
Eligibility
It is usually recommended that you have good to excellent credit before applying for the Blue Business Cash Card. That means you'll want a credit score of at least 640.
Don't know your credit score? Find it out via one of our favorite (and free!) credit score websites!
Rewards For Spending
There's no high-level calculus needed for this card's rewards scheme. Oh, and that rewards scheme is pretty generous too. Do keep in mind, though, that there isn't a welcome offer with this card.
2% On Your First $50,000 Spent
The generous rewards rate for this card is 2% cash back on all purchases. While there are plenty of cards on the market offering above 2% cash back, most of those cards impose restrictions on which spending categories qualify for the bonus rate. Two percent cash back is among the highest you can get from a credit card for all purchases. However, note that this double rate only covers the first $50,000 you spend on the Blue Business Cash Card each calendar year.
1% After You Spend $50,000
After you hit the $50,000 mark on the Blue Business Cash Card in a calendar year, your cash back rate will drop to 1% cash back. While this isn't a terrible rate — a little cash back is better than no cash back — it's still nothing special. As such, if you plan to put more than $50,000 on the card annually, you may prefer to look at a different cash back card that doesn't impose a spending cap.
Redeeming Rewards
Blue Business Cash Card's redemption method isn't snazzy. For some people, that could be a blessing — others may not like its limited flexibility.
No Action Needed
American Express promises that you won't have to take action to receive your cash back. It will simply reward you with a statement credit every billing period.
Note that unissued credit will be lost if you cancel your account. Additionally, you won't receive credit if you fail to make your minimum payment for the billing period.
No Redemption Options
There is a catch to this card's minimalist redemption process: You won't be able to pick and choose how you redeem your rewards — no gift cards or travel redemption options come with the Blue Business Cash Card. Whether this affects you or not will come down to how you like to receive and use your rewards.
Card Benefits
American Express is one of the big players in the credit card game. As such, you can expect your Blue Business Cash Card to come with a solid benefits portfolio.
Spend Above Your Credit Limit
Something American Express likes to market with many of its business credit cards is what it calls "Expanded Buying Power." This feature enables you to spend above your official credit limit. However, this amount isn't actually unlimited. Instead, it adjusts based on your card usage, your payment history, your credit record, your financial resources known to Amex, and other factors.
Free Employee Cards
With the Blue Business Cash Card, you'll be able to dole out employee cards at no cost. Employee cards earn rewards at the same rate, and spending limits can be set. You can also receive alerts when an employee makes a purchase — and can turn off alerts for purchases made within approved categories.
Travel & Transportation Benefits
There are a couple of perks stored away with the Blue Business Cash Card that will help out travelers. First off is the card's car rental loss and damage insurance coverage that protects eligible rental cars in case of damage or theft. Note that not all vehicle types are covered, and that coverage is not available in Australia, Italy, or New Zealand.
Next is Amex's 24/7 "Global Assist Hotline." This helpline grants you access to support for medical, legal, financial, select emergency coordination and assistance services, cash wire assistance, passport replacement, missing luggage, and more.
Account Management Tools
Any credit card company worth its salt has robust account management, and American Express matches this expectation. Amex will allow you to designate trusted individuals as account managers. These account managers will be able to access and manage your business card account.
Other features in Amex's arsenal include account alerts (for avoiding late payments, irregular activity, and monitoring employee spending), year-end summaries, and online statements.
Amex also has two apps available, one for general card use (to check your balance, pay off your statement, etc.) and another, business-centric one for managing your card's receipts. On top of this is the option to export your transaction data directly into a QuickBooks account.
You'll additionally be able to connect your card to Bill.com and sign up for "Vendor Pay." This feature can help streamline your bill-paying process.
Purchase Perks
Finally, American Express offers a few ways to lend a hand if a purchase goes awry. To start, eligible items purchased with the Blue Business Cash Card can have their warranties doubled (up to one year and if the original warranty is less than five years). Next is the ability to protect purchased items in case they accidentally break or are stolen within 90 days of the buy date. Amex further offers dispute resolution to help when fraudulent or incorrect charges are made on your account.
In some cases, you may also be able to access special seating or exclusive ticket access when you buy tickets to an entertainment event with your Blue Business Cash Card.
Rates & Fees
No annual fee and an intro APR period highlight the Blue Business Cash Card's rates and fees. However, frequent travelers beware: This card comes with a foreign transaction fee.
No Annual Fee
Amex has built this card without an annual fee. When coupled with the card's 2% cash back, the lack of an annual fee is a very enticing plus of the Blue Business Cash Card. Because there is no annual fee, you'll be in the black no matter how much you spend because your rewards will start earning money from day one.
0% Intro APR For 12 Months
If you need to carry a balance (perhaps you're making a big purchase or transferring in a balance), the Blue Business Cash Card delivers 12 months of 0% APR on both purchases and balance transfers. It's one of the most prolonged introductory rates on the market — especially when looking at just business credit cards.
Low APR
After the 0% intro period is up, you can expect an APR that ranges from 14.24% - 20.24% (variable). The upper end of this range is still relatively low compared to other cards on the block, making the Blue Business Cash Card an excellent card for when you can't pay off your balance in full. Of course, if you do consistently pay off your balance, you won't need to worry about the APR.
Foreign Transaction Fee
Frequent flyers take note: The Blue Business Cash Card comes with a 2.7% foreign transaction fee. This is a fairly standard rate when it comes to foreign transaction fees, but it's still disappointing that this card comes with such a fee at all.
Other Fees
There's a couple of additional standard fees to keep in mind. Balance transfers will ding you $5 or 3% of the amount of each transfer (whichever is higher). There's also a late payment fee that can go up to $39 (returned payments will be charged the full $39 amount).
Is Blue Business Cash Card From American Express Right For You?
You might want to apply if:
You want a high-rate cash back card
You plan to spend less than $50,000 annually
You'd like to avoid an annual fee
You might want to look for a different card if:
You plan to spend a lot more than $50,000 annually
You travel frequently
You want a card with more flexible redemption methods
---
Featured Free Corporate Card
Ramp


---



Ramp offers a free corporate card for virtually any business. Start earning rewards with your corporate spending today. Get your free card.
Featured Free Corporate Card
Ramp


---



Ramp offers a free corporate card for virtually any business. Start earning rewards with your corporate spending today. Get your free card.
To learn more about how we score our reviews, see our
Business Credit Card Rating Criteria
.