Expert Analyst & Reviewer

Updated on:
Advertiser Disclosure: Our unbiased reviews and content are supported in part by
affiliate partnerships
, and we adhere to strict
guidelines
to preserve editorial integrity.
CardFellow

Pros
Automated comparison of processor quotes
Transparent cost-plus pricing
Lifetime rate lock
Rate audits every six months
No early termination fee
Excellent customer support
Excellent website and advertising
Trusted by merchants
Cons
Must inquire separately for gateway pricing
Not ideal for micro-merchants
CardFellow.com Overview
We all know that the attempt to compare and analyze credit card processing offers is pretty much a headache waiting to happen. But that's why enterprising companies have set about trying to simplify the process for merchants. Take, for example, CardFellow, a comparison shopping engine for merchant accounts. CardFellow lets you pit competing credit card processors against each other in a bid to win your business (a process formally known as a reverse auction). The idea is to save you some haggling and headaches by having CardFellow solicit processor bids on your behalf but then ultimately give you complete control over the final decision. Meanwhile, the CardFellow team is on-hand to offer expert support and education during the whole process. Sounds pretty convenient, right?
You might be wondering who, exactly, are these processors just chomping at the bit for your business? Well, when you first sign up, you will only be provided with quotes that have been vetted and certified by CardFellow. Note that this does not mean the processor itself is certified by CardFellow — just the specific quote you'll see from that processor through the system.
According to the terms of service for the marketplace, each processor with certified quotes has entered into a legal agreement with CardFellow to "ensure fair and honest pricing, tactics, and business practices." Obtaining a quote from the same processor outside the CardFellow marketplace may look quite different and even be less competitive, and that's the exact point of this special certification process.
Specifically, CardFellow only certifies quotes with interchange-plus (pass-through or cost-plus) pricing and no cancellation fee. Given that Merchant Maverick also holds our highest rated processors to these standards (among others), this most definitely warms our reviewer-hearts. In fact, a few of our favorite providers are in CardFellow's certified quote list, which is a good sign. You can also invite quotes from other processors through the system, but these bids will not be backed by CardFellow's safeguards. Still, the power of the platform is its ability to compare any quotes side-by-side automatically.
You can already deduce from our 5-star rating that we think CardFellow is worth a go. As you read on, we'll explore CardFellow's system in more detail, picking apart some of the important, yet subtle nuances to consider. You'll also learn about our own experience testing out CardFellow.
CardFellow.com Products & Services
In this section, we'll go over the basics of using the marketplace to obtain quotes as well as outline the additional ways CardFellow supports your search for a processor. If you are not already familiar with how card processing costs work, I'd suggest reading our complete guide to rates and fees first.
The CardFellow platform always begins by supplying you with a set of four instant, prescreened, and prenegotiated processor bids — all in interchange-plus form. This separates wholesale costs (which stay the same for each processor) and the processor's markup (which changes with each processor) for easy comparisons. As of this review, a total of 12 processors submit certified quotes via the platform. A couple of them, such as TSYS and Heartland Payment Systems, are large companies. The rest are all on the smaller side — including a few of our favorite processing companies!
Here's how it works:
1. Sign Up: Create an account and then enter a few basic stats about your business. You can return to these forms at any time to adjust your stats, and your processing costs inside the quotes will automatically adjust as well.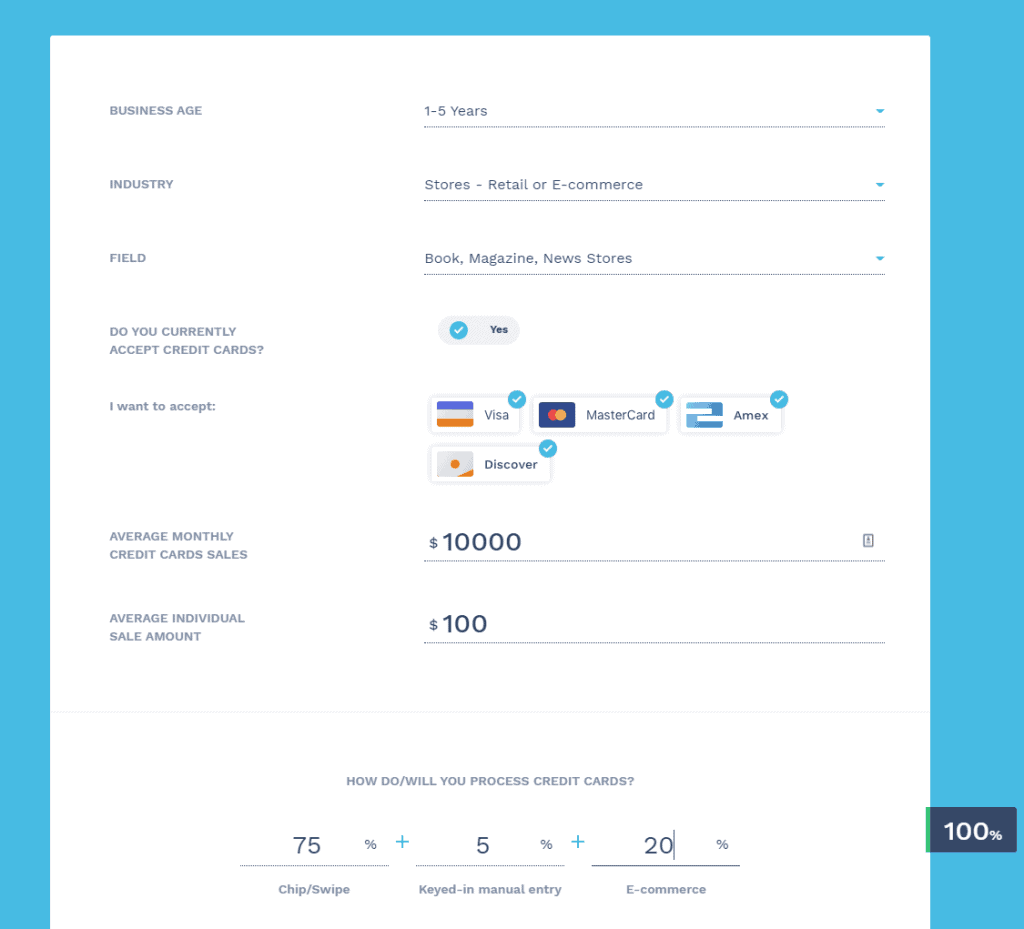 2. Quote Comparison: After entering your stats, a comparison dashboard for your four initial quotes appears within seconds. You can always invite more quotes if you'd like. The important figures to note for each quote are:
Interchange Markup: The percentage volume markup and the per-transaction markup for each processor (0.12% + $0.10 in my first quote below).
Estimated Wholesale Cost: Shown as a dollar amount, this stays the same for each quote as long your business stats remain the same ($160.92 in all my quotes below).
Processor's Markup: Also shown as a dollar amount, this is the piece that varies between your quotes. It includes the cost of individual transactions, plus any regular and required monthly charges ($37.85 in my first quote below).
Estimated Cost To Process: This is shown as a dollar amount representing the total of the above two figures and as a percentage of your total processing volume ($160.92 + $37.85 = $198.77 or 1.99% in my first quote below). Assuming there are no other add-on services, the percentage is otherwise known as your effective rate.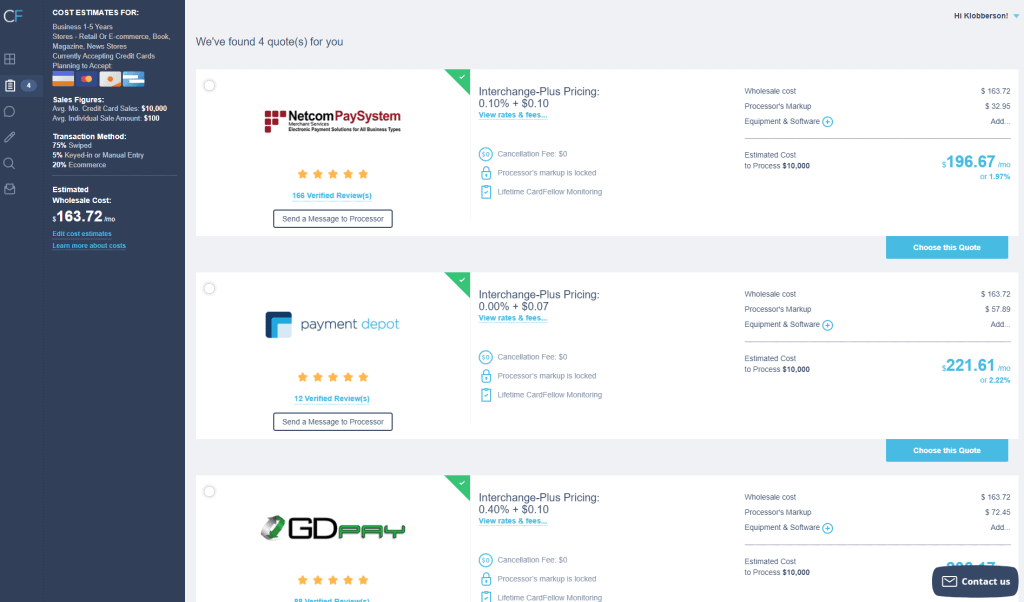 3. Quote Detail: Clicking on your results' logos lets you drill down on the details of each quote. You can toggle between the categories of fees you'll be charged.

Here's what you'll find inside each category:
Rates & Fees: This resembles a fee breakdown that comes with a standard processing agreement, where you see all possible rates and fees from the quoting processor in one long list, including any per-occurrence fees, such as chargebacks and voice authorizations.
Wholesale Rates: The total wholesale cost you've seen before is now shown as the sum of your predicted interchange fees and card brand fees. If you open up the details, you'll see the itemized list of fees that are the calling card of pass-through pricing. This list of estimates is based on the going wholesale rates of the most common cards/transactions, played against the specific transaction type and card type ratios you entered at the beginning.
Processor's Markup: Assuming you haven't incurred any out-of-the-ordinary incidental fees, this is a look at an average month of the processor's markup. It incorporates the interchange rate and transaction fee markups as well as any scheduled fees (such as monthly admin or PCI fees).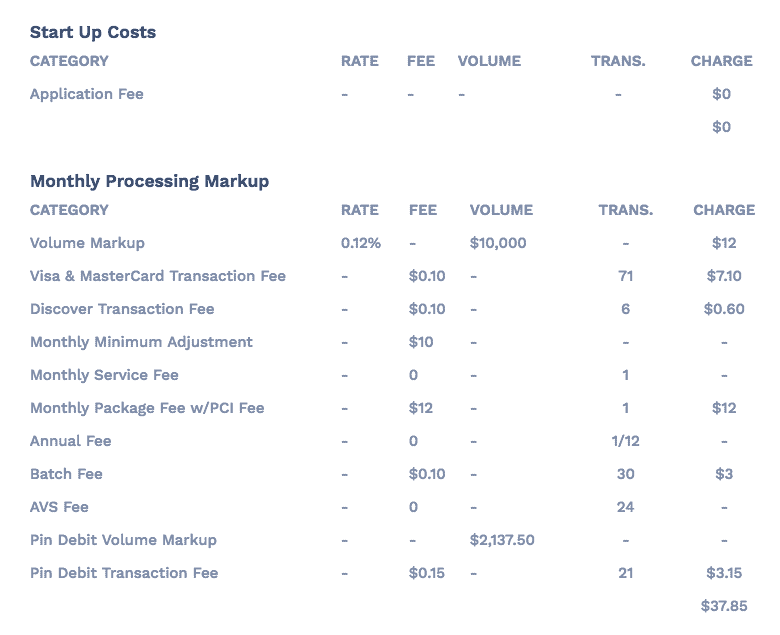 4. Choose this Quote: Once you've decided, you're ready for the "Choose this Quote" button. You must relinquish your anonymity at this point, so the processor can contact you directly and begin the application process.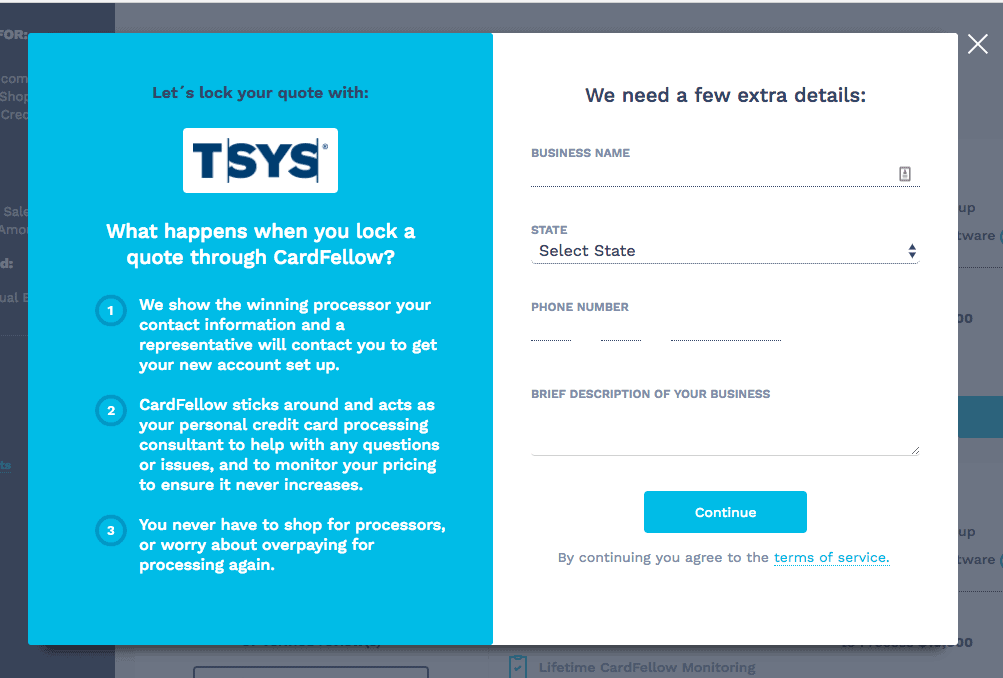 Additional Features & Services
Statement Analysis: CardFellow advertises an optional comparison of your current processor's charges to the certified quotes. Simply upload two months of statements within your quote dashboard.
Processor Messaging System: Anonymously communicate with each processor from within your CardFellow dashboard before you make a final decision. Each quote has a private message board where merchants can post questions instantly. All posts are saved in the message board (and monitored by CardFellow to ensure processors provide accurate information) and also emailed to the merchant and processor.
Sample Processing Statements: Many processors have uploaded PDFs of sample statements into the platform. The numbers within the statements aren't specific to your situation, but it's still helpful to view how costs will be displayed before making your decision.
Live Chat: This handy service pops up in your dashboard as you're viewing quotes during business hours.
Merchant Code: Give the code from your dashboard to any sales rep you encounter (and we know you encounter lots!), and the processing company can submit a bid through CardFellow's system. It's a great way to get the rep off your back for the moment, but it also lets you make a thorough comparison of the offer to other quotes within CardFellow's dashboard at your leisure.
Lifetime Rate Monitoring: Twice per year over the lifetime of your merchant account, CardFellow performs an audit of your statements, comparing the charges with your original certified quote to ensure there are no discrepancies.
Processor Directory & Reviews: CardFellow maintains a processor directory with over 200 companies in total, including the 12 that currently submit certified bids through the marketplace. Each processor has a detailed review written by CardFellow as well as "verified reviews" (by merchants who have obtained quotes through CardFellow) and "unverified reviews" (by anyone who has not used the processor specifically through CardFellow).
Product Directory & Reviews: This is a database maintained by both CardFellow and the processors that feature add-on POS systems, credit card machines, mobile readers, PIN pads, gateways, and virtual terminals. A processor may suggest equipment from the directory as part of its quote, or you can add supported products to one or all of your quotes. You can also use the directory to learn about these products, even if you're not using the marketplace to obtain quotes.
Online Educational Materials: CardFellow's blog articles are among the most detailed and informative you'll find about the payment processing industry. With years of experience dealing directly with multiple processors and analyzing real statements, the team has lots of inside knowledge.
Fees & Rates
The CardFellow marketplace itself is free to use, but like any free service, there's always a built-in cost. In this case, CardFellow receives a small commission as a referral fee from the processor that you choose.
Processors submitting certified quotes are required by CardFellow to use transparent interchange-plus pricing. Additionally, all quotes are locked in for life and monitored by CardFellow to ensure they don't increase at any point in time. Those two factors alone are huge advantages when you're shopping for a merchant account.
In my test, the automatic quotes I received were definitely competitive. I was especially pleased to see interchange-plus quotes that worked well for quite low volumes. Sometimes, small merchants are too quick to assume they'll be better served by Square (read our review), PayPal (read our review), or other merchant aggregators with flat-rate pricing. Aside from your volume, however, much will depend on your specific ratio of transaction types (swiped vs. eCommerce and/or keyed-in) and your average ticket size. When the cost is comparable between providers, your decision really comes down to the specific features you need as well as other non-financial aspects of the provider, such as customer service.
Do be careful about add-on features from CardFellow's product directory, especially payment gateways (all eCommerce merchants need one). These often come with a monthly and/or per-transaction fee. As of this review, you must inquire separately for the pricing of most gateways when adding them to your quotes in CardFellow. Gateway costs should be counted into your effective rate, but the system is currently not adding them in automatically. CardFellow is waiting for all the vendors to update these pricing stats.
Here's another point of caution: The platform is designed to handle practically every business scenario but not drastic adjustments from a single user. Each processor can preset all kinds of detailed parameters for instant quotes on the back end. So the stats you first enter into the system are the biggest factor in determining 1) which four processors provide instant quotes, and 2) what your interchange markup will be with each processor. If I'd entered different stats to begin with — such as a different business type or an extremely different monthly volume — I may have received quotes from alternate processors and even a different interchange markup from some of them. You can make small adjustments, but if you need to adjust your stats significantly, you should reach out to CardFellow to reset your profile with a clean slate.
Remember, you can also request and compare more quotes than the initial four.
Non-certified quotes may come through CardFellow in interchange-plus form, but it's quite likely they'll be in tiered or flat-rate formats. Note that these pricing models obscure the difference between the wholesale cost of processing (interchange and card brand fees) and the processor's markup. The folks at CardFellow know that the only way to make a real comparison between processors is to separate these costs from each other. They built their algorithm to simulate a typical tiered breakdown of qualified, mid- and non-qualified transactions based on the transaction stats you entered at the beginning. Then, it extrapolates what the processor's markup would actually be based on the analysis as well as your total effective rate, so you can make comparisons with other quotes.
If you're going with a non-certified quote, I'd recommend checking our review of that processor first.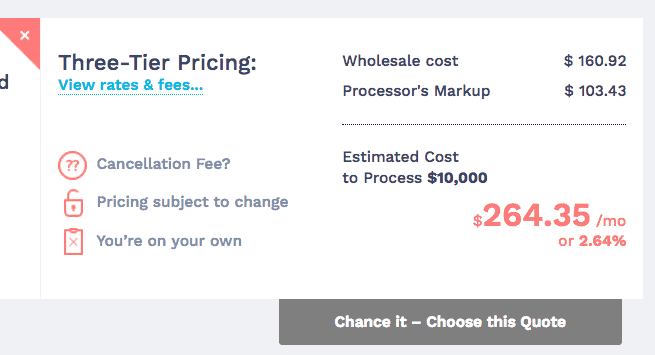 Sales & Advertising Transparency
CardFellow's advertising is straightforward. The website is forthcoming in a number of places about the way the company makes money, and CardFellow claims to earn the same commission regardless of the processor you choose. We aren't privy to the exact standards to which CardFellow holds the processors for which it certifies quotes, but we were given the highlights (such as interchange-plus pricing).
CardFellow's oversight should help eliminate most of the pushy and dishonest tactics often used by sales reps in the industry. The worst I experienced was several follow-up sales emails from a processor through the anonymous messaging system — quite benign in the grand scheme of processor badgering. Even though CardFellow doesn't certify or officially "recommend" any processors, the legal agreement with each processor means CardFellow stands behind the certified quote and, at least by extension, the processor itself when operating inside the marketplace. The point is, you're using a closely monitored sales process.
Contract Length & Early Termination Fee
You will not be charged a cancellation fee by processors placing certified bids within the CardFellow marketplace. In other words, your merchant account will be on a month-to-month agreement. Waiving of early termination fees is one of the primary criteria for quote certification in CardFellow's system. Of course, you should never trust a cancellation fee waiver unless you get it in writing. CardFellow ensures you receive a copy of the waiver.
It bears mentioning that you also do not have a contract with CardFellow, nor are you obligated to choose a processor through CardFellow if you obtain quotes. You will only be asked to agree to CardFellow's terms of service when you create an account.
Customer Service & Technical Support
Ongoing support and personalized guidance is a hallmark of CardFellow's service. Accordingly, I've already discussed most of the support services in the Products & Services section of this review. More than simply a marketplace for quotes, CardFellow will act as your personal consultant and continue to monitor the account you end up with by performing an audit every six months. My impression from testimonials is that the staff is also available if you happen to need assistance between check-ins. I can also vouch that the team is very responsive to phone, email, and live chat inquiries.
Through the certified bid and acceptance process, you should end up with a dedicated account representative from your processor who will serve as your main point of contact. That said, do examine the customer service details and reputation of your potential processor by conducting some research of your own. During what hours is tech support available, and what is the best way to get in touch? What is the average response time? What supplemental resources does your processor provide, and what's the quality of these materials? What happens if your dedicated rep is unavailable? These are critical aspects of a merchant account that you can't determine from simply examining quotes.
CardFellow.com Reviews, Complaints, & Testimonials
Negative Reviews & Complaints
CardFellow is not accredited with the Better Business Bureau currently, but there also aren't any negative reviews or complaints registered with the watchdog group. It's important to remember that the lack of negative feedback about CardFellow does not mean all the processors that provide certified quotes also maintain spotless track records. It does mean that if merchants are upset about their experiences with the processors they signed up for via CardFellow, they are not blaming CardFellow for guidance toward bad decisions. Internally, CardFellow must have a great system for handling any dissatisfaction.
Positive Reviews & Testimonials
If you take a look at the testimonials CardFellow puts on its website, you'll see a comment, the commenter's name, and the name of their business. This is about what I've come to expect from many companies, but to be honest, it could be a lot more forthright by adding a last initial or even the location of a company. However, there is some information to be gleaned from those testimonials! Many of the recurring themes are echoed in the Verified Review sections of the individual processor profiles on the site. Here are the most common points of praise for CardFellow:
Satisfaction With Processor Choice: Merchants were pleased with the processors they ended up with, some mentioning they'd been with their selections for several years.
Saved Money: The majority of merchants providing testimonials confirmed saving money with their new processors, and a few volunteered the actual percentages or dollar amounts saved.
Smooth Sales Process: Business owners appreciated the speed and ease of the process as well as being spared aggressive and misleading sales pitches from processors by using the system.
Great Customer Service: The CardFellow team is praised time and again for their support both during and after using the marketplace to find a processor. Business owners feel CardFellow has acted as an ongoing advocate for their interests. Several also highlighted the personal attention they received from CardFellow founder, Ben Dwyer.
Helpful Articles: Many merchants reported that they'd initially discovered CardFellow through one of its enlightening blog articles on the credit card processing industry and then went on to use the marketplace to find a processor. Others explained how they continue to rely on CardFellow's published resources when they run into problems.
Most of the external praise you'll find for CardFellow is within articles about searching for a good credit card processor. Google reviews have collected a handful of testimonials as well, and you'll also find positive testimonials in our Comment section.
Final Verdict
My overall experience using the CardFellow marketplace was very positive. The signup process is painless and straightforward, the UI is sleek and intuitive, and the quote data is displayed in an understandable way. My impression that CardFellow really understands the ins and outs of this industry and has set up a fair and valuable system for merchants was only further solidified. Besides number crunching, you also enjoy the benefits of CardFellow's personalized expertise and guidance through the gauntlet of choosing a processor. And the best part? The service is free to use. For these reasons and more, I highly recommend creating an account with CardFellow.
The only thing really missing is the ability to run a comparison with an aggregator, such as Square or PayPal. These and other third-party payment processors are tailored to low-volume, low-ticket merchants using a type of flat-rate pricing that works well for some businesses just getting started. I'm not even sure you'd want to invite a quote from one of these aggregators through the system (Square has even been known to tack on extra charges when you ask for a custom quote instead of just signing up). CardFellow works best when you're ready to graduate from an aggregated payment facilitator to a merchant account of your own.
Users who'll see the greatest benefit from CardFellow will be those who don't care to learn much about interchange and pricing models; they just want someone else to help them save money quickly. If you are already knowledgeable in this area, you can probably negotiate some reasonable rates on your own. Meanwhile, there's no reason you can't use Merchant Maverick's reviews and CardFellow's number-crunching platform in tandem! I recommend that you check out both.
---
The Merchant Maverick Seal of Approval 🏆
CardFellow


---



After hours of in-depth research and evaluation, we can confidently recommend this brand to our readers. Get started today and see CardFellow for yourself.
The Merchant Maverick Seal of Approval 🏆
CardFellow


---



After hours of in-depth research and evaluation, we can confidently recommend this brand to our readers. Get started today and see CardFellow for yourself.
To learn more about how we score our reviews, see our
Credit Card Processor Rating Criteria
.
Read Next