Chase Ink Business Preferred Review
Ink Business Preferred is Chase's flagship business credit card. Its rewards program is excellent for traveling, earning points for cash back, or other rewards.
Expert Analyst & Reviewer

UPDATED
Advertiser Disclosure: Our unbiased reviews and content are supported in part by
affiliate partnerships
, and we adhere to strict
guidelines
to preserve editorial integrity.
Chase Ink Business Preferred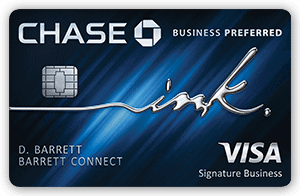 Minimum Recommended Credit
Excellent
Rewards Rate
3 or 1 point per dollar spent
Ink Business Preferred is Chase's flagship business credit card. Introduced in 2016, Ink Business Preferred is one of the most popular business cards around and is recommended by many experts. After taking a look for ourselves, doing the math, and comparing it to the competition, we have concluded that Chase Ink Business Preferred lives up to its reputation.
If you own the right type of business, the Ink Preferred card might be a good choice for you. This snazzy bit of plastic offers 3 points per dollar spent on common business expenses, such as cable, internet, and phone purchases; travel; and shipping. Points can be redeemed for cash back, travel, or even transferred to other travel rewards programs.
Should you apply for an Ink Business Preferred credit card from Chase? Read on for more details and see how it compares to other business credit cards.
Chase Ink Business Preferred At A Glance
Chase Ink Business Preferred


---


Visit Site

Annual Fee:


---

$95

Purchase APR:


---

15.99% – 20.99% (variable)
Eligibility
Chase Ink Business Card Credit Score Recommendation
Applicants typically must have good to excellent credit to be approved for Ink Business Preferred. That means you'll need to have a credit score of at least 640 to qualify. Don't know your score? Find it out via one of these free credit score check websites.
Note that this is just a recommendation — Chase doesn't market a required credit score for this card.
Rewards For Spending
The Ink Business Preferred card has a rewards scheme designed for small business use. With such a carefully crafted design, this card's rewards setup will suit a wide array of businesses. However, there is a spending cap to keep in mind, and purchases outside the designated categories pick up points at a fairly pedestrian rate.
A Welcome Offer Worth 100,000 Points
Everyone likes a solid welcome offer, and Ink Business Preferred should make people happy in this regard. You'll collect 100,000 bonus points should you spend $15,000 within three months of opening your account. These points will be deposited into your account within six to eight weeks.
Those 100,000 points are equivalent to $800 if redeemed for cash back. Or — thanks to a 25% increase in value — if you redeem them through Chase's travel portal, they're worth $1,250.
3x Points For Select Categories
You'll receive triple points for several select purchase categories whenever you whip out your Ink Business Preferred card. Chase has designated these categories as:
Travel
Shipping purchases
Internet, phone, and cable services
Advertising purchases with social media and search engines
However, there is a catch to these bonus categories: You'll only net the 3x point rate on the first $150,000 spent in combined purchases each account anniversary year. After you hit the $150,000 threshold, purchases made in these categories will score the standard 1 point per dollar.
1 Point Per $1 On Everything Else
Everything outside of the bonus categories snags 1 point per dollar spent. As mentioned above, the bonus categories are dropped down to the same 1 point rate once you spend $150,000 combined in those categories each account anniversary year.
5x Points On Lyft Rides
All Chase Ink cards currently receive 5x points (or 5% cash back) when used for rides with Lyft, thanks to a limited-time partnership with the ridesharing company. This bonus rate will run through March 2022. By offering such a high bonus rate, this unique partnership could make the Ink Business Preferred enticing if you plan to use the card for booking rides frequently.
Redeeming Rewards
Chase has built this card to be especially handy when redeeming points for travel. There are a few other ways to redeem points too.
Travel Redemption Nets 25% More
When you redeem points through the Chase Ultimate Rewards online portal for travel, they'll be worth 25% more than other redemption methods. For example, 25,000 points will be worth $312.50 instead of $250, and 50,000 points will stretch to $625 instead of $500.
Redeem For Apple Purchases, Gift Cards, & Cash Back
Chase offers a few other redemption methods if you don't want to redeem points for travel purchases. You can buy technology from Apple through Chase's Ultimate Rewards portal, collect gift cards from over 150 brands, or earn cash back in the form of a statement credit or deposited into an eligible US bank account.
1:1 Point Transfer
None of the above options suit your fancy? Chase features the ability to transfer points on a 1:1 basis to over 10 travel partners in both airline and hotel categories. At the time of writing, these travel partners include:
Aer Lingus AerClub
British Airways Executive Club
Emirates Skywards
Flying Blue AIR FRANCE KLM
Iberia Plus
JetBlue TrueBlue
Singapore Airlines KrisFlyer
Southwest Airlines Rapid Rewards
United MileagePlus
Virgin Atlantic Flying Club
IHG Rewards Club
Marriott Bonvoy
World of Hyatt
Chase Ink Business Preferred Benefits
With Chase being one of the bigger players in the credit card scene, it's unsurprising that Ink Business Preferred comes with an arsenal of strong benefits.
Free Employee Cards
Free employee cards should be included with every business credit card. Thankfully, Ink Business Preferred does have this option. You'll be able to pick up rewards when your employees make purchases, and you can also set individual spending limits.
Trip Cancellation & Interruption Insurance
If you can't make a trip, or the journey is cut short for some reason, it can be frustrating when you have to eat the trip's costs. Luckily, Chase bundles in trip insurance with Ink Business Preferred. Eligible reasons for receiving reimbursement include sickness and severe weather.
All told, you can be reimbursed up to $5,000 per person and $10,00 per trip. The payout can cover prepaid, non-refundable travel expenses, including passenger fares, tours, and hotels.
Auto Rental Collision Damage Waiver
When you rent a car with an Ink Business Preferred Card, you may be able to receive coverage against theft or damage toward your rental car. Note that if you want coverage through Chase, you must pay for the rental in full with your card and decline any damage waivers shown to you at the rental car desk. Chase's coverage will be primary when you rent a car for business use.
Cell Phone Protection
Cell phone protection is a rarity in the business credit card world. As such, this card from Chase is one of the few that can protect you against theft or damage to your cell phone.
You'll be able to get up to $1,000 per claim in cell phone protection for both you and any employee listed on your monthly cell phone bill. You can make up to three claims in a 12-month period, and there's a $100 deductible per claim. Note that you will need to be paying off your cell phone bill with your Ink Business Preferred card to be eligible to make a claim.
Roadside Dispatch
Should your car suffer a breakdown on the road, you'll be able to ring Chase's roadside dispatch service. They can lend a hand with various car woes, including jump starts, tire changes, gas delivery, and lockouts. Note that you will be responsible for any charges sent your way.
Purchase Protection
If you've made a purchase with your Ink Business Preferred card and the item has become damaged or stolen, you may be eligible to trigger Chase's purchase protection policy. With this protection in hand, you'll be covered against damage or theft for up to $10,000 per claim and $50,000 per account. The policy only covers items within 120 days of purchase.
Extended Warranty Protection
Purchases made with an Ink Business Preferred card may also qualify for extended warranty coverage for up to one year. Note that warranties already longer than three years won't be eligible for this additional protection.
Account Management Tools
Additional tools can help you manage your card's account. Some included perks are:
24/7 access to view account details, quarterly reports, and more
Integration with bookkeeping software
Account alerts
Fraud Protection
Chase offers fraud protection in case purchases are made on the card without your consent.
Rates & Fees
As with any credit card, Ink Business Preferred includes a few fees worth keeping an eye on. While the annual fee is certainly a downer, this card could be effective when wielded by a frequent flier — there is no foreign transaction fee.
An Average APR
With the Chase Ink Business Preferred card in hand, you won't need to worry about an outrageously high APR. At the time of writing, its APR sits at 15.99% – 20.99% (variable). That lower end is a very competitive number, while the upper end is pretty average compared to other business credit cards.
A $95 Annual Fee
Probably one of the most negative bits about Ink Business Preferred is its annual fee. Chase charges card members $95 per year to use the card. While $95 isn't a massively high number to consider, it's still something you have to hand over annually.
You'll also want to factor the annual fee into calculating how much you might earn with the card. Assuming you only spend in the bonus points categories and redeem those points earned for travel, you'll need to spend — at a minimum — at least $2,533 to offset the annual fee ($95 annual fee / 3 points per dollar × 1.25 travel redemption = $2,533). Of course, assuming you spend outside the bonus categories or redeem your points for something other than travel, your actual target spending point may be higher.
No Foreign Transaction Fee
While you will have to deal with the $95 annual fee, there's no foreign transaction fee to factor in when traveling. Coupled with the other reward perks for travelers, the lack of a foreign transaction fee will make Ink Business Preferred a tantalizing option for frequent fliers.
Other Fees
As with most other credit cards, there are a few additional fees to consider. Balance transfers charge either $5 or 5% of each transfer (whichever is higher), while cash advances will cost an extra $15 or 5% of each transaction (whichever is higher). Besides those fees, late or returned payments will cost the industry standard $39.
Chase Ink Preferred FAQs
Is Chase Ink Business Preferred Right For You?
There are plenty of reasons to like Chase's Ink Business Preferred Card: Its bonus categories should suit a wide range of small businesses. However, there is a $95 annual fee to keep in mind — if you don't plan to spend enough on the card to offset the fee, look for a different option. Incredibly high spenders may want to look elsewhere, too. Because the card caps the 3x points categories at $150,000 spent per year, if you plan to put hundreds of thousands of dollars on your card, a flat-rate credit card with no spending cap may be well worth your while.
You might want to apply if…
You frequently spend in the card's bonus categories (travel, shipping, internet/phone/cable, and advertising)
You can afford the $95 annual fee
You travel a lot and can take advantage of Chase's 25% travel redemption bonus and 1:1 point transfer perks
You might want to look for a different card if…
You don't frequently spend in the card's bonus categories
You can't afford the $95 annual fee
You plan to spend well over $150,000 annually on the card and would benefit from a flat-rate card with no spending cap
The editorial content on this page is not provided by the companies mentioned and has not been reviewed, approved, or otherwise endorsed by any of these entities. Opinions expressed here are the author's alone.
---
Featured Free Corporate Card
Ramp


---
Ramp offers a free corporate card for virtually any business. Start earning rewards with your corporate spending today. Get your free card.
Featured Free Corporate Card
Ramp


---
Ramp offers a free corporate card for virtually any business. Start earning rewards with your corporate spending today. Get your free card.
To learn more about how we score our reviews, see our
Business Credit Card Rating Criteria
.