Expert Analyst & Reviewer

UPDATED
Advertiser Disclosure: Our unbiased reviews and content are supported in part by
affiliate partnerships
, and we adhere to strict
guidelines
to preserve editorial integrity.
ShippingEasy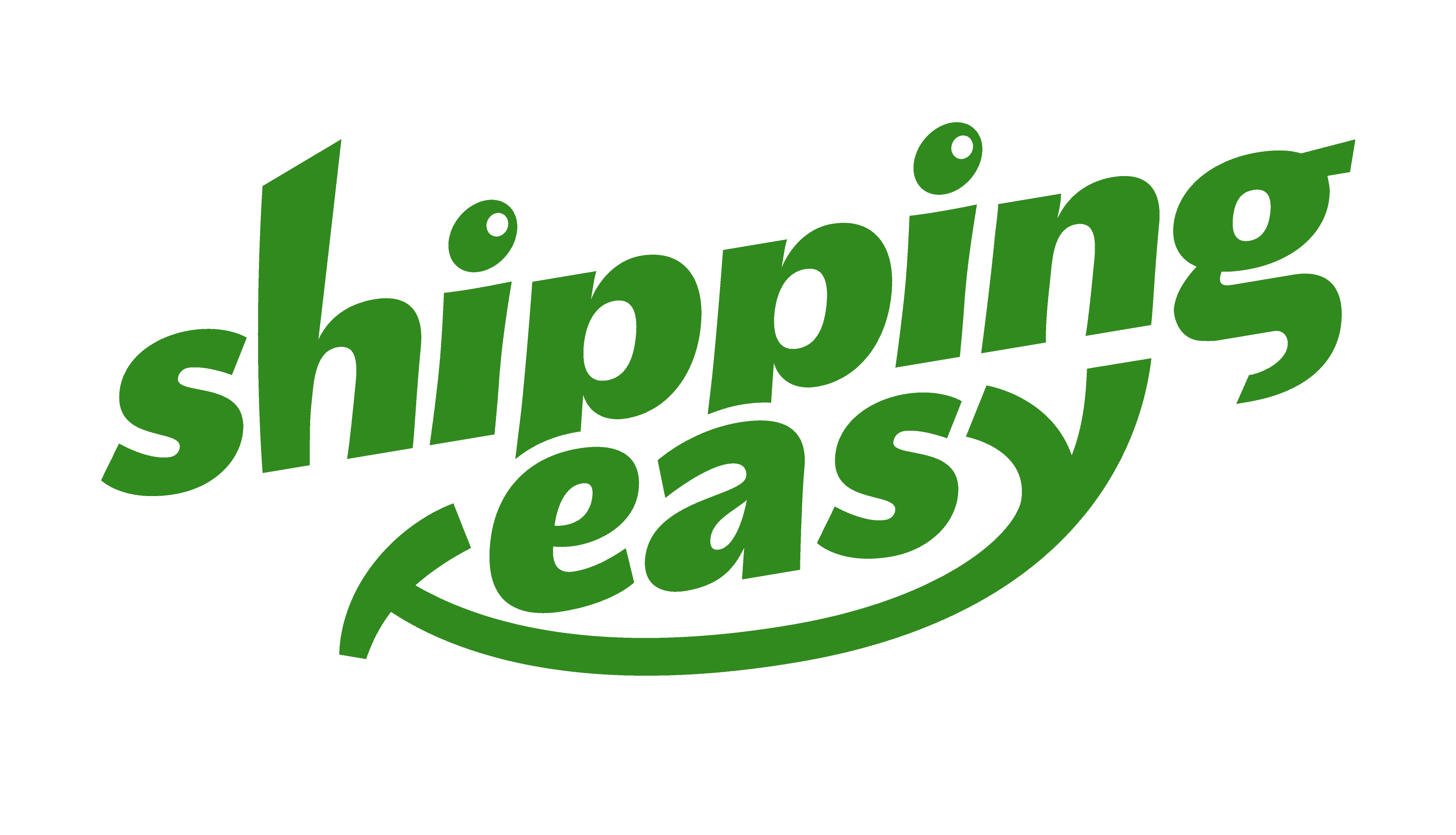 Pros
Excellent customer service
Easy to use
Numerous integrations
Free trial available
Cons
Slight learning curve
Free plan discontinued
ShippingEasy Overview
It takes a lot of faith in a product to brand it with the word "easy." You'd better deliver on that promise, or you'll suffer the wrath of critics and consumers alike. With that in mind, will a full ShippingEasy review show that the product lives up to its name?
Before we start to answer that, let's look at some basic information first. ShippingEasy is a Software-as-a-Service (SaaS) application that promises to simplify the fulfillment process for your business. The mission is pretty simple: Give business owners the most streamlined shipping experience possible, integrating your eCommerce platform with an automated shipping system that provides deep postage discounts.
ShippingEasy promises savings of up to 62% on UPS rates, the lowest available commercial rates with USPS, and deep discounts on shipping insurance. While saving money is certainly good, so far we're not getting into the "easy" promise the company name implies.
So let's dig deeper. How about the ability to process orders for all your sales channels from one dashboard? Check. Integrations with every major shopping cart, platform, and marketplace — and real-time downloads of online orders? Check. Printing shipping labels, packing slips, picklists, and customs form using a laser printer or thermal printer? Check, check, check. Now we're talking easy!
That's not all, though. Keep reading this unbiased ShippingEasy review to learn more about ShippingEasy pricing, feature, integrations, and more, so you can decide if this is the software solution you've been looking for.
ShippingEasy Pricing
Despite the extra expense, adding shipping software to your eCommerce business can be a smart way to improve and simplify your shipping procedures, saving money and improving sales while lowering overall costs and boosting customer satisfaction. With six subscription levels, ShippingEasy does its best to offer a variety of plans to meet every budget, allowing users to pay only for the level of service their business requires.
Unfortunately, as of January 2021, ShippingEasy has made its free plan unavailable to new users. ShippingEasy now charges $5/month for its intro-level plan. ShippingEasy pricing is based on the number of shipments users send per month. Each step up includes more shipments and more customer support options. Here are the current plans:
Starter
Aimed at new or low-volume shippers looking for discounted shipping rates, ShippingEasy's Starter plan costs $5/month and includes:
50 shipments/month

One unique login

Unlimited stores, carts, and marketplaces

Hardware integration (printer & scales)
CSV order uploads

Batch print shipping labels

Prepaid returns
Logo on labels

Commercial pricing for USPS services

UPS shipping option

Automatic order imports from your store or marketplace

Send tracking numbers to customers

Shipping rules

International shipments
Saved packaging
Customer address book
Customized email templates and packing slips
Pick lists
Basic
ShippingEasy's Basic plan costs $29/month and includes everything in the Starter plan, plus:
500 shipments/month

Two unique logins
Additional support options (phone, live chat, and email)
Create shipping reports
Flat-rate pricing
Branded packaging
USPS Scan forms
Shipping reports
Flat Rate Green dimensional rates
Ship with additional carriers (FedEx and international consolidators)
Plus
ShippingEasy's Plus plan costs $49/month and includes everything in the Basic plan, plus:
1,500 shipments/month

Three unique logins
Select
ShippingEasy's Select plan costs $69/month and includes everything in the Plus plan, plus:
3,000 shipments/month

Five unique logins
Premium
ShippingEasy's Premium plan costs $99/month and includes everything in the Select plan, plus:
6,000 shipments/month

Unlimited logins
Enterprise
Aimed at merchants making up to 10,000 shipments/month, the Enterprise plan costs $159/month and includes everything on the Premium plan, plus:
Unlimited users, workstations, and printers
Custom configurations from a shipping expert
Also, you can add ShippingEasy's built-in customer marketing features and inventory management features for an additional monthly expense that varies depending on the number of emails you send each month. Pricing starts at $14 for 5,000 emails per month and increases in increments up to a total of three million emails. View prices on ShippingEasy's pricing page.
Accounts can be changed or canceled at any time.
Cloud-Based Or Locally-Installed
ShippingEasy is a cloud-based software that pulls all shipment data from your stores, shopping carts, and marketplaces into an app, which you can access to print labels and send tracking and status updates automatically to your stores and customers. There's no software to download to use ShippingEasy. There's also an optional downloadable app called ConnectEasy that you can use to integrate your hardware, such as your scale and printer, with ShippingEasy software.
Hardware & Software Requirements
There are no requirements other than a web browser and an internet connection. However, ShippingEasy does not offer a mobile app.
Shipping Volume Of Business
ShippingEasy works well for companies of all sizes, with tiered plans that let you pay according to your shipping volume. Designed for small companies or those just starting out, the Starter plan lets users make 50 shipments each month. ShippingEasy offers a total of six plans, with shipping allowances rising to 10,000 shipments each month on the Enterprise plan. That is not a high limit for enterprise-level businesses, penciling out to just 2,500 shipments a week. ShippingEasy would not be a good choice for truly high-volume shippers, meaning those who make more than about 500 shipments each day.
All of the ShippingEasy plans seem reasonably priced for the features they offer, as compared to top competitors in the shipping software realm.
Ease Of Use
Happily, this software does live up to the promise in its name. The ShippingEasy interface is simple and easy to navigate, and it doesn't take a master class to get everything up and running. Everything is clearly labeled, and I didn't encounter any obvious bugs as I stepped through the fulfillment process. Overall, I think the software is very intuitive. I didn't feel the need to run to a help doc at any point. If you have a normal aptitude for computers, I doubt you will either. This was the screen that I encountered when I first logged in: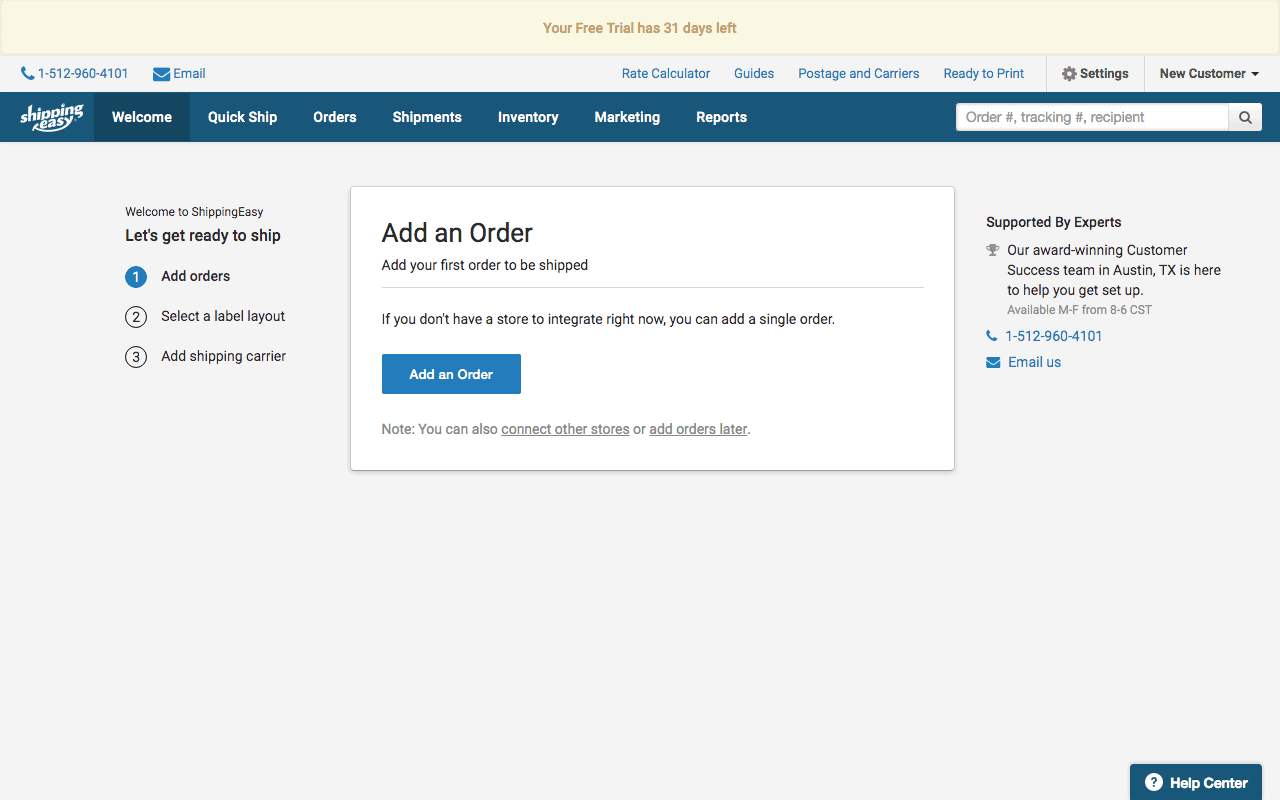 ShippingEasy guided me through the setup process with a bit of hand-holding, which I appreciated. The workflow is straightforward. To import orders into ShippingEasy, all I had to do was enter my Shopify URL, and I was redirected to my Shopify admin. Once there, I clicked to install the ShippingEasy app. When I completed that process, I clicked "Sync" in the ShippingEasy UI, and my Shopify orders automatically transferred over. Once orders have been brought into your account, select the ones you wish to fulfill and click "Create Shipments." Then, click on the "Shipments" tab above, and you will arrive on the page where you can set your parameters, including the carrier, postage rate, packaging, weight, and so on. You will then have the option to purchase and print your postage or to make the payment and leave the printing step for later.
The printing page gives you the option to print a pick list, a shipping label, a packing slip, or both a label and a packing slip. From there, it's just a matter of physically printing out the materials, and you're ready to ship! The entire process takes less than five minutes. You can even set up shipping rules to further automate your process. Once you've established those shipping rules, you can use the "Buy & Print" button on the "Orders" page to quickly purchase and print shipping labels and packing slips.
ShippingEasy Features
Overall, I'm impressed with ShippingEasy's core shipping features. Top marks here! Every ShippingEasy plan includes all of the software's basic shipping features. Customer management is available at an additional cost. Take a look at some of our favorite features below:
Dashboard: The ShippingEasy dashboard is easy to navigate and contains easy-to-find links to essential functions.
Shipping: View real-time rates and services from multiple carriers using the shipping calculator. You can also set up shipping rules to automate your order fulfillment process.
Multichannel Sync: Manage orders from all of your sales platforms in real-time, using integrations with more than 60 stores, shopping carts, and marketplaces. Use CSV files to upload orders to your ShippingEasy account in bulk.
Shipment Tracking: Send branded confirmation emails to your customers, complete with package tracking information.
Order Management: Process multiple orders at once and print multiple or batch shipping labels at the same time. Print pick lists to make it easier to pull products to fill orders.
Dropshipping: Connect third-party dropshippers by setting a shipping rule that automatically filters those orders and bills them accordingly. You will still be able to track dropshipped orders.
Reports: Reports are available to users on the Basic plan and higher. In the ShippingEasy user interface, you can find a tab that displays a snapshot of your shipments as well as a tab with more comprehensive reporting.
Shipping Labels: You can choose to send scan-based return labels or to send return labels on request. Use InstantLabel features to print labels automatically when an order is placed.
International Shipping: Automatically create customs forms for international shipments. ShippingEasy includes support for multi-currency checkout, international addresses, multiple language capabilities, international payment gateways, customs forms, and electronic trade forms.
Alexa Skill: Add an Alexa Skill to your Amazon Echo device to hear order information and to send shipping labels to the printer using a vocal command.
Shipping Insurance: Purchase shipping insurance through Shipsurance at discounted rates. Set automation rules to simplify that process.
Customer Management: These features come with ShippingEasy's additional for-purchase customer management tools. You can use these tools to track customers from multiple sales channels and view customer activity and communications. Use customer segmentation to form customer groups based on sales demographics, and use the email marketing tools to create and automate email campaigns.
ShippingEasy Customer Service & Support
ShippingEasy reviews consistently mention excellent customer service, and customer service is one of ShippingEasy's selling points. The level of support you receive will vary based on the plan you've signed up for (on the Starter plan, you won't have any access to personal support at all), but it seems to me that ShippingEasy excels in customer service through all of its support options. What's more, the online documentation is extensive and easy to navigate, so in many cases, you may not even need to reach out to the support staff.
Here are the available support methods:
Phone: Phone support is available to users (except on the Starter plan) Monday-Friday from 8 AM-6 PM CT.
Email: Users on the Basic plan and up can contact a support representative via email Monday-Thursday 8 AM-8 PM and Friday 8 AM-6 PM CT.
Contact Form: Send a comment via a form found on the support page.
Live Chat: Live chat is available to the Basic plan and higher, Monday-Thursday 8 AM-7 PM and Friday 8 AM-6 PM CT.
Knowledgebase: Find guides for getting started, managing orders, installing printers, troubleshooting, and more.
Community Forum: Post your questions or browse the questions already posted to get help from other users.
White Papers: Find information on all aspects of shipping, including shipping rate changes and tables, information on international shipping, and case studies from other users.
Videos: ShippingEasy has more than 100 "how to" videos on its YouTube channel.
Blog: Read about product updates and find articles that give tips for more efficient and cost-effective shipping as well as timely advice on topics like COVID-19 or holiday shipping.
Social Media: ShippingEasy has active accounts on Facebook, Twitter, and YouTube.
Current users report that ShippingEasy's support is helpful, friendly, and quick to respond. Users sing the praises of a few support reps by name. However, I am a bit disappointed that customer support seems to only be available during business hours. While this is fine for merchants who ship exclusively during these hours, I could see it becoming a problem for sellers who prepare shipments in the wee hours of the morning, throughout the night, or simply in time zones other than Central.
Shipping Easy Reviews
No ShippingEasy reviews would be complete without a peek at what actual users are saying about the software. While the software doesn't earn unanimous accolades, users' ShippingEasy reviews on sites like G2 are overwhelmingly positive. That's backed up by professional reviewers' opinions, too. Of course, it's not all positive, so let's start with the negatives.
Negative Reviews & Complaints
The internet is flooded with glowing reviews of ShippingEasy, and it was difficult to find any patterns among the scattered negative feedback. Out of the dozens of reviews that I read, only a handful expressed any complaints about ShippingEasy. Here are a few trends that I noticed, with the caveat that they expose no fatal flaws:
A Few Functions Could Be Improved: Customers have a few suggestions for ways ShippingEasy could improve its service. For example, I've seen multiple requests for ShippingEasy to add a mobile app to its offerings. Fortunately, ShippingEasy has a very active feature request page, and it appears major issues are quickly escalated — although the call for a mobile app has long gone unanswered.
Slight Learning Curve: ShippingEasy's UI can be a challenge for some new users to learn. After that slight learning curve, however, daily operations should run smoothly.
If any of this concerns you, I'd recommend taking ShippingEasy for a trial run before signing up.
Positive Reviews & Testimonials
As I said before, most reviews of ShippingEasy sing the software's praises, and many users offer some version of this comment: "There's nothing to dislike." Here's what commenters talk about most:
Good Customer Service: ShippingEasy's users overwhelmingly report positive interactions with customer support. They say that support representatives are helpful, pleasant, and quick to respond. In fact, one long-time user declared that ShippingEasy's customer service department is second-to-none, singing praises for the fact that you can connect with a dedicated CS agent each time.
Easy To Use: Once you overcome the slight learning curve involved with using any new software, most users find that ShippingEasy is remarkably easy to use. Any questions you may have can be answered in the software's knowledgebase and community forum.
Most Platforms Are Supported: A shipping software's primary purpose is to make fulfillment easier and more automatic. Seamless integrations with 60+ leading eCommerce platforms, shopping carts, and marketplaces make importing and processing your orders a whole lot smoother.
Time Saver: ShippingEasy's automation reduces the chance of human errors, and it significantly speeds up a merchant's shipping process.
Discounted Rates: Sellers love that they can access commercial rates with USPS.
ShippingEasy also includes customer testimonials on its site. These testimonials praise the same features as the unsolicited positive reviews I've seen on third-party sites, which tells me that they are honest reviews. Of course, ShippingEasy is the one who publishes these testimonials and would likely cut out any negative comments that were originally included. Still, the fact that each testimonial contains a link to the satisfied users' website is a positive sign.
ShippingEasy Integrations & Add-Ons
ShippingEasy integrates with many eCommerce platforms. If you sell on a platform that's not currently supported, you can use ShippingEasy's open API to build your own integration. API documentation and integration is available to users on paid plans, and ShippingEasy does not provide support in setting up or troubleshooting API integrations.
Fortunately, ShippingEasy has done the work for the majority of users, with direct integrations with over 60 online marketplaces, shopping carts, shipping carriers, and other business software. View the full list of integrations on ShippingEasy's site to see if your favorite software solutions are included. You can also find integrations in other important categories, such as 15 options under accounting and ERP, six options for inventory, and a handful of miscellaneous integrations.
Security
ShippingEasy doesn't offer much information on its security protocols. The company states in its privacy policy that it complies with "applicable laws and security standards." One of the security standards that it names is the PCI DSS (Payment Card Industry Data Security Standard). ShippingEasy also complies with the EU-US Privacy Shield Framework. In the future, we hope to see more specific information on how ShippingEasy protects its users' data.
ShippingEasy FAQ
Final Verdict Of ShippingEasy
ShippingEasy is a solid and affordable software solution for small business shipping needs. With an easy-to-learn interface, clear pricing, impressive customer support, and generous features built-in, the software seems to run pretty smoothly. Most ShippingEasy reviews, whether from professional reviewers or on-the-ground users, agree with that overall conclusion.
At Merchant Maverick, we believe that shipping software is appropriate for anyone involved in eCommerce. If you're still not convinced that your business is ready to take the leap into shipping software, look into how your business can benefit before you decide if ShippingEasy is the right solution for you.
I'll heartily recommend ShippingEasy, especially for small and mid-sized businesses, with a perfect score of 5 stars. The bottom line is that ShippingEasy gives you a lot for a good price, offers great customer support, and seems to run well. If you're looking for easy, what more could you ask for?
---
The Merchant Maverick Seal of Approval 🏆
ShippingEasy


---
After hours of in-depth research and evaluation, we can confidently recommend this brand to our readers. Get started today and see ShippingEasy for yourself.
The Merchant Maverick Seal of Approval 🏆
ShippingEasy


---
After hours of in-depth research and evaluation, we can confidently recommend this brand to our readers. Get started today and see ShippingEasy for yourself.
To learn more about how we score our reviews, see our
Shipping Software Rating Criteria
.