California Kabob: Fighting To Sustain A Family Legacy
Managing Editor

UPDATED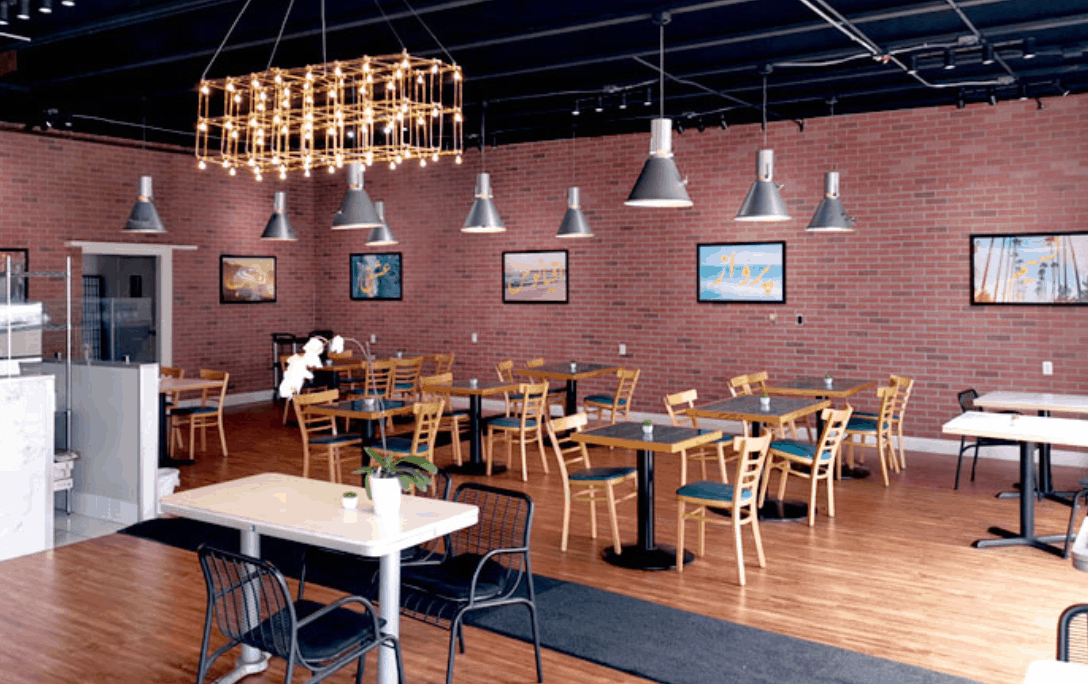 Sustaining a restaurant and a full-time career as an educator during a pandemic was not how Bibi Pirayesh envisioned her 2020.
"The first three months after we re-opened [after California's shutdowns], I've never been that crazed and stressed. I have no idea how we got through that. I am now a trained prep-cook, line cook, server, cashier," she said — all the while racing to her students on Zoom between serving food.
Moments like this at California Kabob, while she's dashing back and forth from her portable classroom set up in a corner and managing her stress-induced shingles, have forced her to recognize that this lifestyle is unsustainable. COVID took an already stressful situation and made it impossible.
"I can't do this for another year," Bibi said, carrying the weight and pressures on her shoulders. "I will die."
It's not just COVID or shut-downs keeping Bibi up at night. It's not even the fact that she has taken over her father's business with her brother, while still teaching as a University professor, although, that alone would be enough.
No, for Bibi, taking on the family business meant taking on unexpected personal and legal issues — it meant giving every brain cell and every hour of her day to the future of her father's 23-year-old business, leaving very little time to recover or rest from the hits that kept coming. It meant becoming part of a story that shook her and shocked her, and caused her to ask, "How do business owners do this? What are people supposed to do?"
Reimagining A Family Legacy
Bibi was ten when her family moved from Tehran to the United States. Settling in Los Angeles, Bibi's father opened the restaurant Kabob House — an old-school Persian eatery — which he kept thriving for over 20 years. Located two miles from LAX, the restaurant attracted limo and cab drivers waiting for fares, and was constantly full of Farsi, love, laughter, and traditional Persian food. It was a secret gem, a family affair, and it did well until the rideshare app revolution descended and changed the landscape of the airport businesses.
"Once Uber and Lyft came up into the area, it shifted the economy. And that had a big impact on my dad's business. For the last two years of his life, the restaurant wasn't doing well. I knew he was worried about his business and his money, and toward the end of his life, the business wasn't thriving," Bibi said.
When her father passed away two and a half years ago, the restaurant was left to her and her brother. Her father's wife came and said, "'When I married your dad, he emphasized that he built this business for his kids,'" Bibi said. His pride in his creation and his years of work meant something to his kids: They couldn't let the restaurant die, too. They wanted to bring it new life.
And they did.
The siblings understood the Inglewood market.
"The restaurant business really changed in LA, even before COVID. People weren't doing as much dine-in anymore, and they wanted quick and casual. And we thought, yes, we can do that with Persian food. We knew if we added a modern touch, we could create something really amazing," Bibi said. They brought along the manager who looked after the restaurant when her father was ill — he and his wife had both been longtime employees.
They renovated with money out of their own pockets, streamlined the menu, and "poured our hearts and energy into it."
However, their longtime employee pushed back and seemed to struggle with the changes. Bibi understood and was empathetic to the manager's concerns — her father was gone and his kids came in and shook everything up — but their changes were working. Sales were up 30%.
Then COVID hit.
Discovering A Shocking Secret
Bibi won't forget the day the rice delivery arrived at their restaurant. Their closed restaurant.
It was a month into COVID shutdowns, and Bibi and her brother were sitting in the middle of the empty kabob shop pondering. They had let their employees go, providing everyone with certified layoff letters so they could collect unemployment, and now had to face the growing realities of paying for a business that wasn't open.
Even with the moratorium on rent and utilities, someone would be coming for that money sooner or later: And a closed restaurant would never be able to catch-up with the losses. They knew they needed to pivot again and focus on to-go orders, rebuild their customers, and cater to people hunkering down and sheltering-in-place. After all their hard work, the siblings didn't want to let the pandemic close their father's restaurant for good.
That was when the rice delivery arrived.
"We didn't order this," Bibi told the driver. Further investigation led to a gut-wrenching discovery: Food from their vendors was still being delivered during the pandemic…to the home of their laid-off employee. California Kabob might have been closed, but a steady side hustle from their longtime manager meant that a portion of their customer base, using their recipes, wasn't going without.
"We had wondered why people were coming to the restaurant occasionally to ask about their to-go orders. We just thought they were mistaken. No, he was cooking the food at home and having his wife deliver it," Bibi realized. Now his reluctance to come back and work the to-go counter during COVID made sense. "He was making cash money with our name and our customers. It was a punch to the face."
At first, they tried texting him a polite request to stop. They never heard back.
Upon reopening, they realized why: He'd taken their request to stop as a suggestion. "People were still coming into the restaurant to get their food from [our former employee]. So, after that, we sent out a cease and desist letter." They wanted something specific: Stop using their family recipes.
Protecting Her Father's Recipes
The heart of a Persian restaurant is the Koobidé Kabob — a traditional kabob of seasoned buttery ground beef cooked over an open flame. While some of their other recipes could be learned from their mother, or they'd already learned it from their father, this one was special. And the former employee took all knowledge of that recipe with him. "This is the kabob that people would come from Orange County or the Valley to eat. And when he left? He left with that recipe."
But the response from their new competitor to the cease and desist was swift. The general idea? Leave me alone; I'm going to do what I need to do to feed my family. Bibi's humanity was at odds with her own needs and the needs of her business. Of course, this pandemic left him unemployed — many people across the United States and the world were thrown into desperation and fear overnight. But she had done everything in her power to help alleviate her employee's pain while they waited out COVID's new normal. It was hurtful.
And that was before Bibi was served papers in the middle of a harried shift: The man and his wife filed personal injury lawsuits against the restaurant. It was an insult to injury.
All legal matters between Bibi and her former employee are still ongoing. The former manager has consistently denied the allegations.
"It's insane. It's been an insane experience. But somehow…through all of this, we noticed that our sales were up. Way up from where they were before. I mean, we're not making money…but we're not losing money, we are surviving. The margins are so thin [for restaurants], that it's really tough," Bibi said. "We basically knew that the area was becoming younger, the area was changing, and we had to capture a different market. We couldn't market to the old-school Persians anymore. So, we've shifted our menu and it's modern, and people love it. But this is so stressful," she added with a tired laugh.
No matter what was happening outside of the business, she still had a restaurant to run. She had classes to teach. She had bills that will come due. She had new employees who depended on her business for their paycheck.
Running A Restaurant in 2020
Since March, the price of ground beef has gone up $5 a pound. (COVID breakouts at meat companies slowed production and those losses easily trickled down to consumers.) Delivery services like Uber Eats and Postmates are booming, but taking huge percentages of profits from struggling restaurants.
It has also been challenging to find employees willing to work full-time and give up government unemployment benefits. There are enough businesses out there willing to pay employees underneath the table, that many applicants asked outright for cash. "If we said no, they walked," Bibi said.
An employee's car kept breaking down, preventing him from getting to work, which prevented him from earning a paycheck to pay for his car. "We ended up loaning him my dad's old truck because what is this guy going to do? He has to get to work. You see that whole cycle of poverty."
The roadblocks to success seem endless.
"It's so emotionally draining. And we have to continue to do business, to pay rent. If we didn't have to pay rent, we could have shut down. But we have a lease, and our landlord was so strict with us. If we were one day late with the rent, he'd be at the door. And if we couldn't pay, he'd put a lien against us. He was very clear about that," Bibi said. "And we still owe money to the electrical company. We were closed over a month, and that was basically one month of revenue that we had to cover with our personal credit cards."
It seemed like selling the restaurant would be their only option, and so they had a realtor list the business to see if they could get any bites.
In July, they had a buyer in the wings — someone willing to offer half of asking, mid-pandemic. That situation, too, proved impossible. With one year left on the lease, the landlord told the realtor after the original lease was up, the new owners could expect the rent to double. (The industry standard for restaurant leases is 5 years plus a 5-year option.) "Of course, our buyer walked," Bibi said. She now believes the landlord intends to sell the building and level it — potentially turning the location of her father's Persian restaurant into concrete storage units — and he has no intention of renewing anyone's lease.
"He's essentially made the value of our business zero," Bibi said. "Who is going to come and buy a restaurant if they don't have time to make their money back? Every single night, I'm having nightmares."
Breaking Even
It's easy to see COVID's hand directing the actions of everyone around them — but if everyone looks out for number one, who can she count on to look out for them?
"This was never our life's dream, but this is still emotional. Our dad's situation aside, we've put our sweat and blood into this for two and a half years. And our best scenario now? That our landlord lets us out of our lease and we can walk away with nothing," she said. "And that's really sad to think that is our best-case scenario."
And she still knows that she is a story of success: So many other restaurants are simply gone.
Every morning, she can wake up and say, "We're one of the lucky ones. We're still here. We're surviving. That's a story of success! Maybe that's the really sad part. But I don't know what's going to happen. I don't know what other business owners did. What will happen with all the back rent. I don't know what's going to happen. It makes me really scared for our state as a whole. None of it makes any sense to me."
At the end of it all, Bibi is grateful her father isn't here to experience the trauma related to his baby, his 23-year-old business, his hope for his children's futures. The issues with the manager would break his heart. And the restaurant is only breaking even — her father wouldn't be able to pay his bills if he counted on the restaurant's profits.
And what will happen in winter when people can't eat outside? Will there be another shutdown on the horizon? (As of mid-November, in California's neighboring state of Oregon, restaurants are once again relegated to curbside/delivery only as COVID cases increase.) The story of survival for restaurants is ongoing, the saga continuing, the end — at the moment — still unknown.