(Re)Open To A New Normal: La Petite Tattoo Experiences Business Surge Amid COVID Economy
Managing Editor

UPDATED
Shashonna Knecht, tattoo artist and owner of the NE Portland tattoo studio La Petite Tattoo, says her tendency to say exactly what's on her mind has caused some pearl-clutching during interviews in the past. Her morning news segment about creating zombie makeup for a large event stands out.
"As a bit for this reporter, I put him in zombie makeup. He's interviewing me and he asks, in an upbeat way, why I think people are so fascinated with zombies. I said it was because it fed into people's bloodlust and killing fantasies. They cut the interview short."
The memory makes Knecht laugh. As a former manufacturer for an Indiana-based prop construction company that worked for movie studios and Halloween companies, Knecht's eventual path to a career in tattooing may not have been obvious, but her sensibilities for the dark and the macabre haven't changed.
"I started my [tattooing] apprenticeship in Indiana partly out of boredom," she admits. The effects makeup specialist was tired of waking up at 3am for outdoor shoots, constantly at the whim of both mosquitoes and directors. When Knecht moved back to Oregon, she found that the state had different licensing requirements for tattoo artists than in Indiana; while she went to school for tattooing, she launched a career for herself as the number-one body artist in the Pacific Northwest.
Her stories about working for raves, strip clubs, haunted houses, and movie sets up and down the I-5 corridor are not for the faint of heart. "Being in the business of makeup means you become intimately familiar with the human body in a clinical manner." The same thing goes for tattooing.
Open For Business…Again
The intimacy created between a tattoo artist and their client was a big factor in Knecht's decision to open a studio in the first place. Now, after shuttering her business during Portland's Shelter-In-Place orders, she's open for business again — albeit with some detailed legal requirements — and respecting bodily intimacy has become more important than ever.
"I have to trust people and people have to trust me," Knecht says. "It would be awful to expose [the coronavirus] and spread it to clients." Knecht is strictly following the re-opening guidelines, and she won't be shy to decline a client if she becomes aware they are engaging in unsafe behavior — a step she feels is necessary for her own personal liability. Her business clientele has never been about walk-ins (her entire setup is intentionally designed to discourage the random midday tattoo request), so Knecht is grateful that as the owner, she can be choosy about who walks through her doors.
"I have control of my client base," she says. And that, more than ever, is the key to staying safe and staying open.
A Studio That Knows Its Niche
Knecht tattoos everyone and anyone, but the La Petite Tattoo is a studio that knows its niche: The small storefront space is designed with a woman's comfort in mind. And that is a smart business choice since women are rapidly making up the majority of tattoo clients. A 2017 study showed that 23% of women and 19% of men now sport a tattoo. (Unremarkably, Millennials lead this tattoo revolution.) And those women are seeking artists that provide an alternative to the Old Boys Clubs.
"I've never been excited to see a male doctor at the gynecologist, you know?" Knecht says, explaining her mission behind creating a private and comfortable space that caters to a better tattooing experience, specifically for women. "I mean, I'm sure he's a fine doctor and he'll do a good job, but it wouldn't be my preference, because the whole time I'm hoping he's not weird. And for tattoos, it's the same."
Knecht admits that the stereotype of a dingy, cluttered parlor with a mangy proprietor is born from certain very real truths about the tattooing world. She's worked in those types of studios — literally dark and openly misogynistic. For many decades, tattoos and tattooing operated on the fringe; if tattooing was even legal, shops were often banned from receiving licenses in bustling city centers. Cities pushed tattooing to the outside and refused to legitimize it as a business, but the past twenty years have seen those businesses fighting back.
Dealing With Real People
Knecht's studio is designed to reflect her own aesthetic. "It's important to work in spaces you like," she says. When she first leased the space, her landlord promised to paint the army green walls but failed to deliver. She traded a tattoo session for a quick paint job before she opened. Her walls are now muted pink; the space light and airy.
"Trades. That is a fundamental part of a business. Knowing my clients and working with them to set up a system for business bartering is a piece of advice I have for new business owners," Knecht says. Small business owners should consider what they can use to create a B2B bartering system because bartering can shore up cash, put your services to use, and help gain access to goods and services potentially out of reach otherwise. In a service-oriented industry, trades and barters can become a healthy business system and lifeline.
The system also works well in businesses, like La Petite Tattoo, that deal mostly with cash. The decision to be a mostly cash-based business was born more from comfort than requirement, but Knecht admits that for her niche business the business software options haven't been as helpful.
"It's not that I distrust the software and card readers and programs, but they don't necessarily work as advertised for me." She mentions specifically her frustrations with TurboTax. "I'm operating as an independent contractor and I've tried to used TurboTax, but it gave me this amount owed that was unreal. I took all my business finances to an accountant and they were able to figure out my taxes where I owed significantly less even after I factored in the amount I paid for the accountant's time," she says. "With machines and third-party systems, that is just another issue I need to deal with when things go wrong. I don't need another issue." Managing things herself eliminates a middle-man.
She wants to deal with real people as often as possible, and her business model makes the most sense when she can make daily bank deposits with cash-in-hand. "I come from a family of contractors, so that is what I'm inclined to do," she says. While she does accept Venmo and PayPal, cash is still king in the tattoo world.
Another tip Knecht hopes small business owners would take to heart? Have dedicated finances before opening a business.
"Prepare to do things on your own and have a solid savings," she says. "You don't know what will pop up or what your building requires."
And if there is one thing that guarantees a feeling of angst, its the prohibitively expensive liability insurance requirements needed to tattoo. "I work with blood. There are so many insurance companies unwilling to work with me because of that and getting a cheap rate is off the table," Knecht says. The hoop-jumping can be the most tiring part of owning a business.
The Feast Before The Famine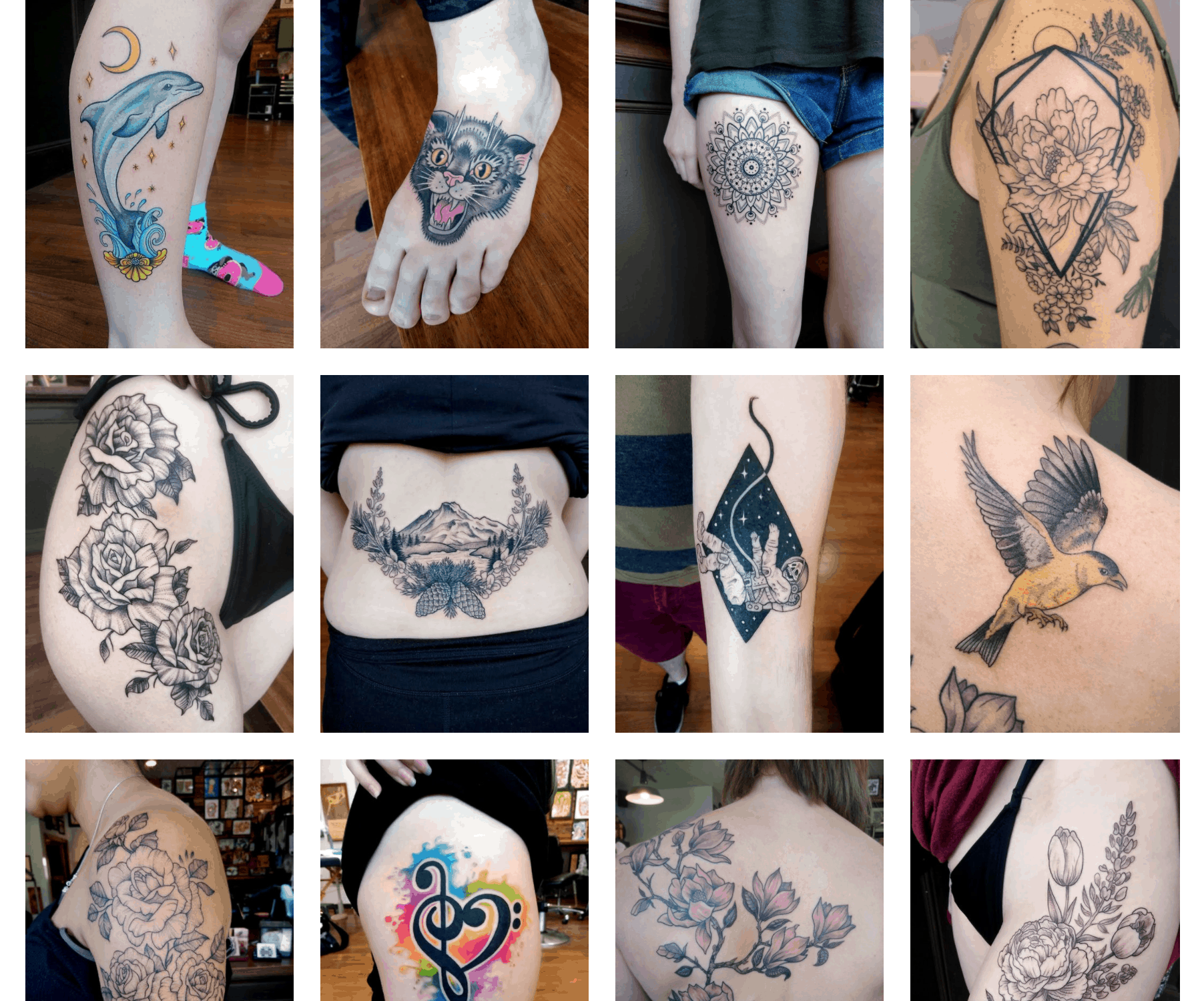 A survey by Statista states that people who get inked are, by nature, "Experience Seekers." And right now, people are thirsty for experiences.
"I'm busier than I've ever been," Knecht says. She understands — or expects — that this boost is temporary. "We have a situation where people were cooped up, everything is closed, and if they have fun money, they aren't spending it in the ways they might have in the past." Without options for parties, vacations, nice restaurants, people are sitting at home and dreaming about tattoos. "I've had a few people upset that they can't get in to see me right away," she says.
While she is appreciating the business and thankful to make ends meet in a time when many artists are on unemployment, Knecht isn't optimistic that the boon will last. The virus isn't going away and the economy is unstable. "Reality will hit, she says. She doesn't know what that reality might look like in the next few months, but in the meantime, Knecht will dream of a better time to expand her business (eventually, she'd love a larger space with more room to rent out time to other artists and contractors looking for a bright and welcoming place to meet clients). She also looks forward to a future where a reputation for colorful, large, fantasy-type pieces born from her own imagination can become her specialty and she can slowly weed out clients who are looking for her to simply recreate something they saw on Pinterest.
"No offense," Knecht adds with a smile behind her N95 mask. Prior to our interview, my tattoo consultation with her had involved that exact thing.
Visit La Petite Tattoo for more examples of Knecht's art or to explore her artists in residence.