The Green Temple Restaurant: A Healthy Haven For Staff & Customers During Tough Times
Expert Analyst & Reviewer

UPDATED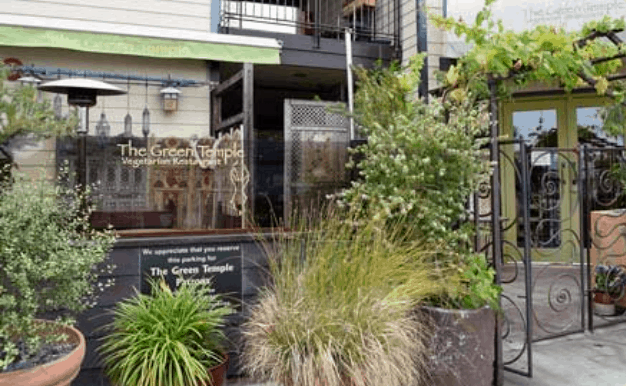 Take one vegetarian menu, built around delicious healthy eating principles and local food production. Add dedicated owners who value their customers' health and their staff's workplace satisfaction. Stir in two decades' experience serving the community of Redondo Beach, California.
Then mix in a global pandemic that disrupts everything.
What do you have? In this case, what you have is a successful restaurant, The Green Temple, run by Elena Streskova and her husband, both vegetarians themselves.
Green Beginnings
Born in Czechoslovakia, Streskova studied journalism and worked in the film industry there until marriage brought her to the US. She started working at a vegetarian restaurant and, when the owner decided to sell his recipes, she and a friend bought them and went into business together. Both partners independently came up with the name for their new venture at the same time.
"We actually said like the body is a temple, and green is environment-related issues. It is truly about the health," Streskova said.
While that might sound mainstream today, especially in health-oriented California, 22 years ago it was still a fairly uncommon approach to serving food.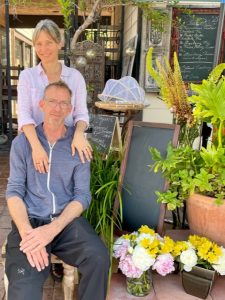 "At the time there were not many places that offered that kind of cuisine. We don't have any sugar, we don't use white flour, nothing heavily processed, as much organic as possible," Streskova said. "It started as offering something that could heal people, people who work hard and don't have time to cook at home. They can come here and get something that can improve their lives. Maybe that's idealistic, but if I didn't have any ideal like that I couldn't go in this direction for that long."
Streskova's idealism and her belief in the worth of The Green Temple's approach to food served as bedrock principles anchoring the business during the COVID-19 pandemic that swept the globe and shut down normal commerce all over the nation. After 15 months of hard work and on-the-fly adjustments, The Green Temple now is emerging from the pandemic intact and ready for whatever comes next.
"We were one of those places that were extremely lucky," Streskova said. "We got to stay open all the way through, not for sit down but for curbside service. The whole community really rallied for places like us. Whatever restaurants decided to stay open and offer to-go food, the community really supported us."
Luck may be part of The Green Temple's success. But a lot of it is due to something a little more commonplace: plain old hard work.
"It was difficult to run the place. My husband and I worked like 16-hour shifts. Had we not done it, I'm not sure we would still be here. I'm deeply grateful to the community here. That's what did it. People who had the means just made it their business to come every day, so we could stay in business."
I'm deeply grateful to the community here. That's what did it.
Staff Sticks Around Through COVID-19
While community support was one leg of support propping The Green Temple up, an all-in staff was another. It's an invaluable business resource that The Green Temple has carefully built up over time.
"We don't care only about the ingredients and food. We try to take care of our employees too," Streskova said. "We have health insurance, dental, vacations, we close all the big holidays. Care has to come at every level."
That genuine care is paying off for The Green Temple at a time when other restaurants are struggling to staff up as they work to reopen. During the pandemic-related shutdowns, the restaurant retained its full staff. No one was let go.
"We have between 13 and 15 employees; it fluctuates. The first week (of the shutdowns in 2020) a lot of people decided to stay home. Everyone was afraid to come to work," Streskova said. "I think five or six kept coming to work and held it up for a couple weeks. When things became a little more clear, how (the virus) was being spread and where the danger is and how to protect ourselves better, people started coming back."
Although her staffing needs were greatly reduced as The Green Temple negotiated its way through the shutdowns, Streskova allowed every employee that wanted to work to keep working.
"We didn't need dishwashers, but I had them come and just clean. Just to keep us together. It wasn't mandatory," she said. "It was difficult, because there was a lot of anxiety. We are in an industry where we really are exposed."
In her view, all the employees are a necessary part of The Green Temple's success. If any one employee's performance lags, the business — and customers' dining experience — suffers.
"It's painful to me that people get looked down on when they work in a restaurant," Streskova said. "For us, dishwasher is as important as chef. Restaurants are seeing that come back to them, because they cannot find employees. It's not only COVID, it's an outcome of how we treat people that work with us. That has to change."
It's painful to me that people get looked down on when they work in a restaurant
No change is needed in employee relations at The Green Temple, however, where employees returned to work even when they could have stayed home.
"Even during the (unemployment) subsidies, people just came back. Because that's how we work. I was careful not to push anyone. It was understandably very scary. But we have a lot of trust within our space," Streskova said.
Much as she might have wanted to, the restaurant was not always able to pay all employees for a full week's work. Streskova estimates that payroll went down about 30% overall and even more in the early weeks.
"When we got the first PPP loan we went back to at least 90%," she said. "Whoever wanted to work, worked. In a restaurant, if you're working at 70% capacity, there's still so much to do. We did so much deep cleaning, like never before, and organizing. All the sanitizing and other requirements, we needed to add at least another person."
And all that cleaning and the restaurant's health precautions worked, for the most part, though not without placing an additional stress on the restaurant's owners and staff.
"Anyone who was exposed had to quarantine. We had staffing issues all throughout the year. Sometimes we had to cut our hours, sometimes out of six people working it was just three of us," Streskova said. "It was very difficult but it feels good looking back that we have done it."
It was very difficult but it feels good looking back that we have done it.
And again, luck played a part.
"We were extremely lucky that we didn't have an outbreak in our restaurant," Streskova said. "We had a couple people test positive, but it didn't go beyond that person."
Grateful For Government Loans
A third source of support, government aid, was critical to keeping The Green Temple in business during the pandemic. Streskova applied for and received two loans through the Paycheck Protection Program (PPP) that allowed her to keep staff on payroll and The Green Temple open.
"I am so deeply grateful," she said. "I'm from Europe. The help we got in this country is unprecedented. I have to say, this really kept us above the water with payroll. It allowed me to keep everybody on. Because of these loans, we were able to keep people."
The Green Temple's first PPP loan has already been forgiven, and Streskova is following all the rules with the second loan and hoping it too will be forgiven by the government.
"We're still day-to-day," she said as she looks ahead to the normally busy summer season and beyond. "I don't think this is going to be some kind of pre-COVID normal. We are still very cautiously planning. We haven't received our regulations. I don't know table distancing — we don't know yet."
What's Next For The Green Temple?
Halfway into 2021, with vaccines widespread and people regaining confidence and venturing out into public spaces more, The Green Temple is ready to welcome them back, cautiously.
"We have outdoor seating, and we are operating at 50% capacity there. Inside, once we open up, we'll see what's going to be required there," Streskova said. "We are being cautious. It's not like a big hurrah."
That sense of caution includes taking a look at the changes made at the restaurant, to see if any are worth keeping.
"We used to take an hour break. We would close between lunch and dinner. We may not do that," Streskova said. "We have been closing a little earlier. There is still hesitancy in the general public to go out. We are still strongly to-go, so we may not stay open late until that goes away. People don't sit around for too long. There is an emphasis on taking food home that hasn't really changed."
The Green Temple may hold onto its new methods of food service, too, moving away from the traditional dine-in model.
"We never had curbside service before, but we still accommodate people if they don't want to get out. Sometimes people prefer to pay over the phone. We will get back. But I think it's going to take longer than we think. People change their habits. Some people got used to the family life more and enjoy those dinners where everyone orders from a different place," Streskova said. "I don't think we have changed as a culture. We're still outgoing people and we enjoy service, going out. I feel hesitancy in the air still. I don't think this summer is going to be groundbreaking in that way where we suddenly go back to normal. I don't know if there's go to be 'normal' as it was before."
I feel hesitancy in the air still. I don't think this summer is going to be groundbreaking in that way where we suddenly go back to normal.
Despite the challenges that have been overcome and the adjustments yet to be made, Streskova knows her restaurant is lucky to be open.
"It was a good time to be a healthy restaurant," she said. "You could tell that people were headed that direction. There's definitely a health food shift within this year. People suddenly had time to look into eating healthier."
That emphasis on health is one of the things that definitely won't be changing at The Green Temple.
"You're giving people a product that they're putting in their bodies. It's not like they're buying a new hat. I feel like this is something that can help to change," Streskova said. "It can do good."
With The Green Temple preparing to serve more customers on-site and a full staff waiting to welcome them, Streskova continues to emphasize employee satisfaction, too.
"A lot of restaurants treat their employees well. But restaurants are famous for low wages, which is unfortunate, because it's a good job," she said. "A lot of people find joy in coming out to eat, and the people that work should participate in that joy. It is indeed a very difficult industry. I just feel like the workers should be really appreciated. We do bring a lot of entertainment to people's lives."
A lot of people find joy in coming out to eat, and the people that work should participate in that joy.
Streskova's approach helped bring nutrition and joy to customers' lives during more than a stress-filled year and kept a restaurant alive during a time of fear, uncertainty, and change. That definitely seems like something worth celebrating.