Trellis Counseling: Doing The Essential Work Of Trauma Therapy In A COVID World
Managing Editor

UPDATED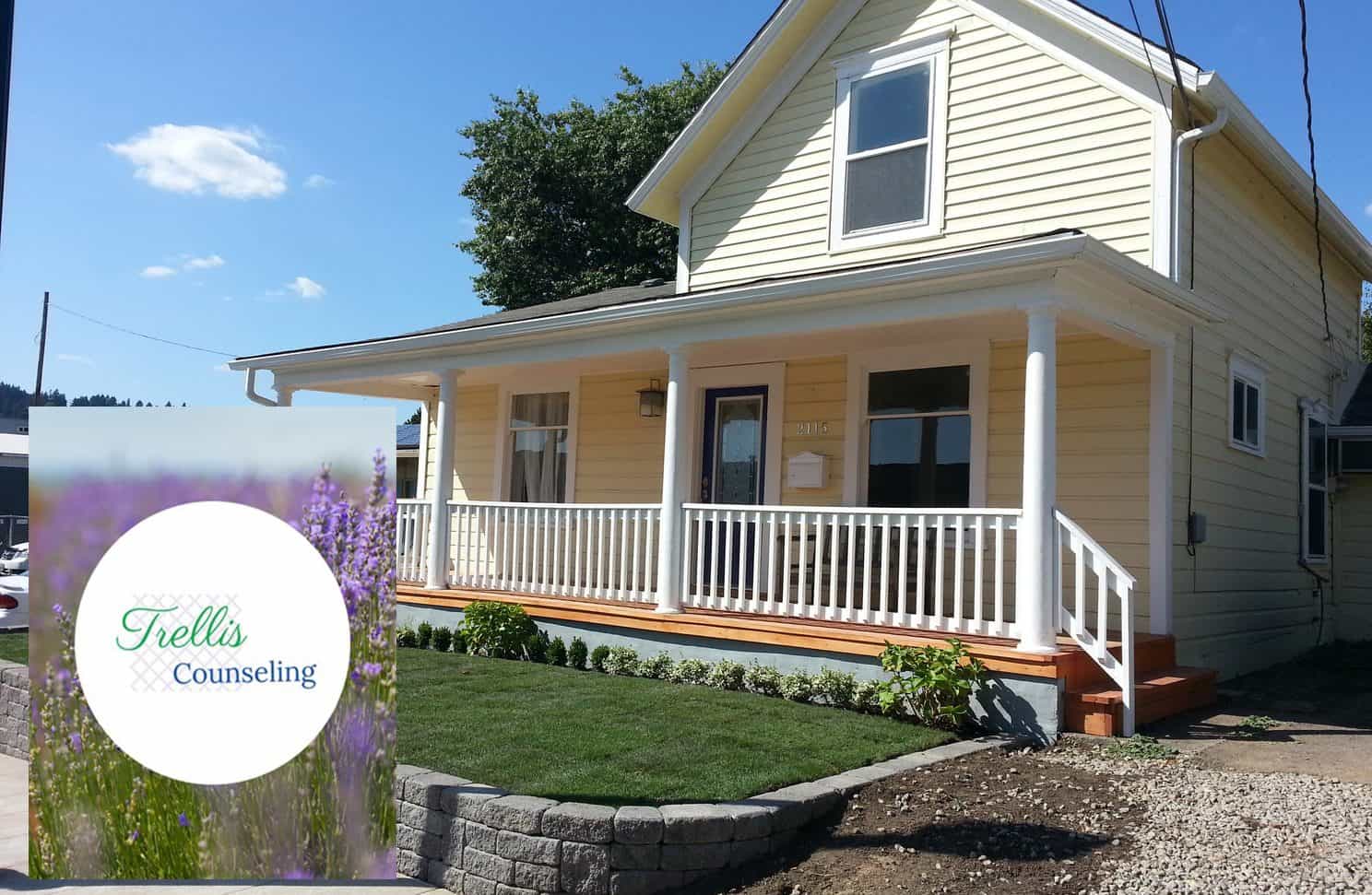 In March, as the global pandemic forced business shutdowns, left 30 million without work, and sent children home from school, Barb Majors — owner of Trellis Counseling in Milwaukie, Oregon — told her clients that they were ahead of the curve. As the world experienced collective trauma and stumbled into an unfamiliar landscape, people were going to need help. And help was what Trellis could offer.
Majors is in the business of trauma. And the "joke" she keeps hearing during the past few months has been, "Well, at least your business is solid."
Majors concedes there is truth to that: The Trellis Counseling business is thriving. But:
"Here's the thing. I love my job — but I absolutely hate that I'm doing it. I don't want to be in business."
Discovering The Need For Trauma-Based Therapy
A former stay-at-home mom with four children — several of whom she and her husband adopted from traumatic backgrounds — Majors couldn't find the help she needed to navigate her children's mental health challenges. Each failed attempt to find a social worker who could meet her family's needs only made her desire stronger: She wanted to become the help she was missing.
A journey through state hospitals and community mental health programs brought Majors to the compelling realization that she needed to meet people where they were at — and that meant going into private business for herself. She bought and restored the oldest residential building in the city of Milwaukie (a suburb of Portland, Oregon). Built in 1888 by a reverend and his wife, the house is listed on the historical register, and Majors calls it "Hope House."
The house came before the business.
Majors knew when she saw Hope House — abandoned and in desperate need of some elbow grease — that she was being called into private practice. Specifically, Hope House would welcome anyone experiencing trauma from current or past events, and help clients build a better life absent of the effects of trauma on their lives (which can include: Constant alertness, inability to relax, paranoia, body tension, sleep difficulties, avoidance, overuse of drugs/alcohol, hopelessness, fearfulness, anger, loss of energy, flashbacks, nightmares, intrusive thoughts).
Majors wanted Hope House to become a trellis for people who needed it. She explains:
"The job of a trellis is to be a support for a growing plant. It has to be a support, but the role is for the structure to not be seen. It supports so the plant can grow and blossom."
The growing success of Trellis suggests people are looking for that kind of support. According to the National Institue of Mental Health, 44.7 million people battled with mental health issues in 2016 — and the effects of COVID on mental health have been well documented. People now, more than ever, are struggling.
Creating A Team
From her experiences in the state health and community health systems, Majors understood the limitations of working with Medicaid and its strict rules. She needed leeway to help the most vulnerable, and so she opened her doors in February 2018 and filled up her practice in six weeks.
When she understood the need, she immediately began looking for likeminded people to join her team. Trellis Counseling now has five therapists/counselors/social workers on staff and two administrative assistants.
She could have rented her space to clinicians also in private practice, but Majors was looking for something different. At Trellis Counseling, the therapists are W-2 employees. (For definitions on the difference, you can read Everything Your Business Needs To Know About 1099 VS W-2 Employees.)
"The trend is toward W-2s and it is turning into the norm," Majors said. "For me, deciding to go this route was about creating and maintaining a culture. There was an environment I wanted to establish — I wanted to celebrate with my staff, I wanted to be able to help set limits and assist my therapists with their self-care. You need to pay careful attention to yourself when you are taking care of people for a living."
Making The Leap
Majors did worry about the risks involved with maintaining Trellis not only for herself but for the entire staff.
"I was now responsible for someone's income. I worried about that side of being an employer. What if I don't meet their needs?" Majors said. But she was shocked by how easily she took to becoming a boss. The challenges of navigating her own practice and the entire business kept her busy, learning new things, and she thrived in her new role.
Her biggest advice to people wondering if running a business is the right fit for them is to "research before the leap, but then don't hesitate to make the leap."
Majors says:
"There will always be more information you should have learned or needed to learn. So, at some point, you need to move forward. There will be a point where you should have leaped earlier and learned as you went."
When Majors knew she wanted to start a therapy business catering to trauma, she jumped in with both feet. She joined a Facebook group specifically for therapists wanting to start a business. The group was invaluable, loaded with free advice from people who had traveled the road and wanted to offer their knowledge. The group's collaboration and helpfulness helped Majors with decisions about the best payroll programs (Quickbooks Online Payroll is their provider) and practical suggestions about how to guard your time.
Therapy In The Time Of COVID
When the sweeping COVID restrictions hit Oregon in March, the conversation about whether or not the counselors and therapists at Trellis were essential workers never took place. There was no second thought about making sweeping adjustments on the fly. There was also no one to learn from. Nobody could teach them how to be the best they could be in the middle of a pandemic. They had to think of privacy issues, wifi connections, and a host of other considerations.
"Everyone but me is working remotely," Majors said. She tried working from home early in the pandemic but discovered the environment didn't suit her. "I love [Hope House] — the colors, the set-up, the fast internet," she said. "And it took working from home to realize how much my dog barks."
Her staff is making the choices right for them while continuing to see clients. But Majors misses seeing her staff — and does not know when they might be together in Hope House again.
"We have quarterly meet-ups as a staff and last year we had a picnic and I gave everyone self-care gift bags. This year, we decided that 2020 was going to be the year of teambuilding," Majors laughs. Like many 2020 plans, teambuilding went to Zoom. But she didn't let the pandemic thwart all her plans. When they had to cancel one of their planned meet-ups, Majors surprised them all with GrubHub gift cards and a date to eat together, remotely.
As Majors tells her clients, maintaining ways to celebrate, despite ongoing traumatic experiences, is important.
Maintaining ways to celebrate, despite ongoing traumatic experiences, is important.
"It has been interesting to watch the changes [due to the pandemic]. People have jumped into this new process. It might seem that you can't really get beyond the surface-level when you are on camera and not meeting face-to-face, but we are still doing good work," Majors said.
With the demand for therapists and licensed counselors at an all-time high, Majors is looking to expand her business. Unlike some industries, she is currently hiring. The need, while good for business, is still a bitter pill. In a perfect world, Majors would be put out of business entirely: And she would be okay with that.
"The hardest thing right now is holding space for people's struggles. Being there when I can't really be there," Majors said. But she and her team will continue to be there for anyone who needs them, equipping clients with the tools to navigate a difficult, changing, and traumatic world.
[If you or someone you know is struggling with anxiety, depression from the effects of trauma, please contact the National Alliance on Mental Illness to connect with resources in your area.]