Top 10 VoIP Providers For Small Business In 2023
Expert Analyst & Reviewer

UPDATED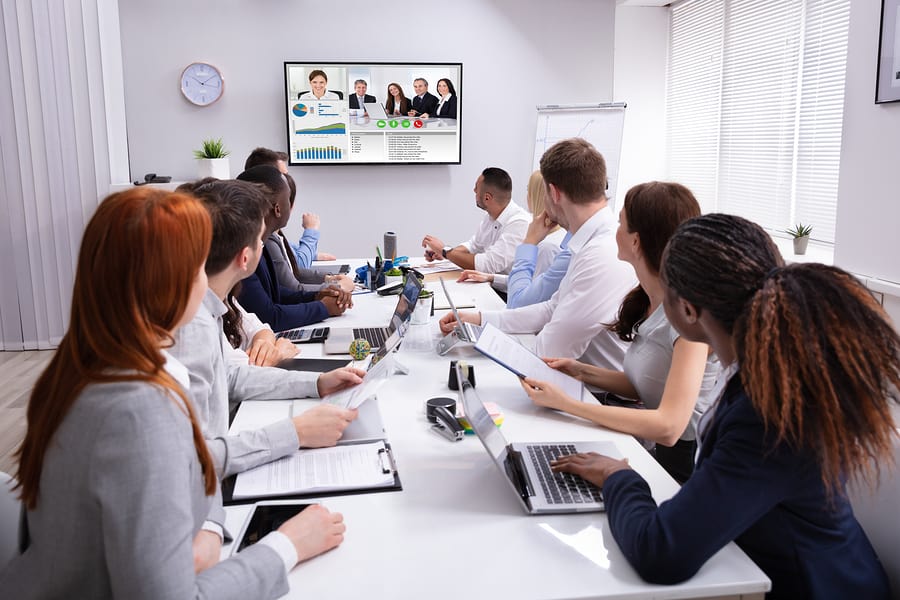 When looking for a voice over internet protocol (VoIP) provider, you've probably noticed that there are numerous services vying for your dollar. Because your dollar is important, we at Merchant Maverick created this holistic guide to the top VoIP providers.
At its core, VoIP doles out an alternative to traditional phone services over an internet connection. Providers can bundle in an array of features including voicemail, virtual attendants, call screening, and team collaboration tools. This article will take you through the top 10 VoIP providers for small businesses, giving you a well-rounded, but easy-to-read, guide on which VoIP service is best for you.
Curious what options top the field when it comes to VoIP? Then keep reading — we've got you covered!
The Quick List:
| Provider Name | Best For |
| --- | --- |
| eVoice | Small businesses wanting basic VoIP features at a reasonble cost |
| Nextiva | Organizations looking for a balance between price and features |
| GoToWebinar | Businesses that want general webinar features |
| RingCentral | Larger companies that want meeting support |
| Zoom | Business that need low-priced VoIP with additional al a carte options |
| Zoho Meeting | Business looking to combine meeting and webinar features |
| 8×8 | Companies wanting reasonably priced international calling |
| Vonage Business Cloud | Organizations that need integrated video and chat support |
| Skype For Business | Businesses that pay for Office 365 already |
| Google Hangouts | Businesses that pay for G Suite already |
The Breakdown:
eVoice
eVoice is a service owned by j2 Global, Inc., which is publicly traded on the Nasdaq. It was founded in 2000 as an Internet-enabled voicemail system before relaunching in 2010 with a wider array of features.
The company targets individuals, entrepreneurs, start-ups, and businesses. All eVoice plans include call-forwarding, a virtual answering service, advanced call routing, voicemail, custom greetings, call screening, web portal, mobile app, and call queuing.
eVoice features four plans with annual and monthly payments options. Here's a quick breakdown: Lite ($10.82 or $12.99 a month), second tier ($24.99 or $29.99 a month), third tier ($41.66 or $49.99 a month), and fourth tier ($66.66 or $79.99 a month). Plans begin with two users, 300 minutes a month, and six toll-free/local numbers. They max out with 15 users, 4,000 monthly minutes, and 45 toll-free/local numbers.
eVoice does not require connection or setup fees. However, you will need to pay $29.95 per number each month if you wish to activate international lines. Calling international numbers also requires additional per-minute fees.
Users generally comment on how they like eVoice's straightforward pricing, professional-sounding greeting system, and voicemail transcription. However, some find the company's customer service to be lacking.
Nextiva
Based out of Scottsdale, Arizona, Nextiva is a privately-owned company that has been providing telecommunication services since its founding in 2008. As of 2017, the company boasted 150,000 clients. Among these clients include Delta Airlines, Yum Brands, and the Cleveland Cavaliers.
Nextiva's all-encompassing option is its "Business Communication Suite." Besides phone service, this package features plans that include services such as sales and service CRM and team collaboration. You can also sign up for just the "Customer Relationship Suite" which includes everything except for phone service and team collaboration. A third option, to gain access to only Nextiva's team collaboration beta, is also available.
This means that you'll need to shell out for the communication suite if you want to take advantage of Nextiva's VoIP features. All of Nextiva's communication suite plans include these VoIP features: unlimited calling, unlimited Internet faxing, voicemail with email delivery, free local phone number, free toll-free number, option to keep your existing number, advanced call management, auto attendant, call logs, multi-site support.
Three plans live under the communication suite banner: Basic ($20 – $35 a month), Pro ($25 – $38 a month), and Enterprise ($30 – $55 a month). Note that while every plan includes Nextiva's VoIP service, not all plans include some features like customer surveys, website live chat, and detail analytics.
Users note that Nextiva has great customer service, good call quality, and solid reliability. However, some have commented on the service's difficult setup.
GoToWebinar
GoToWebinar is a webinar conference serviced owned by LogMeIn, a cloud-focused, Nasdaq-traded company headquartered in Boston. The company owns an array of products including GoToConnect, GoToMeeting, OpenVoice, and Jive.
GoToWebinar advertises three separate pricing plans targeted towards companies that need to reach a large number of people. All plans include reporting and analytics, polls, handouts, Q&A, full-service registration, automated emails, custom branding, integrations, VoIP, phone and toll-free, online and local recording, GoToStage, and a channel page.
Here's a quick rundown of those three plans: Starter ($89 or $109 a month), Pro ($199 or $249 a month), and Plus ($429 or $499 a month). The initial plan can reach up to 100 participants, while the next level up supports 500, and the top level 1,000. The higher-level plans also include features such as custom URLs, recorded events, transcripts, and web browser access.
If you need to reach more than 1,000 people (and up to 5,000), GoToWebinar offers an "Enterprise" plan. Public details regarding the plan's cost/features are not available because this plan requires a sales consultation before purchase.
Users remark on GoToWebiner's ease-of-use, high-quality audio and video, and its recording features. On the flip side, some wish it had more customization options and that support could be contacted via email or chat, not just by phone.
RingCentral
RingCentral is a cloud-based communications company located in California and founded in 1999. It has been publicly traded on the New York Stock Exchanges since 2013.
All plans from RingCentral come with unlimited phone calls within the US and Canada (international calls are charged on a per-minute basis), a toll-free or local number, and voicemail-to-text.
There are four pricing tiers available from RingCentral: Essentials ($19.99 – $39.99 a month), Standard ($19.99 – $49.99 a month), Premium ($29.99 – $54.99 a month), and Ultimate ($39.99 – $69.99 a month). Things start out at supporting 20 users and up to 100 toll-free minutes a month. The top-tier plan supports 200 people per meeting and 10,000 toll-free minutes a month.
There's also an "Enterprise" option on tap for larger companies. You'll need to ask for a sales consultation to receive info about pricing and plan details.
RingCentral also claims that it will price-match competitors' plans. However, the company is unclear about how it decides what is or isn't a qualifying match.
This provider is one of the few that advertises a free trial. You can test out any plan for up to 15 days and can cancel before the end of the trial period with no penalty. Note that the trial does limit you to five users and 50 minutes of talk time per user.
RingCentral generally receives positive marks for its dependability, robust feature set, and good-quality audio. As for negative marks, some comment on the service's spotty two-factor identification and difficulty when trying to cancel.
Zoom
Located in San Jose, California, Zoom is a video communications company founded in 2011. It is traded on the Nasdaq.
Zoom's communication software features video conferencing, online meetings, phone systems, chat, and mobile collaboration. It is one of the few companies on this list to offer a completely free plan with no expiry date (note that this plan limits meetings to a maximum of 40 minutes).
You have four choices if you decide to go with Zoom: Basic (free), Pro ($14.99 a month per host), Business ($19.99 a month per host; requires a minimum of 10 hosts), and Enterprise ($19.99 a month per host; requires a minimum of 50 hosts).
Beyond Zoom's core plans, you can also rent Zoom Rooms for $49 a month. This feature outfits a conference room with software meant to simplify the video conference process. You can also sign up for webinars (starting at $40 a month) that allow you to reach up to 100 interactive video participants and up to 10,000 view-only attendees.
Zoom further offers an audio-specific plan that starts at $40 a month. These plans come with local toll numbers, call out, and global toll-free and local dial-in for premium countries.
Users generally find Zoom to have high-quality audio and video, excellent file sharing features, and easy-to-use screen sharing. Others have voiced frustrations that the Basic plan caps meetings at 40 minutes and that UI is cumbersome to use.
Zoho Meeting
Zoho is a privately-owned company that dates back to 1996. The meeting platform was launched in 2009 and the company claims to have more than 7,000 employees globally. Outside of online meetings, Zoho offers a slew of products that range from sales tools to HR solutions to email and office software.
The company promotes two key services under its meeting banner: One is specifically for meetings, and lets you collaborate digitally with clients and teammates located in across the globe. The second is focused on webinars and enables you to deliver presentations and product demos to potential prospects and leads.
Zoho's meeting tools include RSVP scheduling, screen/application/webcam sharing, VoIP, chat, international dial-in numbers, and a toll-free add-on. For webinars, you can expect registration moderation, a customizing registration form, reminder emails to all attendees, screen/application/webcam sharing, and VoIP. All webinar plans also include the ability to store up to 25 recordings.
Zoho features five available packages in all: Meeting ($8 or $10 a month per host), Webinar – 25 ($15 or $19 a month), Webinar – 50 ($23 or $29 a month), Webinar – 100 ($31 or $39 a month), Webinar – 250 ($63 or $79 a month). The Meeting plan allows for up to 100 participants and storage for 10 recordings. The webinar plans can reach up to 25, 50, 100, or 250 attendees.
Like with RingCentral, Zoho Meeting also offers a trial version. You'll have 14 days to test out their services and, as an added bonus, no credit card is needed.
In general, users like how Zoho Meeting is simple and easy-to-use, does a good job making webinars interactive, and is able to integrate with other Zoho products. Some have noted that Zoho Meeting lacks a desktop app and its customization features are very basic.
8×8
8×8's cloud-based phone services are focused on international calling. This means that small businesses that frequently call overseas will want to take a good glance at 8×8's services and plans.
All plans come with high definition secure voice, mobile & desktop apps, presence detection, voicemail, team Messaging & business SMS3, high definition audio and video meetings with screen sharing, and G Suite/Office 365 integrations.
8×8 has four plans on offer: 8×8 Express ($12 a month per user), X2 ($23 or $23 a month per user), X4 ($43 or $45 a month per user, and X6 ($107 or $110 a month per user). Plans begin with unlimited calling within the US and Canada to unlimited calling within 47 countries. Higher-level plans include various features such as call recordings, unlimited internet faxing, call quality reporting, and post-call surveys.
If you're on the fence about 8×8 the company's lowest tier (8×8 Express) has a 30-day free trial available.
Users frequently comment on 8×8's easy setup, great reliability, and solid array of desktop, web, and mobile apps. However, some have found customer service difficult to interact with when problems do arise.
Vonage Business Cloud
Vonage is a New Jersey-based communications company that was founded in 2001. It is traded on the New York Stock Exchange. Besides its business offerings, Vonage provides a range of residential solutions as well.
Within Business Cloud, users can expect these features across all plans: unlimited calling, unlimited SMS messages, call screening, call logs, virtual receptionist, mobile and desktop apps, and team messaging through VonageFlow. All plans require high-speed internet.
Vonage promotes three pricing plans for Business Cloud: Mobile ($14.99 – $19.99 a month per line), Premium ($24.99 – $29.99 a month per line), and Advanced ($34.99 – $39.99). All plans support up to 99 lines; businesses that require 100 or more lines will need to reach out to Vonage's sales department before purchase. The higher two plans include additional features such as multi-level auto attendant, video conferencing, chat, file sharing, call recording, and visual voicemail.
You can try all three of Vonage's plans free for 14 days. Any physical products purchased will need to be turned in within 30 days for a full refund.
Skype For Business
While not a full-on VoIP suite, Skype For Business could be an economical way for your business to set up online meetings. As Skype is run by Microsoft, access to Skype For Business is available when you sign up for either Office 365 Business Essentials ($5 a month per user) or Office 365 Business Premium ($12.50 a month per user).
Skype For Business comes with a couple of notable features. You'll be able to create an encrypted audio or video meeting with up to 250 members that can be accessed via a personalized URL. On top of this, meetings can be recorded, screen sharing is available, and PowerPoints can be annotated in real-time. Skype also features built-in instant messaging.
Beyond Skype For Business, a business Office 365 account includes other perks, such as Outlook, Word, Excel, PowerPoint, and the cloud storage service OneDrive. The Business Premium plan can be tried free for one month.
Users like its easy setup, integration with Microsoft's Office suite of applications, and ability to share files. Others mentioned that Skype can be difficult to use with a large group and that notifications glitch at times.
Google Hangouts
As another option that isn't a total VoIP service, Google Hangouts comes bundled with Google's G Suite. With Hangouts, you'll be able to video chat with team members.
G Suite has three options: Basic ($6 a month per user), Business ($12 a month per user), and Enterprise ($25 a month per user). With Basic, you'll be able to include up to 25 people in a meeting; with Business, the max is 50. Enterprise maxes out at 100. The Enterprise tier also includes the ability to record meetings and save them to Google Drive as well as the option to live-stream a meeting to up to 100,000 participants.
All three options also let users dial into a US phone number (Enterprise enables the option for international numbers). Hangouts features smart screen sharing, native apps for Android and iOS, and the ability to share presentations and spreadsheets.
G Suite includes other features beyond basic VoIP functionality: You'll be able to use Gmail and Drive, plus Google's branded Docs, Sheets, Slides, and Calendar programs.
Users positively note Google Hangouts' simplicity of use, excellent integration into Google's other apps, and ability to be used on both mobile and desktop. Negative remarks touch on problems when sharing images via Hangouts' messaging feature.
Frequently Asked VoIP Questions: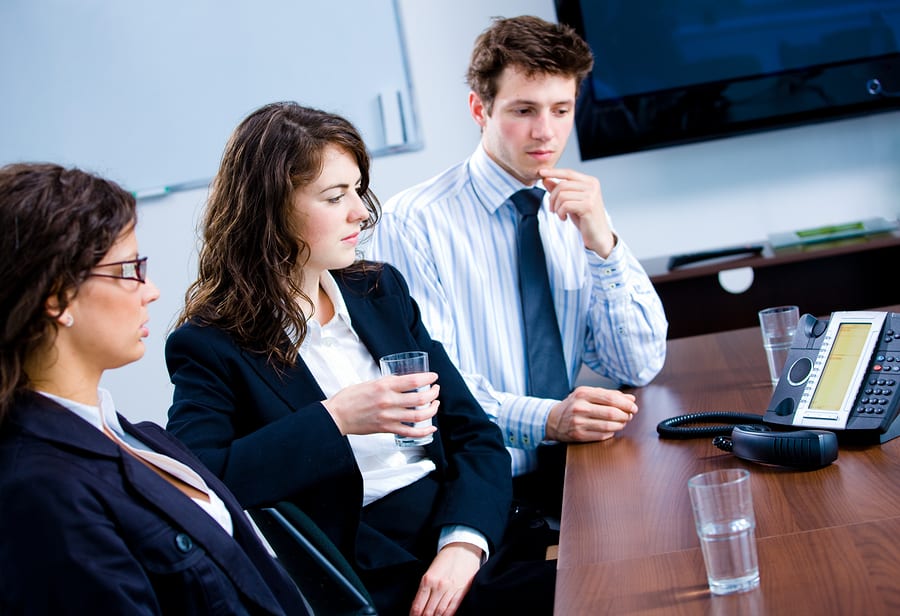 Does My Business Need A VoIP?
If your business deals with a large number of calls, or frequently hosts conference calls, a VoIP system could be a welcomed addition. Besides streamlining your voice communication system, VoIP services will often enable you to cut costs compared to traditional phone carriers. VoIP can also offer improved audio quality and ease-of-use over traditional phone systems.
Some VoIP services also include webinar features. This could be a handy feature if your business frequently offers training to employees in different parts of the world, sells products to large audiences, or provides classes to clients.
How Do I Setup A VoIP Phone System For My Small Business?
If you've decided a VoIP service is right for your business, you'll need to first nail down which service best fits your needs. This means comparing costs, hardware needs, calling features, and additional bonuses, like instant messaging, conference calling, and live chat software.
Because VoIP uses the internet, you'll also need to make sure your business has a high-quality and reliable internet connection. This is especially important if you run a business that will have multiple users eating up bandwidth on calls. On top of this, you may be required to purchase additional hardware (such as phones or headsets) that best work with your chosen VoIP service.
Is There A Free VoIP Service?
Some services, like 8×8, RingCentral, and Zoho Meeting, offer a free trial that lasts between two weeks and one month. For completely free options, you will likely only manage to find VoIP systems centered around meetings. A prime example of this is the basic tier from Zoom. This option offers meeting capabilities for up to 100 participants, although you do have a 40-minute limit per meeting.
Another possibility for a collaboration-focused VoIP is to use either Skype for Business or Google Hangouts. While these systems aren't exactly free, they are part of Office 365 and G Suite, respectively, which your business may already pay for because of their other office tools. Neither are full-on VoIP services; however, both will enable your business to set up conference (and 1-on-1) calls from pretty much anywhere.
If you are a solo-operated small business (such as a freelancer or professional consultant), you can also use the personal versions of Skype or Google Hangouts, which are both free to use. While you won't be able to take advantage of enterprise-focused features, you will still be able to communicate with clients or project team members at no cost.
Bottom Line
Finding the right VoIP service can save your small business time and money. With so many options and no one-size-fits all solution, there should be something that fits your business just right. Ultimately, the provider you choose will be one that matches your company's needs while balancing cost and features.