The Fake Review Spotter Guide: Everything You Need To Know About How To Check For Fake Reviews
Writer

UPDATED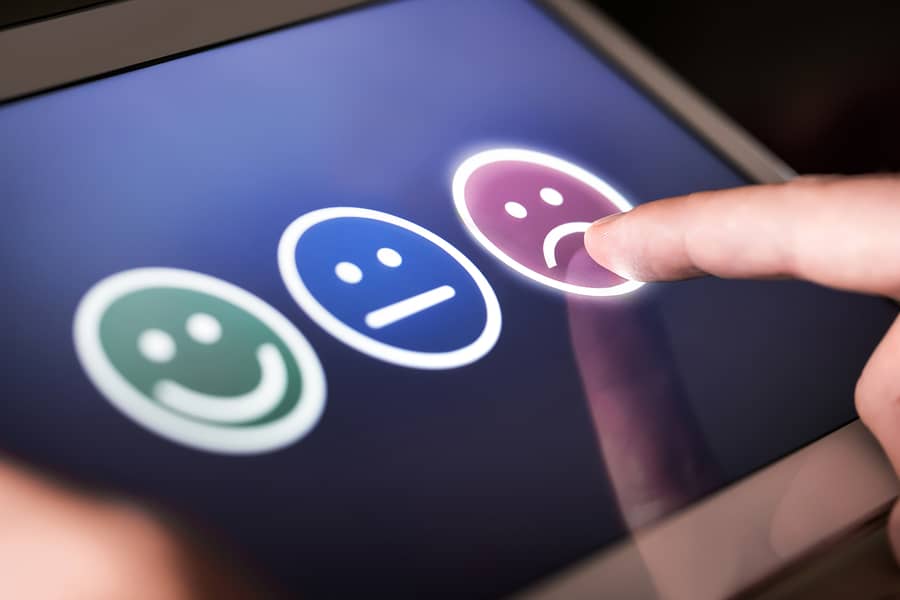 I love living in the age of online reviews. Poring over personal testimonials and scanning star ratings feeds my obsessive need to optimize every decision. With rare exceptions, I won't watch a movie unless it scored at least an 80% on Rotten Tomatoes. Why waste my precious time otherwise? I seldom read a book without checking reviews on Goodreads first. Every savvy bookworm knows exactly what I'm talking about.
Online reviews are so prevalent in today's culture that most of us fancy ourselves not only as connoisseurs of the best goods and services out there but as consummate experts on reviews themselves. Most importantly, we can all spot a fake review a mile away, right?
Well, it's not as simple as we might think. First of all, those who are out to game the system by soliciting or generating fake reviews are only getting better at doing just that: gaming the system. Fake reviewers are well aware that folks are on the lookout for illegitimate testimonials, so fraudulent techniques are only becoming more realistic and insidious. At the same time, our "BS meters" and sense of general skepticism run at full throttle in the modern era. This typically leaves us over-vigilant and even more confused, often resulting in no more than a 50-50 shot at separating the fake from the genuine.
A direct recommendation from a trusted friend or a colleague will probably always be the gold standard for a reliable testimonial, regardless of the industry. In fact, a popular business management metric called the Net Promoter Score was developed based on what's commonly known as The Ultimate Question: "Would you recommend us to a friend?" In the B2B space, however, personalized recommendations can be particularly hard to come by. You're also wise to want the weight of a solid online reputation to back up such an important decision for your business. So while several of your friends may have read the latest NYT bestseller, you may be forced to turn to strangers on the internet to find relevant experiences with a particular credit card processor or point of sale system.
Let's unpack the user review landscape in the B2B world, so you can increase your odds of spotting the fakes.
Are Fake Reviews Really That Common?
By now, you've probably heard of the massive fake review problem at Amazon.com, and the various ways Bezos and company have worked to combat the issue. Nonetheless, the problem of fake reviews is still rampant in all areas of B2C commerce. Once we leave the realm of consumer goods and shift focus toward B2B products and services, however, a slightly different set of rules can apply.
Business software and services are typically much more complex and nuanced than consumer goods. The stakes for making a poor choice are very high, and even real users often don't understand the product well enough to make accurate evaluations. The mix of genuine, fake, and confusing user reviews in the B2B realm is frustrating.
The first step toward understanding the B2B product and service review landscape is awareness of the places fake testimonials may show up around the web. Typical spots include the provider's website and third-party websites that aggregate the reviews of multiple products. Particularly brazen providers may even set up or manage a site of their own that looks like a third-party aggregate site as a place to collect fake reviews. Still, others may simply partner with companies that manage fake review sites or with sites that have extremely biased and unethical rating systems. Clearly, there are varying degrees of culpability on the part of the actual B2B vendor in question in each case. In other words, there's plenty of blame to shift around!
Why Fake Testimonials Are A Big Problem For Small Businesses
Before we proceed any further, let's acknowledge that managing an online reputation is no small feat. This is true for your average small business owner and also for any company that provides products and services to other businesses. Rare is the case in which a slew of glowing testimonials from customers simply falls into a vendor's lap.
We must be abundantly clear, though: Soliciting and propagating fake reviews is illegal and could get a business in big trouble with the FTC. Even if that doesn't happen, chances are the business will still eventually get caught and called out, only damaging the reputation it was trying to bolster in the first place. At Merchant Maverick, we won't hesitate to highlight any suspicious user testimonial activity for the vendors we review.
Still, to be realistic about all of this, most companies end up asking a few clients for testimonials at some point. There's nothing inherently wrong with that. A company may gather testimonials for its website or direct customers to an aggregate site to leave feedback.
However, you should know that some aggregate review sites solicit reviews by offering money, gift cards, free merchandise, or other perks. While the ethics of this practice remains debatable, the resulting user reviews can still be genuine in this scenario. Some even argue that incentives result in better-quality genuine reviews for B2B products — both positive and negative. The real problem is that whenever a reward system is in place, you'll always find a set of enterprising people eager to exploit the system to make a quick buck. Even sites that are trying their best to stay above board in collecting genuine testimonials can still attract fakers.
Some Online Reviews Might Be Genuine But Can Still Be Misleading
In the quest to maintain the best public image possible, many companies enlist dedicated online reputation management services. The integrity and ethics of these services vary widely, but a user review "curation" component is almost always part of the package. The service helps its clients proactively generate more positive reviews from genuine customers while also mining the web for existing reviews.
It sounds like a great idea, right? You know exactly where this is going. To paint their client in the best light possible, only the positive reviews and ratings get pulled to display. This leads to an inflated, misleading rating and reputation for the vendor.
A related problem occurs when reviews are solicited from brand new customers at the time of signup. This is a common practice across many industries. With little-to-no-time to test the product or service, the vendor's rating becomes inflated by these genuine — but largely useless — testimonials. And, speaking of unhelpful reviews, let's not forget reviews from users who have had the product or service for a while but still don't understand how the product (or the corresponding industry) works. Fortunately, these reviews are usually complaints — not the fake positives we're most concerned about — and are pretty easy to spot as your knowledge of the product and industry increases. Unfortunately, all types of unhelpful reviews still muddy the waters.
How To Spot Fake Reviews: 10 Signs An Online Review Isn't Legitimate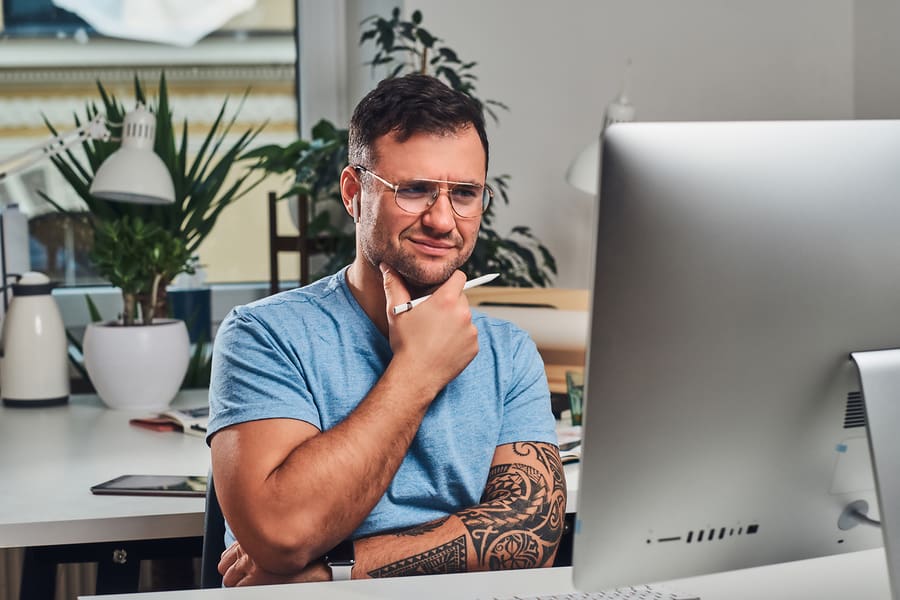 If the thought of all these fake reviews and fake review websites makes you want to give up on online testimonials, please don't despair. User feedback on B2B software and services is essential data for Merchant Maverick in our research and rating process, so the last thing we want to do is give up on them entirely.
We're now ready to look at a few telltale signs of fake B2B product reviews. Note that some are similar signs of fake reviews of consumer goods, while others have their own spin. Also, it's more important to spot suspicious patterns across multiple reviews than to look at any single review.
1. Sketchy Review Site
Always consider the quality and reputation of the review site itself first before digging into individual reviews. Appearances aren't everything, but if "vague" is the word that repeatedly comes to mind as you peruse the website, you're probably on to something. Can you find any details about the company that runs the site? Any policies regarding how it collects or verifies its reviews? Any explanation of how the site makes money? Do links on the site lead where you'd logically expect them to? If the review site lacks substance, detail, and basic logic, put up your guard straight away.
2. Lack Of Information About The Reviewer
Enough information should be provided for you to identify that a reviewer really is who they say they are. When it comes to B2B product reviews, expect to see the full name of the reviewer and the business name, at a minimum. Basically, if you can't figure out who this person is apart from their review, it's a red flag. Testimonials on a vendor's website should clearly display this information. Most of the better-aggregated review sites also gather identifying details about each reviewer. They may include additional specs, such as a job title, length of time using the product, or even a direct link to the user's LinkedIn profile.
3. Reviewer's Profile Doesn't Quite Add Up
You've checked that the key identifying details of the reviewer are present, but you notice something is still off. Maybe you're visiting a review site that features profile photos of each reviewer, but the headshot in question looks like a weird stock photo of something unrelated or even a picture of a random celebrity. Perhaps the reviewer's job title is "Social Media Marketer," but the review is for accounting software. The reviewer's profile should add up to a believable (and verifiable) person and scenario.
4. Illegitimate Business
Related to the above, a fraudster may not only completely invent a reviewer's persona but also may invent a business. Just because the information about the business is there doesn't mean it's true. You should be able to find proof the business exists or that it at least recently existed. Find the website for the business, see if it looks legit, and find out where it's based. If you're still suspicious, try contacting the business directly.
5. Unnatural Language
This one is tricky because we must first acknowledge that not all genuine customers of the vendor may be native speakers. However, lots of glaring typos, horrendous punctuation, and strange strings of words that add up to nonsense are still important warning signs, especially when combined with other factors on this list. Note the number and proportion of these oddly-worded reviews as well. A large volume of poorly constructed testimonials signals an offshore content farm is likely at play.
6. Repeated Or Formulaic Elements
In addition to unnatural language, watch for a large number of reviews containing repeated language and other elements. Hired fake reviewers are often instructed to include certain buzz words, phrases, or talking points. It could be one reviewer creating these testimonials en masse or multiple people being given the same instructions. Meanwhile, some reviewers are not provided any specific instructions but are simply lazy or incompetent, using the same stock wording each time with only minor changes.
7. Many Reviews Over A Short Time Period
As mentioned before, many vendors initiate targeted campaigns to solicit testimonials and ratings from real customers and may even employ a dedicated service to assist. This practice can lead to a spike in reviews over a few hours or days, even from genuine customers. Nevertheless, always check the date and time stamps of reviews and take heed if you notice this pattern. Especially if the reviews are also low quality, formulaic, or lack most of the reviewer details you're already looking for, you'd be right to suspect the work of a fraudster cranking out bulk reviews for pay.
8. Extra, Unhelpful Details
We're all pretty good at spotting bot-speak these days. Fake reviewers know this, so they often try to overcompensate in their efforts to sound like a real-life human. This just means that if they come across like they're trying way too hard, they probably are. A common tactic is to include a lot of unnecessary scene-setting and backstory. In trying to sound relatable, the reviewer may also use a lot of "I" and other personal pronouns. By contrast, most legitimate testimonials cut straight to the chase with concrete, boring details. The review shouldn't read like a flashy, flowery sales pitch or infomercial.
9. Suspicious Reviewing Patterns For A Given Reviewer
Many review sites allow you to see other products and services someone has reviewed simply by clicking on their profile. The obvious thing to check is whether the reviewer only doles out glowing 5-star ratings, but you can often unearth deeper patterns with additional cross-referencing. When researching a particular vendor recently (let's call it Vendor A), I found four ratings within its Google profile. Each rating was exactly 5-stars, which already made me suspicious. As I clicked on each reviewer profile of Vendor A, I found each of the four reviewers had also reviewed the same two additional companies: Vendor B and Vendor C. By a miraculous coincidence, four reviewers somehow just happened to review the same three unrelated vendors and no others and gave them each 5-stars. Paid reputation management on behalf of all three companies was likely afoot here, at best. Fraudulent reviewing by professional reviewers could just as easily have been at play on top of this. Neither is ideal.
10. Extreme Reviews Only (The "Missing Middle")
Due to our inherent tendency as a species to speak out only when furious, you're likely to encounter plenty of complaints about most B2B products and services in existence. Positive reviews may be more difficult to come by, but the reputation management and fake reviewing industries have each done their part to fill in the gaps for mediocre and poor companies. For these reasons, you ought to be suspicious if you can't find any middle-of-the-road feedback about a given vendor. You should be able to locate a least a few reviews that highlight both the pros and cons. These reviews will also help ground you in the patterns to look for in the more extreme reviews.
How Merchant Maverick Verifies Its User Reviews
Each of our B2B vendor reviews on the Merchant Maverick website includes a section for user comments. In managing our comment section, we adhere to a strict comment policy when publishing any reader feedback. For example, we require that each commenter includes their full name and business name when submitting their feedback. We also have internal systems in place to flag suspicious patterns, such as a group of reviews from different email addresses but the same IP address.
Most importantly, a real human being looks at every single comment before it gets published to our site. When checking each comment, we use many of the same signs and techniques we've already discussed in this article to identify suspicious activity. At Merchant Maverick, we believe effective technology, clear policies, and a discerning human touch are all necessary to combat the problem of fake reviews.
Go Forth & Don't Fall For Fake Online Reviews & Testimonials
I know I said at the outset that I love living in the age of online reviews, but I also cringe at the overwhelming, befuddling mess of feedback generated via crowdsourced opinions. Perhaps "love-hate" would have been a better term.
Fake reviews will continue to compound the problem for the foreseeable future as small business owners struggle to cut through the noise and make sound decisions. There is no single, fail-safe trick to spotting fake reviews, but we'll leave you with these key takeaways:
Place more weight in patterns and trends than any single user review
Watch for multiple signs and patterns at play at the same time
Learn about the place you're reading user reviews in the first place (e.g., how the site makes money, its rules for displaying vendors and ratings on the website, its process for verifying user reviews, etc.)
Finally, while user recommendations are extremely valuable, we'd strongly suggest combining them with long-form, detailed analyses of the product or service you're considering for your business. In Merchant Maverick's reviews, we always aim to thoroughly cover both the negative and positive aspects of each vendor in a balanced, non-emotional manner. And if we've uncovered suspicious testimonial-gathering practices as we scour the web for user feedback about the company, we most definitely let you know.
To learn about how Merchant Maverick operates as well as tips for navigating the B2B world, check out these resources: