The Blue Business Plus Credit Card From American Express Review
Expert Analyst & Reviewer

UPDATED
Advertiser Disclosure: Our unbiased reviews and content are supported in part by
affiliate partnerships
, and we adhere to strict
guidelines
to preserve editorial integrity.
Blue Business Plus Credit Card from American Express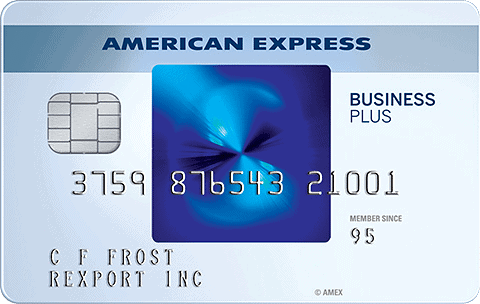 Minimum Recommended Credit
Good
Rewards Rate
2 or 1 point per dollar spent
The Blue Business Plus Credit Card from American Express provides a simple way for small businesses to earn points and gain access to American Express's Membership Rewards Program without worrying about fees or rewards tiers.
With two points per $1 spent on all purchases (up to $50,000 a year), business owners will have no problem earning points with this card. Blue Business Plus has a great introductory rate of 0% APR for the first 12 months. And, like most Amex credit cards, cardholders can spend above their credit limit with no penalty.
Business owners who think they'll be spending more than $50,000 per year on their card might want to look at other cards, as this one reverts to one point per $1 after you hit the $50,000 cap. But if you're interested in a hassle-free way to earn points, the Blue Business Plus is worth considering.
Is Blue Business Plus the right credit card for your business? Read on for the details!
American Express Blue Business Plus At A Glance
Blue Business Plus Credit Card from American Express


---


Visit Site

Annual Fee:


---

$0

Purchase APR:


---

14.74% - 20.74% (variable)
Eligibility
You'll need to be at least 18 years of age and a US resident to apply for the American Express Blue Business Plus.
When it comes to your credit history, Amex does not suggest a recommended credit level. In general, though, the Blue Business Plus card will be best suited to those with good to excellent credit, although that is not a hard-and-fast rule. Credit scores of good or excellent often sit above 640.
Unsure of your credit score? Check it out with one of these free services!
Rewards For Spending
This Amex card has a solid rewards scheme that should fit a range of spenders — however, there is a key factor to keep in mind.
2X Points Up To $50,000

With two points per dollar spent on any business purchase in any category, this card from Amex is quite the powerhouse. Most cards on the market struggle to reach a double rewards rate, and if they do, they often require spending within select categories. However, Blue Business Plus's high rewards rate does come with a caveat: You'll only receive 2x points on your first $50,000 spent each calendar year.
After you break the $50,000 spending threshold within one year, you'll start earning 1 point per dollar. This means that users who plan to spend much more than $50,000 annually may find greener pastures with a different card that doesn't impose spending caps. You may also find better cards if you're looking for rewards in specific categories — the Blue Business Plus will best suit those with a wide-ranging spending profile.
If you're looking for a cash back card — but like what the Blue Business Plus Credit Card offers — check out Amex's Blue Business Cash Card.
Redeeming Rewards
Many Amex cards shine when it comes to redeeming rewards — the Blue Business Plus is no different.
Use Points At Checkout
American Express lets you utilize your reward points at a range of marketplaces. Available marketplaces for point usage include:
Amazon
Best Buy
Grubhub
Newegg
Ticketmaster
Walmart
Additionally, points can be used when you check out with a merchant that supports Amex Express Checkout or PayPal.
Book Travel With Points
Despite not being a travel card, you can still use the Blue Business Plus points for travel. To do so, you'll need to book your trip through American Express's travel portal. Or, if you'd prefer a different service, points can be used at checkout when booking through Expedia.
Additionally, points can be used on certain taxi fares within New York City.
More Ways To Use Points
If the above ways don't suit your point-redemption fancy, Amex offers a few other ways to utilize your rewards:
Gift cards or gift certificates from a range of merchants
Statement credit to cover eligible charges on your American Express account
Transfer points to your account in a participating frequent customer program
Note that depending on how you redeem your points, you may wind up receiving more or less than the standard $0.01 per point.
Card Benefits
As one of the big players on the credit card scene, American Express offers a plethora of extra benefits with its cards. Here's a look at some of what you can expect with the Blue Business Plus:
Expanded Buying Power
Amex likes to market that the Blue Business card line has something deemed "Expanded Buying Power". All this means is that you'll be able to spend above your designated credit limit. However, the amount you can spend above your credit limit isn't actually unlimited. Instead, that second limit adjusts based on how you use the card, your payment history, credit record, any of your own financial resources Amex knows about, as well as other factors.
Free Employee Cards
If you need to dole out employee cards, Amex won't charge an annual fee for each card you hand out. You'll be rewarded for purchases made on employee cards. Plus, you'll have the option of setting spending limits for each employee card.
Card Management Tools
American Express provides several benefits to help manage your card. These include:
The ability to set another individual as an "account manager"
Access to American Express Business App and the American Express App for iOS and Google Play
Account alerts, online statements, and year-end summaries
The option to pay bills for free with Bill.com
Customer Service Perks
Amex further offers a range of customer services benefits, including 24/7 customer support, a global assist hotline that provides access to medical, legal, financial, and other select emergency coordination and assistance services, and dispute resolution in case you notice a fraudulent or incorrect charge on your statement.
Other Benefits
Beyond the above benefits, a Blue Business Plus card grants you car rental loss and damage insurance after you reserve and pay for a rental car with your card. Note that you will need to decline any collision damage waiver from the rental car company, and Amex's coverage is not available in Australia, Italy, or New Zealand.
You'll also receive access to Amex Offers, which can save money on purchases. This service shares offers for brands, shopping, travel, and more via Amex's website or its mobile app.
Rates & Fees
Like with most cards, the Blue Business Plus has some fees to watch out for. However, there are also a few perks that might save you money versus a different card.
No Annual Fee
As a nice bonus, this card does not require an annual fee. This means that your rewards will start saving you money — you won't have to worry about recouping a set fee first.
A 0% APR Introductory Period Of 12 Months
While the Amex Blue Business Plus doesn't include a welcome offer, it does still include a nifty feature for new users: You'll get 12 months of 0% APR on purchases and balances transfers. This is especially handy for those who plan to carry a balance for the first year they have the card in their wallet.
Once the 12 months of introductory APR are up, your rate for purchases will range from 14.74% - 20.74% (variable).
Small Fees To Keep In Mind
While the above two entries will save you money, the Blue Business Plus isn't without its fees. Foreign travelers should note that they'll be charged 2.7% per transaction (after conversion to US currency) when out of the country — this fee could make a travel-specific card more enticing for frequent fliers.
Besides the foreign transaction fee, you'll be dinged either $5 or 3% of the amount of each balance transfer (whichever is number is higher).
Is American Express Blue Business Plus Right For You?
You might want to apply if:
You want a simple rewards structure
You want a generous introductory 0% APR period
You plan on putting less than $50,000 worth of charges on your credit card
You might want to look for a different card if:
You plan on putting more than $50,000 worth of charges on your credit card
You simply want to earn cash back, not points
You want a travel card or one that offers better rewards for select categories
The editorial content on this page is not provided by any of the companies mentioned and has not been reviewed, approved, or otherwise endorsed by any of these entities. Opinions expressed here are the author's alone.
---
Featured Free Corporate Card
Ramp


---
Ramp offers a free corporate card for virtually any business. Start earning rewards with your corporate spending today. Get your free card.
Featured Free Corporate Card
Ramp


---
Ramp offers a free corporate card for virtually any business. Start earning rewards with your corporate spending today. Get your free card.
To learn more about how we score our reviews, see our
Business Credit Card Rating Criteria
.