Spark Cash Select From Capital One Review
Expert Analyst & Reviewer

Updated on:
Advertiser Disclosure: Our unbiased reviews and content are supported in part by
affiliate partnerships
, and we adhere to strict
guidelines
to preserve editorial integrity.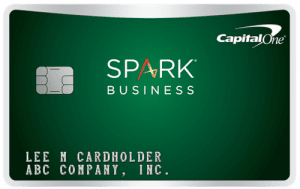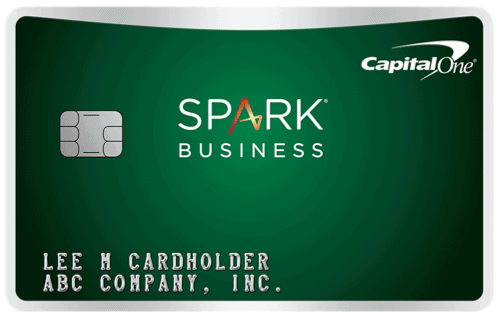 Need help finding a lender?
Date Established

1988

Location

McLean, Virginia
Spark Cash Select from Capital One promises an unlimited 1.5% cash back on all purchases. This is Capital One's middle-rate cash back business credit card, between Spark Cash at 2% back and Spark Classic at 1%.
Cards with flat rates such as Spark Cash Select are an easy way to save money and manage your expenses without dealing with all the hassle of tiered rewards systems or point values. And, on top of the flat rate, there is a lot to like about Spark Cash Select. It has no annual fee, it comes with an early spend bonus, and cardholders get access to benefits offered by Capital One and Visa.
Is Spark Cash Select right for you? Read on for the details!
Spark Cash Select From Capital One At A Glance
Spark Cash Select From Capital One


---


Visit Site

Annual Fee:


---

$0

Purchase APR:


---

14.49%-22.49% (variable)
Eligibility
Spark Cash Select requires excellent credit to qualify. Per its website, Capital One considers you to have excellent credit if you've met these standards:
Never declared bankruptcy or defaulted on a loan
Have not been more than 60 days late on any credit card, medical bill, or loan in the past year
Maintained a loan or credit card for three-plus years with a credit limit above $5,000
If we want to base your credit strength on a single number, a credit score above 740 is generally considered excellent. Note that Capital One does not market a specific qualifying minimum credit score for the Spark Cash Select card. Curious about your credit score? Check out one of these free websites to find out what it is.
Rewards For Spending
Spark Cash Select promises an easy-to-understand rewards scheme that won't require a PhD in math to understand. On top of that, it comes with an early spend bonus as icing on the cake.
An Early Spend Bonus Worth $200
If you spend $3,000 on purchases with Spark Cash Select in your first three months, you'll collect an early spend bonus worth $200. This is a relatively low early spend bonus, so it shouldn't be a deciding factor in choosing this card. However, it's still better than no bonus and should make for a nice plus if you break $3,000 in spending over three months.
Once you've hit the requirements for the early spend bonus, you'll receive the $200 reward within two billing cycles. As is the case with most credit cards, current or previous Spark cardholders aren't eligible for the bonus.
Unlimited 1.5% Cash Back On All Purchases
With the Spark Cash Select, you won't have to learn how to use an abacus if you want to calculate your rewards. Spark Cash Select features a simplistic 1.5% cash back for every purchase you make on the card; no further formulas needed.
A flat rate of 1.5% cash back is nothing to write home about, but it's also nothing to sneeze at either. Especially when coupled with the card's lack of an annual fee (see below), you'll be earning a tidy sum whenever you make a purchase. Plus, this rate is for all purchases; some cards only hand out rates above 1% when spending within specific categories. This might make the Spark Cash Select appealing if you spend across numerous categories.
Note that cash advances, balance transfers, and checks used to access your account won't receive cash back because Capital One does not consider them as purchases.
Redeeming Rewards
If you're using a Spark Cash Select card, you'll probably want to redeem rewards for cash back. However, there are a few other ways Capital One lets you get rewarded for spending.
Earn Rewards As Cash Back
As Spark Cash Select is a cash back card, rewards can unsurprisingly be redeemed for cash back. You can receive rewards at your convenience as a statement credit, a check, or set your account to redeem rewards automatically on a periodic basis.
Capital One also enables the option for an automatic redemption trigger, which can be set through the company's online portal or by contacting the rewards center. Automatic redemption options include a specific time each calendar year or when a spending threshold (such as $25, $100, or $500) has been met.
Multiple Redemption Options
Besides cash back, you can choose several other redemption methods. Available options include credits for previous purchases, gift cards, and more. Note that different types of rewards might be worth less than (or possibly more than) straight cash back.
Rewards Don't Expire
Your rewards will not expire for the duration that your account is active, and you can transfer them between certain Capital One accounts. According to Capital One, not all reward products can be shifted between accounts. Be aware that if you shutter your account, any unredeemed rewards will be lost.
Card Benefits
By holding a Spark Cash Select card, you'll have access to both Capital One's business benefits and Visa Business Benefits. Both of these benefits programs offer solid coverage. Many available perks include travel and shopping features, even though this card isn't designed specifically for those purposes.
Free Employee Cards
A feature worthy of every business credit card, free employee cards can be handed out if you have a Spark Cash Select card. You'll be able to collect rewards when employees make purchases with their cards. You can further set spending limits on these cards as well as view transactions made with employee cards as soon as they've posted.
Fraud Coverage & Alerts
Capital One markets that it provides your account with "business-grade protection." Included in this coverage is email, text message, and phone call alerts if Capital One notices any fraudulent or suspicious charges.
You'll also be privy to $0 fraud liability coverage. That means you won't be on the hook for unauthorized charges if your card goes missing.
Finally, employee cards can be locked up if one becomes lost or stolen.
Account & Business Management
Capital One provides some standard tools that can help with account management. You can pick your monthly due date, set up automatic payments, and get an itemized year-end report summarizing your annual spending.
You can also take advantage of other features, such as a recurring transaction list that displays charges to your card that repeat monthly (e.g., subscriptions or bills). You can also access a range of transaction details when available, such as addresses, logos, phone numbers, and maps of merchants you've bought from.
As one last note, you can also download purchase records into multiple formats, including Quicken, QuickBooks, and Excel.
Visa Business Benefits
With a Spark Cash Select card, you'll receive access to a few perks not included in Capital One's core benefits package thanks to Visa Business Benefits. The best of these bonuses is Purchase Security/Extended Protection. With this benefit, you might qualify to have an item replaced, repaired, or reimbursed within 90 days of purchase. You might also be eligible for an extended warranty program that can double the length of a manufacturer's warranty (up to one additional year).
There are a few other perks bundled with Visa Business Benefits too. Other notable ones include a worldwide 24/7 emergency card replacement service and an auto damage waiver that covers damage due to collision or theft on eligible rental cars.
Other Benefits
You can also expect the Spark Cash Select card to come with numerous other benefits. These include:
Rental collision coverage
Travel assistance
Roadside assistance
Online/mobile app account access
Eno, Capital One's 24/7 virtual assistant
Rates & Fees
The fee highlights of this card are its lack of annual or foreign transaction fees. However, keep in mind that Capital One does include a few other charges, plus you will pay interest if you carry a balance. There's also no 0% introductory rate with this card.
A 0% Introductory APR Of 9 Months
For those who need to carry a balance, the Spark Cash Select card features an introductory rate for purchases of 0% for your first nine months (something that's lacking in the Spark Cash card). After that, you can expect an APR within the range of 14.49%-22.49% (variable). This APR ranges from good to slightly above the industry average. As such, you'll want to double-check the APR included in your account agreement before you start carrying a balance. Of course, by making your monthly payments, you won't have to worry about APR.
No Annual Fee
One of the big highlights of the Spark Cash Select card is that you won't need to worry about paying an annual fee. That makes Spark Cash Select an appetizing entrée, especially when coupled with its 1.5% cash back rate.
Because this card has no annual fee, you'll be able to earn more from it than Capital One's 2% cash back business card, Spark Cash, if you spend less than $19,000 per year*. After breaking the $19,000 spending barrier, the other card will be more profitable.
* How we got this number: for Spark Cash Select: $18,999 × 1.5% cash back rate = $284.985 cash back; for Spark Cash: $18,999 × 2% cash back rate – $95 annual fee = $284.98 cash back.
No Foreign Transaction Fees
Similar to the other Capital One business cards, this bit of plastic does not incur foreign transaction fees. That means frequent overseas travelers may like the Spark Cash Select card.
Other Fees
On top of no annual fee, Capital One bundles this card with no foreign transaction or balance transfer fees. However, there is a fee for cash advances of $10 or 3% of the amount of each cash advance, whichever is higher.
Is Spark Cash Select From Capital One Right For You?
You might want to apply if:
You make purchases in a wide array of categories
You want a cash back card without an annual fee
You can take advantage of the card's perks, such as free employee cards, no foreign transaction fee, or an extended warranty
You might want to look for a different card if:
You have one or two specific spending categories that match better with a card that offers higher reward rates
You spend enough to offset an annual fee on a card with a better reward rate
You won't qualify for the card because you lack excellent credit
---
Featured Free Corporate Card
Divvy Card


---



Divvy offers a free corporate card for virtually any business. Start earning rewards with your corporate spending today. Get your free card.
Featured Free Corporate Card
Divvy Card


---



Divvy offers a free corporate card for virtually any business. Start earning rewards with your corporate spending today. Get your free card.
To learn more about how we score our reviews, see our
Business Credit Card Rating Criteria
.
Read Next