Stamps.com Review
For many USPS users, Stamps is an affordable shipping solution that frees up time for more important small business operations. However, it may not offer enough features to fit everyone's needs.
Expert Analyst & Reviewer

UPDATED
Advertiser Disclosure: Our unbiased reviews and content are supported in part by
affiliate partnerships
, and we adhere to strict
guidelines
to preserve editorial integrity.
Stamps.com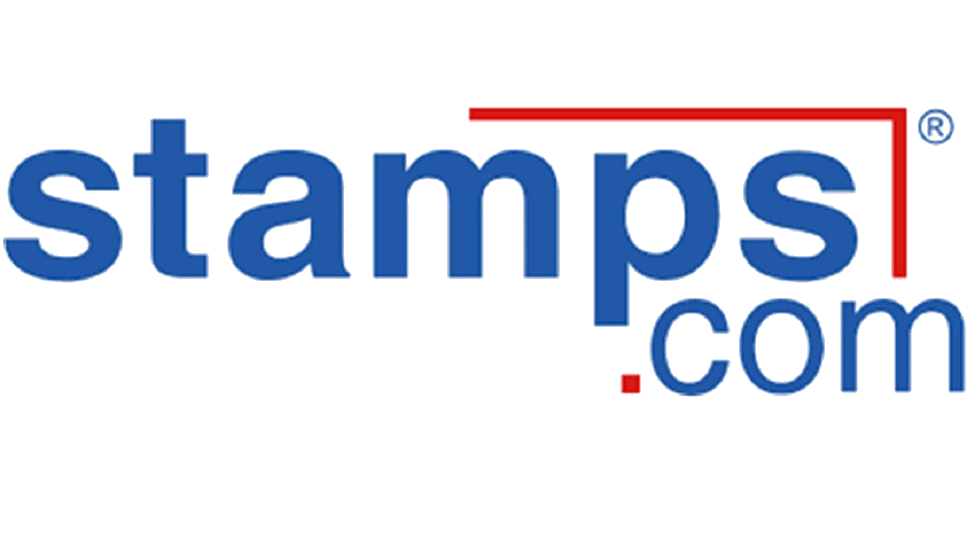 Pros
Easy to use

Convenient

Flat monthly rate

Discounted shipping rates
Cons
Limited carriers

Difficult to cancel

Unreliable refunds
Stamps.com Overview
Shipping software can save your small business time and money. But with so many shipping solutions available, it's hard to know which is best. For example, Stamps.com is a popular option. But is it right for you?
Many small businesses find Stamps.com to be easy, convenient, and affordable, and they like that this software helps save time and money. Other users say Stamps.com doesn't offer enough features or shipping options, because it works only with the US Postal Service. However, if your business already ships primarily with USPS, you could benefit from using this software.
Our Stamps.com review covers the pricing and features of Stamps.com as well as the software's advantages and disadvantages. Read on.
What Is Stamps?
Stamps is an online postage service that lets you buy postage from USPS and print labels from your home or office. You can even schedule pickup times with USPS directly from your Stamps admin. If that sounds like a good option for your small business, you definitely want to read this full Stamps review.
Stamps Pricing
Stamps has three pricing levels, based on the number of user accounts and locations you can access. Note that the cost of postage is not included in the service plan price. Here's what is included with each Stamps pricing plan:
Stamps Pro Plan
The Stamps Pro plan costs $17.99/month and includes:
One user account
One location
10 reference codes that allow you to assign a category to the items you ship
Customer support via phone and email
Stamps Premier Plan
The Stamps Premier plan costs $24.99/month and includes everything in the Pro plan, plus:
Three user accounts
One location
Printable certified mail forms
50 reference codes
Stamps Enterprise Plan
You'll have to contact Stamps.com to learn about pricing for the Enterprise plan because pricing is customized for each Enterprise user. This plan includes everything in the Premier plan, plus:
Multiple users
Multiple locations
1,000 reference codes
Advanced reporting features
Dedicated account manager
Stamps.com offers all users a free four-week trial, with no contract required. If you decide not to continue service, you can cancel online or contact customer service. Just be sure to cancel before your trial period ends, or you will be charged an ongoing monthly fee of $17.99 for the service, including the trial period.
When you sign up for the trial, you gain access to a few additional perks. These include:
$5 in free postage to use during your trial
Free Stamps.com Supplies Kit ($5 value) with address labels, postage labels, and a user manual
Free 5 lb. digital scale ($50 value) when you pay shipping and handling
Coupons for $20 in postage that you can use after the trial
Stamps Features
Stamps.com comes with all the features you need to ship with the USPS. Find a summary of those features below:
Discounts
Stamp.com offers users on all plans special discounted rates on postage. Discounts are not based on your shipping volume. USPS discounts include:
First-Class Mail: $0.05 off 1 oz letters
Priority Mail: up to 30% off
Priority Mail Express: up to 16% off
First-Class Packages: up to 26% off
Priority Mail International: up to 12% off
Priority Mail Express International: up to 7% off
First-Class Package International Service: up to 5% off
Additionally, Stamps.com now integrates with UPS, so users can get up to 69% off UPS 2-day air and up to 55% off UPS ground rates for domestic shipments. Common UPS fees, such as a residential surcharge for ground shipments, are waived for Stamps.com users.
Multi-Channel Sync
Stamps.com automatically imports orders directly from marketplaces where you sell, including eBay, Amazon.com, and Etsy. You can also import orders from a CVS file, Excel, XML, or your own ODBC. After you print a shipping label for an order, Stamps.com automatically uploads tracking and mailing information back to the order source.
Address Book
Stamps.com's address book feature lets you store addresses, phone numbers, and email information for everyone you ship to. You can also connect to your address books in other applications, like Outlook and Act. You can also import address information from other sources.
Tracking
Once you print a shipping label, your customer automatically receives a shipment notification via email. This email will include the delivery address, mail date and class, estimated delivery date, a link with the tracking number, and a personal note that you can customize.
Order Management
You can use batch processing to print shipping labels for all your orders at once. You can print return labels and send them to customers via email. SCAN forms allow you to feel confident that your packages are received by USPS, and you can include multiple shipments on one barcode.
Reports
Stamps.com allows users to track mailing and shipping costs by customer, by mail class, by zone, and more.
Shipping Labels
You won't need a special printer to use Stamps.com. You can print labels on plain paper, on labels and envelopes, or special NetStamps labels. You can even customize your packing slips with graphics, such as a logo or a custom message.
International Shipping
You can access all international USPS mail classes for international shipments, and the forms you'll need are integrated into Stamps.com. The software will automatically select the correct form and include delivery address, product description, and item quantity. Product restrictions are shown for each country, and the date, your name, and an "electronic round stamp" are included on customs forms, so you don't need to visit the post office to drop off international shipments.
Postage Payment & Refunds
The cost of postage is not included in your Stamps.com subscription cost. You can pay for the postage you use by invoicing, credit card, or ACH debit/credit, including PayPal debit card.
If you misprint or spoil a shipping label, you can apply for a refund by mail. You will need to include physical proof of misprinted or unused postage. Refunds must be received within 60 days, with refunds processed within 1-2 weeks. You can track refund requests from your admin panel. Refunds are not available for unusable valid postage labels for First-Class one-ounce or Priority Mail one-pound shipments.
Package Pickup
You can schedule a package pickup through the USPS website or from your admin panel. Called Carrier Pickup, this service is free if scheduled at the same time as your normal mail delivery and is available only for these types of shipment: Priority Mail Express, Priority Mail, Global Express Guaranteed, Priority Mail Express International, and Priority Mail International. However, if you are sending out at least one package in those classes, you can include packages sent by alternate methods, such as First Class, with no fee added.
There's no limit on the number of packages but the maximum weight limit is 70 pounds per package.
For more information on Stamps.com's features, check out the complete feature list on the Stamps.com website.
Is Stamps Easy To Use?
Stamps.com is a fairly easy-to-learn shipping solution. Test out the platform for yourself by signing up for a four-week trial of the software. Just enter your name, address, and credit card information to create a login and password. As you create your account, you should keep in mind that Stamps is a paid service. If you do not cancel your account before those four weeks are over, you will be automatically billed for the first (trial) month. Fair warning: It is difficult to have this charge refunded.
During the setup process, you can integrate with your online store and the online marketplaces you use, including eBay, Amazon, and Etsy. Once you've integrated those channels, you can import orders automatically. After I created my account, my first step was to sync my Shopify store. I was happy to see my orders import immediately and automatically.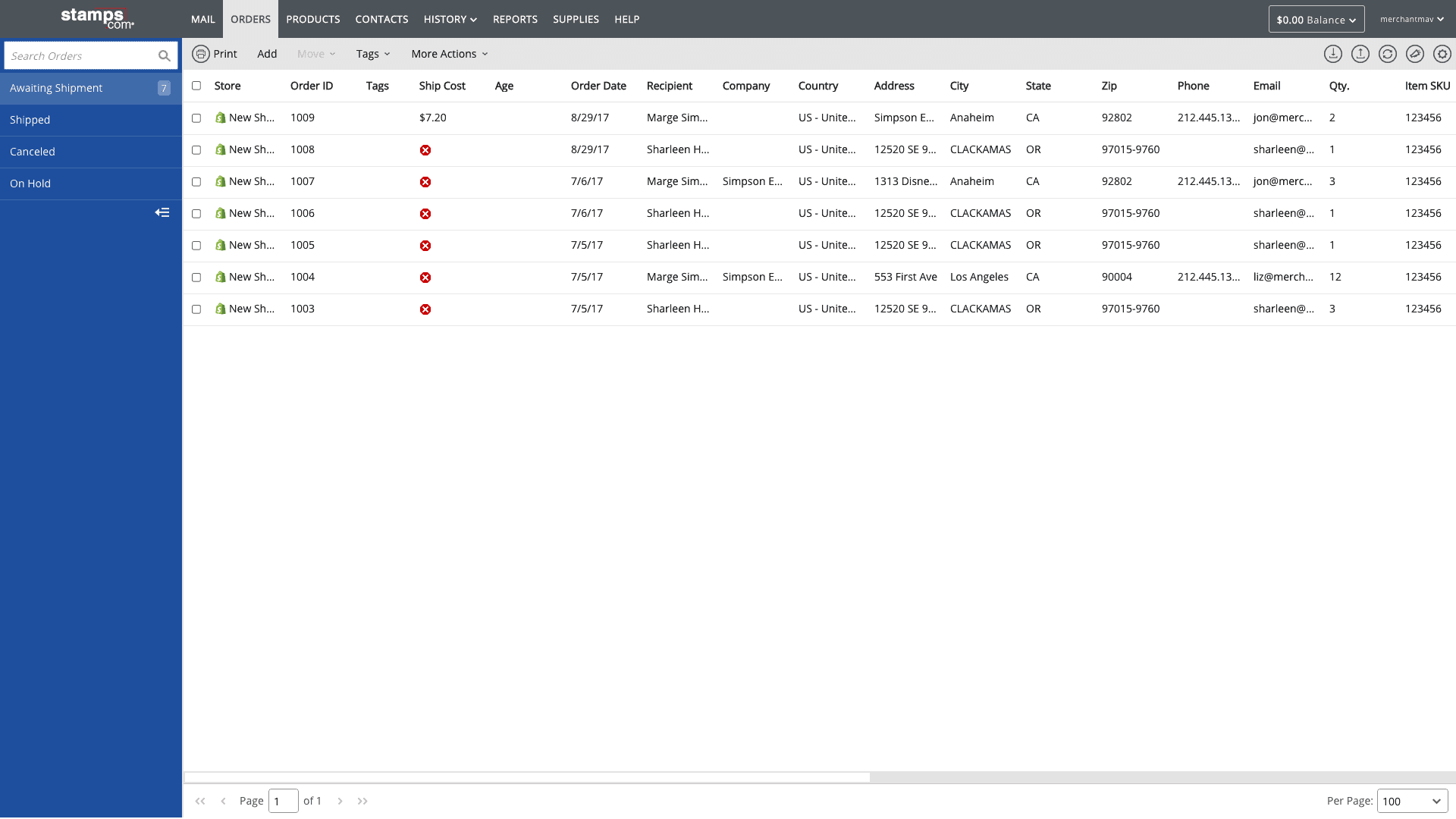 Once you've imported your orders, you can click on each order to select your desired shipping options. This is how you process orders. You can complete a few more actions using the Stamps.com dashboard, such as scheduling USPS pickups for packages, printing SCAN forms and return slips, and more. Overall, we think Stamps.com is simple to learn and to use, which is a big plus.
Stamps.com Customer Service & Support
All Stamps.com users have access to customer support via phone and email. Additionally, users can find support in the form of a knowledgebase, tutorials, and more. Reviews of customer support are mixed. Some users say Stamps.com's support is helpful and friendly. Other users blame support reps for not being able to resolve issues.
Here are a few ways you can access support:
Phone: Phone support is available Monday-Friday from 6 AM-6 PM PST.
Email: Stamps.com typically responds to email requests in one to two business days.
Contact Form: Submit a contact form and receive a response through email.
Help Center: Stamps.com has an easy-to-search help center with answers to common questions.
Videos: View Stamps.com's step-by-step tutorial videos to learn how to use the software's basic features. You can also view prerecorded webinars. These webinars are about thirty minutes long and cover such topics as shipping efficiently and shipping internationally.
Blog: Read up on shipping best practices.
Social Media: Stamps.com is active on Facebook, LinkedIn, and Twitter. The company also has a YouTube channel, although it hasn't added any new videos in several years.
Stamps.com Integrations & Add-Ons
Stamps.com integrates with more than 70 different software solutions, including two dozen shopping carts and marketplaces, and multi-carrier solutions. That includes popular shopping cart software, such as WooCommerce, Volusion, Zen Cart, Shopify, PrestaShop, Magento, and more as well as with online marketplaces Amazon, eBay, Etsy, and Yahoo.
These integrations allow you to import orders directly into the Stamps.com admin. Integrations with multi-carrier shipping solutions let you use additional shipping software to fulfill orders with other shipping carriers, such as FedEx, UPS, and DHL.
Stamps.com also offers an API for developers.
Stamps Reviews
Stamps has its fair share of reviews online posted by actual users. Overall, the company has 4.62/5 stars (based on 1,800+ reviews) and an A+ rating from the Better Business Bureau. Although many Stamps reviews online are positive, you can see some clear patterns in the less favorable comments. Let's take a look.
Negative Stamps Reviews & Complaints
Here are some common complaints from Stamps.com users:
Quick To Take Money, Slow To Return It: While Stamps.com is very regular in collecting monthly payments and postage payments, if you need a refund for any reason on the service or postage you may have some trouble getting it. This can be a big problem when it comes to postage misprints. It's very easy to lose postage dollars accidentally through printer jams or alignment issues. It may take a long time to have those costs refunded, or they may never be refunded at all.
Tricky Trial Period: Many users sign up for a trial of Stamps.com not realizing that it is a paid service, and then they quickly forget about it. When the next month rolls around, these users are surprised by a charge on their credit card balance. In fact, some users have not realized they are being charged for this service for years.
Difficult To Cancel: Even if you do cancel Stamps.com, you may still be billed in the following months. Multiple users say that Stamps.com does not always cancel your account even when you request it.
Unhelpful Customer Support: Many users express frustration that customer support representatives seem unable to help.
Available For Free Elsewhere: Stamps.com is not the only avenue you can use to purchase postage. In fact, USPS.com and many online marketplaces allow you to buy postage online without any additional monthly fee. You can access many of the same features by using a USPS program called Click-N-Ship, which is available at no charge but does not include postage discounts.
Positive Stamps Reviews & Testimonials
It's important to note that Stamps.com's user feedback isn't all complaints. As I've said, there are plenty of advantages to using Stamps.com, and many users recognize those perks. That's reflected in its overall high marks on user review sites like Capterra, where Stamps.com has 4.3/5 stars with over 700 reviews.
Here's what Stamps.com users like about the software:
It's A Convenient Time-Saver: Stamps.com lets you purchase and print postage and shipping labels on any printer. Use Stamps.com to schedule package pickups, and you'll never have to make a trip to the post office again.
Easy To Use: One of the perks of simple software is that it's easy to learn. You and your employees should have no trouble learning the basics of importing data, processing orders, and printing postage.
Discounted Rates: Users appreciate that Stamps.com gives them access to significant discounts on postage.
Helpful Customer Support: Some users say Stamps.com's support representatives are courteous and helpful. It is very common to see mixed reviews when it comes to customer support for software products like Stamps.com.
Final Verdict Of Stamps
On the whole, an in-depth Stamps.com review shows this is a decent software product, with a few flaws that are balanced by solid benefits and useful features. While any business can use Stamps.com, we think this product works best for small sellers who ship between 50 and 500 orders per month. In particular, Stamps.com is good for merchants who frequently ship through the USPS.
If you're still not 100% convinced, sign up for a Stamps free trial and test it for yourself. You have to enter your credit card information, and if you forget to cancel, you will be charged the monthly fee for a Stamps.com Pro account. So, set a reminder, and don't forget to evaluate the service and make a decision well before the 30-day mark hits.
During your four-week trial, give the software a thorough test. Link your online store and run through daily operations, testing advanced features such as return label creation and postage refunds. Give the support options a trial too, so you can be sure that help will be there for you if and when you really need it.
If Stamps works for you, there's nothing else you need to do. Just keep using the software. But if Stamps doesn't quite fit your needs, keep looking into other options. While it may take some time to find the best shipping software for your business needs, it's worth the effort. When you find a way to make shipping easier, you'll have time to make all kinds of adjustments that boost eCommerce sales overall.
Stamps: FAQs
---
We've done in-depth research on each and confidently recommend them.
We've done in-depth research on each and confidently recommend them.
To learn more about how we score our reviews, see our
Shipping Software Rating Criteria
.