Riding Solo At Milagro Riding Club: Lessons From A Family-Owned Business That Has Weathered Divorce
Expert Analyst & Reviewer

UPDATED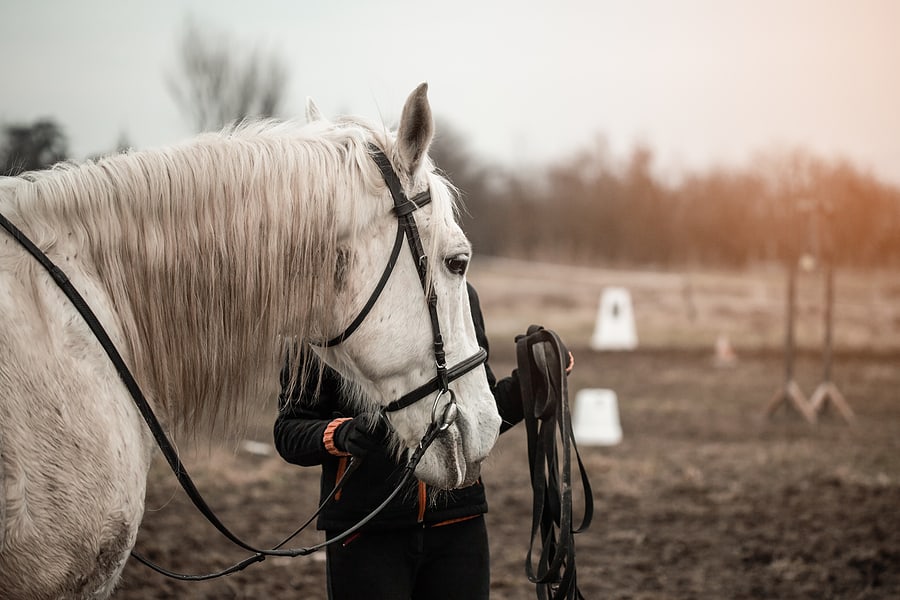 When Michele Jaffe and her husband Michael decided to relocate their family of five from West Linn, Oregon, to Tucson, Arizona, in 2014, the strength of her marriage was the last thing on her mind.
After all, the partnership had endured for 17 years, with the usual ups and downs that came with raising three kids while building a life together. The strength of the relationship had taken the Jaffe family on a lap around the nation, from Arizona to Connecticut to Oregon.
A return to the southwest seemed like a natural progression that the family could expect to weather with no big worries.
Returning To Their Roots
Michael's early retirement prompted the move, but it was always a part of the couple's long-term plan.
"I grew up here," Michele said. "My family is based here, we were married here, and his family had moved here. We all figured we'd be in the area at some point."
An institutional stock trader, Michael had worked in the field for nearly a quarter-century, supporting the family while Michele stayed home with the kids. He planned to start some kind of entrepreneurial venture in Tucson, something to fill his days, but he never advanced his plans into a real business.
Instead, the Jaffes revisited an old venture, rejoining a partnership with Michele's mother. Back in 2002, Michele's parents, John and Suzellen Holt, purchased a horse-riding facility called Milagro, and the younger couple had joined the Holts as investors in the business.
"We dissolved that partnership in 2004, before we moved to Oregon," Michele said. "We didn't know how long it would be before we got back to Arizona, and it was too small of a business to have four partners, especially two that were never there."
John Holt's death in 2008 left Suzellen as the business's sole proprietor. After the Jaffes returned to Tucson, she invited her daughter to rejoin the partnership, but Michele was busy helping her family transition through the cross-country move.
"I was homeschooling and I'd been a stay-at-home mom for 14 years," Michele said, explaining why she turned down her mother's offer.
Suzellen's sudden cancer diagnosis in 2015 changed Michele's mind, and she and her husband started talking seriously about Milagro again.
The diagnosis spurred the Jaffes to action. It was all hands on deck, and time to take Suzellen out of the stable's day-to-day operations while she focused on her health.
"We didn't consciously make the decision, but we were putting some money in, and I started teaching," Michel said. "We paid money in improvements, and we paid a portion of cash."
Their investment went beyond financial, as Michele began taking on even more lessons, working as a trainer, and managing the boarding facility. Suzellen continued to manage the books, and Michael focused on overdue maintenance chores and put his business knowledge to use on behalf of Milagro Riding Club.
"He built the website, got us WiFi at the barn. He did a lot of great things because he can, he knows how; he has that kind of brain," Michele said. "We'd still be using Facebook to get our message out there if he hadn't built a website."
A Partnership Strained By Illness
In addition to Suzellen's cancer fight, Michael's mother entered what would be the final stages of her battle with a cruel disease, Alzheimer's. It's possible that added stress was a factor as cracks began to appear in the Jaffes' partnership.
"The first year, it was so very difficult. But I thought we really had each others' backs. Me dealing with my mom's sickness, and him dealing with his mom's sickness, and having a full-on business that we weren't really necessarily prepared for," Michele said. "There started to be a lot of tension. It was not the big picture stuff. He made suggestions, and we did it. I think a lot of the patterns that you establish in your marriage are going to be repeated when you get into business. And so what we did, who we were as a couple, we were the same people, just running a business."
What about those patterns?
"I truly believed that he had our best interests at heart, for our family, and I thought that transitioned into the business," she said. "I also know that I acquiesced a lot in our marriage, and that transitioned into our business, too."
Essentially, she had formed the habit of letting her husband take the lead and make the decisions, without asking him a lot of questions or weighing in.
"Why didn't I ask those questions?" she wondered, before answering her own question. "It wasn't worth the struggle, and it should have been. First you get an argument, then you get silence, then you acquiesce because it's just easier."
Minor Mistakes
That model didn't necessarily work at Milagro, where Michele's experience with horses naturally set her up to take the lead.
"Michael is so business-oriented," she said. "He's taught me a tremendous amount. I just thought it would have been easier after 17 years of marriage. I thought we had a good partnership. It may have worked out better for us in an industry where I had to follow his lead. I think if it was a business where I had no expertise and I could follow his lead, I wouldn't have had an issue. Michael is very good at the business portion of it. One hundred percent, I would follow him."
In retrospect, she can see that her ingrained habit of following his lead led to some minor mistakes at Milagro.
"As a businesswoman with two and a half years of doing it on my own, there are some decisions that I probably would not have made," she said. "For example, one of our boarders felt the need for more security, and so Michael thought an automatic gate would be great. It was very expensive and expensive to maintain. In hindsight, it's been a great perk but it doesn't help me promote the business. I probably should have focused on the business model that I had."
That business plan involved bringing Milagro into profitability.
"From the very beginning, when we purchased this boarding facility 20 years ago, we planned to start switching over from boarding to lessons. That's truly where you make money," she said. "With my dad's passing and life the way it happens, that never happened."
It's happening now, though.
"In the last year we have four more lesson horses, our herd has doubled in size, and I'm able to hire two new instructors that I have trained. I can start handing off lessons and I can focus on training horses and promoting the business," she said.
That focus on business, however welcome, came at a steep price. As Michele experienced a mix of emotions — gaining confidence running the business while still missing her old role as a stay-at-home mom — her husband became more and more withdrawn at home.
"It became very difficult," Michele said. "Just like things go from the marriage into the business, conversely it goes into the family, into the home. I started to think a little more about my role, not just as a mom but as a working mom. By mid-2017, I really noticed a big change in how we were dealing with each other. By mid-2018, I moved out. As I walked out the door, he said, 'Do you need me at the barn?' I said, 'No, we've got it.' And that was it. He was done. It was heart-breaking."
Papers To Sign
Michele's initial lack of business experience may have kept her from making a costly mistake, given the direction the marriage was taking. In 2017, her husband drew up an official operating agreement for the business that formally defined the three partners' roles. And though he kept asking Michele and her mom to sign it, she admits that she never actually read it, much less felt ready to sign.
"Before I knew there were real problems, he wanted me to sign the agreement. He kept telling me, 'If you need help we'll go through it together,'" Michele said. "I was embarrassed. I'd had it for over a year and I thought, 'No, I'll slog through the legalese on my own.' I just felt so vulnerable at the time. I didn't want there to be one more reason for him to be disappointed in me. So I just put it away and didn't look back."
The Jaffes hadn't drawn up legal papers when they bought into Milagro in 2015. They relied on their experience and knowledge to form an LLC without consulting a lawyer. Not signing the operating agreement may have helped Michele hold on to Milagro as the divorce progressed, but it's not an approach she would recommend.
"I would definitely have articles of incorporation, definitely define the roles," she said. "That way there are no toes being stepped on. Any partnership, someone is going to have a strength. Play those strengths up, and the other person has to support in a different way. I guess we went into it expecting it to work out the way our marriage had. Ironically, it's working out much better. I'm the horse rider, I'm the trainer. I went to school to teach riding. That was a given. That's my role."
As the couple headed toward divorce, there was no question of selling the business. Arizona is a 50/50 state in terms of divorce law, meaning that normally all marital assets are to be split evenly. To satisfy those terms, Michele had to come up with cash to buy out her partner. Fortunately, though the divorce shaped up to be contentious, there was never an indication that Michael would try to force a sale.
"Ultimately, it never got to the courts," Michele said. "In this case, procrastination did me well. Otherwise, he could have had a bigger stake, possibly."
Full Steam Ahead At Milagro
The divorce was finalized in October 2019. And to Michele Jaffe, that feels like a very long time ago indeed.
"Looking back, that first summer was absolutely brutal," she said. "I went from a family of five to living with my mother on and off. And we work together. I went from the frying pan into the fire. How many more relationships can I mess up with this business?" she joked, before clarifying that she and her mother have a good relationship, both as mother and daughter and as day-to-day business partners.
And it's the business that helped Michele crawl out of the emotional hole her unforeseen divorce left her in.
"I can compartmentalize. I knew I had to get up every morning and take care of horses," she said. "I could fall apart later."
Despite the pain and uncertainty, she kept going to the barn every day. And she even managed to keep working on her business goals.
"I was running a camp for the first time that summer," she said, "and nobody knew about the divorce. They noticed they hadn't seen Michael in a while, but as long as their horses were taken care of, nobody cares. And that's the way you want it to be."
Would she do anything differently, if she could start all over again?
"I would keep my eyes open," she said. "Because what you think is happening is really happening, and you might want to get into therapy. I just feel that when those of us are bridging the gap between our kids and our parents, and we're the caretakers for both, and there's an illness, two moms with huge illnesses, it might have been good for us as a family to figure out how to navigate those things. Keep your eyes open. Insist on it."
In there here and now, she says it's full steam ahead at Milagro Riding Club. For one thing, Suzellen completed cancer treatment and is back at work. For another, the business is thriving.
"COVID aside, we were well on our way last February and March," Michele said, adding that the pandemic-related shutdown presented an opportunity, if not necessarily a welcome one.
"It made us hone our skills, sit back, and train horses a little more. The business part of it, aside from the growing pains that every business goes through, those are things that nobody can help. You just have to roll with it. The emotional aspect, well, it's all emotional for all of us. Business is just business. I can live with the mistakes I've made, 100%. I've cut my teeth as a small business owner. Maybe I should have fought a little harder for certain things and maybe given a little more in certain areas. We are what we are, and hopefully there's nowhere to go but up."
As she's moved beyond the divorce and grown into her role as a successful business owner, she takes solace in one undeniable truth.
"My business didn't fail," she said. "The marriage did."