Ruby's Cleaning Service: A Pandemic Cinderella Story
Managing Editor

UPDATED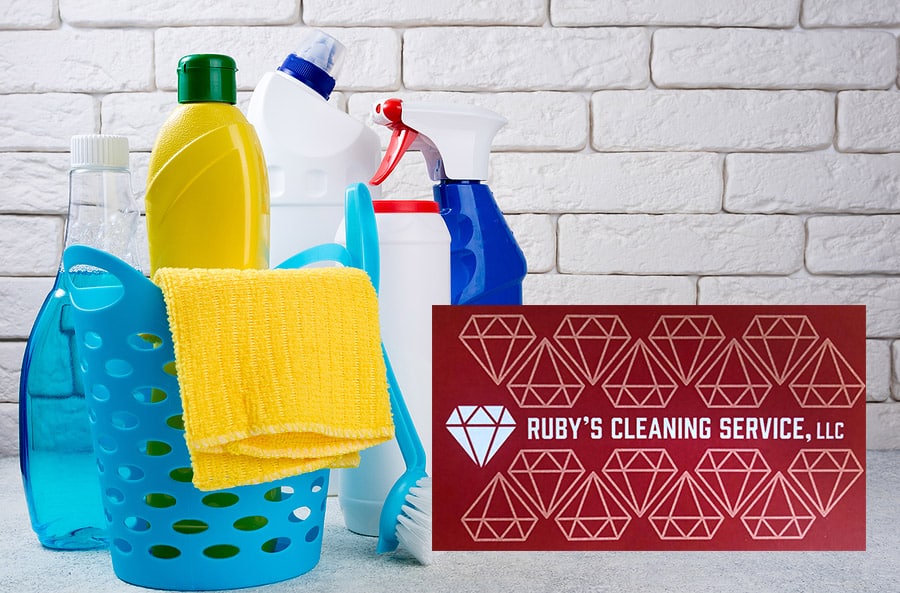 For Ashley Miller, owner of Portland-based Ruby's Cleaning Company, business is in her blood.
A product of small business owners who built up a successful franchise operation, Miller always understood that opening a business was part of her future; she knew the hours and hard work involved, she knew the mental acuity and life-balance requirements, and she knew she had the drive and connections to make it happen.
"I watched my parents manage their small business for over 25 years, and that totally gave me the confidence to take this step. When I imagined it, however, I always thought we would open our own bar," Miller said.
The pandemic had other plans.
A Clean Slate
Back in March 2020, both a few short months and a lifetime ago, Miller was juggling two jobs just to hold the fort with her partner Henry and their son. A Portland State University graduate with degrees in Applied Linguistics and Cross-Cultural Communications, Miller was a substitute elementary teacher by day and the head bartender at The Ram — a popular local restaurant and brewery chain — by night. She'd go from juggling second-graders to slinging drinks, and while she loved both jobs and their energies, Miller was already dreaming about a change when change was thrust upon her.
"The pandemic took everything. Restaurants, closed. Schools, closed. I was definitely scared. And so for me, it was a real catalyst for forced change," Miller said. Not only were both her jobs on hold, Miller's 8-year-old was now home distance learning.
"I realized that COVID was going to impact my employment indefinitely, and I needed a long-term plan. That plan had to include how I'm going to work and still care for my own child."
Then the news hit that schools might not resume in the fall — and the Ram closed its Clackamas location amid the economic fallout of the pandemic. With her two employment options no longer viable, Miller got to work.
The idea to start a cleaning company happened over socially-distanced beers with a friend. "She said we should clean houses, and I ran with it," Miller laughed.
From there, Ruby's Cleaning Service was quickly born.
"I decided I would take this on; take on the risk and the responsibility of starting a business. It's already stressful to build something new, and without knowing what the future looks like, I couldn't risk making mistakes and having that impact someone else's life right now. Right now the business is just me, and if I need extra bodies I will hire independent contractors. Having employees is a goal for the future."
Moving-In To The Right Niche
Miller has many goals for the future but in the meantime, she is figuring out her business and throwing herself fully into its long-term success.
"I have watched my parents and friends in their small businesses, and I come into this with an understanding that being a small business owner is about having the control to do what you love and to walk away from it, too. Maybe you end up not liking the day-to-day, but I get to work that all out myself. I get to call it — how I spend my day, who I work with," she said.
She also loves how starting the business has provided much-needed mental exercise. Her brain is working overtime as it balances the nuts of bolts of owning a business with the reality of being that business's lone employee.
What Miller loved about the service industry was both its brisk pace and its potential for connection to others: tending bar at a popular brewery and teaching little kids required all her mental dexterity and physical stamina. Owning Ruby's Cleaning Service is the same. "It's totally fulfilling to put my mind and body to work," Miller said.
Ruby's specializes in deep cleaning for real-estate move-ins/outs (offering everything from a full deep clean of an entire property to a pre-photography "spiff clean" needed before a listing goes live. While she is working with a client, Miller has a million other business-related items on her plate, and she still has to remember to check her phone to capitalize on potential opportunities for new clients. Until she has a consistent schedule with regulars, every phone call is a potential lead.
"Already a few real estate agents have called me in a blind panic because they need to get a place sparkling clean before pictures. When you're building your client list, you don't say no. I am the 'yes' woman right now. Can you do that? Yes. Can you be here? Yes. Right now? Yes!" Miller said. "When I first started, my prices were in the gutter. Then I got in there and it was such physically demanding work that I realized, no, there's a reason to charge my worth."
She admits that starting a cleaning service in a pandemic might raise eyebrows as fewer people are inviting strangers into their homes. She thought about that, too.
Miller will offer residential cleaning services if someone is in a great need, but wants to focus her energy and attention on her own branding — she knows she wants to become a favorite and go-to for real estate agencies and property management teams. Getting on vendor lists is key, and after she has built a reputation, she wants her company's name to be synonymous with big jobs: luxury homes with expanded square-footage, commercial buildings, and specialized move-in/move-outs.
Ashley Miller's best piece of advice for people thinking about jumping into the small business world is to find their niche.
"Carve out your niche. This is the key," she said. "If you're opening a restaurant, what makes you different? What type of atmosphere is special to your business, your place? It's key for marketing to know how to market yourself directly to people looking for your services, and having a specific understanding of what makes your business unique." For Miller, that niche involves skipping over residential cleaning services. She charges $200 per 1000 square feet and brings her own cleaning supplies. (But she's happy to upgrade to other cleaning brands for a price, and has learned to ask if clients have their own preferred supplies, which are two industry tips for small ways to affect the bottom line).
Learning The Ropes
Miller has also been speaking with industry veterans.
"I reached out to a woman who owns a successful commercial cleaning business. She was unbelievably helpful in mentioning ideas or issues that hadn't even crossed my mind," Miller said. Many established small business owners love to take newbies under their wings to share years of learning and hard work.
One thing Miller learned is to always solicit feedback from clients. "I don't take it personally or take it to heart. It's better to ask and know you are meeting client expectations than to guess or assume," she said. Her ultimate goal is to do great work and get asked to come back, and people like to come back to businesses where they feel valued and heard.
Right now, in these early stages, Miller says it feels like she has all the gears turning and working, but they don't know how to work together yet. "I'm waiting for when all the gears run seamlessly, together." She's spending ample time on the nuts and bolts — things that she hopes will become easier as time passes.
"My time is going to the specific aspects of my business that need the most attention right now. I'm researching about accountants and taxes; do I have enough insurance? What is being bonded and do I need that, too?" Miller said.
Miller was even encouraged to ditch an accountant who was charging above the industry standard to run QuickBooks; she resolved to simply learn QuickBooks herself. "I know I need help, but I'm learning. I'll run into a lot of verbiage, and I'm juggling what I can do myself and what I need someone else to help with. But at the moment, every penny in my company is valuable."
Always Check The Oven First
As a DIY-er, Miller is ready. If she can learn to manage it herself, she wants to. She knows that at the heart of small business owners is a sense of adventure and a strong motivation to succeed. With her client list growing, Miller is ready to do what it takes to build this business during a time when starting a business might seem risky. Two months in, however, Miller has reasons to be optimistic: She's not a small business newbie and she already has repeat clients.
For now, Miller is here for the long-haul, learning what she needs to become the leader of her own business niche. The best things she's learned so far about the cleaning business? You can know everything you need to know about a house by its oven.
"At first, I didn't know how to budget my time. Now I've got it. I'll go check out the oven first — you can tell a lot about a house by how gross their oven is," Miller laughed. But no matter how gross it starts, Ashley Miller and Ruby's Cleaning Service will leave it shiny and new.