How To Get A Business License: Expected Cost, Timeline, & Resources To Get You Started
Managing Editor

UPDATED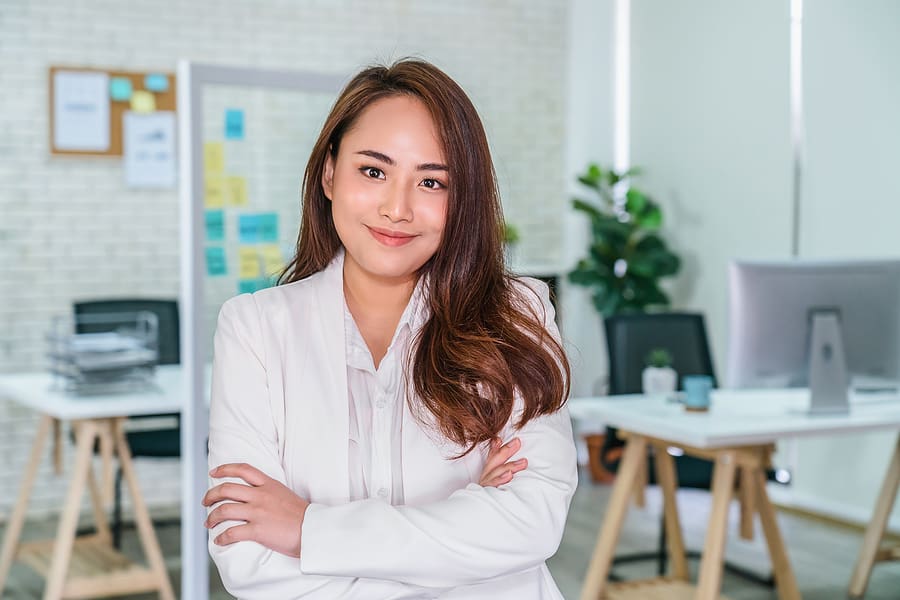 When starting a small business, there is a litany of legal hoops to jump through and requirements you must follow to ensure your business is ready and compliant with state and federal guidelines. One of those requirements is to obtain a business license that allows you to operate legally in your city, state, and county. Yes, even home-based businesses need a license to operate within city limits! And you might even need more than one.
The guidelines for business licensure are designed to protect both businesses and consumers from unsafe practices, create a common language for small business owners within a geographic jurisdiction, and regulate businesses in a common location. The requirements and fees vary by state.
What A Business License Is & Why You Need One
A business license is a permit to operate your business, and it is non-negotiable. In fact, it is illegal to operate a business without a permit or license. The moment you conduct business within a certain city or county, you may be required to prove you've got all your legal ducks in a row. This keeps you accountable to the city in which you operate and helps local government agencies regulate the businesses in their jurisdiction.
Overall, the types and costs of licensure required will largely depend on the following factors:
Type of business you operate
Where your business operates
How many employees you have
The government uses business licenses to monitor taxes, including payroll taxes, and to hold businesses accountable for the health and safety of the public.
What could happen if you decide to take a chance and not get a license? Well, you could be liable for major damages (and if your business doesn't have insurance, you could be held personally liable), you may have to pay a fine, or you could have to shutter your business.
Types Of Business Licenses
There are many different types of business licenses available. As always, you will want to do some additional research related to your own city/state/county or your specific business industry. This is by no means intended to be a comprehensive list of your personal legal requirements.
Federal VS State VS City & County Licenses
Most licenses, permits, and certifications are based on where your business is located. While you likely won't stop with a local business license, starting in the area in which your business is located is the first step. Begin with your city and county. All businesses will need a business license for the city where they operate; these are located either online or at the city hall/with the city clerk.
Metropolitan areas might offer a single business license form for several counties to help businesses who may travel frequently between cities and counties to operate. While there are some state license requirements, some states don't require state-specific licensure at all (states like California and Oregon have no state requirements; all licensing happens at the city level). For the rules in your state, check your state's government website.
According to the Small Business Administration (SBA), you will need a federal business license if your business is managed by a federal agency. You can see the types of federal licenses listed below.
Common Types of Licenses
Requirements differ vastly from state to state and industry to industry. You may not need more than one type of license or you may need several. As you research which license options are required for your city and industry, you might see these types of licenses available for you:
Local Business License: All businesses will need a local business license from the city in which their business is located.
Seller's Permit/Sales Tax License: This type of license/permit is what a business will need to collect sales tax from its customers.
Peddler's License: If your business plans on selling door-to-door, your county might require a peddler's license.
Cleaning/Janitorial License: A cleaning or janitorial business might require a cleaning/janitorial license depending on state requirements. However, cleaning companies need to be licensed and bonded as clients have come to expect that assurance.
Gardening & Landscaping License: Same as cleaning/janitorial, there are certain licenses in some states required for people working on gardening and landscaping. Many states require landscaping businesses to be bonded and insured.
Food Handling License: If your business serves food, there are state-specific food handler's licenses that everyone working with food will need to obtain. A food handler's license will show that you have the required information about food safety including proper cleaning, preparing, and storage.
Beauty Salon/Cosmetology License: All workers in a beauty salon must be licensed by the state. While these licenses are the responsibility of the individual cosmetologists, an owner of a salon should be acquainted with the rules and regulations regarding licensure and renewals.
Most small businesses do not need a federal license unless they fall into a specific industry that requires one. According to the SBA, the industries that require federal licenses for small businesses are in the following categories:
How Much It Costs To Get A Business License
Initial license and renewal fees will vary depending on location, business size, and business activities. When you apply for a license, you will pay for the license itself and a fee. Some licenses have an expiration date: always check to see how long your license will last and when to renew. Factor renewal costs into your business expenses.
Business licenses will range anywhere from $50-$1500, and are largely determined by business industry, business size, and location. For example, Erie County, New York, permits for food establishments range from taverns with no food prep at $79, but an establishment that serves food and has over 50 seats has a $282 permit fee. However, if you are opening the same business in LA County, California, the fees are more expensive, the categories for businesses are more varied, prices are based on square-footage, and prices increase for restaurants deemed "high" vs. "low" risk. A restaurant between 501-1999 square feet will pay $1530 in permit fees.
How Long It Takes To Get A Business License
The amount of time it takes to get your license will largely depend on the city/county/state or federal office where you've applied — different jurisdictions and industries require more or less time. A smaller city might have quicker processing times than a larger metropolitan area; also, county offices will be generally faster than federal offices. (Online applications also have shorter waiting times than a traditional mail-in application.)
After filling out the applications and paying the fees, you will usually have to wait a few weeks before your license is official. Waiting times vary from industry to industry and the state where you apply. Account for this time when you apply for your license — don't wait too long to get your business legal and compliant. If you are in a hurry, most places offer expedited permits for an additional fee.
How To Get A Business License Step-By-Step
For most small business owners, the nitty-gritty of licenses, permits, certifications, and paperwork is not nearly as fun as some of the other aspects of entrepreneurship. However, applying for a license is a monumental and important task when starting a business, and can be accomplished in three easy steps:
Research Your City/County & Industry's Licensure Requirements: The bulk of your time in the licensing process will be researching which licenses and permits are needed. If the process seems overwhelming or you want to make sure you don't miss any important components (for example, some licenses will require proof of insurance; this varies state by state and industry by industry), you may choose to hire a business law attorney or use SBA's local assistance helper to find free help in your state. Merchant Maverick's tip is to create a spreadsheet listing all the permits needed, the permit's issuing authority, cost of the permit, application date, and renewal date. Most applications will need a business code and a business name, so research your industry's business code.
Locate & Fill Our Application Forms: Use local websites and/or the SBA website to locate the necessary license application forms. Submit your application, pay the fees, and include any information the application may need, such as:

Business address
Name of business
Name of business owner
Number of employees
Federal ID number

Display The License When It Arrives: Some city locations might require the business owner to come and pick up the license at the office. However, other entities will mail the license. When the license arrives, check with the issuing body to see if there are requirements for posting the license in a clearly visible spot in your business location. Make a note of the renewal date and keep on top of making sure your licensure is current.
Get Started With These State & Federal Resources For Business Licenses
Each state, county, and city offers different license requirements and fees. State websites will often direct you to the local counties that operate as issuing boards for licensure.
Alabama: All businesses are required to register with the Alabama Department of Revenue for a Privilege License in order to conduct any business in the state. Small business owners in Alabama can head to the website AtlasAlabama, Alabama's government website with information about licenses and collecting taxes, including links to the required government agencies, to research the state's requirements.
Alaska: Businesses in Alaska can register online through Alaska's Department of Commerce, Community, and Economic Development. The website provides great information about licensing in the state and offers an immediately downloadable license if you qualify.
Arizona: Small business owners in Arizona can register through the Arizona Department of Revenue.
Arkansas: Business owners in Arkansas will need to check with the Government of Arkansas's website in their business section to see what rules/regulations apply. Businesses will need to register with the state in order to collect and pay taxes.
California: Small business owners in California should use the Governor's Office of Business and Economic Development to ask questions about business and business licensure in the state. Businesses should also check with the Department of Consumer Affairs, where you can find a link to online business licensure forms and up-to-date information about California's licensing boards.
Colorado: MyBizColorado is the state's website for online forms and business licensure information. Coloradans can also check out business information, see what businesses need a license, and file with the state on the Secretary of State website.
Connecticut: Small business owners can use the Advanced Connecticut website for a step-by-step guide to registering and licensing a business in the state.
Delaware: Check out the Delaware Government's Division of Revenue to use their small business license checklist.
Florida: My Florida's government website has a checklist on starting a business that discusses licensure information. Small business owners can also check licensure requirements on the Department of Business and Professional Regulation website.
Georgia: Small business owners in Georgia can apply for a license online with the Georgia Secretary of State.
Hawaii: To register your business in the state of Hawaii, visit the Hawaii Business Express or check for licensure requirements with the Hawaii Department of Commerce.
Idaho: Small business owners in Idaho can use the state's the Business Wizard to ask questions or fill out an online form for licensure.
Illinois: The Illinois government has access to license and permit information on its website.
Indiana: According to the Indiana Government's website, "Indiana does not have any one single, comprehensive business license." Instead, the government has provided a Business Owner's Guide to walk small business owners through the process of becoming compliant in Indiana.
Iowa: Iowa's licensing requirements are determined primarily by industry. Licensing information can be found on the Iowa Economic Development Authority's Business Concierge page.
Kansas: Business owners in Kansas can find information on licenses located in the Kansas Government's Department of Revenue website.
Kentucky: Kentucky's One Stop Business Portal includes a search for whether or not licensure is needed for your particular industry.
Louisiana: In order to apply for licensure in the state of Louisiana, small business owners need to recreate an account at geauxBIZ — the government's program for processing all business registration
Maine: All small business owners in Maine will need to apply for licenses at the city or county level. Maine's Government website has a link to assist with searching which town or office business owners will need to visit to apply.
Maryland: Small business owners in Maryland can contact Maryland's Department of Labor, Licensing, and Regulation for a list of agency contacts and general information about licenses based on industry.
Massachusetts: Information about licenses and permits for businesses in Massachusetts can be found on the Massachusetts Government website. From there, business owners can check to see if licenses are needed, check the status of a license, or apply online.
Michigan: Small business owners can find answers to their licensing questions at the Michigan Small Business Development Center. Not every business in Michigan needs a business license, so you can check to see if you need one at the Michigan State License Search site.
Minnesota: General information about Minnesota and small business license requirements can be found on the Licenses and Permits section on the Minnesota Government's website. Businesses can also search for licensing agencies via the License Minnesota E-licensing portal.
Mississippi: Small business owners should use the services on the Mississippi Small Business Development Center website to determine the state and local requirements for business licensure. The state of Mississippi also has a One Stop Shop Business website to help answer FAQs for small business owners.
Missouri: Small business owners can register their business with the Secretary of State and the Department of Revenue at once through the Missouri Business Portal.
Montana: The great state of Montana's licensing mostly happens at the local level. To see if your small business needs a license in Montana, check out the Montana License Lookup to check both state and local licensure requirements. For other business questions regarding licensing, owners can check Montana's Small Business Development Network.
Nebraska: Nebraska's Secretary of State provides information on its website in the Licensing Division about requirements for small business licensure in the state.
Nevada: The SilverFlume Business Portal contains a step-by-step guide to small business licensure in the state of Nevada.
New Hampshire: New Hampshire has various licensure requirements for small business owners and the Department of Revenue website answers license FAQs. According to their site, "Regulated businesses may be subjected to certification, registration or accreditation and may experience routine inspections. Trades such as accounting, architecture, child-care, chiropractors, restaurants, and many more quire permits in order to being operation."
New Jersey: Small business owners in New Jersey check the New Jersey Business Portal for an extensive list of license and permit news.
New Mexico: Licensing requirements in New Mexico vary between counties and municipalities. Small business owners can check the New Mexico Regulation and Licensing Department to check for online applications for common licenses.
New York: The New York State Business Express website contains a Business Wizard with business checklists to walk small business owners through the process of discovering what licensure requirements exist for their industry.
North Carolina: "The State of North Carolina does not issue a single business license. Your business may be subject to state, city, county and/or federal requirements," according to the website for the Economic Development Partnership of North Carolina.
North Dakota: State of North Dakota provides licensing information on the North Dakota New Business Registration website.
Ohio: All businesses in Ohio need to register with the Secretary of State. On the Business in Ohio government website, small business owners can find a comprehensive list of licensing and license agencies.
Oklahoma: In Oklahoma, you don't need to obtain general business licenses. However, certain industries will require special licensing. You'll need to check out the Department of Commerce's website to see if your industry applies as well as to see if you need any other requirements as an employer.
Oregon: In Oregon, you'll want to visit the Oregon Secretary of State's website to get started. There you'll find a step by step plan for starting your business and you'll be redirected to the Business Xpress website for specifics on licenses and other certifications you may need.
Pennsylvania: The Keystone State also has an online portal that lets you quickly handle all of your licensing needs. The Pennsylvania Licensing System (adorably acronymed PALS) is a one-stop-shop for all things licensing.
Rhode Island: Rhode Island provides forms on its business website. There is also a feature that allows you to search through the types of licenses your business might need by industry and there is a helpful guide of things you'll need to get your business up and running.
South Carolina: There isn't an overarching state business license in South Carolina, but individual cities will require their own licenses. To figure out what you'll need, you'll want to head to the state's website where you can register your business, and apply for and renew licenses. There are also links and portals to other useful services for small businesses just starting out.
South Dakota: Check out South Dakota's state website for a variety of links related to new business owners. You can download licensing forms there and register your business. You can also search to see if your particular business will need more than one type of license.
Tennessee: The Tennessee Department of Revenue says that "If you are subject to the business tax, you must register to pay the tax." If your business generates more than $3,000 a year, but less than $10,000, you will need a minimal activity license.
Texas: Small business owners can check with the Texas Department of Licensing and Regulation for a list of industries where licenses are needed and a list of issuing agencies in the state.
Utah: The State of Utah's Department of Commerce issued a Business Licensing and Registration Guide for small business owners. The guide lists all counties in Utah that require licenses for business to operate; it also includes information to connect owners to the state's free services at the Small Business Development Centers.
Vermont: Vermont's Department of Taxes small business guide recommends registering with the Secretary of State. and to use the resources at the Small Business Administration about license requirements.
Virginia: Virginia's City Applications informational site contains information about Virginia's business licenses. The site says, "The common form of local business license in Virginia is the license tax. Typically, this is an annual application that all businesses must file where the fee is a calculation based off your gross receipts from the previous year."
Washington: The Washington State Department of Revenue's Business Licensing Wizard will walk small business owners through a business activity search to determine what type of license a small business might need.
Washington DC: All businesses in DC will need to register with a Basic Business License. Some categories are able to apply and print their license immediately.
West Virginia: According to the West Virginia State Tax Department, "Before engaging in business activity in West Virginia, every individual or business entity must obtain a West Virginia business registration certificate from the State Tax Department." Small business owners can also check out the WV One Stop Business Portal.
Wisconsin: The State of Wisconsin's Department of Agriculture, Trade, and Consumer Protection has an A-Z list of business licenses available in the state.
Wyoming: The Wyoming Business Council's licensing and permitting FAQs have numerous resources for small business owners including a Guide to Licensing and Permitting.
As you can see, each state is different and varied in their license requirements, and it's no small task to research your own state and industry requirements and to do your own due diligence. Use the Small Business Administration guidelines as a resource, and use their free access to SCORE for business counseling if you feel overwhelmed. Starting a business is an exciting time, and the paperwork might seem exhausting, but with this important step out of the way, you'll be that much closer to your dream.