Snappy Dogs Finds Bite-Sized Success
Expert Analyst & Reviewer

UPDATED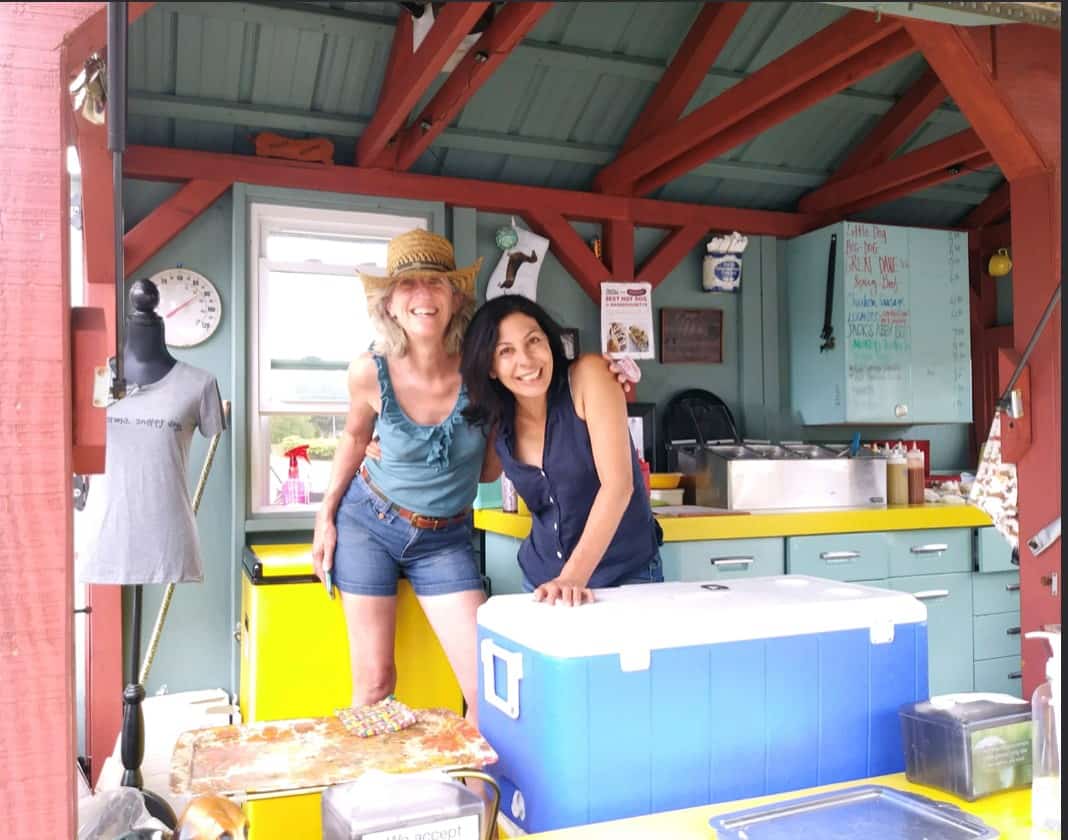 Successful small businesses are built on a finely tuned business plan, careful market research, and solid financing.
Except when they're not.
Take Snappy Dogs, for example. It's a seasonal mobile eatery built on a landscaping trailer. Of course, Snappy Dogs' real foundation is the long-time work partnership between owners Lisa Volpe Hachey and Teresa Boyce.
"We worked together at different restaurants, a cafe, a bakery," Volpe Hachey said. "Teresa was always the front end and I was the back end."
During what the women call "Snappy Season," typically May to November, you'll find the hot dog stand in Hopkinton, Massachusetts, a town about 30 miles outside Boston. Hopkinton is perhaps best known as the starting place of the Boston Marathon, a one-day annual event that draws huge crowds.
"Then everyone forgets about us for the next 364 days," Volpe Hachey said. "Nice restaurants don't exactly thrive here. Really beautiful, upscale food that did well in the Boston suburbs, when you bring it out here, people don't want to spend $25 for scallops. I worked with a cake decorator, her stuff was like artwork. But if you can buy a sheet cake for $30 at a supermarket why am I going to pay $80 even if it's made by an artist? If money's tight then you're going to pay $30."
The cake decorator Volpe Hachey worked with soon went out of business, as did the various eateries she and Boyce worked at together. In 2009 they were working together at a bakery when they learned it, too, would be closing, and the friends once again found themselves looking for another job.
Then a chance encounter changed the friends' lives.
"I happened to go to a grimy little hot dog truck that had boiled hot dogs with grocery store rolls," Volpe Hachey said. "They had packets of condiments, little packets, but because of his wonderful location, he had a line out the door. When I got home, I called Teresa."
Boyce's response was, "We can do it better." And their partnership was born.
Learning About Business As They Go
The two women are forthcoming about their success as well as their failures.
"We didn't do a business plan. We didn't do anything 'right,'" Volpe Hachey said. "We got the permits, but financially it was the blind leading the blind."
Because their business had a low barrier to entry, they didn't need to secure financing. They didn't need to arrange a lease or find money for overhead expenses. Boyce and her family spend a summer refitting the trailer, and outside of the trailer's cost and some lumber, their financial commitment was fairly low. To boost their business knowledge, they did market research, visiting other food carts and trailers.
"Small-business people are very encouraging," Volpe Hachey said. "They don't mind sharing information."
Despite their venture's relatively low risk, Volpe Hachey and Boyce are aware that they needed a bit of luck. After all, the last four restaurants they had worked together at all went out of business.
"You just do it. You dive in," Volpe Hachey said. "And if I hadn't seen that hot dog truck, we would have been at three other restaurants by now. We're lucky that we survived and that people like us."
In fact, the town of Hopkinton loves Snappy Dogs. As Boyce points out with a laugh, according to Yelp reviews, Snappy Dogs has been a five-star restaurant. And Boyce says customers love the stand, often saying things like, "You two ladies are creating summer memories for our children."
"That kind of stuff sticks with us. I have memories, growing up, of going to a place with my family," Volpe Hachey said. "I can't believe that we are that for other families. That's big. We see kids grow up and then we're asked to cater their graduation parties."
They've even catered a two-day event for a very famous singer-songwriter, held at Gillette Stadium in Foxboro. In other words, even though "the Snappy Season" may last only from May through November or December, Snappy Dogs' owners are staying busy.
"In the off-season, instead of working for someone else, I bake for people," Volpe Hachey said. "People ask me to do their shower cookies, retirement party cookies. I feel comfortable doing that now."
Volpe Hachey also handles Snappy Dog's active social media accounts, including Facebook, Instagram, and Twitter. On each platform, hundreds of engaged followers see Snappy Dog's posts about what they're serving and where, as well as updates about new toppings and treats.
"She's big on social media," Boyce said.
"It keeps people engaged," Volpe Hachey said. "We are not savvy that way, but we're trying to be. I'm a little less scared of tooting my own horn now. That's what social media is all about."
Closing A Second Location & Pivoting During COVID
Despite their success, the duo has learned that their ambition has limitations. And that's okay with them. They don't need to be the biggest game in town to feel successful in their small business. Not that they have tried flexing and building on their success. A few years ago, the duo experimented with expanding their operations, adding a second truck at a nearby location.
"We had a new trailer built. We were full of ourselves," Volpe Hachey said. "Look at us, we're expanding!"
They soon realized that although they had the hot dog business down cold and a loyal customer base, they hadn't realized how much location contributed to their success. Although they had chosen a beautiful venue for their expansion, it's wasn't busy enough.
"For two years, I was a mile and a half away. I was twiddling my thumbs," Boyce said.
In 2020, the COVID-19 pandemic put an end to their expansion experiment. Each Snappy Dog stand included a self-serve condiment bar where customers could customize their orders. That wouldn't work during the pandemic.
"Now it's a two-woman operation," Volpe Hachey said, describing how she and Boyce serve fully loaded, customized dogs to customers.
"It's like it was in 2009," she added. "This is better. It's better with the two of us."
Closing the second stand wasn't the pandemic's only effect. It took a toll on Snappy Dogs' hours of operation, too.
"We cut back days," Boyce said. "Businesspeople weren't out and about anymore."
"Those people work from home now. It's just not the same," Volpe Hachey said. "There was no reason for us to open so many days of the week."
Instead of six days, Snappy Dogs serves customers just four days each week now, from Thursday through Sunday. And that, too, has turned out to be a beneficial change, giving the partners some much-needed time off — not that they're really taking it off. For one thing, Volpe Hachey has the ongoing job of shopping for ingredients and making food at home.
"I still love this job; it's the best job," she said. "I just don't need to do it six days a week. I don't have to prove that anymore."
"We measure our success in different ways," Boyce said. "It may not be in dollar signs. We're building memories for kids."
"We're like the robin," Volpe Hachey said. "You know it's springtime when you see Snappy Dogs. People have a good time when they come to us. We try to remember people's names, we try to remember the things they tell us. We try to make connections with people."
One thing Snappy Dogs is known for is its fresh toppings. Forget about those little packets of condiments. When you come to Snappy Dogs, you can expect a gourmet experience.
"People come to us because we're not just ketchup and mustard," Volve Hachey said.
That includes a vintage recipe for zucchini relish.
"That is the thing that Snappy Dogs is known for," Boyce said. "Everyone wants it. We also have spicy slaw. We took the spicy slaw off to replace it with something else, and it didn't go well. People missed it."
"There are certain things we're known for, but Teresa and I try to keep ourselves amused," Volpe Hachey said. "It's nice to have seasonal things but god forbid we ever try to take out the zucchini relish!"
In addition to homemade staples like zucchini relish, Dr. Pepper BBQ sauce, and chipotle ketchup, Snappy Dogs has served up chutney made from beets, rhubarb, and watermelon. The team uses social media to drum up interest.
"People get excited about it," Volpe Hachey said.
The sauces are so popular that Snappy Dogs now sells jars of them, created in Volpe Hachey's certified home kitchen.
"People started asking for it," she said. "We don't even know how popular our things are until we put them out there and people buy them."
Despite that popularity, there are no plans to add online sales to their strategy. That's partly because they lack the time to make it happen, but it's also because they're satisfied with the way things are now. Already, Volpe Hachey has a hard time keeping up with the orders she gets for quarts of her signature chili.
"Over the winter, I sold it to a restaurant in town, and that was great," she said. "It could get to the point where it's bigger than we are, and I can't imagine trying to find a professional kitchen. I don't know how to give my recipe over to some kitchen to mass-produce. I'm not comfortable with it."
"We hold ourselves back, but we're happy," Boyce said.
"We learned that lesson when we had the second trailer," Volpe Hachey said. "We got a little too big for our britches. The second place never panned out."
"The pandemic slowed us down," Boyce said. "It let us take a step back."
"And it got us to work together again, and people like us together, too," Volpe Hachey said. "It's always a funny adventure."
"Being an outdoor business, the pandemic didn't slow us down," she added. "We slowed ourselves down."
"We went from six days to four, two trailers to one," Boyce said. "Our sales were less than half, but we survived."
"We don't have overhead, we don't pay rent," Volpe Hachey said. "We used to use the kitchen at the church and now my house is certified so we don't have to pay for that. We're self-sufficient. We don't rely on anyone else, except our location. We're really lucky that they allow us to be there."
The Snappy Dog operation is fairly low-tech, too. Accounting is done via QuickBooks, and while at first sales were cash only, after enough people asked to pay by card, they added a Square reader.
"We pay a swipe fee, and we pay a percentage," Boyce said.
Currently, Snappy Dogs' biggest challenge is a multi-year municipal construction project that could make it harder for customers to reach the stand.
"More eateries have opened up, so we're not the only game in town," Boyce said. "It's going to be a disaster if people can't get to us. But it is a damn good dog."
As they prepare for their upcoming season opener in May, the partners take a moment to reflect on their business.
"I can't imagine doing anything but this," Boyce said. "It is nice having the three to four months off. It's nice to have that break, and it's nice for people to miss it."
"We obsess about everything, but that's part of being owners," Volpe Hachey said. "My kitchen is where stuff gets made. I'm constantly at work."
Both women credit their local customers for their strong support.
"People are good to us," Volpe Hachey said. "We have a community."
That sense of community apparently extends even beyond the grave.
"We're doing a memorial service in July," Volpe Hachey said. "Her husband just loved coming to us."
"We can't say no to that," Boyce said.