What Information Does My Accountant Need To Prepare My Tax Return?
Simplify your small business taxes by learning exactly the tax forms and information your accountant needs to file your tax return.
Expert Analyst & Reviewer

UPDATED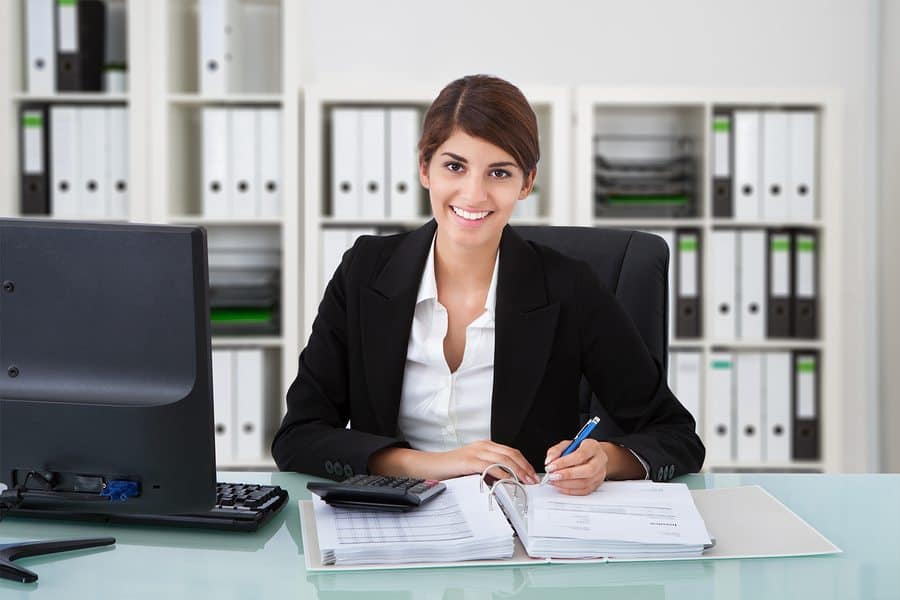 What do you need to give your accountant for small business taxes? Some of the paperwork could be your personal information, the previous year's tax returns, loan information, payroll data, and so much more. Preparing documents for your small business taxes can be daunting, so hiring a tax accountant or tax expert is a great way to save time and create peace of mind this tax season, but you definitely don't want to show up to your tax appointment empty-handed.
In this post, we'll talk about the specific information your tax accountant needs in order to file your small business taxes. We'll also provide expert tips and tricks along the way to help make this the easiest tax season yet.
12 Things Your Accountant Needs To File Small Business Taxes
Why be stressed out this tax season when you can take charge? Take control of your small business taxes by gathering these documents and information in advance. With just a little bit of preparation, you can help your accountant save you time and money when you file this tax season. Ready to get started? Start by gathering these 12 documents needed to file:
Personal Information
Previous Year's Tax Return
Financial Business Reports
Tax Forms
Asset Information
Loan Information
Income Records
Expense Records
Deductible Expense Information
Payroll Data
Inventory Total
Stocks & Bonds Information
1. Your EIN Or SSN
First things first: You will need to furnish your tax accountant with basic personal information including your legal name, current address, and social security number. The easiest way to provide this information is to bring your social security card to your tax appointment.
If you have an Employer Identification Number (EIN), you will need to provide that, along with your legal business name.
2. Your Previous Year's Tax Return
Make sure to come with your previous year's tax return. This 1) helps the tax accountant get a better understanding of your business, and 2) gives quick information about the deductions your company has (or hasn't) been taking.
3. Your Yearly Financial Business Reports
Your accountant will need copies of your basic financial reports for the year. These generally include:
Profit and Loss Report (or the Income Statement)
Balance Sheet
Statement of Cash Flows
The profit and loss report shows your business's overall profit (or loss) for the year, while the balance sheet displays your company's assets and liabilities. The statement of cash flows shows all transactions affecting your business's cash account.
Jessica Kent, of the Houston Chronicle, suggests bringing copies of your general ledger and trial balance report as well.
You should be able to print these basic financial reports from nearly any accounting software program, though report availability varies from software to software. Contact your accountant or tax preparer to see if there are any additional reports they might require or find helpful.
4. The Appropriate Business Tax Forms
The tax forms your business is required to fill out depends entirely on your business type. These are the forms that may be required for your business:
Freelancers & Sole Proprietors: 1040, Schedule C, Schedule C-EZ, 1040-SE
Partnerships: 1065, 940, 941, 943
S Corporations: 1120-S, Schedule K-1, 940, 941, 943
Limited Liability Corporations (LLCs): 1065, 1120-S, Schedule K
Single Member Limited Liability Corporations (LLCs): 1040, Schedule C, Schedule E, Schedule F
To be certain about which forms your company is required to file, visit the IRS's Forms and Instructions for Filing and Paying Business Taxes page. Here you will find specific forms and instructions for each business type. Bring the necessary forms to your accountant in order to file your tax return.
Note that your tax filing date may be affected by your business type. Learn more about each type of business structure and how your business structure affects your tax filing.
5. Your Business Asset Information
Your accountant will need to know about any assets you've bought, sold, or depreciated during the last year. Bring any receipts, documents, or reports related to your assets and fixed assets.
Tip: Some accounting programs have fixed asset reports or fixed asset listings that you can run.
6. Any Business Loan Information
You'll also need information on business loans. If you've acquired a new loan in the last year, bring the loan agreement with you. Also, bring records of any loan payments and/or accrued interest. This will ensure that your accountant is up to date on your company's total assets and liabilities.
As a result of the COVID-19 pandemic, many small business owners took advantage of loan and grant programs including the Paycheck Protection Program (PPP), the Economic Injury Disaster Loan (EIDL), and the EIDL Advance.
Through the PPP program, eligible businesses received loans that could be forgiven if used for qualifying expenses, including payroll expenses, utilities, and rent payments. Whether your loan was forgiven or not, these funds are not counted toward the taxable income of your business.
The good news is that you can claim deductions for any eligible business expenses paid for using your PPP funds. It doesn't matter if your loan was forgiven or not — all qualifying small business expenses paid for with these funds can be written off, so make sure to bring receipts, invoices, and other documentation to your accountant to claim these deductions and lower your tax liability.
If you received an EIDL or EIDL Grant, these funds will not be added to your taxable income. Qualifying business expenses paid using your EIDL or EIDL Grant can be written off on your tax return to lower your tax liability. So, again, make sure that you gather all applicable documentation — receipts, paid invoices, accounting records — so your accountant can enter these deductions.
Read our full post on how PPP loans and EIDL advances affect your taxes to learn more.
7. Your Income Records
To verify the income amount on your profit and loss statement, you will need to provide your accountant with income records. According to Kent:
An accountant may request copies of bank statements, deposit slips or sales invoices.
Be sure to have these records available.
8. Your Business Expense Records
In order for your tax accountant to verify your company's expenses and find you the correct deductions, you'll need to bring several types of expense records as well, including:
Receipts
Bills
Bank statements
Credit card statements
1098 Mortgage Interest & Property Taxes form
Be sure to keep these expense records, especially your companies business receipts, well-organized. Not only will your accountant thank you for not handing them a shoebox of receipts, but your wallet will also thank you, too.
The more time your accountant has to spend on your tax return, the more money you pay, so make everything as seamless and easy for them as possible.
9. All Deductible Expense Information
Some business expenses require more than just receipts. So if you're planning on claiming any of the following deductions, make sure you bring the proper information to your accountant:
Home Office Deduction: If you have a separate home office that is used exclusively for business, you may be eligible for the home office deduction. The home office deduction is heavily scrutinized by the IRS. For this reason, make sure you have the proper documentation. The popular credit card processing company Square suggests:
If you have a home office, be sure to take along information related to it. This includes the square footage of your home and the office. In addition, give your accountant the amounts you paid for your mortgage or rent, insurance and utilities, and any repairs you made to your home office.
Mileage Log: If you use your vehicle for business purchases, you also may be eligible for a vehicle deduction. Be sure to track all of your mileage throughout the year and bring this log to your accountant or tax professional, along with any receipts related to car expenses.
Business Travel: Businesses can write off meals and travel expenses. This deduction also can be a red flag for an IRS audit depending on whether expenses appear "lavish or extravagant." For this reason, be sure to bring all receipts and any travel tickets or itineraries to your tax appointment.
Charitable Donations: If your company makes charitable donations, be sure to bring all documents related to your donations, including receipts and any statements you may receive.
Make sure you are taking all of the small business tax deductions your business qualifies for by checking our complete business expenses deduction list. If you are worried that taking a deduction may result in an audit, rest assured, taking the tax deductions you qualify for is a great way to save on your tax return, but read our top tips on preventing a tax audit to be safe.
10. Your Business's Payroll Data
Your accountant or tax professional will also need your payroll data from the year. Bring copies of your employee's W-2s, W-3s, and 1099-MISCs. Also, gather health insurance records (as these can count as a business deduction) and any information regarding bonuses.
Payroll software makes this information readily available. Check out our top payroll software recommendations to make gathering this information easier come next tax season.
11. Your Opening & Ending Inventory Total For The Year
Several tax forms require a COGS (Cost of Goods Sold) closing balance for the year. You should already have taken an opening balance of your inventory at the beginning of the year. Now do another inventory count and bring the results to your accountant so they can properly fill out your tax return.
12. Any Stock & Bond Information
Bring information related to all stocks and bonds your business has attained or sold during the year. You'll also need a record of any owner's investments made into or withdrawn from the company during the year. Square says:
As the owner of a sole proprietorship or LLC, you probably pay yourself by making withdrawals from the business. Your accountant will want to know about these withdrawals made to you personally, plus any information on any investments made by you.
Contact your accountant directly before your tax appointment to see if there is any other information they require.
Bonus Small Business Tax Preparation Tips
In addition to having all of your documents ready to go, there are a few other things you can do to be prepared for tax season.
Communicate With Your Accountant
On its blog, Square suggests that talking to your accountant is the key to a successful tax appointment:
…accountants may have a checklist of what they need. When you call to make your appointment, be sure to ask for this checklist.
Start Your Business Taxes Early
Geoff Williams, in the article 7 Things Tax Preparers Wish We Would Do, says being timely is imperative:
Get your paperwork to your tax preparer early…February is fantastic. March, especially the first half, is fine. But…if you give your material to your tax preparer on April 1, don't be upset if you end up having to file an extension.
Perform Bookkeeping Tasks Regularly
The popular invoicing software FreshBooks recommends staying on top of your accounting processes:
Keeping proper accounting records throughout the year can make it a lot easier to prepare your return at tax time.
In her article How To Prepare Records for Your Accountant, Susan Ward reminds businesses that being unprepared can cost you, literally:
Accountants are paid by the hour, so the harder you make their job, the more it will cost you.
Learn the weekly bookkeeping tasks your business should perform to help you keep your accounting up to date and your tax season stress-free.
Keep Your Business Information Organized
One of the biggest ways you can save your business money is by being organized. Having all of your tax information together only goes so far. Your accountant or tax preparer needs to be able to find and understand your records with ease. Organizing your business information can make or break a tax appointment.
The Bottom Line On What Information To Bring Your Accountant For Tax Preparations
Taking the extra time to gather and organize the proper tax information will help make the tax return process a breeze.
If you want to learn how your accounting software can make this process even easier, read our free Small Business Tax Prep Checklist.
Not sure if you need an accountant? Check out When To Hire An Accountant For Small Business. If you need to hire an accountant before next tax season, read How To Find The Perfect Accountant For Your Small Business.
As always, good luck and happy filing!
FAQs About Preparing Business Taxes