5 Jobs Most Likely Impacted By The Recession
What jobs are most likely to be impacted by the recession? Learn which jobs and business industries are a safe bet and which aren't as recession proof as you might think.
Expert Analyst & Reviewer

UPDATED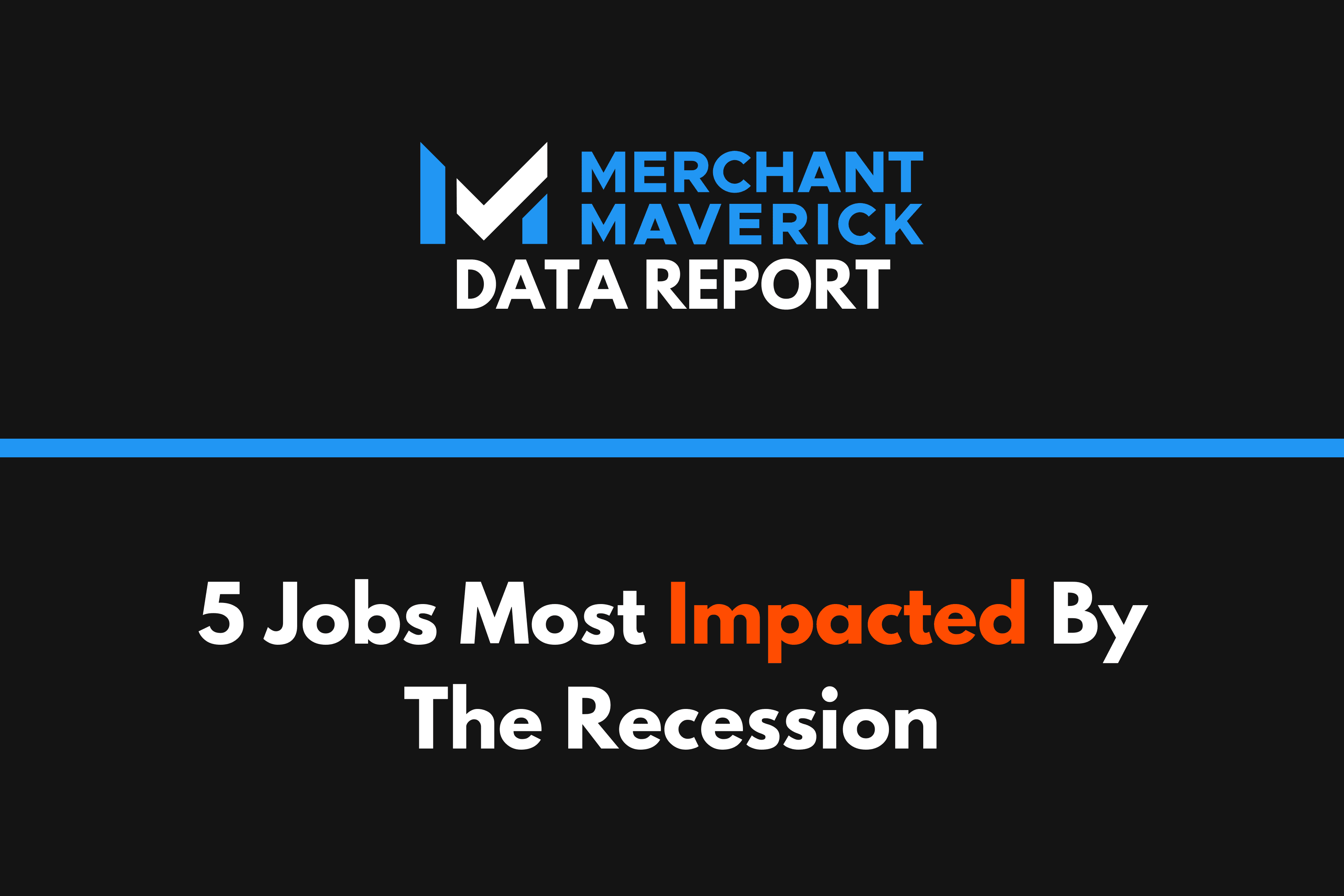 The average worker may be wondering what kind of impact this recession could have on job security. If you're a construction worker, auto technician, sales rep, fabricator, or part of middle management, you may want to have a backup plan if things take a turn for the worse, particularly if you live in one of the states hit hardest by recent inflation. Medical professionals, public employees, and truckers have less to worry about.
Merchant Maverick's new report, The 5 Jobs Most Impacted By The Recession, looked at which jobs could be most impacted by a major economic downturn. Construction, in particular, is likely to take a big hit in the near future as the housing market takes a sharp correction. Meanwhile, medical professionals and teachers will likely see continued demand for their services despite the rapidly slowing economy, especially if they work in one of the states most likely to survive a recession.
While some of our findings follow historical trends pretty closely, it should be noted that we haven't seen economic conditions similar to the one our country is currently experiencing since at least the 1970s. On top of that, job losses during the early months of COVID hit industries like Leisure and Hospitality harder than they would during a typical recession. The good news, so far, is layoffs haven't yet taken a significant bite out of job openings in most sectors.
Key Findings
Construction Workers Are At Heightened Risk Of Job Loss: While some industries appear to be bucking historical trends in the current market, construction clearly is not. Look for construction sector job losses to be a canary in the coal mine for job losses in other sectors.
Manufacturing Is At Risk, But Less Than In Recent Past: Manufacturing has taken heavy casualties in recent recessions thanks in part to offshoring trends. But more recent data suggests job losses may be less severe this time around.
Trucking Jobs Will Probably Be Safer Than Usual: 2022 saw a significant shortage of truckers which left the transportation sector with very little spare capacity. While job openings may start to dwindle, the downturn would have to be quite severe to start cutting into existing jobs.
To rank jobs and industries we examined the following metrics (see our methodology below):
Layoff & discharge rate in most recent available month
Job opening rate in most recent available month
Great Recession job losses
Job losses during the COVID-19 crash
The 5 Least Recession-Proof Jobs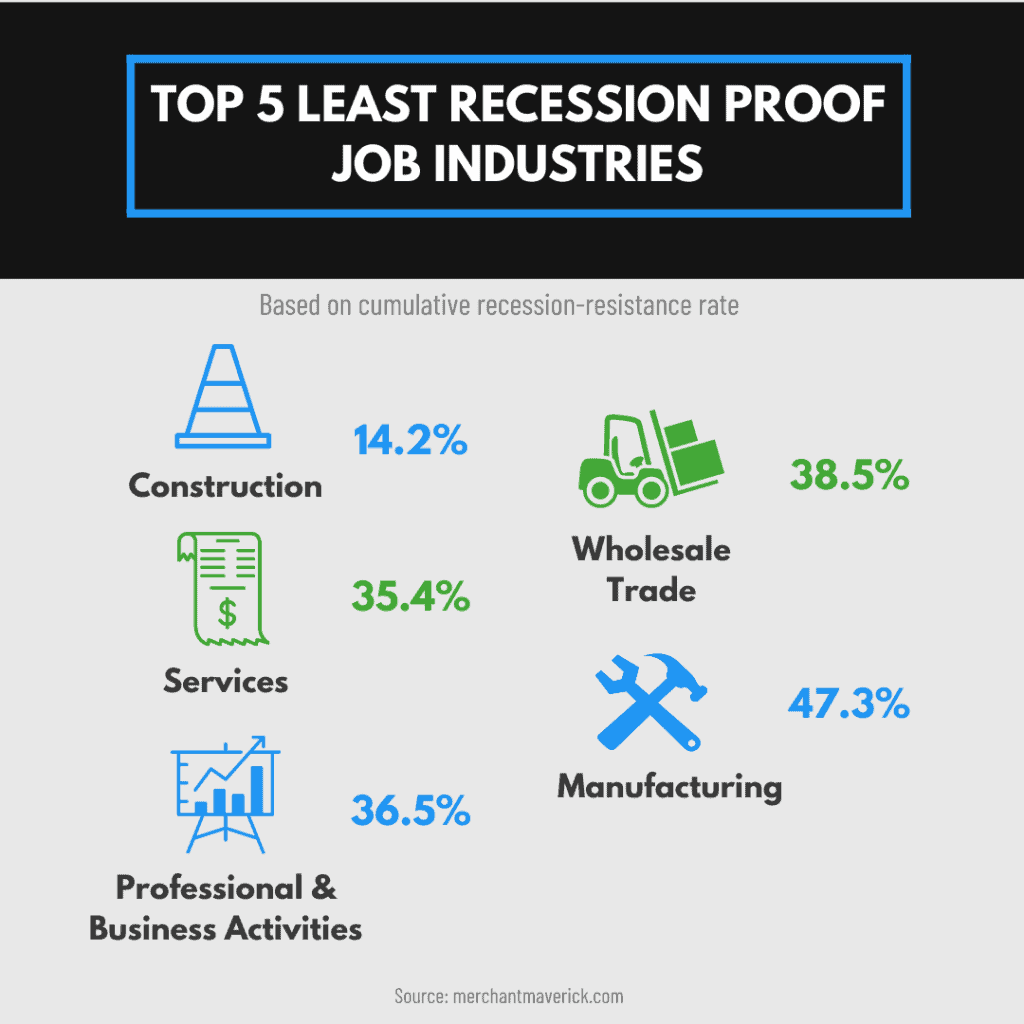 The least recession-proof jobs are affected by a lack of job openings, high employee churn rates and layoff rates, and even a declining housing market with construction and other service-based job industries like automotive likely being hurt the most heavily.
Here is a breakdown of the jobs most likely to be hit the hardest by the next recession.
1. Construction Worker
Overall Score: 16.2
---
Building and repairing houses and physical infrastructure may be a critical part of our economy, but construction jobs are proving to be some of the most vulnerable to swings in economic conditions. While the level of decline may vary from market to market as the economy slows, the losses will most likely be felt in most metropolitan areas.
Construction sector employment declined by 19.8% (rank 14 out of 14) during the Great Recession and, despite relatively low risks of exposure, dipped by 14.53% during the pre-stimulus days of COVID (rank 12 out of 14). Early warning signs suggest that these drops aren't just historical artifacts. With new housing down 14% in May 2022, the construction industry is currently shedding jobs at a rate of 1.4, higher than most other industries.
2. Automotive Technician
Overall Score: 37.3
---
Jobs in the "other services" industry such as automotive technicians and hairdressers have been vulnerable to job losses during times of economic downturn, both during the Great Recession and especially during the early days of COVID. As we stare down another recession, auto techs and various other service industry occupations appear vulnerable to another contraction.
This category of service industry jobs fell by a modest 2.6% during the 2007-2009 economic downturn (aka the "Great Recession) but declined by a staggering 24.05% during the COVID-19 recession. As of May 2022, the industry's layoff rate was trending much higher than other industries (1.5, or 13th highest out of 14 industries).
3. Middle Managers
Overall Score: 36.5
---
Workers in the sprawling professional and business services sector may be at heightened risk of being downsized during a new recession. Managers, who make up the largest category of jobs within this sector, may become extraneous as staff headcounts are decreased within their organizations.
The professional and business service sector lost 8.9% of its jobs during the Great Recession (ranked 12 out of 14 for job retention) and currently has a high rate of layoffs at 1.5 (ranked 13 out of 14). One point of light, however, is that job openings within this sector are still high, with a rate of 8.3 (ranked 2 out 14).
4. Wholesale Sales Representative
Overall Score: 37.3
---
Employment in the wholesale trade sector, including wholesale and manufacturing sales rep positions, shrank considerably during the last two economic downturns. Trading activity tends to slow during a recession, and the looming recession will likely be no exception.
Wholesale sales industry employment decreased a significant 7.6% during the Great Recession and 6.8% in the first months of COVID. As of May 2022, job opening rates in this industry were looking OK (5.6 or 10th highest out of 14) while layoff rates were trending higher (1.1, also 10th highest of 14).
5. Assemblers & Fabricators
Overall Score: 47.3
---
Perhaps no industry has been hit harder by globalization than manufacturing which, in turn, has suffered severely during past recessions, including losing 14.7% of its jobs during the Great Recession (ranked 13 out of 14).
A recent trend toward reshoring manufacturing may provide some resilience to the manufacturing sector that was lacking in past decades, however. Losses during COVID were less severe at 10.65% (8th lowest out of 14), and layoffs and discharge rates remain low for the time being.
The 5 Most Recession-Proof Jobs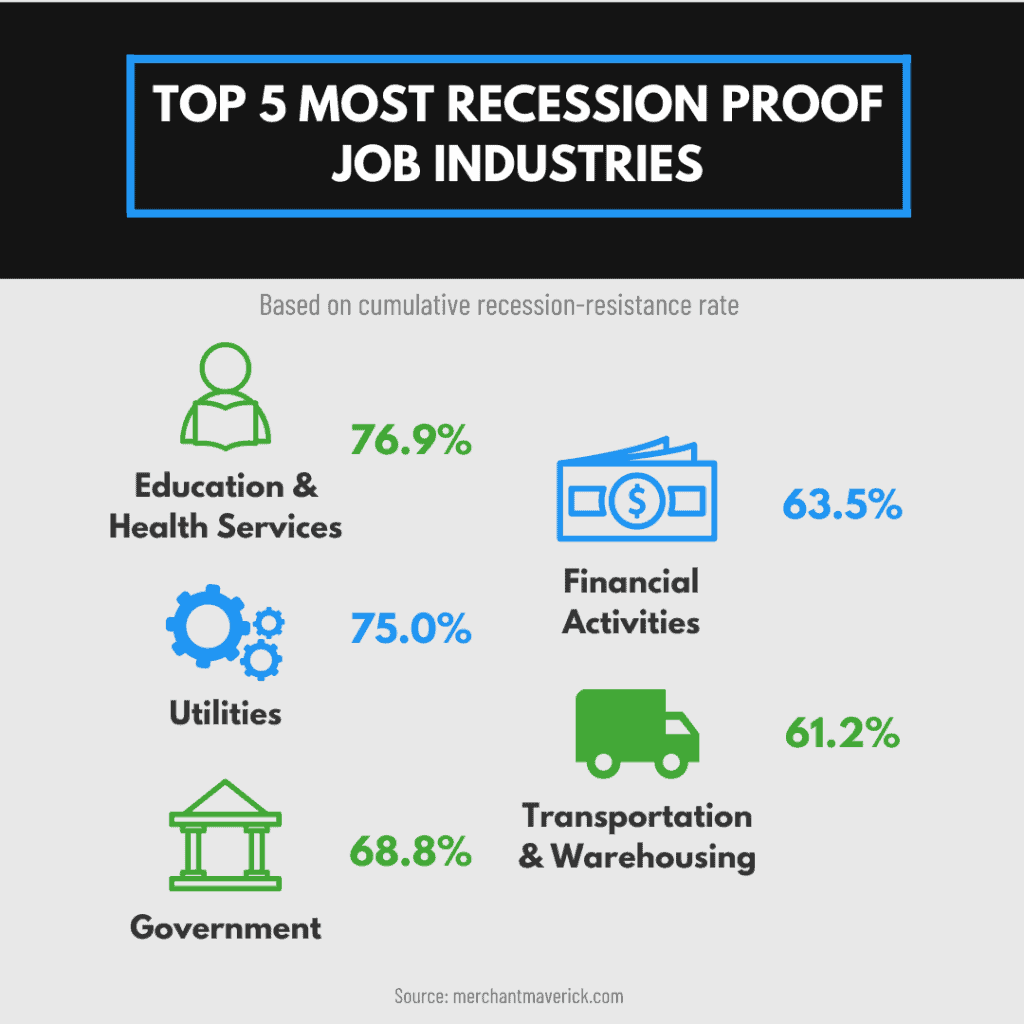 The most recession-proof jobs can stand firm against industry trends and demand is unlikely to decrease in the midst of a recession. Highest on this list of recession-proof industries are healthcare, education, and utilities so jobs in those business sectors are likely safe.
Here is a full breakdown of the top jobs that will be relatively safe in the next recession.
Teachers, Doctors, Nurses (76.9 Overall Score): Thanks to relatively inelastic demand for their services, education and health care industry workers generally aren't as vulnerable to the whimsy of the market outside of unusual outlier circumstances like the COVID-19 crash. So far, the industry isn't shedding too many jobs this summer.
Utility Worker (76.9): Utility workers such as electricians, powerline installers, and wastewater system operators generally enjoy good job security during economic downturns. The latest hiring and firing data indicate these jobs are still quite secure.
Government Workers (70.8): While public sector jobs aren't completely isolated from the effects of the economy, they tend to be impacted more by policy priorities than recessions. In fact, government employment increased during the Great Recession (0.5%) and fell only marginally during the early months of COVID (-0.75%). Government jobs currently have the lowest rate of layoffs and discharges of any sector.
Financial Planner (65.4): Financial activities jobs are relatively resilient in the face of recession, only dropping slightly during COVID. Current layoff rates are the second-lowest of the industries we examined.
Truck Drivers (63.1): Transportation and warehousing have taken moderate losses from recessions in the past, but a current, persistent shortage of truckers means there isn't much spare capacity to cut in a downturn.
Raw Data On Recession-Proof Industries
---

Methodology: How We Identified The Most Recession-Proof Jobs & Industries
To determine the relative risk of job losses during the next recession, we looked at four key factors. For each metric, industry clusters were given a rank from 1 to 14, with 1 representing the best performance in the category with regard to job retention and 14 being the worst. Each metric was weighted to achieve an overall score for each industry cluster. The list of jobs above reflects common job titles within those industry clusters.
Job Opening Rates By Industry, 5/22 (25%): Using the most recent available data from the US Bureau of Labor Statistics, this metric represents the number of job openings on the last business day of the month as a percentage of total employment plus job openings.
Layoff & Discharge Rates By Industry, 5/22 (35%): Using the most recent available data from the US Bureau of Labor Statistics, the layoffs and discharges rate is the number of layoffs and discharges during the entire month as a percentage of total employment.
% Change In Employment, 12/07 - 6/09 (20%): This metric represents the historical performance of the industry during the last sustained recession, the Great Recession, which officially lasted from December 2007 to June 2009.
% Change In Employment, 2/20 - 4/20 (20%): This metric represents the historical performance of the industry during our most recent economic downturn, during the early months of the COVID-19 pandemic.
We then each metric to create a cumulative score to identify the most recession-proof industries and businesses.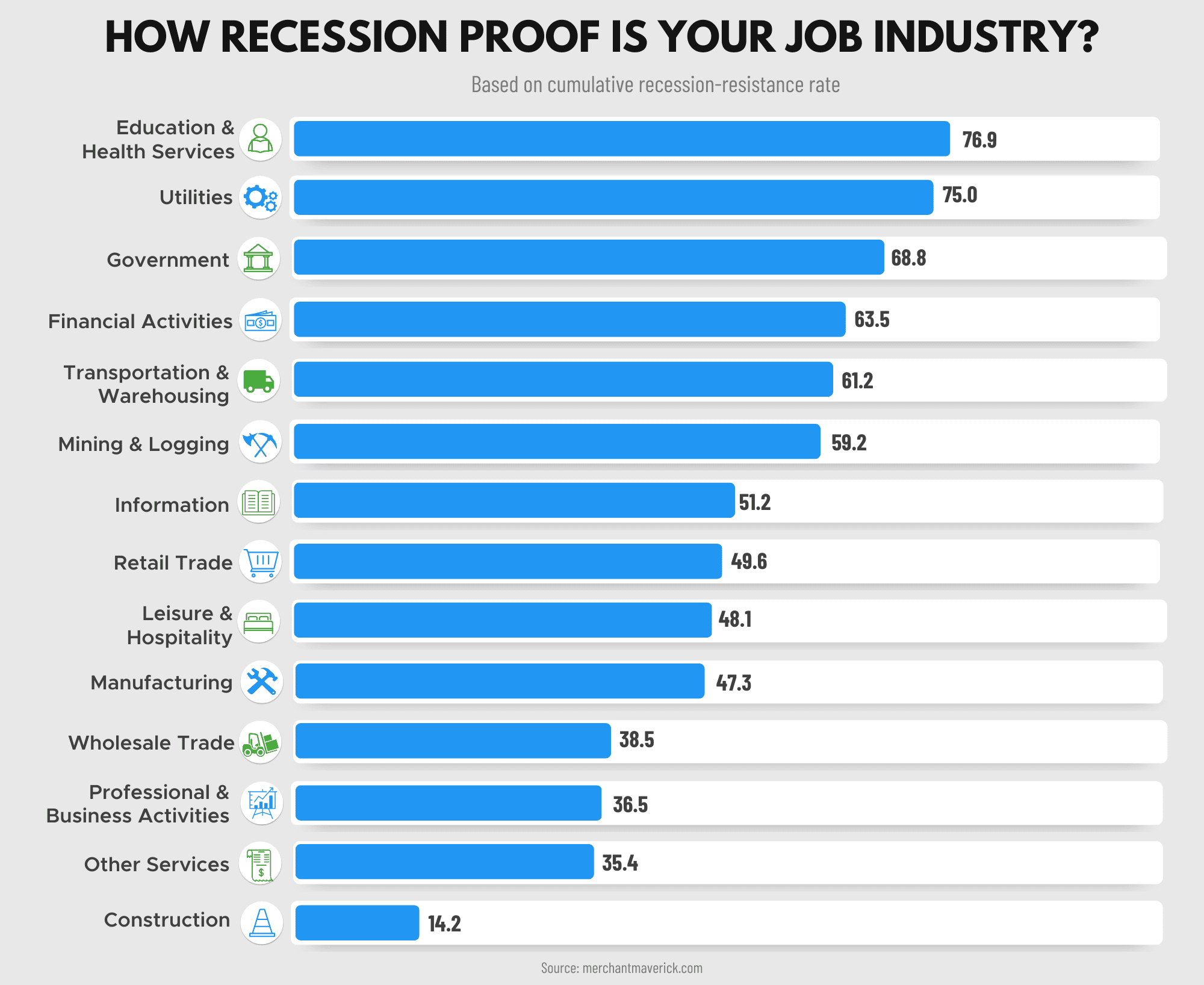 Information was sourced from the US Bureau of Labors Statistics.