How To Start A Photography Business In 9 Simple Steps
Take your photography hobby and turn it into a thriving photography small business. From registration to marketing, we've got you covered in our guide.
Merchant Maverick Contributor

UPDATED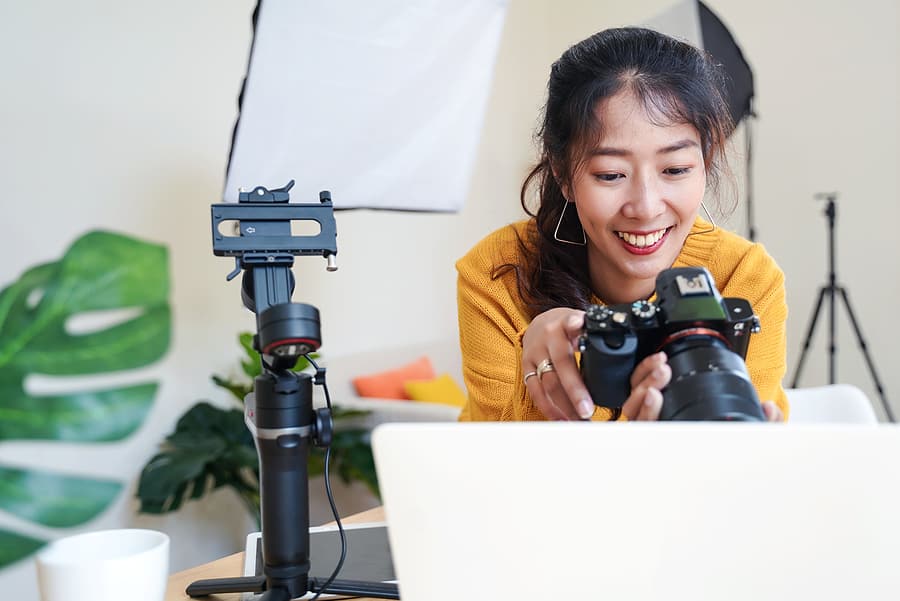 If you're a photographer looking to make your passion your job, we're here to teach you how to start a photography business!
Wedding, engagement, graduation, family, baby, headshot, or even cosplay photography — keep reading to learn how to get started, brand your studio, find the best web/payment platforms, and market yourself!
Why Start A Photography Business?
Starting a photography business, even if it's just a side hustle/part-time gig, allows you to be your own boss. While increasing the flexibility of your schedule, you get to do impactful work with those in your community by capturing some of the most important moments in their lives.
While the free food at weddings, sweet baby smiles, and recognition for your work may seem like payment enough, you can set your own pay rates and control how much cash you bring in. You can choose to work from a studio (one you could even run from your home), exclusively shoot outdoors, or even a combo of both!
The market for photography may wax and wane, but the fact remains that people will always want to celebrate and commemorate special moments in their own and their loved ones' lives. Models, business professionals, and actors will always need professional headshots. Content creators will always need content.
Do I Need A License To Start A Photography Business?
The answer to this question depends on your state, and even city, of operation. Contact your state licensing board and any other municipalities to see if you need to apply to receive a license or permit.
However, you will need to decide what kind of structure you will run your photography business under. You can remain a sole trader/proprietor, corporation, or limited liability company (LLC). The most common choices for small, independent business owners are sole traders/proprietorships and LLCs.
Are There Any Other Requirements For A Photography Business?
You don't need a degree or certification to start your own photography business. But it can make your business and skills more credible to new customers/clients to have a degree, certification, or have completed a relevant course of study.
While photography businesses don't have strict requirements like some industries, there are a couple of things we would recommend that you do before officially starting your own business:
Decide Your Business Structure: Your photography business will remain a sole proprietorship until you file paperwork to become another type of entity. Read our complete guide on types of business structures before you make your decision.
Research Business Insurance Policies: As a photographer who may be asking subjects to trek over uneven terrain or pose in potentially dangerous positions, liability insurance isn't the worst idea. A general liability insurance policy protects you and your business in case of a lawsuit or accident, including property damage, bodily injury, or false advertising claims. Your equipment is expensive, so do what you need to protect it! Learn more about the types of business insurance you may need.
9 Steps To Starting Your Own Photography Business
We've covered some basics, so now it's time to get into the steps you need to take to get your photography business off the ground!
The Best Web Platforms For Photographers
Not to be too redundant, but it's crucial for you to have a strong web presence, a reliable payment processor, and an easy way for clients to schedule sessions with you. The great news is that sometimes the solution to all three needs can come in a single web platform!
Read on to learn more about some of our favorites.
Shopify
Shopify's online store is an easy-to-use platform that offers a free trial, advanced design tools, six different plans, an easy-to-use POS system for in-person payments, and even built-in marketing features. Monthly rates start as low as $5.
As a web platform, Shopify offers a fully customizable website builder that requires no coding! You can choose from thousands of themes, apps, and integrations. Shopify offers a free three-day trial and the ability to purchase your custom domain name directly through them.
Check out our Shopify review for more info about what this vendor offers.
Square
As we cover in our Square Online review, Square is a cost-effective eCommerce solution that integrates directly with Square POS. Square offers a free plan, free web hosting, and, like Shopify, you don't need coding knowledge to use the website builder to make your online store. Square offers more options for accepting in-person payments and even a free card reader.
If you wish to get rid of the Square ads on your site, need more than 500MB of storage, or want to use a custom domain, you will need to upgrade to a paid plan. Plans start at $12/month, billed annually.
Lightspeed
Lightspeed is the priciest option on this list, but it offers some unique features for small business owners. The most interesting of these features is the Customer Loyalty Program function. Lightspeed Loyalty allows you to reward your returning clients with a point-based loyalty program. Lightspeed also offers custom pricing for POS systems, making it easy to choose exactly what you need for your business.
Lightspeed is definitely more tailored for retailers, but it has plenty of useful features for photography businesses, including gift certificates and receipts. Lightspeed eCommerce allows your clients to schedule their own appointments and send confirmations and reminders, offers reports you can run to determine the health of your business, and marketing features that can help with your SEO score and social media presence. Plans start at $69/month, billed annually.
Our Lightspeed Retail review goes into more depth on this vendor.
How To Start A Photography Business: FAQs