Content Strategist - Accounting & Payroll

Updated on:
Advertiser Disclosure: Our unbiased reviews and content are supported in part by
affiliate partnerships
, and we adhere to strict
guidelines
to preserve editorial integrity.
Bill.com

Pros
Impressive feature set
Excellent mobile apps
Numerous accounting integrations
Suited for medium & large businesses
Ample reports
Cons
Expensive monthly cost
Poor customer support
Limited invoicing features
Overview
Bill.com is an accounts payable solution that helps business owners save time on paying bills by automating the accounts payable process and moving everything over to the cloud.
In addition to accounts payable, Bill.com also features an accounts receivable feature set with basic invoicing capabilities. It's important to note that invoicing is as far as Bill.com's accounting capabilities go. The software is not meant to replace accounting software but to supplement it. Bill.com integrates directly with accounting software so that all data between the two programs is synced.
While Bill.com does offer invoicing features, the accounts receivable side of the software is severely lacking, especially compared to other companies like Zoho Invoice and Invoicera. The accounts payable feature is the star here, and it is excellent. When it comes to automating bill payments, Bill.com can't be beaten — especially considering the software's recently redesigned UI. Further, Bill.com reviews show that customers are satisfied overall with what this software has to offer.
Business owners looking to save time on paying bills (or who want to move their accounts payable processes to the cloud where there is an electronic audit trail of all transfers) need to know about Bill.com. Accountants, as well, might be interested to learn how their colleagues are changing their practices for the better with Bill.com. Continue reading to learn more about what Bill.com can do for your business.
Bill.com Pricing
Bill.com offers four pricing plans for businesses and one plan for accountants. For the two smallest pricing plans, you have to choose between either managing your accounts payable or your accounts receivable.
If you choose payables, your plan will include these features:
Pay bills
Recurring bills
Send bills for approval
Vendor management
Vendor credits
If you choose receivables, your plan will include these features:
Send invoices
Recurring invoices
Accept online payments
Contact management
Manage items
Credit memos
The two larger plans include both the payables and receivables feature sets. Whichever plan you choose, Bill.com offers a free trial of their software. No credit card information is required, and you can cancel the plan at any time. Bill.com's four business pricing plans include:
Essentials
Bill.com's Essentials Plan costs $39/month per user and includes:
Manage payables or receivables
Accept payments online
Connect to Bill.com's Business Payments Network
Enable approval workflows
Strong user permissions
Unlimited document storage
Team
Bill.com's Team Plan costs $49/month per user and includes everything in the Essentials Plan, plus:
Custom user permissions
Sync with QuickBooks Desktop, QuickBooks Online, or Xero
Corporate
Bill.com's Corporate Plan costs $69/month per user and includes everything in the Team Plan, plus:
Manage payables and receivables
Invoice & payment automations
Discounted approval-only users
Custom approval limits
Enterprise
Contact Bill.com for Enterprise pricing. The Enterprise plan includes everything in the Corporate Plan, plus:
Contact Bill.com for pricing
Multi-entity and multi-location accounting files
Sync with NetSuite, or QuickBooks Enterprise
Importing/exporting with Microsoft Dynamics
API
Extra Costs Of Invoicing Software
There are a few extra costs to be aware of before going with Bill.com:
ACH Payments: You can send or receive ACH payments with bill.com. ACH transfers cost $0.49/each.
Wire Transfers: If you opt for multiple currencies, Bill.com offers a $0 wire transfer fee and "competitive exchange rate for payments in local currencies." However, for international wires, you'll have to pay a $9.99 fee.
Mail Checks & Invoices Service: You can let Bill.com mail your checks or invoices for you. This service costs $1.69/per check or invoice.
Automatic Data Entry: You can let bill.com do your payables data entry for you for $0.49/each entry.
Bill.com For Accountants: Accountants can also benefit from Bill.com. The accountant plan costs $49/month and includes payables and receivables, a secure payment portal for clients, product training, accountant resources, and one-on-one coaching.
Cloud-Based Or Locally-Installed
Cloud-based. No downloads or installation required.
Hardware & Software Requirements
As cloud-based software, Bill.com is compatible with nearly any device so long as you have an internet connection. Up-to-date browsers are recommended. Mobile apps are available for Apple products (iOS 11.0+) and Android (varies by device).
Specific Size Of Business
Bill.com's accounts payable features are perfect for any company looking to simplify the time it takes them to pay bills. This software is also great for companies looking to move their billing processes to the cloud (so that they don't have to print checks, send checks, wait for checks to arrive, etc.). The program is ideal for mid to large-sized businesses that process a lot of bills — or need a strong approval process for bills — and that use existing accounting software like Xero or QuickBooks.
The price might be a little steep for small businesses, especially small business owners who already pay for accounting software with invoicing and accounts payable features. However, for small businesses that find themselves needing to hire an additional employee to handle the accounts payable processes, it could be cheaper to buy a Bill.com subscription and handle the bill payments yourself.
Bill.com for accountants is also a decent option for CPAs and other accounting professionals who want to simplify their own accounts payable process and their clients' processes as well. The software is not ideal for accounts receivables. There are far more affordable and comprehensive invoicing solutions out there. Take a look at our post on the top free invoicing software options to learn more. Although, if you only need basic invoicing and predominantly want bill management, Bill.com could still be a good choice.
Bill.com supports unlimited users (although you have to pay extra for each user, which can get incredibly expensive). Six user roles are available. You can create custom roles and control specific feature access as well. You can also create approval workflows, run an audit report, and close the books feature for added security.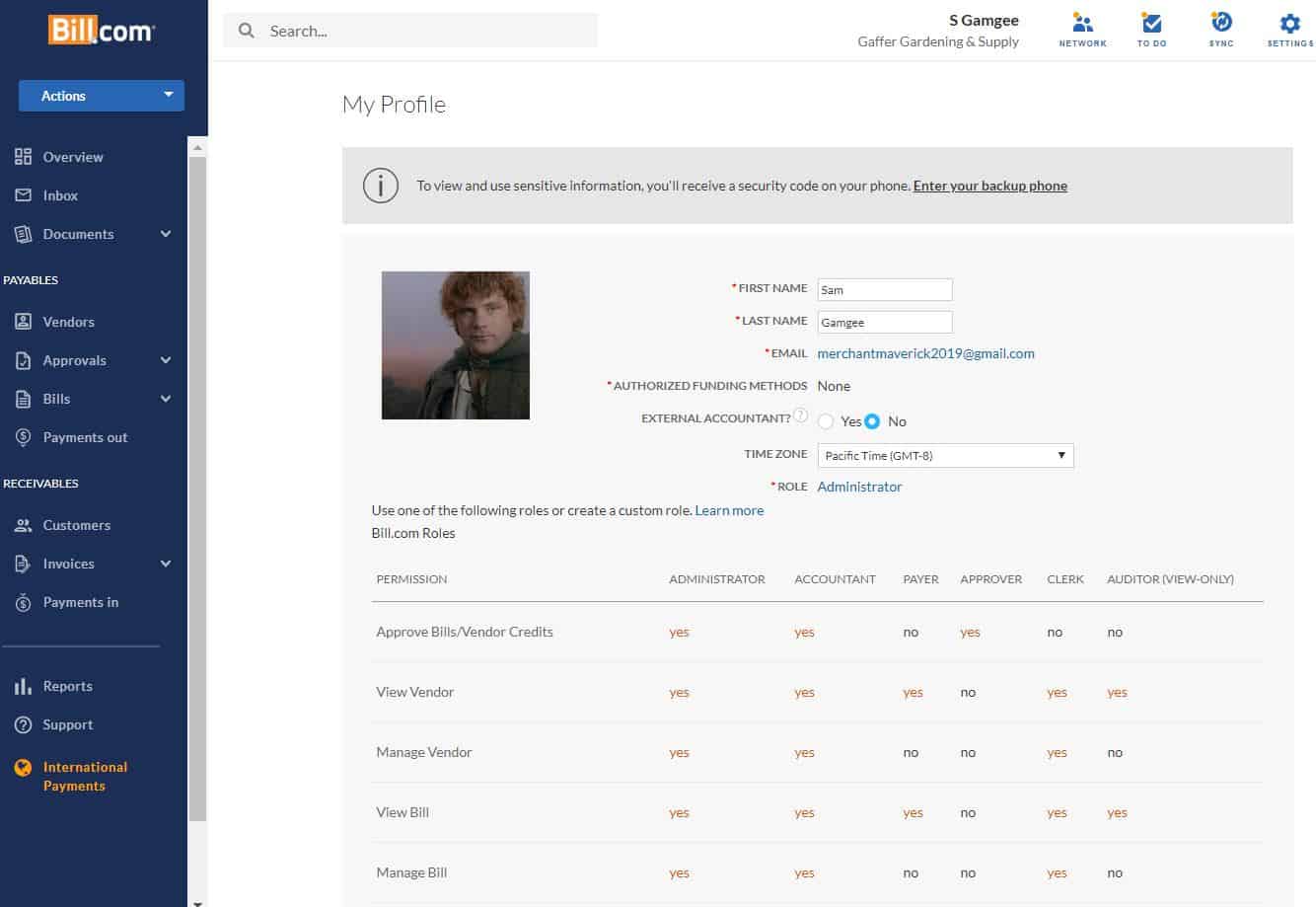 Ease Of Use
Previously, Bill.com had an outdated UI that was difficult to navigate. With the recent software redesign, Bill.com got a much-needed facelift and is easier to learn and use. Learning everything the software is capable of can still be a bit confusing at times, but there is a to-do list and a walkthrough to help you get started.
Features
While the software's invoicing features aren't as developed as many of the programs we review, Bill.com still offers a good number of features, and the payment features are more than worth looking into. Feature availability depends on whether you choose an accounts payable plan or an accounts receivable plan. Be sure to revisit the pricing section to understand which features are included with each Bill.com plan.
Dashboard: Bill.com's dashboard features charts and graphs to give you a quick glimpse of your business's financial state. The dashboard for Corporate and Enterprise plans shows the bills to pay, open invoices, bill approvals, payments in, and payments out. The smaller plans will either show graphs pertaining to accounts payable or accounts receivable.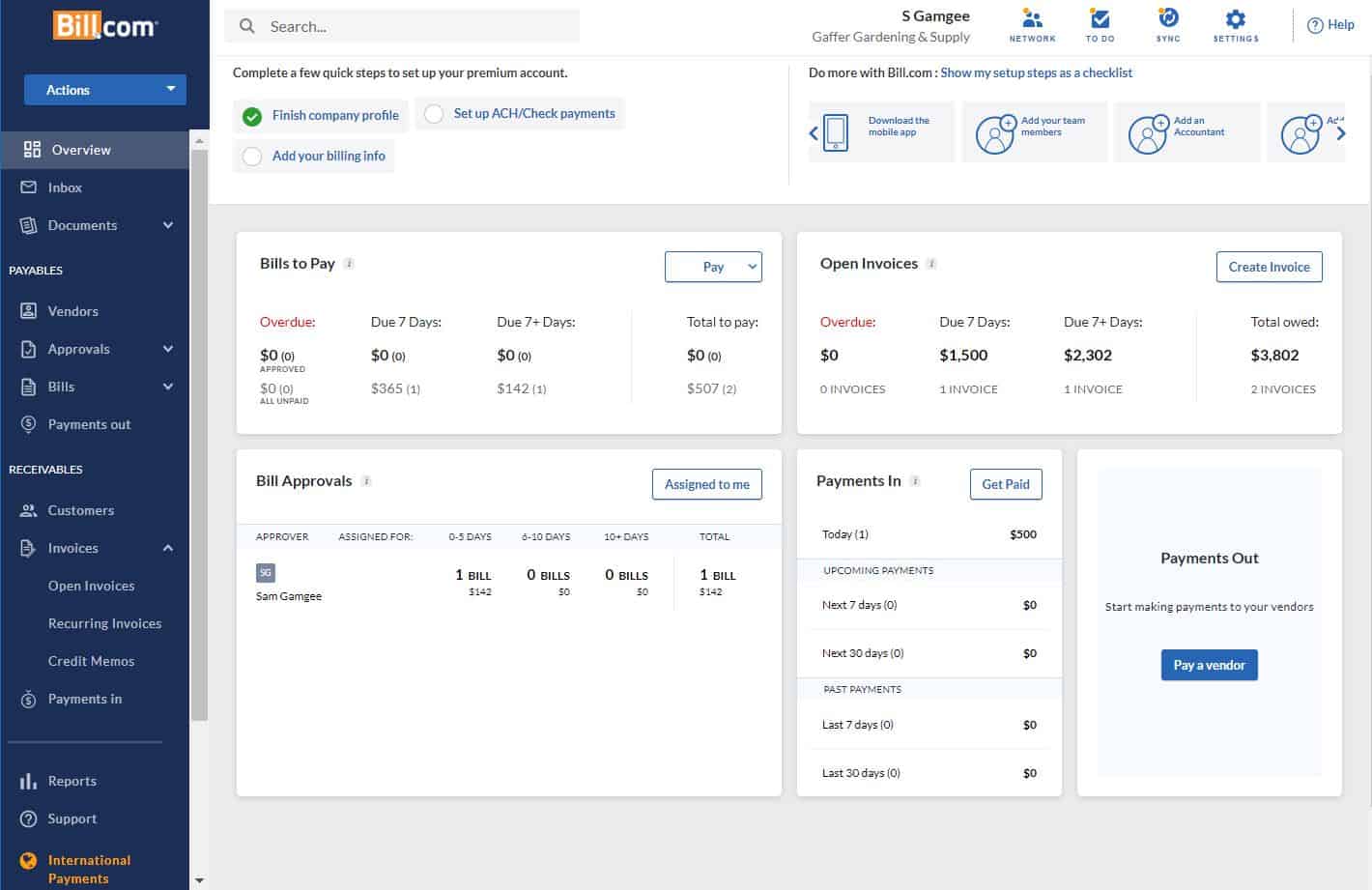 Invoicing: Bill.com offers three invoice templates available with the accounts receivable plans only. You can customize the information shown on invoices and add a company logo, but that's as far as the customizations go. Bill.com does support recurring invoices and invoice reminders. You can also have Bill.com print and mail invoices for you. One of the best parts about the invoice feature is the invoice dashboard which shows how many invoices have been sent, which are due, which are overdue, and more. There are no estimates available.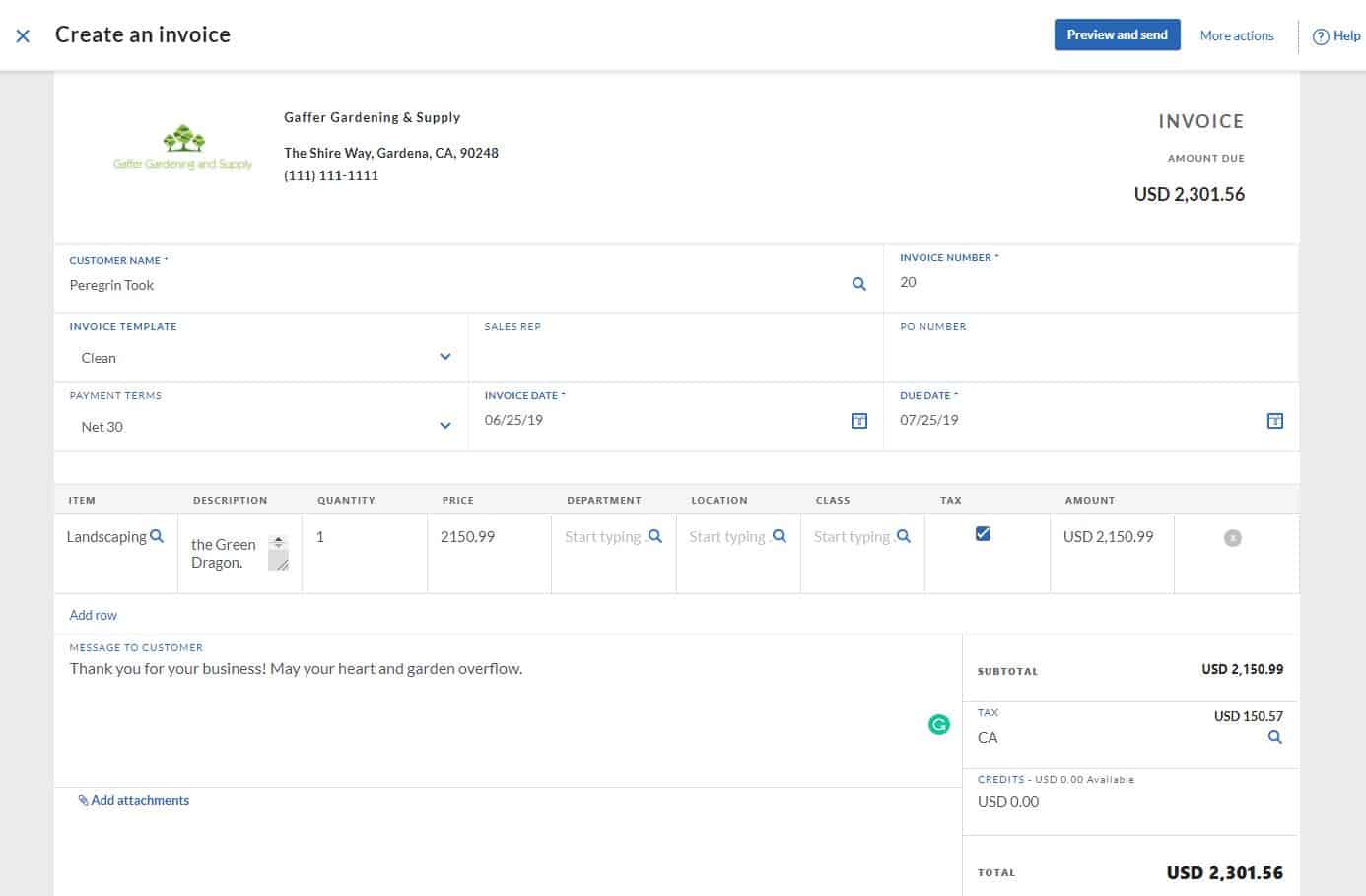 Client Portal: Customers can pay invoices directly through their own client portal. Unlike with most competing client portals, Bill.com customers have to create their own Bill.com account with login credentials, which is a bit annoying. But, it's free and ensures payment security. Once the portal is set up, clients can view their invoices and make payments directly online.
Contact Management: With the accounts receivable plans, you can store contact information in Bill.com, including a contact name, company name, billing address, shipping address, account number, default payment terms, and notes. Your customer can also choose to share their banking information with you for automatic payments. Bill.com shows the client's full history and information when you click on their name.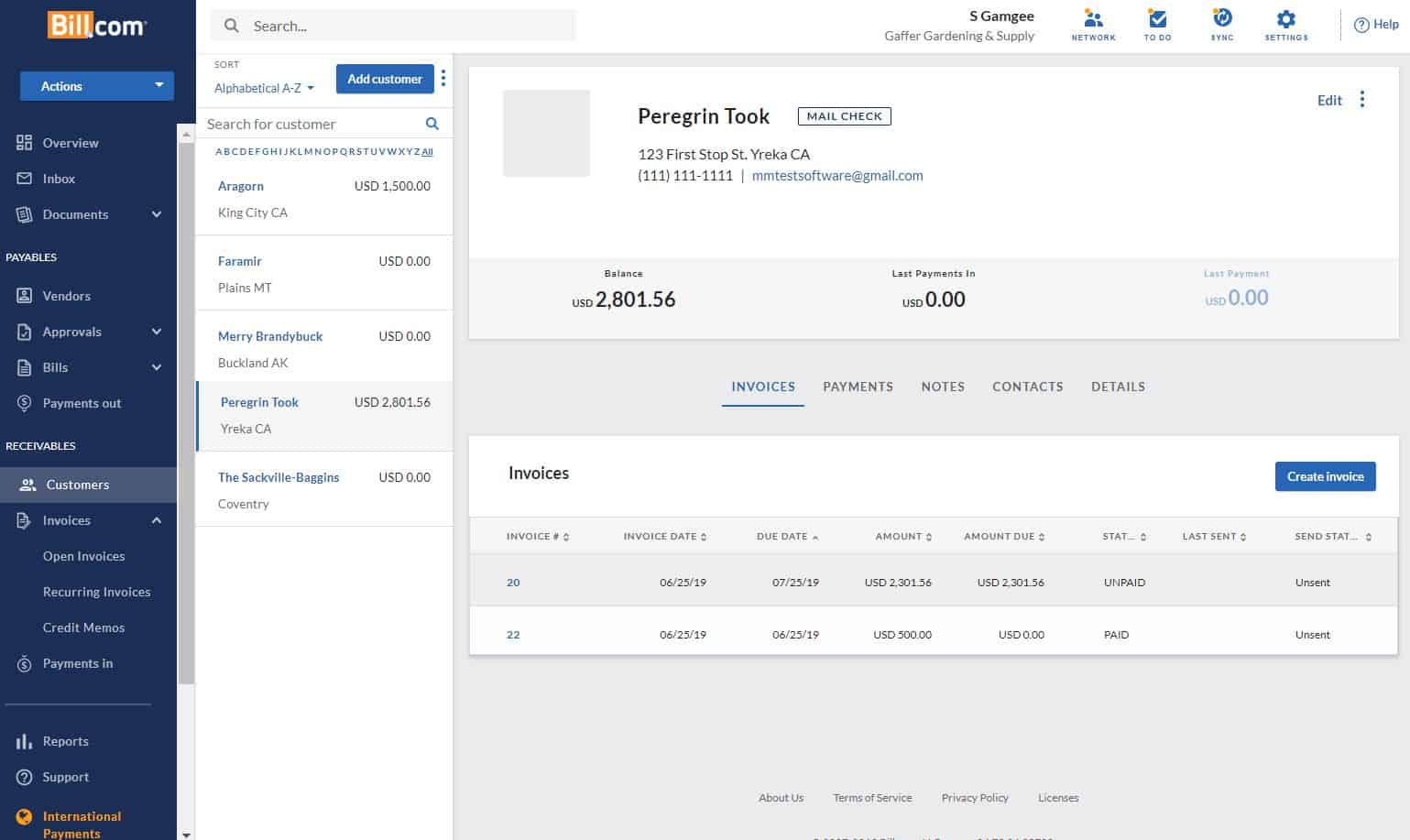 Vendor Management: With the accounts payable plans, ou can manually add vendors into Bill.com and store important vendor information in Bill.com, including a contact name, company name, billing address, shipping address, payment terms, and more. One of the coolest parts of Bill.com is the ability to search for vendors who have existing Bill.com accounts using the Business Payments Network (this makes paying big companies like AT&T or your local gas company or bank a breeze). You can also invite vendors to create an account. Once your vendor has set up an account with Bill.com you can begin making payments to them electronically without having to chase down their information. Bill.com's vendor dashboard shows your full history with a vendor including any outstanding or upcoming bills, a recent payment history, any vendor credits, and any documents attached to that vendor.
Payments: Bill.com does not have the traditional expense tracking you would expect from an invoicing software. However, you can still manage payments in and payments out.
Chart Of Accounts: Surprisingly, Bill.com offers a customizable chart of accounts so you can categorize your transactions in accordance with your accounting software.
Accounts Payable: This is where Bill.com shines. With the accounts payable plans, Bill.com makes it easy to manage — you guessed it — your accounts payable. To add bills to the software, you can upload them manually, drag and drop them into the software, pay Bill.com to transfer the data for you, or have your vendors email or fax them directly into your inbox. From this point, you can pay bills electronically or set up a bill approval system. You can make employees send bills to a supervisor for approval. Supervisors will simply get an email when a bill is awaiting their approval. You can also set approvals up so that bills over a certain amount of money will be sent directly to a supervisor or admin.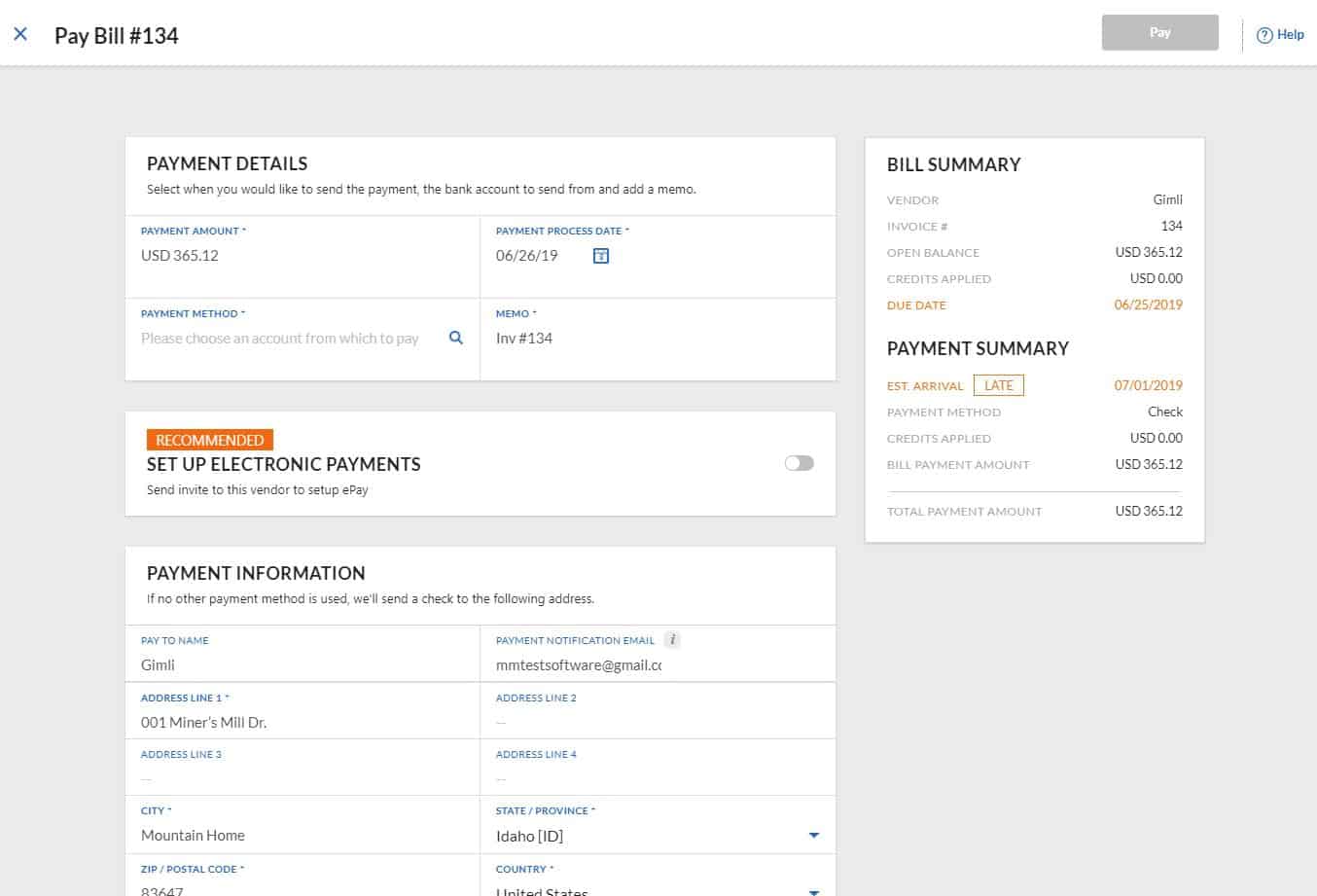 Items List: You can import items or add them manually to your invoices in the accounts receivable plans only. There is no central location where you can view your items list. Instead, the software remembers any items you've imported or added to past invoices. You can select items from a drop-down menu when creating invoices, and the software will autofill the information. There is no inventory tracking.
Reports: Bill.com offers 20-30 reports depending on your plan. If you have an accounts payable plan only, you'll receive 20 reports focused around A/P. If you have an accounts receivable plan, you'll receive 20 reports focused around A/R. If you have both AR and AP, you'll receive a full 30 reports.
Credits: With the accounts receivable feature set, you can create credit memos. With the accounts payable features set, you can create vendor credits.
Class Tracking: You can create custom tracking categories including classes, locations, and departments.
Email Templates: You can create default email messages for invoices, credit memos, and invoice reminders.
Inbox: Bill.com has an "inbox" where you can add files that Bill.com then extracts important information from, helping to reduce data entry and allowing you to store everything on the cloud.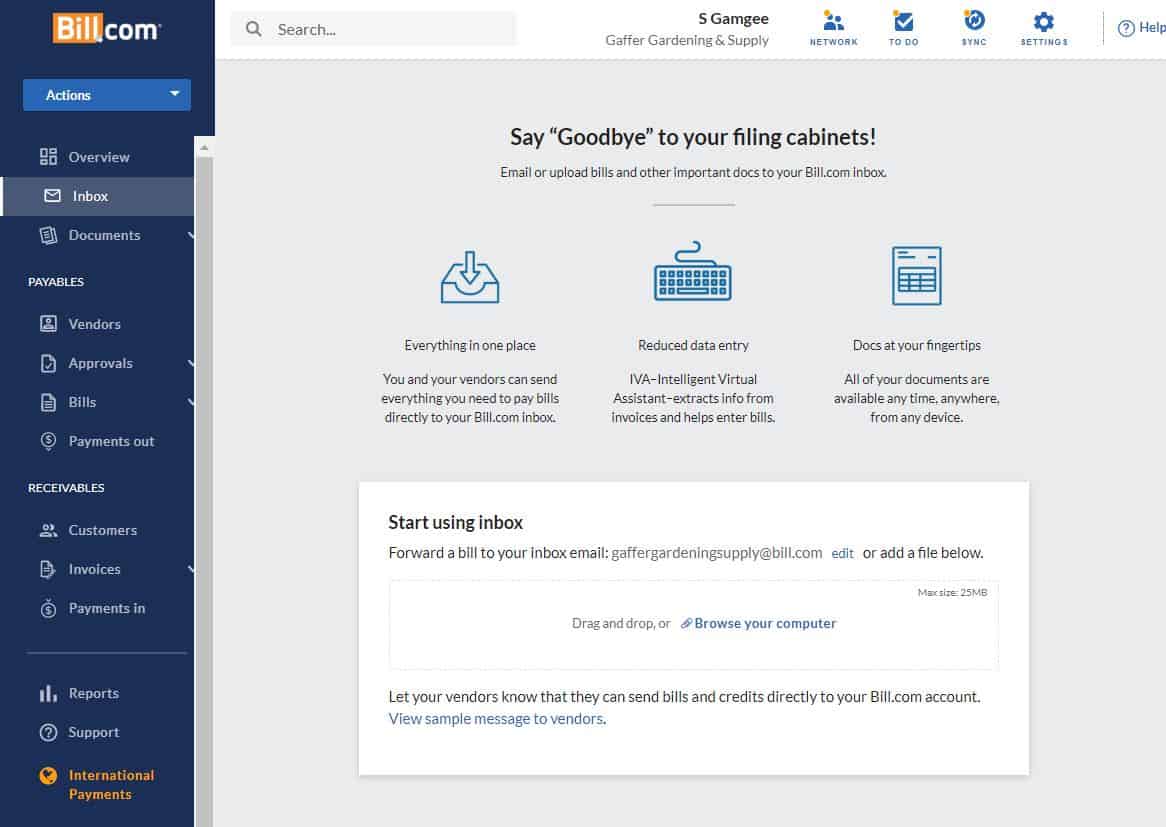 Document Storage: Bill.com offers unlimited storage for documents. You can organize documents into folders as well.
Sales Tax: Bill.com pulls any preset sales tax rates from your accounting software into your Bill.com profile to be used on invoices. You can also add new sales tax rates when creating invoices.
Multiple Currencies: As a new addition, Bill.com now supports multiple currencies and international payments. The software supports 50+ currencies and 70+ countries, and there's a built-in currency converter as well.
Importing & Exporting: Bill.com has extensive importing and exporting capabilities. You can import and export vendors, customers, accounts, departments, items, locations, classes, jobs, bills, vendor credits, invoices, and credit memos all via .csv. You can also export fund transfers and payments. The software also syncs with popular accounting programs to make your payment process seamless.
Bill.com Customer Service & Support
Finding the answers you are looking for with Bill.com is still a bit of a challenge. There is no phone support, so the main support option is a support form. In my experience, responses can take days and the responses you do get are not always thorough. Luckily, there is a decent help center available as well as a couple of other support resources:
Support Form: You can submit a support inquiry in the Message Center located in the help center.
Help Center: There is a developed help center with a lot of how-to articles, getting started resources, FAQs, and announcements.
Bill.com Resources: The Bill.com resources page is a collection of webinars, case studies, white papers, and other Bill.com resources. I found the white papers particularly interesting (but would stick to the help center for actual questions about the software).
YouTube Videos: The YouTube channel features a lot of customer testimonials and a few how-to videos.
Bill.com Blog: Bill.com has a blog that is updated frequently with everything you need to know about payments, going paperless, new integrations, and more.
Social Media: Bill.com maintains Facebook, Twitter, and LinkedIn accounts.
Bill.com Reviews
Negative Reviews & Complaints
Bill.com receives a lot of positive reviews, and the ratio of positive reviews to negative reviews has improved for the better. For example, the company's mobile app rating went from 2.5/5 to 4/5 stars on the Google Play Store. However, there are still some complaints. Here are some of the most common issues users have with the software:
Syncing Errors: One of the key features of Bill.com is that it integrates with accounting software to automatically sync user data between the two programs. However, multiple users have reported issues with software syncing information correctly.
Expensive: A few users find Bill.com to be overpriced and expensive, especially for small businesses.
Poor Customer Service: Quite a few users report poor customer service and limited customer resources. In Bill.com's defense, there is an equal number of reviews that praise Bill.com for good customer service.
Older Version Was Better: Several users say they dislike the new UI, and a couple disliked it so much that they asked to be moved to the older version. Besides the UI, the other major difference is there is no longer a cash flow forecaster. While the cash flow forecaster was a great, unique feature, there are far fewer complaints about navigation with the new design.
Positive Reviews & Testimonials
Bill.com seems well-received by the majority of its customers. The software has a strong internet presence and a lot of customer reviews. Bill.com earns 4.1/5 stars on Capterra, 4.4/5 stars on G2Crowd, and 3.2/5 stars on Trust Radius. While there are a lot of reasons users love the software, here are a few of the most common selling points:
Saves Time: Arguably the best aspect of Bill.com, according to users, is the time it saves them on their A/R processes. Users also appreciate the built-in approval workflows.
Easy To Use: Users like that the software is simple and intuitive. Many accountants, in particular, feel more comfortable with asking their clients and customers to use Bill.com because they know it's easy to use.
Integrates With Accounting Software: This is convenient, despite the syncing errors that sometimes occur (as mentioned earlier). Users particularly like the QuickBooks integration.
Paperless: Many users comment that they appreciate how eco-friendly Bill.com is as it lets them run a paperless business. They also don't miss the cluttered desks, constant mailbox runs, and hours spent printing, labeling, and sending checks.
Here's what a few customers have to say about their experience with Bill.com:
The time that I used to spend processing bills for our clients, entering the bills into the system, cutting the checks, mailing them out, is now spent providing better services to the clients.

I like that the platform is in the cloud and accessible from any computer or mobile device. It makes it easier to pay bills in a quick and efficient manner. Gone are the days of having to be in the office to review invoices and sign printed checks. I can review each invoice in a slideshow, approve or deny and even add comments. It is very user friendly and the access anywhere is the biggest perk.

Bill.com is a great app that allows you to easily track your accounts payable and accounts receivable. It is the best way to make sure that you never fall behind on your bills and always know who has paid you and who owes you money.
Bill.com Integrations & Add-Ons
Bill.com offers 10 integrations in total. Most of these integrations connect your Bill.com profile to your accounting software, including QuickBooks Online, QuickBooks Desktop, Xero, Sage Intacct, and Netsuite. However, not every integration is available on every plan. API is available for developers (Enterprise Plan only).
Security
Bill.com is PCI DSS compliant and uses encryption, intrusion detection, and firewalls. Physical security measures include 24/7/365 guards and video surveillance with controlled entrances that admit authorized personnel only. The company also uses redundant servers and stores multiple data back-ups in two secure facilities. For more information, contact Bill.com.
Final Verdict
Compared to other invoicing software solutions on the market, Bill.com falls a bit short. The lack of invoice customizations — as well as no estimates, time tracking, items lists, and project management — means this software isn't going to be a good fit for just any business. Because of this, we do not recommend that you use Bill.com solely as an invoicing tool. That said, if you need accounts payable software, we highly recommend Bill.com. The software is also ideal if you want a combined accounts payable and accounts receivables solution that integrates directly with your accounting software.
Bill.com succeeds at automating the bill-paying process, providing users an electronic audit trail, eliminating the clutter and worry that comes with mailing checks, and more. The bill approval feature is well developed and the integrations with accounting software are a huge plus. The recent redesign makes the software much easier to use and brought Bill.com's UI into the modern era. Customer support could stand improvement and I miss the cash flow forecasting tool, but the pros definitely outweigh the cons where managing payments is concerned.
While the software can be expensive for small businesses (especially for businesses in need of multiple users), odds are the time saved on managing and paying bills makes the cost come out in the wash. Take Bill.com's 30-day free trial out for a spin to see if this software could benefit your business.
---
The Merchant Maverick Seal of Approval 🏆
Bill.com


---



After hours of in-depth research and evaluation, we can confidently recommend this brand to our readers. Get started today and see Bill.com for yourself.
The Merchant Maverick Seal of Approval 🏆
Bill.com


---



After hours of in-depth research and evaluation, we can confidently recommend this brand to our readers. Get started today and see Bill.com for yourself.
To learn more about how we score our reviews, see our
Invoicing Software Rating Criteria
.
Read Next