Spark Miles From Capital One Review
Expert Analyst & Reviewer

Updated on:
Advertiser Disclosure: Our unbiased reviews and content are supported in part by
affiliate partnerships
, and we adhere to strict
guidelines
to preserve editorial integrity.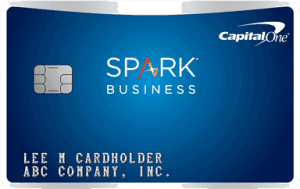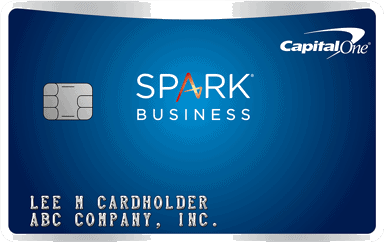 Need help finding a lender?
Date Established

1988

Location

McLean, Virginia
Spark® Miles from Capital One® is a travel rewards card with minimal frills. With a flat rate of two miles for each dollar spent (plus five miles for every dollar spent on hotel and car rental bookings through Capital One Travel), this card offers a simple and appealing rewards system. And, unlike other travel programs, miles can be used for most travel arrangements — not just flights on your airline of choice or nights in specific hotels.
If you or your employees do a lot of traveling, this card might be a useful way to save a little money. On the other hand, a card such as Capital One's Spark Cash offers similar rewards but with even more flexibility (and less hassle) because your rewards come in the form of cash back. Additionally, some of the more specialized travel rewards cards will offer more than the standard one cent per point that Capital One dishes out, though the company might have more restrictions about how you can apply those points.
Is this card right for your business? Read on for the details!
Spark Miles From Capital One At A Glance
Spark® Miles from Capital One®


---


Visit Site

Annual Fee:


---

$95 ($0 the first year)

Purchase APR:


---

18.49% (variable)
Eligibility
Capital One has designed the Spark Miles card for those over 18 years of age and with excellent credit. Per the Capital One website, excellent credit users should have:
Never declared bankruptcy or defaulted on a loan
Been no more than 60 days late for a payment in the past year on credit cards, medical bills, or loan repayments
A loan or credit card for at least three years with a credit limit of $5,000 or higher
For those curious, an excellent credit score generally amounts to a number of 740 or above. Keep in mind this number is just a guideline — there is no officially published credit score for this card.
Don't know your credit score? Find out by checking one of Merchant Maverick's favorite (and free!) credit score websites.
Rewards For Spending
With the Spark Miles card, you can expect a solid rewards rate when making purchases — plus, heavy spenders will like this card's valuable early spend bonus.
An Early Spend Bonus Worth 50k Miles
By holding a Spark Miles card, you'll be eligible to receive a tidy sum of 50,000 miles, which is the equivalent of $500, if you spend $4,500 on purchases within the first three months after opening your account. This is certainly a solid bonus, even if it won't break the bank.
Once qualifying for the early spend bonus, you'll receive the 50,000 miles reward within two billing cycles. Unsurprisingly, Spark Miles's early spend bonus can only be triggered by those who aren't current or previous Spark cardholders.
Unlimited 2x Miles On All Purchases
The base rewards scheme with Spark Miles is simple: You'll collect two miles for every dollar you spend on purchases. Because there are no category restrictions, this is a very solid rate that matches up well against most other cards on the market.
5x Miles On Hotels & Rental Cars
As with Capital One's other travel card, the Spark Miles Select, this bit of plastic will grant you 5x miles on hotels and rental cars. This newish feature to Capital One's travel card lineup comes with a catch, though: You'll only earn the five-miles-per-dollar rate when you book hotels and rental cars through Capital One Travel. All other charges made outside of Capital One Travel (such as room charges or upgrades) snag miles at the card's standard 2x rate. Additionally, booking hotels and rental cars through other services besides Capital One Travel won't trigger the 5x rate.
Redeeming Rewards
As with other Capital One business credit cards, you can expect a few ways to redeem miles earned with the Spark Miles.
Use Miles For Travel
The easiest and most logical redemption method is to redeem your miles for travel. When booking travel through Capital One, you'll be able to use your miles on airfare, hotels, vacation packages, car rentals, and more. Capital One markets that there are no blackout dates, seat restrictions, or required minimum redemption amounts.
Multiple Redemption Options
If you get the hankering to redeem rewards for something beyond travel, you can do that too. With the Spark Miles card, you can redeem miles for cash as a check or account credit, gift cards from an array of merchants, and more. Keep in mind that if you choose one of these redemption options, your cash value may vary from the standard one-cent-per-mile rate.
Temporary Redemption Options
Because most cardholders likely aren't traveling much due to the COVID-19 pandemic, Capital One has enabled two temporary methods of redemption. Currently, you can redeem your miles for purchases from eligible:
Restaurant takeout and food delivery services — Capital One has listed DoorDash, Uber Eats, and Postmates as example delivery services
Wireless phone service providers — example companies include Verizon, AT&T, T-Mobile, and more
Both of these redemption options collect the standard $0.01 per mile. You'll be able to redeem miles via these categories through June 30.
Transfer Miles To 10+ Travel Partners
For those who do want to redeem for travel but can't find a suitable option through Capital One, there is also the possibility of transferring miles to select air travel loyalty programs. At the time of writing, you can transfer miles to 15 partners, including JetBlue, Emirates Skywards, Air Canada, and Air France.
Rewards Don't Expire
Just like every other Capital One business credit card, the miles you earn with the Spark Miles card won't expire as long as your account is active. In some cases, you might be able to transfer miles between Capital One accounts, but note that as soon as your account is closed, any miles not redeemed will be lost.
Card Benefits
You'll receive a solid selection of perks with this card through both Capital One's business benefits and Visa Business Benefits packages.
Free Employee Cards
Something that should be standard on any business credit card is free employee credit cards. The Spark Miles includes this benefit, which will allow you to dole out cards to your employees at no extra cost — and reap the rewards when they spend with the card.
Global Entry/TSA PreCheck Credit
A unique feature compared to other Capital One cards is the Spark Miles's statement credit that covers the application fee for either Global Entry or TSA PreCheck. This credit is worth either $100 (if applying for Global Entry) or $85 (if applying for TSA PreCheck).
Fraud Coverage & Alerts
Capital One markets that Spark Miles users are covered by "business-grade protection." This jumble of buzz words might not sound like much, but Capital One's fraud coverage is still pretty solid. Should the company notice suspicious charges or fraudulent activity on your account, it can notify you via email, text, or phone call.
You'll have the additional protection of $0 fraud liability, which means you won't be liable for unauthorized charges if your card becomes lost or stolen.
Beyond the above security benefits, an employee's card (or yours) can also be locked should it go missing or stolen.
Account & Business Management
Capital One promises a bundle of online tools to aid your account management. These tools include setting a monthly due date, automatic payments, and an itemized year-end report that summarizes your annual spending.
Additional management features range from a list of repeating payments for subscriptions or bills to transaction details covering merchant addresses, logos, phone numbers, and maps (when available).
Capital One is also friendly toward external accounting software, and you can download purchase records into other formats, such as Quicken, QuickBooks, and Excel.
Visa Business Benefits
Outside of Capital One's core benefits package sits Visa Business Benefits. Highlights of these additional perks include purchase security and extended protection. The purchase security perk will give you the possibility of having an eligible item replaced, repaired, or reimbursed within 90 days of purchase. For an extended warranty, you'll get the manufacturer's warranty doubled on eligible items (up to one additional year).
Beyond purchase protection, Visa Business Benefits also grants users a worldwide 24/7 emergency card replacement service as well as an auto damage waiver covering eligible rental car damage due to collision or theft.
Other Benefits
There are a few other benefits wrapped in with the Spark Miles too. These include:
Rental collision coverage
Travel assistance
Roadside assistance
Online/mobile app account access
Eno, Capital One's 24/7 virtual assistant
Rates & Fees
With the Spark Miles card, you'll need to fork over an annual fee. However, its APR is comparable to other cards on the market, and there are no foreign transaction fees to worry about.
A Competitive APR
With an APR of 18.49% (variable), you'll be looking at an interest rate that's very reasonable to other available cards. Of course, this APR won't come into play as long as you pay off your balance every month.
A $95 Annual Fee
While waived for the first year, you'll want to keep the Spark Miles's $95 fee in mind. If you're making all your purchases at the card's standard 2x miles rate and redeeming miles for the standard one cent per mile, you'll need to spend at least $4,750 on purchases annually to recoup the annual fee's cost ($95 / 0.02 = $4,750).
No Foreign Transaction Fees
As is the same with the rest of Capital One's business credit cards, Spark Miles carries no foreign transaction fees. That is especially crucial for a travel card — those that venture abroad frequently won't have to worry about paying more than they have to when making purchases outside the country.
Other Fees To Keep In Mind
Besides an annual fee, the Spark Miles comes with a couple of additional fees to watch out for. These extra costs include cash advance fees ($10 or 3% of the cash advance, whichever is higher) and late payment fees (up to $39).
Is Spark Miles From Capital One Right For You?
You might want to apply if:
You plan on putting more than $19,000 worth of charges on your card
You or your employees do a lot of traveling, and you want a card with flexible travel rewards
You want a simple way to earn travel rewards for your business
You might want to look for a different card if:
You plan on putting less than $19,000 worth of charges on your card (if so, take a look at the Spark Miles Select card)
You want to redeem some or all points for reasons other than travel
The editorial content on this page was not provided by any of the companies mentioned. Nor has it been reviewed, approved, or otherwise endorsed by any of these entities. Opinions expressed here are the author's alone.
---
Featured Free Corporate Card
Divvy


---



Divvy offers a free corporate card for virtually any business. Start earning rewards with your corporate spending today. Get your free card.
Featured Free Corporate Card
Divvy


---



Divvy offers a free corporate card for virtually any business. Start earning rewards with your corporate spending today. Get your free card.
To learn more about how we score our reviews, see our
Business Credit Card Rating Criteria
.
Read Next