Fora Financial Review: Merchant Cash Advances & Short-Term Loans
Fora Financial is a direct lender that might be a great fit for high-risk businesses looking for quick (but possibly expensive) funding.
Expert Analyst & Reviewer

UPDATED
Advertiser Disclosure: Our unbiased reviews and content are supported in part by
affiliate partnerships
, and we adhere to strict
guidelines
to preserve editorial integrity.
Fora Financial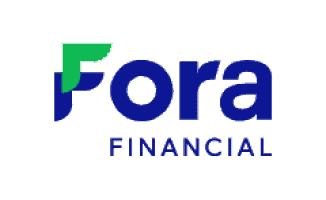 Fora Financial At A Glance
Fora Financial is a direct lender offering short-term loans and merchant cash advances to businesses
Fora Financial's low credit score requirements make it a good lender of last resort for businesses having trouble meeting lending requirements
Borrowers with strong credit can probably find better rates elsewhere
---
Pros
No credit score requirements
Discounts for repaying early
Suited for quick business financing
The application process is fast and easy
Customer service helpful
Cons
Rates can be expensive
Some additional fees charged
Repayments are required frequently
What Is Fora Financial?
Fora Financial is an alternative lender that offers relatively fast funding with relaxed credit qualifications. Fora Financial provides merchant cash advances and short-term loans to small businesses.
Services Offered By Fora Financial
Fora Financial offers two short-term lending products.
Merchant Cash Advances (MCA): An agreement wherein the funder purchases a percentage of your future daily credit card sales for a lump sum. The funder then "holds back" a percentage of your card-based sales each day until the advance terms are fulfilled.
Short-Term Loans (STL): These are loans with a term length of usually less than a year. Short-term loans use flat fees rather than interest rates and are repaid daily or weekly.
Fora Financial Borrower Qualifications
These are the qualifications for getting a merchant cash advance from Fora Financial:
| | |
| --- | --- |
| Time In Business | 6 months |
| Business Revenue | $5,000 in monthly credit card sales |
| Credit Score | 500 |
And these are the borrower requirements for getting a short-term loan from Fora Financial:
Time In Business
6 months
Business Revenue

$12,000 in monthly gross sales
Monthly avg. bank account balance over $1,000

Credit Score
500
Fora Financial does not advertise a minimum credit score requirement on its website. This company does a hard credit check on your personal score to help determine your terms, but a poor score alone will not stop you from accessing capital.
However, Fora Financial is strict about its other guidelines. If you have been in business for less than six months or your monthly sales fall below the amounts listed above, your application will most likely get rejected. If you're trying to qualify for a merchant cash advance, remember that the $5K/monthly revenue minimum must be in credit or debit card sales.
Additionally, Fora Financial does not lend to businesses in the following industries:
Accounting
Adult entertainment
Auto sales
Financial institutions
Gambling
Lawyers
Nonprofits
Real estate sales
Finally, your business cannot be in open bankruptcy or have closed a bankruptcy case within the last year.
Fora Financial Interest Rates & Fees
These are the rates and fees for Fora Financial's products:
| | |
| --- | --- |
| Borrowing Amount | $5,000-$750,000 |
| Term Length | 4-15 months |
| Borrowing Fee | 10%-30% of the borrowing amount |
| Origination Fee | 1%-4% of the borrowing amount |
| Effective APR | Learn more |
| Collateral | None required |
Merchant Cash Advances
Merchant cash advances, which are technically purchases of a percentage of your future card-based sales and not loans, are repaid through a daily deduction of a percentage of your card sales (which are usually variable), so there is no true term length.
Instead of charging interest, Fora Financial charges a one-time factor rate (sometimes called a "buy rate" or "flat fee"). To understand how much you're paying, multiply the rate by the principal. For example, if you're borrowing $50K and have a factor rate of 1.2 (or 20%, as it's often written), you'll have to repay $60K: $50,000 x 1.2 = $60,000.
In most cases, you'll be making daily payments. In the case of advances, these payments will be a percentage of your card-based sales for the day.
Even though the factor rate is often communicated as a percentage, it's not the same as APR. Generally, the shorter your term length, the higher your APR — even if you're still repaying $0.20 in fees for every dollar borrowed.
Short-Term Loans
Short-term loans, unlike MCAs, are technically loans; however, their terms are different than what you might be used to with traditional installment loans.
As with merchant cash advances, you'll get charged a flat fee rather than a traditional interest rate. You'll also be making regular payments, typically daily, until your loan is paid off. In this case, however, these will be flat payments deducted from a business account rather than a percentage of your daily sales.
Normally with this type of loan, you would not save money by repaying early because the fee is only calculated when the loan is disbursed. However, Fora Financial does offer a discount for repaying early, as low as $1.10 for every dollar still owed.
Application Process
Fora Financial has an expedited application process consisting of a one-page form. A representative will call for more information, including monthly sales, how long you've been in business, and pertinent contact information. They'll also answer any questions you might have. At this point, they'll do a soft pull on your personal credit and provide you with an estimated quote detailing your potential fees, options, and term lengths.
If you wish to continue the process, they'll send your application through underwriting to verify and finalize your information. If everything checks out, you'll be officially approved, and the money will be wired into your bank account. Final approval can arrive within 24 hours, with funds landing in your account as soon as 72 hours later.
Additional documents you may be asked for include:
Three months of credit card statements (for merchant cash advances)
Three months of bank statements
Some applicants may be asked to submit tax returns, a balance sheet, or a P&L
Sales & Advertising Transparency
Fora Financial falls somewhere in the middle of the pack for alternative lenders when it comes to transparency. You'll find information about qualifications and repayment on the company's website, but not much about specific rates.
Overall, there's not too much of the obfuscation and fluff that tends to plague fintech websites.
Customer Service & Technical Support
| Fora Financial Support | Availability |
| --- | --- |
| Phone Support | |
| Email Support | |
| Support Tickets | |
| Live Chat | |
| Dedicated Support Representative | |
| Knowledge Base or Help Center | |
| Videos & Tutorials | |
| Company Blog | |
| Social Media | |
Many customers cite the company's customer service as a high point of working with Fora Financial. Reviewers claim that the company is honest, transparent, easy to get a hold of, and not overbearing or trying too hard to make a sale.
Fora Financial Reviews, Complaints, & Testimonials
Negative Reviews & Complaints
Fora Financial has a presence on the Better Business Bureau website, where the company holds an A+ rating and four complaints closed over the past three years. It has 11 customer reviews with an average rating of 2.36/5 stars. Four complaints have been closed in the last three years. Additionally, there are a few reviews on Yelp and Google.
Here's what people don't like about the service:
Expensive Capital: Financing from Fora Financial is not cheap.
Potentially High Origination Fee: Fora Financial charges between a 1% and 4% origination fee (before wiring your capital along to you, the company will take a percentage cut of it). At the high end, this fee can be pretty punishing.
Sales Pressure: A few customers complained that they felt railroaded into completing an application after contact with Fora Financial. Additionally, several customers complained about unsolicited pre-approval notices sent to them. Some applicants also complained that they didn't qualify for the advertised terms.
Positive Reviews & Testimonials
As you might expect, Fora Financial has numerous testimonials on its website. You can also find customer reviews on Yelp, Google, and Trustpilot.
Customers are happiest with:
Customer Service: Most customers posting positive reviews found Fora Financial's customer service helpful and responsive.
Fast Funding: Customers appreciated the speed and ease with which they received funding.
Easy Qualifications: Customers with poor or little credit appreciated that the company was still willing to work with them.
Is Fora Financial The Right Lender For Your Business?
Fora Financial's offerings are competitive with other funders that offer short-term financing. You might get a better deal here than with another alternative funder, or you might not. Your rates will depend entirely on the funder's underwriting. Anybody who can't get less expensive financing would benefit from including Fora Financial in their comparisons; it works well as a fallback option.
Don't make the mistake of thinking that a merchant cash advance is your only option, though. Many online lenders fund businesses that aren't even close to being bankable. Check out our list of the best alternatives to merchant cash advances, and maybe you'll find a less expensive option that will work for your business.
Fora Financial FAQs
---
The Merchant Maverick Seal of Approval 🏆
Fora Financial


---
After hours of in-depth research and evaluation, we can confidently recommend this brand to our readers. Get started today and see Fora Financial for yourself.
The Merchant Maverick Seal of Approval 🏆
Fora Financial


---
After hours of in-depth research and evaluation, we can confidently recommend this brand to our readers. Get started today and see Fora Financial for yourself.
To learn more about how we score our reviews, see our
Business Loan Rating Criteria
.