Invoice2go Review
This invoicing app has impressive customization capability, great invoice templates, and good customer support, but it also has some serious drawbacks.
Expert Analyst & Reviewer

UPDATED
Advertiser Disclosure: Our unbiased reviews and content are supported in part by
affiliate partnerships
, and we adhere to strict
guidelines
to preserve editorial integrity.
Invoice2go

Pros
Excellent mobile apps
Free trial
Advanced invoice customizations
Good customer support
Easy to use
Cons
Limited features
Limited integrations
No live bank feeds
Invoice2go Overview
Incredibly easy to use, Invoice2go boasts customizable invoices and good customer support options. In a world where mobile apps are often pale shadows of their web software counterparts, Invoice2go stands out by offering apps for both iPhone and Android with the same — if not better — functionality than the desktop software. It also recently added zero-fee banking, allowing for fast transfer payments and giving you a debit card for your business with n0-fee withdrawals at nearly 60,000 ATMs across the country. It also offers multiple forms of payment and online payments.
While there's much to love, an in-depth Invoice2go review reveals that the software lacks a few key features, such as live bank feeds and project management. The company has also taken a step backward with recent changes to its pricing structure, and there aren't many integrations available. Potential users will have to weigh the software's positives against its negatives. Invoice2go may be one of the best invoicing solutions — but is it what your business needs?
Invoice2go Pricing
Invoice2go pricing includes three plans. You can now opt for monthly or annual payments; the annual plan gives you a slight discount. A free 30-day trial is available, and there is a 30-day money-back guarantee as well.
Here's what each plan includes. The prices listed are for month-to-month payments.
Starter
The Starter Plan costs $5.99/month and includes:
Two invoices/month
Online payments (3.5%) + $0.30
Free bank transfers (ACH)
Bank account
Website builder
Client communications
Ratings and reviews
Professional
The Professional plan costs $9.99/month and includes everything in the Starter plan, plus:
Five invoices/month
Lower payment fees (3%) + $0.30
QuickBooks / Xero integration
Advanced reports
Marketplace integrations (coming soon)
Client communications
Ratings and reviews
Premium
The Unlimited plan costs $39.99/month and includes everything in the Professional plan, plus:
Unlimited invoices
Lowest payment fees (2.9%) + $0.30
Recurring invoices
Custom domain (coming soon)
Phone support
Extras
Each subscription plan also gives you access to Invoice2go's business checking and payments services. These include:
Zero-fee banking
Debit card
Invoices through bank transfers
Multiple payment forms
Online payments
Payment status
Cloud-Based Or Locally-Installed
The desktop version of Invoice2go is cloud-based, so no downloads or installation is required. Mobile apps for phones and tablets can be downloaded and installed onto your device.
Hardware & Software Requirements
Because the desktop version of Invoice2go is cloud-based, it works on any computer with internet access, although you can use the software offline; Invoice2go will sync data once you regain internet access. The software runs most reliably and quickly on Google Chrome. The mobile app version of Invoice2go is supported on iPhone/iPad (iOS 11.0+) and Android (5.0+).
Specific Size Of Business
Invoice2go was designed to be a customizable software solution that fits small business owners looking for a way to send fast invoices and who don't need a full accounting package. The software was initially created as a mobile-only app, and while the company has expanded to desktop, the mobile-friendly apps are still a big selling point for business owners on the go. Micro-businesses, sole proprietors, and freelancers can also benefit from the software.
The only downside is that the more Invoice2go has grown, the more its prices have increased and the fewer features you get (for example, every plan used to offer unlimited invoices). There are other affordable invoicing software options out there that may provide more bang for your buck. The software is also not ideal for businesses with more than five users.
Ease Of Use
Invoice2go is incredibly easy to use, and the set-up process is fast. Both the mobile app and website take only moments to master, and the features are well organized. The website interface is well-designed, and it has undergone significant improvements in the recent past.
Invoice2go Features
A thorough Invoice2go review shows that Invoice2go does very well in its core area: invoicing. Unfortunately, Invoice2go's feature set is limited to invoicing, and it does not include some of the typical functions you'd expect to see in other invoicing programs, such as live bank feeds and project management. The company has added a much-needed time-tracking feature since our last review in April of 2021 and a few other great functions.
Here is an overview of Invoice2go's features. Be aware that some of these features are not available on the Starter plan:
Dashboard: The new dashboard has an improved UI that displays the totals of overdue invoices, unpaid invoices, and unsent invoices. There's also a section for notifications, recently edited invoices, and your total sales for the month. Users have quick access to features via the tabs on the left-hand side of the screen. There is also a "Today" tab to keep you even more organized.
Invoicing: Invoice2go offers several highly customizable invoicing templates. The software includes hundreds of logos to choose from, or you can upload your own. You can invoice items and expenses and add photos to invoices if desired. You can also add comments and payment details and send invoice payment reminders to your customers. The Starter, Professional, and Premium plans all come with invoice tracking, and the Premium plan also supports recurring invoices. You can now send invoices via SMS as well as using apps such as WhatsApp and Facebook Messenger.
Estimates: Invoice2go allows you to create estimates, and it's easy to convert estimates to invoices. Customers can now easily approve, comment on, or pay upfront for estimates.
Client Portal: Invoice2go provides a basic client portal where customers can view and pay their invoices and estimates.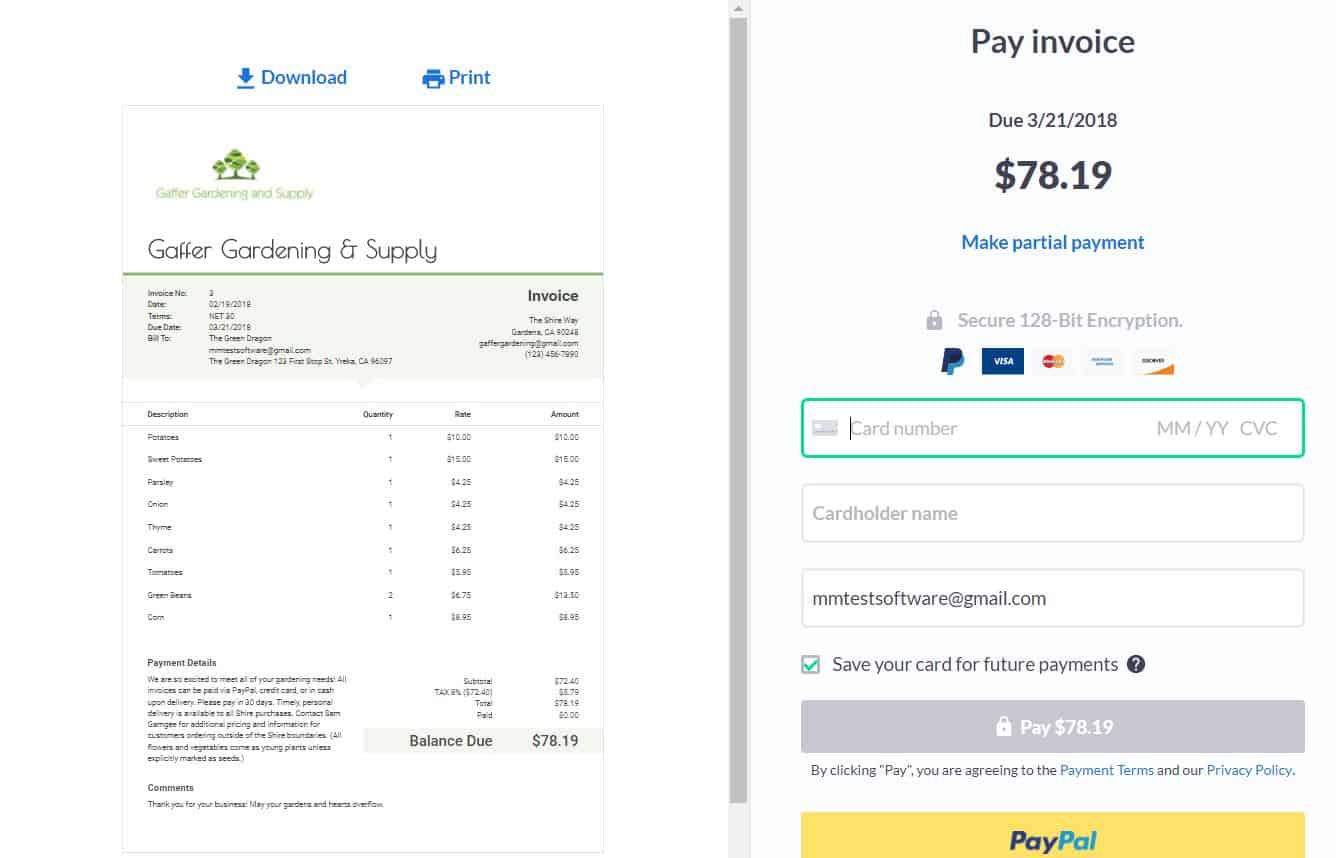 Contact Management: You can add contacts and save basic information, such as a contact name, email, billing address, phone, etc. You can also assign default payment terms to each contact.
Expense Tracking: Unlike most other invoicing software providers, Invoice2go does not provide live bank feeds that automatically connect your invoicing software to your bank. You can enter expenses manually and assign expenses to invoices. You can attach images (such as receipts) to expenses as well.
Items: You can add items and save a description, rate, cost, unit type, and default tax settings for each item. There is no way to import items, and there are no full-fledged inventory capabilities.
Time Tracking: You can now track time in Invoice2go using the built-in timer. You can bill time directly to clients and adjust time entries as needed.
Purchase Orders: You can create and manage purchase orders in Invoice2g0.
Credit Memos: You can also create credit memos.
Appointments: You can create and manage appointments.
Reports: Invoice2go offers 10+ reports to help you understand your business's success and sales patterns. That includes tax year sales, annual sales per client, and more. You can also now receive automatic monthly emails with a business health check report.
Default Email Messages: You can set default email messages in Invoice2go. That can be a big time-saver.
Sales Tax: You can add up to 10 sales tax rates in Invoice2go.
Multicurrency Support: Invoice2go supports over 150 different currencies.
Importing & Exporting: Invoice2go has significantly dropped its importing options since the last time we tested the software. You cannot import any information, though you can export invoices, estimates, purchase orders, expenses, items, and clients. This data will be sent to your email in a zip file.
Instant Website: If you enable this feature, the Invoice2go software can create a basic profile page for you, using your company information, including your logo, business name, company summary, address, and contact information.
Customer Service & Support
The Invoice2go customer service staff is friendly and helpful, and the company has recently made it much easier to find the available support options. The live chat option is available 24/7 for quick responses, and the emails I sent received responses relatively quickly and effectively, with one response taking only half an hour. Invoice2go has various customer service options, including these:
Phone: Phone support is only for users on the Premium plan.
Email: You can contact Invoice2go via email.
Support Ticket: You can also fill out a support ticket online.
Live Chat: A live chat option is available within the software, though it's a bit difficult to find.
Support Center: The Invoice2go support center features many videos and articles explaining how functions work and troubleshooting common problems. There is also an FAQ section.
YouTube: Invoice2go has a YouTube channel featuring how-to videos and customer stories. Happily, they've updated these videos since our last review.
Blog: Invoice2go keeps a blog with insightful articles and news on upcoming releases. The blog also features valuable advice articles for small businesses.
Social Media: Invoice2go maintains Facebook and Twitter accounts. Invoice2go is very good about responding to social media comments (especially those on iTunes and the Google Play Store). Inoice2go also recently launched Advice2go Facebook groups where you can interact with fellow Invoice2go users to network, get help, or just connect and be inspired.
Invoice2go Reviews
It wouldn't be a complete Invoice2go review without looking at what actual users are saying about their experiences with the software. The company has invested in some upgrades and improvements since our last review of the product. Has that had an impact?
Negative Reviews & Complaints
During the initial redesign launch, Invoice2go received a lot of complaints. However, the company addressed the issues with regular updates, and now the software receives far more praise than complaints. That said, users still raise a few issues:
Buggy: A number of users have complained that the recently introduced two-factor authentication does not work well. Others say that invoices regularly disappear.
Too Expensive: Several users find the software is overpriced for the number of features you get, while the limits tied to plan levels make the software impractical to use.
Limited Integrations: Many users want more integrations, especially those who already operate their business with certain integrations and can no longer use them after switching to Invoice2go. Some users especially dislike the limited payment options.
Poor Customer Service: There were a few complaints about customer service. Users said the company was slow to respond to emails, and a few were never responded to at all.
Positive Reviews & Testimonials
Despite the negative reviews and the spike in complaints after the Invoice2go redesign, many loyal, satisfied customers still use Invoice2go. The software has received 4.5/5 stars on the Google Play Store (based on 22,000+ ratings), 4.5/5 stars in the App Store (based on almost 18,000 ratings), and 4.5/5 stars on G2 Crowd (based on 83 ratings). Here are some of the things users like:
Good Customer Service: Many users report positive customer service with quick response times and helpful employees.
Strong Mobility: The most common customer praise revolves around Invoice2go's mobile apps. Users love that they can invoice on the go and that all their devices sync together.
Quick & Easy To Use: Users say the software is quick to learn and easy to use, saving them time and stress.
Professional Invoices: Quite a few users praise the professional style and customizability of the invoices.
Integrations & Add-Ons
Invoice2go offers very limited integrations and does not support live bank feeds, a feature that nearly every other invoicing software provides. There are only six integrations available, including Square, PayPal, Stripe, Kabbage, Best Egg, and Xero.
Notably, Invoice2go's relatively new partnership with PayPal Here gives users a way to accept customer payments directly from their phone without an invoice. Another recent addition is a partnership with Square Capital that can provide small business owners access to lending.
Security
Invoice2go is not very forthright about its security measures, but I was able to find out that Invoice2go uses 256-bit SSL encryption, authentication, and tokenization for logins and PCI and DSS compliant servers. They also have a privacy statement with further security details, although it hasn't been updated in almost a year and a half.
Invoice2go FAQs
Final Verdict Of Invoice2go
As this Invoice2go review shows, this software gets a lot of things right. It's incredibly easy to use, and the mobile offerings are impressive. The recent design facelift delivered major improvements to its already solid performance. This app comes with impressive invoice customization capability, great invoice templates, and good customer support. In addition, the company regularly delivers new features, such as time tracking, appointments, and a PayPal Here integration. The recent updates allow zero-fee banking and online payments, which are also nice features.
However, the software has some serious drawbacks. There are no live bank feeds, which almost every invoicing software offers, and recurring invoices are available only with the most expensive plan. Some of the other typical invoicing software features, such as project management, are missing. Plus, the company has seriously downgraded by eliminating unlimited invoices for the Starter and Professional plans and by trying to force users to provide their credit card information to access the free trial. There are also very few integrations. Considering these limitations, Invoice2go can be pretty spendy compared to other, more developed invoicing solutions, especially for the price.
If you're still interested in Invoice2go, be sure to test out the free 30-day trial before committing to the annual price plan. For other invoicing alternatives, check out our top-rated invoicing solutions and compare them to Invoice2go before you choose the best software for your needs. And if you're still not seeing why your business needs invoicing software, learn what it can do for you. That's a critical first step in choosing the best software to meet your needs.
---
Try A Top Pick For Payroll
ADP Payroll


---
We like ADP Payroll for its advanced employee management, strong payroll features, and great customer support. Get three months free when you sign up through our links! Get Started.
Try A Top Pick For Payroll
ADP Payroll


---
We like ADP Payroll for its advanced employee management, strong payroll features, and great customer support. Get three months free when you sign up through our links! Get Started.
To learn more about how we score our reviews, see our
Invoicing Software Rating Criteria
.