Dissolution Of A Dream: One Small Business's Journey To Closing Its Doors
Managing Editor

UPDATED
The Pied Piper Play Cafe was the realization of a dream.
Located in Portland, Oregon's Sellwood neighborhood, the cafe opened in 2015. It was whimsically decorated with a playful and detailed mural illustrating childhood storybook characters. The business also boasted a contained play area, served fresh food, and even had a patio and on-site parking. It was not just owner Melissa Swan's dream; it was also the type of desired community gathering spot dreamed about by other frazzled parents juggling work and kids in the upscale district.
How It All Started
Prior to opening her doors, Swan did her homework.
She visited every other play place in the Portland area and set loose her own two little girls. "I'd sit there with my notebook and write down everything," she said. Putting her "feet to the ground" enabled Swan to see what was working and not working. She tinkered with her business plan, adapted that plan, procured financing from investors (which included a successful Kickstarter campaign), stepped down from her teaching career, and started the Pied Piper Play Cafe.
Fast WiFi. Power outlets galore. Comfortable seating. A bathroom outfitted with parents of young children in mind. Bottomless drip coffee. Fresh food at cheap prices.
Swan's homework paid off. Mostly.
"A complaint in many play places is that the food is expensive. Guests want to order something different than what they can whip up fast and cheap at their own place, so I had a great menu and my prices were affordable. Great idea, but I charged way too little. I should have charged more," Swan said. "People always told me I needed to charge more."
If she had to do it all over again, adjusting her food margins would be one piece of small advice. But often, the desire to please and serve the community outweighed her quest for profits; she knew she needed to revamp the menu and hire someone to run cost analysis; she knew there were ways to streamline and cut down on expenses in the kitchen. What time could she dedicate to those projects? As the single-owner of a business, Swan wore all the hats. Even deciding which hat to take off and delegate to another was an exhausting process.
"In the beginning, before I switched over to a food delivery service, I was shopping twice a day. Before opening and after closing, I'd hit the Cash 'N Carry," Swan said. "The morning rush was the most important time of day, so I'd be there to open and stay through the afternoon. During slower times, I'd manage guests and do my finances, work on the menu, clean, post on social media, work on my newsletter, respond to guest emails and inquiries."
She admits that that time of her life is "a total blur."
Deciding To Close For Good
It took a single moment for Swan to know she should walk away.
Swan was crunching the numbers to see if she could take any time away from the business. She was there seven days a week, working 8-10 hour days at the business site, and only getting small bursts of time away — and even that time away was still spent on the business, shopping, marketing, managing her books. The more enjoyable aspects of her business, like trivia nights and special events, meant she would put in even more time per week. It felt unsustainable.
"The numbers said it would take a number of unforeseen years before I was profitable enough to relinquish the day-to-day management. I was so focused one night after I closed, I was sitting there working on my newsletter, and as I was sending it out, I realized it was my youngest daughter's birthday. I'd completely forgotten," Swan said. "And that was it. Even though I opened the cafe to do something that would give me hours with my kids, I was going to miss their entire childhood if I stayed open."
Swan estimated that on a good week she spent 60 hours working. She is not alone. According to a survey by the New York Enterprise Report, "The majority of small business owners say they work at least 50 hours a week." The same report noted that 25% of business owners worked over 60 hours a week.
Initially, Swan hoped owning her own business would give her more hours at home and fewer outside work hours than teaching (another job not known to inspire work-life balance). At least with teaching, she could grade papers at home. Swan felt like her children spent most of their time with her at the cafe. "They were growing up there," she said.
She spent the next day exploring her options. She had a lease; she still owed some money to angel investors; the business was still a place of great joy and connection; there was grief mixed with the relief. It was a process.
It wasn't too long after that opportunity knocked. A local food cart was making a transition to a brick and mortar restaurant and was eyeing her space. The onsite parking and patio were big draws for their purposes as well, and the sushi-crafting partners mentioned to Swan that they were fans of her location.
"I mentioned I was thinking of closing and asked if they were interested in negotiating a bill of sale for the entire business," Swan said. It didn't take long for the two small businesses to make a deal. They took over her lease and she sold the business as-is including the sale of all her kitchen equipment: commercial fridges and freezers; oven; dishwasher; fryer; stovetop.
When Swan took over the business space herself, she converted the open space into a workable commercial kitchen — the sushi restaurant benefited greatly from her hard work getting the place up to code. She benefited from getting to name her number. "There's part of me that feels like I left money on the table," she laughed. "I had a number in my head that wasn't too high, reasonable, and they accepted it far too quickly."
Tying Up Loose Ends
The actual closing of the business was a headache. She ran her last payroll through Heartland Payroll services, paid all of her invoices, sold the remaining equipment (including her climbing structure to a play location opening nearby; that small business also closed its doors last month). She followed the IRS checklist for business closures and tried to work through her sadness and questions about what to do next. She hired a local accountant to work on her books and had kept careful records using QuickBooks accounting programs.
"There was a lot to do," Swan said. "But I have no regrets. Not about opening or closing."
Even though the cafe "consumed her life," Swan is often grateful and nostalgic for running her own business.
"I would run into people in the community and people would say hello. Exhausted moms would confess the play cafe was their sanctuary. It felt like a service to provide this space, and I loved that aspect. There are people I met at the cafe who are still my friends," Swan said. She still misses the people the most.
The mad rush of owning a business? She doesn't miss that as much.
Tips For Other Small Business Owners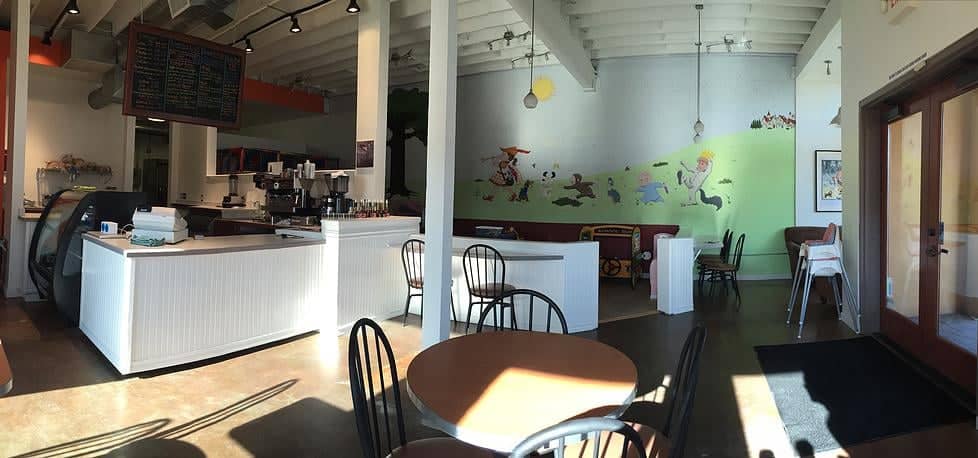 Melissa Swan's best tips for small business owners just starting out is to evaluate their business model to determine chances for success. "Having a good idea is easy," Swan said, "but how lucrative can that good idea be? Do you have the ability to make yourself different and stand out? You wind up working so much, so it's important to understand what that investment of time will look like."
She also wishes she had used Square's software and hardware early on and for everything. "I was scammed by a local point of sale merchant who talked me into a four-year lease on equipment I couldn't even use," she recounted. "I wish I had started using Square from the start because I ended up switching over to it anyway. I had this giant piece of equipment just taking up space; I was paying monthly for nothing."
Her other piece of advice is to embrace Kickstarter, even if it feels a little uncomfortable to ask for money in that manner. "I do recommend Kickstarter and it was 100% worth doing. My two complaints were that they do take a chunk out of your earnings, and I was just embarrassed asking for money. It felt like a show, a dance, but the Kickstarter did help," Swan said.
She also understands the loss many small business owners are experiencing across the globe as the pandemic dictates small business success or failure. There is a sense of gratitude that closing the cafe was her choice and not a choice made for her through tragedy. Even so, there are still moments when Swan entertains the idea of going back into business. There's something in her that loves the challenges of dreaming and creating a place that serves the community and can turn a profit.
"I don't think I'd ever want to own a brick and mortar store again," she mused. "But there are many options for a small business that I still think about. Maybe a food cart someday . . . I can see myself possibly owning a food cart."
For more of Merchant Maverick's tips on shutting your doors for good, read our article How To Close A Business.