The 8 Best QuickBooks Alternatives For Small Businesses
These popular QuickBooks Online alternatives are more affordable, easier to use, and have features that QBO doesn't.
Expert Analyst & Reviewer

UPDATED
Advertiser Disclosure: Our unbiased reviews and content are supported in part by
affiliate partnerships
, and we adhere to strict
guidelines
to preserve editorial integrity.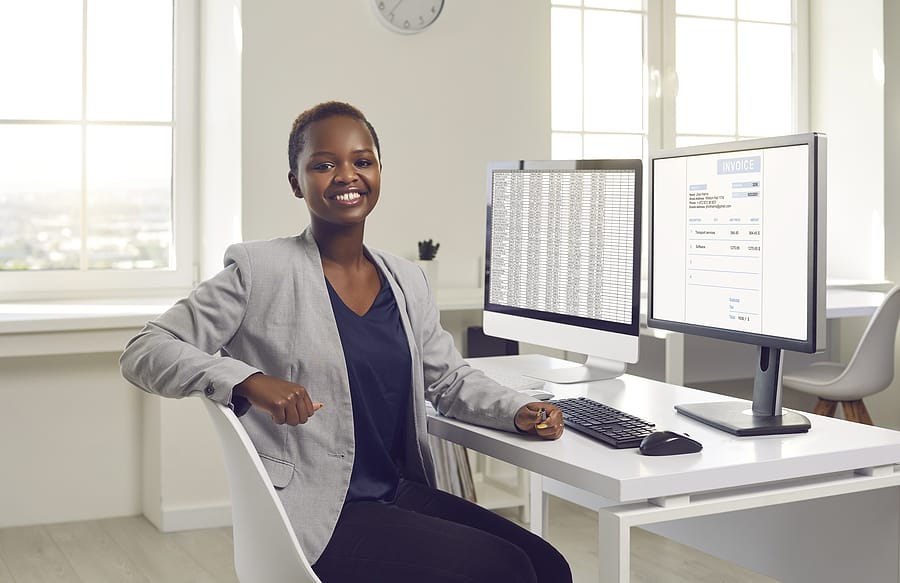 QuickBooks Online is one of the biggest names in accounting software, and for good reason. With a robust feature set, strong accounting, solid security, built-in tax support, and hundreds of integrations, it's easy to see why this software has amassed millions of users.
However, just because this software works for one business doesn't mean it's the right choice for yours. Whether you're a QBO user that's ready to explore other options or someone brand new to accounting software, there are a number of reasons why QuickBooks Online may not be the most suitable choice for your accounting needs. Pricing, customer service issues, and the occasional glitches and outages may be what's preventing you from signing up…or tempting you to test out other programs.
If you're ready to explore accounting software alternatives to QuickBooks Online, this post is for you. We'll look at some other popular options among small business owners, delve into their features, and even take a look at the drawbacks of each to help you make the most informed decision for your business. We've tested the software, analyzed user reviews, and have done the research to find only the best QuickBooks alternatives.
Before wasting time and money weeding through various software, keep reading to learn more about some great QuickBooks Online alternatives that may be an ideal fit for your business' unique accounting needs.
Learn More About Our Top Picks
| Company | Best For | Next StepsBest For |
| --- | --- | --- |
| Xero | Best overall QuickBooks alternative. | Best overall QuickBooks alternative. |
| Zoho Books | Best QuickBooks alternative for beginners. | Best QuickBooks alternative for beginners. |
| Wave | Best free QuickBooks alternative. | Best free QuickBooks alternative. |
| FreshBooks | Best QuickBooks alternative with excellent customer support. | Best QuickBooks alternative with excellent customer support. |
| QuickBooks Self-Employed | Best QuickBooks alternative for freelancers. | Best QuickBooks alternative for freelancers. |
Other Featured Options:
Read more below to learn why we chose these options.
The Best QuickBooks Alternatives
QuickBooks Online is a leader in accounting software, but it isn't your only option. Whether you're looking for a more affordable alternative, software that's easier to use, or features you won't find with QBO, one of these alternative accounting software programs may better fit your small business accounting needs.
1. Xero: Best Overall QuickBooks Alternative
Xero


---



Xero is quite easily one of the best alternatives to QuickBooks Online. Like QBO, Xero has a lineup of truly unmatched features. You'll find everything you would expect to find with accounting software, including invoicing, bank reconciliation, expense tracking, and financial reports. But Xero goes the extra mile by offering advanced features to its users, such as fixed asset management, checks, budgeting, and class tracking.
Xero stands out for its strong security, positive customer reviews, and more than 800 integrations. On the downside, though, weak mobile apps, difficulties reaching customer service reps, and a steep learning curve are all considerations to keep in mind before signing up for this software.
In many areas, QuickBooks Online and Xero are neck and neck. However, QuickBooks Online does boast better invoice templates, more invoice automations, better mobile apps, and built-in lending. But Xero comes with better contact management, unlimited users, built-in depreciation schedules, and more integrations. Xero does have a steeper learning curve than QBO, but the software is well-organized and easy to navigate once you get used to it. Still on the fence? Check out The Ultimate Guide To Choosing Between Xero VS QuickBooks Online.
Xero is best for medium to large-sized businesses needing strong accounting, robust features, and unlimited users.
Pros
Supports unlimited users
Advanced features
800+ integrations
Suitable for larger businesses
Cons
Steep learning curve
No payroll
Poor customer support

To use Xero's cloud-based software, you'll pay a monthly fee of $12 to $65, depending on the plan you select. The smallest plan limits your number of invoices, bills, and reconciliations. Xero's mid-priced plan ($34/month) removes these limitations; the most expensive pricing plan gives you access to additional features, such as project management and expense claims.
Xero is ideal for medium-large businesses needing strong accounting and multiple users. That said, recently, the company's customer support diminished significantly with long response times and no phone support. The software also got rid of its built-in payroll in favor of a Gusto integration instead. But despite these drawbacks, Xero still has a lot going for it in terms of features.
2. Zoho Books: Best QuickBooks Alternative For Beginners
Zoho Books


---



Zoho Books is an accounting solution with advanced features, strong accounting, and amazing invoicing for half the cost of QuickBooks Online. Don't be fooled by the lower price, though, as you'll have access to many of the features you'll find with more expensive software. Standard accounting features, such as invoicing and estimates, are included, and you'll also be able to use advanced features, such as project management, fixed asset management, and time tracking.
Zoho Books is intuitive and easy to use, so beginners should have no trouble learning the ropes. Zoho Books also has excellent customer service — something that is touted in many of its positive reviews across the web. It's a refreshing change from some of the customer service issues seen with other accounting software. Zoho Books also features solid security features to keep your data safe.
Compared to QuickBooks Online, Zoho Books offers better invoicing and a more developed and attractive client portal. Additionally, Zoho Books provides better customer support and better mobile apps. Zoho Books also has a free plan, although it has its limitations and is better suited for smaller businesses or freelancers.
One thing to note is that there are just over 30 integrations available for Zoho Books, which is definitely on the low side. If you're looking for a QBO alternative that offers loads of integrations, Zoho Books may not be the best choice. However, for companies that don't need these integrations, Zoho Books could still be a more affordable option than QuickBooks Online. Learn more about how Zoho Books compares to QuickBooks Online.
Zoho Books is best for small businesses looking for affordable, full-featured accounting software with amazing invoices and international invoicing.
Pros
Competitive pricing
Advanced accounting features
Excellent customer service and support
Easy to use
Cons
Lack of integrations
Unsuitable for large businesses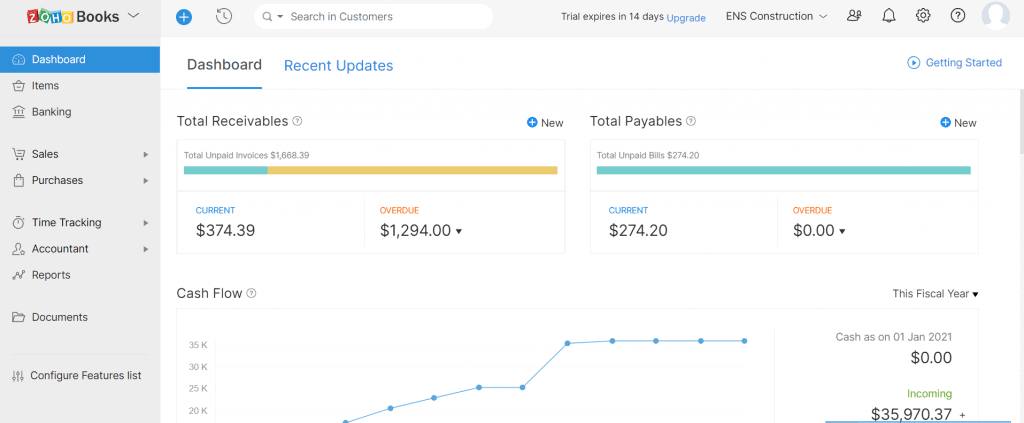 Zoho Books has four pricing plans ranging from $0/month to $70/month. The main differences between the plans are the number of users (from one to ten), the number of invoices (from 1,000/year to unlimited), and the number of automated workflows. The more expensive plans also offer additional features, such as sales orders, purchase orders, and bills.
Zoho Books is ideal for small to medium businesses looking for strong accounting and robust features at an affordable price. Zoho Books has almost all of the features you'd expect to see from QuickBooks or Xero at a more budget-friendly price. Zoho Books is also easier to use, making it an ideal choice for users that are new to accounting software.
3. Wave: Best Free QuickBooks Alternative
Wave


---



When it comes down to it, you really can't beat free. Wave is a completely free QuickBooks alternative for accounting software: no gimmicks, no scams. And just because it's free doesn't mean it's skimping on features. Wave is incredibly robust and very easy to use. The software offers strong accounting and decent invoicing. Expense tracking, accounts payable, item lists, and reporting are just a few more of the features you'll get with Wave.
The customer support is poor and has seen better days, but user reviews are positive almost across the board. Phone and chat support are only available to paying customers, and email responses can be a bit slow. One other drawback to note is that Wave has just three integrations. However, it does also have a Zapier integration to connect you with 1,000+ apps and add-ons.
While Wave offers an impressive number of features, it is missing some of QBO's offerings, including deduction tracking, budgeting, class tracking, or project management. Additionally, QuickBooks Online has far more integrations and reports than Wave.
However, Wave does have a unique eCommerce feature, the ability to separate personal and business expenses, and a much better client portal than QuickBooks Online. The software is also far easier to use and has better customer service, and did I mention it's free? These perks could outweigh the general lack of features for many companies, especially when considering the price.
Wave is best for small businesses looking for a free software option with strong accounting and features.
Pros
Free
Easy to use
Numerous features
Cons
Limited integrations
Poor customer service
Not suitable for larger businesses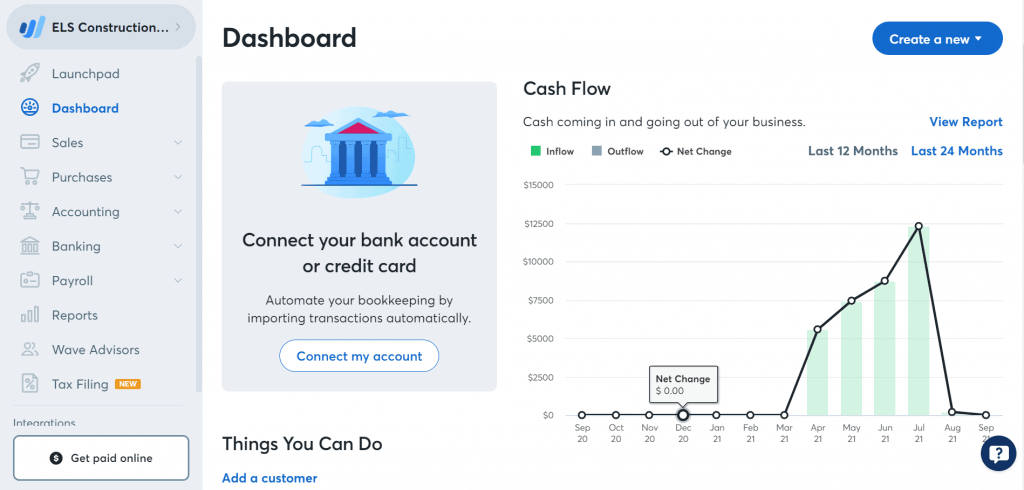 Wave is forever free, and the great news is that you won't be limited in features, struggle with an outdated UI, or be bothered by pop-up ads when using the software — pretty rare for software that's totally free. There are some additional costs to note depending on what your business needs. If you need to add payment processing, that's available for a fee and is charged per-use. If you need payroll services, those can also be purchased from $20-$35/month plus $6 per employee or contractor.
The ability to separate personal and business expenses makes Wave ideal for freelancers and microbusinesses. Complex accounting features, such as a detailed chart of accounts, meet the needs of most small businesses. The software is ideal for businesses looking to save a bit of money. There is an Etsy integration as well, which makes Wave a perfect choice for Etsy sellers. Check out our full comparison in our Wave vs. QuickBooks Online comparison guide.
4. FreshBooks: Best QuickBooks Alternative With Excellent Customer Support
FreshBooks


---



FreshBooks, another popular invoicing and bookkeeping solution, has been around since 2003. Recently, the company added double-entry accounting, making FreshBooks a viable option for small business owners. FreshBooks offers basic features that are easy to use. The software offers customizable invoice templates, an impressive proposals feature, and strong project management. However, you won't find traditional accounts payable, full inventory, or more advanced features, such as budgeting and class tracking.
FreshBooks offers great customer support, has 80+ integrations, and boasts tons of positive customer reviews. It also features strong mobile apps.
In terms of features, QBO has FreshBooks beat by a long shot. Considering that QuickBooks Online's pricing rivals FreshBooks, small businesses could get a lot more bang for their buck with QBO.
However, FreshBooks is much easier to use and has far better customer support. For small businesses looking for a simple, easy-to-learn bookkeeping solution, FreshBooks could be the better choice. See how FreshBooks stacks up against Wave when we put these two heavy-hitters head-to-head.
FreshBooks is best for small businesses willing to pay a premium for excellent mobile apps and customer support.
Pros
Excellent customer support
Numerous integrations
Easy to use
Strong mobile apps
Cons
Can be expensive
Limited feature
FreshBooks has three pricing plans with monthly fees ranging from $15 to $50. The more expensive plans add more billable clients and features, such as double-entry accounting. You can add additional users to any plan for $10/month per user. Advanced payments are also available for $20/month. You can also inquire about a custom plan that gives you access to a personal account manager, training, and more.
FreshBooks is on the spendier side and doesn't give as many features as QBO, but it is far easier to use and offers superior customer support, which may be worth the cost for some small businesses with fewer than 500 clients. Businesses that don't want all the bells and whistles and simply want the features they will actually use may also benefit from FreshBooks.
5. QuickBooks Self-Employed: Best QuickBooks Alternatives For Freelancers
QuickBooks Self-Employed


---



For many freelancers and independent contractors, the features offered by QuickBooks Online are overkill. But Intuit has provided a simple, affordable solution for these entrepreneurs with QuickBooks Self-Employed. QuickBooks Self-Employed is a little different from other software on this list because it isn't actually accounting software. Instead, it's tax software that includes basic accounting features, such as income tracking, expense tracking, and invoicing. It also makes tax time easier with tax deductions, quarterly tax estimates, and mileage tracking.
QuickBooks Self-Employed is easy to use, has an excellent public reputation, and has good customer support. On the downside, though, the software has a limited number of integrations, isn't a scalable solution, and doesn't offer as many accounting features as other software on this list.
Because QuickBooks Self-Employed is tax software with accounting features tossed in, it lacks many of the features found in QBO but does offer basic features that are useful to freelancers. However, small to large businesses that need more robust accounting software will need to use QBO or other accounting software.
QuickBooks Self-Employed has fewer financial reports, only supports a single user, and has fewer integrations and add-ons than QBO. However, it is very easy to set up and use, simplifies taxes, and comes backed with great customer service and support.
QuickBooks Self-Employed is best for freelancers, contractors, and other self-employed users that want tax software with basic accounting features.
Pros
Easy to use
Good tax support
Good customer support
Suited for freelancers and contractors
Cons
Unscalable
No advanced accounting features
Limited integrations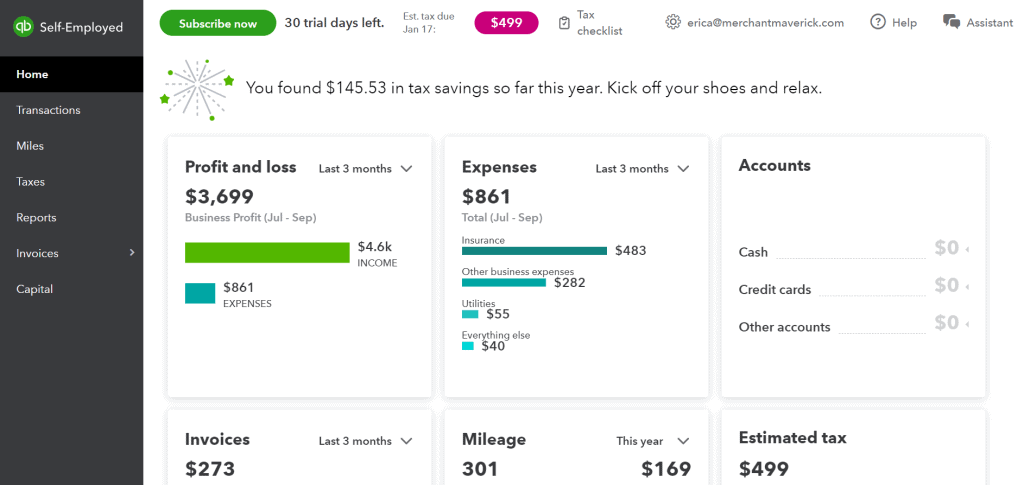 QuickBooks Self-Employed has three pricing plans, costing $15-$35/month. The cheapest plan offers basic tax support and accounting features. The more expensive plans include additional federal and state tax support options, the ability to pay quarterly taxes right from QuickBooks, and even support from real CPAs.
QuickBooks Self-Employed is a solid choice for freelancers, contractors, and other self-employed individuals that need basic accounting and tax support at a competitive price. Users that want advanced accounting features or a scalable option will need to explore other options.
Get Started with QuickBooks Self-Employed
6. Sage Business Cloud: Best Budget-Friendly QuickBooks Alternative
Sage Business Cloud Accounting


---



Formerly known as Sage One, Sage Business Cloud Accounting is an easy-to-use, cloud-based accounting program. The software has numerous time-saving automations, decent features, and 30+ integrations, all for a competitive monthly price. The largest plan even offers unlimited users for only $25/month and includes cash flow management.
Sage offers a variety of customer support resources. Unfortunately, there is no phone or email support, which may prove problematic for some businesses. A live chat option is available. The lack of customer support options, issues with Sage's mobile apps, and a limited feature set have led to negative customer reviews. However, the affordable pricing, ease of use, and support for unlimited users may outweigh these drawbacks.
In terms of price and ease of use, Sage is far superior to QBO. Plus, the software offers unlimited users with the largest plan.
However, QuickBooks Online provides more features, including project management, time tracking, budgeting, and more. QuickBooks Online also offers more integrations.
Sage Business Cloud is best for small to medium-sized businesses looking for affordable, easy-to-use software.
Pros
Easy to use
Numerous automations and integrations
Supports unlimited users
Competitive pricing
Cons
Limited features
No phone or email support
No payroll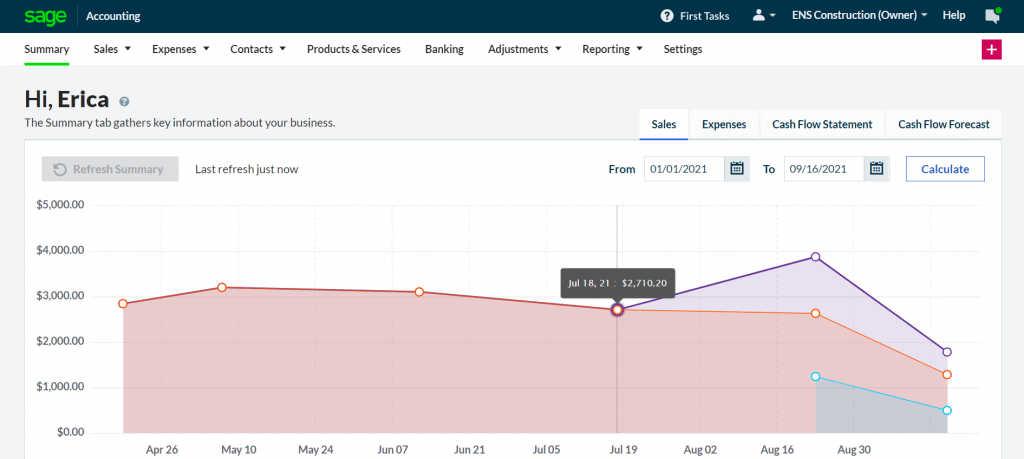 Sage Business Cloud has two pricing plans. For $10/month, you can track payments, create invoices, and automatically import transactions from your bank. The $25/month plan gives you advanced features, such as inventory, additional reports, and cash flow forecasting.
Sage Business Cloud is ideal for small to medium-sized businesses looking for an affordable accounting solution that is easy to use. The software is particularly well-suited for UK users.
Get Started with Sage Business Cloud Accounting
7. ZipBooks: Best Simple & Affordable QuickBooks Alternative
ZipBooks


---



Despite making a late entry to the software game in 2015, ZipBooks is already making a big impression with business owners. ZipBooks offers a number of strong accounting features at competitive pricing. Some of its standout features include unlimited invoicing, custom quotes, live bank feeds, and even scores to help you track the health of your business.
ZipBooks offers great customer support and a variety of resources to help you get the most out of the software. This — combined with low pricing and an easy-to-use interface — has led it to receive mainly positive reviews across the board. On the downside, the software offers only six integrations and doesn't have an Android app. While it does have an iOS app, some users complain about bugs that make it difficult to use.
ZipBooks offers many of the features you'll find with QuickBooks Online at a fraction of the price. In some areas, such as customer support, it even outperforms QBO. Both offer strong accounting features and an easy-to-use UI.
ZipBooks is the cheaper option, but it is missing some of the benefits of QuickBooks Online. ZipBooks falls short in its number of integrations, mobile apps, and advanced features, such as inventory.
ZipBooks is best for small businesses that want a simple accounting solution at an affordable price.
Pros
Free plan available
Easy to use
Numerous features
Good customer support
Cons
No inventory feature
No Android app
Limited integrations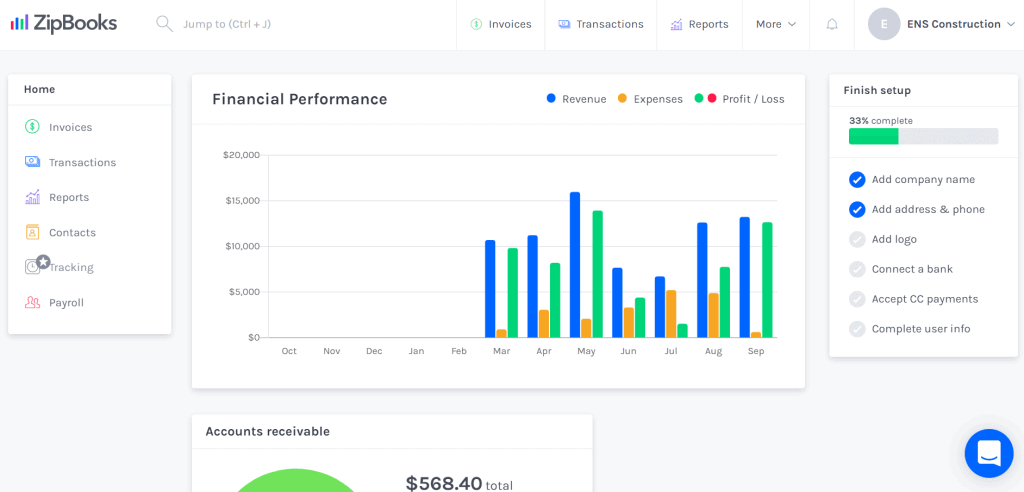 ZipBooks has three pricing plans ranging from completely free to $35/month. The free plan allows you to send unlimited invoices, run basic reports, and accept digital payments through Square or PayPal. With a paid plan, you can add more users, schedule recurring invoices, create a chart of accounts, and reconcile your accounts.
ZipBooks is a simple accounting solution that works well for small businesses that don't want to spend a fortune each month on software. It also is a good choice for anyone that puts a high value on good customer support. ZipBooks has a number of great accounting features that will work for many businesses, but if mobility and more developed features (such as inventory) are high on your list, consider another alternative.
8. FreeAgent: Best QuickBooks Alternative For UK Businesses
FreeAgent


---



Since its launch in 2007, FreeAgent has amassed over 90,000 users that enjoy its easy-to-use UI and basic accounting features. With FreeAgent, you'll be able to tackle most of your basic accounting tasks, such as invoicing, estimates, expense tracking, and bill pay. FreeAgent also has additional features you'd find with more expensive accounting software, including inventory and project management. With strong VAT support, FreeAgent is ideal for users in the UK.
FreeAgent does have some customer support issues, namely that getting a response can take longer than expected. The software only supports a limited number of integrations as well. Despite these flaws, though, FreeAgent has an excellent reputation among its users and frequently scores high marks in reviews for its features, well-designed UI, and scalability.
FreeAgent has many of the big features offered by QBO at a very competitive cost. There are no limitations on the features, and you can even add unlimited users for no additional cost. Like QBO, FreeAgent has a well-designed UI and is easy to use.
This doesn't mean that FreeAgent doesn't have its flaws. No payroll, limited reporting, and just 30 add-ons and integrations are potential drawbacks to consider. You also won't have as many invoice customization options or cash-basis accounting support as you would with QBO. Customer service is also a bit lacking, so if you're moving away from QuickBooks for this reason, FreeAgent is probably not the right software for you.
FreeAgent is best for UK users looking for a simple, affordable accounting solution.
Pros
Supports unlimited users at no additional cost
International invoicing
VAT support
Easy to use
Competitive pricing
Cons
No payroll
Limited reports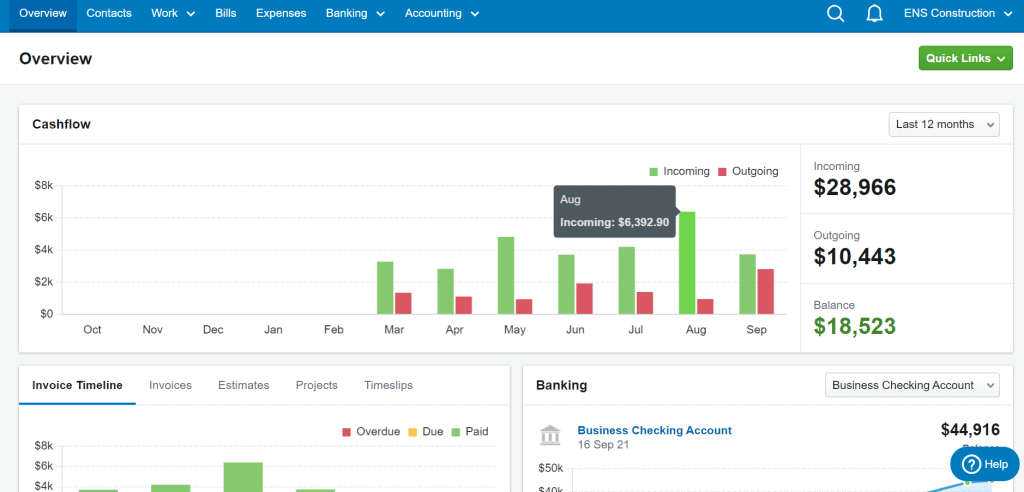 FreeAgent has a single payment plan. Pricing is $24/month, but the company frequently offers new customer specials that can help you save 50% off this pricing for the first six months. There is no contract required, no setup fees, and all features are unlimited. Even the number of users you add is unlimited with no additional fees.
With international invoicing capabilities and VAT support, FreeAgent is a great choice for businesses located in the UK. Users in the US that do a lot of business overseas may also benefit from using this software. If your business doesn't need payroll (or has another payroll solution) and wants an affordable, easy-to-use accounting program, FreeAgent is definitely an option to explore.
Which QuickBooks Alternative Is Right For You?
Now that you know more about some of QuickBooks Online's biggest competitors, how do you decide which is right for your business? Knowing which accounting software is best will depend on your business's size and needs.
If you currently use Quickbooks Online, one of the first questions you should ask yourself is: What isn't working with my accounting software? If you can pinpoint the issue(s) you're having, it'll be much easier to determine which product can help you solve said issue(s).
If you haven't committed to a specific program yet and are still exploring your options, ask yourself the following questions:
Which features do I need for my business to succeed?
How much can I afford to spend on accounting software?
What is my level of accounting experience?
The answers to these questions will help you pinpoint which software might be the best choice. Whether you decide to stick with QuickBooks Online or go for one of the top five alternatives to QuickBooks Online, you'll be in good hands. My biggest recommendation is to take advantage of free trials before committing to any solution. You won't know if you like it until you try it.
Check out our comprehensive accounting reviews, where we break down the details of each option. If you're new to accounting, you can also get started with our free eBook, The Beginner's Guide to Accounting.
Ready To Switch? How To Cancel Your QuickBooks Online Account & Migrate Your Data
If you've committed to making the switch, the next step is canceling your QuickBooks Online account. Fortunately, QBO makes this easy by allowing you to cancel online — no long phone wait times required.
To cancel your account, sign in to QBO from a web browser on your computer. You must be signed in as an admin to cancel or make changes to your account. Once you're signed in, click the Settings menu (the gear icon at the top right of your screen). Next, select Account and Settings, then Billing and Subscriptions. From here, select Cancel Subscription. If you're using a free trial, select the Cancel Trial option.
Continue to follow the onscreen instructions until you receive confirmation that your subscription has been canceled.
Once you cancel, QuickBooks holds onto your data for one year, so you can still access and export data as you need it. If you decide to return to QuickBooks Online, reactivating your subscription will leave your account right where it was prior to cancellation. After one year, your data will be deleted.
If you want to migrate your data from QBO to your new software, you will have to export the data from QuickBooks. This can be done by logging into your account, selecting the Settings option, followed by Export data. From the next menu, you can toggle on and off the data you'd like to export. Once finished, click the Export to Excel option. You'll then have a .zip folder containing all of your exported data. You can use this file to import data to your new accounting software. Steps for importing vary based on the software you use.
You can export your data prior to canceling your account, or you can access your read-only data after cancellation. After one year, you will no longer be able to access this data through QBO.
Now, you should be ready to use your new accounting software. Make sure to take advantage of any resources offered by your software provider, as well as the accounting resources from Merchant Maverick, to get the most out of your new accounting software. Good luck!
In Summary: The Best QuickBooks Alternatives