QuickBooks Self-Employed Review
Expert Analyst & Reviewer

Updated on:
Advertiser Disclosure: Our unbiased reviews and content are supported in part by
affiliate partnerships
, and we adhere to strict
guidelines
to preserve editorial integrity.
QuickBooks Self-Employed

Pros
Suited for freelancers
Good tax support
TurboTax integration
Well-designed UI
Cons
No state tax support
Limited invoice features
Unscalable
QuickBooks Self-Employed Overview
Created in 2014, QuickBooks Self-Employed (QBSE) is one of the newest additions to the Intuit family. This software was designed to make the lives of freelancers easier. Instead of being accounting software like other QuickBooks products, QuickBooks Self-Employed is tax software (with a few accounting features thrown in).
QuickBooks Self-Employed includes a strong estimated quarterly tax calculator feature, expense tracking, deductions, invoicing, a few reports, and the ability to separate personal expenses from business expenses. The more expensive plan also includes TurboTax for easy filing. The software has recently gone through a design rehaul, resulting in a much more attractive and user-friendly interface. The company has also made efforts to add new features and integrations and has improved its customer support since our last review. The most notable change, however, is that you can now pay for advice from a real CPA who can help you file your taxes.
However, QuickBooks Self-Employed still has a ways to go, as the software has several gaps. There is no sales tax on invoices, no estimates feature, and — the big one — no state tax support. Ultimately, QuickBooks Self-Employed has not yet delivered on the promise of being a "complete" freelance tax solution. However, it can still be a good freelancing tool for some individuals. Continue reading to see if you're one of them.
Specific Size Of Business
It's all in the name. QuickBooks Self-Employed is designed for the self-employed, including freelancers, independent contractors, and online eCommerce site owners (Etsy sellers, MaryKay consultants, Scentsy folks, etc.). The product is ideal for freelancers and self-employed business owners who don't need full accounting software but do need a way to manage their federal freelance taxes, track their deductions, and separate their personal and business expenses.
It's worth noting that QuickBooks Self-Employed is limited to a single user (plus access for one accountant). If your company grows down the road, this software is not a scalable option. You cannot add more users, and your data will not transfer from QuickBooks Self-Employed to QuickBooks Online (or any other software for that matter).
QuickBooks Self-Employed Pricing
QuickBooks Self-Employed offers three pricing plans, including the recently-added Self-Employed Live Tax Bundle. The main distinction between the three is that the two more expensive plans include additional tax support. There are no annual contracts with any of the plans, so you can cancel your subscription at any time. There is a free 30-day trial you can use to test the waters before buying. Intuit is almost always offering a discount on its products, so check out the pricing page to ensure you get the most bang for your buck.
Self-Employed
The QuickBooks Self-Employed plan costs $15 per month and includes:
Track income and expenses
Separate business and personal expenses
Record tax deductions
Calculate estimated quarterly taxes
Schedule C forms
Invoicing
Automatic mileage tracking
One user, plus one accountant
Self-Employed Tax Bundle
The QuickBooks Self-Employed Tax Bundle costs $25 per month and includes everything from the Self-Employed plan, plus:
TurboTax integration (includes one federal and one state return filing)
Ability to pay quarterly estimated taxes online
Self-Employed Live Tax Bundle
The new QuickBooks Self-Employed Live Tax Bundle costs $35 per month and includes everything from the Self-Employed Tax Bundle, plus:
Unlimited help and advice from CPAs
Final review of your tax return by a CPA
Cloud-Based Or Locally-Installed
Cloud-based, with no downloads or installation required.
Hardware & Software Requirements
As cloud-based software, QuickBooks Self-Employed is compatible with nearly any computer that has an internet connection. QuickBooks Self-Employed also has mobile apps available for Apple products (iOS 13.0+) and Androids (6.0+).
Accounting Method
QuickBooks Self-Employed is not accounting software, but it does use cash-basis accounting to calculate taxes.
Ease Of Use
QuickBooks Self-Employed is easy to navigate, and the new UI makes the software even more of a joy to use. There's no confusing accounting jargon or unnecessary features crowding your dashboard, and setting up your account takes very little time. There's also built-in support if you need extra help setting up and navigating the software.
QuickBooks Self-Employed Features
QuickBooks Self-Employed is tax software with a few light bookkeeping tools added to the mix. For the average freelancer, QBSE offers a good, basic feature set, but for business owners wanting full accounting capabilities, QuickBooks Self-Employed might not cut it. If that's you, check out our top-rated accounting software reviews instead.
Here's an overview of the features you can expect with QuickBooks Self-Employed:
Dashboard: QuickBooks Self-Employed has a beautiful UI. The newly-designed dashboard includes six charts to give you a real-time look at your business's financial state, including your Profit and Loss, Expenses, Accounts, Invoices, Mileage, and Estimated Taxes. Tabs on the left-hand side of the screen make it easy to navigate to other features.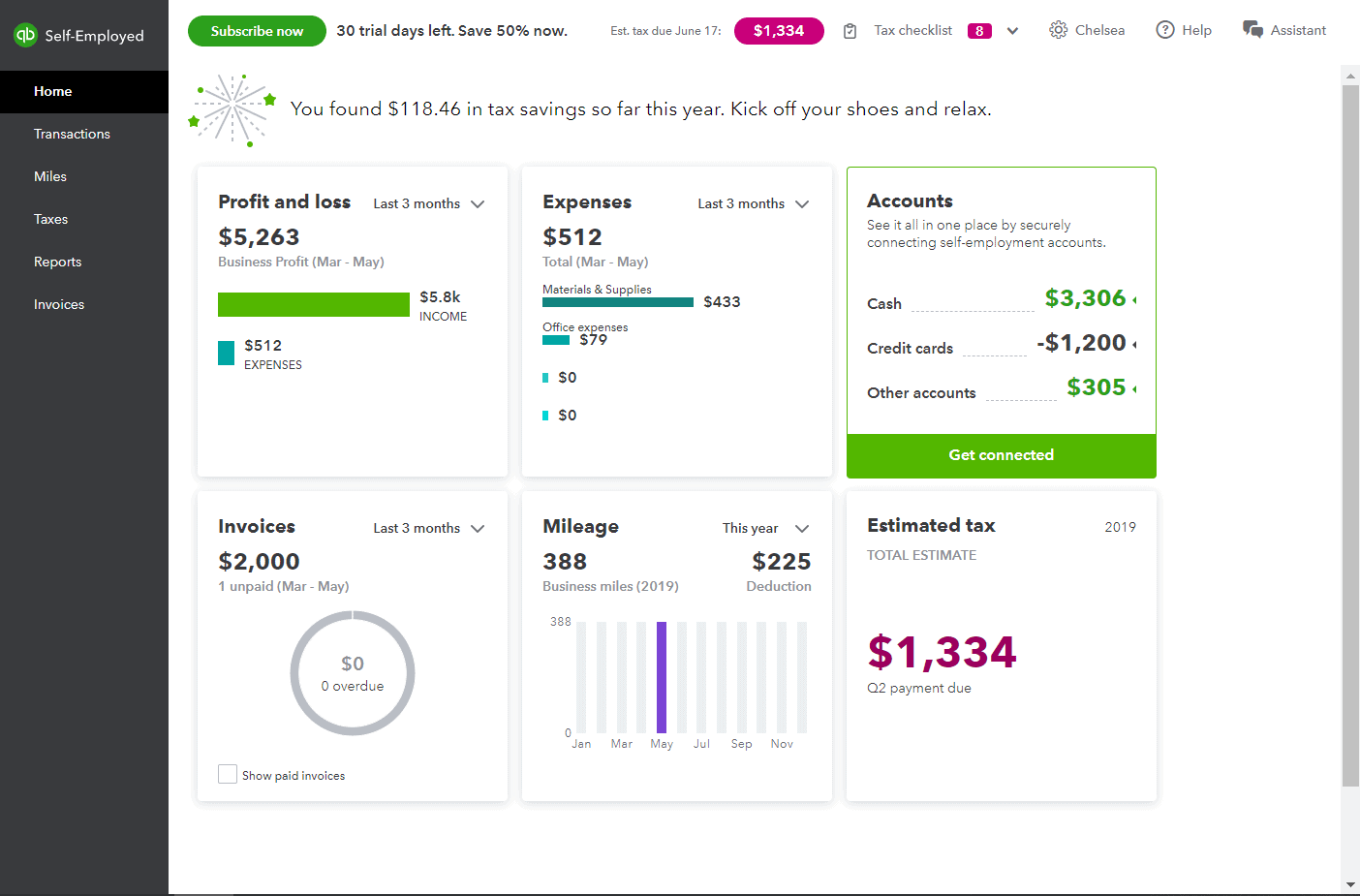 Invoicing: QuickBooks Self-Employed provides very basic invoices. You can invoice by the hour, by item, or by a flat rate. There is no contact management or inventory in QuickBooks Self-Employed, but the software will remember past invoice information and will let you select previous contacts and items from within the invoice. There are no invoice customizations, sales tax support, or estimates. However, you can add your logo to your invoices, send payment reminders, and accept payments online using Intuit's credit card processor, QuickBooks Payments.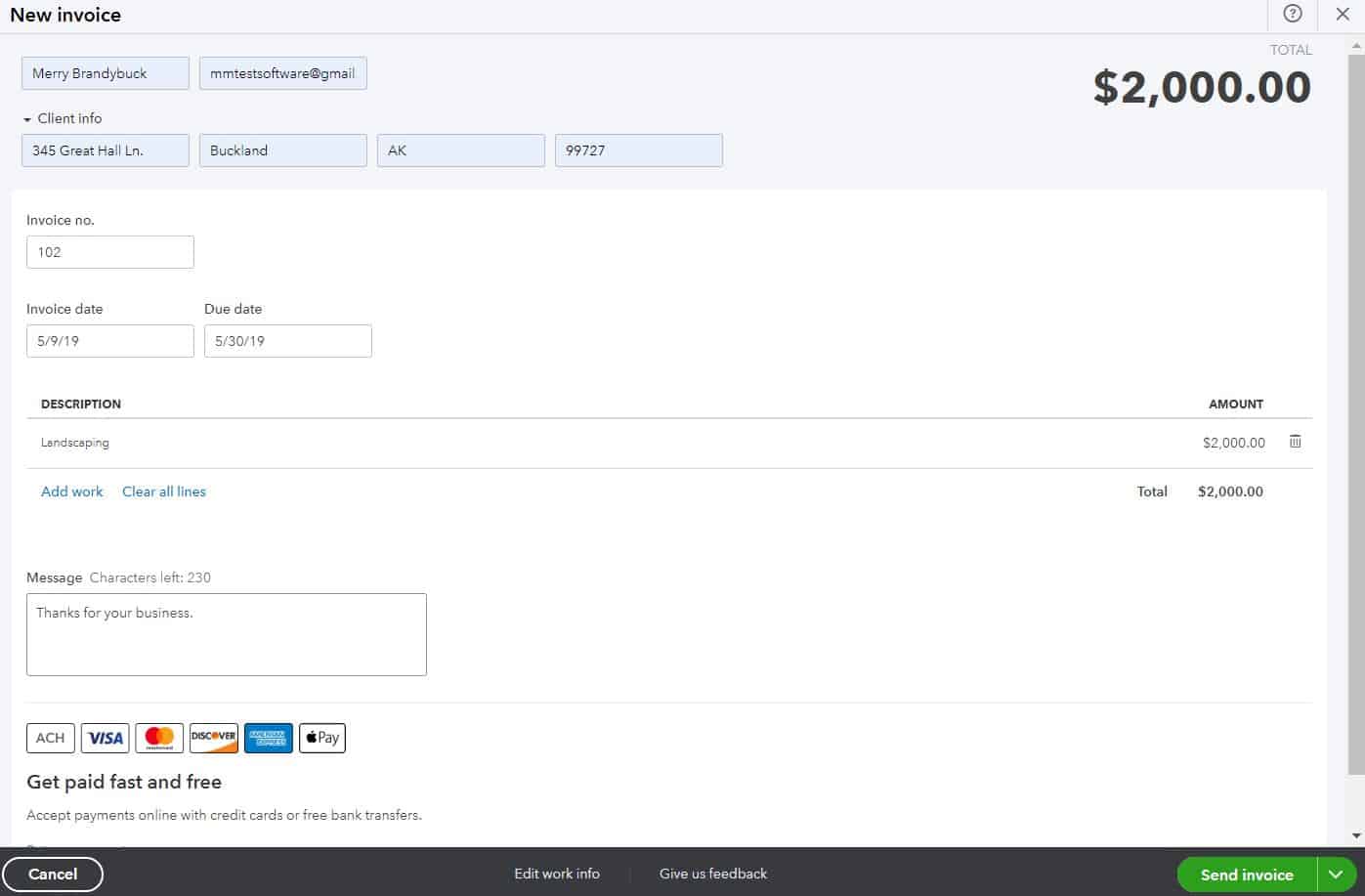 Client Portal: Customers can view and pay invoices directly from a basic client portal.
Expense Tracking: QuickBooks Self-Employed is designed to import transactions directly from your bank account, PayPal, Etsy, or Amazon in real-time (the Amazon feature is in beta). Users can also import bank statements or add transactions manually if desired. QuickBooks Self-Employed makes it easy to separate personal and business expenses. You can categorize expenses, set rules, and attach receipt photos to expenses as well. Recently, QBSE has added the ability to categorize personal expenses, whereas before, you could only categorize business expenses. Another addition is the ability to mark accounts as "mainly business" or "mainly personal." The transactions dashboard has a nifty UI that breaks down your business income and spending.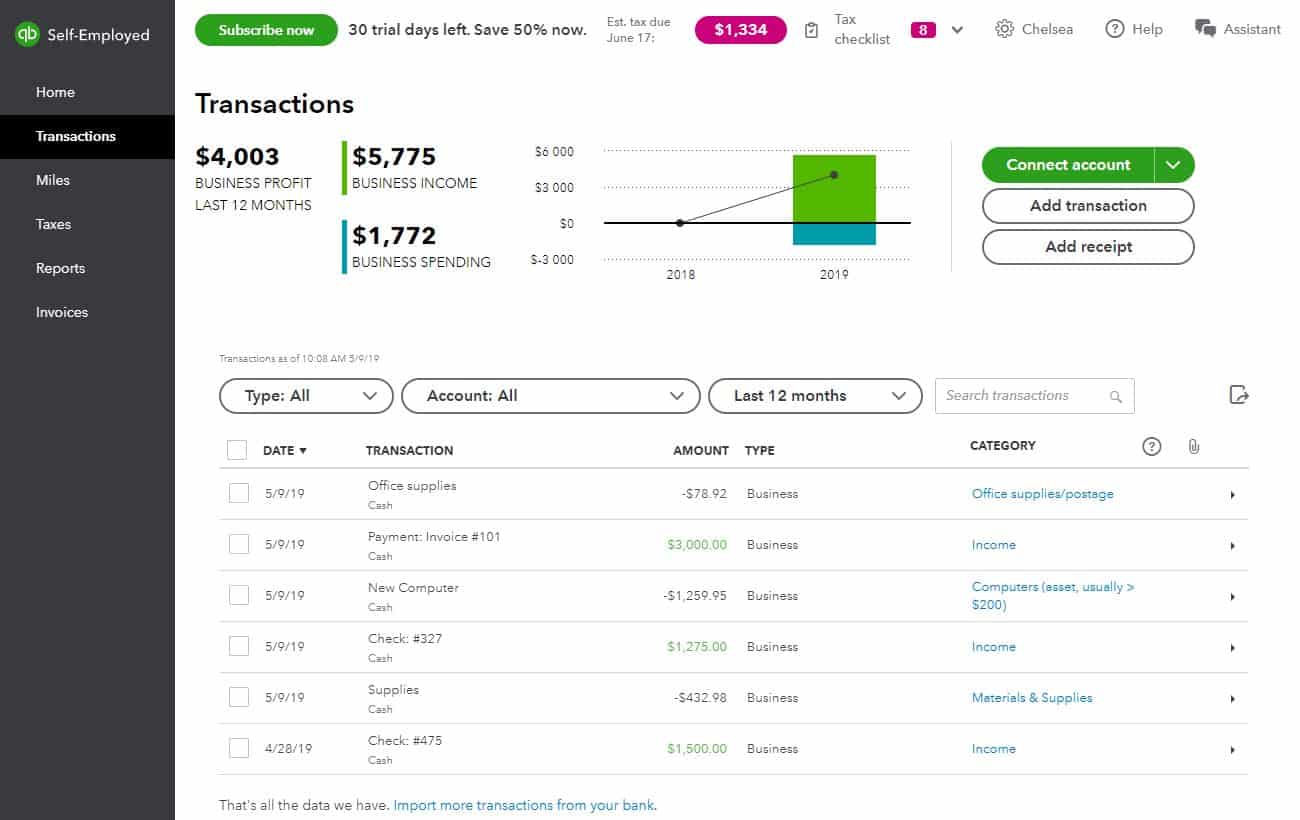 Chart Of Accounts: The software doesn't include a full chart of accounts but does include income and expense categories to help keep your finances organized. QuickBooks Self-Employed's expense categories are designed to match the IRS expense deduction categories for easier tax filing.
Fixed Asset Management: QuickBooks Self-Employed has recently added a business asset feature that allows users to keep track of their business's assets.
Reports: QuickBooks Self-Employed only offers five reports: Mileage Log, Profit and Loss, Tax Summary, Tax Details, and Receipts. The timeframe can be customized for each report.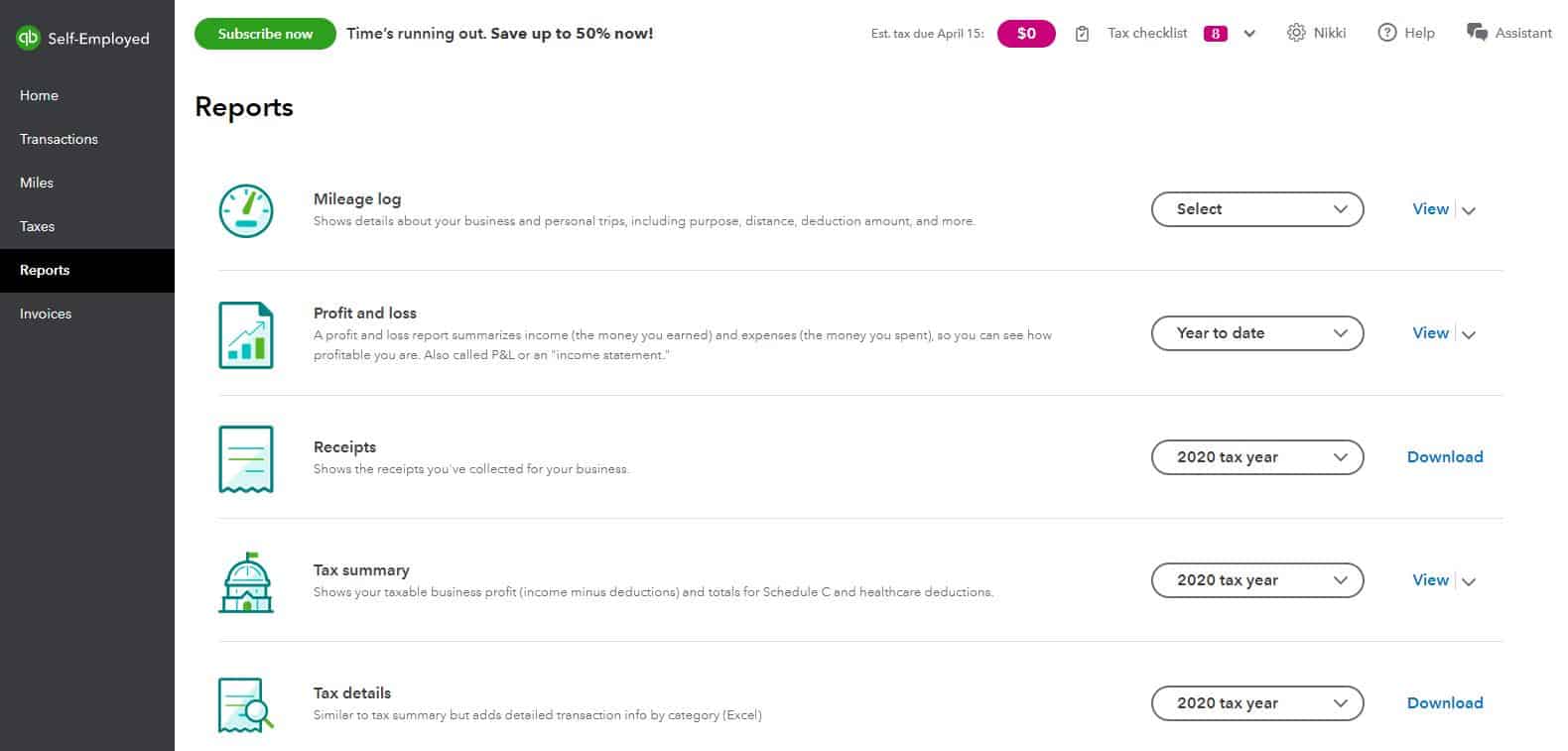 Sales Receipts: You can easily send sales receipts to clients after they've paid their invoices.
Tagging: You can now add tags to your transactions for more detailed reporting.
Tax Checklist: QuickBooks Self-Employed provides a tax checklist. In the top right-hand corner of the screen, you'll see everything you have left to do before filing taxes.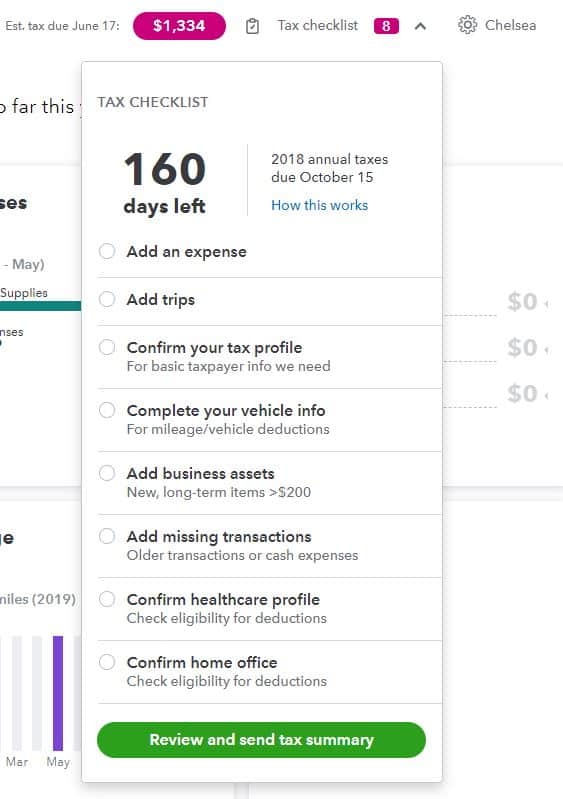 Tax Support: This is the feature that makes QuickBooks Self-Employed worthwhile. Calculating taxes as an independent contractor or freelancer is not fun, to say the least. QuickBooks Self-Employed uses your income and expenses to tally how much you need to pay in estimated taxes each quarter and gives you an annual tax projection. You can also enter your tax filing information (marriage status, withholdings, etc.) into the software. Additionally, QuickBooks Self-Employed supports Schedule Cs, and the Tax Bundle and Live Tax Bundle plans add a TurboTax integration, so you can pay and file taxes directly online. The only downside — and it's a significant downside — is that QuickBooks Self-Employed only offers tax support at the federal level. There is no state-level tax support.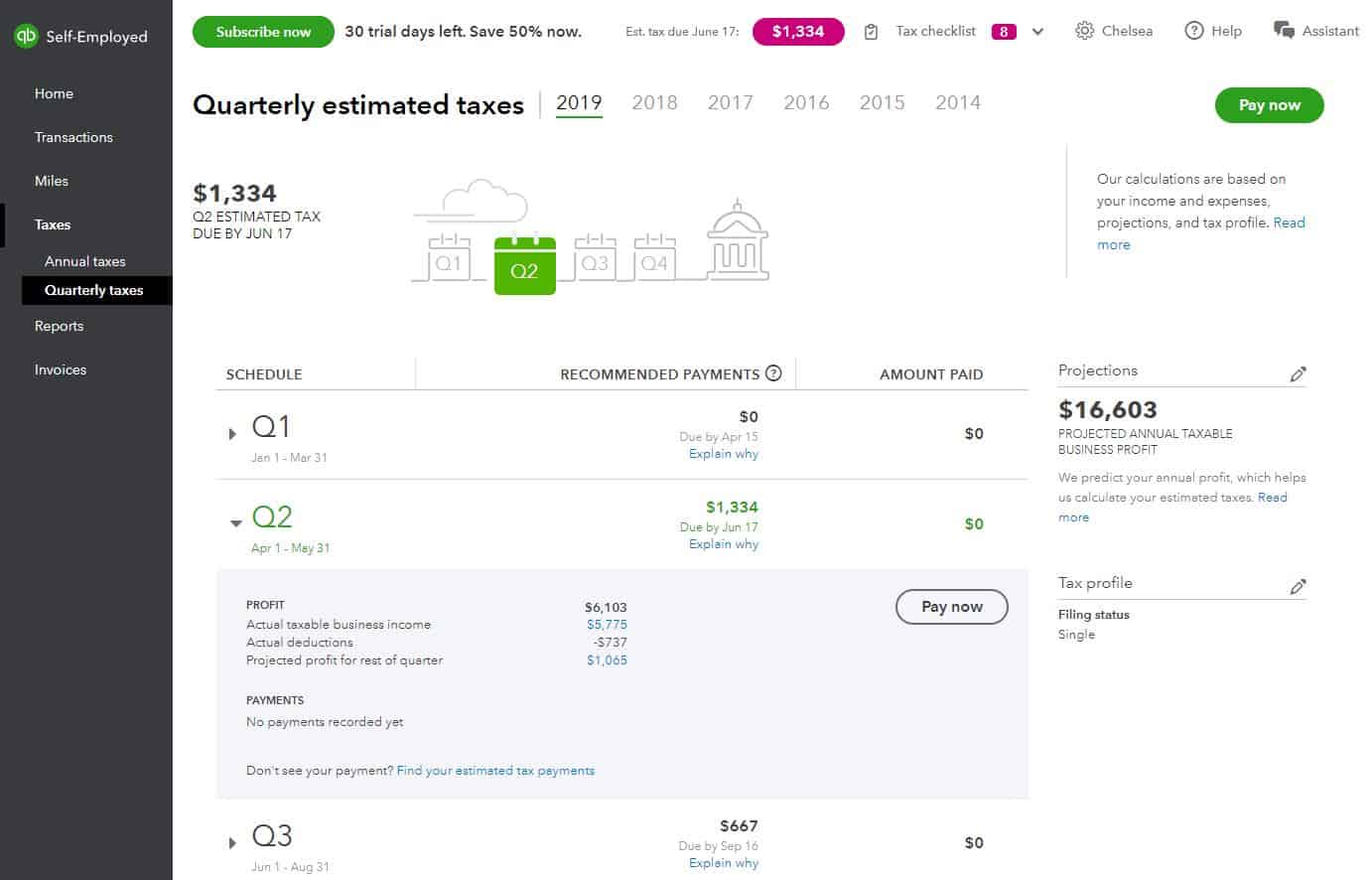 Mileage Deductions: You can add your vehicle information and automatically track mileage using the mobile app or manually enter your mileage into the software. You can now connect your QBSE account directly to your Google location, so you don't miss out on any business miles. One of the most satisfying parts of this feature is seeing how many miles you drive and watching your deductions add up. The software automatically calculates your total mileage deduction based on the current year's IRS mileage rate.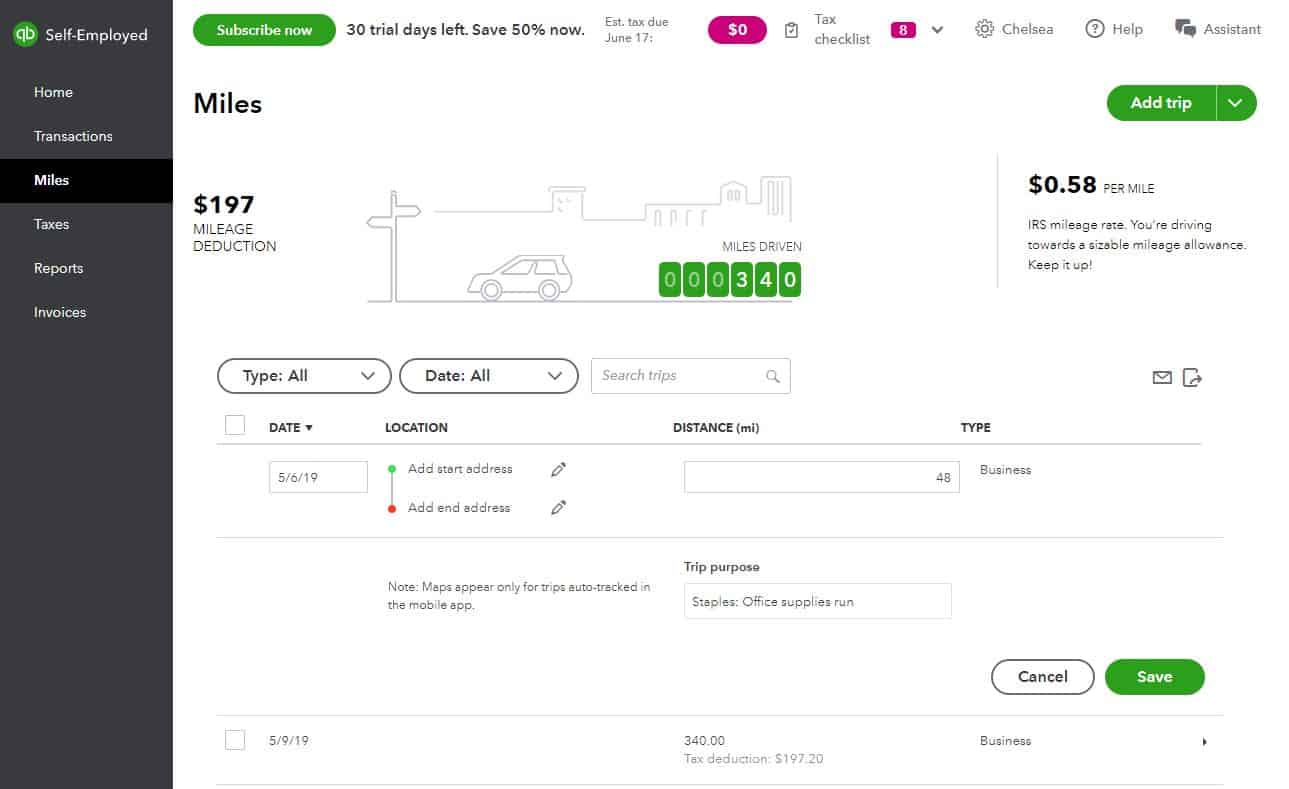 Deductions: This is where the software shines. In addition to mileage deductions, you can track vehicle expenses, home office deductions, healthcare expenses, and other business expenses, such as office supplies, equipment purchases, and more. The software also totals up all of the deductions you're eligible for, so you can see how much you've saved each year. To learn more about freelance deductions, check out the top 10 freelance deductions to start tracking now.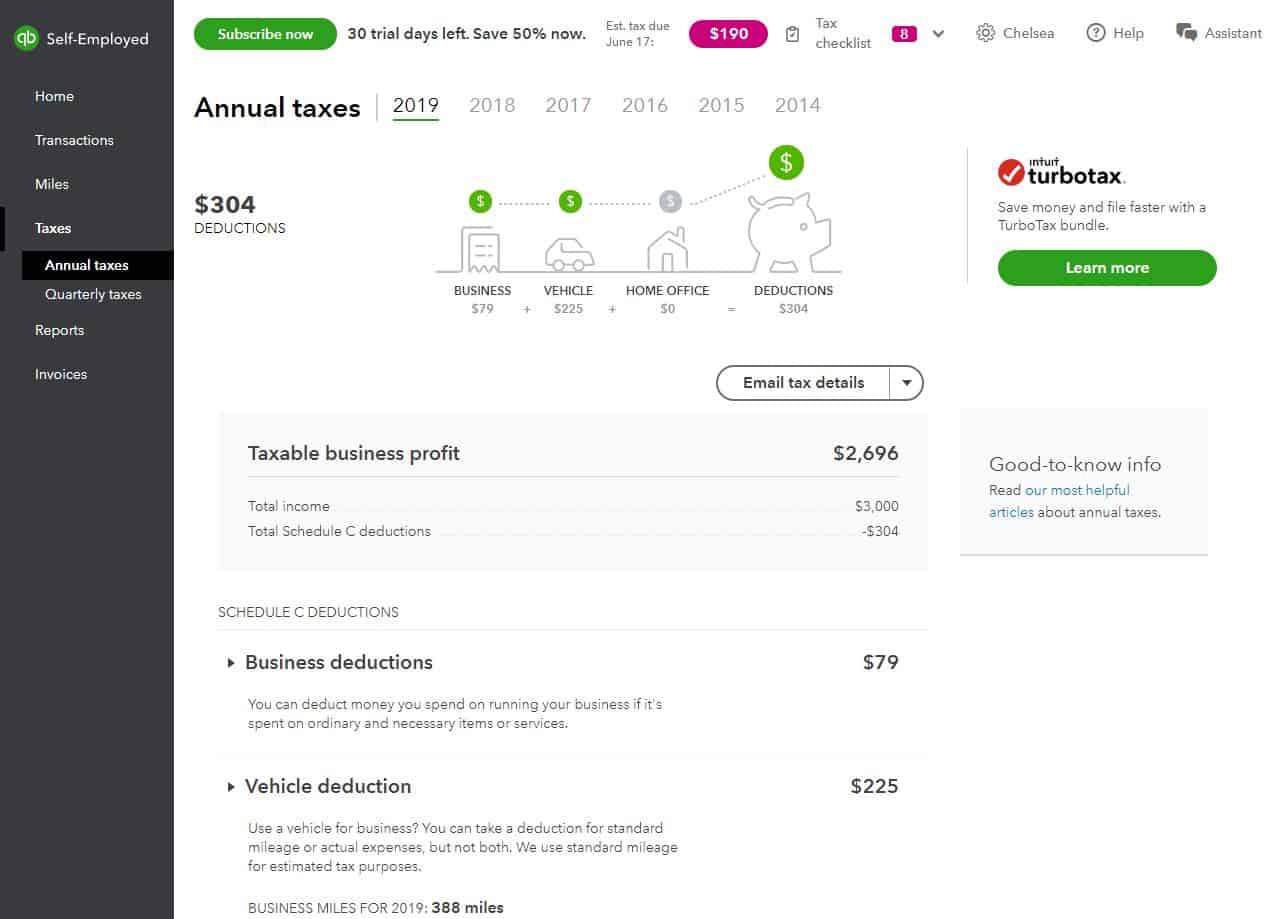 Importing & Exporting: You can import expenses from a .csv file. Exporting is limited. You can only download and print invoices and reports for your records.
| Banner | Description | Next Step |
| --- | --- | --- |
| | Quickbooks Self-Employed - now up to 50% off | Get Promo |
QuickBooks Self-Employed Customer Service & Support
QuickBooks is generally notorious for poor customer support. However, although QuickBooks Self-Employed is missing phone support, QBSE is trying to break the mold and offer decent, quick support options. There is a built-in live chat feature that is incredibly helpful. The help center has also been nicely reorganized. Here are the customer support options in more detail:
Live Chat: The built-in live chat feature is one of the best support options available. Representatives are generally helpful. It's probably the fastest, most direct form of support, and it can be accessed directly from within the software (and makes me wonder why QuickBooks Online doesn't have the same great support option).
Support Form: You can contact QuickBooks Self-Employed by filling out an in-software support form. Answers are relatively quick, usually taking about an hour or so. (Slacking again, QBO.)
Help Center: QuickBooks Self-Employed has a help center called Learn & Support that has articles on various features in the software, such as getting started, taxes, and more.
QB Assistant: QuickBooks Self-Employed has an in-software automated assistant that allows you to easily access information about your income, taxes, and more. You can use a prepopulated question or type your own to learn more about your finances or how to use certain features, such as forwarding receipts or adding cash transactions.
Community Forum: The QuickBooks community forum is available for all QuickBooks products. Both Intuit employees and fellow customers can answer any questions posted. New questions get answered relatively quickly, although searching for existing questions can be difficult.
Small Business Center: The QuickBooks small business center features advice on various small business topics, including accounting, taxes, cash flow, and more.
QuickBooks Blog: QuickBooks has a blog that features updates and news for all QuickBooks products, although most of the articles pertain to QuickBooks Online.
Social Media: Intuit maintains Facebook, Twitter, and LinkedIn accounts for all of its QuickBooks products collectively.
QuickBooks Self-Employed Reviews
Negative Reviews & Complaints
Intuit receives 1.1/5 stars on Consumer Affairs (based on 60+ reviews) for all of its products. However, the majority of these reviews are not specific to QuickBooks Self-Employed. QuickBooks Self-Employed reviews are overwhelmingly positive, especially when it comes to mobile apps. But that doesn't mean QBSE is without its faults.
While many users enjoy the software, there are a few recurring complaints:
Incorrect Mileage Calculations: Several users report that the mileage calculations on the mobile apps are often inaccurate.
Poor Customer Service: Some users complain about poor customer service experiences.
Inconsistent Transaction Imports: Several people had issues with transactions importing improperly, particularly from Etsy and PayPal. Random duplicate transactions are also a common issue. Several users reported problems connecting to their bank account as well.
Positive Reviews & Testimonials
Despite the complaints on Consumer Affairs, Intuit has an A+ rating on the BBB. QuickBooks Self-Employed specifically receives 4/5 stars on Software Advice (based on 36 reviews) and 8.7/10 stars on TrustRadius (based on 35 ratings). Far more impressive are the product's mobile apps. QBSE receives 4.7/5 stars on the Apple App Store (based on over 60,000 reviews) and 3.7/5 stars on the Google Play Store (based on over 28,000 reviews).
Here are the highlights for QuickBooks Self-Employed users:
Easy To Learn: One of the most common praises is how easy the software is to learn and use.
Saves Time & Money: Several users comment on the amount of time and money they save with QuickBooks Self-Employed, particularly on their taxes. They appreciate that the quarterly tax calculator takes the stress out of taxes, and they like the mobility QuickBooks Self-Employed grants them.
TurboTax Integration: The TurboTax integration is another well-loved time-saver for business owners.
Good Feature Selection: Many business owners appreciate the software's freelancer-specific features, such as the ability to separate business and personal expenses. Users also like the number of deductions they can find and record with the help of QuickBooks Self-Employed. Several users note that these features are a great fit for Uber and Lyft drivers.
Nice Mobile Apps: Despite some mobile app complaints, there is an overwhelmingly large number of positive reviews for the QuickBooks Self-Employed mobile apps.
Here's what QuickBooks Self-Employed users are saying:
QuickBooks has been so helpful for me to keep track of my somewhat unstable income. I rely on this to get the best tax return I can get.

I absolutely LOVE QuickBooks self-employed. It is convenient, easy to use and even tracks mileage! That's huge as most of my business is conducted on the road. I also love how I can invoice and accept payment right from the mobile app.

I am new to owning my own business, and this is absolutely wonderful to organize transactions and income!
QuickBooks Self-Employed Integrations & Add-Ons
In the past, QuickBooks Self-Employed had incredibly limited integrations. Now the software connects directly to Etsy and PayPal, and there are new Amazon and Coinbase integrations as well. In addition to PayPal, users can use the QuickBooks Payments integration to accept online invoice payments, and the Tax Bundle and Live Tax Bundle plans come with a built-in TurboTax integration.
While QBSE may not have as many integrations as other full-on accounting programs, these offerings are a vast improvement and are fitting for freelancers and online sellers. However, the lack of a QuickBooks Online integration (or even more developed export options) keeps QBSE from being a scalable business solution.
Security
QuickBooks Self-Employed uses 128-bit SSL encryption and multi-factor authentication, plus intrusion and virus protection. Data gets stored at multiple secure data centers that are protected by physical safeguards, firewalls, and routine security testing. Contact QuickBooks to learn more about the company's security measures and find out how you can play a role in making your data even more secure.
Final Verdict
Providing tools to the self-employed is much-needed, especially as freelancing continues to boom. Intuit is trying to fill this unique software niche. QuickBooks Self-Employed is ideal for freelancers and independent contractors in need of federal tax support. The software offers great tax and tax deduction tools and is incredibly easy to use. Key integrations, such as Etsy and Amazon, make the software ideal for online sellers, and you can't beat a direct Turbo Tax integration come tax season.
However, for a product that claims to be a tax solution for the self-employed, QuickBooks Self-Employed doesn't fully live up to its name. While the software is incredibly helpful for calculating confusing quarterly taxes, there is zero state tax support. Unfortunately, you must use another tool or software solution to complete your taxes fully. What's more, there's no way to manage contacts or items in QuickBooks Self-Employed, and you can't send estimates to potential customers. And, if you ever grow beyond freelancing, your data will not transfer.
With that said, the software is improving. The company has put effort into bettering its customer support and adding more integrations. The recently redesigned UI and the new plan with professional help from a CPA are also a huge plus. I hope that Intuit will continue to put this same effort into expanding its features and tax support offerings in the future.
Ultimately, if you are looking for federal tax support, QuickBooks Self-Employed is a good option. But remember that this service does not include a state tax report, so it won't be a complete filing solution. Take the software for a spin with the free trial to see if QBSE is a good fit for your freelance needs.
If, after reading this review, you realize you may need full accounting software instead of tax software, take a look at our top small business accounting software picks instead.
---
The Merchant Maverick Seal of Approval 🏆
QuickBooks Self-Employed


---



After hours of in-depth research and evaluation, we can confidently recommend this brand to our readers.
The Merchant Maverick Seal of Approval 🏆
QuickBooks Self-Employed


---



After hours of in-depth research and evaluation, we can confidently recommend this brand to our readers.
To learn more about how we score our reviews, see our
Accounting Software Rating Criteria
.
Read Next