ZipBooks Accounting Software Review
With an intuitive interface and a free plan available, ZipBooks provides a good accounting software option for small business owners.
Expert Analyst & Reviewer

UPDATED
Advertiser Disclosure: Our unbiased reviews and content are supported in part by
affiliate partnerships
, and we adhere to strict
guidelines
to preserve editorial integrity.
ZipBooks

Accounting Method
Accrual & Cash Basis
Business Size
Ideal for small businesses with growth potential in the near future
ZipBooks At A Glance
Exceptionally clean and user-friendly interface that makes basic accounting tasks like invoicing an easy process.
Full feature set at a low price and some unique reporting features that can help you analyze how efficiently you're running your business.
Highly scaleable with custom plans and growth plans that you can easily add as your business expands.
---
Pros
Free pricing plan
Numerous features
Good customer support
Easy to use
Cons
Limited invoice customizations
No inventory
No phone support
What Is ZipBooks?
ZipBooks accounting software offers strong features, affordable pricing, and consistent updates. ZipBooks makes a point to simplify the confusing lingo and complexity of accounting by automating as many processes as it can. This accounting solution offers an intuitive, color-coded design with a number of features, including invoicing, contact management, project management, and time tracking.
ZipBooks is uniquely programmed to give you business advice and health scores based on the data you've entered. There is also a great free plan, excellent customer support, and a unique marketing add-on to help your business grow. ZipBooks isn't without its drawbacks, though. There are hardly any invoice template customizations or integrations, and there's no real inventory feature. However, the company is good about listening to customer feedback and has addressed several customer complaints through its updates.
ZipBooks Pricing
| ZipBooks Plans | Price | When To Use |
| --- | --- | --- |
| ZipBooks Starter | Free | If you have basic reporting needs but unlimited invoicing capabilities |
| ZipBooks Smarter | $15/month | If you have multiple bank accounts and up to five team members |
| ZipBooks Sophisticated | $35/month | If you want unlimited users and have advanced reporting needs |
ZipBooks offers three standard pricing plans, including a free option and a custom plan. Payments are made monthly, and you can cancel your plan at any time. There is a free 30-day trial of all plans. No credit card information is required.
ZipBooks Starter
The Starter plan costs $0/month and includes these features:
Unlimited invoicing
Custom quotes and estimates
Contact management
Live bank feeds for one bank account
Business health scores
One user
ZipBooks Smarter
The Smarter plan is priced at $15/month and includes everything from the Starter plan, plus:
Recurring invoices
Unlimited live bank feeds
Time tracking
Items list
Project management
Basic intelligence
Multicurrency support
Chat support
Up to five team members
ZipBooks Sophisticated
The Sophisticated plan costs $35/month and includes everything from the Smarter plan, plus:
Class tracking
Document sharing
Advanced reporting
Advanced intelligence
Unlimited users
ZipBooks also has an Accountant plan that includes everything from the Sophisticated plan, plus features such as time tracking, client management, and data migration. Contact ZipBooks for personalized pricing.
Extra ZipBooks Costs & Fees
| ZipBooks Extra Costs | Price |
| --- | --- |
| Growth Plan | $49/month |
ZipBooks offers an incredibly unique tool called Growth Plans. Growth Plans are one of the coolest features in ZipBooks. These plans are designed to help businesses expand and improve their internet presence. You can invite customers to leave reviews, track how your company ranks for keywords, sync online listings, and manage leads. Plans start at $49/month. Contact ZipBooks for details.
When you sign up for a Growth Plan, ZipBooks automatically creates a webpage to host customer reviews and information about your company. Here's an example from a sample company:
Is ZipBooks Easy To Use?
ZipBooks has a beautifully designed interface that is generally easy to navigate. The software is well-organized, and there is a decent amount of support in case you get stuck. ZipBooks also has fast loading times, which makes it a joy to use. Importing your accounts is quick and easy, and it even auto-categorizes them for you, saving tons of time. Everything is accessible from the home page, and detailed reports and statements are just a click away and conveniently color-coded. You can also go deeper into a specific statement simply by clicking on it.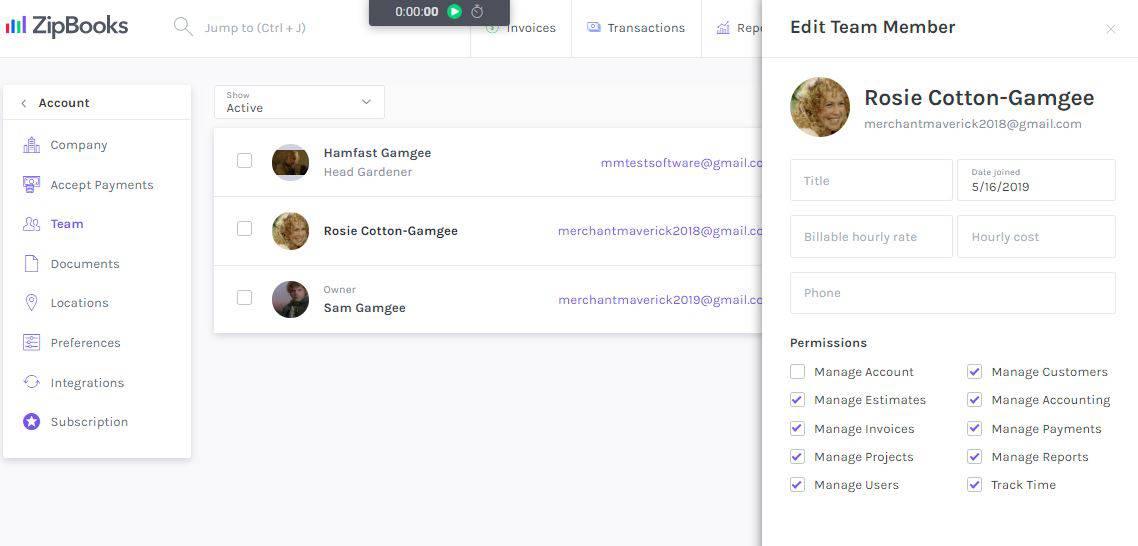 Invoicing is also simple. The software walks you through adding items for your customers and saving that information for the future. There is also a nice feature that allows you to create and customize your business profile, giving customers access to your contact information and reviews of your products.
ZipBooks Features
| ZipBooks Features | Availability |
| --- | --- |
| Budgeting | |
| Tax Support | |
| Invoicing | |
| Estimates | |
| Client Portal | |
| Contact Management | |
| Expense Tracking | |
| Bank Reconciliation | |
| Chart Of Accounts | |
| Accounts Payable | |
| Inventory | |
| Time Tracking | |
| Project Management | |
| Number Of Reports | Up to 16 |
ZipBooks offers traditional accounting features along with unique business advice tailored specifically to your company. Below is a basic synopsis of the features available. You can take a full feature tour or schedule a demo with ZipBooks.
Dashboard: The dashboard is set up well with charts, such as Financial Performance, Accounts Receivable, Business Health Score, Transactions, and Recommendations.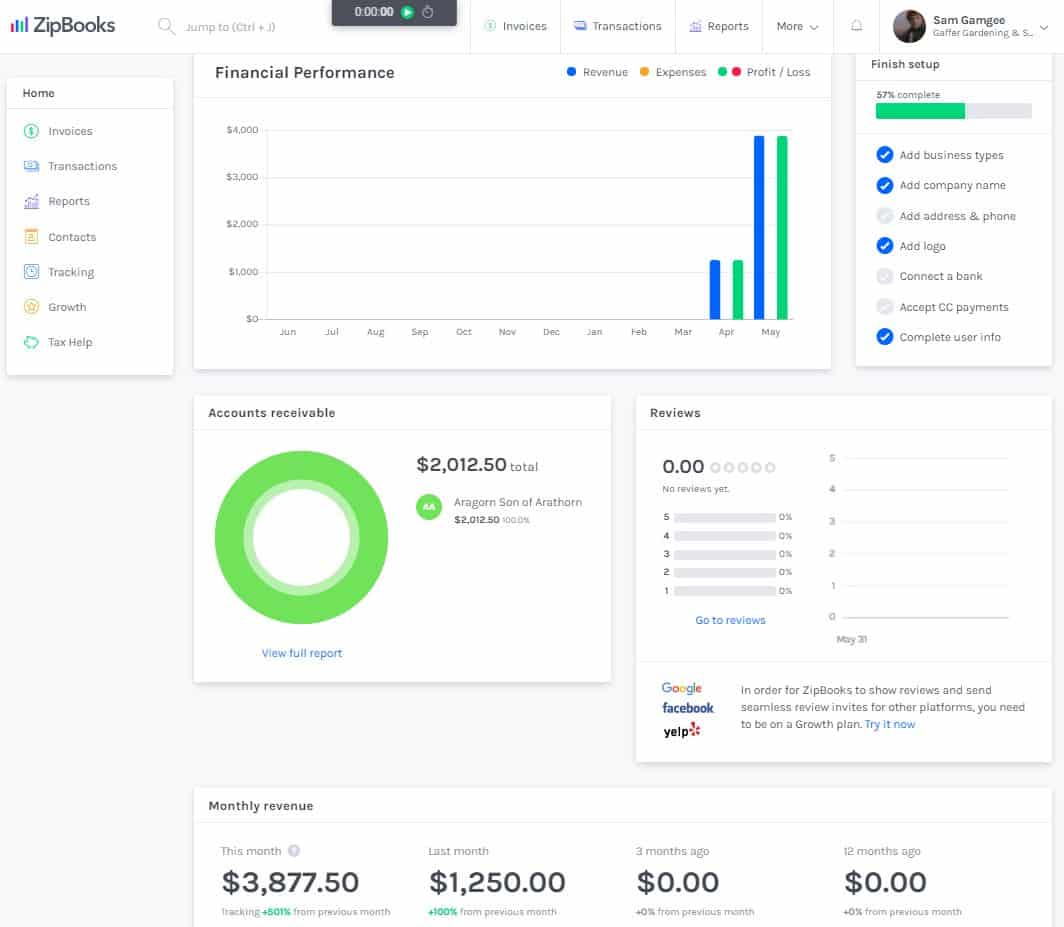 Invoicing: Using the invoice feature is quick and easy. You can set default notes, terms, and email messages to accompany each invoice. With ZipBooks' Smarter and Sophisticated plans, you can send invoice reminders and set recurring invoices as well. The best part about ZipBooks is that it will give you an invoice health score, which shows you how strong your invoices are and in what ways they can be improved. However, there is only one invoice template, and there are hardly any customizations available.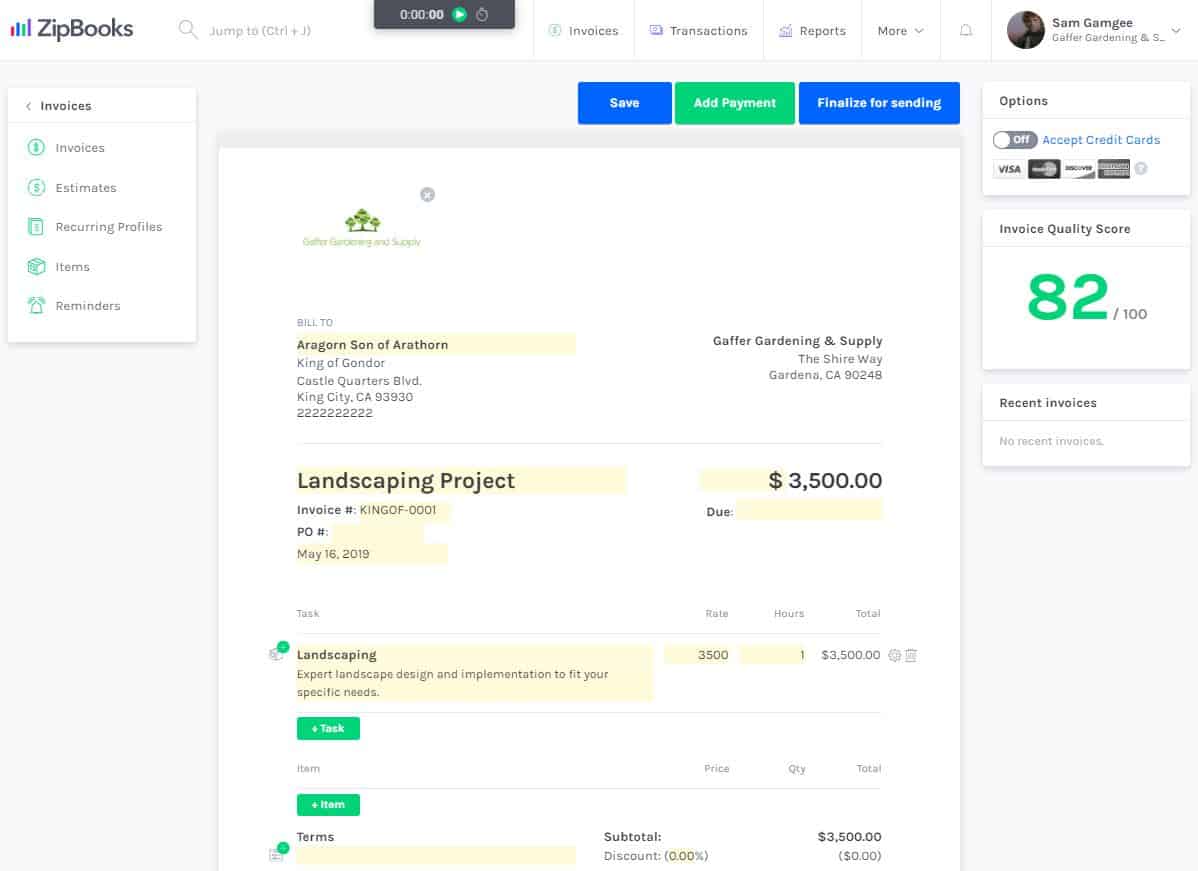 Estimates: Estimates are created similarly to invoices; you can set default notes, terms, and email messages. Once a customer accepts your estimate, you can convert it to an invoice with the click of a button.
Client Portal: Customers can receive invoices and quotes in a client portal where they can accept or decline estimates as well as view and pay for invoices. If you purchase the ZipBooks Growth Plan, users can leave a review directly from the client portal.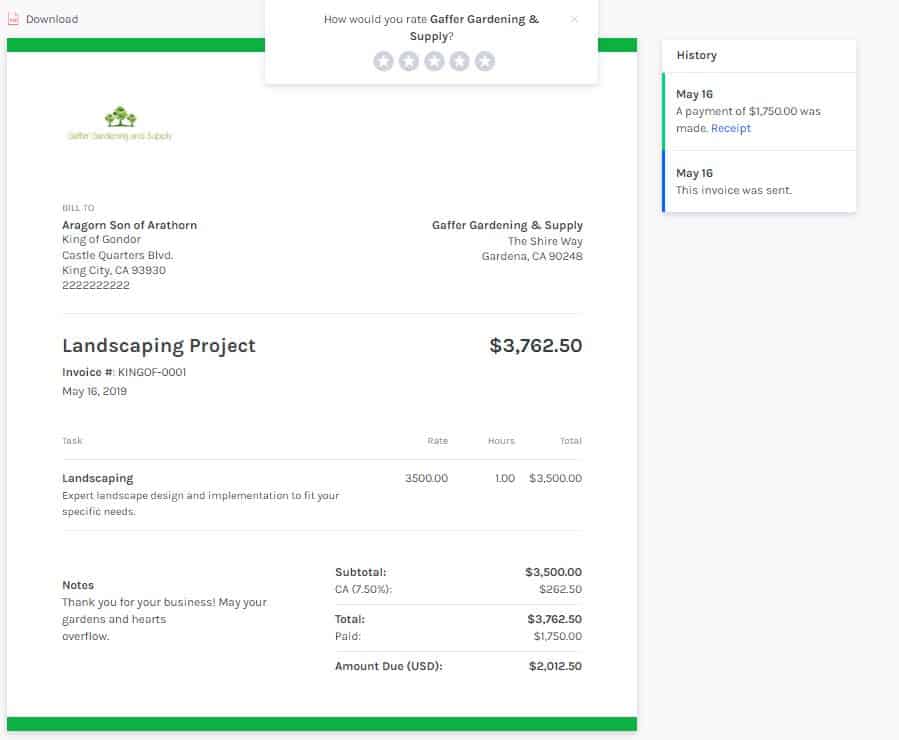 Contact Management: You can add contacts to ZipBooks. You can add a good amount of information and multiple people to each contact if needed. When you select a contact, you can see their total revenue, total expenses, contact information, invoices, estimates, and recurring profiles. The software will also automatically categorize contacts as customers (when you send them an invoice) or vendors (when they charge you an expense or create a bill).
Expense Tracking: You can add transactions individually, import a bank statement, or connect your bank account. There is no auto-categorized transaction feature and no custom bank rules. You can add attachments to each transaction and split transactions as needed.
Bank Reconciliation: You can easily reconcile bank accounts in ZipBooks.
Categories: ZipBooks has renamed its chart of accounts feature to Categories. Apart from the name, the chart of accounts is almost exactly like you'd expect. Categories are organized into Assets, Liabilities, Owner's Equity, Revenue, and Expenses. Each group is color-coded as well. On the Smarter and Sophisticated plans, you can customize your chart of accounts.
Accounts Payable: You can create bills in ZipBooks. However, you can only put in the amount for each item; there is no way to adjust the quantity.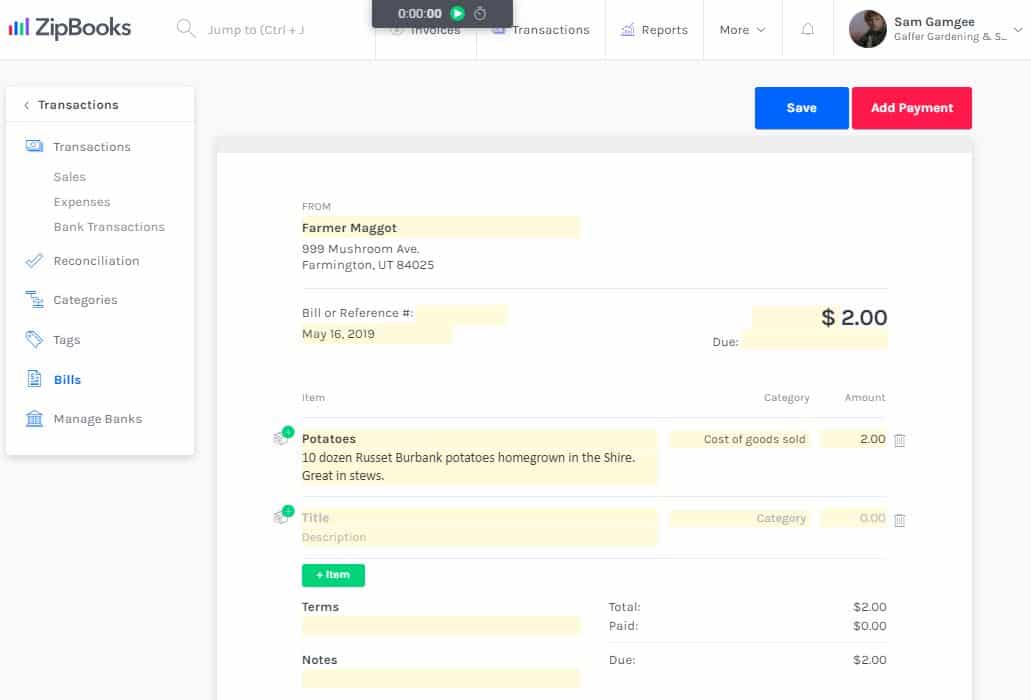 Items List: You can add items and include their description, price, SKU, default category, and type (invoice or bill). An item can't be used on both invoices and bills; you'd have to create separate items for both purposes. There is also no inventory tracking available.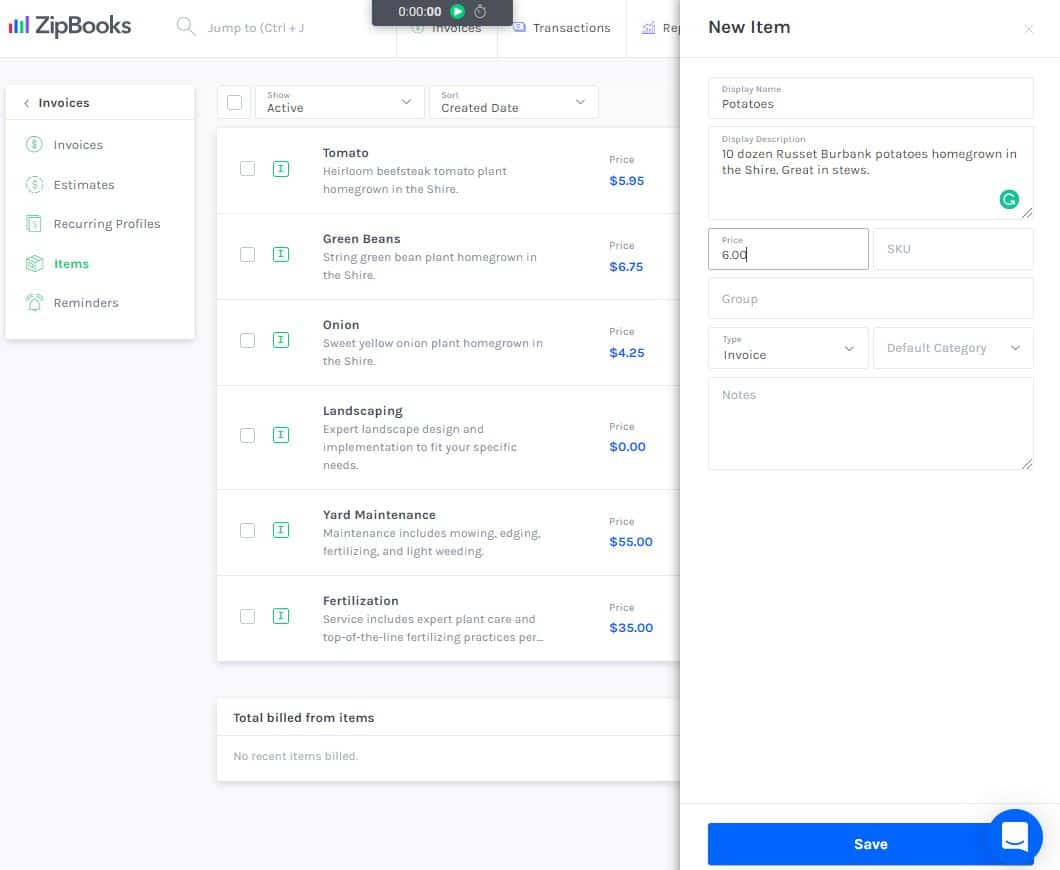 Time Tracking (Smarter & Sophisticated Plans Only): You can enter time manually or use a built-in timer. With each time entry, you can add notes and easily attach hours to projects and tasks.
Project Management (Smarter & Sophisticated Plans Only): ZipBooks has project management and basic job costing. You can add a contact, billing method, budget, and description to projects. You can break the budget down into tasks and attach expenses and time to each task. You can also assign projects to employees and invoice by the project.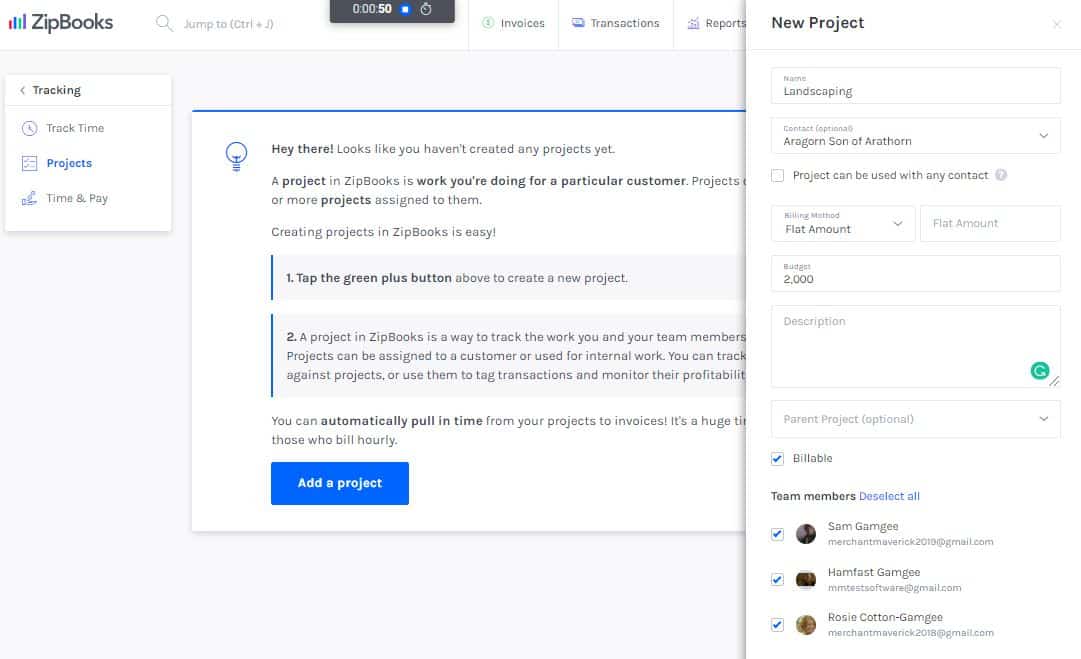 Reports: ZipBooks offers up to 16 reports (depending on your plan). The reports cover most key accounting reports and provide basic insights into your business.
Journal Entries: ZipBooks does not support traditional journal entries, although you can access a general journal report to view the transactions you've created or imported into the software.
Purchase Orders: You can create purchase orders in ZipBooks.
Sales Receipts (Smarter & Sophisticated Plans Only): When payment for an invoice is recorded, ZipBooks automatically sends a receipt.
Class Tracking (Sophisticated Plan Only): You can manage multiple locations and create custom tags to filter transactions and gain more detail on reports.
Default Email Messages: You can create default email messages for estimates and invoices.
Business Intelligence: This is probably my favorite part of ZipBooks. Not only does the software help you organize and analyze past transactions, but it also helps you look to the future with the business health score, invoice health score, and recommendations feature (Sophisticated plan only). The business health score can be found on your dashboard and is a quick look at your company's financial success. The invoice health score rates your invoice's chance of success in real-time. So if you add online payments and payment terms, you can watch your score increase before your eyes, indicating how likely it is that customers will pay you quickly. The recommendations section is a bar that runs along the bottom of your screen. After you've used the software for a while, it will fill up with business advice to help you grow.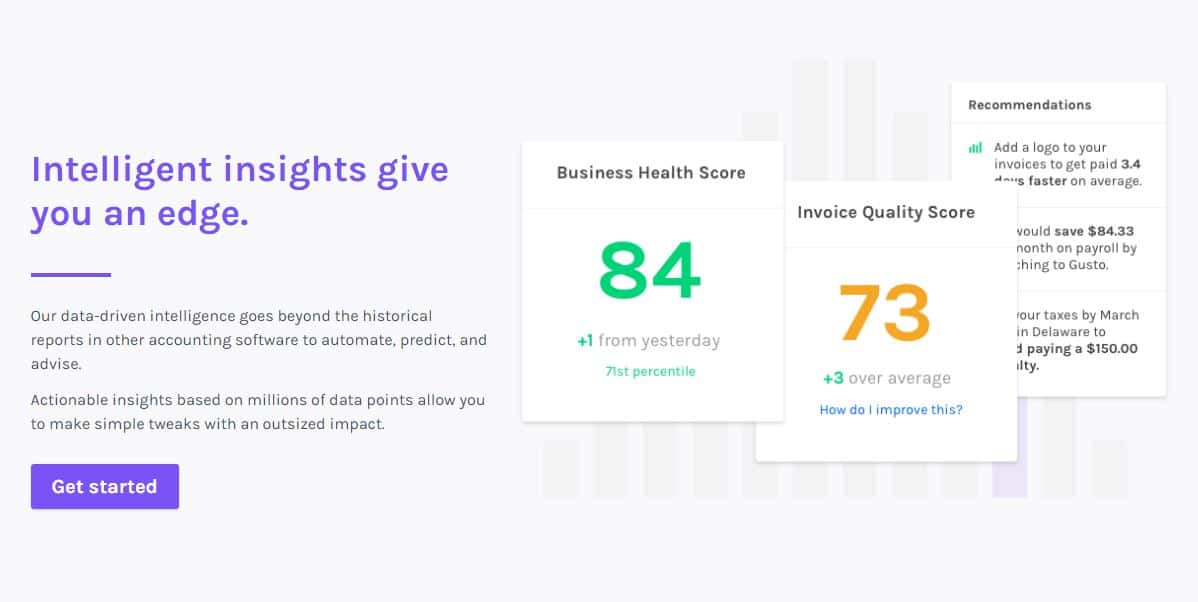 Sales Tax: You can add as many sales tax rates as you would like, and you can run a tax report at the end of the year to see how much you've collected. ZipBooks also supports VAT and many other sales tax standards in various countries, including Canada.
Multiple Currencies: ZipBooks offers multicurrency support for over 160 different currencies. Exchange rates are updated automatically.
Importing & Exporting: While you still can't import items, ZipBooks has improved its importing and exporting options since our last review. You can import contacts, bank statements, invoices, and a chart of accounts; you can export transactions and reports.
ZipBooks Customer Service
| ZipBooks Support | Availability |
| --- | --- |
| Phone Support | |
| Email Support | |
| Support Tickets | |
| Live Chat | In app |
| Dedicated Support Representative | |
| Knowledge Base or Help Center | |
| Videos & Tutorials | |
| Company Blog | |
| Social Media | |
ZipBooks provides great customer support with a good-sized collection of learning and support resources. In-software chat is available during business hours, and, in my experience, responses are quick and thorough — albeit a bit unprofessional (if you like memes, then you'll like ZipBooks' support). I never had to wait for an email response for longer than a day, and several inquiries were responded to within an hour.
Here are all of the support options available to ZipBooks users.
Phone: Phone support is not available, which is a bummer, and the number that pops up when you google "ZipBooks phone support" does not work. However, the company has occasionally called users if a problem is too hard to solve or explain via email or live chat.
Email: You can email the company for help.
In-Software Support: There is a chat feature within the ZipBooks software. The company usually responds within minutes to inquiries made during business hours, and this feature is highly rated among customers.
Help Center: ZipBooks offers a help center with tons of how-to articles and an FAQ section. While the help center is well-developed, I wish there was a way to access it from directly within the software.
Schedule A Demo: If you'd like to learn more about the software, you can schedule a demo with ZipBooks.
YouTube: ZipBooks has a YouTube channel, but it only has nine videos on it.
ZipBooks Blog: Zipbooks has an incredibly expansive blog with brilliant articles regarding accounting, small business advice, taxes, and more. Unfortunately, these bits of wisdom are hard to find, as there is no search bar.
Social Media: ZipBooks maintains active Facebook, Twitter, and LinkedIn pages.
ZipBooks Integrations
ZipBooks only offers six integrations: Square, PayPal, Stripe, WePay, Gusto, and Slack. This sampling is incredibly small compared to the competition. API is available for developers.
ZipBooks Reviews
Negative ZipBooks Reviews & Complaints
ZipBooks reviews are almost entirely positive across the board. There are a few complaints about the software, though, that are worth mentioning.
No Items List: Previously, users complained about not having an items list or inventory section. The company has added an items list, but users are still left wishing for inventory functions.
Missing Features: The most common complaint I saw was that the software was missing certain features that small business owners want. The main issues were the limited reports and invoice customizations. Previously, users complained about the lack of purchase orders, but ZipBooks has since added this feature to its software.
Reporting Lacking: A few reviewers were disappointed in the level of reporting offered by ZipBooks.
Positive ZipBooks Reviews
Overall, ZipBooks receives positive feedback across the board. The software has earned 4.7/5 stars on G2Crowd (based on 85 reviews) and 4.5/5 stars on Capterra (based on 98 ratings). Here is a collection of the most common points of praise.
Easy To Use: Again and again, users say how easy ZipBooks is to use. They like that the software is simple to learn and fast in terms of run time — and that it doesn't require a background in accounting to understand.
Nice Interface: Users like the design of ZipBooks, both for its organized simplicity and its aesthetic appeal.
Good Customer Service: Many users report positive interactions with the customer service team at ZipBooks. Representatives are said to be kind and responsive, and users feel like the company actually listens to what they want when updating the software.
Free Plan: It comes as no surprise that users like saving money with the free plan.
Feature Rich: A handful of reviewers were pleasantly surprised with all of the features ZipBooks offers, even with its free plan.
Note: ZipBooks is only free for users on the Starter plan.
Is ZipBooks Secure?
ZipBooks uses data encryption, redundancy, risk mitigation, and regular inspections to ensure security and prevent data loss. ZipBooks uses Google Cloud for its web hosting.
You can read more about ZipBooks' security on its website.
ZipBooks FAQs
The Final Verdict: Is ZipBooks Worth It?
ZipBooks Review Summary
Pricing
$0-$35/month
Choose If You Need

Scaleable Software
Customizable Interface
Intelligent Reporting
For such an affordable price, ZipBooks' accounting software offers a lot to its users. A well-designed UI, good customer support, and a large selection of features are just a few things that make ZipBooks stand out from the crowd. Throw in more advanced features and support for unlimited users, and it's easy to see why ZipBooks is a contender in the accounting software space.
However, there are a few drawbacks to the software. There are limited invoice templates and customizations, and the software lacks inventory and traditional journal entries. There are minimal integrations, which may rule the software out for larger businesses.
The company's constant updates are the reason for optimism that the software will become even better in the future, and its recent improvements have made ZipBooks a more viable small business solution than ever. The software offers good features, strong customer support, competitive pricing, unlimited users for paid plans, and unique business insights. Schedule a demo or test out the software's free trial to see this software for yourself.
---
Try A Top Pick For Payroll
ADP Payroll


---
We like ADP Payroll for its advanced employee management, strong payroll features, and great customer support. Get three months free when you sign up through our links! Get Started.
Try A Top Pick For Payroll
ADP Payroll


---
We like ADP Payroll for its advanced employee management, strong payroll features, and great customer support. Get three months free when you sign up through our links! Get Started.
To learn more about how we score our reviews, see our
Accounting Software Rating Criteria
.