Zoho Books Review
Thanks to competitive pricing and great usability, Zoho Books shines as an accounting app for small businesses, though it may be too limited for some larger companies.
Expert Analyst & Reviewer

Updated on:
Advertiser Disclosure: Our unbiased reviews and content are supported in part by
affiliate partnerships
, and we adhere to strict
guidelines
to preserve editorial integrity.
Zoho Books
Zoho Books At A Glance
Zoho Books is feature-rich accounting software that is highly scaleable for small to medium sized businesses that also has a free plan option
It has some of the highest rating for ease of use among accounting software programs on the market and its mobile apps are also reviewed exceptionally well
Zoho Books continues to improve its feature set as well, adding new integrations and payroll functionality, making an even better all-in-one product
---
Pros
Competitive pricing plans
Easy to use
Good mobile apps
International invoicing
Excellent customer support
Cons
Unsuited for large businesses
What Is Zoho Books?
Zoho Books is a complete accounting package with unbeatable invoicing and ample features. They have quickly grown to become a major player in the accounting software industry and have added a significant number of new features, such as budgeting, that the software was missing before. The company has also added a payroll integration, which was a big feature gap in the past.
With new features and the same great customer service, Zoho Books is a great choice for small business owners. Small businesses that would have outgrown the software before may now find that Zoho works just as well (if not better) for them than QuickBooks Online.
Continue reading to learn about the new Zoho features and to see if Zoho Books is a good fit for you.
Zoho Books Pricing
| Zoho Books Plans | Price | When To Use |
| --- | --- | --- |
| Zoho Books Free | Free | You have 1 user and under $50k in revenue yearly |
| Zoho Books Standard | $15/month | You have 3 or fewer users and 5,000 or fewer invoices |
| Zoho Books Professional | $40/month | You need advanced accounting features, such as purchase orders |
| Zoho Books Premium | $60/month | You have multiple branches |
Zoho Books offers four pricing plans, including a brand new free plan. You can sign up for a free 14-day trial of any of the paid plans. No credit card or banking information is required, and you can cancel at any time. Subscription payments are made monthly; however, if you commit to a year-long plan, you can receive a discount. It's possible to cancel the service at any time, even year-long plans (year-long users can receive a prorated refund).
One thing to note is that, on Zoho Books' website, the prices prominently displayed are for its Global plan. You have to scroll to the bottom of the page and toggle to the US plan for rates within the United State, which are higher.
Zoho Books US pricing is as follows and all prices shown are for when you are billed annually:
Zoho Books Free Plan
This plan is for businesses making less than $50k/year and includes:
1,000 invoices
Contact management
Invoicing
Expense tracking
Bank reconciliation
Mileage tracking
Chart of accounts
Journal entries
Reports
1099 contractor management
Email support
One user, one accountant
Zoho Books Standard Plan
The Standard plan costs $15/month and includes everything in the Free plan, plus:
5,000 invoices
Live bank feeds
Use permissions
Project management
Custom views & fields
Transaction locking
Bulk updates
Reporting tags
Email, voice, & chat support
Three users
Zoho Books Professional Plan
The Professional plan costs $40/month and includes everything in the Standard plan, plus:
Retainer invoices
Bills
Sales orders
Purchase orders
Multi-currency support
Stock tracking
Custom user permissions
Time tracking & billing
Job costing
Journal templates
Up to 10 workflows
Five users
Zoho Books Premium Plan
The Premium plan costs $60/month and includes everything in the Professional plan, plus:
Custom domain
Vendor portal
Budgeting
Custom buttons
WebTabs
Ten users
Zoho Finance Suite
Outgrown Zoho Books? In addition to Zoho Books' three pricing plans, Zoho also offers a full financial package called Zoho Finance Suite, which includes:
Zoho Books
Zoho Invoice
Zoho Inventory
Zoho Subscriptions
Zoho Expense
Zoho Checkout
If you are planning on purchasing more Zoho products than just Zoho Books, Zoho Finance Suite could be an affordable way to get all of the features you need. Zoho Finance starts at $199/month per organization and includes ten users. Contact Zoho directly for more details.
Extra Zoho Books Costs
| Zoho Books Extra Costs | Price |
| --- | --- |
| Additional Users | $2.50/month per user |
| Branches | $10/month with Premium Plan |
| Advanced Autoscans | $8/month |
| Snail Mails | $2/credit |
Before purchasing Zoho Books, there are a few extra costs to be aware of:
Extra Users: Additional users cost $2.50/month per user.
Snail Mail Credits: You can send invoices and estimates by mail directly through Zoho Books if you purchase snail mail credits. The cost is $2/credit. One credit is needed for US mail; two credits are required for international mail.
Auto Scans: This addition allows you to scan receipts and documents to upload and store them in Zoho Books. Zoho has cut the price on auto scans, so you can now purchase 50 auto scans for $8/month.
Branches: Only available in the Premium plan for $10/month.
Is Zoho Books Easy To Use?
Zoho Books' attractive UI is easy to set up and well-organized. The accounting software is generally intuitive and easy to use, although it can be a bit difficult to navigate at times — there are so many features that some get hidden within each other. Once you get used to the nuances, Zoho Books accounting software is a joy to use. The company provides excellent customer service and support resources to help you understand the software.
Zoho Books Features
| Zoho Books Features | Availability |
| --- | --- |
| Budgeting | |
| Tax Support | |
| Invoicing | |
| Estimates | |
| Client Portal | |
| Contact Management | |
| Expense Tracking | |
| Bank Reconciliation | |
| Chart Of Accounts | |
| Accounts Payable | |
| Inventory | Add-on available |
| Time Tracking | |
| Project Management | |
| Number Of Reports | 20+ |
Zoho Books offers a robust set of features that closely rivals QuickBooks Online, with quite a few unique touches thrown in. Here's an overview of Zoho Books' most notable features.
Dashboard: The Zoho Books dashboard is appealing and makes it easy to view your financial state. The dashboard features graphs for Total Receivables, Total Payables, Cash Flow, Income and Expense, Your Top Expenses, Projects, and Bank and Credit Cards. You can also change the color theme of your whole dashboard and main menu, which is a cool touch.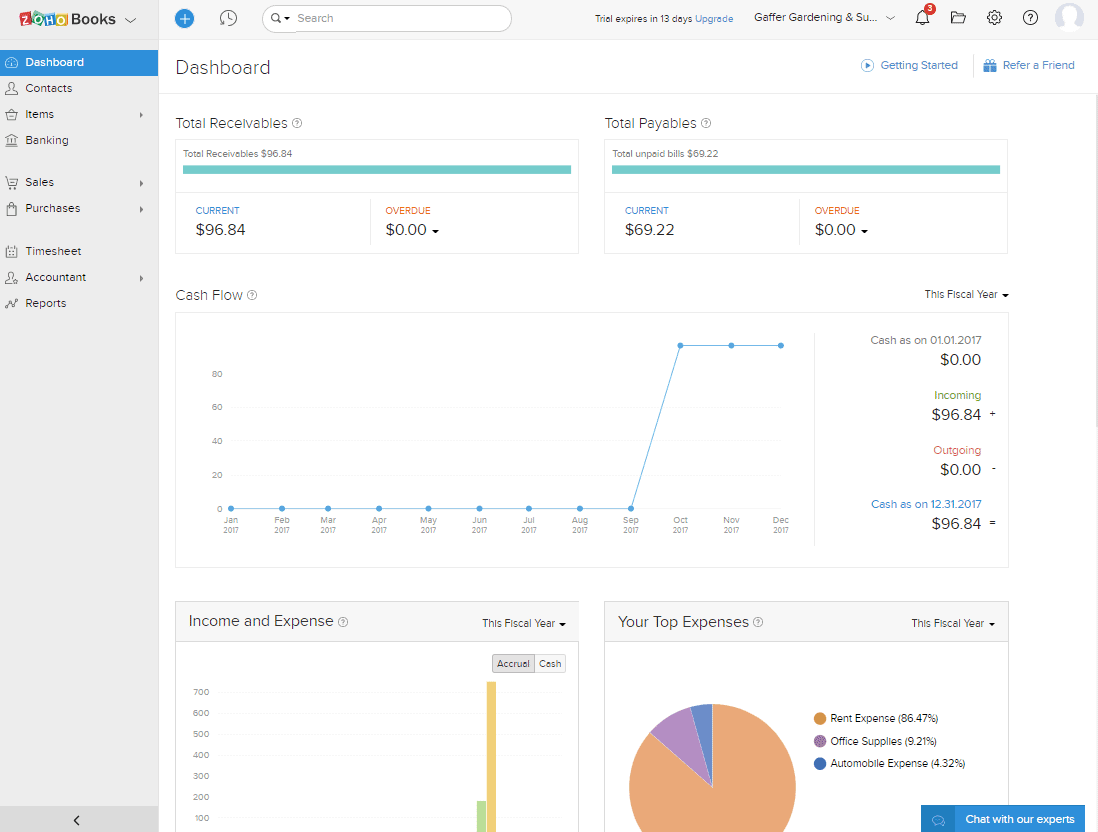 Invoicing: With 16 templates and tons of invoice customizations, Zoho Books' invoicing feature is hard to beat. You can send recurring invoices or auto-schedule invoices to be sent in advance. You can add discounts, shipping charges, and attachments. You can also opt to add a salesperson field to each invoice as well as custom fields. Zoho Books offers invoice reminders and the unique option to send your invoices in 13 different languages and encrypt your .pdf invoices for added security. Zoho Books supports retainer invoices as well. Invoices can be sent via email or traditional mail. Zoho also supports retainer invoices.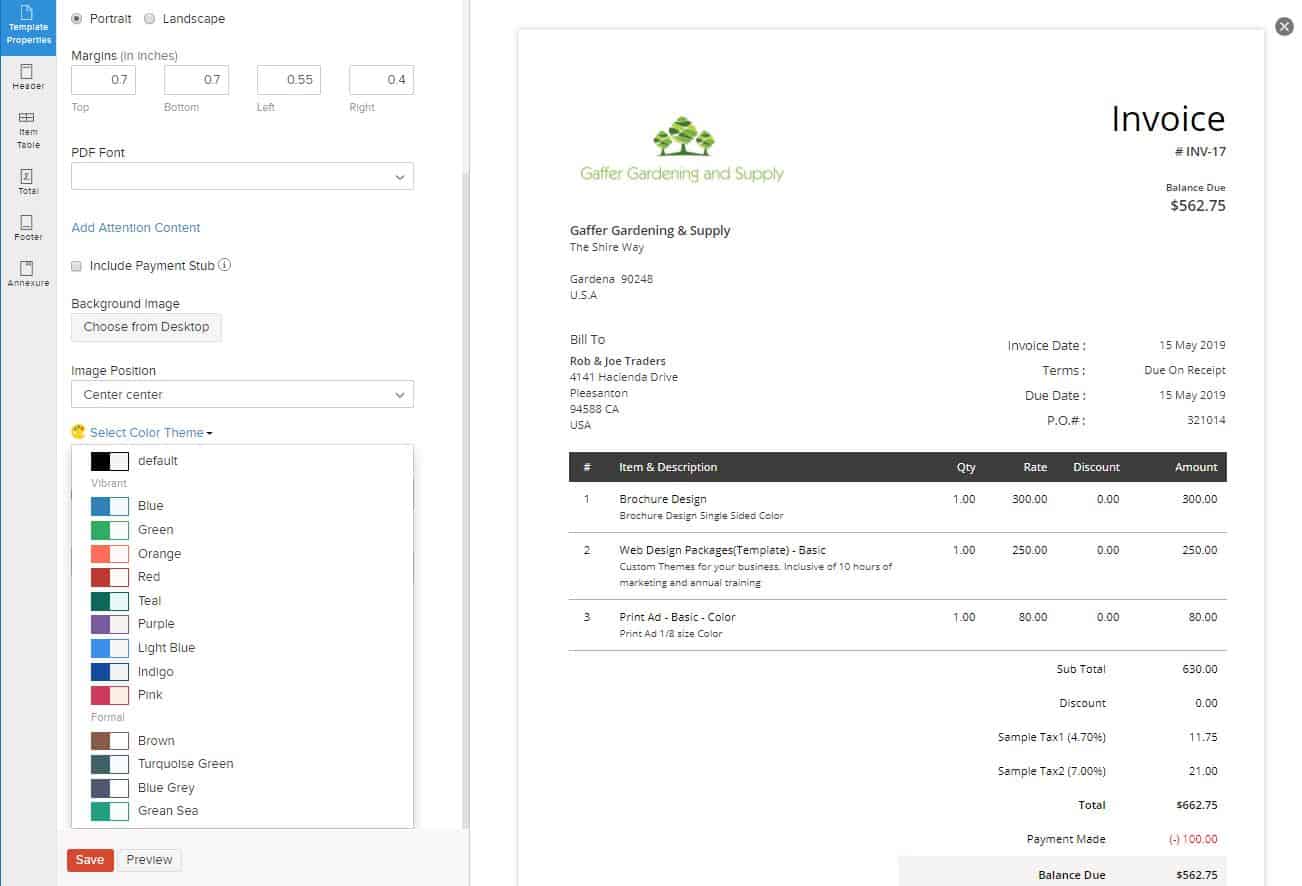 Estimates: There are 15 estimate templates to choose from. You can easily create estimates and convert them into invoices or projects.
Client Portal: To this day, this is still one of my favorite client portals out there; it is easy to use and has a very appealing UI. Clients have the option to view their home dashboard, estimates, invoices, and project details and can make partial or full invoice payments directly through the portal. They can comment on estimates as well. The best part is, you get real-time notifications about when your invoices and estimates have been viewed and paid. With the Premium plan, there is also a vendor portal.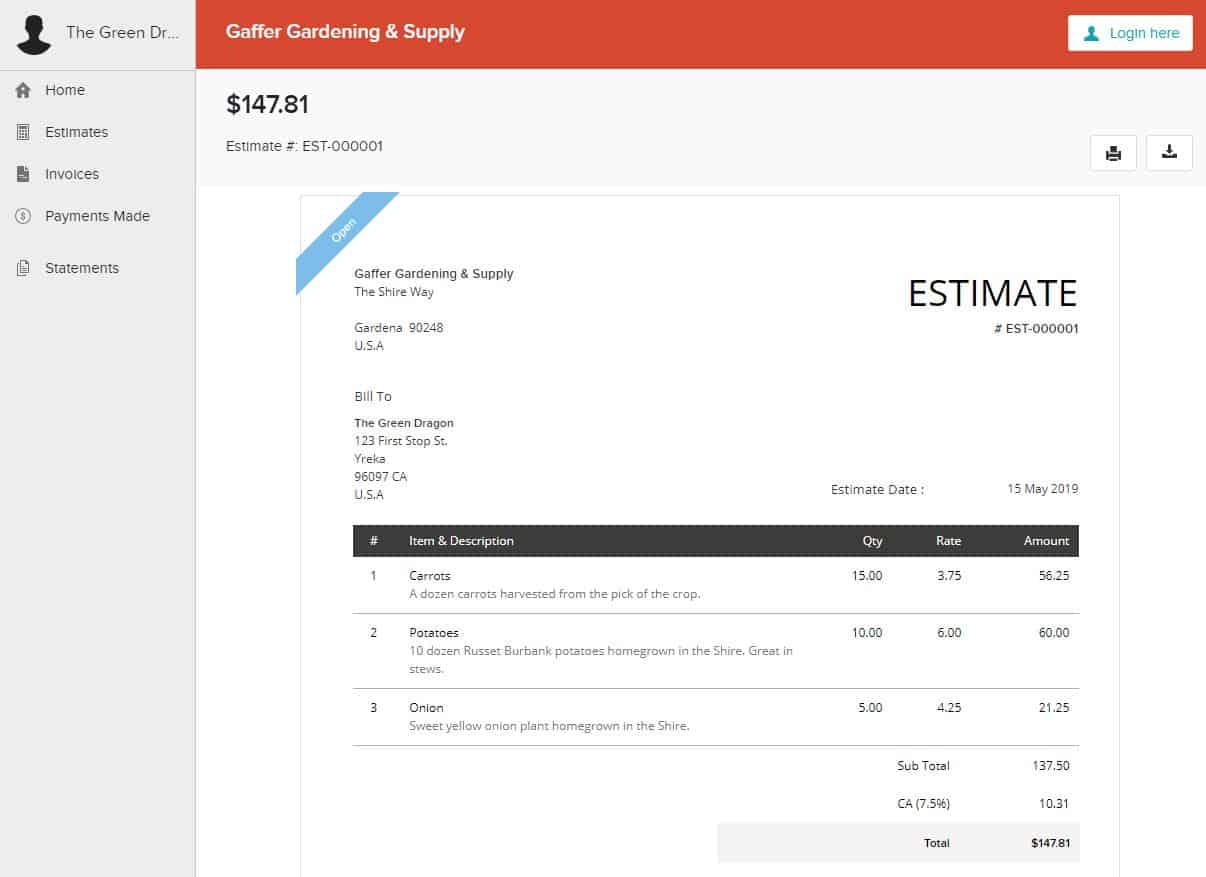 Contact Management: You can manage both customers and vendors in Zoho. You can add basic contact information, multiple contact persons, custom fields, reporting tags, internal notes, and more. When you click on a contact, you're taken to a beautiful dashboard where you can see an overview of that contact's information, sales, comments, and statements. Even better, you can request reviews and testimonials directly from your clients within Zoho Books.
Expense Tracking: You can enter expenses by hand (individually or in bulk), manually import bank statements via .csv and .tsv, or connect to your bank account directly. You can also upload your receipts into the software. Unfortunately, Zoho Books does not automatically categorize your expenses, although you can set bank transaction rules. Note: Like almost all software using bank live feeds, Zoho Books partners with Yodlee, which may violate some banks' Terms and Conditions. Consult with your bank to see whether live bank feeds are a good choice for you.
Bank Reconciliation: You can reconcile your bank accounts in Zoho Books.
Chart Of Accounts: Zoho Books provides a default chart of accounts that can be customized to fit your business's needs.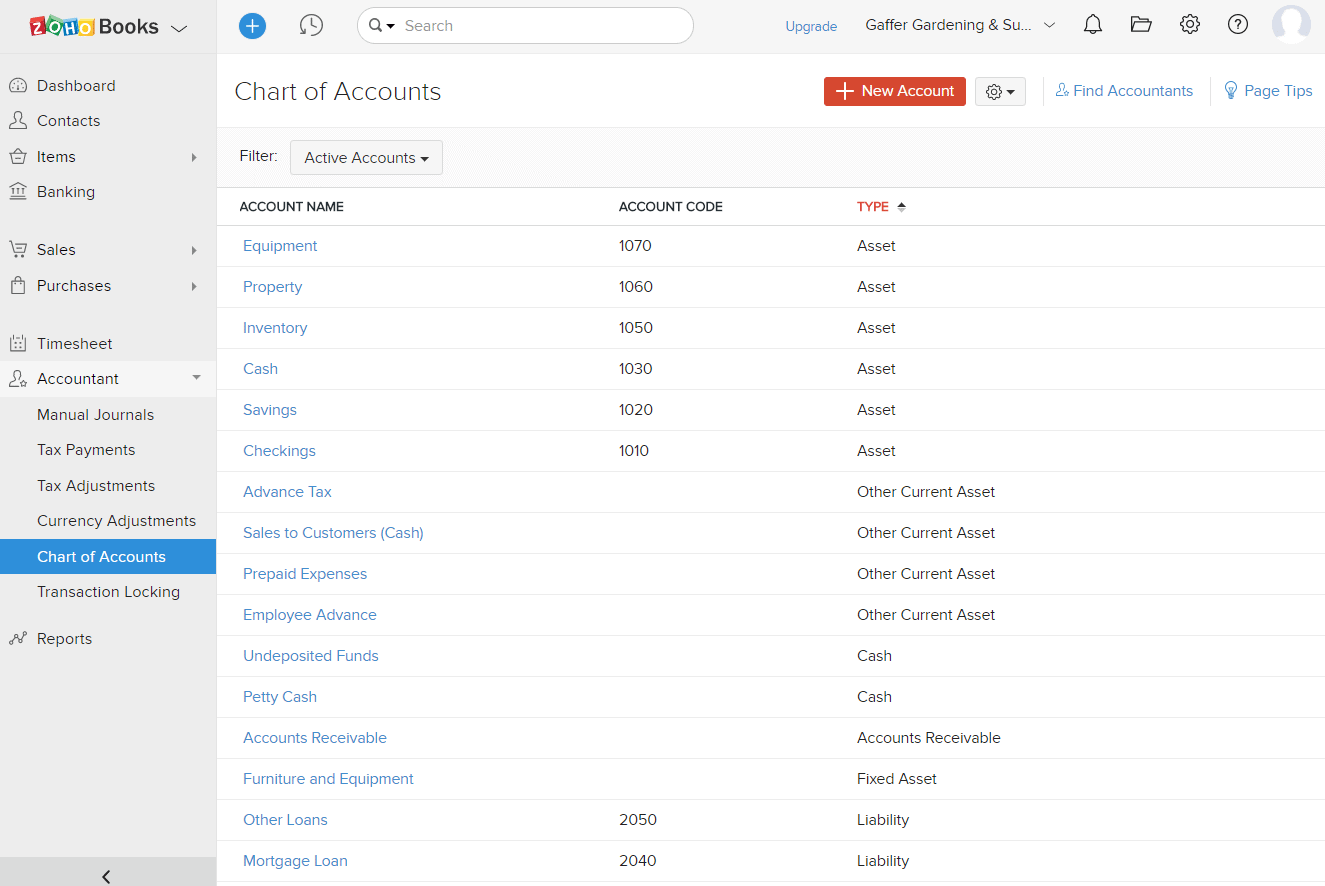 Fixed Asset Management: The software also offers fixed asset management (but no built-in depreciation like you'd find with Xero).
Accounts Payable: Through Zoho Books, you can create bills, recurring bills, and payment reminders. Zoho Books allows you to add attachments and internal notes to bills.
Checks: You can print checks directly from Zoho Books.
Inventory: Each Zoho Books plan offers a basic items list, but only the Professional Plan or higher offers full inventory capabilities. For each inventory item, you can add an item name, unit, rate, sales cost, a link to a specific account, and can choose whether or not the item is taxable. You can set reorder levels and alerts for when stock is low. You can also add images and SKUs to your items. Additionally, Zoho Books has a feature called "Price List," where you can create multiple pricing levels for your items.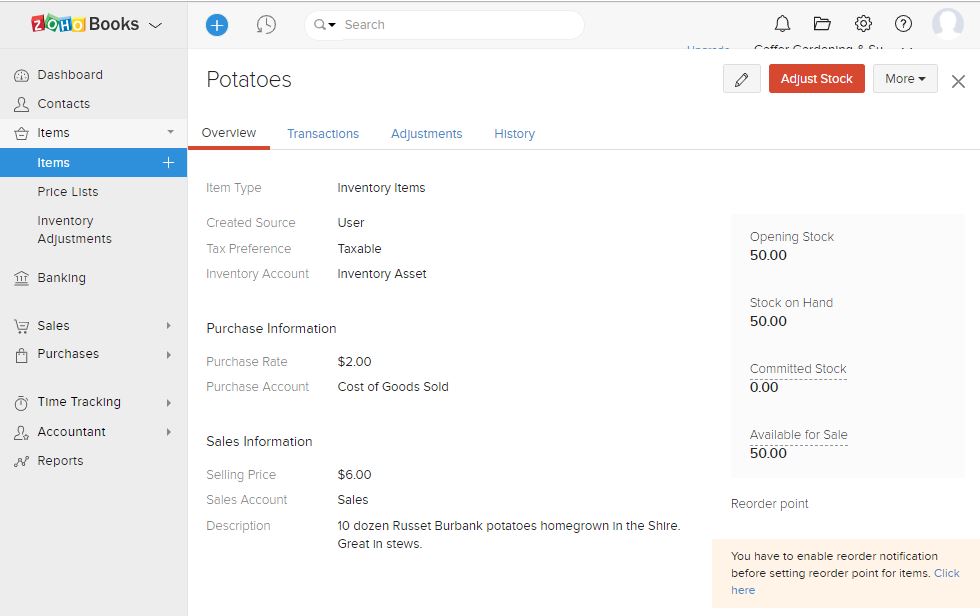 Project Management: The UI makes it easy to create projects, tasks, and budgets. You can budget by total project cost, total project hours, hours per task, or hours per staff. You can assign projects or specific tasks to staff members and set detailed user permissions for each member. When you click on each new project, you are taken to a project dashboard that includes charts and graphs showing the real-time progress of your project. You can easily comment on projects and attach time, bills, and expenses to them as well. Zoho Books makes it easy to turn projects into invoices. You can opt for clients to be able to see the progress of projects through their client portal. You can also request a weekly project summary report. Job costing is now available on the Professional and Premium plans.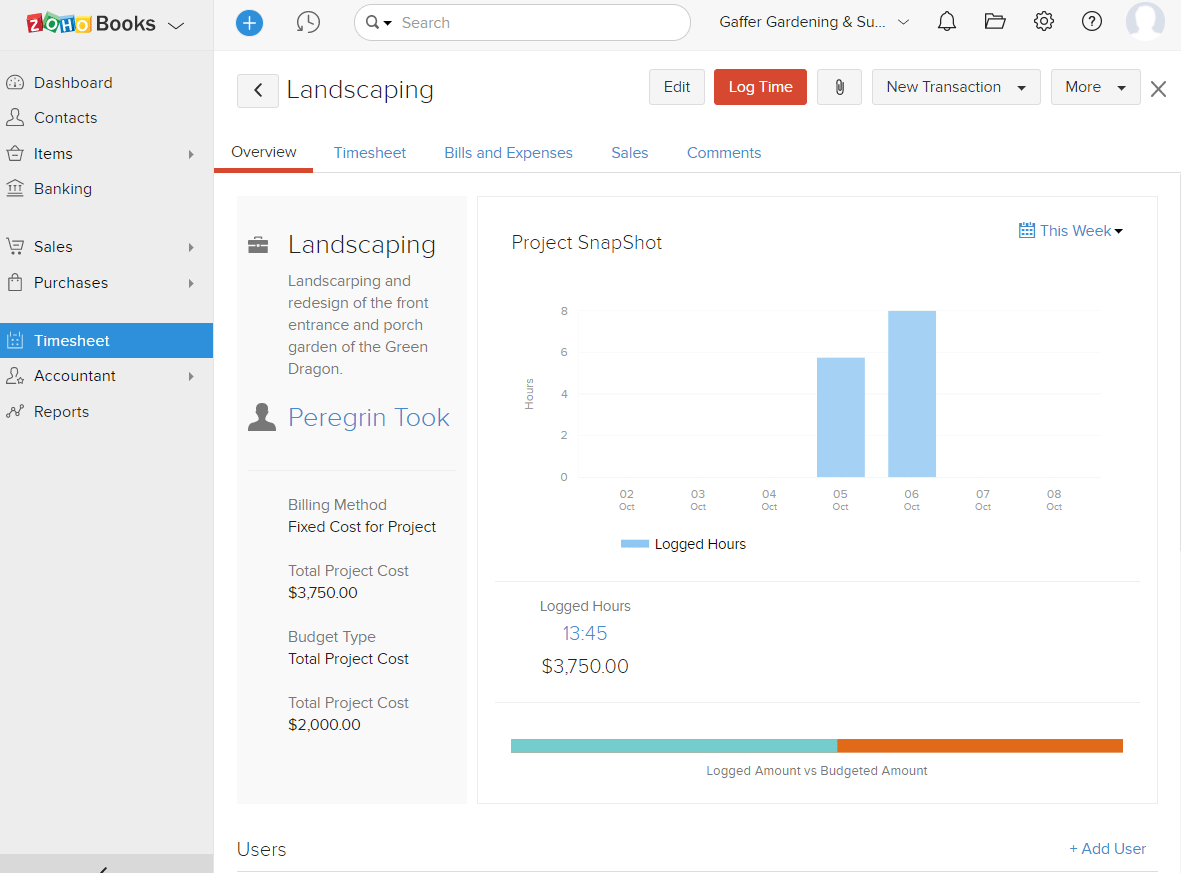 Time Tracking: To log hours, you may use a built-in timer or enter time manually. The downside is that time has to be directly connected to a project, but Zoho Books does make it easy to bill the time to customers.
Reports: Zoho Books offers over 50 reports, covering most basic accounting reports as well as helpful sales reports.
Journal Entries: Zoho Books supports journal entries, even on the free plan. The Premium plan support journal templates.
Sales Orders: Zoho Books supports sales orders with the Professional or Premium plans.
Purchase Orders: You can create purchase orders in Zoho Books with the Professional or Premium plans.
Credit Memos: You can create credit memos, or credit notes, in Zoho Books.
Report Tags: Much like QuickBooks Online's class tracking, Zoho Books offers reporting tags. These tags are completely customizable and serve as another way to organize your transactions and information. You can run customized reports based on these tags.
Default Email Messages: You can set default email messages for 16 preset templates or any number of customizable templates.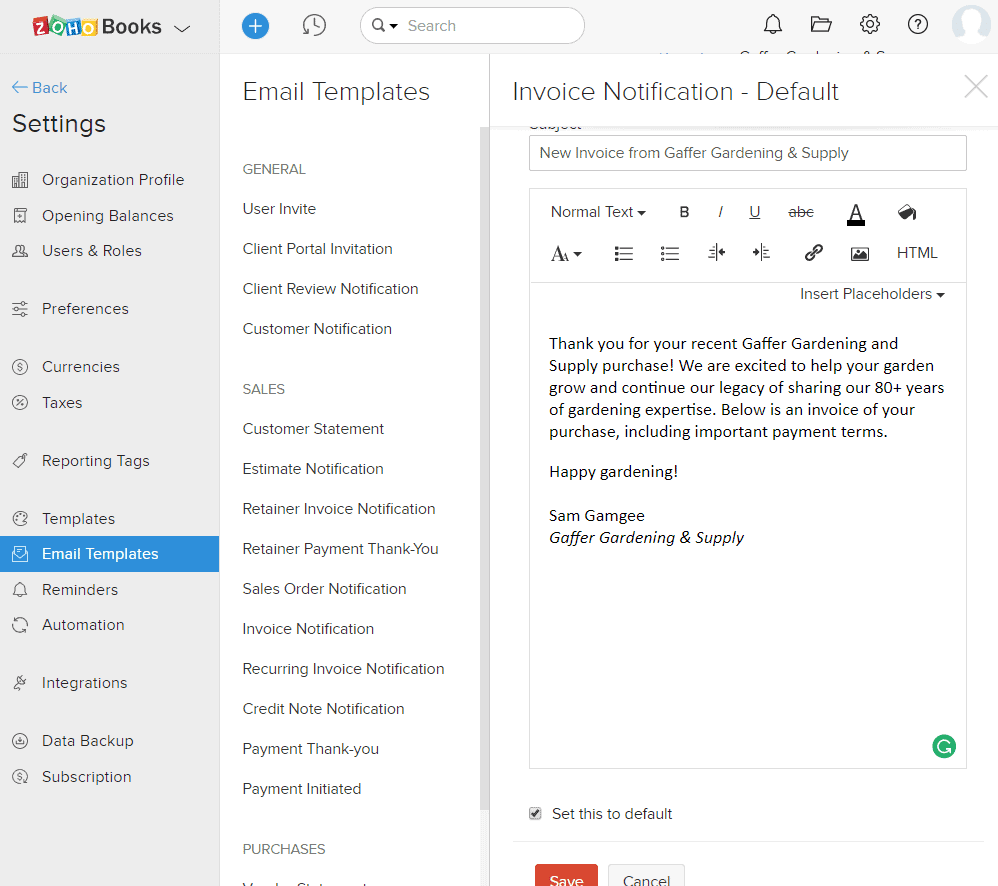 Sales Tax: You can create as many sales tax settings (and sales exemptions) for your business as needed. You can assign default sales tax rates to customers. Zoho Books also integrates with an automated tax service called Avalara, which uses your customer's location to get the most up-to-date sale tax rate (for an additional cost).
Tax Support: Zoho Books allows you to run a 1099 report and Sales Tax Liability report to make life a little easier come tax season.
Mileage Tracking & Deductions: You can track mileage deductions.
Budgeting: Zoho Books offers a brand new budgeting feature, which puts it head to head with QuickBooks Online.
Web Tabs: Zoho offers a unique web tabs feature where you can imbed URLs that your company uses often into the software for quick access on your Zoho dashboard.
Multiple Currencies: Zoho Books supports 170+ different currencies and automatically imports exchange rates. You can easily assign default currencies to customers.
Importing & Exporting: You can import and export nearly anything in Zoho Books via .csv. You can also create a backup company file in settings and export all of your data in a single document.
Zoho Books Customer Service
| Zoho Books Support | Availability |
| --- | --- |
| Phone Support | |
| Email Support | |
| Support Tickets | |
| Live Chat | |
| Dedicated Support Representative | |
| Knowledge Base or Help Center | |
| Videos & Tutorials | |
| Company Blog | |
| Social Media | |
Zoho Books offers excellent customer service. Not only are there plenty of support options available, but customer service representatives are also informative and quick to help. The live chat reps are quick to respond, helpful, and refreshingly knowledgeable about the software (rather than just being salespeople). To make your life even easier, nearly every support option can be accessed directly from within the software.
Customer service is available at all hours, Monday through Friday. Here are all of the customer service options Zoho Books offers:
Phone: You can contact Zoho Books via phone. Wait times are short, and representatives are generally helpful.
Email: You can also email Zoho Books for help.
Contact Form: You can submit an online support form as well. This service is much more actively maintained than the last time we reviewed this software.
Live Chat: For quick responses, there's a live chat feature on the Zoho Books site and within the software itself. The responses are well-worded, informative, and fast — I mean, can you beat a less than 60-second initial response time?
Knowledgebase: There is a comprehensive knowledgebase, which features help articles, FAQs, blogs, videos, business guides, migration guides, a welcome guide, and a community forum. All of this information is accessible from within the software, and there's a well-developed search bar.
Webinars: You can sign up for weekly webinars on Zoho products in general, although they are not always pertinent to Zoho Books. You can also watch a prerecorded Zoho Books demo.
YouTube: Zoho has a YouTube channel, but there aren't many videos specific to Zoho Books.
Accountant Finder: Zoho Books can help you find an accountant near you.
Feature Timeline: While Zoho Books doesn't reveal upcoming feature releases, the company does provide a timeline of past updates.
Social Media: Zoho maintains active Twitter and Facebook accounts.
Zoho Books Integrations
Zoho Books has steadily increased their integration offerings, now including more than 30, including payment processing apps, a SurePayroll integration, and a Zapier integration (which connects Zoho books to 1,000+ other apps).
You can also connect your Zoho Books account with seven other Zoho products, such as Zoho Inventory or Zoho Projects. Zoho Books API is available for developers.
Zoho Books Reviews
Negative Zoho Books Reviews & Complaints
For the most part, Zoho Books customer reviews are positive, and the majority of negative reviews are outdated and have been resolved (for example, many users used to complain of frequent outages and downtime, but this isn't an issue as of late). Still, there are a few things Zoho Books customers would like to see improved:
Lack Of Integrations: For quite a while, this was the most frequent complaint. And while there are a few users still begging for certain integrations, the company has added a good number of integrations and payment processors. More recently, users have been calling for the Zoho Books and Zoho CRM integration to be improved.
More Functionality: While many users appreciate Zoho Books' feature set, several people are calling for more customizable reports, better user permissions, a budgeting feature, and a more seamless migration from QuickBooks Online.
Positive Zoho Books Reviews
For the most part, customers that leave a Zoho Books review enjoy the software. The software receives 4.4/5 stars on Capterra (based on 451 reviews), 8.8/10 stars on TrustRadius (based on 89 reviews), and 4.5/5 stars on G2Crowd (based on 81 reviews). Furthermore, the mobile apps receive 4.8/5 stars on the App Store (based on 570 reviews) and 4.7/5 stars on Google Play (based on over 6,500 reviews).
Here are a few reasons why people like the software so much:
Easy To Use: This is by far the most common praise of Zoho Books. Users find the software easy to learn, set up, and use. Users say Zoho Books' intuitive interface and numerous automations save valuable time.
Affordable: One of the most common praises is how affordable Zoho Books is.
Mobile Apps: Users love the mobility and robust feature set of Zoho Books' mobile apps.
Good Customer Support: Many users report positive experiences with Zoho's customer support.
Feature Updates: Several users are impressed by the updates Zoho Books has implemented because of customer suggestions. I am incredibly pleased by how frequently the software is improved, and I've found that most weaknesses pointed out while reviewing this software often get resolved.
Is Zoho Books Secure?
Zoho Books takes strong security measures, including data encryption, two-factor authentication, and regular virus detection and prevention scanning. The company complies with the EU-US Privacy Shield Framework. Additional physical measures are taken to ensure data security, such as 24/7/365 surveillance, video monitoring, bullet-resistant walls, and more. Zoho Books backs up data regularly onto multiple servers in undisclosed locations.
The Final Verdict: Is Zoho Books Worth It?
Zoho Books Review Summary
Business Size
Best suited for small to mid-sized with 10 or few users but some larger business could take advantage of Zoho Books with its added payroll functionality
Choose If You Need

Strong Customer Service
Constantly Updated Software
Good Mobile Apps
Zoho Books is accounting software that is loaded with features at a fraction of the cost of its competitors. Zoho Books is easy to use and includes everything you need to balance the books of your business. Features such as auto-scheduling invoices, reporting tags, and inventory put Zoho Books on par with QuickBooks Online. There are also several unique touches that are hard to beat, including a great client portal and the ability to send invoices in 13 languages. Add in great customer support and numerous integrations, and it's no wonder Zoho Books is such a hit with small businesses.
For small businesses looking for strong features and good customer support, Zoho Books could be a good option. The software is ideal for invoicing, especially international invoicing.
Still on the fence? Compare leading accounting software to find the option that's right for your business.
Zoho Books FAQs
---
The Merchant Maverick Seal of Approval 🏆
Zoho Books


---



After hours of in-depth research and evaluation, we can confidently recommend this brand to our readers. Get started today and see Zoho Books for yourself.
The Merchant Maverick Seal of Approval 🏆
Zoho Books


---



After hours of in-depth research and evaluation, we can confidently recommend this brand to our readers. Get started today and see Zoho Books for yourself.
To learn more about how we score our reviews, see our
Accounting Software Rating Criteria
.
Read Next