How To Start A Jewelry Business
Are you a jewelry designer looking to start a jewelry small business? Read our guide to find out the next steps.
Merchant Maverick Contributor

UPDATED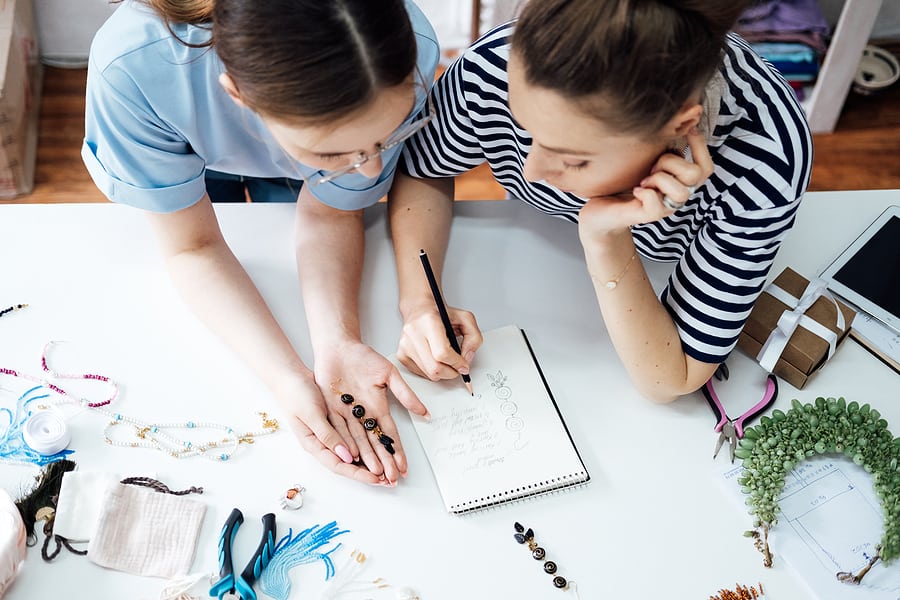 Are you wondering how to start a jewelry small business? Or maybe, more specifically, how to start a jewelry business online?
In this article, we'll go over how you can start a jewelry business, the best place for you to sell online, how much it costs to start a jewelry business, and some general do's and don'ts for small business owners!
Is A Jewelry Business Profitable?
While jewelry may be your passion, at the end of the day, a business needs to be profitable in order to stay afloat. Any business that is planned well and started with the right intentions has the potential to be profitable.
Whether you will sell handmade, bespoke, or wholesale jewelry, there is potential for profit in all corners of the internet and beyond.
Do your research, plan well, and you will go far! Keep reading to learn how you can set yourself up for success.
How To Start A Jewelry Business
Below we've listed some important questions you need to ask yourself when you begin planning to start your very own jewelry business.
Small Business Musts
Now that you have a better idea of what kind of business you're going to create, let's go over a couple of things you need to do when starting any small business.
The Best Omnichannel Platforms For Selling Your Jewelry
As a new business, it's crucial to have a solid web presence, a reliable payment processor, and an easy way for your customers to purchase your goods and know they will be shipped to them safely.
A good omnichannel web platform can accomplish all three of these things with little to no stress on your end!
Shopify
Shopify's online store is an easy-to-use platform that offers a free trial, advanced design tools, and six different plans that allow you to choose the right one for your business size and needs. We consider Shopify to be one of the best options for getting started with selling online. Monthly rates start as low as $5.
As a web platform, Shopify offers a fully customizable website builder that requires no coding! There are thousands of themes, apps, and integrations for you to choose from. Shopify offers a free three-day trial and the ability to purchase your custom domain name directly through them.
Square
Square Online is a cost-effective eCommerce solution that integrates directly with Square POS. Square offers a free plan, free web hosting, and, like Shopify, you don't need coding knowledge to use their website builder to make your online store.
If you wish to get rid of the Square ads on your site, need more than 500MB of storage, or want to use a custom domain, you will need to upgrade to a paid plan. Plans start at $12/month billed annually.
Wix
While the other vendors on this list are payment processors first with added website-building capabilities, Wix is a true cloud-based website builder with eCommerce capabilities. Wix has an easy learning curve, beautiful free templates, and a flexible drag-and-drop builder. They offer both website plans and business plans for their users.
The Business Basic plan starts at $27/month billed annually. You can even get a custom domain name free for a year! Wix allows you to accept payments through Wix Payments (in-house payment processor). You can take payments from major credit card companies, Apple Pay, recurring payments, third-party payment providers, buy now, pay later apps, and in-person payments with Wix POS.
Lightspeed
Lightspeed is the priciest option on this list, but it offers some unique features for small business owners. The most interesting of these features is the Customer Loyalty Program function. Lightspeed Loyalty allows you to reward your returning clients with a point-based loyalty program.
Lightspeed is definitely more tailored for retailers, but it has plenty of useful features for online tutoring businesses, including gift certificates and receipts. Lightspeed eCommerce allows your clients to schedule their own appointments and send confirmations and reminders, offers reports you can run to determine the health of your business, and marketing features that can help with your SEO score and social media presence. Plans start at $69/month billed annually.
Shipping Options For Your Jewelry Business
If you plan on only selling online, you're going to need a way to get your jewelry to your customers. Check out our article on Stamps.com to see if you can save money purchasing your postage through them vs. a traditional shipping service.
The good news is that Stamps.com and other third-party shipping providers offer integrations with most major eCommerce platforms. Make sure you compare the integration capabilities with your preferred eCommerce site before making your decision.
How To Start A Jewelry Business FAQs