7 Best POS Systems For Gyms To Get More Members In 2023
Gym POS systems typically include features like membership management, recurring billing, and online appointment booking for personal training sessions. Which one is right for you?
Expert Analyst & Reviewer

UPDATED
Advertiser Disclosure: Our unbiased reviews and content are supported in part by
affiliate partnerships
, and we adhere to strict
guidelines
to preserve editorial integrity.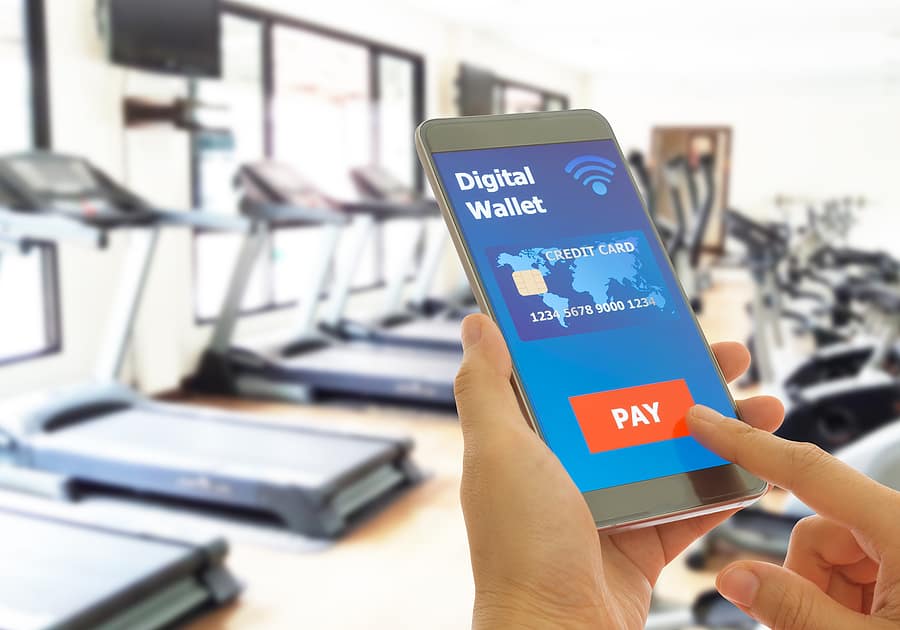 Looking for a POS system for gyms? There are numerous fitness POS systems to choose from, and you can even find a free POS system for gym businesses. The best gym management POS should let you take payments, manage gym memberships, book one-on-one sessions with a trainer, and promote your business with email and SMS marketing.
A POS for gym businesses should also include features to manage merchandise sales and build a gym website. Of course, different gym POS features will matter more to different types of fitness businesses.
Read on to learn about some top POS systems for gyms and personal trainers.
Learn More About Our Top Picks
Company
Best For
Next StepsBest For
Square POS

Best free gym management software
$0+/month
Flat-rate processing at 2.5-2.6% + $0.10

Best free gym management software
$0+/month
Flat-rate processing at 2.5-2.6% + $0.10

Clover POS

Best for small gyms
$0+/month
Flat-rate processing at 2.3-2.6% + $0.10

Best for small gyms
$0+/month
Flat-rate processing at 2.3-2.6% + $0.10

Lightspeed Retail POS

Best for gyms that sell merch
$69+/month
Flat-rate processing at 2.6% + $0.10

Best for gyms that sell merch
$69+/month
Flat-rate processing at 2.6% + $0.10

Shopify POS

Best for customizable gym websites
$9+/month
Flat-rate processing at 2.4-2.7%

Best for customizable gym websites
$9+/month
Flat-rate processing at 2.4-2.7%

Shift4Shop

Best for personal trainers
$0+/month
Processing fees depend on processor

Best for personal trainers
$0+/month
Processing fees depend on processor

Show More Options
Franpos

Best for online bookings
$199+/month
Processing fees depend on processor

Best for online bookings
$199+/month
Processing fees depend on processor

Vagaro

Best for large fitness clubs
$25+/month
Flat-rate processing starting at 2.2% + $0.19

Best for large fitness clubs
$25+/month
Flat-rate processing starting at 2.2% + $0.19

Show Fewer Options
Read more below to learn why we chose these options.
Best POS With Gym Management Software Features
A POS system for gyms should have affordable month-to-month software pricing, transparent payment processing fees, and the features you need to manage your business. The best gym management software includes cloud POS systems like Square, Lightspeed, Clover, Shopify, Shift4Shop, Franpos, and Vagaro.
1. Square: Best Free Gym Management Software
Square POS


---
Pros
Free gym POS
Free online store
No contract
Recurring billing & appointment functionality
Cons
Potential issues with account stability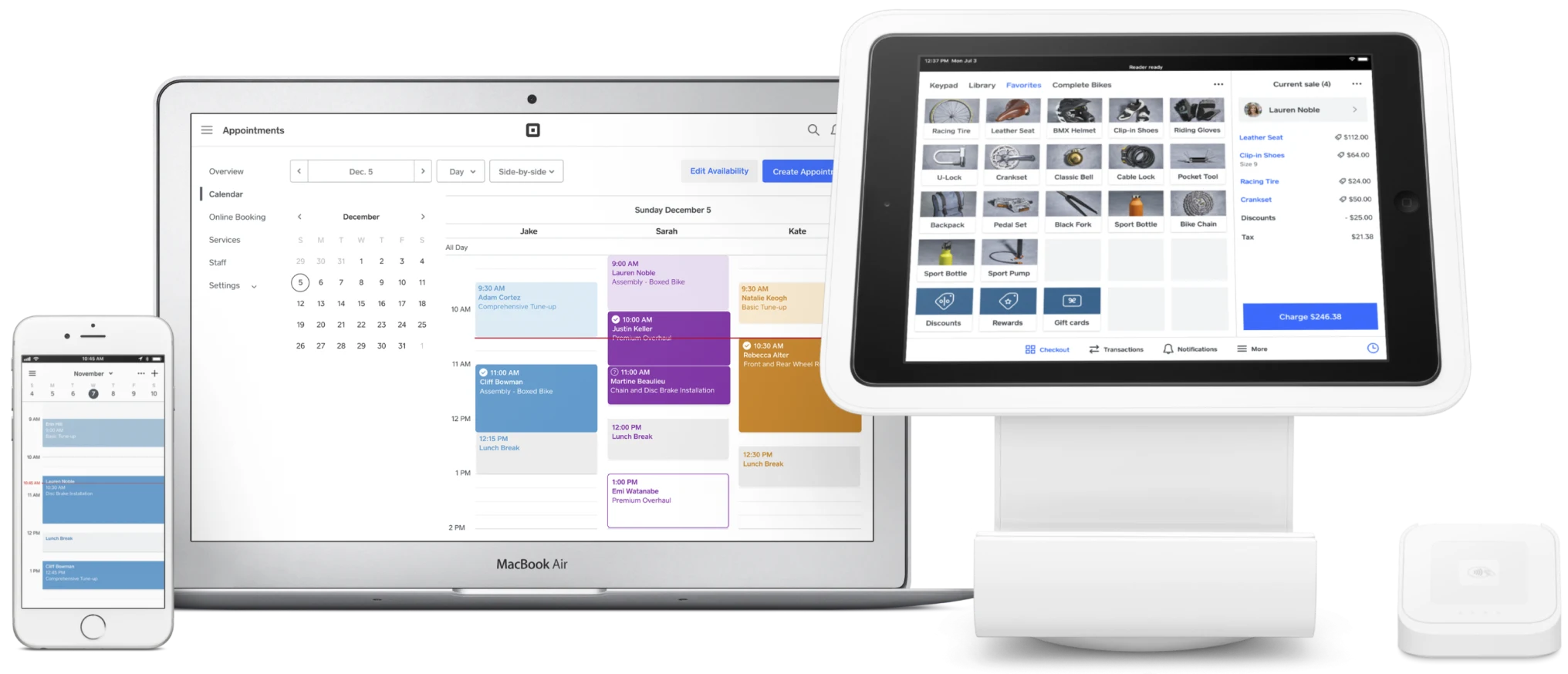 Best Gym Management Software Features
Square gym management software includes the following features:
Manage online bookings with Square Appointments version of the app
Process recurring subscription payments with Square Invoices
Integrates with membership apps like Gymdesk, Here, & Billforward
Integrates with booking apps like Acuity, Appointy, Booxi, & GoDaddy Appointments
Add-ons for marketing, loyalty, gift cards, team management, & more
Accept tips on any version of the app
Free website & online store (Square Online)
Accept BNPL payments online or at your POS with built-in Afterpay integration
Mobile POS app works on smartphone, tablet, or proprietary hardware setup
Square Pricing For Gyms
Square POS is free for the original Square Point of Sale App and Square Appointments for a single calendar (e.g., a personal trainer) is also free. Note that Square Point of Sale and Square Appointments are separate POS systems and you'll need to decide which one you will use. It's also free to send recurring invoices through Square Invoices, which works with either version of the app.
Square offers paid add-ons such as Teams Plus ($35/month) for advanced team management and Square Marketing, which starts at $15/month. Square also has paid Square Appointments plans that allow for multiple staff appointments—these plans start at $29/month. Pricing varies for third-party gym management software apps that connect with Square.
Gym POS Equipment Cost
Square accounts include one free swipe card reader. You can also purchase Bluetooth readers, tablet stands, and proprietary tablet setups through Square. For example, a Square Register, which comes with a POS screen, built-in payment reader, and customer-facing screen, is $799.
Payment Processing
All Square accounts include in-house payment processing via Square Payments. The standard rate is 2.6% + $0.10 for in-person payments, though very high volume businesses might qualify for a discount. Square Appointments users also qualify for a discount; processing on these plans is 2.5% + $0.10.
If you accept online bookings for personal training sessions with Square Appointments, you can accept pre-payments through your website at a rate of 2.9% + $0.30; this same rate is charged for card-on-file recurring invoice payments (for club memberships, for example).
Contract Requirements/Warnings
Square accounts are month-to-month with no contract. One caveat is that Square accounts do not come with a dedicated merchant account—instead, Square uses an aggregated account processing model, which can sometimes result in issues like unexpected funding holds and account freezes. Read more about how Square compares with a traditional merchant account.
Where Square Really Shines For Gym Membership Management
Square is the most comprehensive free POS system for gyms. The mobile POS app even includes a free card reader, free recurring subscription billing, a free website, and free online appointment booking (for one staff). However, you will pay extra if you need to book appointments for multiple staff or if you want to integrate Square with a more comprehensive gym management software app like Gymdesk.
Without integrations, the free versions of Square (Square POS and Square Appointments) are somewhat basic, but for small fitness studios and independent personal trainers, this may be all you need. If you have more robust needs, you can build your perfect POS using Square's numerous paid integrations and add-ons.
2. Clover: Best For Small Gyms
Clover POS


---
Pros
Affordable month-to-month plans
Attractive hardware options
Available through multiple merchant service providers
Flat-rate, interchange-plus, cash discount, & other processing models available
Cons
Some Clover MSPs are shady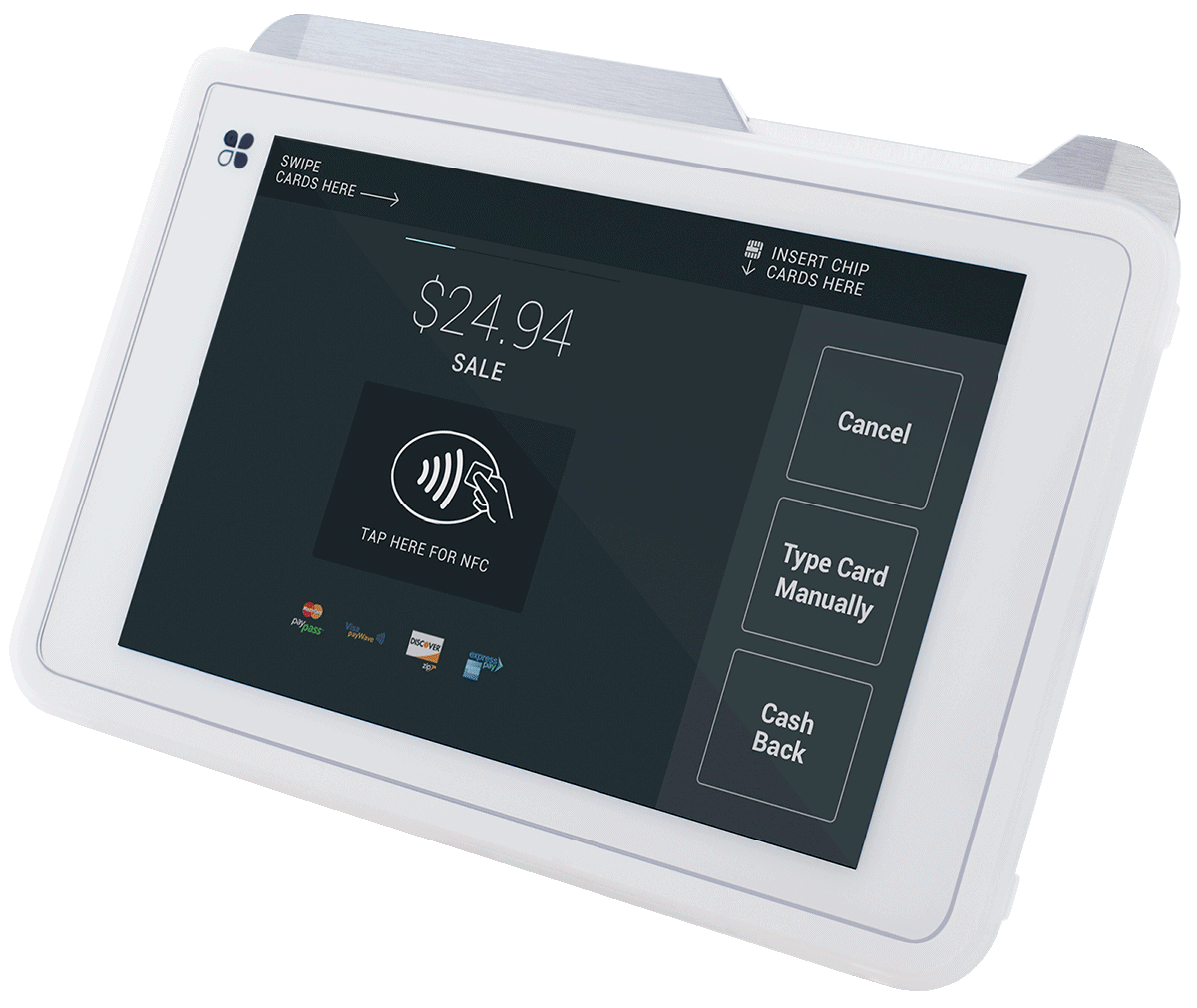 Best Gym Management Software Features
Gym management software features included with Clover consist of the following:
Integrates with membership apps for subscription billing, including Loyalzoo & bLoyal
Built-in recurring billing option
Integrates with online fitness class booking apps such as Warrior Studio Management & Inspire by STX
Order management for your smoothie bar
Retail management to sell your branded gym merchandise
eCommerce integrations for your gym website
Employee management features to manage permissions & shifts
Easy built-in loyalty program
Clover Pricing For Gyms
Clover software plans start at $0/month for basic payment processing (and hardly any other features), though most gym businesses will want the $44.95/month Register plan to receive the full set of Clover features. Clover does not include built-in scheduling features so if you need this functionality, you will need to purchase a paid app that integrates with Clover.
To process recurring payments without using an integrated subscription app, you can use the Clover Virtual Terminal, which is included with most Clover plans at no additional charge.
Gym POS Equipment Cost
Clover has multiple proprietary POS hardware options, including the Clover Flex smart terminal ($499), the Clover Mini space-saving countertop POS ($799), and the full-sized Clover Station countertop POS ($1,349 or $1,649). You can also mix and match, for example, by adding a portable Flex to a Clover Station or Mini setup.
Payment Processing
Clover offers flat-rate processing ranging from 2.3-2-6% + $0.10 depending on what plan you're on. You can alternatively purchase a Clover system from an outside merchant services provider (MSP) with a different payment processing setup, such as interchange-plus.
Recurring payments processed through the Clover Virtual Terminal are charged the keyed-in transaction rate of 3.5% + $0.10.
Contract Requirements/Warnings
Clover offers month-to-month contracts if you purchase your system through Clover.com. However, if you buy your system from another source, that provider will have their own contract terms, which could include a long-term contract or expensive equipment lease. Not all Clover providers are reputable so if you do decide to go with an outside vendor, make sure you choose a recommended Clover provider.
Where Clover Really Shines For Gym Membership Management
Clover is an affordable, all-in-one POS system that includes software, hardware, and payment processing. Its core functionality is somewhat simple but you can expand and customize your system with apps from the Clover App Market. If you have a small gym with relatively basic needs, it would be hard to do better than this attractive, easy-to-use system.
Clover doesn't have extensive built-in features for gyms, but it integrates with some excellent apps such as Loyalzoo for membership management and customer self-check-in, and Zoomifi to let customers book training appointments online. Clover also comes with some basic retail and restaurant features, which can be useful if your gym sells any merch or food.
3. Lightspeed Retail: Best For Gyms That Sell Merch
Lightspeed Retail POS


---
Limited time offer. Sign up to Lightspeed by March 31st and get up to $1,500 in complimentary hardware. Claim this offer today.
Pros
Pay-as-you-go option
Strong retail functionality
In-house eCommerce add-on
Built-in appointments & subscription billing
Cons
Not designed exclusively for the service industry
Early termination fee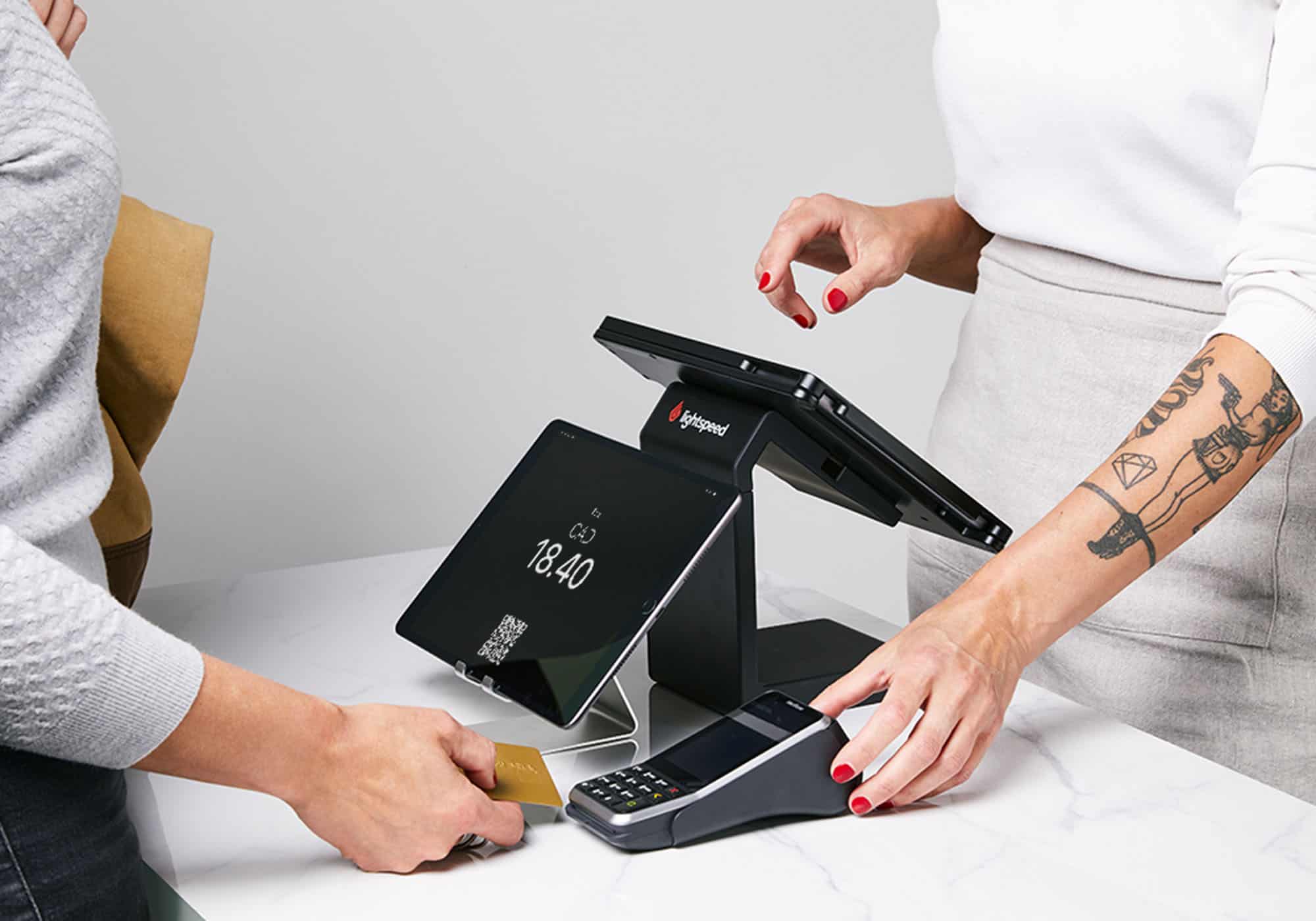 Best Gym Management Software Features
Lightspeed Retail gym management software includes the following features:
Built-in appointment booking through your online store
Scheduling and booking integrations, such as booxi
Built-in subscription plans, including the ability for customers to sign up for subscriptions online
Advanced retail functionality, including purchase ordering and inventory analytics
Built-in SEO tools for your integrated online store
Add-ons for loyalty, gift cards, accounting, eComm, and advanced reporting
Lightspeed Pricing For Gyms
Lightspeed Retail pricing starts at $89/month ($69/month with annual billing) for one terminal if you choose Lightspeed's in-house payment processor, Lightspeed Payments, as your payment processor.
You will pay an extra $50/month to integrate a third-party payment processor, such as TSYS or Worldpay.
All Lightspeed plans come with one POS register software license. You'll pay an extra $59/month/device to add on more registers.
Subscriptions and appointment booking do not incur any extra fees.
Gym POS Equipment Cost
Lightspeed Retail works with iPads or desktop computers. If you need to purchase hardware, you can reach out to Lightspeed for a personalized quote.
Payment Processing
Lightspeed Payments, Lightspeed's in-house payment processor, charges a flat-rate fee of 2.6% + $0.10 for in-person payments and 2.6% + $0.30 for online and card-not-present payments.
You do have the choice to integrate with an outside processor, but doing so will require you to pay an extra $50/month.
Contract Requirements/Warnings
Lightspeed offers monthly and annual plans. While you get a good discount on annual plans, you will have to pay an early termination fee if you cancel your Lightspeed plan early. With this in mind, consider signing up for a monthly plan, then switching to a long-term one once you're sure Lightspeed Retail is right for your gym.
You must verify any Lightspeed hardware purchases within five business days of receiving them, or the equipment will not be covered under Lightspeed's 30-day hardware warranty (14 days on Apple products).
You will pay an extra $50/month to integrate an outside payment processor. This added monthly fee may be worth it if you can save over $50/month on payment processing fees with a third-party payment processing provider.
Where Lightspeed Really Shines For Gym Membership Management
Lightspeed is one of our favorite iPad POS systems, thanks to its ease of use and depth of features.
Though Lightspeed Retail isn't expressly designed for the service or fitness industries, features like subscription billing, customer management, and appointment booking make it possible for you to use this POS for your gym or fitness center. Lightspeed also integrates with third-party booking and membership management software.
The benefit of using Lightspeed instead of a dedicated gym POS is that Lightspeed excels in multichannel retail — which makes the POS ideal for gyms that also sell merchandise, either in-store or on their website. Many service industry POS systems lack inventory management functionality, so if you have a lot of merch to manage, it may make sense for your business to use a retail POS like Lightspeed that can be modified for use in the fitness industry.
Get Started With Lightspeed Retail POS
4. Shopify: Best For Customizable Gym Websites
Shopify POS


---
Pros
Affordable, pay-as-you-go plans
Built-in website & blog
Membership & booking integrations
Multiple processing options
Cons
Can get expensive with add-ons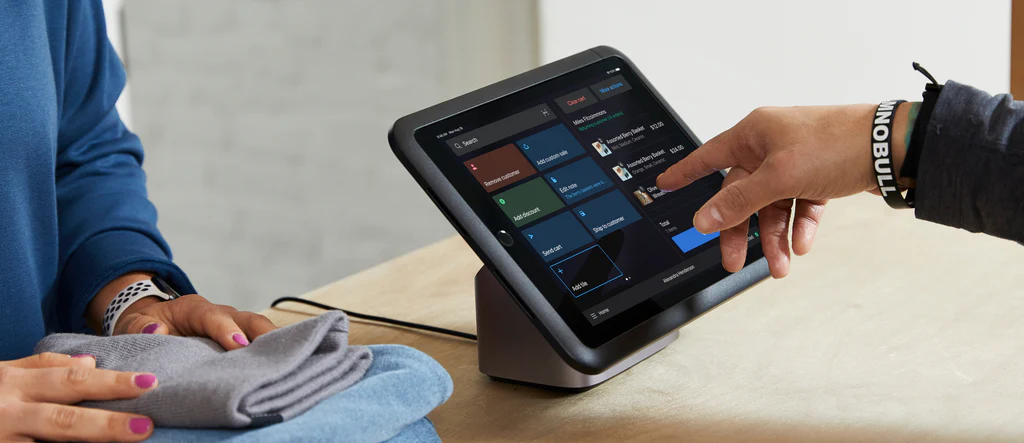 Best Gym Management Software Features
Shopify has the following gym management software features:
Multitude of gym website templates to choose from
Sell services & merchandise on your website & in person
Website has built-in blog for content marketing
Integrates with numerous booking apps, including Sesami, Appointly, Servicify, & many more
Integrates with membership & recurring billing apps like Appstle, Simplee, Conjured, BOLD & others
Retail management features for gyms that sell merch
Mobile selling with Shopify Lite
Advanced employee management with Shopify POS Pro
Shopify Pricing For Gyms
Shopify pricing starts at $9/month for the Shopify Lite mobile POS plan, which lets you take in-person credit card payments on a smartphone or tablet (Shopify also has an even cheaper $5/month Starter plan but it doesn't let you accept in-person POS payments, only social media payments). The Shopify Lite plan may work well for basic payment processing as a personal trainer, though most businesses that sell in-person will want at least the $29/month Basic plan, which includes in-person selling features and a full-fledged Shopify website.
If you want advanced in-person selling features (which may or may not be necessary since these features are mostly geared toward retail stores), you can add Shopify POS Pro for another $89/month. Pricing to add third-party apps for features such as memberships or online bookings varies; however, there are some free apps available.
Gym POS Equipment Cost
Shopify works on most smartphones or tablets—all you need to start taking in-person payments is a $49 mobile card reader. You can also purchase other POS equipment and bundles on Shopify's website, but a DIY hardware setup should work fine.
Payment Processing
Shopify payment processing depends on what level plan you're on. Rates range from 2.4-2.7% for in-person payments and from 2.4-2.9% + $0.30 for online payments. You can also integrate an outside payment processor to use with Shopify, but there will be an additional fee added to each transaction.
Contract Requirements/Warnings
Shopify is month-to-month with no contract. However, it's important to know that like Square, Shopify uses an aggregated merchant account model (Shopify Payments is actually powered by online payment processor Stripe), which can equate to less account stability than you'd get with a traditional merchant account.
Where Shopify Really Shines For Gym Membership Management
Customizable Shopify websites are ideal for gyms that sell services and merch online. However, Shopify makes it just as easy to sell in person with its integrated Shopify POS. Though Shopify was originally designed for retail commerce and is not dedicated gym management software, its wide assortment of app integrations lets you customize your system for any industry, including fitness. Whether you're a personal trainer who wants to book appointments online and take in-person payments, or a busy gym that needs an affordable POS with an awesome website, Shopify can meet your needs.
5. Shift4Shop: Best For Personal Trainers
Shift4Shop


---
Pros
Generous free plan
Extensive online selling features
Booking & membership software integrations
Also integrates with Square Register
Cons
Limited in-person selling features
Must use Shift4 Payments to access free plan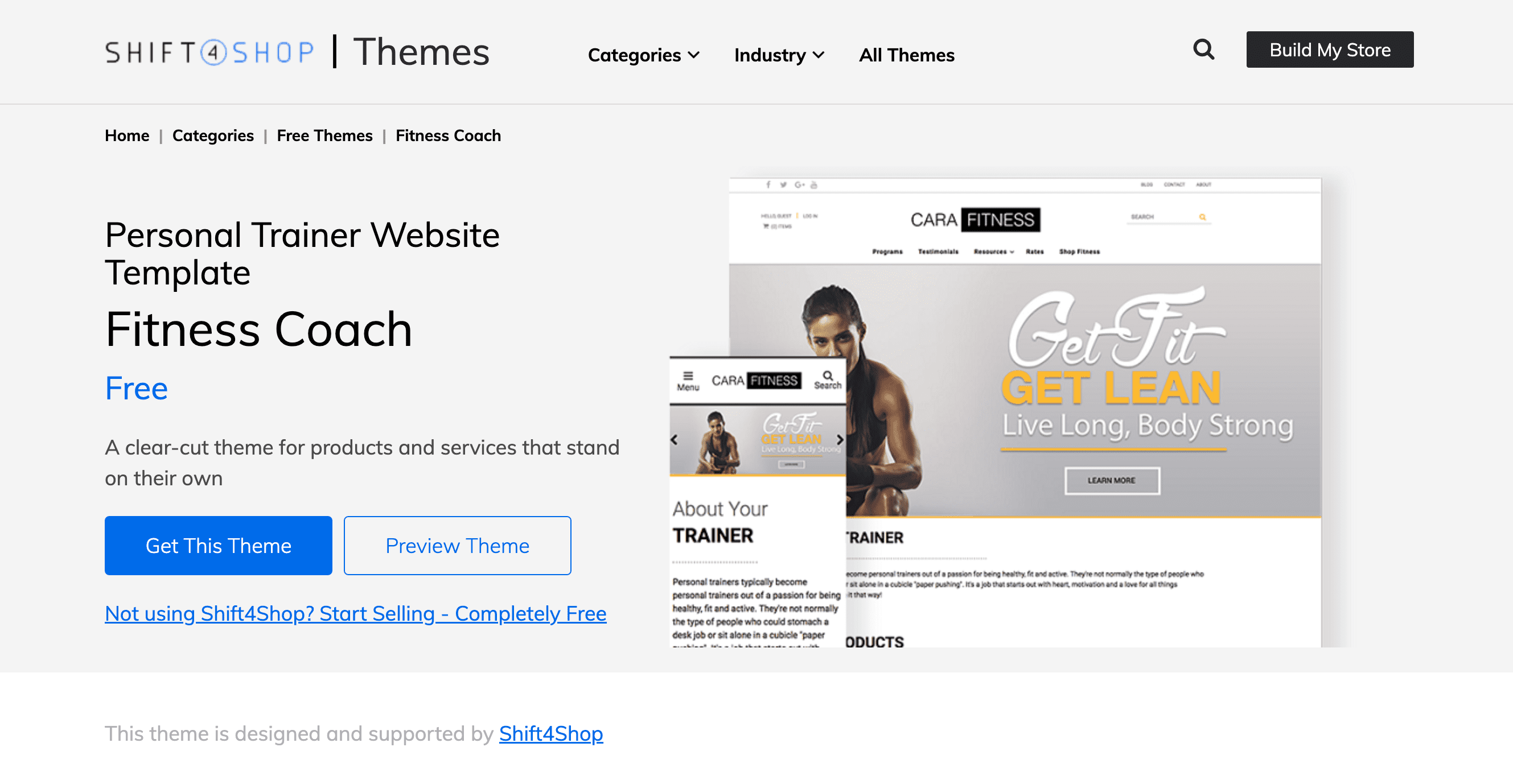 Best Gym Management Software Features
Shift4Shop includes the following gym management software features:
Dozens of free gym website templates
Gym management software integrations with online booking modules
Social media integration to sell on Facebook and Instagram
Features to sell products & services online
Marketing tools like email newsletters, coupons, in-store promotions, & more
Built-in POS module for in-person selling, or sell with Square Register
Recurring billing for gym memberships
Integrations with appointment scheduling software like Appointy, SimplyBook.me, & Acuity
Sell gift certificates online for free
Shift4Shop Pricing For Gyms
A Shift4Shop website and POS module is free, provided that you use Shift4 Payments as your processor. If you want to use a different processor, plans start at $29/month. Pricing to integrate third-party gym management software applications varies.
Gym POS Equipment Cost
Shift4Shop is geared mostly toward online sales. However, Shift4Shop does have a free POS module for iPad. Unfortunately, Shift4Shop does not go into detail about what type of card reader or other equipment the POS is compatible with. Another option is to use Shift4Shop with Square Register equipment, which retails for $799.
Payment Processing
As mentioned, to sell online with Shift4Shop on the free plan, you'll need to use Shift4 Payments. Shift 4 has a tiered pricing model, which you can read more about in our Shift4 Payments review.
The in-person selling module, however, uses Stripe or USAePay as the payment gateway (you can read our Stripe review and or USAePay review to learn about their pricing). If you use Square for in-person selling with Shift4Shop, you'll pay their standard 2.6% + $0.10 rate.
Contract Requirements/Warnings
Shift4 Payments doesn't have the greatest reputation, and will likely require a 1-3 year contract. Should you choose to go with the free plan that comes with Shift4 processing, be sure to read your contract thoroughly so that you understand all the terms, fees, and conditions.
Where Shift4ShopReally Shines For Gym Membership Management
Shift4Shop has one of the most extensive feature lists when it comes to free website builder software. Even on the free plan, Shift4Shop is robust enough to power a personal trainer website plus in-person selling for personal training services. Though this system has limited in-person selling features and probably isn't ideal for a full-fledged gym, its free cost of entry makes Shift4Shop suitable for personal trainers who are just starting out and need a great website to start selling with.
As mentioned, Shift4Shop also integrates with Square POS on Square Register, which means you can use Square as your POS and Shift4Shop to sell online. Though Square also offers a free online store, some businesses may prefer to create a more feature-packed and customizable website with Shift4Shop.
6. Franpos: Best For Online Bookings
Franpos


---
Pros
Franchise management at higher plan levels
Built-in online booking & membership functionality
Multiple processing options
Comes with loyalty & gift cards
Cons
High monthly price
Some customers complain of system bugs

Best Gym Management Software Features
Franpos gym management software offers the following list of features:
Built-in membership billing packages
Built-in online appointment booking with extensive scheduling options


Resource management – book depending on available resources
Franchise management with royalty payment management
Bundle products and services
Guest self check-in with QR code
Retail & foodservice features for gyms that sell merch and/or food
Review management to monitor your gym's online reputation
Franpos Pricing For Gyms
Franpos pricing starts at $199/month for single-terminal businesses; franchise gyms with multiple locations will pay $249/month. On either plan, you can add unlimited terminals for another $99/month. Recurring billing and appointment booking do not cost extra, though you will pay an additional $99/month for an eCommerce website on which you can book appointments.
Gym POS Equipment Cost
Franpos works with iPads and Android tablets. Franpos doesn't list hardware pricing on its website, though it does offer a list of compatible POS equipment, such as receipt printers, scales, payment devices, and label printers. This should make it easy enough to source your own equipment.
Payment Processing
Franpos does not have in-house payment processing but integrates with a range of outside payment processors. Some of these include Square, TSYS, Vantiv, Chase, Heartland, First Data, and North American Bancard.
Contract Requirements/Warnings
Franpos POS software pricing is month-to-month, meaning you can cancel your account at any time. However, you will also want to check with whatever payment processor you decide to integrate to make sure they do not require their own contract.
Where Franpos Really Shines For Gym Membership Management
Franpos can work with a range of industries and business sizes. Its built-in membership billing and appointment booking features make this system work great for many types of service businesses, including gyms. Franpos's appointment booking module in particular offers really excellent features. Appointments are matched with employees based on how busy they are and at what times, also taking into consideration their breaks and meals to optimize for efficiency.
Some additional features of the Franpos appointment module include a blended scheduled and walk-in appointment queue; the ability to book single, recurring, and linked appointments; appointment waitlists; and appointment text/email confirmations and reminders. Usually, you would have to pay for an additional booking app to get this level of functionality.
Whether you have a single-location personal training business or a multi-location gym with 1:1 training services, Franpos rises above the fray when it comes to online appointment booking.
7. Vagaro: Best For Large Fitness Clubs
Vagaro


---
Pros
All-in-one gym management software
Affordable plans with built-in processing
No contract
Built-in booking & membership management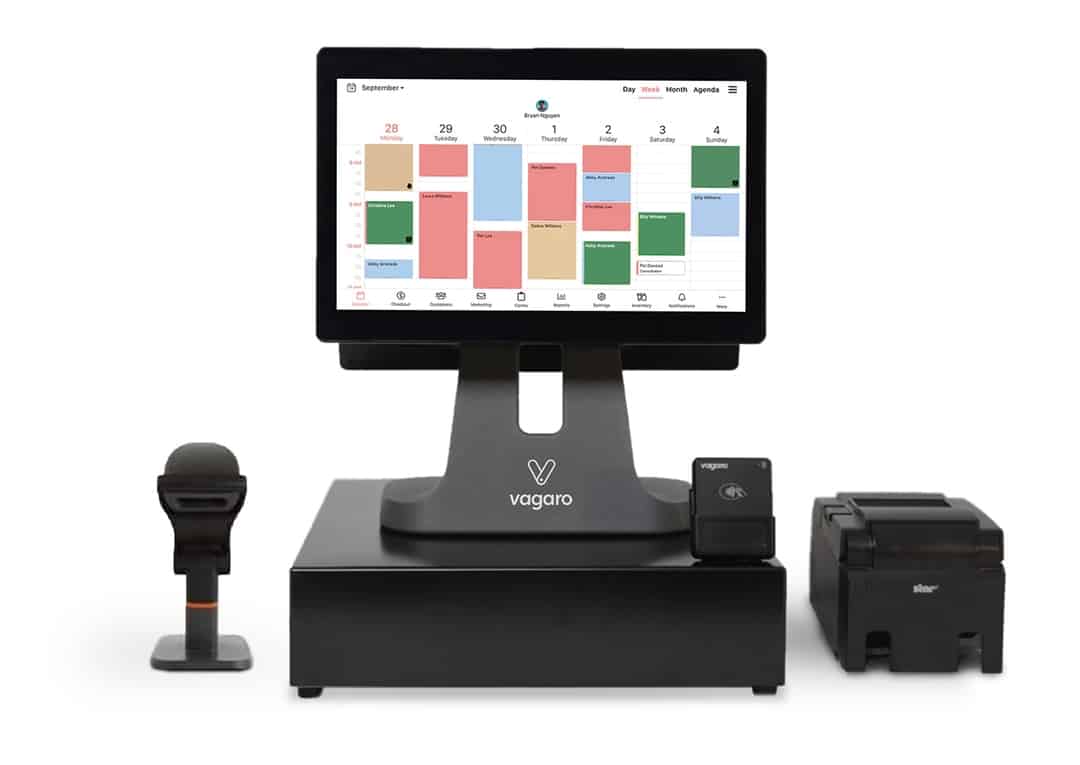 Best Gym Management Software Features
Vagaro is complete gym management software that includes an extensive list of functions:
Membership management with autopay and different subscription tiers
Online booking on Vagaro, Instagram, Facebook, & Apple Maps
Customizable calendar with waitlist & resource management
Automated notifications & appointment reminders
1,000 free email marketing messages to send each month
Live stream fitness classes and virtual training sessions
Self check-in with branded customer check-in app or by scanning phone, smart watch, or membership card at front desk
Detailed health club client profiles
Automatic rent collection from personal trainers who work at your gym
Free listing for your business on Vagaro Marketplace
Vagaro Pricing For Gyms
Vagaro's base price starts at $25/month for a single bookable calendar and goes up to $85/month for 7+ calendars. The booking website costs another $10/month, or you can pay $200/month for your branded app that clients can book from. If you want a check-in app that lets members check in themselves for classes and events, this will only set you back an additional $10/month.
To see pricing for Vagaro's various other add-ons, check their website.
Gym POS Equipment Cost
Vagaro offers various "Pay Desk" tablet-based hardware bundles to choose from but does not list pricing on its website. The check-in app works with iPads and Android tablets (not the Pay Desk), so you'll also need to purchase a separate tablet for check-in if you use this add-on.
Payment Processing
Vagaro includes in-house payment processing. Vagaro charges "large merchants" processing $4,000+ a month a rate of 2.2% + $0.19, though this rate comes with a $10/monthly fee. For small merchants processing less than $4,000, Vagaro charges a flat rate of 2.75%.
The keyed-in rate on the large merchants plan is 3.0% + $0.19 "per keyed-in transaction and association fees"; on the small merchants plan, it's 3.5% + $0.15 per keyed-in transaction.
Contract Requirements/Warnings
Vagaro says its pricing is month-to-month, but it does mention a $75 hardware discount on one-year merchant account agreements. Before signing up with Vagaro, make sure you understand if your contract is month-to-month or requires a longer-term commitment.
Where Vagaro Really Shines For Gym Membership Management
With its extensive fitness club feature set that includes independent contractor management and fitness class bookings, Vagaro is ideal for large fitness clubs that hire out personal trainers and offer group classes. Vagaro simplifies common gym management tasks like selling memberships, offering online 1:1 appointments, checking in clients for fitness classes, and collecting rent from instructors.
Please note that we haven't reviewed Vagaro in full and we aren't 100% familiar with their merchant services. But the fact that they offer month-to-month contracts and transparent flat-rate processing are points in Vagaro's favor.
Which Gym POS Is Right For Your Business?
Any quality POS system for gyms should have certain capabilities, including membership management and online appointment bookings. Though some fitness POS systems require third-party app integrations to provide these functions, others include them as built-in features. Either type of POS setup can work, provided that your gym management software apps don't exceed your monthly budget and that all of your software integrations work seamlessly together.
The bottom line is that the best gym management software for your business is the one that includes everything you need to provide the services your business sells while also fitting your budget. If possible, take advantage of free trials of different systems before deciding on the one you like best.
Those starting a new gym business will probably also need to purchase gym equipment. If you're finding all these expenditures are spiraling out of your budget, you may not have to pay all at once. Check out our post on gym equipment financing to help make your gym equipment purchases (including your POS equipment) more affordable.
FAQs: POS System For Gyms
In Summary: Best POS With Gym Management Software Features