The 7 Best Etsy Alternatives To Increase Sales In 2023
Due to Etsy's rising costs, many are looking for Etsy alternatives to sell their handmade items. Explore other marketplace or eCommerce platforms that could make the perfect alternative to Etsy.
Expert Analyst & Reviewer

UPDATED
Advertiser Disclosure: Our unbiased reviews and content are supported in part by
affiliate partnerships
, and we adhere to strict
guidelines
to preserve editorial integrity.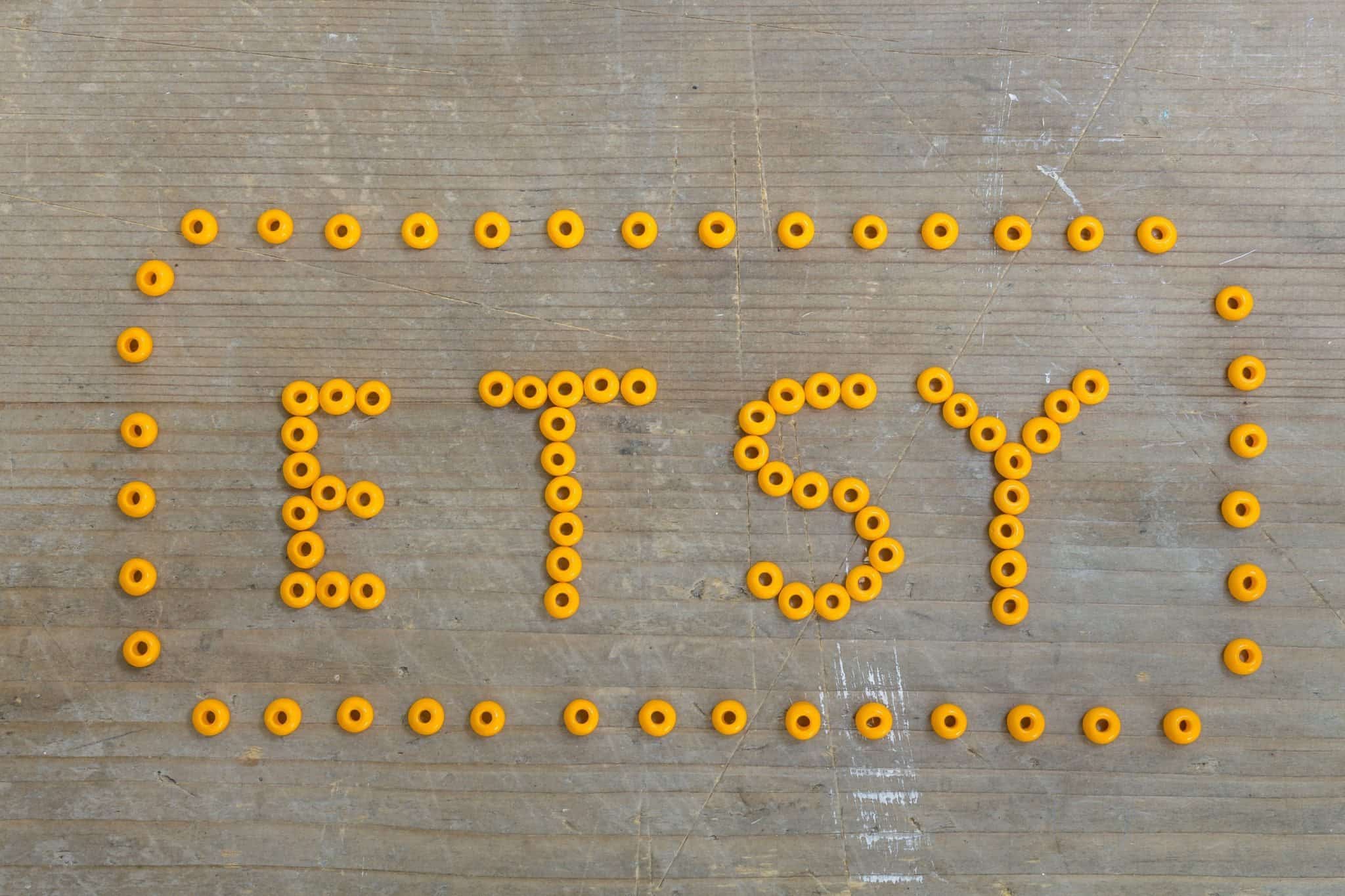 While Etsy is the most popular marketplace for entrepreneurs and small business owners to sell their handmade crafts, it's not the only option out there – and many are questioning whether it's the right online seller platform to sustain or grow a business. After all, rising Etsy fees eat into your profits, Etsy's SEO landscape continues to change, and you'll never have complete control over the look and feel of your online store.
If you're reading this post, you are wondering whether Etsy is the right seller platform for you. Keep reading to discover methods of selling that are similar to Etsy, and our top choices for eCommerce platforms that make great Etsy alternatives. You might find an option listed that's better than Etsy for your own handmade crafting venture.
Don't have time to read an entire article? Take a look at our top-rated eCommerce solutions for a few quick recommendations.
Learn More About Our Top Picks
Company
Best For
Next StepsBest For
Shopify
Best for vendors who want an easy way to build and manage a robust independent store.

Best for vendors who want an easy way to build and manage a robust independent store.

Square Online
Best for vendors who primarily sell in person.

Best for vendors who primarily sell in person.

Big Cartel
Best for small merchants who plan to stay that way.

Best for small merchants who plan to stay that way.

IndieMade
Best for those who want to branch out without leaving Etsy entirely.

Best for those who want to branch out without leaving Etsy entirely.

Zibbet
Best for sellers with established sales channels.

Best for sellers with established sales channels.

Show More Options
Volusion
Best for small vendors with big plans for growth.

Best for small vendors with big plans for growth.

Bonanza
Best for advertising In multiple ways.

Best for advertising In multiple ways.

Show Fewer Options
Read more below to learn why we chose these options.
The Top 7 Etsy Alternatives
The top alternatives to Etsy among platforms and marketplaces include:
Shopify: Overall Best
Square Online: In Person + Online
Big Cartel: Best For Lower Volume Sellers
IndieMade: Works With Existing Etsy Store
Zibbet: Best For Established Sales Channels
Volusion: Best To Start Small & Grow
Bonanza: Best For Good Exposure
1. Shopify: Overall Best
Shopify


---
Pros
Easy to use
Mobile responsive web builder
No listing fees
14-day free trial
Shipping discounts
Cons
Transaction fees
Higher monthly subscription than other online shop builders
No built-in audience
Shopify Pricing
Shopify Lite: $9/month
Basic Shopify: $29/month
Shopify: $79/month
Advanced Shopify: $299/month
Note: Shopify offers a free 14-day trial period. Build your store today and cancel for free if you decide that this eCommerce solution is not the one for you.
Shopify vs Etsy
Shopify is an eCommerce solution that runs on a cloud-based subscription model. If you're a non-technical individual who wants to own their own website, place a buy button on a blog, or sell directly on a social media app such as TikTok, Shopify could be exactly what you need.
It's important to note that Etsy sellers have a built-in audience, as the platform is an online marketplace where buyers might just stumble upon your products in search results. With your own Shopify website, you'll need to attract customers to your store through efforts such as social media marketing and eCommerce SEO.
Also, Shopify is not made specifically for those selling individualized handmade items. There are no policies prohibiting the sale of manufactured goods like there are on Etsy. This means that you will face head-to-head competition with big manufacturers and dropshipping companies.
These are some of the more notable advantages of Shopify over Etsy:
No Listing Fees: Shopify does not charge per listing. Etsy, on the other hand, charges $0.20 to list an item for four months, whether or not you sell that item. After four months, you pay the listing fee again.
Lower Transaction Fees: Etsy charges a 5% transaction fee for every item sold. With Shopify, your transaction fees are between 0.5% and 2%, depending on your Shopify plan. You can even avoid transaction fees altogether by using Shopify's in-house payment processor, Shopify Payments.
Custom Storefront & Branding: Etsy doesn't make it easy to create a shop that stands out from the competition, at least visually. By contrast, customization is one of Shopify's hallmarks. With Shopify's excellent, mobile responsive themes and add-ons, you'll have complete control over the look, feel, and functionalities of your online store.
Better Understanding Of Search Rankings: In mid-2021, Etsy released their new search ranking algorithm, one that favors longtime sellers as well as newer product listings (to get people to relist their items and pay the listing fee again.) The company has not explained exactly how its algorithm works, leaving many sellers in the dark. Google's SEO ranking factors are much clearer, and you have a better chance of being found in search if you can design your own store according to those specific SEO ranking factors.
More Robust Selling Tools: From inventory management to marketing campaigns, your paid Shopify plan unlocks a wealth of tools you can use to develop a plan to build sales as high as you want.
There's a lot more to consider than this, though, so check out our Shopify VS Etsy comparison to help you decide which online selling solution is right for you.
Shopify Features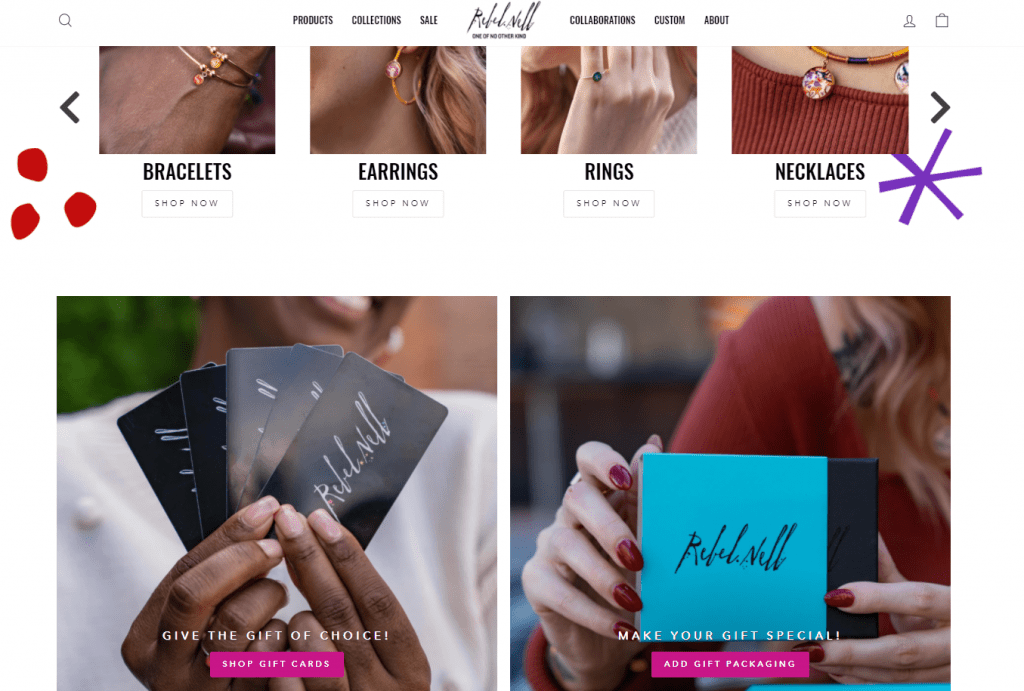 Shopify allows you to easily place a buy button on a social media platform or blog, or build an entire online store to sell from. You also have the ability to sell in person, if you often attend craft shows, have your work featured in galleries, sell your work to local businesses, etc.
Shopify makes the store setup process easy since each online store comes with a free SSL certificate, unlimited bandwidth, and free web hosting. You can use an existing web domain name, purchase one through Shopify or another domain registrar, or get a free myshopify.com subdomain name upon signup.
If you have no idea how to even start building an online store, read our post, How To Create A Website For Your Business.
Building an entire store gives you access to a number of free (and paid) integrations within Shopify's huge app store to help buyers find and engage with your store. From social media selling, to targeted email marketing, to Google Shopping optimization, as well as blogging capabilities and the ability to rank in search results through SEO, Shopify can really give you an edge over Etsy.
With Shopify, you can also incorporate popup ads, coupon codes and discounts, free shipping, customer service tools, buy now and pay later options, loyalty programs, and a number of other customer-focused tools to convert one-time buyers to lifelong customers.
You can also collect a wealth of data from your Shopify store. So, instead of listing items blindly, you can stick with the selling tactics that definitely attract customers, and pivot away from what doesn't.
Finally, Shopify's inventory and shipping management add-ons make shipping easier and faster for both you and your customers. In fact, Shopify works directly with major shipping services to offer Shopify sellers a major discount on shipping, which cuts prices for your customers, too.
Check out our complete guide to Shopify Shipping, a free feature included in every Shopify website subscription, for more information on how shipping with Shopify can improve your shipping process.
2. Square Online: In Person + Online
Square Online


---
Pros
Free plan available
No transaction fees
Easy to incorporate in-person selling
Ideal for low-volume sellers
Cons
Limited payment options
Limited store customization and features
No built-in audience
Square Online Pricing
Free: $0/month
Professional: $16/month, or $12/month if billed annually
Performance: $29/month, or $26/month if billed annually
Premium: $79/month, or $72/month if billed annually
Square Online Store vs Etsy
Square Online is an eCommerce platform that allows you to list and sell your products online for just the price of payment processing. Square is also known for its POS systems, which allow you to sell at physical stores, galleries, craft shows, etc. This simple online solution fulfills your online product listing and order processing needs.
The free plan does not have the kind of advanced features you need to run a large eCommerce store, though. For example, owning your own custom domain name, product reviews, and eCommerce data analytics are only available on higher-level plans.
Like Shopify, Square Online is not an online marketplace, so you will need to focus on getting found through other product search and marketing efforts. You'll also have to periodically update your store, marketing, and SEO tactics if you want to keep ahead online.
Here's a bit of what Square Online Store offers over Etsy:
Affordability: With the Free Plan, you'll pay only standard payment processing fees of 2.9% + $0.30 per transaction. Etsy takes out a 5% transaction fee, plus a 3% payment processing fee on top of that, on every one of your sales. Square's only requirement is that you use its payment processing services to accept credit card payments.
Opportunity To Expand Business Offerings: Your focus right now may be on your handcrafted products. Eventually, you may want to branch out, and Square Online gives you the ability to sell goods, digital products, tickets, services, and even accept donations. Etsy does not allow you to sell anything but handmade items.
Easy To Take Payments In Person: If you already take payments in physical locations such as stores, farmer's markets, craft shows, or galleries, you might already have Square Register, the highly popular Square payment hardware. If you want to take payments from physical locations in the future, it's easy to integrate Square's payment hardware into your business.
Web Builder For Non-Technical Individuals: Square Online's website builder is made for people who don't have a lot of technical expertise and don't want to bother learning. The web builder features easy-to-use tools, like the drag-and-drop visual editor, so users can quickly create a visually appealing online storefront. As a bonus, all store templates are mobile-responsive.
Square Online Features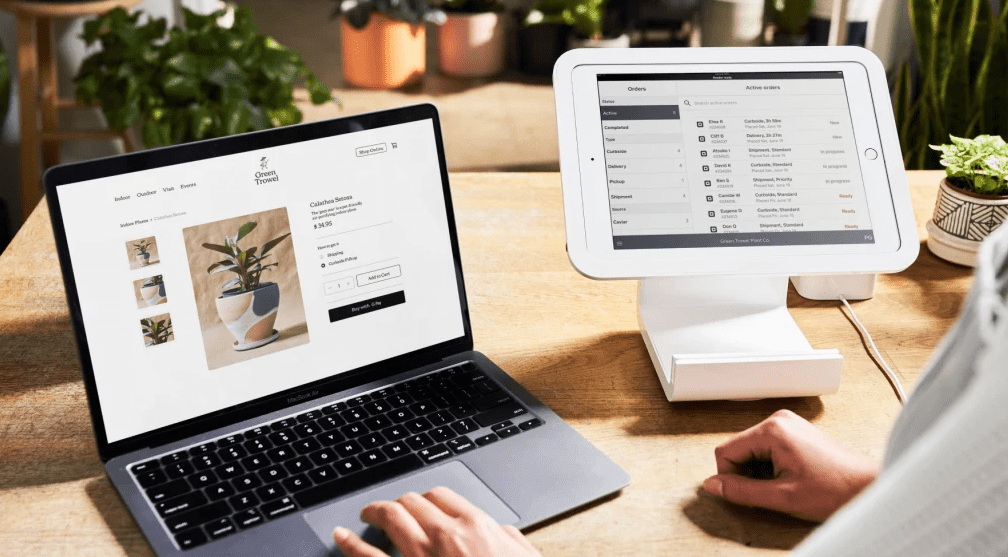 Square Online allows you to quickly and easily build a simple online store. You won't pay any site hosting fees, and you'll get a free subdomain name (e.g. "mybusiness.square.site") for your store. The free plan offers 500MB of storage space, while paid plans offer unlimited bandwidth and storage.
There is also Square email marketing, a service that makes it easy to send coupon codes, business updates, gift cards, and more. There are four free email templates available for Square sellers, with marketing subscription plans available for Square users who rely more on email marketing to capture and retain their customer base.
One of the most advanced features of Square is the newly available TikTok Shopping feature, which many eCommerce providers do not offer (yet.) This feature is in addition to Square's Instagram, Facebook, and Pinterest shopping integrations. Social selling is available for all Square merchants. (Want to know more? Read our article on how to make Instagram posts shoppable with eCommerce solutions such as Square Online and Shopify.)
Another one of the strongest features of Square Online is its seamless integration with Square's additional services. You can easily sync inventory between Square Register and your online store, and you can use Square's customer engagement services to expand your reach, too.
You'll also find tools for inventory management and fulfillment options. You can choose direct delivery, electronic delivery, or even curbside pickup. However, you can only print shipping labels starting at the Professional plan level.
Get Started With Square Online
3. Big Cartel: Best For Lower Volume Sellers
Big Cartel


---
Pros
Made for artists and creators
Easy to use
Free plan available
Fully hosted
No transaction fees
Cons
Limited number of listings
Not suitable for large-scale businesses
Features limited
No built-in audience
Big Cartel Pricing
Gold: $0/month
Platinum: $9.99/month
Diamond: $19.99/month
Big Cartel stands out as an excellent Etsy alternative because it focuses on smaller, more artistic stores. Big Cartel may not be a great choice for a large vendor with extensive growth plans. However, it has some truly excellent options aimed at small, independent, artistic merchants — in other words, just the type who are likely to gravitate toward Etsy. The low monthly cost (and yes, there is a free plan) and ease of use make Big Cartel worthy of a closer look if you're considering moving your store from Etsy.
Big Cartel vs Etsy
Big Cartel is a web-based, fully-hosted eCommerce software made for independent creatives. Big Cartel runs on a monthly subscription model, includes a free plan, and you won't have to pay any additional transaction fees or listing fees (apart from the typical payment processing fees). It's easy to create your own online store, list products, create discount codes, and sell on social media channels, even if you have no experience with anything resembling software or coding.
The one big drawback of Big Cartel is that you can only list a limited number of products per subscription plan. For example, the free plan only allows you to list five products at a time. So, if you're just starting out, or if you're selling your items on the side, then Big Cartel is a great Etsy alternative.
Another potential drawback could be, by having your own independent store, rather than selling on a marketplace like Etsy, you might have to market yourself online.
If you choose Big Cartel as your shopping cart platform, here are some of the benefits you'll see:
Affordability: Big Cartel's free Gold plan allows you to list up to five products, with one image per page. If your catalog is deeper than that, upgrade to the Platinum plan ($9.99 per month) and you'll be able to list up to 50 products, with five images per product. Two other plans, with gradually increasing prices, will allow you to list up to 500 products.
No Fees: If you use Big Cartel's Gold plan ($0 per month), you can operate a small store with zero initial investment. Big Cartel does not charge listing or transaction fees, so the only expenses you'll have will be the unavoidable fees charged by your payment provider.
Visual Appeal: Aimed squarely at artists and creators, Big Cartel offers a selection of mobile-responsive themes to choose from. While they're not the most sophisticated themes you'll ever see, they look great when filled with beautiful, high-resolution photographs. Most importantly, the themes offer clean lines and the ability to customize them to suit your own style and taste.
Omnichannel Selling: Want to sell on Facebook or Instagram? Etsy is not made for social selling, but you can definitely sell on social media with Big Cartel.
In-Person Selling: If you want to sell your products at craft shows, from your home, etc., you can connect your Big Cartel account with PayPal and Stripe.
Simple Store Management Tools: Big Cartel includes useful tools, from inventory tracking to automatic tax calculations, which rivals Etsy when it comes to the administrative parts of running a small business.
Big Cartel Features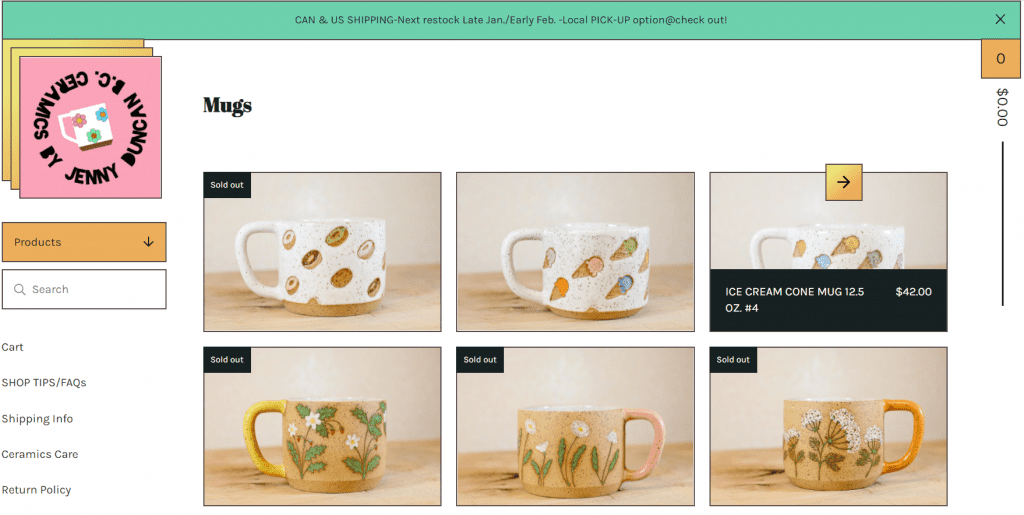 Big Cartel is made by and for artists, which is why the eCommerce solution strips away most of the difficult parts of building and operating an online store.
All Big Cartel subscription plans have sales-tax autopilot, shipping tracking, easy-to-use themes, and a simple way to connect your online store to your social media profiles to sell from there. You can also generate promo codes as a way to entice store visitors to complete their purchases. All stores can incorporate their own custom domain name.
Big Cartel sellers can accept PayPal or Stripe for payment, and since there are no transaction fees, you only have to pay for payment processing. PayPal has recently created their own buy now, pay later service called PayPal Pay In 4, so you can offer BNPL for your customers.
The free plan only allows you to list five products, with one image per product listing. With paid plans, you can add up to five images per product listing. While this does seem limited, it also means that you don't have to spend forever taking product images and agonizing over which images to include and which to leave out.
Paid plans also include the ability to bulk edit product listings, list items as "sold out" or "restocking soon", and you can easily track your inventory. You can also use Google Analytics, which is a fantastic way to create marketing campaigns and find out which selling tactics work, and which ones don't. You can also edit your theme's code if you want to.
Many shops also connect services like MailChimp to reach customers in different ways.
4. IndieMade: Works With Existing Etsy Store
IndieMade


---
Pros
Very affordable plans
No product listing or transaction fees
30-day free trial
Automatic website and image size optimizer
Connection to Etsy available
Cons
Limited number of product listings and images
Can't customize product listings on lower level plans
No built-in audience
IndieMade Pricing
Basic: $4.95/month, up to 10 listings
Standard: $12.95/month, up to 100 listings
Pro: $14.95/month, up to 200 listings
Plus: $19.95/month, up to 300 listings
Note: IndieMade offers a 30-day free trial, so you can try it before you buy it.
IndieMade vs Etsy
IndieMade is a shopping cart web builder made for artists who want to quickly create their own functioning website and – if they desire – connect their site to their current Etsy shop. This Etsy alternative allows you to build an entire website, including a blog, all for one low monthly fee.
Like many other Etsy alternatives, IndieMade is not a curated marketplace, so you don't get the built-in traffic that Etsy offers. You don't have to abandon your Etsy store entirely, though, since it's easy to directly import your existing Etsy items and keep your Etsy store active.
You do need to sign up at the Pro level ($14.95 per month) or higher if you want to link to Etsy. So, if your Etsy store isn't getting many sales, then you might not care as much about this feature. Plus, over time, you may have enough shoppers landing on your store organically, without finding you on Etsy, that you can leave Etsy entirely.
With IndieMade on your side, here are a few of the features you can start to enjoy:
No Fees: Beyond the monthly subscription plan, IndieMade does not charge any fees for listing or selling products. You won't even have to pay for site security or a domain name, unless you want to.
Affordability: While IndieMade does not offer a free plan, you can test the platform with a free 30-day trial. If you decide to sign up for a plan, you can choose the Basic plan ($4.95 per month) and list 10 products on your store, with images per product and two extra pages on your store. The top plan, the Plus ($19.95 per month) lets you list 300 products with up to 10 images each, product options such as color and size, and up to 15 extra pages, including unlimited image galleries.
Downloads: Want to offer tutorials, patterns, ebooks, and more? IndieMade allows users at the Standard level ($12.95 per month) and above to offer downloads to customers.
Reports & Analytics: Track sales and analyze your marketing and advertising efforts, using the free Google Analytics tool. Sites are SEO optimized, too, and automatically generate metadata for your site.
Communication: All IndieMade plans include the option of unlimited blogging, so you can post as often as you like and your customers and fans can comment. You'll also find a News section, so you can highlight press coverage and important updates. There's also an event calendar you can use to list in-person sales events, classes, and online events.
The biggest concern we have with IndieMade is its limits on product listings. With the smallest monthly subscription plan, you can only list up to 10 items, and your listings cannot have any variations or customizations (e.g. choosing sizes, colors).
Once you get to a higher subscription plan, though, IndieMade provides everything you need for a fully functional website without any difficulty.
IndieMade Features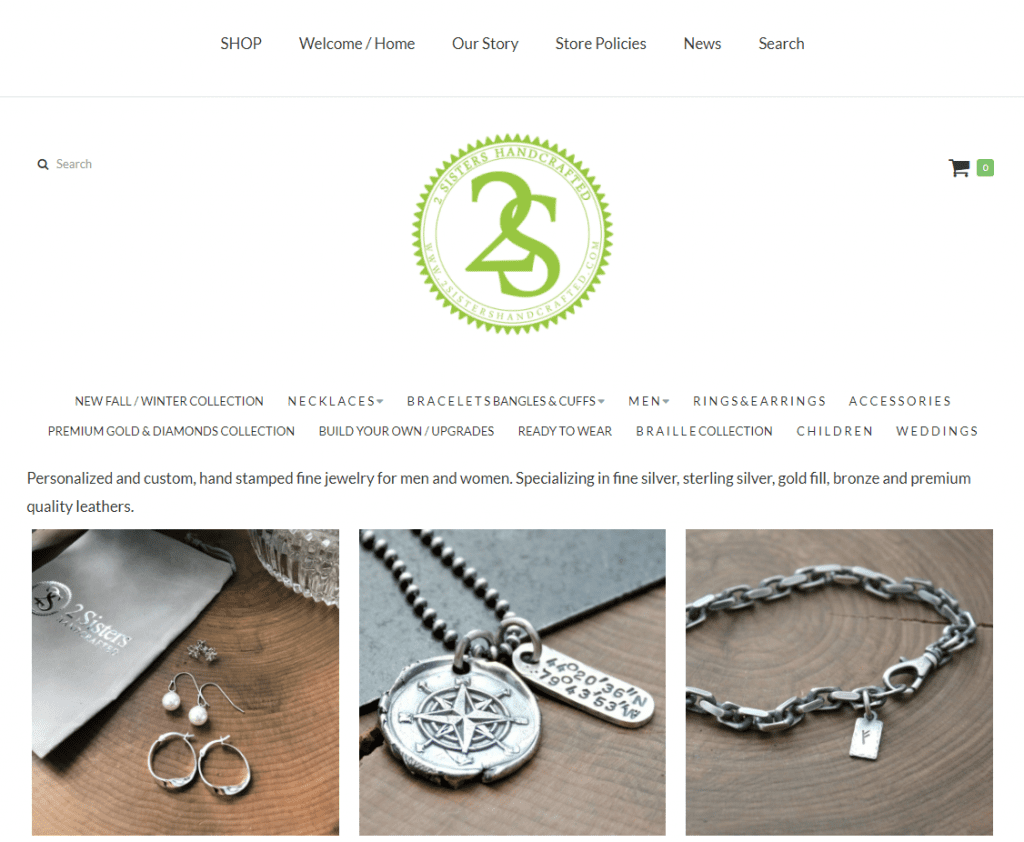 IndieMade websites are fully hosted, which means that you don't have to pay for hosting or storage space. At the second-highest subscription plan, you also get your own custom domain name, which is important for brand recognition and for getting found online. All IndieMade sites also get a free SSL certificate, which is necessary to secure both your customers' and your own data from cyber attacks.
All IndieMade users can create a blog, event calendar, news section, and personalized contact form to keep in touch with current and potential buyers. You can also add services such as MailChimp to send out discount and promo codes. A lack of communication with sellers is one of the biggest pain points of Etsy buyers. With these communication tools, you can alleviate their pain and ease any worries about their purchases.
You can choose from IndieMade's library of free, professionally designed website templates, all of which include a pre-built blog, event calendar, news section, contact form, product pages, and checkout page. You can customize your fonts, site colors, and add in brand assets. You do have the ability to change the HTML code of any webpage, or use IndieMade's block editor for things such as embedding images and documents and building tables.
All IndieMade sites are automatically optimized for SEO purposes, which makes it easy for human users and Google's search-and-index bots to read through your site. (It's important for Google bots to "read through" your site so that you get listed by Google and your site can get found organically in search engine results.)
At higher level plans, you can connect your IndieMade store to your Etsy store, if you have an Etsy store that is still getting traffic.
5. Zibbet: Best For Established Sales Channels
Zibbet


---
Pros
Simple, low cost monthly fee structure
No transaction or listing fees
No mass-produced items
14-day free trial
Cons
Low exposure compared to Etsy
Limited themes
Limited customization
Zibbet Pricing
Zibbet's pricing structure is a little different than the other Etsy alternatives listed here, which makes sense, considering how unique their offerings are.
You'll pay $6/month per sales channel that you add ($5/month if you sign up for an annual membership.) So, if you pay to manage both your Facebook and your Instagram Shopping channels, you'll pay $10/month.
You do have to pay for at least two sales channels to use Zibbet (Zibbet Marketplace is considered a sales channel, but you don't actually need to connect to Zibbet if you don't want to list on their marketplace.) So, you can expect to pay at least $10/month to manage an unlimited number of products.
With this in mind, consider which sales channels you're really active on and only pay for those. For example, if you don't get much traffic on Stitch, don't pay the $5 to manage inventory on there every month.
Note: Zibbet offers a 14-day free trial, so test it out and find out whether the service is worth it.
Zibbet vs Etsy
Zibbet is an online marketplace like Etsy, as well as a way to manage all your other sales channels, such as Facebook Shopping, Instagram Shopping, Stitch, and AC Moore Marketplace.
Admittedly, the Zibbet marketplace is not as popular as Etsy.
The real draw of Zibbet is the fact that you can manage your product listings, inventory, sales, and seller analytics from one singular online hub. You do have to manually enter product information for each sales platform within Zibbet, but your listings post across each channel and whenever you need to update a listing (e.g. the price changes or you're out of stock) then you can update within your Zibbet HQ and the changes will reflect across all sales channels at once.
If you're interested in joining the 50,000+ merchants selling on Zibbet, these are some of the features you'll benefit from:
Simple Pricing: You'll pay just $6/month per sales channel ($5/month when billed annually). In return for that membership fee, you'll gain inclusion in a large, varied marketplace and the ability to link to your other sales channels, including Etsy if you like.
No Fees: You won't pay any transaction or listing fees when you sell on the Zibbet marketplace. You keep 100% of your sales dollars, outside the inescapable credit card processing fees. Stores on Zibbet can accept credit card payments in addition to PayPal.
Fair Competition: Zibbet allows a range of products on its site, with one limitation: All items must be in the categories of handmade, vintage, craft, or fine art. That means your handmade items won't be competing with mass-produced goods.
Connect To Multiple Sale Channels: In addition to a storefront on the Zibbet Marketplace, you can connect stores on other sites, including Etsy, AC Moore, Stitch, Facebook Shop, and more. Even better, Zibbet's inventory management tools allow you to track inventory and sales across all those channels. And any updates to your Zibbet listings — price, title, photos, and so on — will update everywhere at once, automatically.
No Listing Limits: Add as many products to your shop as you'd like. You can include digital downloads, too.
Easy Marketing: You can run sales, offer coupon codes, or create a loyalty program to reward return customers. It's up to you.
Multiple Currencies: If you're aiming for international sales, you'll appreciate the 21 major currencies that are supported on the Zibbet Marketplace.
If you have a large audience from other sales channels, consider redirecting them to your Zibbet shop so you can avoid the transaction fees from places such as Facebook Shopping.
Zibbet Features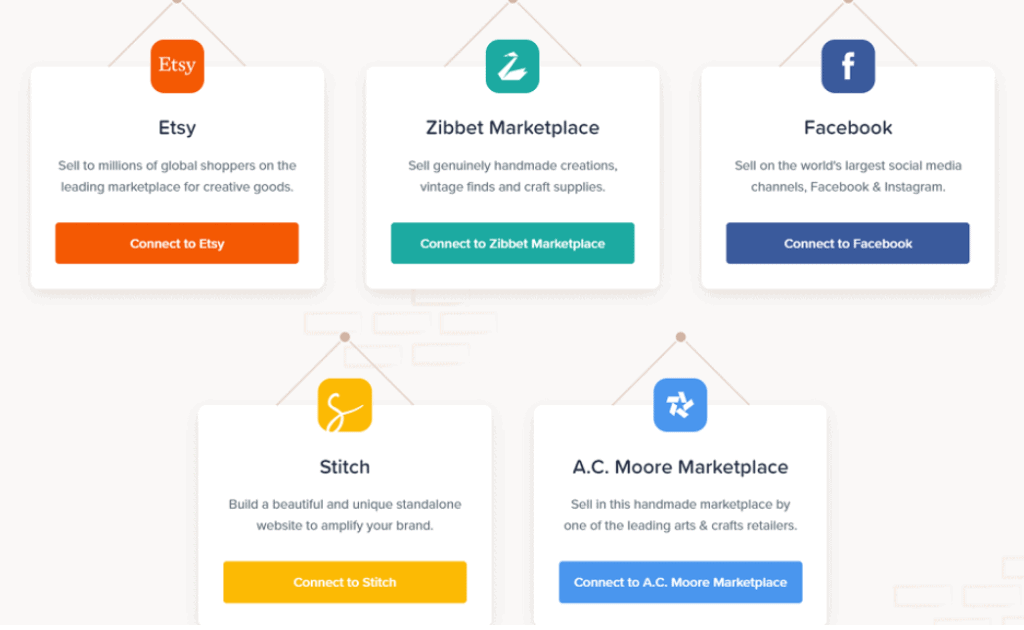 With Zibbet, you may create your own storefront on the marketplace and sell from there. Add a shop banner, store description, and personal story. Remember to sync your brand voice and imagery across all your sales platforms.
You have the option to connect to five different sales channels and list products for each within your Zibbet account. You can also manage your inventory from there, get sales analytics, and update item statuses once and sync across all sales platforms.
If you're terrible at inventory management, sell on multiple sales platforms, and/or have a lot of listings that you'd like to avoid paying individual listing fees for, then Zibbet may be really useful to you.
6. Volusion: Best To Start Small & Grow
Volusion


---
Pros
Easy to use
Competitive pricing
14-day free trial
Zero listing or transaction fees
Cons
No native blog feature
Limited number of store themes
Payment plans determined by sales numbers
No built-in audience
Volusion Pricing
Personal: $29/month, or $26.10/month if billed annually
Professional: $79/month, or $71.10/month if billed annually
Business: $299/month, or $269.10/month if billed annually
Prime: Contact Volusion's sales team for custom pricing
Note: Volusion offers a 14-day free trial to try before you buy.
Also, if your sales increase past the revenue limit of one plan, you are automatically enrolled in the next highest plan. For the personal plan, your sales limit is $50,000 per year.
Volusion vs Etsy
Volusion is a popular cloud-based shopping cart software that allows sellers to quickly get a website up and running with mobile-responsive, customizable templates. The software also makes managing inventory, shipping, and returns very easy with their simple shop admin dashboard.
While Volusion's pricing plans are competitive, it is important to note that many of the advanced features that make Volusion one of the best alternatives to Etsy are only available on the higher level plans.
For example, you cannot accept product ratings and reviews directly onto your site with the smallest plan. You can, however, pull in reviews from Google, social media channels, etc. by adding widgets into the code of your Volusion site's theme.
As with other providers, Volusion is not a marketplace, so you have to work to get shoppers to your site.
Some of the features you'll have access to if you choose Volusion over Etsy include:
No Listing Or Transaction Fees: While you don't need to pay for a subscription when you sell on Etsy, it might be worth it to transition to a subscription-based solution, especially since Volusion subscriptions start at just $29/month ($26.10/month if billed annually.) For one monthly price, you can skip out on several of Etsy's fees.
Room To Grow: Volusion's plans do include sales limits. Those limits are very generous, though, so you don't need to worry about them. The Personal plan alone allows up to $50,000 in gross merchandise volume per year.
No Limits: All Volusion plans include unlimited products, bandwidth, and storage.
Sales & Marketing Tools: Unlike on Etsy, where policies like those requiring offside ads put you outside the driver's seat, you'll be in control of your Volusion store. But you won't be on your own; you'll have lots of support. Every plan includes synced inventory, coupons and discounts, automatic tax calculations, and more. So you'll be able to decide on your own goals and drive your store's success.
New Ways To Sell: Volusion sets you up to accept donations, set up membership or subscription-based sales, take phone orders, and sell digital downloads.
Optimized For SEO: Volusion offers built-in SEO tools to help you create SEO-friendly pages and product listings.
For sellers who are looking for growth potential and control over their options, Volusion offers a satisfying set of tools at a reasonable fixed cost.
Volusion Features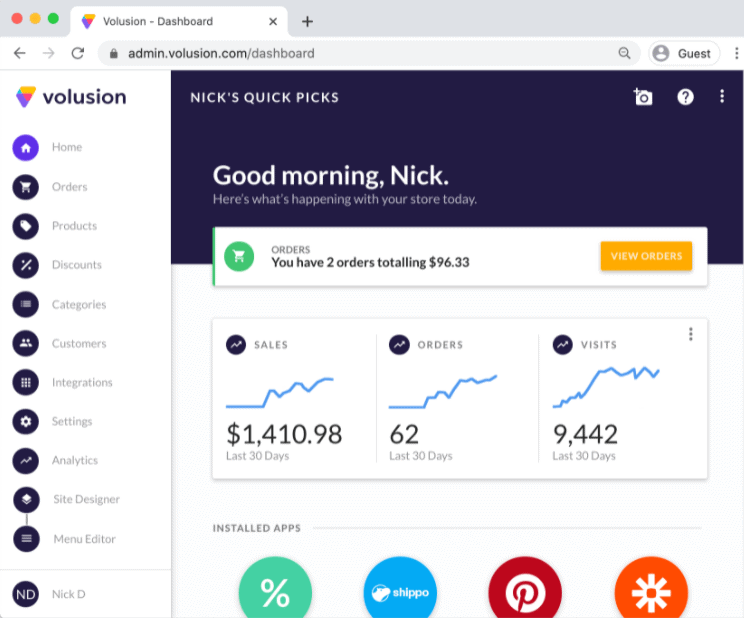 Volusion is a simple, all-in-one eCommerce solution that allows sellers to choose from 11 free or 34 premium templates (as of 2021) that you can edit with a drag-and-drop site editor. You can offer coupons, discounts, gift card, loyalty programs, and a "deal of the day" to increase your sales numbers.
From your admin dashboard, you can manage orders, view sales analytics, analyze and segment customers by behavior, and (in higher pricing plans) get cart abandonment reports. With that information, you can strategize a plan to reduce online shopping cart abandonment.
On the lowest subscription plan, you can accept payments via Stripe and PayPal. You can integrate different payment processing methods if you move up to a higher level plan.
At higher level plans, you can also access live shipping rates from top shippers such as USPS, UPS, and FedEx to find the right shipping provider for your business. You can generate barcodes, labels, and access Volusion's eCommerce CRM to manage all your inventory from one place.
Volusion does allow you to integrate different third-party apps such as QuickBooks and MailChimp to boost your business's capabilities. There are not many integrations available directly through Volusion, but you can use Zapier to connect your Volusion site to other third-party integrations.
All in all, Volusion aims to provide everything you need to efficiently run a store without any of the extras that a store builder like Shopify does. While some may see this as a negative, other sellers looking for a simple way to grow their business might find that Volusion is the best alternative to Etsy.
7. Bonanza: Best For Exposure
Bonanza


---
Pros
Opportunities to advertise on places like Google Shopping
Easy to import items from Etsy, Shopify, Amazon Marketplace to Bonanza
Lower transaction fees than Etsy
No product listing fees or limits on number of listings
Cons
Complex pricing structure
Not as popular as Etsy
Not limited to handmade items
Bonanza Pricing
Transaction Fees: $0.50 plus 3.5% of the purchase price
Advertising Fees: Paid in the form of commission on top of transaction fees and can range from 9-30% of sales
Webstore Builder: $25/month to create a fully functional online store
Bonanza vs Etsy
Bonanza is an online marketplace for selling unique items, much like Etsy, Amazon Handmade, and eBay.
What really makes Bonanza better than Etsy is the option to advertise your products in different places. For a price, Bonanza will boost your product visibility by featuring them in Google Shopping search results, on Bonanza's featured page, and through Bonanza's affiliate program participants.
There is a pretty complex pricing structure for advertising and selling products in general, though, so you'll need to learn how it all works before putting any substantial amount of money into the seller platform. Bonanza's commission fees are way less than on Etsy, so you can be sure that if you just want to sell items on a marketplace, Bonanza is a cost-effective Etsy alternative.
It's also important to note that Bonanza does not restrict item listings to handmade items. In fact, in category tags, shoppers can see "Top Brands", which can throw off many sellers who like Etsy's specific focus on individual artists and small businesses.
Here are a few prominent ways in which Bonanza is better than Etsy:
Focused Advertising: Let Bonanza take care of getting your products seen, specifically on Google Shopping. As of 2021, Google Shopping ads account for 65% of all ad clicks. You only pay for ads if you make a sale.
No Listing Fees: You can list as many products on Bonanza as you want without any listing fees or limitations.
Lower Transaction Fees: The most simple Bonanza pricing plan (i.e. no advertising) charges a 3.5% transaction fee plus a $0.50 flat fee.
Transaction Fees Do Not Include Shipping: Etsy's 5% commission also applies to whatever you charge customers for shipping. If you charge less than $10 for shipping on Bonanza, the transaction fee does not apply to shipping. If you charge more than $10 in shipping, Bonanza will only apply the transaction fee on any shipping fee past $10. For example, if you charge $12 for shipping, then the transaction fee only applies to $2.
Freebies, Discounts, Combined Item Discounts: Bonanza allows you to offer customers an array of enticing deals that will motivate them to buy.
Webstore Builder: You may opt into building your own branded website with Bonanza for a monthly fee. Your website gets connected to your Bonanza marketplace booth and you can easily batch edit items that sync across both shops.
Bonanza has a lot more to offer than Etsy, which also means that it's a little more complicated. Get a firm idea of what you can do on Bonanza before you commit.
Bonanza Features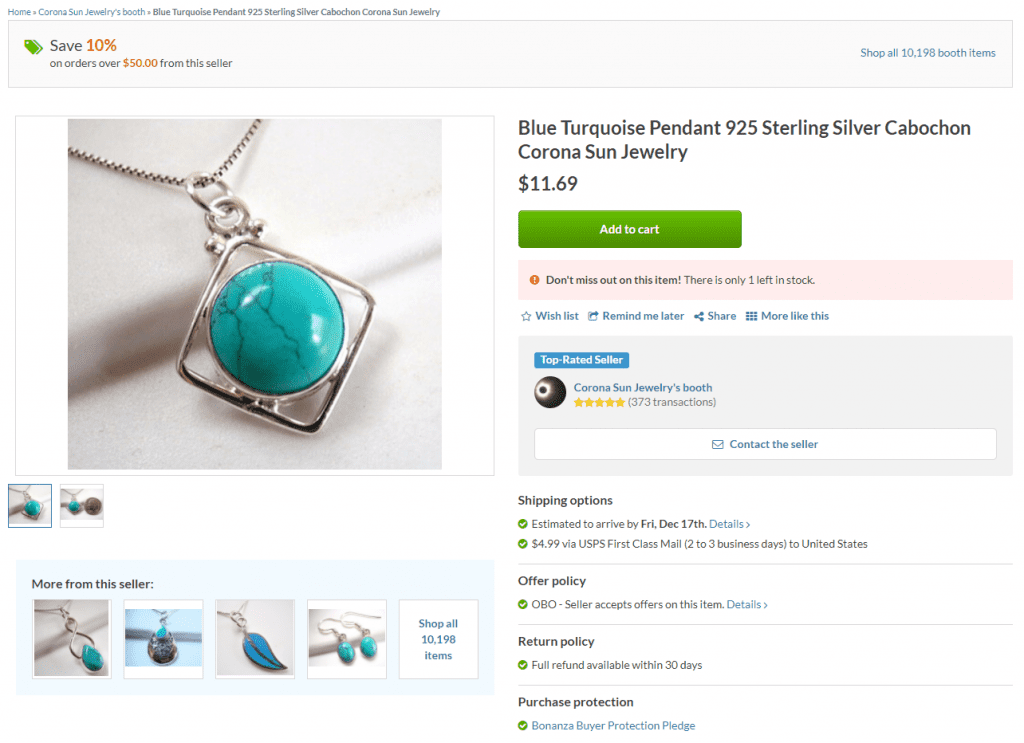 Bonanza is similar to Etsy in that you create an online store, or a booth, and fill it with a banner, store description, shipping and return policy, and products, which can be grouped into categories or collections. Customers can leave product reviews, which help build your authority in this online marketplace.
Like Etsy, you can create discount and promo codes, free shipping, and discounts on minimum purchase amounts. With Bonanza, you can also create freebies, which will further motivate customers to buy.
Unlike Etsy, you do not have to pay any listing fees when you list new products.
One of the most interesting features of Bonanza is the ability to easily advertise on places such as Google Shopping. This optional paid advertising feature is built into commission rates, which ensures that you never pay for advertising unless you actually make sales.
It works like this: If you decide to increase Bonanza's fees from your 3.5% base transaction fee to a 9% commission fee, Bonanza pays for advertising on several online sources and takes that payment out of whatever commission they get from the added 5.5% commission. The higher the commission fee you set, the more money goes towards your paid advertising efforts.
You also have the option to create your own branded webstore with your own custom domain on a monthly subscription basis. You'll drive traffic to your store outside of Bonanza, and you do not have to pay any commission fees for sales you make from your store. Your inventory also syncs between both your Bonanza booth and your independent webstore.
Bonanza allows you to import Etsy items directly to your Bonanza booth, so you may sell on both platforms or move entirely to Bonanza. When it comes to base transaction fees, Bonanza has lower fees than Etsy, so it might be worth it to move off the Etsy platform entirely.
Looking For One Of These Etsy Alternatives?
We have high standards for software and services, and sometimes an app will come close to ending up on a "Best of" list, only to ultimately miss the mark. Here are a few of those near misses:
Amazon Handmade
Amazon Handmade is a special marketplace especially for handmade goods and offers many advantages to sellers in search of eager buyers — including exposure to the 112 million Amazon Prime members searching on the platform.
Selling on Amazon Handmade isn't cheap, though. Amazon charges a 15% transaction fee for the total sale, including things like gift-wrapping and shipping. So if cost savings are your prime motivator, you'll want to look elsewhere.
Most important, when you join Amazon Handmade, you agree to Amazon's terms and conditions. That can crimp your plans to market your products and stores, and Amazon can even dictate your pricing, under certain conditions. You'll be expected to provide free, fast shipping if you want to be included in Prime, as well.
ArtFire
ArtFire is another global marketplace for artists to sell on, similar to Etsy, with many of the same features. Unfortunately for sellers, ArtFire is also similar to Etsy in its heavy fee structure.
Sellers pay a flat rate of $4.95-$40/month just to operate an ArtFire shop, even if you don't make any sales. There is a listing fee of $0.23 per item (on the lowest level plan; higher plans eliminate the listing fee) and a commission fee between 4.5% and 12.75%.
ArtFire charges all of this on top of the payment processing fee that you'll be paying to your credit card processor of choice.
Mercari
Mercari is an online marketplace that's more like eBay, where you can sell anything from jewelry to used electronics. The marketplace platform includes major fees, including a 10% commission fee, plus a 2.9% payment processing fee and a flat fee of $0.30 per transaction. Perhaps even more startling is the number of negative buyer reviews and scam accusations when you search "Mercari", which can put off many potential customers.
Squarespace
Squarespace is a high-quality web builder that's the perfect fit for many visual artists, musicians, and photographers to sell digital goods and advertise their services. However, it lacks some of the most important features of a quality store builder, like advanced inventory management, shipping functions, and third-party apps that you'll need to easily build your small business.
At its heart, Squarespace is primarily a content-driven website builder, not a store builder.
Wix
Wix is a traditional web builder with an eCommerce store builder option. While the web builder is easy to use and has all the necessary components to manage your online business, business plan pricing is comparable to web builders such as Shopify, which offers more advanced features for the same price.
If you make what you sell, check out our full post, Best Places To Sell Online to find the right platform for your growing business.
Alternatives To Etsy Cost Comparison At A Glance
Cost is a crucial factor for all small business owners. Here's a price breakdown of Etsy and it's competitors:
Etsy: Sellers pay a $0.20 listing fee per product, which they must renew after four months. There are also transaction, shipping, in-person, payment processing fees, and more. Here is a full explanation of Etsy fees.
Shopify: Starts at $9/month for a Shopify buy button. Store builder plans range from $29/month to $299/month.
Square Online: Ranges from $0/month to $79/month, but rates decrease if you choose an annual plan.
Big Cartel: Ranges from $0/month to $19.99/month.
IndieMade: Ranges from $4.95/month to $19.95/month.
Zibbet: $6/month for sales channel added, but decreases to $5/month if you choose an annual plan.
Volusion: Ranges from $29/month to $299/month, but rates decrease with an annual plan.
Bonanza: 3.5% transaction fee per sale, but commission fees increase if you want to get paid advertising. Webstore builder is $25/month if you want to build your own custom store.
FAQs About Etsy Alternatives
In Summary: The Top 7 Etsy Alternatives