How To Start A Delivery Business In 9 Easy, Hassle-Free Steps
Contributor

UPDATED
These days, we see delivery options everywhere. You can request on-demand delivery for your groceries, prescriptions, and take-out orders. With so many consumers turning to these options for convenience — and safety in light of the coronavirus crisis — you may be wondering: Is there space in the market for you?
Owning a delivery business is a great opportunity for many entrepreneurs. Depending on the niche you plan to serve, you can start your own business with just one vehicle and no employees. What's more, you can quickly scale your delivery business as demand increases.
Are you considering starting your own delivery business, but you aren't sure how to start? Keep reading for a step-by-step guide to starting a delivery business.
Why Start A Delivery Business?
One of the main reasons you should consider starting a delivery business is the steady increase in demand and market share.
According to the State of Logistics Report 2019, the market size of same-day delivery services in the US is expected to reach $7.4 billion in 2020 (up from an estimated $6.1 billion last year). What's more, this report projects market size will increase to $8.5 billion in 2021.
The same report reveals how same-day delivery services are divided by delivery types. Fourteen percent of the market share of same-day deliveries are C2C deliveries (for example, transactions from Craigslist, eBay, and Facebook Marketplace), while 23% are B2B deliveries, and 63% are B2C deliveries.
By starting your own delivery business, you can take advantage of this demand for same-day delivery.
How Much Does A Delivery Business Cost?
Startup expenses for beginning a delivery business vary, depending on many factors. That said, you should plan for the following expenses:
Purchasing or leasing vehicle(s)
Fuel costs
Vehicle maintenance
Time (your time and your employees' or contractors' time)
Employee benefits
Insurance costs
Software expenses (website builder, email marketing software, CRM software, accounting software, etc.)
Company phone service
Marketing expenses
Cost of operating a physical location (if you have one)
As you plan for your business, make sure you create a budget that accounts for all the expenses listed above as well as any other relevant expenses.
How Much Does It Cost To Become An Amazon Delivery Service Partner?
Perhaps you've seen advertisements online for Amazon's Delivery Service Partner (DSP) program for entrepreneurs. These advertisements state that with Amazon, you can start your own delivery business for as little as $10,000 capital. These advertisements make running a delivery business look easy. All your business comes through Amazon, so there's no need to find customers, and with very little startup cost, you can begin managing a team of 100 employees who drive a fleet of 10-40 vans.
Amazon makes this program look very desirable, stating that its DSP program is highly competitive and that you'll profit $75K-$300K per year. However, I advise you to do your research before applying to become a DSP. I've seen numerous reviews that break down the costs of operating this type of business, revealing that according to Amazon's numbers, you're only likely to profit $7,500 per van each year. This is a very slim profit margin, and to earn this profit, you have to take on a lot of liability.
For more information on the potential downsides of becoming an Amazon DSP, check out this video from Franchise City.
Types Of Delivery Services
There are many possible niches your business can fill. We recommend that you consider partnering with local businesses that frequently need to deliver their products to consumers or other businesses. Here are a few niches you should consider:
Grocery delivery
Pharmacy delivery
Floral delivery
B2B delivery
Yard supplies delivery
Furniture delivery
Dry cleaning delivery
Starting A Delivery Service: The Step-By-Step Guide
Once you have an idea of the type of delivery business you want to start, it's time to take action! Here are the first nine steps you should take to start a delivery service.
Step 1: Make A Business Plan For Your Delivery Business
The first step in starting any business is to make a business plan. We recommend starting with a one-page business plan, in which you list the following information about your business:
The problem your business solves
Objectives
Experience
Target market
Competition
Financial summary
Marketing strategy
For more information on writing a business plan, try our article: The 'How-To' For One Page Business Plans. You'll even find a downloadable form on this page that you can use to create your business plan.
Step 2: Look For Funding
Every startup requires capital, and with a delivery business, you have to invest in a lot of equipment up front. If you don't currently have the funds you need to start your business, we suggest looking into financing options. Here are a few options you might consider:
Business loans
Business lines of credit
Business credit cards
Merchant cash advances
Personal loans
Crowdfunding
Invoice factoring
Equipment financing
For more information on each of these financing options, read our article, 8 Ways To Finance Your Small Business.
Step 3: Find Business Software
Finding the right software for your business can streamline your day-to-day operations, and it can even reduce the number of people you have to hire to get your business started. Here are a few types of software that you should consider adding to your business, along with a few software recommendations:
Step 4: Source Equipment For Your Delivery Business
One of the big startup costs you should anticipate is the cost of equipment. Depending on the types of products you decide to deliver, you'll need to choose equipment that can help deliver shipments safely and efficiently. Here are a few examples of equipment you may need:
Vehicles (sprinter vans, pickup trucks, freight trucks, trailers, or refrigerated trucks, depending on your shipments)
Dollies
Ratchet straps
Moving blankets
GPS systems
Cell phones or radios for all team members
Tablets and card readers for processing payments and signing off on orders
As you create a list of the types of equipment you need, you should also consider how you'll pay for that equipment. Will you purchase it outright or use equipment financing? Make sure you calculate the interest rates you pay for equipment financing into your business's budget.
Step 5: Register Your Business & Get Insurance
To legally register your business, you first have to decide on a business structure. The business structure you choose depends on the amount of liability you are comfortable with and if you plan on hiring employees. Business structures include:
Sole Proprietorship
General Partnership
Limited Partnership
Limited Liability Partnership
Limited Liability Limited Partnership
C-corporation
S-corporation
Limited Liability Company (LLC)
Nonprofit
Cooperative
If you are just starting up, and you plan on working independently for a while, a sole proprietorship is a good option. However, if you plan on hiring employees, you should look into setting up an LLC. For more information on the pros and cons of each business structure, try our complete guide to business structures.
The next step is to register your business name. As you choose a name for your business, consider using keywords, such as "delivery," "same-day delivery," or even "floral delivery." That will help your business appear in Google searches. During this step, you should also look into available domain names. Choosing your business name and domain name at the same time can help you create consistent branding and make your site easier to find online.
Your final steps are to register your business with the IRS, register for business licenses and permits, and register with your state's revenue office. For more information on these steps, see our article, How To Register Your Business: The Complete Guide.
Purchase Insurance
As you set up the legal part of your business, make sure you sign up for any necessary insurance. These insurance plans protect you and your business, and they also protect your employees. Here are some types of insurance you should purchase:
Step 6: Create Your Online Presence & Marketing Plan
The next step you should take in starting your business is to create a solid online presence and marketing plan.
Your business's online presence is the overall impact of your brand's website, review pages, and social media interactions. Essentially, your online presence is made up of everything your brand has done online. Work to create a strong online presence from the very beginning by building a beautiful and easy-to-navigate website and registering your business with business directories, such as Google My Business and Yelp. For more information on developing an online presence, read How To Build An Online Presence For Your Business In 9 Simple Steps.
Finding & Keeping Customers
As you build up your business's online presence, you should also consider the ways you will draw customers to your business. Make a plan for acquiring and retaining clients. Will you purchase online advertisements or claim an ad spot on the radio? Will you place ads on billboards or in the local newspaper? Will you partner with local businesses and rely on them for new customers?
No matter what you decide, make sure you have a plan for your marketing approach. And if your attempt doesn't pan out, adjust your marketing strategy, and try again.
Once you have found customers, do your best to draw them back to your service by giving them a great experience and having quality marketing strategies. We recommend using CRM software to keep track of your former customers and reach out to them again in the future. Learn more about how to retain repeat customers with our article, 11 Ways Businesses Should Be Using CRM Software.
Step 7: Determine Your Rates For Delivery
Your next step is to decide on how much you'll charge for deliveries. There are a few different ways you can price your services.
Many delivery companies charge on a per-mile basis. Each mile driven costs a set amount. In another model, you can charge a base rate and then add per-mile costs on top of that base rate.
As you set your prices, you should also determine the boundaries in which you will deliver orders. You can choose to not make any deliveries outside of these boundaries or charge a distance surcharge.
Make sure that your prices account for your company's total overhead (including fuel, vehicle maintenance, time, and other costs) to protect your profit margin.
Step 8: Set Up Payment Processing
As more businesses transition to accepting digital payments, you should also consider what your payment solutions will be. If you choose to accept digital payments (which we recommend), you need to set up a payment processor.
The payment methods that are best for your business depend on who your delivery business serves. If you deliver directly to consumers (and consumers pay upon delivery), you'll need a good method for accepting credit card payments. A mobile device with a card reader would work well in this instance. A couple of good payment processors that allow you to accept payments this way are Square and Payment Depot Mobile.
If you serve other businesses, however, you should consider alternative payment methods. Businesses that sell B2B can often qualify for lower credit card processing rates, so it might be worth pursuing a processor that caters specifically to B2B companies. On the other hand, ACH (automated clearing house) payments are cheaper overall, and they are a good alternative to credit card payments. For additional guidelines on accepting payments as a B2B business, check out The Complete Guide To B2B Payment Processing: Credit Cards, ACH, Software & More.
Step 9: Manage Expenses For Your Delivery Service
As you operate your business, you should have a plan for how you'll track and manage expenses.
Use good accounting software to track tax-deductible expenses, such as fuel, repairs, and new equipment. Take a look at our article about tax write-offs for more information.
Another major expense is hiring drivers. Learn the best way to hire your first employee in our step-by-step guide.
In addition, you should make a plan for how employees will purchase fuel on the road. Will you give drivers access to the company credit card, or will you reimburse your employees for their gas purchases? Make plans for these expenses before you begin your first delivery.
Is Starting A Delivery Business Right For You?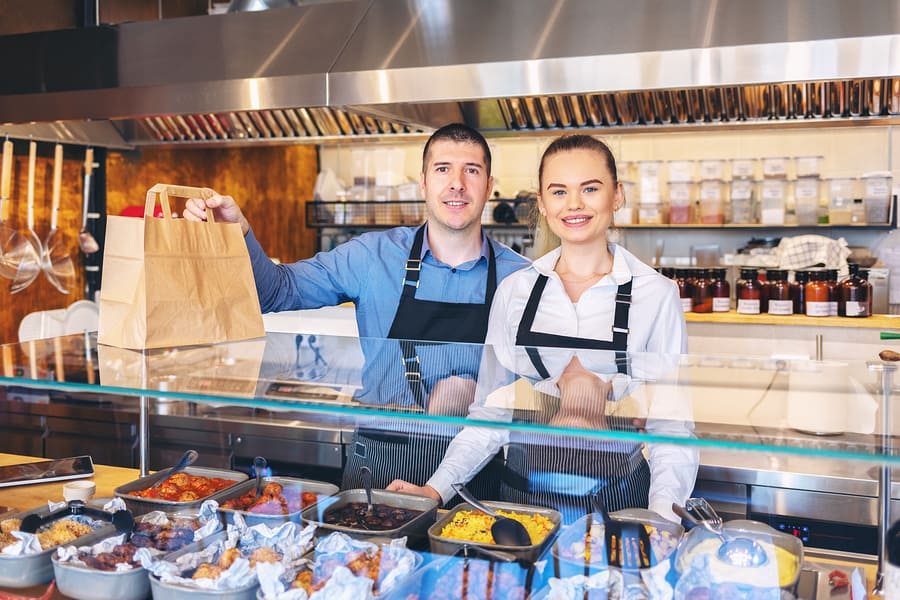 Does starting your own delivery business still seem right for you? Are you prepared to handle the challenges of planning delivery routes, and are you ready to face the competition of the ever-popular delivery apps?
If you've answered yes, we're here to support you as you begin! Sign up for our newsletter to get up-to-date information on owning and operating a small business. To read more about starting your own business, take a look at these articles: