Liquidated Damages: The Most Expensive Early Termination Fee…Ever!
Founder

UPDATED
We've all been there – swindled into a contract that we never should have agreed to in the first place. Fine print and loaded statements make it difficult to decipher the early termination fees we're accepting, yet we sign on the dotted line anyway. It isn't until we decide to cancel our contracts that buyer's remorse sets in – in the form of hefty early termination fees.
But if you think the cancellation charges on a cell phone or cable bill are outrageous, think twice before you go into contract with a credit card processor. Although many will charge a flat fee of a few hundred bucks to close a merchant account early, some companies charge "liquidated damages" fees, which you just may have to sell your right kidney to pay for.
What are Liquidated Damages Fees?
When you choose a credit card processor, you may be asked to sign a contractual agreement that includes a commitment of between two and three years. In most cased, breaking a contract of this nature will include a termination fee (unless you choose one that doesn't). But those that sneak in liquidated damages fees are much more taxing on the average business owner. Using the term "liquidated damages" in a merchant contract is a nice way of saying you're going to pony up for your credit card processor's cost involved in the loss of your contract.
And we're not talking small potatoes here, folks. Nope. You're going to be dropping some serious cash to get out of a contract containing a liquidated damages clause. You can easily expect charges of several thousand dollars if you have more than a few months remaining in your merchant agreement.
Credit card processors usually calculate your liquidated damages fees based on the amount of time remaining on your contract and the monthly profit value of your merchant account to the processor. In other words, the credit card processing company is going to get its money – regardless of whether your business continues to use its services.
How to Detect a Liquidated Damages Clause
Most contracts have a "Termination" section. Your goal should be to find that section, then read it VERY carefully.
Here's a sample contract with the liquidated damages clause highlighted:
(Click to Enlarge)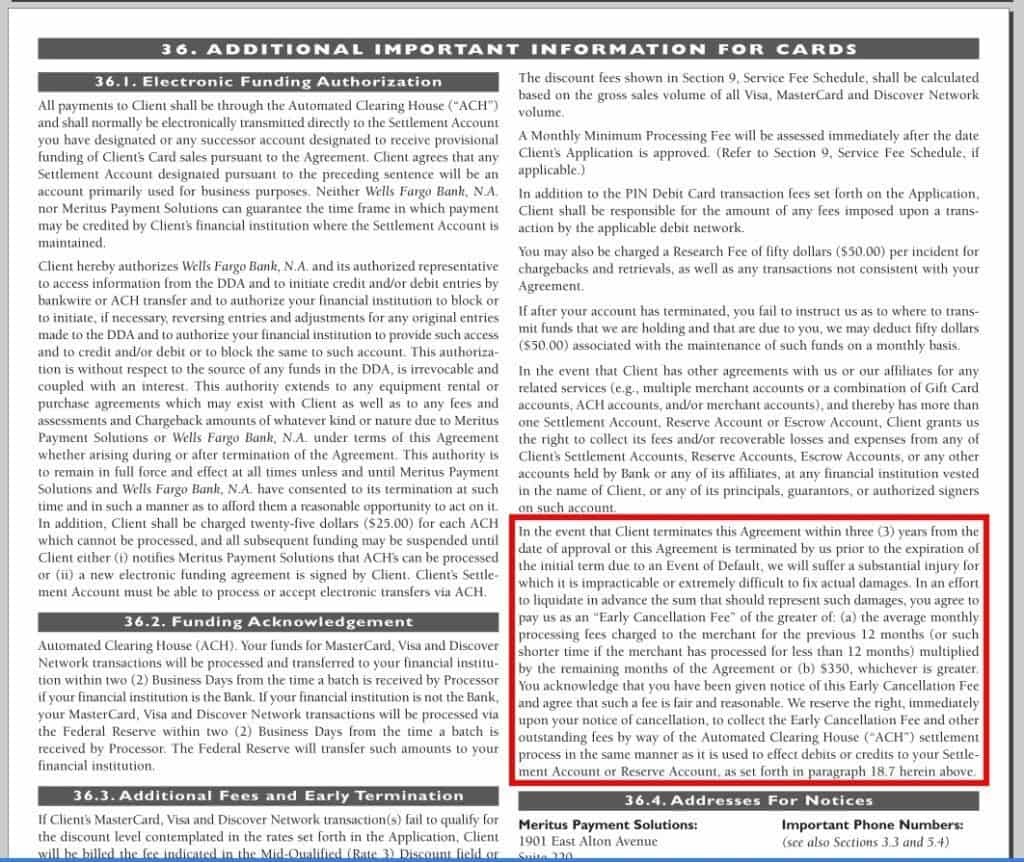 Here's the clause once again in writing:
In the event that Client terminates this Agreement within (3) years from the date of approval or this Agreement is terminated by us prior to the expiration of the initial term due to an Event of Default, we will suffer a substantial injury for which it is impracticable or extremely difficult to fix actual damages. In an effort to liquidate in advance the sum that should represent such damages, you agree to pay us an "Early Cancellation Fee" of the greater of: (a) the average monthly processing fees charged to the merchant for the previous 12 months (or such shorter time if the merchant has processed for less than 12 months) multiplied by the remaining months of the Agreement or (b) $350, whichever is greater.
Keep in mind that most contracts will not use the phrase "liquidated damages" so you have to make sure you read things clearly and understand what you're reading.
Contesting Liquidated Damages Fees
Fighting against a credit card processor's liquidated damages fees is a difficult undertaking – especially if the fees are clearly part of an iron-clad contract. However, you may find asylum with your state's attorney general's office if the fees charged are disproportionate to the original contract. Unfortunately, merchants get stuck with the fees in most cases, which is why the best thing you can do to combat these underhanded tactics is to refuse to sign a contract containing a liquidated damages clause to begin with.
If you are tied up in a contract with a liquidated damages clause and plan to tough it out until your agreement expires, beware the sneaky auto-renewal clauses. In some cases, processing companies will give merchants only 30 days to end a contract before automatically renewing it for another year. Auto-renewals almost always mean a renewal of original contract terms – including those damn liquidating damages charges.
If you are getting ready to choose a new credit card processor and even suspect that the company you are choosing is sneaking in these types of bogus charges, run away fast and find a reputable company that won't take advantage of you. Better yet, carry yourself to your attorney's office for professional legal review of any contract before you sign it. You could save yourself and your business thousands of dollars and years of frustration in the long run.