Amazon Pay Review (Formerly Amazon Payments)
Expert Analyst & Reviewer

UPDATED
Advertiser Disclosure: Our unbiased reviews and content are supported in part by
affiliate partnerships
, and we adhere to strict
guidelines
to preserve editorial integrity.
Amazon Pay

Pros
Pay-as-you-go billing with no long-term contracts
No monthly account fees
Predictable flat-rate pricing
Brand recognition
Easy to integrate into your business website
Cons
High processing rates will be expensive for high-volume merchants
Numerous reports of withheld funds and account closures
Numerous complaints about poor customer service
Amazon Pay Overview
Since 2007, Amazon Pay has enabled online shoppers to securely pay for purchases on a merchant's website using their Amazon accounts. eCommerce sellers can create an Amazon Pay account and, with minimal work, add Amazon checkout buttons to their websites. In this review, we'll answer the questions all Amazon Pay reviews should answer: What is Amazon Pay, and is it right for my business?
With Amazon Pay, you can allow customers to complete purchases, make donations, and set up recurring payments from your online store. It's very easy to sign up for and integrate into your website. There are no monthly fees or long-term contracts, and the flat-rate pricing offers predictability and full transparency. There are no sign-up costs and the process can be completed online.
Amazon Pay is a payment service provider and a subsidiary of Amazon.com. To use Amazon Pay, you'll need an Amazon Seller account, though you don't have to list any of your products on Amazon (but you'll reach far more customers if you do!). You'll also have to comply with Amazon Pay's Acceptable Use Policy, which prohibits you from selling products considered high-risk in the processing industry.
Amazon Pay has mostly positive reviews thus far. Customers using Amazon Pay on your site are covered by Amazon's A-to-z Guarantee. Also, your customers can save time by using shipping and billing information on file in their Amazon account when making purchases. And unlike PayPal, Amazon's payment processing is conducted inline, so customers won't be redirected to another site to complete their payment. What's more, Amazon Pay integrates with over two dozen eCommerce providers, including Magento and Shopify (see our Shopify review to see why we're such fans).
For these reasons, plus the fair and transparent pricing, Amazon Pay gets a score of 5 out of 5 stars.
That said, the service has some downsides. To complete an Amazon Pay transaction, customers must have previously made an Amazon purchase or be willing to open a new Amazon account. Plus, many shoppers still prefer PayPal, which remains the leader in payment service providers (PSPs). As with any PSP, there's a heightened risk of an account hold or termination, and support options aren't as robust as those offered by traditional merchant accounts. Still, Amazon Pay should definitely make your shortlist of online payment processing options.
Products & Services
A quick note: Amazon Pay is currently available to merchants in the United States, Japan, the UK, and the EU. To use Amazon Pay, you must have an established physical presence in the country in which you are processing transactions. More specifically, you must have a street address, a bank account, a credit card associated with your street address, and a phone number based in your country of operation.
Amazon Pay offers most of the features that you would expect from a payment service provider. Highlights include:
Inline Checkout: Customers can enter payment information and complete purchases without having to leave your website. This is convenient for the customer and also increases the likelihood of completing a sale.
Button Widgets: Amazon offers multiple versions and sizes of payment and sign-in buttons for you to use on your site. The two basic categories are Amazon Pay buttons (which let buyers initiate an order transaction from your cart page or product detail page) and Login with Amazon buttons (which let buyers sign in to your site using their Amazon account information either before or during the checkout process).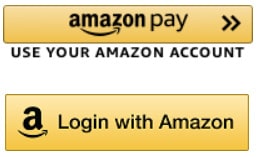 Recurring Billing Support: Amazon Pay supports recurring payments and automatically renewing subscriptions.
Fraud Protection Technology: Is Amazon Pay safe? It's certainly made safer by the fraud protection technology on offer. This free service is the same technology used by Amazon to protect accounts from fraudulent transactions, lowering your costs and safeguarding your business. Also, Amazon Pay grants merchants a Payment Protection Policy (spelled out in the Customer Agreement), which states that merchants may waive chargeback fees for qualifying fraudulent transactions.
Voice Solutions: Amazon Pay now allows customers to make purchases or donations through their Alexa devices. Create an Alexa Skill and add Amazon Pay to the skill to enable voice purchasing. See the Fees & Rates section below to view pricing for voice-enabled payments.
Charitable Donations: Nonprofits can collect donations through Amazon Pay. View discounted rates for charitable organizations in the Fees & Rates section.
Multiple Integration Options: Amazon Pay provides many ways of integrating it with your selling platform. These integrations range from plug-and-play options that are built into popular eCommerce software to custom solutions that fit the needs of enterprise businesses. You have the freedom to choose the integration that best fits your business and technological know-how.
Amazon Seller Central: Every merchant using Amazon Pay will have access to Amazon's dashboard, Seller Central. In Seller Central, you'll be able to manage orders and chargeback claims, view reports, and more. Take a look at a screenshot of Seller Central below: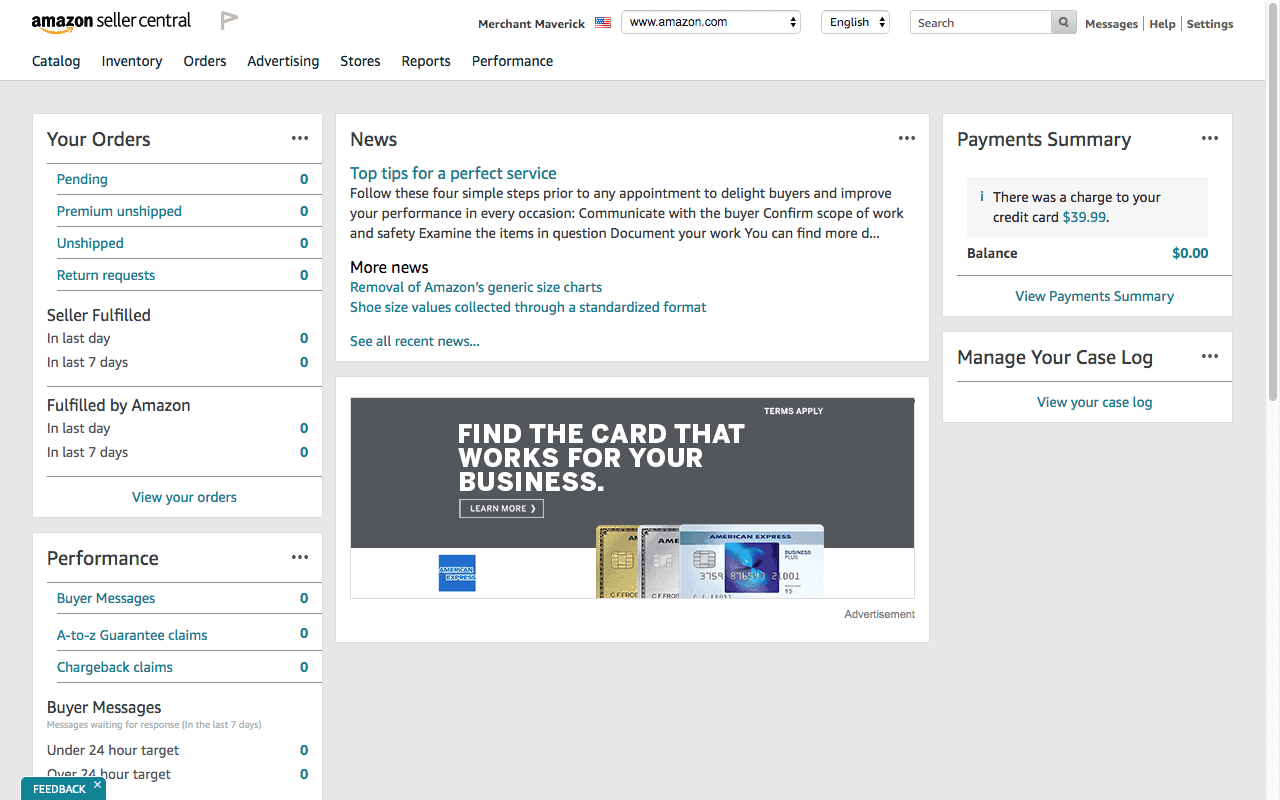 Amazon Pay Fees & Rates
Like PayPal and most other eCommerce-focused processors, Amazon Pay utilizes a flat-rate pricing structure. Simple and easy to understand, Amazon's pricing schedule is disclosed in detail on its website. Price is based on the transaction type and location of the buyer. We've detailed the three Amazon Pay cost categories below: purchases made online, purchases made through Alexa (voice-activated), and donations made to charitable organizations.
Web & Mobile
2.9% processing fee + $0.30 authorization fee per transaction (for domestic US transactions)
3.9% processing fee + $0.30 authorization fee per transaction (for cross-border transactions)
Alexa Voice-Activated Purchases (Real-World Goods & Services)
4.0% processing fee + $0.30 authorization fee per transaction (for domestic US transactions)
5.0% processing fee + $0.30 authorization fee per transaction (for cross-border transactions)
Charitable Organizations
2.2% processing fee + $0.30 authorization fee per transaction (for domestic US transactions)
3.2% processing fee + $0.30 authorization fee per transaction (for cross-border transactions)
That's it. Unlike many traditional credit card processors, Amazon won't charge you account setup fees, monthly fees, PCI compliance fees, or any other fees. There are no contracts to sign, and therefore, no early termination fees. Amazon Pay just charges fees on the transactions you process, so you only pay when you use the service.
Processing fees are based on a fixed percentage of each transaction amount (the total cost of items, plus shipping & tax) and the authorization fee. When you first start using Amazon Pay, you will have to wait a bit longer than usual to receive your funds. Amazon employs a reserve system, so when you first begin processing payments, all initial transactions will be held in Amazon's reserve for 14 days.
After that point, Amazon puts a hold on your funds for seven days, and there is disbursement scheduled for every day (e.g., on your 17th day of selling, you will receive payment for purchases made on your 9th day of selling). In the event of a chargeback, you'll pay a $20 disputed transaction fee, plus tax. Overall, these rates are very similar to what competitors such as PayPal and 2Checkout will charge you.
An important note: Your bank account must be associated with your Seller Central account to receive funds from Amazon Pay. You'll also need to provide a valid credit card number in the event you end up with a negative account balance. Since Amazon Pay doesn't charge any recurring fees, this is only likely to happen if you have to issue a refund or incur a chargeback.
Sales & Advertising Transparency
Amazon is so well-established that it doesn't need to rely on traditional sales or marketing campaigns. With payment information stored for more than 300 million individuals living around the globe, it's easy for Amazon to spread the word about services available through its site, via either referral or word of mouth. There are no hidden fees associated with Amazon Pay. As long as you take the time to read the FAQs on the website, you should have a good grasp of how the service works.
Amazon Pay also has a respectable presence on social media, with active accounts on Facebook and Twitter. Additionally, it maintains a blog and has a YouTube channel that features numerous tutorials and testimonials from merchants.
Contract Length & Early Termination Fee
Amazon allows you to use Amazon Pay without committing to a long-term contract. The use of the service is essentially month-to-month, but without any recurring monthly or annual fees, there's little reason to cancel your account.
If you want to cancel anyway, Amazon provides a link you can use to contact a Seller Support representative, who will close the account for you. There's also no early termination fee whatsoever. Unlike other processors who require at least 30 days' written notice of account closure to avoid getting billed for an additional month, you can close your account at any time with no penalty.
Customer Service & Technical Support
Amazon Pay recently consolidated its online support resources into a single Help section. From here, you can access a tremendous variety of topics ranging from how to sign up for the service to how to handle a chargeback, and much more.
The help section is divided into resources for customers and merchants, so your customers can use it as well if they have a problem with completing an order or making a payment. Documentation is also available for integrating any of the numerous third-party shopping carts that are compatible with Amazon Pay.
While the Help section of the website should be your first stop if you need help, traditional customer service options are also available. Customer support is available via email, telephone, and live chat. Live support is available every day from 5 AM to 9 PM PST.
Be aware that you must already be signed up for the service to use these options. Therefore, we weren't able to see how easy or difficult it is to reach a customer support representative. However, my experiences with sales and marketing representatives have all been positive and timely.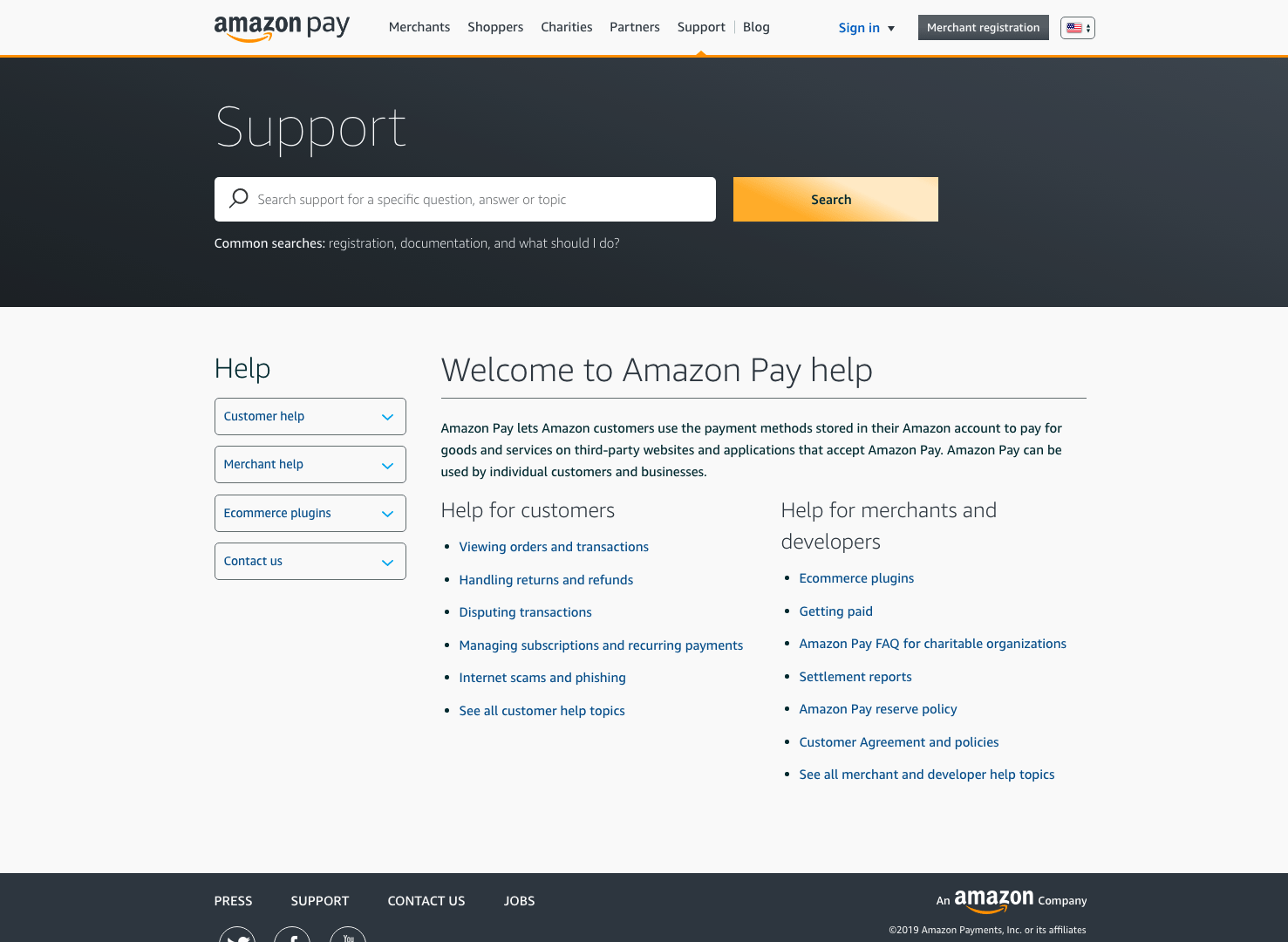 Amazon Pay Reviews & Complaints
Feedback from merchants using Amazon Pay is mostly positive, although the service does receive many of the same types of complaints that are common with payment service providers (PSPs). These issues include frequent account holds, freezes, and terminations, as well as limited customer service options.
Let's go through the Amazon Pay pros and cons as described by merchants using the service.
Negative Amazon Pay Reviews & Complaints
Amazon Pay doesn't have a separate business profile with the BBB, and few, if any, of the 21,000+ complaints on the Amazon.com profile have anything to do with the service. Ripoff Report currently lists 59 complaints (under the old Amazon Payments brand name) that are specific to Amazon Pay. Again, however, few of those complaints are from merchants. Instead, most of them are actually filed against people trying to use the service for illegal or scam sales.
While there aren't a lot of complaints about Amazon Pay to be found, we did find a few issues that were common enough to be notable, including the following:
Frequent Account Holds, Freezes & Terminations: Users have reported Amazon for holding funds for 90 days or longer and freezing accounts without prior notice. This is a very common complaint we see with payment service providers in general. While we don't want to disregard it, the issue is a genuinely unavoidable side effect of the business model used by these types of providers.
Initial Funding Hold: As mentioned above, Amazon Pay's reserve policy clearly states that funds will be held for an initial observation period of 14 days for new accounts, causing a delay in payment. After that, funds are disbursed on a seven-day cycle.
More Expensive Than Other Options: Because Amazon Pay uses a flat-rate pricing plan, merchants who operate mid to high-volume businesses may find that the cost of using Amazon Pay is higher than using other options (such as a traditional merchant account with interchange-plus or membership pricing). However, keep in mind that Amazon Pay is on par with other payment service providers, and at low volumes, the flat-rate, pay-as-you-go processing tends to be the most favorable for merchants. Higher-volume businesses (above about $10,000/month in processing volume) will definitely see savings with a merchant account.
Signup Takes Too Long: A few merchants voiced frustration at the signup and setup process with Amazon Pay. They say there are too many steps involved and that the process could use some streamlining. While there is some merit to this criticism, we should point out that this signup process is far easier than what you'll go through with a traditional merchant account provider.
Positive Amazon Pay Reviews & Testimonials
In addition to case studies on the Amazon Pay site, there are many reports online from users who are satisfied with the payment processor. A thorough search found the following common positive attributes:
Quick Payment Process: Since their shipping and billing information is already on file with Amazon, customers can complete orders very quickly. This convenience will hopefully increase your store's conversion rate.
Easy To Use: Merchants like that Amazon Pay is easy to add to their websites and that it's easy for their customers to use.
Name Familiarity: Customers know and trust Amazon, and most customers today already have an Amazon account set up. This name-recognition helps your customers feel more secure about purchasing from your site. As a great many of your users will be long-time Amazon customers, your customer base probably won't be wondering "Is Amazon Pay secure?"
Integrations & Add-Ons
To complete a purchase using Amazon Pay, customers will need to have an Amazon account (a pretty sure bet these days) or be willing to sign up for one. Amazon supports payments via all major credit cards, debit cards, and direct ACH transfers from a customer's bank account.
Amazon Pay offers prebuilt integrations with over two dozen major online shopping carts, including leading provider Shopify. The service also provides many other ways to integrate the payment service with a merchant's website, including payment buttons and hosted checkout options. Look into Amazon Pay's documentation for more details regarding integration options.
Final Verdict
If you're currently an Amazon seller, using Amazon Pay to process payments for your eCommerce site is a no-brainer. At the same time, Amazon Pay also offers significant advantages for sellers and organizations not associated with the company. You'll be able to manage transactions, view reports, contact customer support, and more in Amazon's Seller Central. You'll also be protected against fraud-related chargebacks that fit into the service's payments protection policy.
What's more, your customers won't be directed away from your website to complete sales, so your conversion rates should improve as well.
For merchants who already have a traditional merchant account, why not add Amazon Pay to your site as a supplemental payment option? It costs you nothing to sign up, and with pay-as-you-go billing, you won't be committed to a long-term contract or recurring monthly fees. Amazon Pay has an intuitive interface, and plenty of users who already have Amazon accounts as well as providing superb name recognition.
We're concluding our Amazon Pay review by giving it an excellent score of 5 out of 5 stars, and we highly recommend it for eCommerce merchants.
Common Questions About Amazon Pay
---
Our Top Pick To Save On Payment Processing 💰
PaymentCloud


---
PaymentCloud has an excellent track record for service quality, support, and fair pricing. Learn more from PaymentCloud.
Our Top Pick To Save On Payment Processing 💰
PaymentCloud


---
PaymentCloud has an excellent track record for service quality, support, and fair pricing. Learn more from PaymentCloud.
To learn more about how we score our reviews, see our
Credit Card Processor Rating Criteria
.