Invoice Ninja Review
This app allows you to create invoices for free, and although it can't replace actual accounting software, it's a great option for small business owners who need a quick and simple invoicing tool.
Expert Analyst & Reviewer

UPDATED
Advertiser Disclosure: Our unbiased reviews and content are supported in part by
affiliate partnerships
, and we adhere to strict
guidelines
to preserve editorial integrity.
Invoice Ninja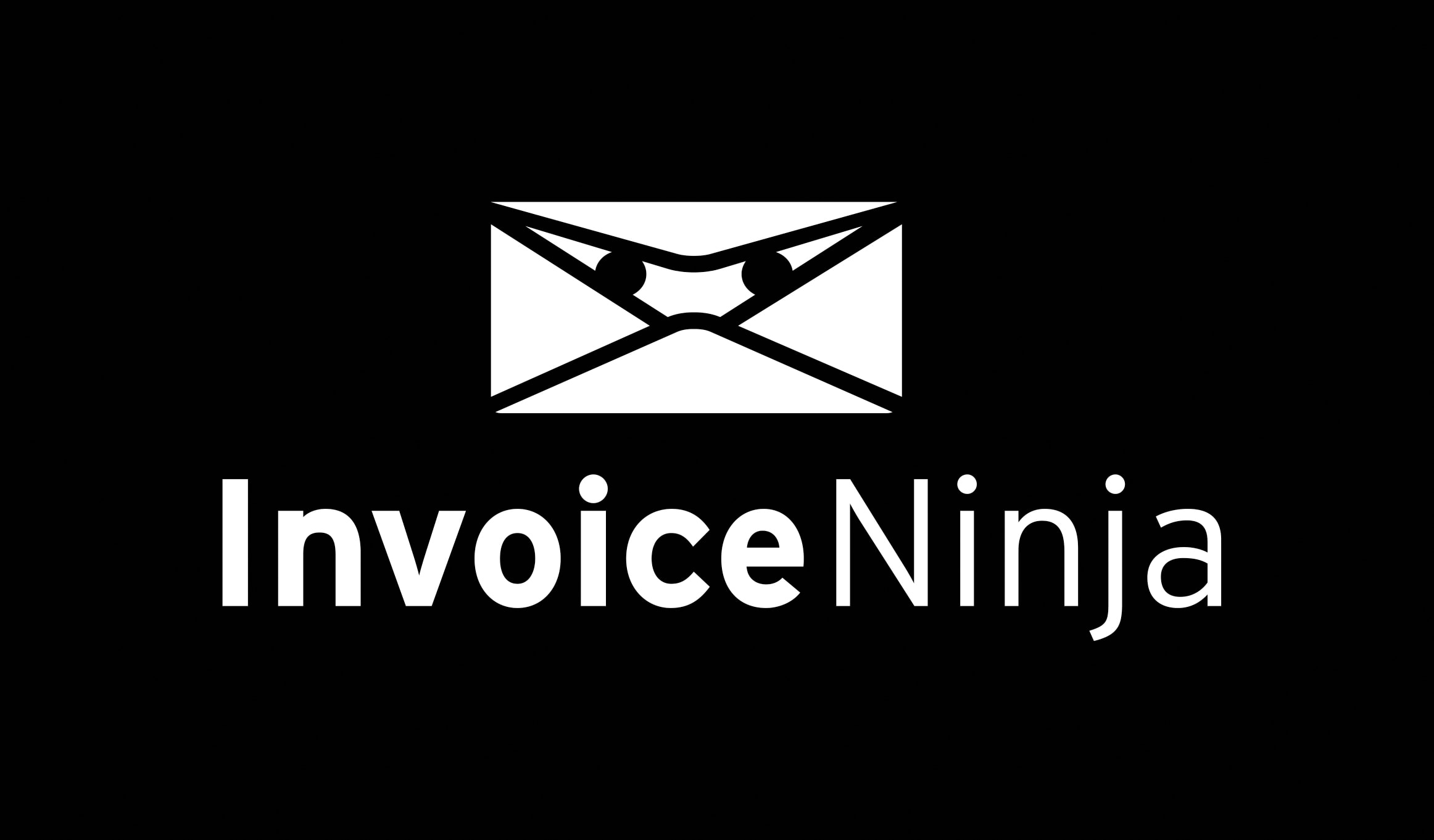 Pros
Easy to use
Numerous payment gateway integrations
Good customer support
Attractive invoice templates
Free, open-source software
Cons
Limited reports
No inventory
Developer skills required for self-hosting
Invoice Ninja At A Glance
Invoice Ninja is an invoicing service for small businesses with both a free and paid option with a strong feature set for the price point.
It has a highly customizable interface and four unique invoicing templates to suit your business.
Invoice Ninja also comes with highly rated customer service, boasting fast response times and multiple ways to reach a representative.
Its feature set is incredibly in-depth with everything you would expect from an invoicing service along with some unique benefits like listening commands.
What is Invoice Ninja?
Invoice Ninja is small business software that offers a free, open-source version of its product. This version is locally-installed and can be customized to fit your unique business needs. The web-hosted option has 40+ payment gateways, good customer support, strong invoicing, and a free pricing option.
The software also offers some unique touches, such as "buy now" eCommerce buttons and listening commands. If we're going to be nitpicky, the software's UI could use a little updating, and the reporting and time tracking capabilities could be improved. But in this case, the pros outweigh the few cons.
Invoice Ninja Pricing
| Plan | Price | When To Use |
| --- | --- | --- |
| Invoice Ninja Forever Free | $0/month | If you have a smaller company with extensive invoicing needs and a small budget |
| Invoice Ninja Pro Plan | $10/month | If you have more than 50 clients and want more customization options |
| Invoice Ninja Enterprise Plan | $14/month | If you have a larger business with more than 1 user |
Invoice Ninja offers free, open-source software for those looking to download and self-host the program.
For those who want web-hosted software instead, Invoice Ninja offers three SaaS pricing plans: one free option and two affordable paid plans. There is a 14-day trial available for the paid plans. No credit card information is required, and you can cancel your plan at any time.
You can receive two months of free service if you choose to pay annually rather than monthly. You can also earn money with Invoice Ninja's generous referral program. Contact the company directly for details.
Invoice Ninja Forever Free Plan
Invoice Ninja's Forever Free plan costs — you guessed it — $0/month and includes:
Unlimited invoices
Unlimited estimates
20 clients
Four invoice and estimate templates
Expense tracking
Proposals
Items list
Project management
Time tracking
40+ payment gateways
One user
Invoice Ninja Pro Plan
Invoice Ninja's Pro Plan costs $10/month and includes everything in the Forever Free plan, plus:
Unlimited clients
10 invoice and estimate templates
Proposals
Buy now eCommerce buttons
Reports
Remove Invoice Ninja branding on invoices
One user
Invoice Ninja Enterprise Plan
Invoice Ninja's Enterprise Plan starts at $14 /month and includes everything in the Pro Plan, plus:
Advanced invoice customizations
Multiple users
User permissions
Fully branded portal links
Up to 20 users
The Enterprise Plan costs anywhere from $14-$44/month, depending on how many users you select. You can have up to 20 users in total.
Extra Invoice Ninja Costs & Fees
| Extra Costs | Price |
| --- | --- |
| White Label License | $20/year |
Some users complain that the self-hosted software includes Invoice Ninja branding. You can pay $20/year for a white-label license to remove this branding or upgrade to the Pro or Enterprise plans.
Is Invoice Ninja Easy To Use?
Invoice Ninja is well-organized and easy to navigate. The software's UI is a bit outdated, and a couple of customers accuse it of being almost too simple and not developed enough. However, for the vast majority of users, the simplicity is a benefit. Plus, if you do encounter issues, the customer service team is quick to respond. Invoice Ninja is also highly customizable, allowing you to set up your preferences and run the system in a way that's most convenient for your business.
For the self-hosted version of Invoice Ninja, users report more difficulty. Several users said the software is difficult to implement and set up unless you are an experienced developer.
Invoice Ninja Features
| Feature | Availability |
| --- | --- |
| Invoicing | |
| Multilingual Invoicing | |
| Estimates | |
| Client Portal | |
| Contact Management | |
| Expense Tracking | |
| Inventory | |
| Time Tracking | |
| Project Management | |
| Job Costing | |
| Reporting | |
| Mileage Tracking | |
Invoice Ninja covers most features expected from invoicing software and even goes above and beyond the call of duty with a few unique touches. Here are the main features the software has to offer:
Dashboard: The Invoice Ninja dashboard is well-organized and provides charts and graphs of your Total Revenue, Average Income, Outstanding (balance), Invoices and Payment, Recent Payments, Upcoming Invoices, and Invoices Past Due.
Invoicing: The free plan features four invoice templates and limited invoice customizations, and all invoices come with the Invoice Ninja branding. The paid plans offer 10 professional, appealing invoice templates that are incredibly customizable. You can change fonts, colors, data fields, and logos. Invoice Ninja uses a Live PDF, so you can view any changes you make to an invoice template in real-time as you customize them. Every plan allows for recurring invoices and invoice reminders. The Pro and Enterprise plans add bulk invoicing and late fees. You can easily see when invoices are viewed, and there's a nice invoice dashboard. You can only add attachments to invoices with the Enterprise Plan.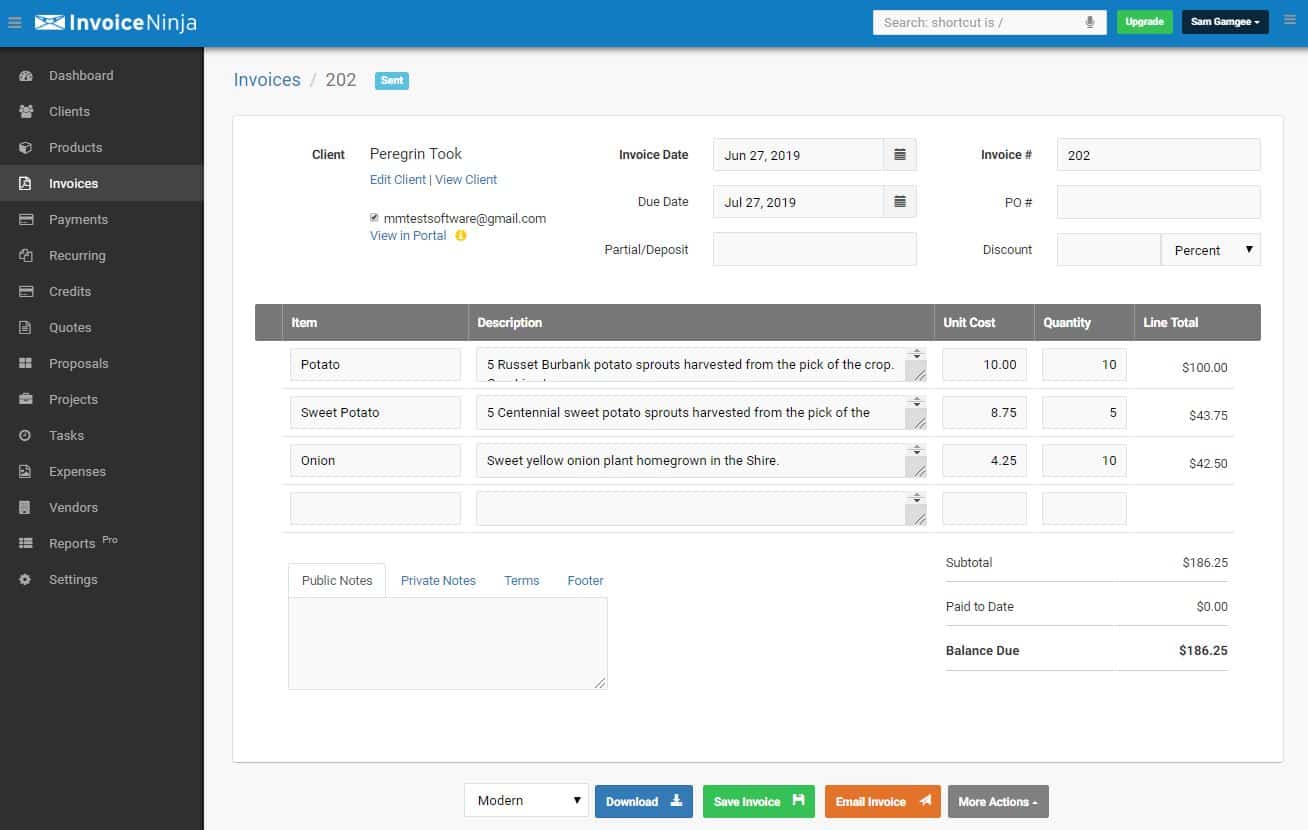 Estimates: There are also four or ten estimate templates available, depending on your plan. Invoice Ninja automatically converts estimates to invoices once accepted, which is a nice touch many programs miss. Another unique touch is the ability to set an "invoice valid until date." Emailing bulk estimates is available on the Pro and Enterprise plans.
Client Portal: Invoice Ninja has an incredibly developed, beautifully designed client portal. Customers have their own dashboard where they can view their total invoices, payments, and outstanding balances. Customers can view, download, print, and approve estimates and view, download, and pay invoices. Invoice Ninja also allows you to add a gateway fee to cover online payment processing expenses, and you can require customers to fill in a checkbox (often used as proof that they read the terms and conditions) or e-sign their invoices.
Proposals: On the Enterprise Plan, you can create elaborate proposals with Invoice Ninja and email them to potential clients. Proposals are highly customizable. You can import an existing proposal template as well.
Contact Management: Users of all plans can manage customers and vendors in Invoice Ninja. You can record basic contact information as well as ID numbers, VAT numbers, default payment terms, default languages, and notes. There's a nice contact dashboard where you can view a customer's total invoices, payments, and any open balances.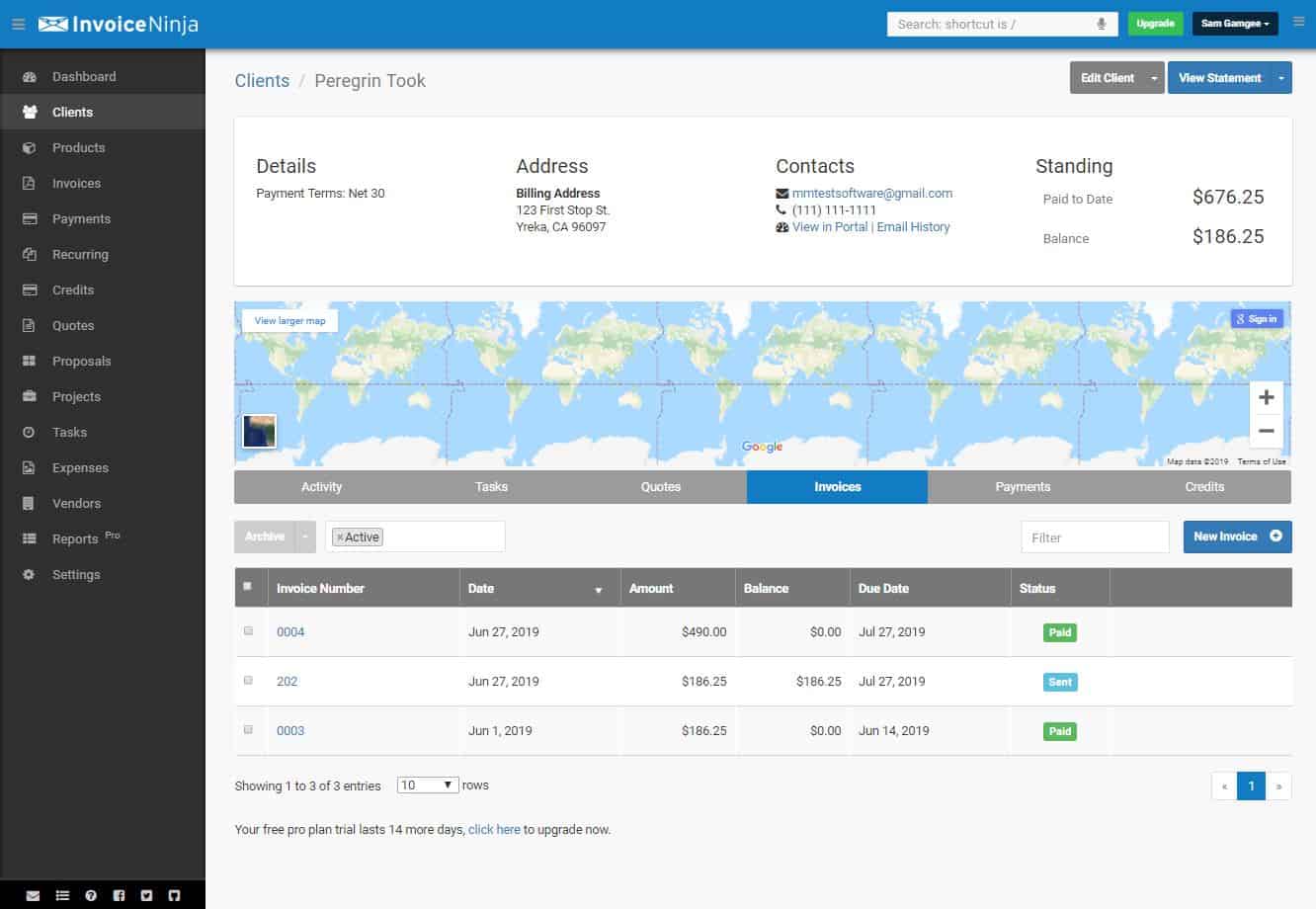 Expense Tracking: Invoice Ninja offers basic expense tracking. You can enter expenses manually, import bank statements via .ofx, or connect to your bank account. You can also set expense categories to manage and organize your expenses. Users can set recurring expenses and mark expenses as billable. You can choose the expense currency and check the "convert currency" option.
Project Management: You can create a project and add a project name, due date (a much-needed new addition), budgeted hours (also new), and description.
Tasks: You can create tasks either from the newly created Task screen or using a Kanban board, depending on how you like to visualize your to-do lists. The nice part about the Kanban board is that you can organize tasks by ready to do, in progress, done, and backlog, or any number of your own custom categories.
Time Tracking: You can track time by either using a built-in timer or by manually entering time. Time must be associated with a project or task. While I appreciate the improvements made to the project management and task features, manually entering time is difficult.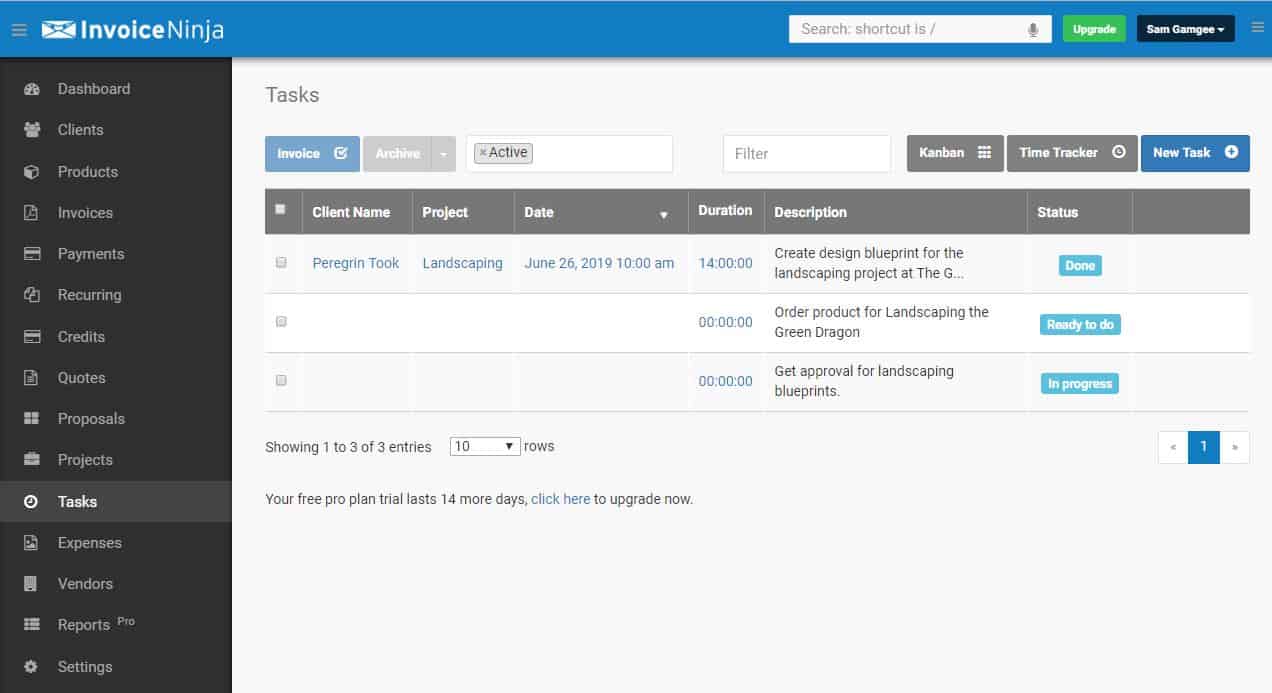 Reports: Invoice Ninja offers 13 reports total. There are typical Profit and Loss and Aging reports. The rest of the reports are more like summaries of specific features (invoices, contacts, etc.). For Enterprise users, there is a data visualization where you can view clients, invoices, and products in a more creative way; however, I find this data a little too creative and hard to take in.
Listening Commands: One of the coolest aspects of Invoice Ninja is the unique built-in voice commands. You can tell the software to follow commands, such as "return to dashboard," "add new client," "send invoice," and Invoice Ninja will do it.
Multiple Currencies: Invoice Ninja supports 95+ currencies and 30 different languages. While you can send invoices in different languages, this feature needs a lot of work. Currently, only half the invoice gets translated.
Importing & Exporting: Invoice Ninja has a strong, easy-to-use importing feature. You can import clients, vendors, invoices, products, and expenses. You can export all data or any combination of the following: clients, contacts, credits, tasks, invoices, quotes, recurring, payments, products, expenses, vendors, and vendor contacts.
Invoice Ninja Customer Service
| Support Option | Availability |
| --- | --- |
| Phone Support | |
| Email | |
| Support Tickets | |
| Live Chat | |
| Dedicated Support Rep | |
| Knowledge Base | |
| Videos & Tutorials | |
| Company Blog | |
| Social Media | |
Invoice Ninja boasts incredibly impressive customer service response times. Most emails and support forms were addressed in minutes. Believe it or not, emails get answered by the actual co-founders of the company, so you know the responses are trustworthy and knowledgeable. Invoice Ninja could improve its support options by offering phone support, but the company does provide far more resources than most invoicing companies of the same size and caliber.
Here are all of the ways you can reach Invoice Ninja:
Email: You can reach support via email.
Support Form: There is a support form available as well.
Knowledgebase: Invoice Ninja has a knowledgebase that has how-to articles for common questions. The knowledgebase could be a bit more comprehensive, but it's vastly improved from our last review.
In-Software Support: One of the best parts of Invoice Ninja is how easy it is to get support without having to leave the software. From within the software, you can access the support form, community forum, knowledgebase, user guide, and YouTube videos.
User Guide: There is a detailed user guide that explains the basics of the software and more details on self-hosting.
Community Forum: There is a community forum for more specific questions. Questions get answered fairly quickly.
FAQs: There is a large FAQ section that covers sales, integrations, features, and more.
YouTube: Invoice Ninja has a YouTube channel with a small collection of how-to videos.
Blog: Invoice Ninja has a business blog that is actively maintained. The company features business tips, freelancing advice, invoicing tricks, and more.
Freelance 101 Guide: Invoice Ninja has a short freelancing 101 "epic guide" that covers various topics, such as how to market yourself as a freelancer, how to decide on rates, etc.
Feedback Form: You can submit feedback and feature requests using this feedback form.
Feature Roadmap: I was happy to see that Invoice Ninja has a public feature roadmap where users can take a look at upcoming features and updates.
Business Book Reviews: When I said Invoice Ninja has a ton of resources, I wasn't kidding. The company is unique in that there is a whole section of its blog devoted to business book reviews.
Social Media: Invoice Ninja maintains active Twitter, Facebook, and LinkedIn accounts.
Invoice Ninja Reviews
Negative Invoice Ninja Reviews & Complaints
Invoice Ninja's reviews are predominantly positive. Users seem to have very few complaints, and the issues they do have are often minor. Here are the occasional recurring complaints about Invoice Ninja:
Difficult Implementation: A couple of users found the self-hosting implementation to be really difficult. One developer said the software is not suitable for "newbies."
No Phone Support: Another user said that even though the customer support is good, he wishes there was phone support in addition to email support.
Poor Reporting: If you are used to true accounting reports, you won't find them.
Limited Invoice Customizations: A couple of users complain about the lack of invoice customizations on the free plan (there are strong invoice customizations available with the paid plans).
Positive Invoice Ninja Reviews
The majority of Invoice Ninja reviews are quite positive. Invoice Ninja receives 4.9/5 stars on Capterra (based on 116 ratings) and 4.8/5 stars on the G2 Crowd (based on 14 ratings). The mobile apps rank a bit lower but still receive a lot of positive feedback. These are some of the recurring things customers appreciate about the software:
Great Customer Service: The most common point of praise is the strong customer support that Invoice Ninja offers. Users appreciate that emails get a response in minutes and that the company listens to customer input in its frequent updates of the software.
Strong Mobile Apps: Many users were happy to see strong mobile apps.
Easy To Use: Another common praise is that the software is easy to set up, learn, and use.
Affordable Pricing: Users appreciate both the free plan and the affordability of Invoice Ninja's paid plans, especially considering all of the features that come with the paid versions.
Numerous Integrations: Multiple reviewers appreciated how many other programs integrated with Invoice Ninja and how seamlessly they worked together.
Invoice Ninja Integrations
Invoice Ninja offers an incredible number of payment gateway integrations with the total coming in at just above 40 options. However, there are far fewer third-party integrations across other categories. There are only nine other integrations — granted, one of these integrations is Zapier, which connects Invoice Ninja with over 1,000 apps.
Invoice Ninja also offers a few unique integrations. For example, you can connect Invoice Ninja to Slack to receive payment notifications on Slack. You can also link to Google Analytics eCommerce. And, something I haven't seen anywhere else, Invoice Ninja passes on partner perks to its customers. For us, these unique touches and the addition of the Zapier integration just about make up for the small number of third-party integrations (that aren't payment gateways).
Invoice Ninja offers RESTful API for developers.
Is Invoice Ninja Secure?
Invoice Ninja does not have a lot of security information on its site, which is sometimes a red flag. However, the company will tell you about its specific security measures if you email them, and it is transparent about being PCI compliant. Invoice Ninja uses 256-bit SSL encryption and HA servers. Data is backed up every six hours. To learn more about Invoice Ninja's security, contact the company for details.
The Final Verdict: Is Invoice Ninja Worth It?
| Invoice Ninja Review | |
| --- | --- |
| Business Size | Small to mid-sized businesses with up to 50 clients |
| Pricing | Free to $14/month |
| Choose If You Need | Affordable invoicing, customizable templates, strong customer support |
Invoice Ninja is well on its way to becoming one of the greats in the invoicing world. The software offers customizable invoicing, strong automations, ample payment gateways, and a few incredibly unique features (such as "buy now" buttons, proposals, a Slack integration, and listening commands). Add great customer support to the mix, and it's easy to see why the software receives so many positive reviews.
One of the other perks about Invoice Ninja (besides its free plan) is that the company truly listens to customers and has seriously improved a lot of the issues we called out in our last review. Now, its project management is better, and the free plan is far less limited.
The software is ideal for developers looking for a free, open-source invoicing solution and for small business owners looking for easy, affordable invoicing. While there could be better time tracking, more reports, and some cosmetic improvements to the UI, Invoice Ninja is still a great solution that could be a game-changer for a lot of small businesses — so long as they don't need full-fledged accounting software.
To learn if this software is right for you, open a free account or sign up for a free trial of the paid plans.
Invoice Ninja FAQs
---
The Merchant Maverick Seal of Approval 🏆
Invoice Ninja


---
After hours of in-depth research and evaluation, we can confidently recommend this brand to our readers. Get started today and see Invoice Ninja for yourself.
The Merchant Maverick Seal of Approval 🏆
Invoice Ninja


---
After hours of in-depth research and evaluation, we can confidently recommend this brand to our readers. Get started today and see Invoice Ninja for yourself.
To learn more about how we score our reviews, see our
Invoicing Software Rating Criteria
.