Novo Review
Novo business banking offers integrations for accounting and eCommerce, though it does not offer the opportunity to earn interest on accounts or card rewards.
Expert Analyst & Reviewer

Updated on:
Advertiser Disclosure: Our unbiased reviews and content are supported in part by
affiliate partnerships
, and we adhere to strict
guidelines
to preserve editorial integrity.
Novo Bank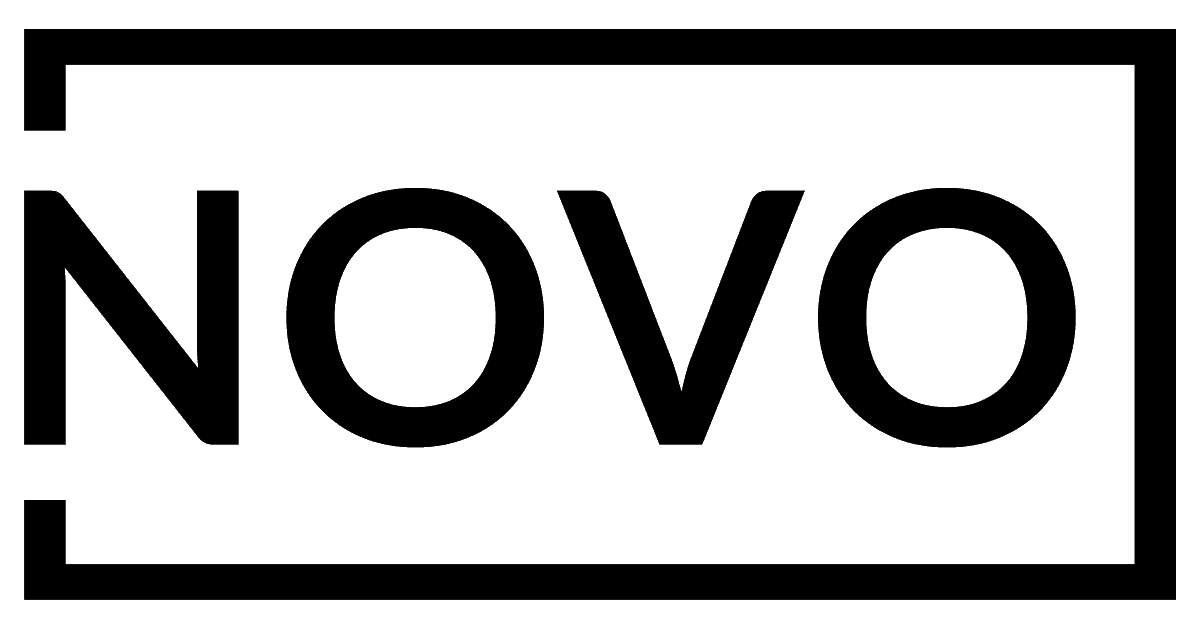 Novo At A Glance
FDIC-insured online checking account
Aimed at small businesses
$50 opening deposit requested
What We Like About Novo
Fast application process, with no credit check
No monthly or recurring fees
Deposit and send checks using the mobile app
Free transfers and payments
All ATM fees reimbursed
Integrates with popular small-biz software
What We Don't Like About Novo
No interest-earning accounts
No cash deposits
No lending options
Not available to high-risk businesses
---
Services Offered By Novo
Novo business banking has some attractive features designed to appeal to its target audience: small business owners who are comfortable operating in a fully digital environment. If that sounds like you, keep reading this Novo review.
Novo differs in some significant ways from its online banking competitors. For this Novo banking review, let's start with the similarities: Novo offers a FDIC-insured checking account for small businesses that includes a debit card that can be used to make withdrawals at ATMs and direct purchases anywhere in the world. Like most companies offering banking services to small businesses, Novo does not charge any recurring fees or have any minimum banking requirement, although a $50 opening deposit is requested. Novo offers subaccounts, called Reserves, that users can set up for targeted savings. The application process for Novo is quick and easy, with no credit check.
So what's different about Novo bank? Here's a list:
ATMs: Since Novo doesn't have its own ATM network, users will be reimbursed by Novo for all ATM fees they incur.
Cash Deposits: Novo doesn't accept cash deposits in any way, though users can link their Novo account to another bank account and make transfers; transfers are free. Checks can be deposited in the Novo bank via the mobile app. If you have cash to deposit, you'll have to use it to purchase a money order, and then deposit the money order into your Novo account.
Interest: Novo does not offer savings accounts, and checking accounts do not earn interest.
Financing: Novo does not offer credit or loans at this point, though that's said to be in the works.
Checks: You won't be able to write traditional checks with Novo, though users can send arrange via the mobile app to have checks sent out for them.
Integrations: Unlike many of its competitors, Novo offers users integrations with some popular software, including Xero, Slack, Stripe, Shopify, and QuickBooks. You can also use your Novo account and routing numbers to connect to other services, such as Square. That's an advantage that may make some small business owners feel inclined to overlook some potential drawbacks, such as no interest-bearing accounts, that might otherwise make Novo seem less attractive.
Users have access to the following Novo banking services:
Business checking
Reserve subaccounts
Debit card
Free incoming wires and ACH transfers
Bill pay via check
Free ATM access
eWallet options
Integrations for eCommerce, accounting, and more
Discounts and perks with software partners
Rewards & Perks
Novo does not offer some of the common rewards that other business banking providers offer. Although Novo offers partner perks that small businesses may find valuable, the lack of interest-bearing accounts and rewards for using the Novo debit card hold the company back from a higher ranking in this category.
Novo does offer a referral program, called Novo Turns 3, for current Novo customers who refer a new Novo customer. Each party will receive a cash deposit to their account when the new customer makes a qualified deposit of $100 or more within 14 days of opening the new account.
In addition, these software partners make special offers available to Novo users who want to take advantage of them. These include discounts, freebies, and special offers; check the Novo website for full details regarding offers from the following partners:
Stripe
Booking.com
Google Cloud
Gusto
QuickBooks Online
HubSpot
Segment
ZenDesk
Google Ads
Snapchat
Salesforce Essentials
Homebase Plus
Accessing these Novo perks is straightforward. You'll find the deals right in the Novo app under Novo Card > Benefits. On the web app, look for the Perks tab on the left menu. You may also see a green badge on your dashboard that alerts you to available perks.
Novo Pricing & Fees
Novo pricing is straightforward. You won't find any hidden fees, monthly fees, or minimum balance requirements. Transfers, mailed payments by check, and incoming wires are free. (You can't send out wire transfers from your Novo account.) Although Novo bank does not have its own ATM network, Novo customers will see a refund of all ATM fees incurred. Novo does not charge foreign transaction fees, either, though the ATM you use overseas may attach a fee. Again, Novo returns all ATM fees.
The only fees we found listed for Novo bank are $27 charges for each overdraft or returned payment. So if you don't make payments that exceed your account balance and don't deposit any bad checks, you won't see any fees on your Novo account.
Note that Novo bank does impose transaction limits, as follows:
| Transaction Type | Transaction Limit |
| --- | --- |
| ACH Pull/Push | $1,250/$5,000 per day |
| Mailed Checks | $5,000 |
| Check Deposits | $20,000/day and $40,000/month, with a monthly total of 20 |
| POS | $5,000 or 25 POS transactions per day |
| ATM Withdrawals | $1,000 |
Users can reach out to Novo support through the Novo app to request increases to these limits. If you plan on depositing a large amount of money, Novo requests two to three days' advance notice, through the Support tab in the app, so your deposits are not flagged for fraudulent activity.
Novo Eligibility Requirements
Novo banking services are available to nearly all small businesses, whether sole proprietorship (such as freelancers and independent contractors), LLC, partnership, or corporation. However, the following types of businesses are listed as ones that cannot use Novo banking services: cryptocurrencies, privately owned ATMs, marijuana/cannabis, gambling, crowdfunding, and money services.
Depending on your business classification, Novo will require commonly available documentation in the course of opening your business account. Sole proprietors can expect to show identification and a DBA certificate, if they have one. Not surprisingly, corporations need more documentation, including articles of incorporation and other legal forms. The Novo website lists the following requirements for all business accounts:
Located in the US
Owner must be a permanent US resident with legal status and aged 18+
Valid US mailing address
Valid Social Security Number or equivalent, such as EIN
Novo will not check your credit history when you apply for an account. Having a Novo account will not affect your credit score.
Although Novo does not have ongoing minimum balance requirements, a $50 opening deposit is requested (but not required) to unlock all Novo features.
Novo Features
Novo offers users financial tools to manage their small business finances. And it comes with integrations you can plug in, allowing you to track your funds, get paid, send out payments and payroll, and more. Some of these features are included in the base package, and others must be connected. Taken together, Novo delivers tools to cover almost every financial component of running a small business.
Let's start with the built-in features first:
| Feature | | Summary |
| --- | --- | --- |
| Debit Card | | Link the Novo Mastercard debit card to digital wallets or use it at ATMs worldwide |
| Transfers | | Add funds to your Novo account via PayPal, Venmo, ACH, mobile check deposit, and wire transfer |
| Savings | | Create up to five subaccounts, but you won't earn interest |
| Cash Deposits | | You cannot deposit cash into Novo business banking accounts |
| Mobile Deposits | | Free app available for iOS and Android |
| Bill Payment | | Make unlimited fee-free payments by ACH and paper check |
| Access To Credit | | Novo business banking services do not include lending or credit options at this time |
| Merchant Services | | Novo does not include merchant services, but you can integrate with Stripe and Square |
On top of these standard business banking features, Novo adds these additional features:
Invoicing
Create and manage an unlimited number on invoices through the Novo app. Accept payment on those invoices via ACH/electronic transfer or by card using Stripe if you've activated the Stripe integration. Invoices will be marked as paid, automatically if payment is received via Stripe or manually if via ACH. You and the customer will both receive an email confirming the payment.
International Access
Novo debit cards will work wherever Mastercard is accepted. Set a travel notice when you're on the road internationally, and you'll receive instant notification for every transaction. You can use your card in foreign countries and still see a refund on any ATM fees you're charged.
Additional Users
If your business has someone other than the owner acting as a fiduciary, that person can be added to the Novo account as an additional user. The fiduciary must be named as a trustee, executor, administrator, or conservator under court order. You can choose whether to send that person a business debit card for the account.
Digital Wallet
Connect your Novo card to Apple Pay or Google Pay and you can use your Novo business banking account for card-free transactions.
Integrations
Where Novo really stands out from the competition is in the number of possibilities its integration partners bring to the table. That's something you won't find with every business bank account at this time. Here are some of the tools Novo can connect your finances to, each with its own special offer as outlined in the Rewards & Perks section above:
Stripe: As a Stripe verified partner and the first business checking account to partner with Stripe, Novo integrates seamlessly with Stripe, allowing you to see available Stripe funds, funds in transit to your Stripe-connected bank accounts, and funds available for transfer soon. Instant Stripe payouts are reportedly in the works.
Shopify: Track payments to your Shopify online store or through your Shopify POS in real time, and view monthly sales, returns, discounts, and more from within the Novo app.
Wise: Send payments around the world in seconds, in multiple currencies, and at the mid-market exchange rate.
Slack: Your entire team, including accountants, can see updates on Slack for transfers, charges, and more.
Xero: Transactions will sync and reconcile directly, every hour, in your Xero account.
QuickBooks: All Novo activity will import automatically every hour, allowing you to see sales, returns, discounts, and more from with the Novo app.
Zapier: Connect with thousands of popular apps to automate your work.
Finally, Novo includes these limitations on the availability of funding:
| Transaction Type | Processing Time |
| --- | --- |
| Cash Withdrawals | Same day |
| POS Transactions | Same day |
| ACH Transfers | 2-3 business days |
| Mobile Check Deposits | 5 business days |
Novo Customer Service
Novo offers in-app support as well as other options such as phone and email. Support is available Monday-Friday, from 9 AM to 6 PM Eastern time. Here's a complete list of help options:
In-App Support: Novo lists this as the preferred method of contacting customer support.
Phone: At this time, Novo is offering phone support to current customers only. The phone number is listed on the back of the Novo debit card.
Email
FAQs: Find comprehensive answers to a host of common questions on the Novo website. That includes everything from how to set up your Novo account to how to link to outside software and everything in between.
Blog: Novo posts regular updates on a blog, covering topics like security, marketing, bookkeeping, and so on.
Social Media: You can find regular informational posts on Facebook, Twitter, and LinkedIn.
Novo Reviews & Customer Complaints
While Novo banking has some super fans and some detractors, on balance Novo banking service earns good ratings from its users. For example, 922 reviewers on Trustpilot give Novo a composite 4/5 stars, with 75% of reviewers rating Novo "Excellent" or "Great" compared to just 23% calling it "Poor" or "Bad."
What Users Like
Good customer service
No fees
Useful integrations
User-friendly
Strong communication
What Users Dislike
Delays in funding
No physical checks
Debit card limits
Difficulty reaching customer service
Accounts closed without warning
Is Novo Safe?
Like other online business checking options, Novo is a financial services company and not a bank. Novo banking services are provided by Middlesex Federal Savings, an FDIC-insured community bank located outside Boston, Mass. Novo banking accounts are insured to the legal limit of $250,000.
Novo uses industry-standard bank-level encryption to keep users' personal and business data secure. The information you provide to verify your identity when you apply for a Novo bank account is protected by Novo's privacy policy as well as by federal law.
Final Verdict: Is Novo Worth It?
Aimed at small business owners, including freelancers and contract workers, Novo hits the mark with its almost fee-free banking services. The starting balance requirement, at $50, is reasonable, and once your account is established you won't have any minimum balance to maintain. You also won't encounter any recurring fees, making Novo bank a good choice for even the smallest enterprise.
Novo goes beyond its competitors by offering full reimbursement of all ATM fees, including on foreign transactions. Its mobile app is easy to use and offers full functionality, including on-the-go check deposits and fee payment options that include checks mailed on your behalf. Best of all, Novo offers the best suite of small-business-friendly integrations we've seen in a business bank, including Stripe, Square, QuickBooks Online, Gusto, Salesforce, and more.
In our opinion, that's enough to offset some disadvantages Novo banking brings to the table, including a complete inability to make cash deposits and the lack of interest-bearing account options. And, if your business is poised for growth, be aware that Novo bank does not offer any credit or lending options at this time, though that's said to be in the works. We think Novo is a good choice for any small business or side venture that's gotten too big to keep running through your personal bank account. If you've already reached that point and you know your business is ready for business banking services, give Novo the second look it deserves and see if it's right for you.
Novo Bank FAQs
---