SwipeSimple Review (From Payment Depot)
Expert Analyst & Reviewer

UPDATED
Advertiser Disclosure: Our unbiased reviews and content are supported in part by
affiliate partnerships
, and we adhere to strict
guidelines
to preserve editorial integrity.
Payment Depot Mobile

Pros
Feature-rich payment app
Free chip card reader
Competitive pricing
No cancellation fees
Good customer support
Works on iOS and Android
Cons
Not suitable for high-risk industries
SwipeSimple From Payment Depot Overview
Before researching Payment Depot (PD) for this review, I wasn't expecting much beyond your ordinary run-of-the-mill mobile processing product. However, what I found was surprisingly powerful, and it fills a unique niche in the mobile space. I'll list all of Payment Depot's features later on (along with pricing and all the details), but first, let's establish what it is.
Payment Depot Mobile is powered by Payment Depot, a membership-based merchant account provider that we've rated highly for many reasons: competitive and transparent pricing, great customer support, and month-to-month processing agreements (just for starters). This mobile solution enters into somewhat new territory due to its pricing model, which we'll examine in this review.
The app that PD offers its merchants is called SwipeSimple, which was developed by a company called CardFlight. Payment Depot is just one of many companies offering SwipeSimple as its mobile processing option, similar to how ROAMpay licenses its software to merchant services providers (such as Payline Data).
I genuinely like the SwipeSimple app, and if I were reviewing it as a solo mobile solution, it would earn a pretty solid rating. But because CardFlight uses a network of resellers, the contract terms and processing rates available to merchants will vary.
The technical information in this review regarding the app features and hardware should generally apply to SwipeSimple regardless of the payment processor. Information about rates and fees, contracts, customer service, and technical support all pertain to Payment Depot exclusively.
Payment Depot's mobile plan has a lot going for it. I like the software. PD offers good customer service, and each merchant gets their own merchant account, which means you'll enjoy account stability. Throw in a special exclusive rate for Merchant Maverick readers, and you have a very competitive payment processing option, even for low-volume merchants.
For all these reasons, I am happy to award Payment Depot Mobile a perfect 5-star rating. Read on for a breakdown of the mobile POS app (SwipeSimple) as well as Payment Depot's pricing plans, customer support, and more.
SwipeSimple App Features
SwipeSimple isn't the kind of all-in-one platform you get from Square or even PayPal. If you want centralized control of in-person and online sales, this isn't the solution for you. But if you want a mid-range mobile POS option, SwipeSimple (and Payment Depot) deliver in surprising ways.
I appreciate that the Swipe Simple app has a demo mode that lets you test out the app even before you create an account. Freely available demo modes are not exactly the norm, and I genuinely get excited to see them. Typically, you have to sign up for a processing service or go through a salesperson to sign up for a demo before you can test out the software. I like when a company makes a demo mode available. Just know that it's not automatically a sign of a quality product.
The SwipeSimple app runs on both iOS and Android, and the site advertises that the app is designed to work with different screen sizes. That means your iPad app isn't just a scaled-up version of the iPhone app, which generally translates to a better overall experience. As far as app requirements, you'll need iOS 11.0 or higher OR Android 5.0 or higher.
We recommend enabling automatic updates in the Google Play Store for Android devices or in the iOS App Store for Apple. It's generally safer to update your app regularly than using an outdated version, especially since processing apps tend to make upgrades to security.
As for the app itself, I don't love its design. It's fairly basic, but it's not hideous. However, SwipeSimple is relatively intuitive on the whole. If you aren't sure what you're doing right away, you can play around in the demo mode without causing any harm. Even if you don't use the demo mode, it's hard to mess something up in the app without meaning to.
SwipeSimple is nearly on par with Square Point of Sale for simplicity. However, Square's back-end features are far more complex (and you can play with quite a few of them from within the app itself).
Feature-wise, here's what you can expect from the app:
Mobile/Register Modes: If you plan to use SwipeSimple on a tablet as part of a more traditional countertop setup, the app does include a "Register Mode" with a few additional features. Namely, support for per-item and total transaction discounts as well as favorite pages.
SMS/Email Receipts: Unsurprisingly, but good to note, you can send receipts via SMS and email, including cash transactions.
Show Change For Cash: Pretty standard fare here.
Signature Collection Options: You can set signatures as always on, always off, or always on for transactions over $25.
Item Catalog: Create a catalog of products for easy reference. You can also punch in amounts for custom items or quick sales if you don't want to mess with the inventory.
Inventory Management: Alongside the catalog, SwipeSimple's tools include the ability to track inventory quantities, set item categories, and even include SKUs. While it's not the most advanced system, the ability to keep track of inventory is quite helpful.
Invoicing: We're happy to see that SwipeSimple recently added invoicing features, which weren't available at the time of our original review. Email your customers an invoice right from your SwipeSimple Dashboard to collect payments. You can also send reminder emails from your dashboard and track your invoices' payment statuses in real-time. Some color customization is available so that you can send out invoices in your brand colors.
Offline Mode: One of the features I certainly didn't expect to find was an offline mode so that you can process transactions without a Wi-Fi or cellular connection. You can set a maximum transaction amount for offline transactions as a precaution. Offline transactions must be processed within 30 days, and you must either swipe or key in the card. No chip transactions are allowed. Some other limitations also apply, and you assume the risk for any failed transactions.
Save Card Information: You can toggle this feature on to prompt customers to save their card data for faster checkouts or future invoicing.
In-App Reporting: Get access to sales data from the past 24 hours, a week, or 30 days. SwipeSimple Reports also has information on users, sales by items, tax amounts, and top customers (and what they spend).
Discounts: You can create preset discounts in your Items tab by percentage or by dollar amount. In register mode, you can apply them to either single items or the total transaction.
Tax Settings: SwipeSimple isn't hugely advanced in its sales tax settings, but you can create multiple preset tax rates.
Tips: You can enable tipping and set the prompt to specific amounts (as well as allow a custom amount).
Multiuser Accounts: While the app's multiuser settings aren't as advanced as a full-fledged POS, you can create multiple accounts with two levels of permissions and track sales by employee.
Reference Numbers: The app doesn't offer a detailed notes section, but you can include reference numbers in transactions so that you can keep a record of relevant information.
Other SwipeSimple POS Features
I didn't expect to find too much in the way of "extra" features outside of the mobile app and mobile card reader, but I was pleasantly surprised. Here are the "extras" that you get with the SwipeSimple POS platform through Payment Depot Mobile:
Virtual Terminal: If you'd like to key in payments from your computer to supplement the mobile app, the SwipeSimple merchant portal includes a virtual terminal. You'll pay the keyed-in rate for transactions, but this is always a nice touch.
Customer Database: I mentioned above that you can save card data in the app for later use. That's because SwipeSimple offers a customer database (managed from its online portal). In addition to keeping track of each customer's purchase history, you can review the data and see who your best customers are.
Flexible Billing Tools: SwipeSimple presents this as an extension of its customer database, which is slightly different from most other comparable options. But with SwipeSimple's online platform, you can use the customer database to save cards to charge later, as well as create subscriptions and installment plans for payments. As mentioned before, SwipeSimple has added invoicing, so you can now email your customer an invoice from your dashboard. Customers can then pay you online through a secure payment link.

I went into this review expecting to see another so-so sort of mobile app. But what surprised me is how advanced the SwipeSimple merchant platform is. Between the inventory tracking and the customer database with support for subscriptions and installment payments, SwipeSimple approaches the level of complexity that we see in Square. If you'd like a budget-friendly solution with some (but not all) of the frills, I struggle to find any reason not to use SwipeSimple.
SwipeSimple Card Readers & Terminals
While we've covered the vast majority of features, the other primary concern is what hardware the app supports. I mentioned that SwipeSimple has a Register mode. For external hardware, merchants can connect Star Micronics' mPOP with an integrated cash drawer and receipt printer. There's also a small Bluetooth thermal receipt printer. You'll also have your choice of SwipeSimple's compatible mobile card readers. Merchants can choose between two basic SwipeSimple card reader options: the Swift B200 and the Swift B250.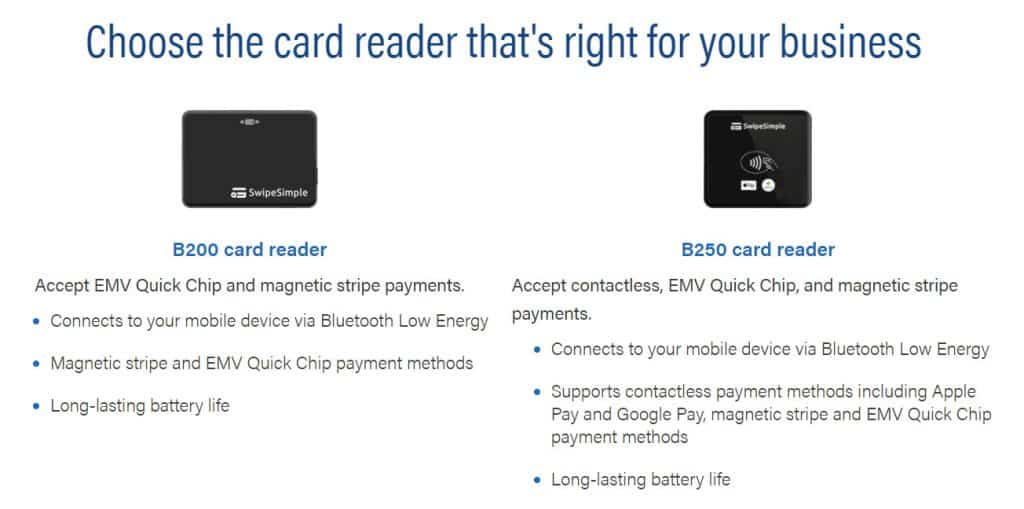 The B200 is a two-in-one card reader with support for magstripe and EMV chip transactions. It's about the size of a business card (the official specs are 2.4 inches by 1.8 inches by 0.6 inches). It connects via Bluetooth, so it's compatible with recent iOS and Android devices.
The Swift B250 is an all-in-one reader, so it supports swipe, chip, and contactless transactions. It's a square device that measures 2.6 inches by 2.4 inches by 0.7 inches. The B250 also works with a charging dock (optional and sold separately), so if you wanted a countertop setup, it might be the better option. (Compare SwipeSimple's card readers to another popular app and card reader by checking out our review on Clover Go.)
In addition to the two simple dip and tap readers above, you also have a choice in hand-held readers that feature a touchscreen and built-in receipt printer, along with wireless connectivity: the PAX A920 and the PAX A80. The PAX A80 features a physical keypad, but you'll lose one inch from the touchscreen (from 5 to 4 inches). These are comparable to the other smart terminal Payment Depot offers with its full merchant account, the Clover Flex.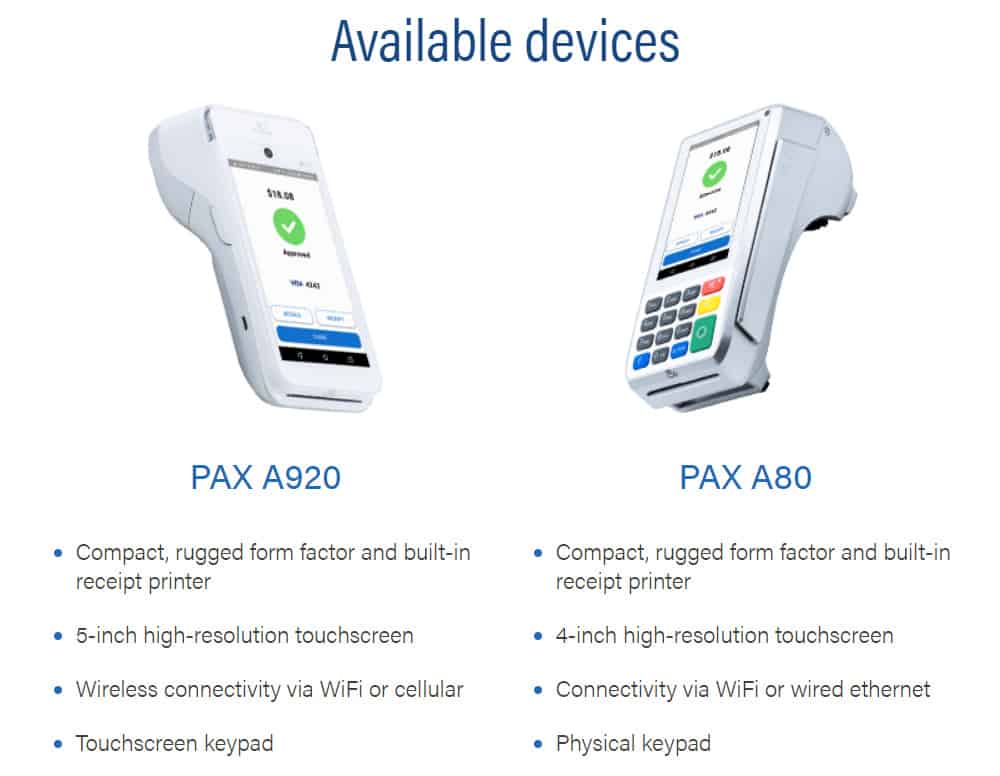 See our merchant's guide to credit card machines and terminals to gain an understanding of how credit card processing works at the point of sale.
SwipeSimple Fees & Rates
With Payment Depot, you have a choice of two payment processing plans. The first that we'll talk about is the newer option, targeted at low-volume merchants.
Merchants who opt for this month-to-month plan will pay the following SwipeSimple fees:
$10 monthly fee
2.6% + $0.10 for most swiped, dipped, or tapped transactions
3.2% + $0.10 per keyed entry or corporate card transaction
With this plan, there's no monthly minimum and no other Swipe Simple fees apart from the monthly fee. Payment Depot will also provide a free chip card/magstripe Bluetooth card reader, the Swift B200. If you'd like to upgrade to an all-in-one reader with contactless support (the Swift B250), that's a $25 cost. However, $25 for an all-in-one reader is a great price, and it's certainly future proof.
Full disclosure: The 2.6% + $0.10 rate isn't going to be the most competitive pricing for merchants with very small ticket sizes. If your typical transaction is under $10, this flat-rate pricing from Payment Depot will be more competitive than interchange-plus pricing in many cases. However, it won't be as cost-efficient as a flat percentage-based transaction.
The second pricing option is Payment Depot's standard pricing, which is more suitable to higher-volume merchants (those doing at least $10,000/month). Payment Depot works on a membership structure, where you'll pay a monthly fee to get interchange rates with a small flat fee per transaction. The pricing scales according to volume, with a higher monthly fee and a lower per-transaction fee.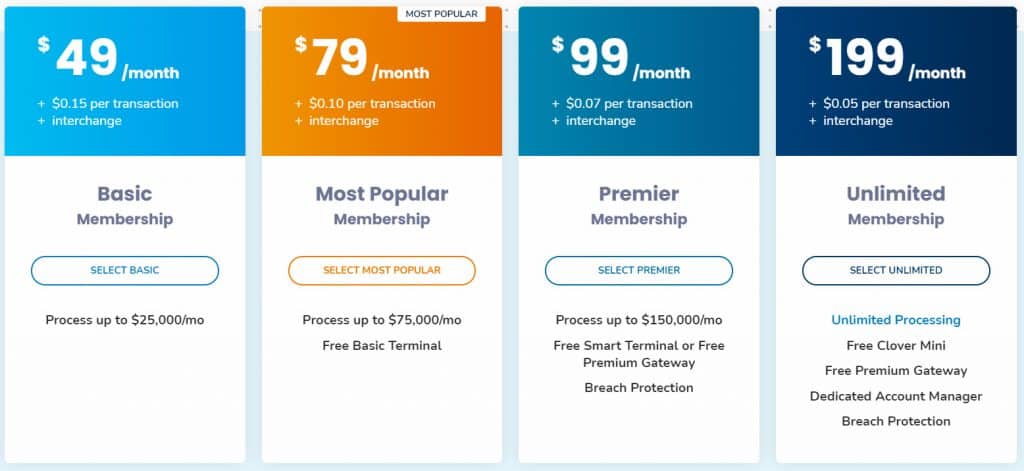 Payment Depot's standard pricing model is great for businesses that deal with large transactions, particularly those businesses that are processing credit cards in volumes above $10,000/month. While larger businesses may prefer PD's traditional payment options, smaller merchants should absolutely take advantage of the flat-rate 2.6% + $0.10 per transaction.
Again, if you'd like to sign up for this low-volume plan, you need to use the links in this review. Otherwise, you'll be presented with Payment Depot's standard pricing plans.
Contract Length & Cancellation Fee
With Payment Depot, you get month-to-month agreements with no cancellation fees and no monthly minimums. You can cancel whenever you want without incurring any early termination fees — exactly how we like it. Plus, you're getting your own merchant account rather than an aggregated account, which translates to a greater amount of stability than you would get with a provider such as Square. (That's not to say aggregators like Square are inherently bad; they just have a risk of account instability that Payment Depot doesn't.)
Sales & Advertising Transparency
As we've discussed in our full Payment Depot review, we have no serious qualms with the quality or transparency of PD's marketing and information disclosures. While the site could do marginally better explaining why the Payment Depot pricing model is one of the best out there, it's done well enough. By all accounts, Payment Depot's customers are happy with the service. You won't see complaints about how merchants feel they were lied to and cheated — the biggest red flag that something is seriously off with a processor.
SwipeSimple is also very good at its own disclosures and transparency. The website clearly spells out how its platform works, including its partnerships with different payment processors and an explicit mention that to get SwipeSimple, you need to sign up with a processing partner.
I'm pretty happy in this regard. Clear pricing disclosures and month-to-month agreements are easy ways to score a good rating around here. As the resident mobile payments expert, I'm always happy to see competitive, stable options for mobile and low-volume merchants. Payment Depot delivers on all counts.
Customer Service & Technical Support
As far as customer service, we're happy to say that Payment Depot offers 24/7 phone support to deal with all kinds of account-related issues. You'll probably get better customer service during standard business hours (7 AM to 5 PM Pacific Time) because TSYS and First Data (now Fiserv) pick up some of the slack in the after hours. But Payment Depot does have staff who monitor support requests 24/7.
Payment Depot isn't great about self-help resources; there's no knowledgebase, just a generic FAQ section on the website. This is a reversal from many pay-as-you-go mobile processing services that tend to offer great self-help resources but more limited live customer support. But you will be able to get software support through SwipeSimple, which has its own self-service support portal and FAQ.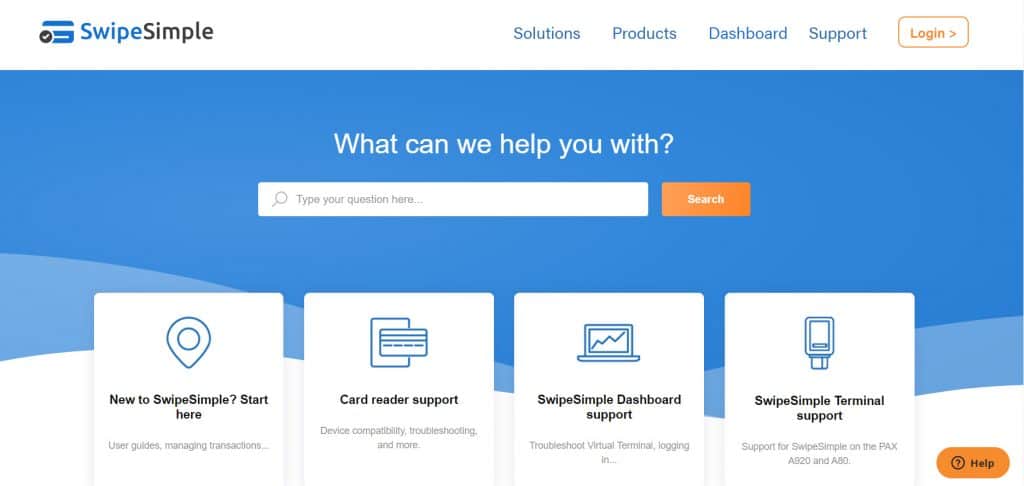 The support materials found at SwipeSimple.com mention the fact that for account-specific matters, you'll have to go through your payment processor (in this case, Payment Depot) for support. However, you can contact SwipeSimple via phone or email if you have questions about the app and its features. I'm not thrilled by SwipeSimple's knowledgebase, but it covers the major points, and it's nice to know the company is available if you have questions.
One thing I do like is a site where you can check whether SwipeSimple's platform is working. This is akin to Square and Stripe, both of which have update sites to tell you if there are any outages. The fact that SwipeSimple offers this says that the company has put thought into its platform, infrastructure, and user experience.
SwipeSimple Reviews & Complaints
Positive Reviews & Testimonials
Looking at the SwipeSimple app reviews in Google Play, it has now earned a 3.9 out of 5-star rating with 727 reviews. Things are even sunnier at the Apple Store with a 4.8 out of 5 stars score and over 4.4K ratings. These overwhelmingly positive Swipe Simple reviews and growth are a great sign of app stability and good features.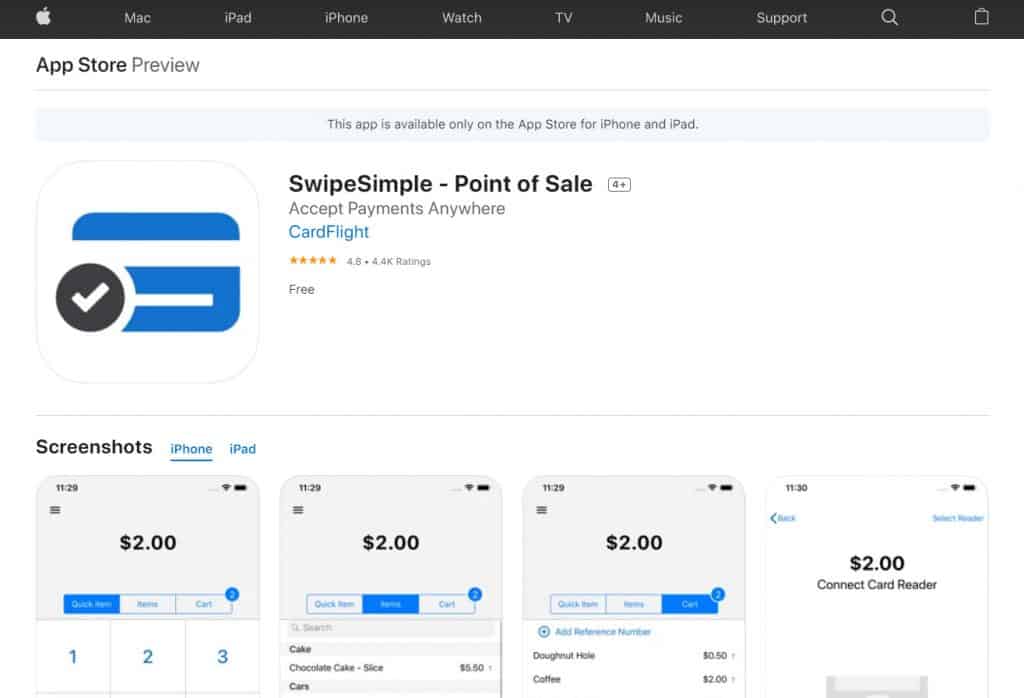 Apart from the app stores, there aren't many SwipeSimple reviews. In part, that's because SwipeSimple isn't available directly to merchants; you can only get it through a reseller. That means a lot of the reviews are tied to the payment processor. Given that SwipeSimple integrates with so many processors, that's a lot of information to wade through. Comments about these mobile apps tend to make up only a small part of the chatter about a particular processor.
It helps to look at user reviews for Payment Depot as a processing service — and those are overwhelmingly positive. Payment Depot has an A+ business rating with the BBB with three 5-star customer reviews (out of five reviews in total), and only one official company complaint logged in the last three years (none over this past year), which was marked resolved.
Negative Reviews & Testimonials
The complaints about SwipeSimple in the app stores are fairly common to smaller mobile credit card processing apps. Specifically, I see complaints about lots of glitches after an app update and trouble with card readers connecting to different devices.
That's not to dismiss the validity of the claims. One of the big problems with the Android space is that it's so fractured that getting universal support for everything is a challenge. But do I think every merchant on Android has trouble with SwipeSimple every time there's an update? Not even close. We'd see a much larger volume of complaints about the app.
As far as Payment Depot complaints go, they are usually a result of trouble with one of Payment Depot's back-end processors (usually Fiserv). The other main source of complaints about Payment Depot comes from merchants who aren't suited for the company's processing business — mostly high-risk businesses. That said, Payment Depot handles these complaints maturely and sincerely and works to make the situation right for merchants.
Generally speaking, as long as you aren't working in a high-risk or prohibited industry and you've done the math to make sure the pricing works for you, you shouldn't have any trouble with Payment Depot's mobile processing.
Final Verdict
I'm truly impressed by the array of features SwipeSimple offers. SwipeSimple isn't quite as powerful as an all-in-one platform, but it's so much more than just a barebones mobile processing app. It has found a middle ground that I didn't think existed. While the inventory tools could be more advanced, this app has opted to focus on including a key point — quantity tracking — rather than bells and whistles, such as modifiers, variants, or descriptions.
The customer database, combined with the billing tools and invoicing, could genuinely be useful to many merchants from all kinds of industries. You can use SwipeSimple in a countertop POS setup, and as long as you didn't expect all the capabilities of a full POS, you almost certainly wouldn't be disappointed. What's more, a free Bluetooth-enabled chip card reader is always a plus.
Many merchant account providers don't offer standalone mobile processing. It's typically bundled as an extension of other services. The only other two I've reviewed at Merchant Maverick are Payline Mobile and Fattmerchant Mobile. Of the three options, only Payline and Payment Depot offer a cost-effective pricing structure for low-volume merchants. I have no issue saying that Payment Depot's mobile processing pricing plan — with the exclusive rate for Merchant Maverick readers — beats Payline's.
I am genuinely excited at having another cost-effective, highly stable mobile processing option in the mix because it makes the entire industry way more competitive.
For all of these reasons, I'm awarding Payment Depot Mobile a perfect 5-star rating. The app's overall value, plus Payment Depot's pricing and customer service, makes it competitive for all kinds of businesses, including low-volume merchants.
That said, I have a few caveats. First, Payment Depot isn't a suitable processing option for high-risk industries. If you know your business is high-risk, or you've been told by other processors that your business is considered high-risk, check out our recommended high-risk processors.
Second, if you are seeking the absolute lowest processing costs for small transaction sizes or will only be processing infrequently (once a month or less), you'll probably be better served by Square. One final note on SwipeSimple vs. Square: know that as a third-party processor, Square does come with a certain degree of risk. Sudden account holds or terminations are more likely to occur with Square than with Payment Depot.
If you're looking for great value, a functional mobile processing app with more than just the basics, and reliable payment processing, Payment Depot is a superb solution for you. Have questions? Leave us a comment — we'd love to hear from you!
---
We've done in-depth research on each and confidently recommend them.
We've done in-depth research on each and confidently recommend them.
To learn more about how we score our reviews, see our
Mobile Credit Card Processing Rating Criteria
.