Payment Depot Review: Will Payment Depot's Credit Card Processing Save You Money?
Payment Depot's subscription pricing is simple, affordable, and best for businesses that have a processing volume of at least $10,000 per month.
Expert Analyst & Reviewer

UPDATED
Advertiser Disclosure: Our unbiased reviews and content are supported in part by
affiliate partnerships
, and we adhere to strict
guidelines
to preserve editorial integrity.
Payment Depot

Pros
Transparent membership pricing
True month-to-month billing
No application or setup fees
Free payment gateway included
Good customer support
Very few public complaints
Cons
Accepts US-based merchants only
Does not accept high-risk merchants
Expensive for low-volume businesses
Payment Depot Overview
Payment Depot (now Payment Depot by Stax) is a merchant services provider that uses membership pricing (also called subscription pricing) to save merchants money on overall processing costs and reduce the number of fees they have to pay for payment processing. With membership pricing, you pay a single monthly subscription fee, rather than an assortment of miscellaneous recurring fees. This fee also covers a good portion of your processing costs, so you won't pay a percentage-based markup on your transactions. This feature can save a lot of money for businesses with a high monthly processing volume or a lot of high-ticket sales.
Monthly membership subscriptions range from $59 to $99 per month, with custom pricing available to very high-volume businesses.
There are also no long-term contracts or early termination fees, so you can close your account at any time without penalty if Payment Depot's pricing doesn't save you money.
With clear pricing disclosures, excellent terms, and a low complaint volume from merchants, Payment Depot earns an overall score of 5 out of 5 stars. It's an excellent choice for mid-sized and larger businesses that can benefit from membership pricing. However, the company doesn't accept high-risk merchants, and its subscription fees may be too expensive for a low-volume or seasonal business.
Note: Payment Depot has recently been acquired by the parent company behind Stax, its former main competitor in the membership pricing sphere. Now operating as Payment Depot by Stax, these two companies are slowly beginning to merge their resources but will continue to operate independently under their respective brand names for the foreseeable future.
Payment Depot Credit Card Processing Features & Services
Payment Depot has all the bases covered when it comes to features your business will need to accept credit cards. Here's an overview of the primary offerings:
Merchant Accounts: Payment Depot is not a direct processor. Rather, it partners with Fiserv (formerly First Data) and TSYS (now part of Global Payments) — two of the largest credit card processors in the country — to provide processing services. Payment Depot will set up and manage your account, but you may need to deal directly with your back-end processor occasionally. Unless you're using the Clover POS line (which requires a Fiserv account), you'll most likely be placed on the TSYS platform.
Credit Card Terminals: The company offers a full line of standard countertop terminals from Ingenico, Dejavoo, PAX, and SwipeSimple. All models offered can accept EMV, NFC-based, and magstripe payment methods. Terminals are available for purchase and include a warranty and a software load to connect your merchant account to your processor's transaction processing network.
Smart Credit Card Terminals: An emerging trend within the processing industry is the use of so-called "smart" terminals, which usually feature color touchscreens and the ability to install additional apps to provide services (such as inventory management, etc.). Payment Depot currently offers the Clover Flex and Poynt Smart Terminals.
Point Of Sale (POS) Systems: As a Fiserv reseller, Payment Depot offers the company's popular line of Clover POS systems, including the Clover Mini LTE, Clover Station, and Clover Station Pro. The Vital Select POS system is also available to merchants onboarded with TSYS/Global Payments.
Mobile Payments: Payment Depot uses the third-party SwipeSimple app and compatible hardware to provide a mobile payments capability to merchants who need it. The app is available for iOS and Android and works on both smartphones and tablets. Check out our SwipeSimple (from Payment Depot) review for more information about the app and hardware options. In addition to a smartphone or tablet, you'll also need a card reader. Payment Depot currently offers the SwipeSimple B250, which connects to your device via Bluetooth Low Energy and accepts EMV, NFC-based, and magstripe payment methods.
Payment Gateway: For eCommerce merchants, Payment Depot can integrate a payment gateway into your website. Authorize.Net is the most popular option, but other gateways are also available. Gateway fees appear to be included in your monthly membership fee, but you'll want to confirm this when you review your agreement.
Virtual Terminal: All of Payment Depot's pricing plans include a free virtual terminal that allows you to use your existing Windows computer as a credit card terminal. You can key in transactions manually or dip/swipe them using an optional card reader.
Business Funding: Like most merchant services providers, Payment Depot also offers merchant cash advances for businesses that need a little extra money right away. You can receive your money in as little as 24 hours, but be sure to review the repayment terms and requirements before you consider taking advantage of this service. Funding up to $500,000 is available, with repayment terms as long as 18 months.
Industry Specialization: Payment Depot offers a lineup of products and services that are a particularly good fit for certain industries. Among others, the company is one of our top choices for restaurants and healthcare professionals.
Payment Depot also offers eCheck and ACH processing services, online shopping cart integration, and developer tools for web designers. The company doesn't disclose much information about these products on its website, so ask your sales representative about them if you'll need them for your business.
Payment Depot Fees & Rates
Payment Depot offers three standardized membership pricing plans that are designed to meet the needs of most merchants. Standardized plans offer several advantages, including eliminating the need to negotiate the rates and terms of your contract, as well as providing very clear transparency about what you'll be paying in fees every month.
Note: Payment Depot has recently removed processing rate information from its website. The rates listed below are from the latest published information available, and may/may not still be accurate.
Starter Membership
Designed for small and mid-sized businesses, this plan offers the lowest monthly membership fee but comes with a $125,000 maximum annual processing limit and higher processing rates than the company's more expensive plans. This plan previously included a free basic terminal or mobile card reader, a virtual terminal, and access to the Authorize.Net gateway at no additional charge. While these features are no longer listed on the company's website, they appear to still be included with your membership fee.
$59 monthly fee
Interchange + 0% + $0.15 per transaction
$125,000 annual maximum processing volume
Starter Plus Membership
Payment Depot's mid-level membership plan is ideal for a larger, more established omnichannel business. It comes with the following standard features:
$79 monthly fee
Interchange + 0% + $0.10 per transaction
$250,000 annual maximum processing volume
Data breach protection included
Again, there's currently no mention of the virtual terminal, payment gateway, and smart countertop terminal options that were previously included with this plan. Consult with the company's sales department to confirm which of these features will be included with your account.
Growth Membership
Designed for very large businesses, this pricing plan includes all the bells and whistles you could need and offers the lowest processing rates.
$99 monthly fee
Interchange + 0% plus $0.07 per transaction
$500,000 annual maximum processing volume
Data breach protection included
Dedicated account manager for customer service and support
This plan previously listed a free premium gateway and Clover Mini terminal as standard features. However, they're currently not listed on the Pricing page of the company's website. Contact sales for clarification on these options.
One way to save money is to pay your membership fees annually instead of monthly. You can save close to two months' worth of subscription fees over a year while also taking advantage of Payment Depot's 90-day risk-free trial.
Talk to the company's sales department about these pricing specifics since the annual payment options are no longer listed on the website.
Custom Plans
While Payment Depot's standardized plans eliminate the need for negotiating for most merchants, you can still ask for a customized solution if none of the offered plans meet the unique needs of your business. Customized plans are a good way to go if you have hardware or software needs that aren't covered by any of the standard plans. It's also possible that some sort of hybrid plan would better serve your particular combination of average ticket size, number of transactions per month, and total processing volume.
Other Payment Depot Fees
Payment Depot's standardized subscription plans cover all the miscellaneous fees that most providers charge you separately, making your monthly costs much more predictable.
Here's a list of fees Payment Depot won't charge you:
No PCI compliance fees
No monthly account statement fees
No IRS reporting fees
No application or setup fees
No early termination fees
No "junk" or "hidden" fees
You'll still encounter some occasional fees that are charged by your processor and passed on to you at cost. These include chargeback fees and credit card network fees and assessments that are passed through along with your interchange fees. Consult your merchant agreement for details on these and other fees. You should also note that Payment Depot will charge you a monthly PCI non-compliance fee of $19.99 if you don't keep your account in compliance.
Choosing The Best Plan With Payment Depot
While the best plan for your business must fall within the advertised yearly maximum processing limits, there are other considerations as well. To determine the true "best value" membership level for your business, you must also examine the interplay of the average number of transactions you typically process each month as well as your average transaction size.
While the various membership levels and calculations may seem a little daunting at first, the good news is that if your business outgrows your current plan, Payment Depot makes it easy to upgrade to the next-highest plan. Still, bear in mind that the more you process, the more cost-effective the plan becomes within each membership level.
Of course, with a monthly membership that you pay regardless of how much you process, it's also clear that Payment Depot's pricing is not designed for seasonal or micro-merchants. These businesses are better served by a specialized payment service provider (PSP), such as Square.
Sales & Advertising Transparency
Payment Depot's website is quite professional-looking and easy to navigate. Because the company uses standardized membership pricing plans, it's able to disclose fully what your costs will be with each plan. Most providers don't even include pricing information on their websites, partly because it will vary from one merchant to the next, but also because they don't want you to know how expensive it will really be until after you've signed your contract. Membership pricing makes it easy to offer full pricing disclosures because everyone pays the same amount under each plan.
Transparency does suffer a little bit because this type of bundled pricing obscures how much you're paying for individual services. For example, Payment Depot doesn't charge a discrete PCI compliance fee, but you can bet that at least a small part of your membership fee is going toward services (such as security scans) that help keep your account compliant.
Payment Depot doesn't provide a copy of its current merchant agreement on its website but has recently added a set of Terms and Conditions from Stax. Although it's fairly informative and should be read if you're thinking about signing up, it doesn't provide the kind of full fee disclosures that a formal Merchant Agreement would include.
Additionally, we're not huge fans of some of Payment Depot's marketing.
Charts and graphics on the website tend to be vague and over-simplified. Other marketing materials give the impression that you'll only be charged "wholesale rates" and "no markup" and that Payment Depot somehow cuts out all the middlemen. In reality, you do pay Payment Depot (which is a middleman between you and either Fiserv or TSYS) a markup over wholesale processing rates. The markup is merely in the form of the membership fee and authorization fee, instead of the traditional percentage markup + authorization fee of a typical interchange-plus plan.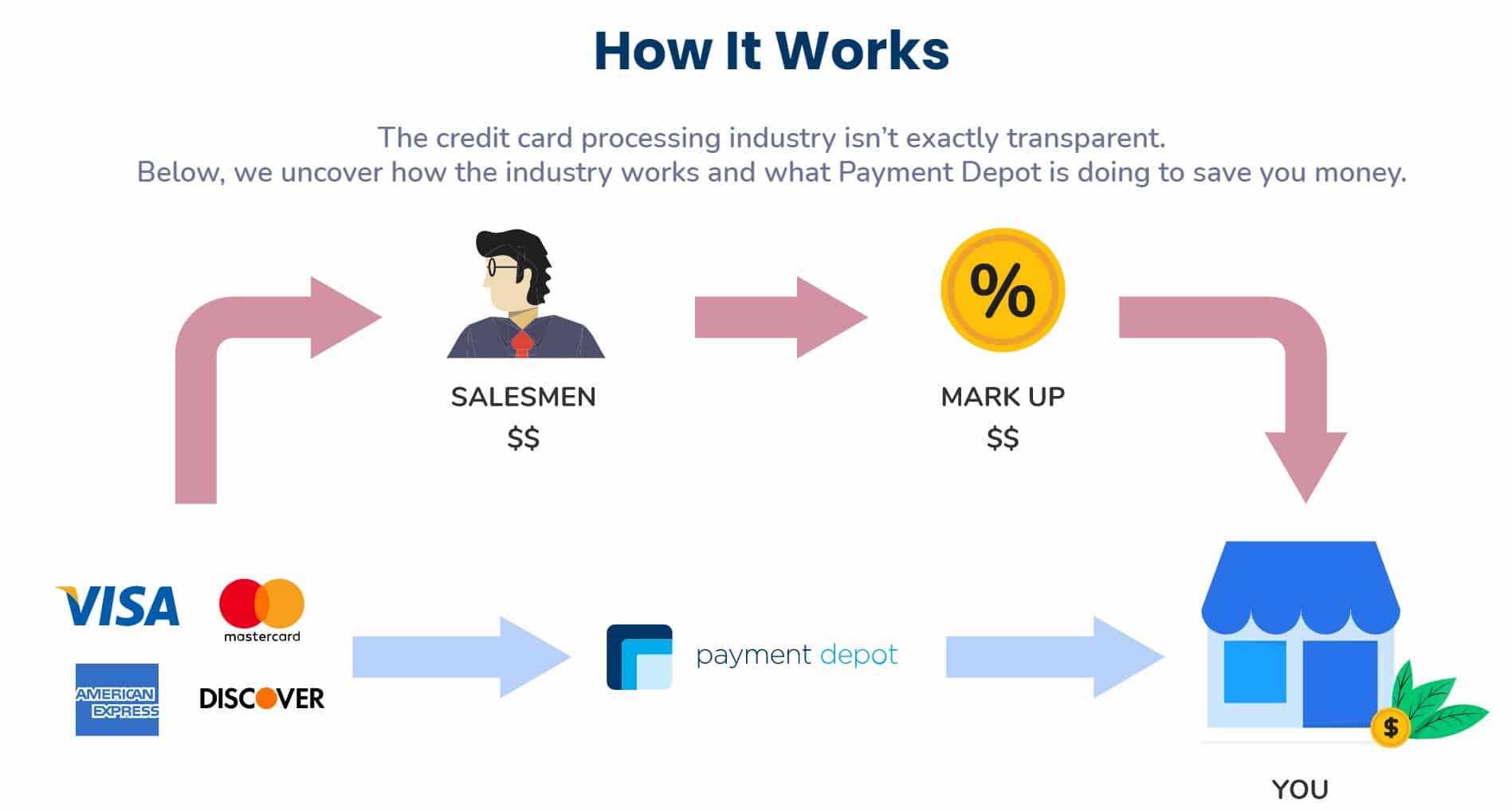 Dealing with sales representatives is often one of the most unpleasant parts of setting up a merchant account. This is mostly due to the need to negotiate your rates and terms and because many providers use independent sales agents to sell their accounts. You won't have these problems with Payment Depot.
With standardized membership plans, there's no need to negotiate unless you need a custom plan. Your rates and terms are already spelled out. All you have to do is select the plan that's best for your business, and the company provides enough information on its website for you to do that before you ever talk to a sales agent. Also, Payment Depot uses in-house agents exclusively, so you won't be subjected to the high-pressure sales tactics that independent agents frequently employ.
Contract Length & Early Termination Fee
One of the most attractive features of Payment Depot's service is that all accounts are set up with true month-to-month billing. Payment Depot doesn't enforce its back-end processors' boilerplate Terms and Conditions, which typically stipulate long-term contracts and early termination fees. You also won't have to worry about automatic renewal clauses, which make it difficult to close your account before it's renewed for a new term.
Your relationship with the company will still be covered by a merchant agreement, however. Thoroughly reviewing the terms and conditions of your merchant agreement is essential before signing up with Payment Depot — or any other provider. Generally speaking, the company does not require advance notice to cancel an account. If you have already run transactions during the month you'd like to cancel, Payment Depot will immediately process the cancellation, but then schedule the actual closure to happen at the end of the month so that the current month's fees can be collected. Also, note that because customers have up to 120 days to file a chargeback, your account will not be fully closed until after 120 days from the date of your last transaction. However, Payment Depot does not charge you any monthly fees during this period.
While providing month-to-month billing is a growing trend within the processing industry, Payment Depot does offer an option to pay annually and save on membership fees. This is also where the 90-day satisfaction guarantee comes into play. If you have paid an annual membership but aren't satisfied and decide to cancel, simply let the company know and return any provided equipment. You'll receive a full refund of any membership fees you've already paid or a prorated refund if you cancel after 90 days. Naturally, you won't receive a refund of any processing charges you paid during this time — just membership fees. You'll also have to pay a 20% restocking fee for any equipment you return.
Payment Depot links to this guarantee on its homepage.
Customer Service & Technical Support
Payment Depot offers 24/7 customer service by both telephone and email. Note that you're more likely to reach a full-time company employee if you call during business hours, which are 8 AM to 5 PM Pacific Time, Monday-Friday.
Some technical support issues will be initially covered by the processors (Fiserv or TSYS) outside of these hours. Payment Depot also designates an employee to monitor all after-hours support requests 24/7.
One improvement we'd like to see is an online knowledgebase for customers with information on how to solve common problems. Payment Depot doesn't currently offer this option, although there is a basic FAQ on the website.
Payment Depot earns praise for its customer support from many of the merchants who offered testimonials, which is a good sign. An even better sign is the general lack of criticism on this issue among the few complaints against the company that we were able to locate. Poor customer service is a common problem among merchant account providers, and the absence of complaints about this issue is a good indication that the company is doing a good job in this area.
Payment Depot Reviews, Complaints & Common Problems
Unlike most merchant services providers, Payment Depot has a significant amount of positive feedback and very few complaints from merchants. Usually, it's the other way around. It's good to see that so many merchants took the time to post positive comments about the company.
Negative Payment Depot Reviews & Complaints
Payment Depot has been accredited by the BBB since 2015 and currently has an A+ rating. The company has had only three complaints within the last three years, with two complaints being filed within the last twelve months. Customers have also filed five reviews, with an average rating of 1.8 out of 5 stars.
On Trustpilot, the company has an average rating of 4.8 out of 5 stars, based on 1,220 reviews.
Reading through the reviews, the one common issue seemed to be sudden account holds, freezes, and terminations. These issues are ultimately the responsibility of the back-end processor (usually Fiserv) and not Payment Depot. In some cases, the company's business model simply wasn't a good fit because the business was too high-risk or too small.
The great news is that Payment Depot responds in detail to every complaint, admitting mistakes when they happen and issuing refunds where appropriate. We were particularly impressed to see personal responses to some complaints from Payment Depot's COO.
While we're very pleased with the level of service that Payment Depot is providing overall, we've also noticed a few very recent complaints regarding sudden, unannounced price increases to monthly and annual subscription rates. These increases are a new phenomenon for Payment Depot, and might be a result of its merger with Stax.
Positive Payment Depot Reviews & Testimonials
Payment Depot has several video testimonials posted on its website as well as on its YouTube channel. All of them are very professional-looking and compelling. The company also invites its users to leave reviews on Trustpilot and even posts some of those reviews right on its homepage. The positive reviews mostly tout the money merchants have saved through the company's membership pricing plans and the excellent customer service they've received.
If you've had any personal experience with Payment Depot, please feel free to leave a comment. We're always looking for feedback from our readers about the companies we review.
Final Verdict On Payment Depot
There are plenty of good reasons to recommend Payment Depot. Month-to-month billing, predictable monthly costs, and excellent customer support are all positive features that make the company stand out from most of its competitors. However, it's the membership-based pricing that will be the most important factor for most merchants in deciding whether to use Payment Depot or a different company. Will you save money with this type of pricing? If the answer is yes, then it's an excellent choice.
Our analysis of Payment Depot's membership plans suggests that businesses that are well-established and have a processing volume of more than $10,000 per month will save money overall. Below that amount, you might end up paying more than you would with Square or a similar provider. Be aware, however, that you won't get a full-service merchant account with Square or any of the other payment service providers (PSPs), and your account might be frozen or terminated without notice at any time.
If your business is small but seeing steady growth, Payment Depot may be a better choice in the long run. Remember that it's very easy to upgrade to a different membership plan if your business outgrows the processing limits of your current plan.
Overall, Payment Depot continues to score a very impressive 5 out of 5 stars. We're very happy with the company's responsive customer service, and its membership pricing plans will lead to savings in processing costs for the majority of merchants who sign up. One word of caution: Payment Depot's recent acquisition and merger with former rival Stax already appears to be leading to higher prices and less transparency. We're hopeful that this is a short-term problem, but we'll keep an eye out for further developments.
Finally, don't forget that Payment Depot doesn't accept most high-risk businesses. If you're in this category, take a look at our recommendations for the best high-risk merchant processors for some suggestions.
Payment Depot FAQs
---
Our Top Pick To Save On Payment Processing 💰
PaymentCloud


---
PaymentCloud has an excellent track record for service quality, support, and fair pricing. Learn more from PaymentCloud.
Our Top Pick To Save On Payment Processing 💰
PaymentCloud


---
PaymentCloud has an excellent track record for service quality, support, and fair pricing. Learn more from PaymentCloud.
To learn more about how we score our reviews, see our
Credit Card Processor Rating Criteria
.