Expert Analyst & Reviewer

Updated on:
Advertiser Disclosure: Our unbiased reviews and content are supported in part by
affiliate partnerships
, and we adhere to strict
guidelines
to preserve editorial integrity.
PaySimple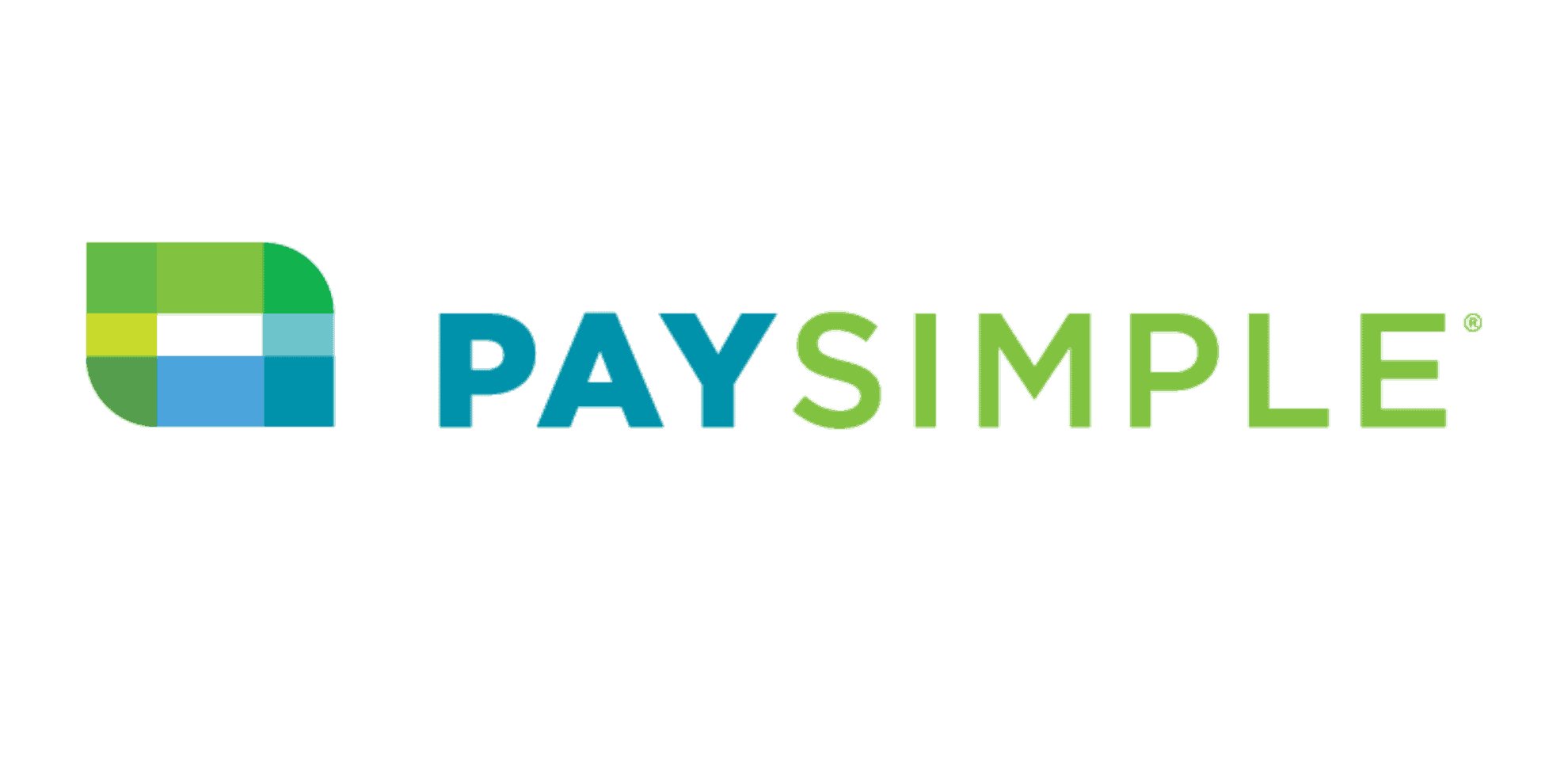 Pros
Ideal for service industries
No early termination fee
Good subscription and invoicing tools
Excellent customer support
Cons
Not suitable for high-volume, card-present merchants
Not good for international merchants
Untransparent tiered pricing
PaySimple Overview
PaySimple describes itself as a "service commerce platform." What does that mean exactly? The answer is quite…well…simple.
PaySimple combines merchant services with tools merchants can use to manage a base of customers with complex, detailed needs, such as legal offices, medical services, educational services, and so on. In the process of signing up for PaySimple's payment gateway and cloud-based software suite, you will also be assigned a dedicated merchant account with a separate processor on the back end.
PaySimple lets you accept payments, invoice customers, track customer information, and set up recurring payment systems — all with a significant degree of customization, but without any specialized knowledge required on your part. You don't even need to bother with a separate shopping cart integration. Your whole billing system is run through sophisticated and sleek payment pages designed to collect payment data and other important information about your customers.
PaySimple also excels in customer service and support. This is not a hands-off provider. When you need assistance or training, you can count on the support team to perform in a top-tier way. The main support hiccups occur when mediating funding issues and risk assessments between merchants and processors. Nevertheless, I'm glad to see PaySimple does arbitrate to some extent, instead of leaving these issues up to you. The company also seems to have improved on this point over the years.
I don't think it makes sense to use PaySimple if you are primarily a card-present business, and most of your customers prefer to swipe or dip their cards. If you just need to process a few card-present transactions here and there with the mobile reader, I'd steer you toward our merchant account comparison chart to explore other options. For low-volume sellers who can't find an appropriate deal with PaySimple or another traditional MSP, I'd suggest investigating mobile processors.
For pricing, you're looking at a monthly subscription for PaySimple's software, plus individual transaction fees and other processing costs associated with your underlying merchant account. We'll cover the benefits and pitfalls of the two standard pricing packages in this review. The main thing to keep in mind as you read on is that you're not just paying for the processing service — you're also paying for gateway access, the cloud software suite, and exceptional customer service. All in all, it's a pretty solid value for the specific target market. For this review update, PaySimple maintains a 4.5-star score out of 5.
Products & Services
PaySimple's primary products are a merchant account, an admin panel for viewing reports, setting up recurring billing, etc., and a basic point of sale system. It's a basic offering that may be lacking for many merchants. On the other hand, many of the platform's features (such as recurring billing and CRM tools) are ideal for service industries. You'll have to decide if PaySimple's particular product mix is right for you.
Let's examine the features of PaySimple's platform in more detail. You'll soon see what it lacks and what it adds when compared with traditional POS systems:
Point Of Sale (POS): This point of sale system involves a mobile POS app and card reader, in addition to a virtual terminal. That's about it. If you need the advanced inventory tracking and employee management features that fully-fledged POS systems offer, or if you run mostly card-present transactions, you'll probably want to look elsewhere.
Merchant Account: PaySimple is a dedicated merchant account provider, not a merchant aggregator, such as Stripe, PayPal, or Square. When signing up for a merchant account through PaySimple, you're onboarded through the company's back-end processor. If you choose to accept ACH/echecks through PaySimple, you'll be assigned a separate processor for this. Note that PaySimple accounts are only available for US-based merchants and transactions in USD.
Virtual Terminal: In service industries, a virtual terminal used to enter card data for customers manually often comes in very handy. This is one of the main components of PaySimple's point of sale. PaySimple says that you can also add your existing credit card terminal to this setup. If your hardware can't be integrated, the company will provide you with another solution (likely, this means that you can buy a compatible terminal).
Mobile Point Of Sale (mPOS): This is the other main piece of PaySimple's POS platform. PaySimple offers a mobile app and a mobile card reader for taking in-person payments on the go. You can order the reader for $29.95, but it's not chip-card-capable (sad face.) A rep told me that an EMV/NFC-capable hardware offering is on the near horizon. PaySimple says it also offers compatibility with a USB swiper, which is a Magtek model.
Recurring Billing: This gateway feature was the impetus for the entire PaySimple platform. As you might imagine, PaySimple handles recurring billing exceptionally well.
eInvoicing: The PaySimple invoicing protocol works for both one-time and recurring invoices. The online tracking system allows you to see, in real-time, which invoices have been paid and which are overdue. You can even automate various reminders to collect on payments without having to make dozens of uncomfortable phone calls.
Online Store: Service industries sometimes don't fit the mold of a typical shopping cart or eCommerce platform. PaySimple allows you to create an online store that seamlessly meshes your products and services as well as both one-time and recurring payments for these items. As you create specialized payment forms for each service or item in your catalog, you can simultaneously collect additional customer data. To see what you can create with PaySimple's built-in tools, view its sample online stores in the gallery. That said, PaySimple also doesn't offer any prebuilt integrations with shopping cart software. If you have a Shopify account already set up, you'll need to build your own integration with PaySimple to use it for your Shopify transactions.
ACH/eCheck Payments: Using the PaySimple system, you can encourage clients to pay with direct debit rather than credit or debit cards. This is advantageous because echecks are significantly less expensive to process than credit or even debit in many cases. You could even use PaySimple to process only ACH payments if you don't accept cards yet. I also like that you can accept ACH via the mobile system.
Customer Management: The PaySimple platform lets you store and track customer information, including custom fields, effortlessly. Create a number of customized and branded communication forms to help maintain customer relationships, collect on debts, and generally keep payments flowing.
Reporting: How will you take stock of all that detailed customer and transaction information you've been collecting? PaySimple's online reporting is robust, homing in on the data and analyses that service industries value.
Appointment Booking & Scheduling: BookSimple allows your clients to make appointments via web, mobile, email, or social media using convenient "Book Now" buttons. The system sends automatic reminders to customers, while you manage your schedule and availability on the back end. BookSimple integrates with iCal and Outlook.
Developer Resources: If you're setting up a SaaS platform or building an app, you may want to integrate PaySimple directly into your platform to accept payments while also accessing the additional back-end features we've discussed above. Check out the API documentation for specifics.
Integrations: PaySimple integrates with email marketing services, such as Mailchimp and Constant Contact.
Fees & Rates
PaySimple's main pricing page only lists two numbers to represent pricing. It says that credit card processing rates are "as low as" 2.49% per transaction + monthly fees and 0.10% + $0.60 for ACH/echeck processing. I'm always wary of rates that are marketing "as low as" price points. Typically, this indicates that you will be set up on a tiered pricing model by default. You'll have a starting "qualified" processing rate, but only certain transactions will fall under this umbrella. Other types of transactions will cost more, and it can be difficult to predict how many of your transactions will not be qualifying transactions. A tiered plan is inherently more opaque than interchange-plus while also less predictable than flat-rate models. Consequently, you can't make apples-to-apples comparisons between quotes from different providers. Due to its unpredictability and opaque pricing standards, tiered pricing is not our favorite.
I was not able to uncover any more information on pricing on my own. I contacted a PaySimple representative via live chat, and he directed me to two webpages that include much more detail on rates and fees. PaySimple's rates are available as two different plans. There is the Starter Plan for merchants who are looking to process primarily (or only) ACH transactions. And there is the Standard Plan for everyone else.
View rates for both of these plans below:
Starter Package (Typically Used For ACH Only)
Monthly Maintenance Fee: $24.95
Credit Card Fees
Starting Rate Per Transaction: 3.39% + $0.39
Non-Qualified Surcharge (Added For Corporate Or Business Cards): +0.60%
Reward Surcharge (Added For Personal Or Corporate Rewards Cards): +0.11%
Chargeback Fee: $25.00
Batch Fee: $0.29
On File Fee (Per Month): $5.00
PCI Program Fee: $4.95
PCI Non-Compliance Fee (Per Month): $34.95
ACH (eCheck) Fees
Transaction Fee: $1.00
Chargeback: $25.00
Return: $5.00
ACH Refund (Reverse ACH): $1.00
ACH High Ticket Surcharge (For Amounts Over $5,000): +0.25%
ACH Batch Fee: $0.75
ACH Assessment: +0.20%
Monthly Minimum: $5.00
Standard Package
Monthly Maintenance Fee: $59.95
Credit Card Fees
Starting Rate Per Transaction: 2.49% + $0.29
Non-Qualified Surcharge (Added For Corporate Or Business Cards): +1.30%
Reward Surcharge (Added For Personal Or Corporate Rewards Cards): +0.11%
Chargeback Fee: $25.00
Batch Fee: $0.29
On File Fee (Per Month): $5.00
PCI Program Fee: $4.95
PCI Non-Compliance Fee (Per Month): $34.95
ACH (eCheck) Fees
Transaction Fee: $0.60
Chargeback: $25.00
Return: $5.00
ACH Refund (Reverse ACH): $0.60
ACH High Ticket Surcharge (For Amounts Over $5,000): +0.25%
ACH Batch Fee: $0.60
ACH Assessment: +0.20%
Monthly Minimum: $5.00
PaySimple's processors can also accommodate interchange-plus rates for some merchants. Since there are apparently no hard and fast volume thresholds or other rules that make you eligible, I'd say ask for a cost-plus quote from PaySimple, at least for comparison's sake. Just know that, depending on your volume and specific circumstances, PaySimple may steer you back toward the standard tiered setup.
PaySimple also offers an Enterprise plan for merchants who need higher levels of API and integrated support. This Enterprise plan is not marketed online, so you'll need to ask about it specifically if you think your business could benefit from it. Volume discounts are also available for merchants who process more than $50,000 per month.
While the $24.95 or $54.95 monthly fee plus PCI and on file fees from your processor might sound like a lot, consider that many competitive merchant account providers would also charge you $10-$30 in monthly fees and would charge extra for the type of special features PaySimple provides. In this light, the $35 or $65 mark isn't bad.
Let's consider a couple more important pricing issues, however. Firstly, some flat-rate and tiered plans from other providers offer a separate, lower rate for card-present transactions. They're able to do this because the wholesale costs of these transactions are lower. In contrast, PaySimple has chosen to lump card-present and keyed-in transactions together inside each tier. We'll add this to the list of reasons why PaySimple isn't ideal if most of your transactions are swiped/dipped: You may not be getting the lower, card-present rates you deserve.
Meanwhile, some processors offering tiered pricing create a separate set of lower-cost tiers for debit transactions, which also have less expensive wholesale costs. With PaySimple, however, both debit and credit cards fall into the same set of tiers. Fortunately, you can encourage some of your debit card users to switch over to direct debit/ACH with PaySimple.
While these cost structures may keep pricing "simple," you might not get the most bang for your buck with PaySimple depending on your situation.
If you'd like to dip your toes in PaySimple's software before signing up, you can always access the 14-day free trial of the main PaySimple platform. You won't be able to accept payments without a real account, but as long as you're prepared to unsubscribe from the ensuing marketing emails, there's no downside to giving the software suite a whirl.
Contract Length & Early Termination Fee
Your PaySimple platform subscription has no early termination fee. This means you are free to cancel without penalty. You'll just need to pay for the current month and give notice in writing 10 days before you want to cancel. "Term and Termination" is covered in section 10 of the Terms of Service document, conveniently posted in the Legal section of the PaySimple site.
You'll also sign a merchant agreement with a processor when you sign up for PaySimple, which will be on a month-to-month plan with no early termination fee as well. If you end up canceling, it doesn't hurt to watch your bank account for any lingering fees from either PaySimple or your processor. Most processors require you to cancel in writing, so don't neglect this step.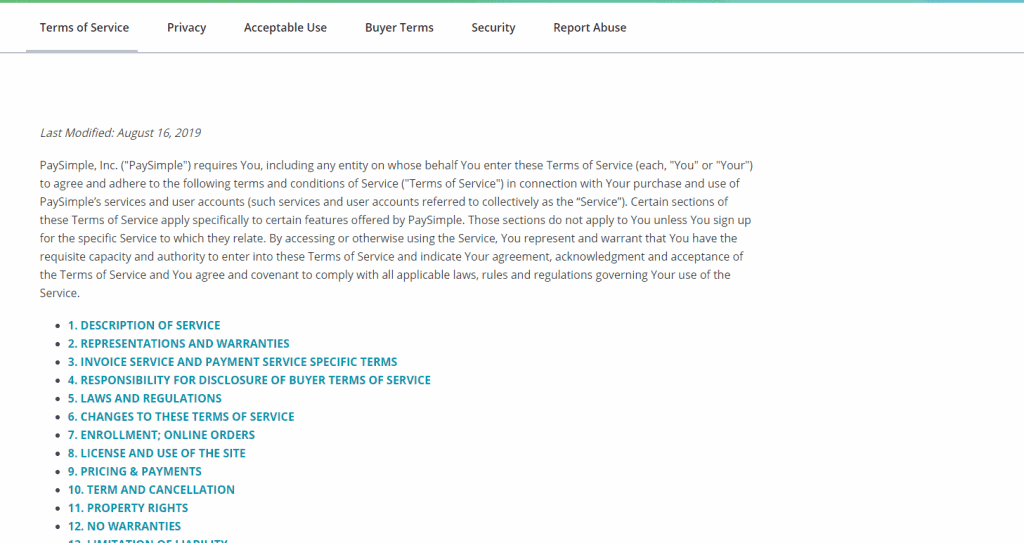 Sales & Advertising Transparency
PaySimple provides a plethora of excellent and well-organized resources on its website. I especially appreciate when a company provides you with tools to figure out if it's the right fit for your business, openly admitting this may not always be the case. However, PaySimple does still suffer from a couple of advertising transparency issues that are common within the industry.
The first is promoting rates "as low as" on the main pricing page, followed by only the cost of the cheapest transaction tier. As soon as your customer uses a corporate card or a rewards card of any kind, your rate bumps up. I eventually stumbled upon the exact non-qualified surcharges for the higher rate tiers a few layers into the support section, but I don't like that it was hard to find. If PaySimple wants to keep using "as low as" language, we need to see the higher rates directly and clearly linked from the main pricing page. Otherwise, the lowest rate comes across as a teaser.
The disconnect between the pricing overview and the pricing detail page creates additional confusion. In a couple of spots on the overview, we see PaySimple's advertised monthly price at $54.95. In fact, $24.95 or $54.95 plus transaction fees and sales tax is not the full story. You're actually looking at this cost, plus PCI and admin fees from your processor (bringing the monthly total closer to $35 or $65 before any transactions are run), as well as potential incidental fees for chargebacks or returns.
While these fees are passed through from the processor, it's problematic for PaySimple to make them less than obvious. According to past complaints, some merchants expressed confusion about the fact that they were opening a merchant account in the process of signing up for PaySimple. Obscuring these processor fees certainly doesn't help make that clear.
Once you enter the actual account setup process with PaySimple, you should be provided with a rundown of all these additional fees. Nevertheless, I think initial advertising transparency could be improved with just a few easy tweaks to the site. I still believe the sales experience with PaySimple is pretty straightforward and generally better than average. Just make sure you understand that a tiered pricing structure has more than one rate and that PaySimple will be setting up a merchant account for you with a third party.
Customer Service & Technical Support
Along with the services PaySimple offers, customer support is a strength for this company. I love that PaySimple offers training and support for you and your employees. Based on users I've heard from, the training seems to be in-depth and a great asset overall.
Below is a breakdown of PaySimple's customer service structure and offerings. Some resources are only available once logged into the platform, but there are still plenty of options to explore without an account.
General Hours Of Operation: This is available 9 AM-7 PM EST, Monday through Friday.
Sales Live Chat: My experience with the chat button was positive. Someone was able to answer my questions quickly and clearly.
Customer Service Live Chat: This is available 10 AM-7 PM EST once logged in.
Phone Support: This is available during regular business hours.
Support e-Tickets: File a ticket once logged in.
FAQ: A very useful little section of the website that can help you decide if PaySimple is right for you.
Help Center: Refreshingly, the myriad articles and tutorials actually help — a lot! Check out the articles on ACH funding time and credit card funding time as good examples.
User Guide: The user guide can help troubleshoot a few of the problems or points of confusion you may have during daily operations.
Downloadable Guides & eBooks: You don't need a PaySimple account but must provide your business name and contact info to gain access to these.
Documentation: Developers will find the resources they need to build an integration with PaySimple.
Blog: If you can't find an article in the Help Center on a certain topic, chances are PaySimple has written a blog post about it. A few of the more detailed resources, such as the informative Merchant Accounts A-Z guide, may be accessed directly through the blog without forking over your contact info.
Social Media: Follow PaySimple's Twitter, Facebook, and LinkedIn accounts for the latest webinars and instructional resources. The YouTube account also contains a few basic product tutorials.
User Reviews
Negative Reviews & Complaints
On its A+ rated BBB profile, you'll find 15 complaints filed against PaySimple over the last three years, three of which occurred in the last 12 months. This is a fairly small number for a company of this size. The BBB also plays host to six negative reviews. PaySimple appears fair and communicative when complaints reach third-party sites such as the BBB. Occasionally, PaySimple issues refunds, even when it's not obligated to do so.
Overall, PaySimple has received very few complaints. In fact, I've seen more positive comments than negative, which is almost unheard of in the payment processing space. Among the few complaints I've found, these themes crop up the most:
Merchant Account Confusion: A handful of merchants have complained that they did not understand that a merchant account would be opened via a separate company. They did not understand the role of the processor or that PaySimple was not the processor. This usually became evident following a withheld transaction or chargeback.
Minor UI Difficulties: Merchants frequently had suggestions for how PaySimple could streamline its user interface. It seems that a few of the functions are not the most intuitive or efficient for daily use.
Expensive Processing Rates & Fees: Some users say that their rates with PaySimple are higher than they were with previous processors.
Unanticipated/Hidden Fees: These complaints had to do with the "as low as" rates we mentioned before. PaySimple markets the lowest possible rates on qualified transactions. Merchants will find that many of their transactions do not qualify for that low rate, and monthly fees can add up, making PaySimple more expensive than expected.
Held Funds: Some complaints mentioned held funds. We often see this complaint with payment processors (and, technically, PaySimple isn't the company handling processing), but it's still worth noting.
I will say that PaySimple has created several posts and articles that help clarify the merchant account underwriting process and the role of PaySimple versus your processor. These resources are better and more extensive than what most MSPs provide their merchants and are worth reading. Unfortunately, reading them after you've already experienced a hold or terminated account stings.
Positive Reviews & Testimonials
Gathering authentic and persuasive testimonials for your company can be difficult, but PaySimple has managed to pull this off in a variety of effective ways. For some short and sweet quotes from business owners organized by industry, start with the Testimonial page. Despite their brevity, many include hard figures and other convincing details. Real business owners and business names are identified in each case.
If you're looking for something more in-depth, I'd highly recommend browsing the site's Success Stories section. Here, you'll find 18 case studies and testimonials from happy customers, three with accompanying videos. Even better are the testimonials that you can find on the PaySimple YouTube channel. These video reviews are old (most were posted in 2012), but they leave a particularly lasting impression. They're not the flashy, over-produced, gimmicky testimonial videos we're accustomed to seeing. All were recorded by the business owner, without any prompts or editing by PaySimple (many are just webcam videos). They are just simple, honest endorsements from satisfied customers.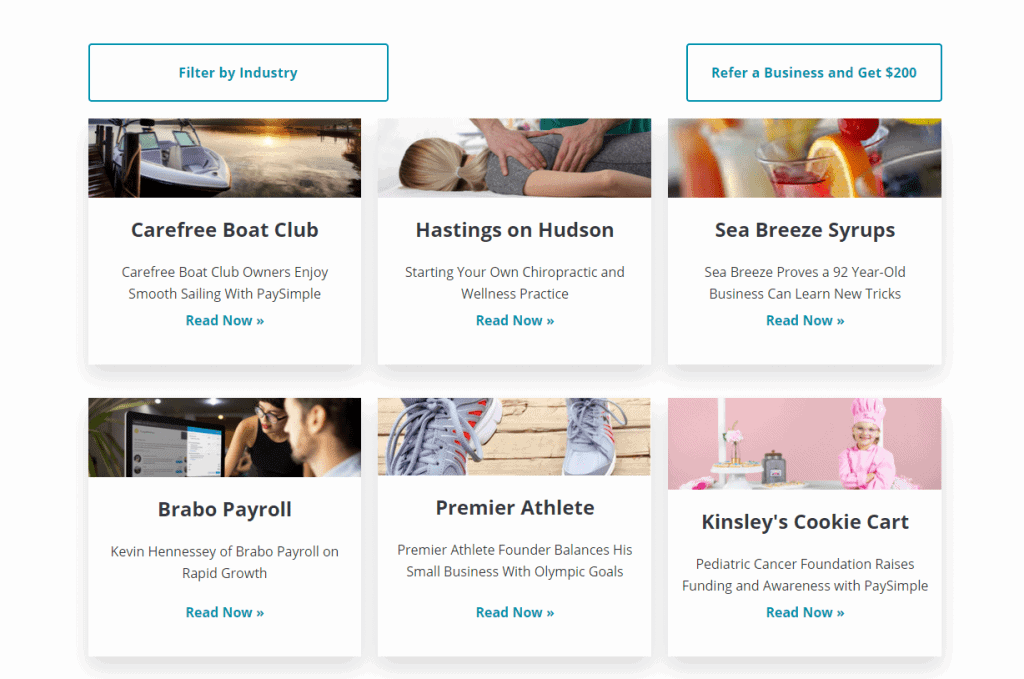 I also looked through the plentiful 4- and 5-star reviews from users on other third-party sites. Overall, what do merchants love most about PaySimple?
Ease Of Use: This is the most common positive review I've seen for PaySimple. Merchants say the back end is easy to learn and use, and it's easy to set up a merchant account and start processing payments quickly.
Great Customer Support: I've seen lots of positive feedback about PaySimple's customer support team. My own experience communicating with PaySimple aligns with this.
Increased Automation Of Payments & Billing: Merchants in service industries say that recurring billing is one of their favorite features. It saves them the time of processing individual payments manually, and automated reminder emails save them the trouble of reminding customers about their payments.
More Affordable Option: A few merchants say that PaySimple's rates and fees are the lowest available for their business.
Final Verdict
PaySimple is different from many of the merchant account providers we review. We typically prioritize quality customer service alongside fair rates and contract terms, with any added features serving as nice bonuses. With PaySimple, the real selling point is the suite of software and services. If you're looking for recurring payments, customizable payment forms, a customer communication system, and a way to easily collect and store customer data, PaySimple can hook you up with little effort on your part.
The more I read on the PaySimple site, the more I was impressed. The blog and educational resources are fantastic, and the customer testimonials are more convincing than most. On the other hand, PaySimple has some room for improvement. For example, I'd like to see a reorganization of the website so that pricing information is easier to find. Additionally, I'd like to see that "as low as" marketing approach be replaced with a more clear explanation of the tiered pricing structure. Of course, now that we know interchange-plus pricing is offered in some cases, I'd love to see it advertised as well.
Considering the number of clients PaySimple serves, along with the unique needs of its target market, I'm not particularly alarmed by the relatively small ratio of dissatisfied merchants. Meanwhile, PaySimple has a good (and improving) track record overall for customer service. You should expect a rather rigorous, multistep underwriting process by default, and don't be surprised if you're asked to send additional documentation to your processor for your first several transactions. You may need a specialized, high-risk merchant account if PaySimple's processors can't work with you.
I'm satisfied enough to recommend PaySimple as a viable option for merchants accepting mostly online and mobile payments in service industries, especially those who are not tech-savvy and don't want to deal with complicated coding. PaySimple earns 4.5 out of 5 stars for now, and I'm hoping for even more from this company in the future.
Need more information about payment services?
---
We've done in-depth research on each and confidently recommend them.
We've done in-depth research on each and confidently recommend them.
To learn more about how we score our reviews, see our
Credit Card Processor Rating Criteria
.
Read Next