QuickBooks Premier Review
Content Strategist - Accounting & Payroll

Updated on:
Advertiser Disclosure: Our unbiased reviews and content are supported in part by
affiliate partnerships
, and we adhere to strict
guidelines
to preserve editorial integrity.
QuickBooks Desktop Premier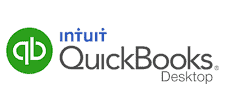 Pros
Advanced features
Robust accounting reports
Excellent tax support
On-premise
Numerous integrations
Double-entry accounting
Cons
Steep learning curve
Limited payment gateway integrations
PC-only
QuickBooks Desktop Premier Overview
Have you outgrown QuickBooks Pro but aren't quite ready for the feature set and steep price of QuickBooks Enterprise? Enter QuickBooks Desktop Premier.
QuickBooks Premier is a full-fledged, locally-installed accounting program that has been around since the 90s. With more available users than QuickBooks Pro, QuickBooks Premier is better suited for medium-sized businesses. The other significant difference between the two versions is that QuickBooks Premier offers six specialized industry editions, in addition to the Standard Edition. You can choose from General Contractor, Manufacturing and Wholesale, Nonprofit, Accountant, Professional Services, or Retail.
While the industry editions can add a lot of value to companies in need of specialized features, if you're just using the Standard Edition, the software is a bit overpriced. You'll be paying hundreds of dollars more than for QuickBooks Pro in exchange for 15 additional reports and access for two more users (that you still have to pay an additional $350 each for). The software also comes with a steep learning curve and limited customer support.
On the other hand, QuickBooks Premier has significantly more positive reviews than QuickBooks Pro and over 200 integrations. To see if the pros outweigh the cons for your business, keep reading!
Get Started With QuickBooks Desktop Premier
Pricing
QuickBooks Premier's pricing is a bit involved, so bear with me. I want to make sure you know all of the pricing details and additional costs before you decide to purchase this software.
There are two ways to purchase this locally-installed software. You can pay for a QuickBooks Premier license, or you can buy a yearly QuickBooks Premier Plus subscription, which includes tech support, automatic annual updates, and automatic backups.
If you go with the QuickBooks Premier license, support will end for the product three years after it is released. That means you'll be continuously forced to update and repurchase the software. Fortunately, the Intuit site frequently offers the product at a discounted price. You can purchase the product directly from Intuit or at most local office supply stores (such as Staples or Office Max).
Intuit offers a 60-day guarantee. You can return the program at any time within this period and receive a full refund. Representatives tend to promote this guarantee rather than advertising the fact that you can try the software before purchase. If you look hard enough, you can find a free 30-day trial version of Premier hidden in the depths of Intuit Community answers.
Warning: Use of free trials may inhibit users from being eligible for software discounts upon purchase.
QuickBooks Premier
QuickBooks Premier can be purchased for $649.99 and includes the following features:
Track income and expenses
Manage contacts
Send invoices and estimates
Manage and pay bills
Create budgets
130+ reports
Integrate with 200+ apps
Track inventory
Sales tax and tax form capabilities
Sales orders
Optional industry editions
QuickBooks Premier Plus
QuickBooks Premier Plus is a subscription service that is priced at $499.99/year. It includes all features found in QuickBooks Premier, as well as:
Built-in tech support
Automatic data backups
QuickBooks Premier Plus + Payroll
QuickBooks Premier Plus + Payroll costs $949.99/year and includes all features found in QuickBooks Premier Plus, as well as Enhanced Payroll Features such as:
Easy setup and payroll processing
Free direct deposit
Automatic payroll tax calculations
Payroll data automatically added to QuickBooks
Extra Costs
There are several additional costs to be aware of before purchasing QuickBooks Premier:
Payroll: Payroll costs between $29.00/month – $109.00/month, plus $2.00/month per employee.
Tech Support: If you buy the Premier license instead of the annual subscription, you'll have to pay extra for technical support. Support costs $299.95/year.
Additional Users: Each additional user license costs $350.00.
Upgrades: Upgrading your existing Premier license is $499.95. The QuickBooks Premier Plus subscription includes annual upgrades.
Other additional costs may include live bank feeds, automatic data encryption backups, and QuickBooks cloud-hosting services.
Get Started With QuickBooks Desktop Premier
Cloud-Based Or Locally-Installed
QuickBooks Premier is a locally-installed program, although you'll need internet access for some functions (such as payroll). You can purchase QuickBooks cloud-hosting at an additional cost.
Hardware & Software Requirements
QuickBooks Desktop Premier is only compatible with Windows (versions 8.1 Update 1 and 10) and Windows Servers 2012 R2, 2016, and 2019. Certain features require access to the internet; Internet Explorer 11 is the only supported browser.
Other hardware requirements include:
2.4 GHz processor (minimum)
4GB RAM (minimum), 8GB RAM (recommended)
2.5GB disk space
DVD-ROM drive (for CD installations)
1280 x 1024 screen resolution
Specific Size Of Business
QuickBooks Premier is for small to medium-sized businesses looking for strong accounting and support for up to five users. The industry-specific features may also make the software ideal for contractor, manufacturing and wholesale, nonprofit, professional services, accounting, or retail businesses.
For larger businesses, there is also QuickBooks Enterprise, which offers more advanced inventory and supports up to 30 users. Read our Complete QuickBooks Product Comparison Guide to learn the differences between each of these products.
Accounting Method
Both accrual and cash-basis accounting.
Ease Of Use
QuickBooks Premier has a notoriously steep learning curve, and the setup process is much more involved than some of its cloud-based competitors. Users with no previous accounting experience may have a difficult time, but if you put in the time and effort to learn, QuickBooks Premier becomes easy and rewarding to use.
Features
QuickBooks Premier is an incredibly developed software with tons of in-depth features, making it impossible to cover everything. So, instead, here are some of the most notable QuickBooks Premier features:
Dashboard: QuickBooks Premier doesn't have the kind of typical dashboard you'd find with other cloud-based accounting options. Instead, there is a home page where you can access nearly every feature using the icons or the customizable menu screen on the left. If you're looking for an actual dashboard, the Income Tracker and Bill Tracker will give you an overview of your income and expenses.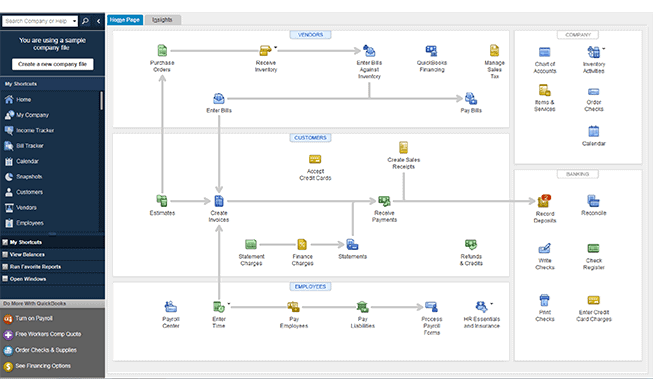 Invoicing: QuickBooks Premier offers eight templates. The templates aren't particularly appealing, but they get the job done, and you can customize them to suit your needs and style. There is no option to autoschedule invoices like there is in QuickBooks Online. However, you can set recurring invoices and attach discounts, notes, and files to invoices. You can send invoices via email or snail mail; there are three shipping integrations (FedEx, USPS, and UPS) as well. Additionally, you can send invoices in batches for faster invoicing. QuickBooks Premier has added additional features to simplify invoicing, including automated payment reminders and the ability to combine multiple invoices into a single email. The latest version also allows you to add P.O. numbers into the subject lines of emails. QuickBooks Premier has also improved usability for vision-challenged users with enhanced accessibility on Invoice, Bills, and Write Checks screens.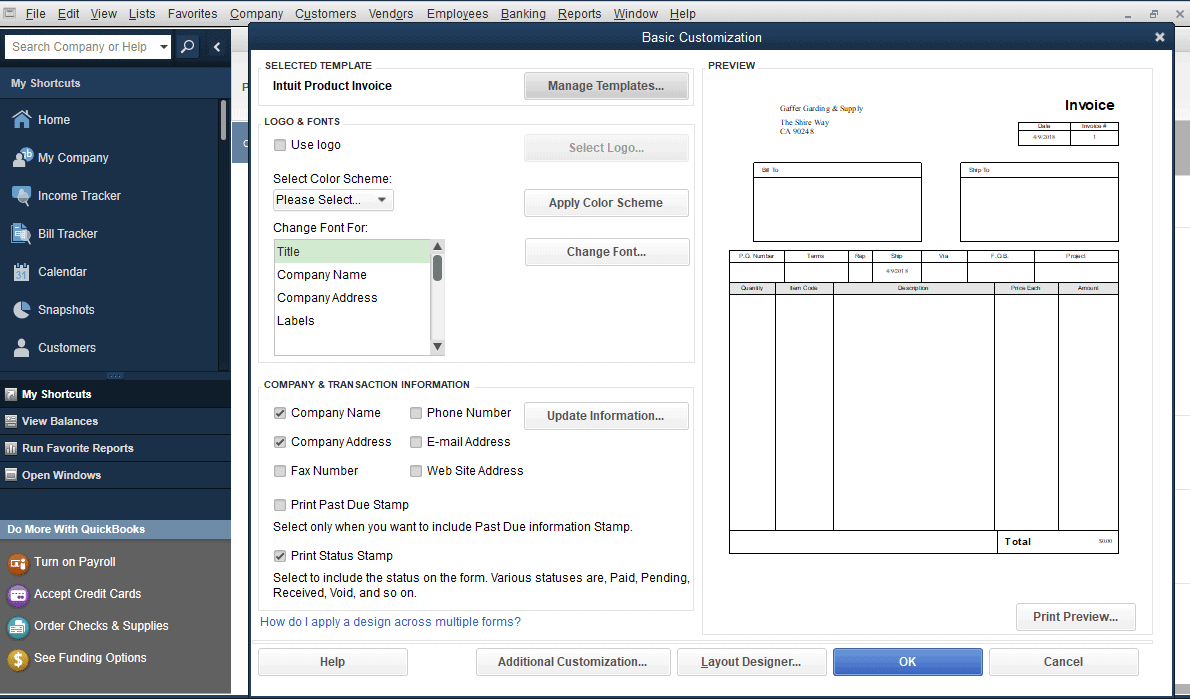 Estimates: QuickBooks Premier makes it easy to create estimates and convert them into invoices. You can also attach estimates to projects.
Contact Management: You can record basic contact information for customers, vendors, and employees. In addition to the standard contact fields you'd expect, QuickBooks Desktop Premier also lets you save maps and directions, attach expenses, and create projects for each contact. The customer center lets you easily view a contact's information and history.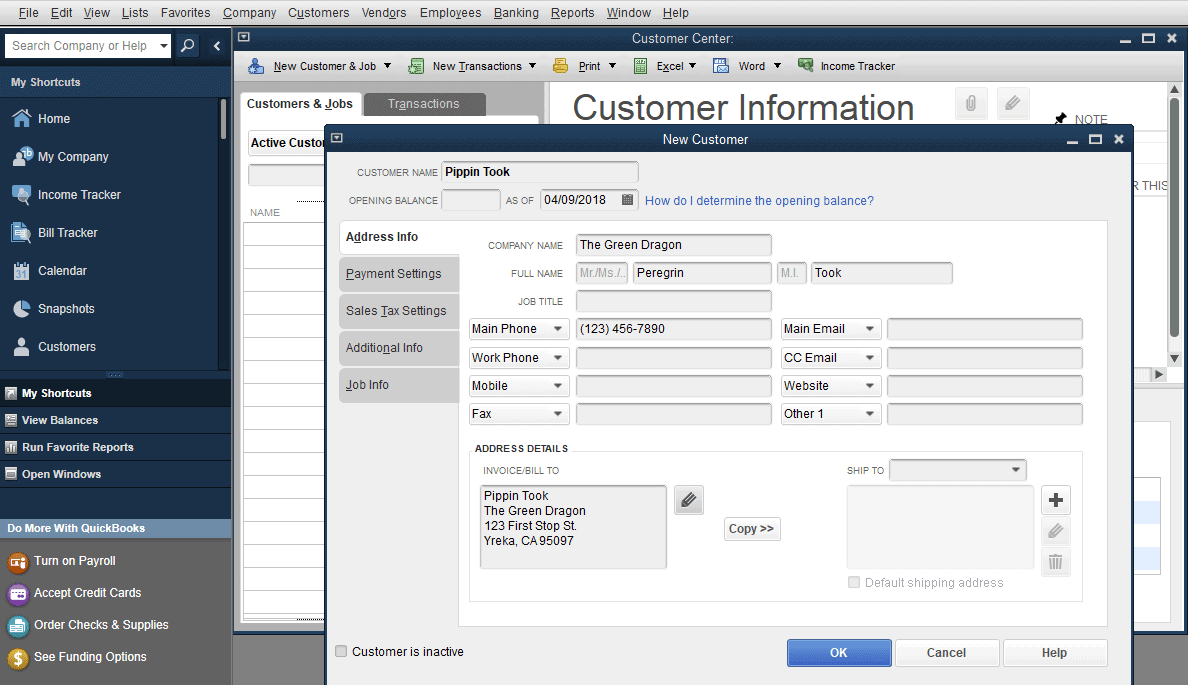 Expense Tracking: You can track expenses in QuickBooks Premier by either enabling live bank feeds or manually importing your bank statements. QuickBooks has a strong bank reconciliation feature and makes it easy to categorize transactions by setting bank rules. You cannot categorize multiple transactions at once.
Bank Reconciliation: You can reconcile your bank accounts in QuickBooks Premier.
Chart Of Accounts: QuickBooks Premier provides a default chart of accounts that can be customized to suit your business's needs. You can import a chart of accounts as well.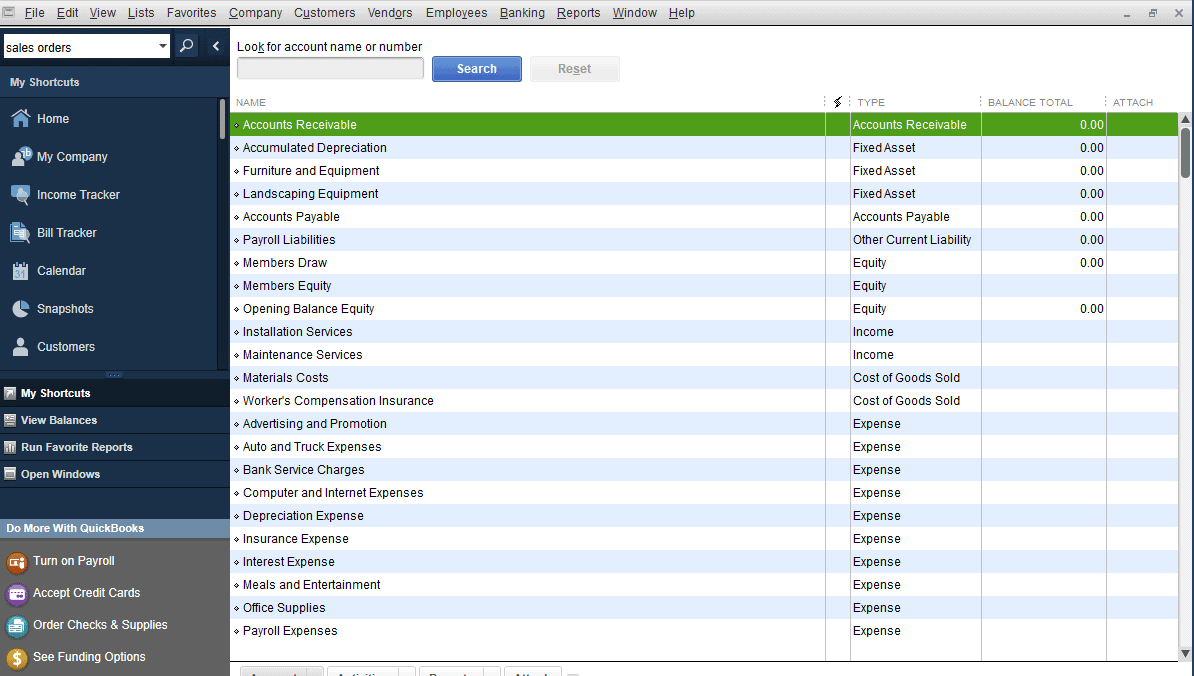 Accounts Payable: QuickBooks Premier allows you to manage your bills. You can create recurring bills and view them in the Bill Tracker — a nicely organized dashboard that breaks down important expense information.
Print Checks: You can order and print checks straight from QuickBooks Premier.
Inventory: You can add items, set low inventory alerts, and run a number of inventory reports.
Time Tracking: You can track billable and non-billable time by manually entering hours worked or by using the built-in timer. You can also create weekly timesheets and easily create invoices for billable time.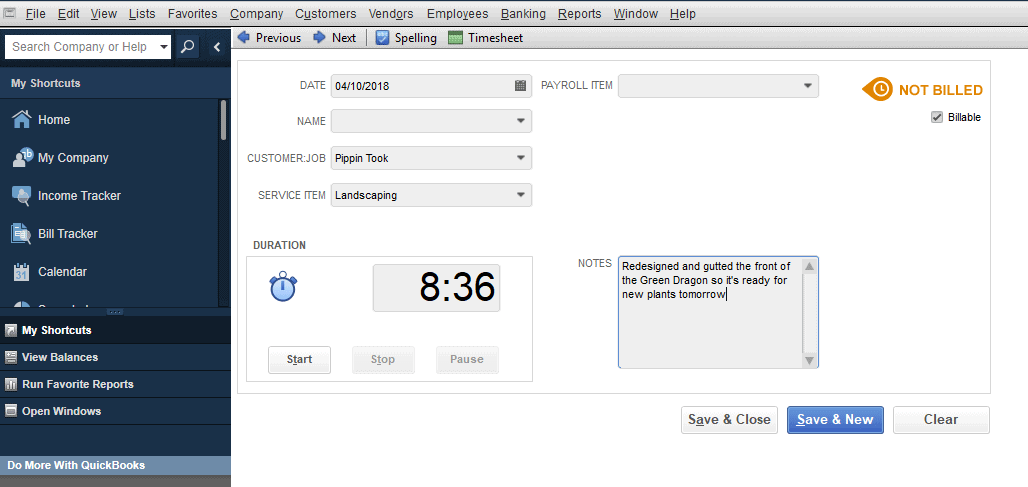 Project Management: You can create projects in QuickBooks Premier, but each job has to be attached to a specific customer. You can add a job description, job type, job status, and start/end dates. You cannot create tasks, though the to-do list feature is a decent workaround.
Reports: QuickBooks Premier has around 135 reports. You can mark individual reports as favorites for easy access. If you opt for an industry edition of QuickBooks Premier, you'll receive a few additional reports specific to that industry. The latest version of QuickBooks Premier has added the ability to collapse columns, making it easier to view data without needing to scroll or export.
Budgeting: You can create yearly budgets in QuickBooks Desktop Premier. You can base budgets directly off of last year's data or create a budget from scratch.
Journal Entries: If you have accountant access, you can create journal entries.
Packing Slips: QuickBooks Premier supports packing slips.
Sales Orders: You can create and manage sales orders. You can send sales receipts as well.
To-Do Lists: You can create to-do lists for each customer. Tasks include call, fax, email, meeting, and appointment. You can also set different priority levels for each task.
Calendar: There is a calendar where you can schedule tasks and view your to-do lists.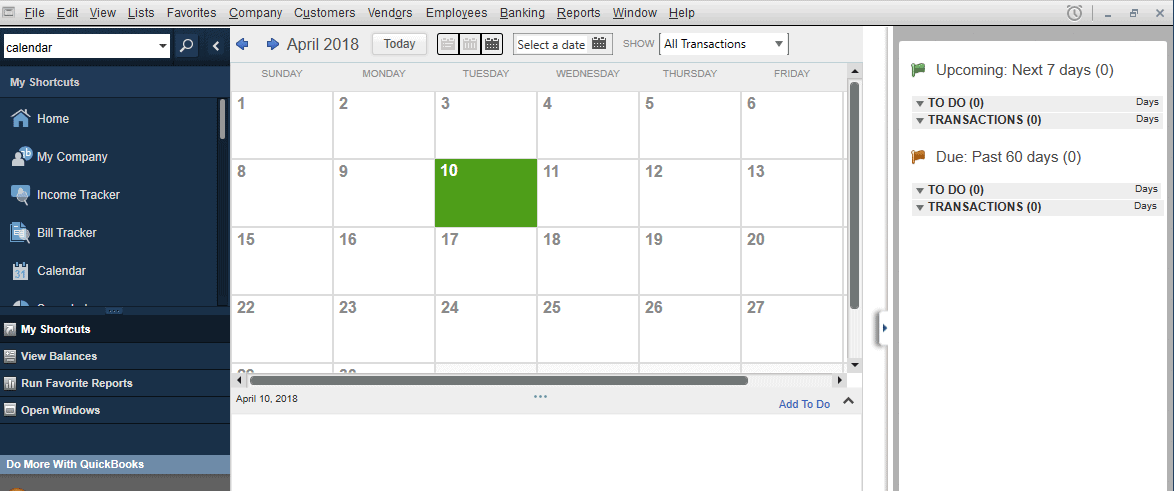 Letter Templates: So long as you have Microsoft Word, you can create custom letters within QuickBooks. With over 45 templates to choose from, there's a letter for every occasion.
Sales Tax: You can have an unlimited amount of sales tax rates and combined tax rates. You can also attach default tax rates to items and customers.
Tax Support: QuickBooks Premier supports the following tax forms: 1096s, 1099s, W-2s, and W-3s.
Mileage Deductions: You can track your mileage and other expense deductions.
Multiple Currencies: QuickBooks Premier does offer multi-currency support. However, enabling multi-currency support prohibits you from using the Insight, Income Tracker, and Bill Tracker features.
Importing & Exporting: You can import files via XLS and IFF, though the feature is not as developed as you'd expect. You can export most information and create whole backup company files.
Get Started With QuickBooks Desktop Premier
Customer Service & Support
QuickBooks has a reputation for poor customer support. In the past, the support team had extremely long wait-and-hold times. However, QuickBooks' wait times have significantly improved over the last few months. When you reach a customer service rep, they are generally kind and helpful, but there is an inconsistent level of QuickBooks knowledge from person to person.
The main form of customer support is over the phone. Phone support costs an extra $299.95/year for users without a Premier Plus subscription. There is no email support available.
Here are some other places where you can look for help:
Phone: You can reach the QuickBooks Desktop team by phone.
Live Chat: There is a simple live chat feature on the QuickBooks Premier website that predominantly focuses on sales-related questions.
In-Software Help: The help section inside QuickBooks Premier assists you in navigating the software and provides basic how-to information.
Help Center: There is a help center for all QuickBooks Desktop products where you can find how-to articles and information on getting started, managing income and expenses, and more. There is an FAQ section here as well.
Community Forum: If the help center doesn't have what you are looking for, the QuickBooks Community may have answers. You can search past inquiries or ask questions on the community forum. Both Intuit employees and fellow customers can answer any questions posted, and someone usually responds relatively quickly. The search bar is a bit difficult to navigate, and it can be hard to find articles specifically for QuickBooks Premier, but it still may be worth a look.
Resource Center: QuickBooks has a great resource center where it advises and teaches business owners about the following topics: bookkeeping, cash flow, inventory, invoicing, taxes, payroll, mileage tracking, financing, and expenses.
YouTube: You can find videos on the QuickBooks YouTube channel, but videos specifically about QuickBooks Premier are few and far between. However, there are many CPAs (Certified Public Accountants) and other tech gurus who post viable QuickBooks Desktop Premier demos and tutorials on YouTube.
QuickBooks Blog: QuickBooks has a blog where it posts articles about recent updates and ongoing giveaways. The blog is focused mostly on QuickBooks Online, so it can be hard to find information regarding QuickBooks Premier.
Social Media: Intuit has a combined Facebook page for all its QuickBooks products. QuickBooks also has a general Twitter account and a customer service Twitter account.
Smart Help: QuickBooks Premiere now includes a Smart Help function. By simply pressing F1, you'll have access to improved search functions and the ability to connect with agents through messaging or call-back options.
User Reviews
Negative Reviews & Complaints
QuickBooks receives 1/5 stars on Consumer Affairs based on 76 ratings. These complaints cover all QuickBooks products (as well as Turbo Tax and Mint). Few of the reviews apply specifically to QuickBooks Premier. For the most part, users seem happy with QuickBooks Premier, although there are a few recurring complaints.
Difficult To Learn: Several people say that the software takes a while to learn, and a few find it difficult to navigate at times.
Glitches & Slow Load Times: Several users experience slow load times, especially while starting the software. Others mention occasional glitches and error messages.
Too Expensive: One of the biggest complaints is that QuickBooks Premier is too expensive. Users also dislike having to pay for upgrades again and again.
Weak Permissions/Controls: QuickBooks Premier is relatively forgiving, meaning it's easy to make adjustments and edit past entries. Some business owners and many accountants complain that the software makes it too easy for people who shouldn't be making adjustments to alter information; they wish there were more permissions to prevent this.
Poor Customer Support: Unsurprisingly for a QuickBooks product, several users report poor customer service and long wait times (though, in Intuit's defense, there is almost an equal number of people who praise the software's customer service).
Positive Reviews & Testimonials
Intuit, as a company, receives an A+ rating on BBB. QuickBooks Premier specifically receives 8/10 stars on TrustRadius (based on 276 ratings), and 4.5/5 stars on Software Advice (based on 68 ratings). The majority of users seem satisfied with the software and find that it simplifies their bookkeeping processes.
Here are some of the aspects they love the most:
Easy To Use: The most significant praise is that the software is easy to use.
Easy To Learn: Despite complaints that the software is challenging to learn, many users found the opposite to be true. They say the software is easy to learn and well laid out.
Great Features: Several users positively comment on the features found in QuickBooks Premier. In particular, users like the invoicing features, bill management, and reports.
Good For Accountants: For many accountants, QuickBooks Premier is the program of choice. They appreciate its feature set and how easy it is to teach to new clients.
Heres what a few users are saying:
It is very user-friendly. Easy to understand. I love the way you can drill into numbers to get an understanding of what its made of. Also easy to share with [an] accountant, since many accounting firms use QB.

This program is wonderful for keeping books for several small business ventures separate and organized!

This software has been really great to use. It's very good in the construction industry but also works well in property management! It can do everything from estimates to billing to payroll.

It's a very easy-to-use software. You can easily customize reports, comment on reports, export reports in Excel format, customize all types of needs. It integrates with Outlook easily. I would highly recommend this software if you are an accountant or bookkeeper or in need of a specialized set up of a type of business. If you don't need these items, I would then go to Quickbooks Pro which will do everything you need and cost 1/3 of the money yearly for renewals.
Integrations
QuickBooks Premier has over 200 integrations available for users; however, there are very few payment gateways. For a larger payment gateway selection, consider checking out QuickBooks Online instead.
Security
As locally-installed software, data security is primarily up to you (unless you are using QuickBooks hosting). QuickBooks offers online resources for learning how to protect your computer and provides a list of antivirus and firewall software compatible with QuickBooks Premier.
Read our How To Keep Your Locally-Installed Accounting Software Secure post to learn about protecting your data.
Final Verdict
There's a reason QuickBooks is so well known — it does accounting, and it does it well. QuickBooks Premier is no different. Strong double-entry accounting, easy bank reconciliation, journal entries, a strong chart of accounts, and more make it a great choice for accountants and other business owners who value traditional, locally-installed accounting. The software also offers invoicing, time tracking, project management, expense tracking, and just about any other feature you could wish for.
However, the great feature set doesn't negate the fact that QuickBooks Premier is significantly more expensive than QuickBooks Pro. And the only differences? You get a few more reports and (up to) five users instead of three — and you have the option to choose an industry-specific version of the software.
If you are in contracting, manufacturing and wholesale, the nonprofit industry, accounting, professional services, or retail, QuickBooks Premier could be a wonderful choice to help you run your business, as you'll receive an advanced feature set designed for your specific industry. If not, it may not be worth the extra cost for a solution that's almost identical to QuickBooks Pro.
With either option, you'll find strong accounting, numerous integrations, and the same great features we've come to expect from QuickBooks. Whichever you choose, be sure to take advantage of the free trial to get acquainted with the software. If you need extra help deciding on the perfect QuickBooks product for your business, check out our Complete QuickBooks Product Comparison Guide.
---
Need A Simple Accounting Solution?
FreshBooks


---



This easy-to-use and feature-rich software is ideal if you have no bookkeeping experience and want top-notch customer support. Get Started.
Need A Simple Accounting Solution?
FreshBooks


---



This easy-to-use and feature-rich software is ideal if you have no bookkeeping experience and want top-notch customer support. Get Started.
To learn more about how we score our reviews, see our
Accounting Software Rating Criteria
.
Read Next