QuickBooks Online Canada Review
Expert Analyst & Reviewer

UPDATED
Advertiser Disclosure: Our unbiased reviews and content are supported in part by
affiliate partnerships
, and we adhere to strict
guidelines
to preserve editorial integrity.
QuickBooks Online Canada

Pros
Numerous features
Numerous integrations
Easy to use
Good customer support
GST & HST support
Cons
Canadians users only
Limited users
QuickBooks Online Canada Overview
Canadians that need powerful accounting software may have to look no further than QuickBooks Online Canada. QuickBooks Online Canada is easy to use, cloud-based accounting software designed specifically for Canadian small businesses.
QuickBooks Online Canada is similar to the US version in terms of the strong accounting, its large selection of features, and the number of integrations it offers. The design and UI of the software will also look incredibly familiar to American users of QuickBooks Online.
However, QuickBooks Online Canada also provides unique features needed to run a Canadian business. The software offers GST and HST support and is available in both English and French. Another area where QBO Canada outranks its American cousin is customer service. QuickBooks Online Canada has excellent customer service and support options. The only downside is the limited number of users.
Sound promising? Read our full QuickBooks Online Canada review to learn whether or not this software is a good fit for you.
QuickBooks Online Canada Pricing
QuickBooks Online Canada has three pricing plans. Payments are made monthly. There are no contracts and plans can be canceled at any time. There is a free 30-day trial available.
QuickBooks often offers software at a discounted price on its website, so be sure to take advantage of any current promotions before purchasing.
Note: Discounts are invalid if a customer uses the free 30-day trial before purchasing.
EasyStart
The EasyStart plan is priced at $20/month and includes:
Invoicing
Estimates
Contact management
Expense tracking
Automatic mileage tracking
Reports
Deductions
500+ integrations
1 user
Essentials
The Essentials plan costs $40/month and includes everything from the EasyStart plan, plus:
Accounts payable
Time tracking
Multi-currency support
3 users
Plus
The Plus plan is priced at $60/month and includes everything from the Essentials plan, plus:
Project management
Inventory
5 users
Extra Costs
There are a few additional costs to consider before purchasing QuickBooks Online Canada.
Payroll: You can add payroll to QuickBooks Online Canada for an additional $20/month plus $3/employee per month.
QuickBooks Payments: If you're looking for a merchant account provider to accept online payments from your customers, you can sign up for QuickBooks Payments. QuickBooks Payments costs $2.9% + $0.25/per transaction.
QuickBooks Accountant Online: Your accountant can sign up for a free accountant-specific version of QuickBooks Online so that they can collaborate directly with you regarding your account.
Cloud-Based Or Locally-Installed
QuickBooks Online Canada is cloud-based. No downloads or installation are required.
Hardware & Software Requirements
As cloud-based software, QuickBooks Online Canada is available on nearly any device so long as you have internet access. There are mobile apps available for iOS (11.2+) and Android (4.1+). There is also a Mac desktop app available for Mac users.
Specific Size Of Business
QuickBooks Online Canada is designed for Canadian small business owners in need of strong accounting, GST and HST support, and ample features to run and manage their businesses. The software is available in both French and English for businesses with five users or fewer.
The software is not ideal for larger businesses in need of many users. However, QBO Canada has tried to make the software a more viable option for small businesses by not counting time tracking-only and reports-only users toward your user limit. You can set user permissions to control user access, and there's a complete audit log of all activity.
Accounting Method
Both cash-basis and accrual accounting.
Ease Of Use
QuickBooks Online Canada has a modern, well-organized UI, making it easy to use. The software is occasionally difficult to navigate and it can be hard to find certain features, but for the most part, it's quick to learn. There are also plenty of great customer support options to help you if you get stuck.
QuickBooks Canada Software Features
QuickBooks Online Canada is very similar to the standard version of QBO in that it has a large feature selection. Here's an overview of what the software offers:
Dashboard: QBO Canada has a dashboard where you can view your business's financial information all in one place. There are charts and graphs for Invoices, Bank Accounts, Profit and Loss, Sales, and Discover. The menu bar on the left of the screen gives you quick access to the main features of QBO Canada, and there are buttons for quick access to more features, searching transactions, settings, help, and notifications in the top right-hand corner.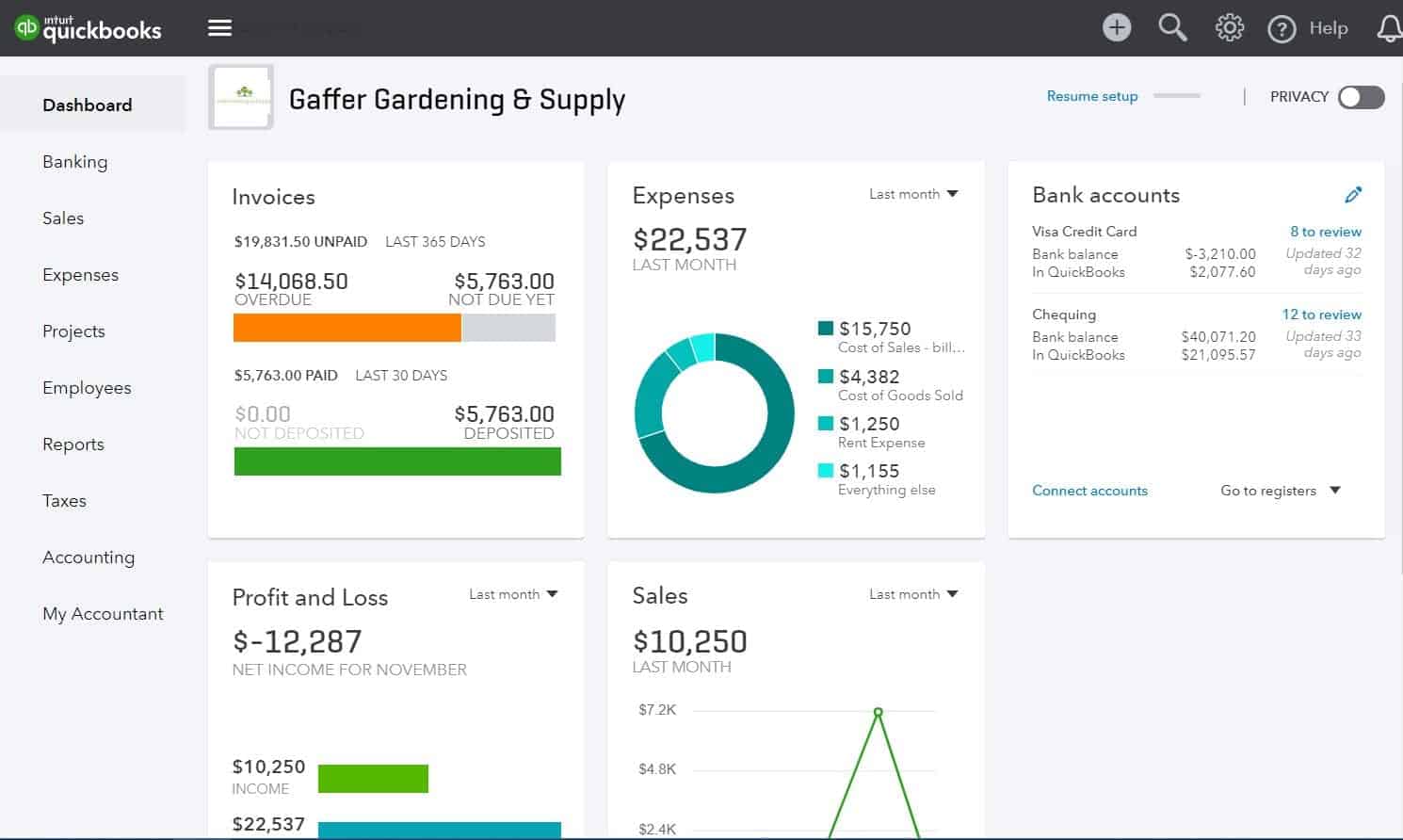 Invoicing: While not quite as developed as its standard counterpart, QuickBooks Online Canada offers five invoice templates to choose from that are highly customizable. The software supports recurring invoices, progress invoicing, delayed charges, discounts, and invoice reminders to help automate your business. You can accept payments directly from your invoices. There is also a sales dashboard where you can view all of your estimates, unbilled activity, overdue invoices, open invoices, and paid invoices. Unfortunately, there is no way to auto-schedule invoices as there is in the standard version of QBO.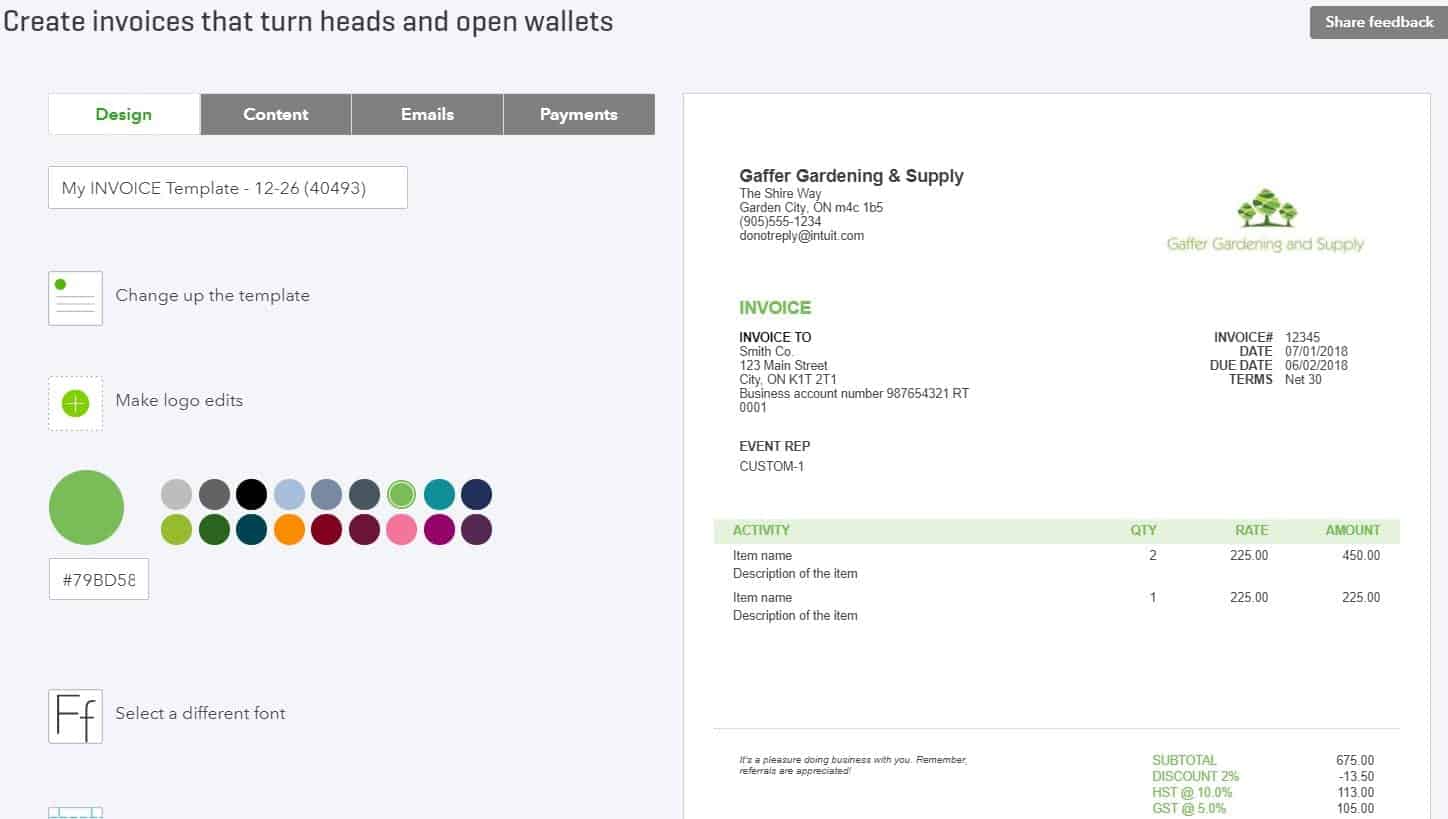 Estimates: You can easily create estimates in QuickBooks Online Canada and convert them into invoices. You can update the status of estimates as well from pending to accepted, closed, or rejected.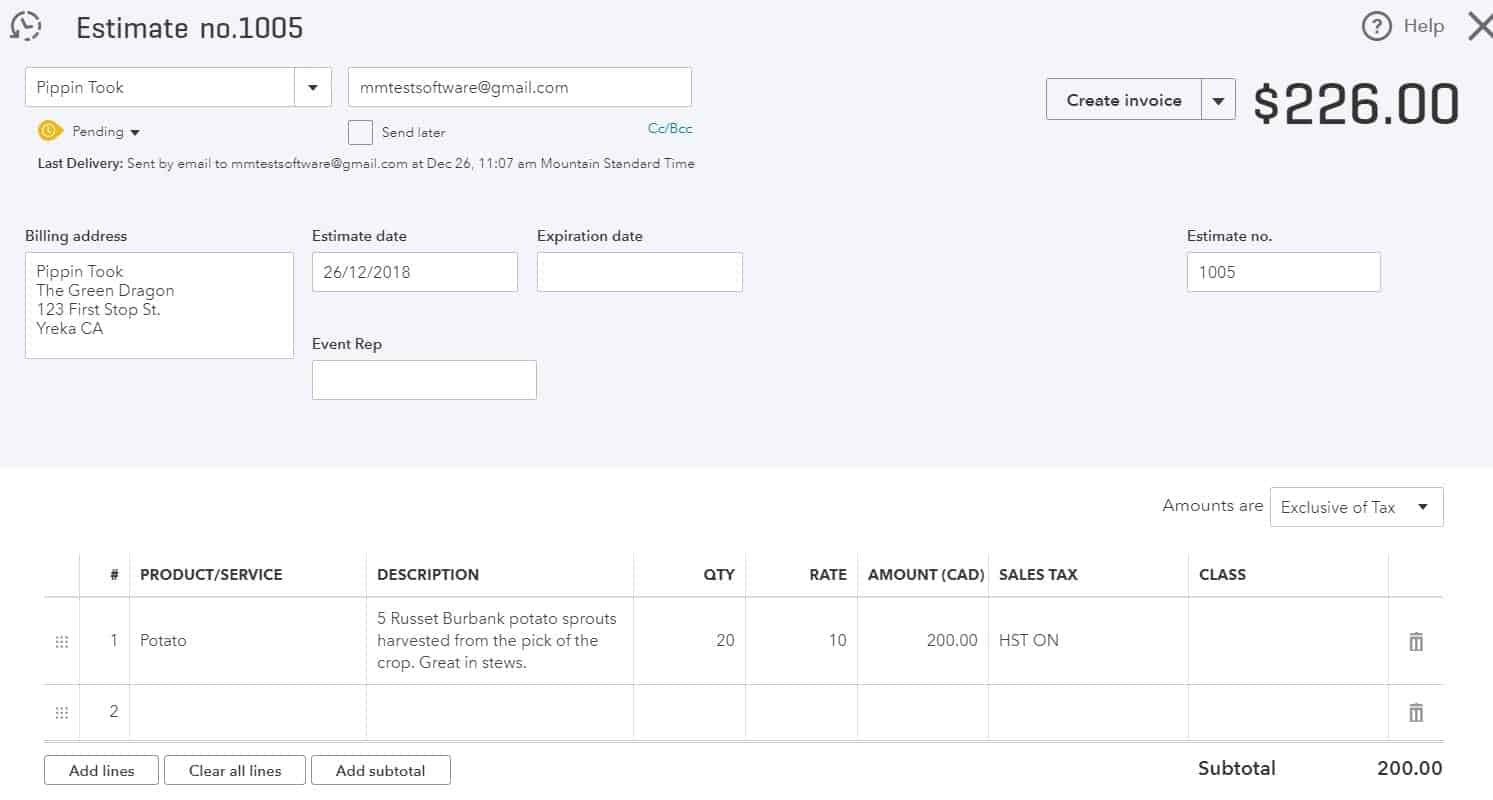 Contact Management: You can create contacts and record basic contact information like name, company, email, phone, fax, shipping address, and billing address. You can also add internal notes, tax information, payment and billing information, and attachments. You can manage suppliers as well.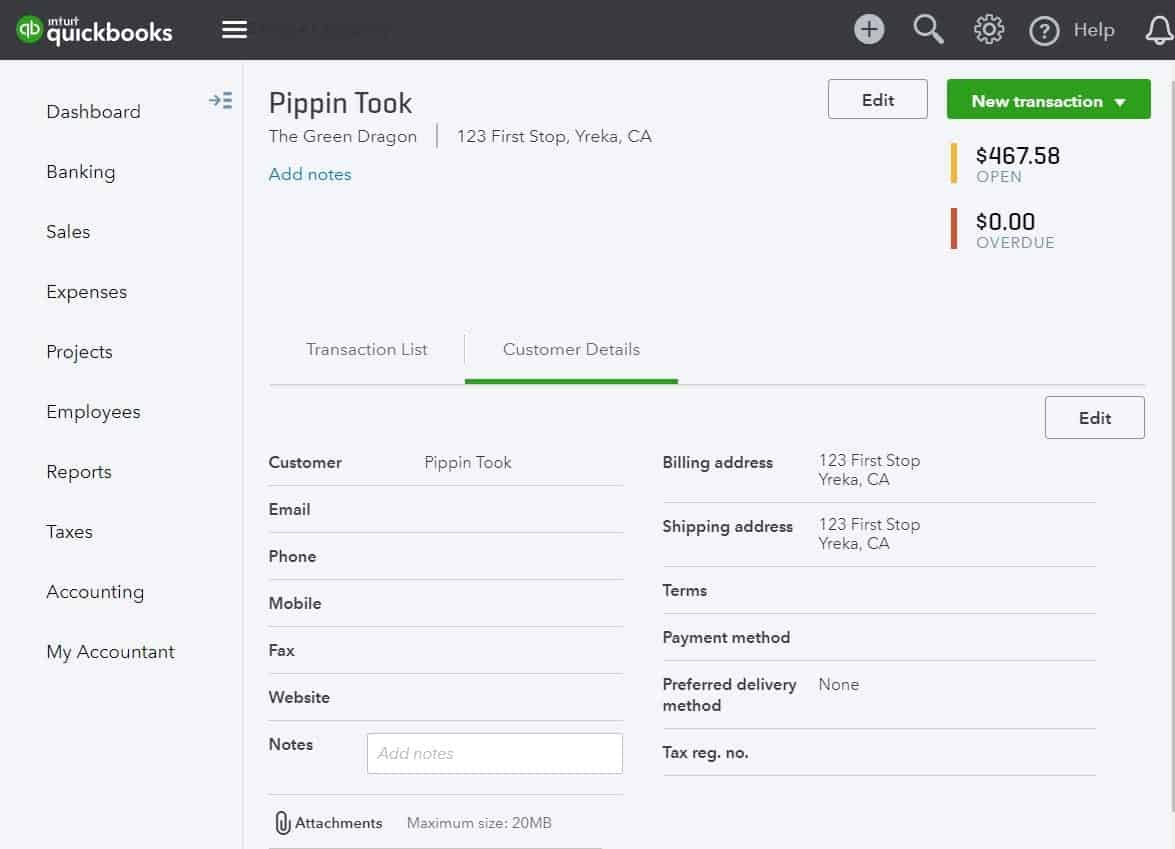 Expense Tracking: You can connect to live bank feeds, manually add expenses, or manually import expenses into the software. QuickBooks Online Canada will automatically match transactions, and you can create custom bank rules as well.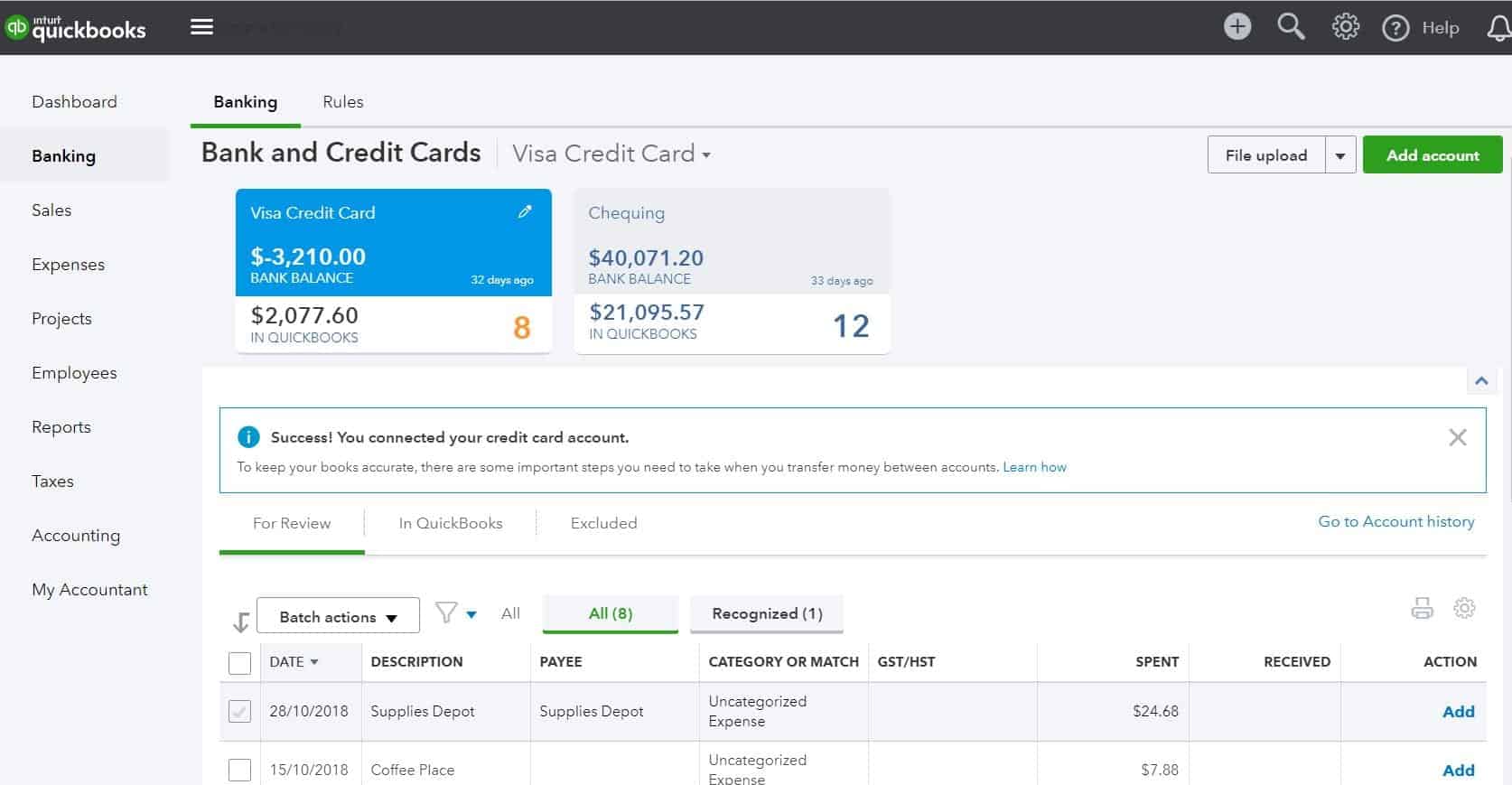 Bank Reconciliation: QuickBooks Online Canada makes it easy to reconcile your bank accounts. You can run a reconciliation report as well.
Chart Of Accounts: QBO Canada provides a default chart of accounts or you can import your existing chart of accounts. You can add and edit accounts at any time.
Accounts Payable (Essentials & Plus Plan Only): You can easily create bills in QuickBooks Online Canada and record partial or full payments. There is a supplier's dashboard that shows all of your purchase orders, overdue bills, open bills, and recently paid bills.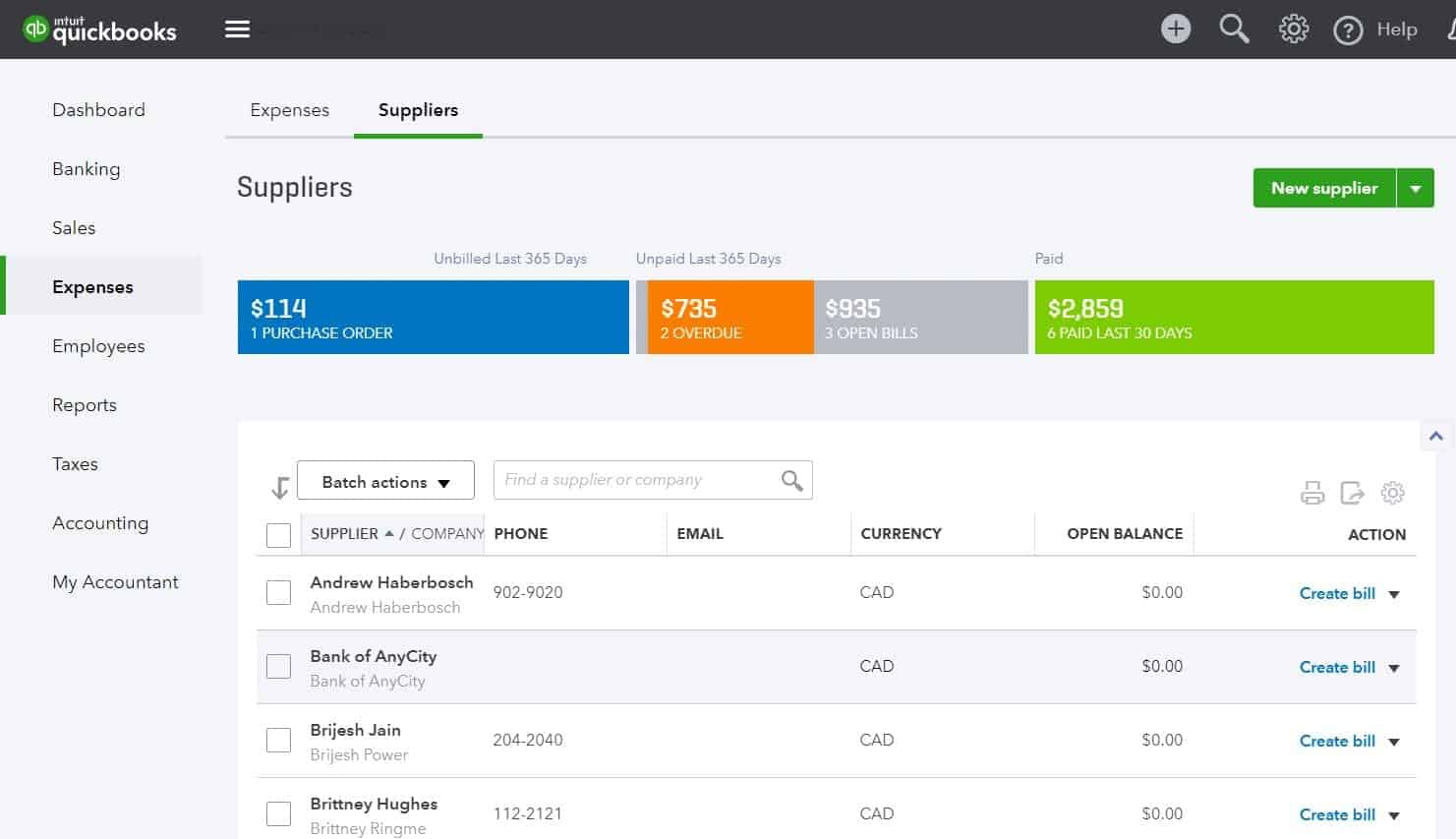 Checks: You can write and print checks directly from QuickBooks Online Canada.
Inventory (Plus Plan Only): You can manage products and services in QuickBooks. You can record basic item information, like the item name, sales description, SKU, and price. If you add inventory products, you can perform inventory adjustments and set inventory reorder points. There is an inventory dashboard where you can easily view which items are low and out of stock. My favorite aspects are the ability to add images to items and create item bundles.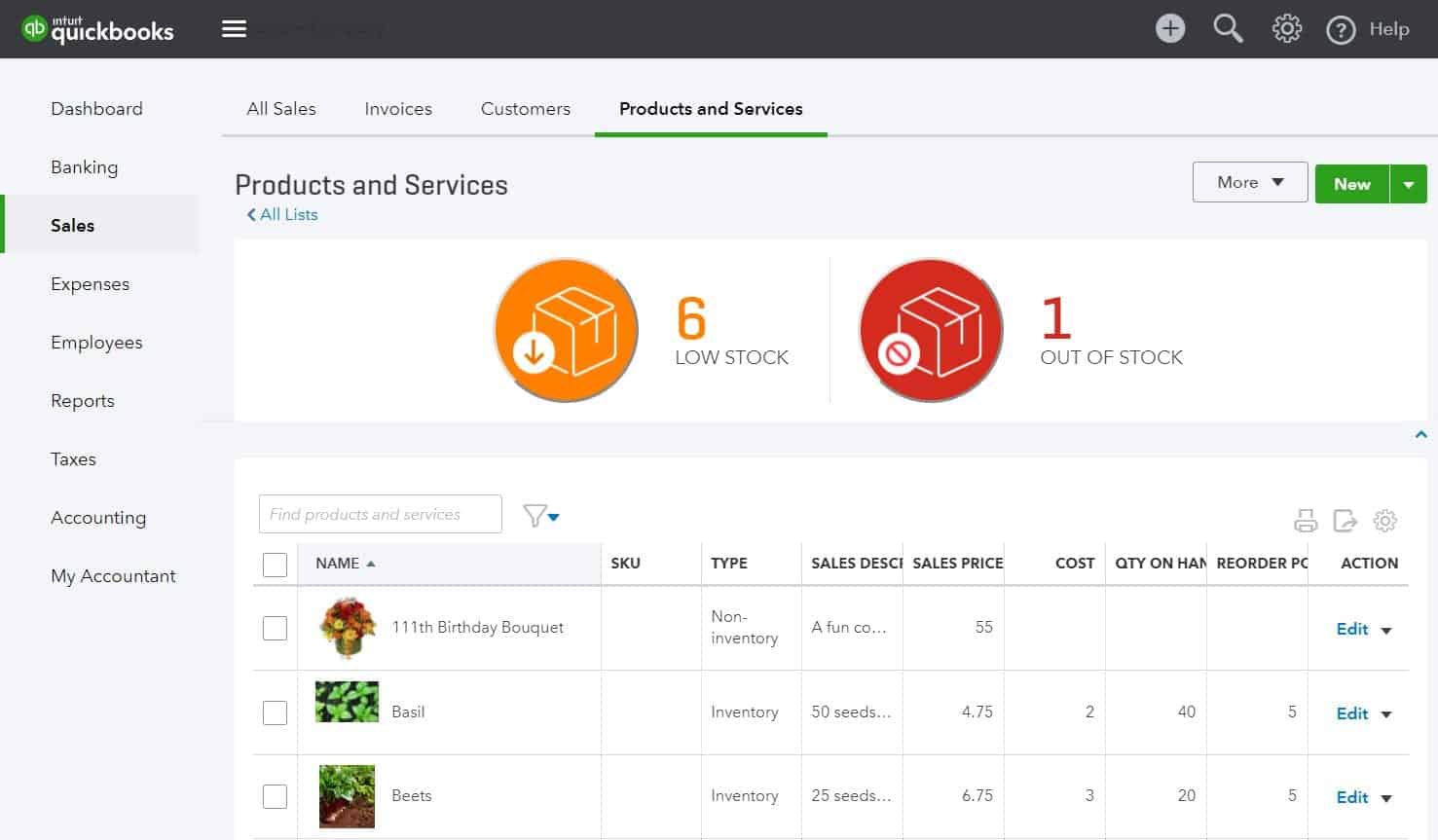 Project Management (Plus Plan Only): You have to go to advanced settings to enable projects. Once enabled, you can create projects and easily view the project's profitability. You can attach unbilled time, billed time, and transactions to projects. However, there's no way to attach an employee or rep to the project or create separate tasks.
Time Tracking (Essentials & Plus Plan Only): You can track time in QuickBooks Online Canada by entering a single time activity or creating a weekly timesheet. You can easily attach time to projects.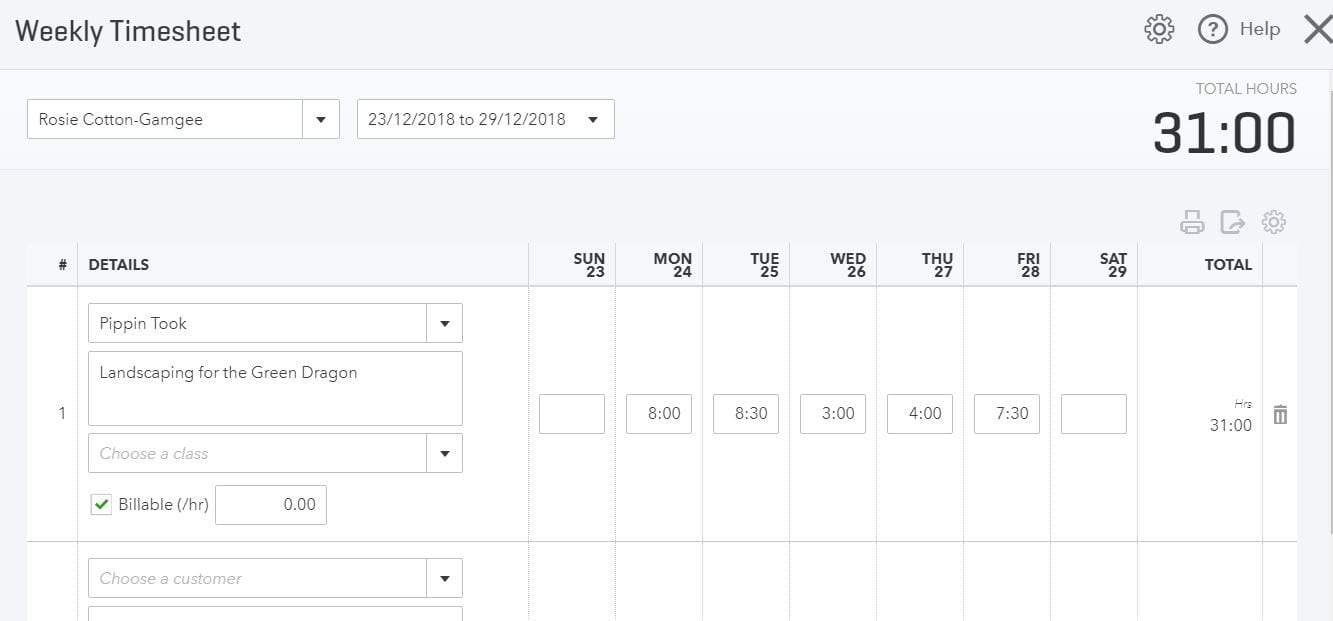 Reports: There are upwards of 100 reports available with QBO Canada. The exact number of reports varies with each plan and the features you have access to. These reports cover everything from accounting to sales to budgeting to cash flow and more.
Budgeting: You can create monthly, quarterly, or yearly budgets in QuickBooks Online Canada. You can create the budgets from scratch or pre-fill them with existing QuickBooks data from a previous period. You can run several budget reports as well.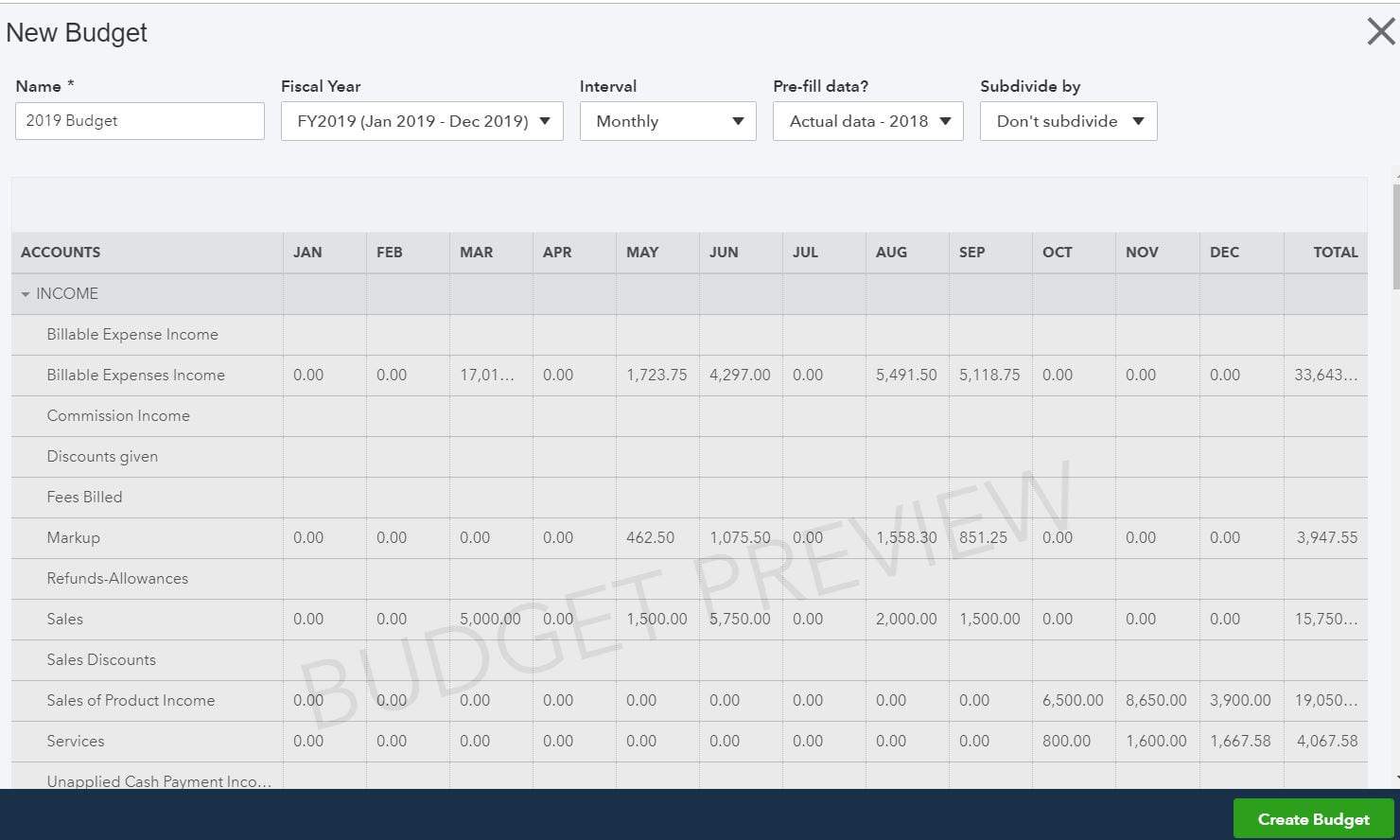 Journal Entries: You can easily create general journal entries.
Purchase Orders: You can create purchase orders and quickly convert them into bills. You can also link individual line items directly to a customer or project.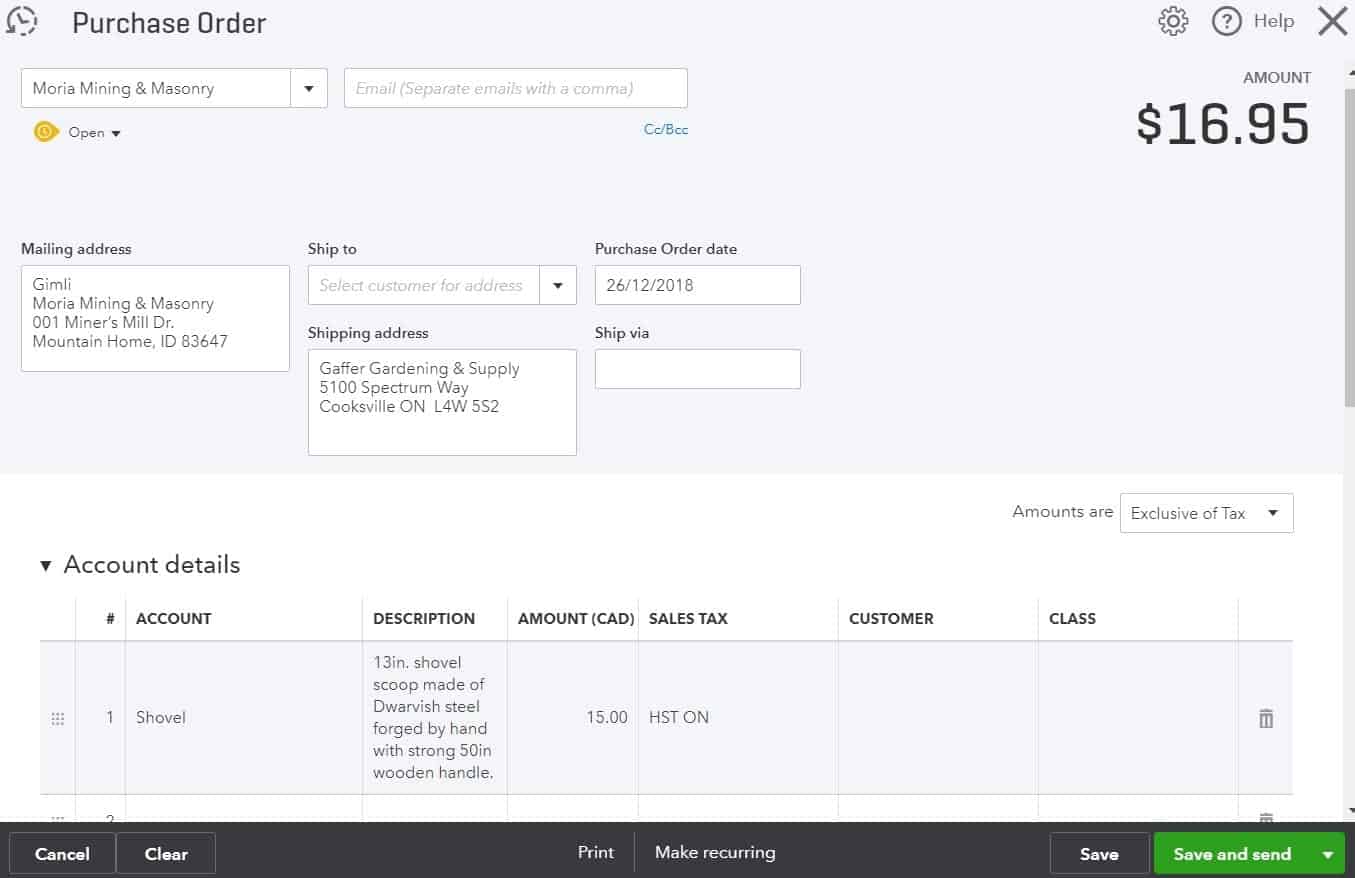 Credit Memos: You can create credit memos and refunds in QuickBooks Online Canada.
Sales Receipts: Sales receipts are another way of recording sales in QBO Canada. Instead of creating an invoice where you have to still wait for your customer's payment, sales receipts are to record sales you already have the payments for. This is how many restaurants, salons, and other similar businesses would enter daily sales into the software.
Packing Slips: You can create and print packing slips in QuickBooks Online Canada.
Class Tracking: You can create classes and locations in QBO Canada to track different aspects of your business in more detail. You can also run more detailed reports using class tracking.
Default Email Messages: You can create default email messages for invoices, estimates, credit memos, sales receipts, statements, refund receipts, purchase orders, and invoice reminders to help save you time.
Sales Tax: You can create sales tax rates and set default sales tax rates for items and customers. QBO Canada will also help you stay on top of your sales tax returns and payments.
Tax Forms & Support: QuickBooks Online Canada helps you handle your GST and HST.
Multiple Currencies (Essentials & Plus Plan Only): QuickBooks Online Canada supports over 150 different currencies.
Importing & Exporting: You can import almost anything into QuickBooks Online Canada. The software makes it easy to import data by matching columns in your .csv files to QBO's data fields. The software's exporting options leave something to be desired as you can only export reports and lists.
QuickBooks Canada Customer Service & Support
QuickBooks Online Canada has a thing or two to teach its American cousin about customer service. QuickBooks Online Canada provides great customer support with plenty of easily accessible support options and short phone wait times.
Unlike the US version of the software, QuickBooks Online Canada offers email support and true chat support (you can actually chat with a support rep instead of being stuck to sales reps as with QBO US). There is also a well-developed help center, and all of the support features can be accessed directly from within QuickBooks Online Canada.
Support is available from 9 AM to 8 PM Eastern time. Here are the support options available for QuickBooks Online Canada users:
Phone: You can call QuickBooks support directly. In my experience, response times are fast, and I was never put on hold (which is so refreshing for a QuickBooks product).
Email: You can email QuickBooks support as well. My emails were generally responded to within two hours and responses varied in terms of helpfulness.
Live Chat: You can chat with a QuickBooks support representative for help.
In-Software Help: In the software itself, there is a help button in the top right-hand corner where you can search for answers to your questions. Search inquiries will pull up help articles from the QuickBooks help center or similar questions from other users in the QuickBooks community. You can also click on the phone, email, or chat support options instead.
Help Center: QuickBooks Online Canada has a detailed help center with dozens of how-to articles and top FAQs.
QuickBooks University: QuickBooks University is a collection of training videos to help you learn how to use the software.
QuickBooks Training: There are regular webinar sessions with titles like "Accounting 101," "Converting from QuickBooks Desktop to QuickBooks Online," "QuickBooks Online Tips & Tricks," and "Get Started with QuickBooks Online."
QuickBooks Pro Advisor: You can search for a designated QuickBooks Pro Advisor to hire.
Small Business Center: There is a small business center that provides business owners with helpful advice on topics like running a business, accounting, productivity, being your own boss, and much more.
Social Media: QuickBooks Canada maintains Facebook, Twitter, LinkedIn, and YouTube accounts.
QuickBooks Online Canada Reviews
Negative Reviews & Complaints
It's nearly impossible to find customer reviews specific to QuickBooks Online Canada. There are a few testimonials on QuickBooks Online's website and a good amount of mobile app reviews, but hardly any other reviews relating directly to the software. For this reason, I've created my own list of issues with the software that I anticipate being problems for users.
Difficult To Navigate: Although the software is well-organized, it is difficult to navigate at times. Features aren't where you'd expect them to be and many features (like estimates) aren't accessible on the navigation menu, leaving you searching.
Limited Users: There are only five users allowed on the most expensive version of QuickBooks Online, which may rule this software out for larger businesses.
Mobile App Glitches: The few reviews I did find made it clear that the mobile app suffers from glitches and crashes, and several users were unable to sign into the apps at all.
Positive Reviews & Testimonials
As we mentioned above, there are very few reviews of QuickBooks Online Canada. There is a collection of around 10 testimonials on the QuickBooks website, but that's about it. Here is what those few users had to say, paired with my own impressions about the best aspects of QBO Canada.
Good Feature Selection: QuickBooks Online Canada has an amazing feature selection and many time-saving automations.
Easy To Use: A couple of users comment that the software is easy to use, and I found this to be true as well. Minus the occasional navigational difficulty, QBO Canada is well-organized and far easier to use than its desktop counterparts.
Saves Time: The most common praise of the software is that it saves time and lets business owners get back to doing what they love.
Ample Integrations: One of my personal favorite parts of the software is the large selection of integrations, including over 20 different payment processing options.
Here is what a few QuickBooks Online Canada users have to say about the software:
As a small business owner you get to do what you're passionate about — and, for me, accounting is not why I've been put on this earth. So QuickBooks takes that away from you and makes your life simple.

When building houses, you accumulate a lot of tools and QuickBooks Online is the most important. I save time and money by turning estimates into invoices easier than ever before.

QuickBooks Online frees me up to spend more time ON my business and not IN it! Because it's so efficient, I have more time to develop business and clients instead of doing my books.

QuickBooks Online really helped me to save time, helped me to focus on what really matters in my business… and it's been an amazing tool to plan and forecast where we're going and how to get there.
QuickBooks Online Canada Integrations & Add-Ons
QuickBooks Online Canada offers over 500 integrations, including more than 20 different payment processors. These integrations cover everything from eCommerce to CRMs to point of sale and more. API is available for developers.
Security
QuickBooks Online Canada 128-bit SSL encryption with a 99.8% uptime record over the last three years. Data is automatically backed up onto secure servers. Servers are hosted in an undisclosed location and are protected by 24/7 physical security, video surveillance, alarm systems, smoke detection, flood detection, and fire suppression systems. The company also has backup generators and alternative power supplies in case of an outage.
Contact QuickBooks Online Canada directly for more security details.
QuickBooks Online Canada Overview
QuickBooks Online Canada is an impressive accounting solution with strong accounting capabilities, ample features, 500+ integrations, and good customer support. The software is ideal for Canadian users looking for a way to manage their businesses. With GST and HST support and the choice between English and French, QBO Canada could be a great option for Canadian small businesses.
There are only a few downsides of the software, including limited exporting options and limited invoicing (although there are still plenty of good invoicing features and templates to choose from). The software is also not ideal for larger businesses in need of more than five users.
All things considered, QuickBooks Online Canada is a worthy small business accounting solution. Give the software a try with a free 30-day trial and let us know what you think! Since there aren't many customer reviews of the software, we'd love to hear what real users have to say.
---
The Merchant Maverick Seal of Approval 🏆
QuickBooks Online Canada


---
After hours of in-depth research and evaluation, we can confidently recommend this brand to our readers. Get started today and see QuickBooks Online Canada for yourself.
The Merchant Maverick Seal of Approval 🏆
QuickBooks Online Canada


---
After hours of in-depth research and evaluation, we can confidently recommend this brand to our readers. Get started today and see QuickBooks Online Canada for yourself.
To learn more about how we score our reviews, see our
Accounting Software Rating Criteria
.