Expert Analyst & Reviewer

Updated on:
Advertiser Disclosure: Our unbiased reviews and content are supported in part by
affiliate partnerships
, and we adhere to strict
guidelines
to preserve editorial integrity.
Shippo

Pros
Easy to use
Many pricing options
Discounts available
Free trial available
Cons
Limited customer support
Some confusing billing practices
Shippo Overview
Shippo is a shipping platform that simplifies eCommerce processes. By integrating Shippo shipping with your shopping cart and marketplaces, you can easily import orders, purchase shipping labels, and print packing slips. Shippo offers users multiple pricing plans to choose from, so it's easy to find a pricing plan that fits your business.
A close look at Shippo does reveal a few drawbacks. The software lacks key features that may be deal-breakers for some merchants, and customer support is available only by email and live chat. Nevertheless, if you're in the market for a shipping app you should take a look at what Shippo has to offer. It's easy to install and learn, and, depending on your daily order load, it could be the cheapest shipping solution you can find for your online store. Keep reading to learn if you should join the 50,000+ brands that use Shippo for their shipping operations.
Shippo Pricing
Shippo is shipping software that provides users with a few different pricing models to choose from. Your choice will depend primarily upon the number of shipments you send out each month. Plans do not include the actual postage or shipping costs for sending out your packages. Here are the available Shippo pricing plans:
Note: Shippo frequently offers significant discounts on its plans. Be sure to keep an eye out for available promotions!
Pay As You Go
Shippo's Pay As You Go plan costs $0.05 per shipping label (plus the cost of postage) and includes:
Up to 5,000 shipments per month

One user account

No monthly fees

USPS discounts

API access

Global carrier discounts

Use your negotiated rates

Unlimited carrier accounts

Unlimited platform integrations

Web app

API for Orders Endpoint

Email support

US address validation
Professional
Pricing for Shippo's Professional plan varies depending on your monthly shipments. Shippo's Professional plan costs between $10-$125 per month (plus the cost of postage) and includes everything in the Pay As You Go plan, plus:
No per-label fee
Five user accounts
Live chat customer support
Branded packing slips, email notifications, & tracking pages
Custom text for email notifications
Pricing for the Professional plan is based on the number of orders you ship per month. If your account exceeds its label limit in any given month, you will be allowed to continue shipping; however, your subscription will be moved up to the appropriate level for the next billing cycle. On the other hand, if your use of shipping labels drops, you can downgrade your service level. Refunds are not given. Here are the Professional plan rates:
$10/month for 1-60 labels
$25/month for 61-200 labels
$35/month for 201-450 labels
$50/month for 451-750 labels
$75/month for 751-1,750 labels
$100/month for 1,751-3,500 labels
$125/month for 3,501-5,000 labels
Custom pricing for more than 5,000 labels
Premier
Shippo's Premier plan is available at custom pricing and includes everything in the Professional plan, plus:
Technical implementation assistance

Dedicated customer support

15 user accounts

APIs for Order Endpoint and Batch Endpoint

Multi-piece shipments

Integration specialist

À la carte package tracking

À la carte address verification
In addition to these packages, Shippo offers insurance and global address validation at an additional expense. Pricing for these services is on a per-item basis and depends on your pricing plan.
Cloud-Based Or Locally-Installed
Shippo is a cloud-based application.
Hardware & Software Requirements
Because Shippo is cloud-based software, all you need is a computer, a strong internet connection, and an up-to-date web browser. Shippo does not currently offer any mobile apps for managing the admin panel.
Shipping Volume Of Business
We think Shippo works best for sellers who ship between 50 and 5,000 orders per month. If you ship fewer than that lower limit, you may be able to take advantage of the free plans offered by other competing shipping software (such as ShippingEasy). If you ship more than 5,000 shipments per month, you'll likely need access to a more expansive set of features than Shippo has to offer. However, for merchants who fall within that window, Shippo is a solid option.
If you need shipping software with support for a larger volume of shipments, take a look at ShippingEasy's unlimited plan.
Ease Of Use
On the whole, I found Shippo very simple to operate. This ease of use as a great advantage, especially for smaller sellers. But you don't have to take my word for it. There are a few ways you can test out Shippo's software for yourself: by signing up for a free trial, or by testing the platform by adding Shippo's Pay As You Go (PAYG) plan to your current eCommerce software. With the PAYG plan, you can play with Shippo's admin all you want. You just can't place orders without actually purchasing a shipping label and paying the $0.05 per-label fee.
To test out the platform, I chose to integrate Shippo directly with my Shopify account. All I had to do was enter my Shopify URL when Shippo asked for it. I was then redirected to my Shopify admin panel, where I clicked to confirm the integration. And just like that, I had a Shippo account. I was happy to see that the orders from my Shopify account automatically imported over. I was also pleased with Shippo's overall admin organization. It's easy to locate features using Shippo's toolbar.
From there, I could add package dimensions and verify product weights and addresses (which are imported automatically from your eCommerce software). You can also choose to add shipping insurance on this page. Just click "See all available rates" at the bottom to view more options from your chosen shipping carriers.
Shippo Features
Shippo comes with lots of basic features already built-in. You can view the full feature list on Shippo's website or take a look at my simplified list below:
Dashboard: Shippo's dashboard is well organized and easy to learn. Here's the admin page I first viewed upon creating an account: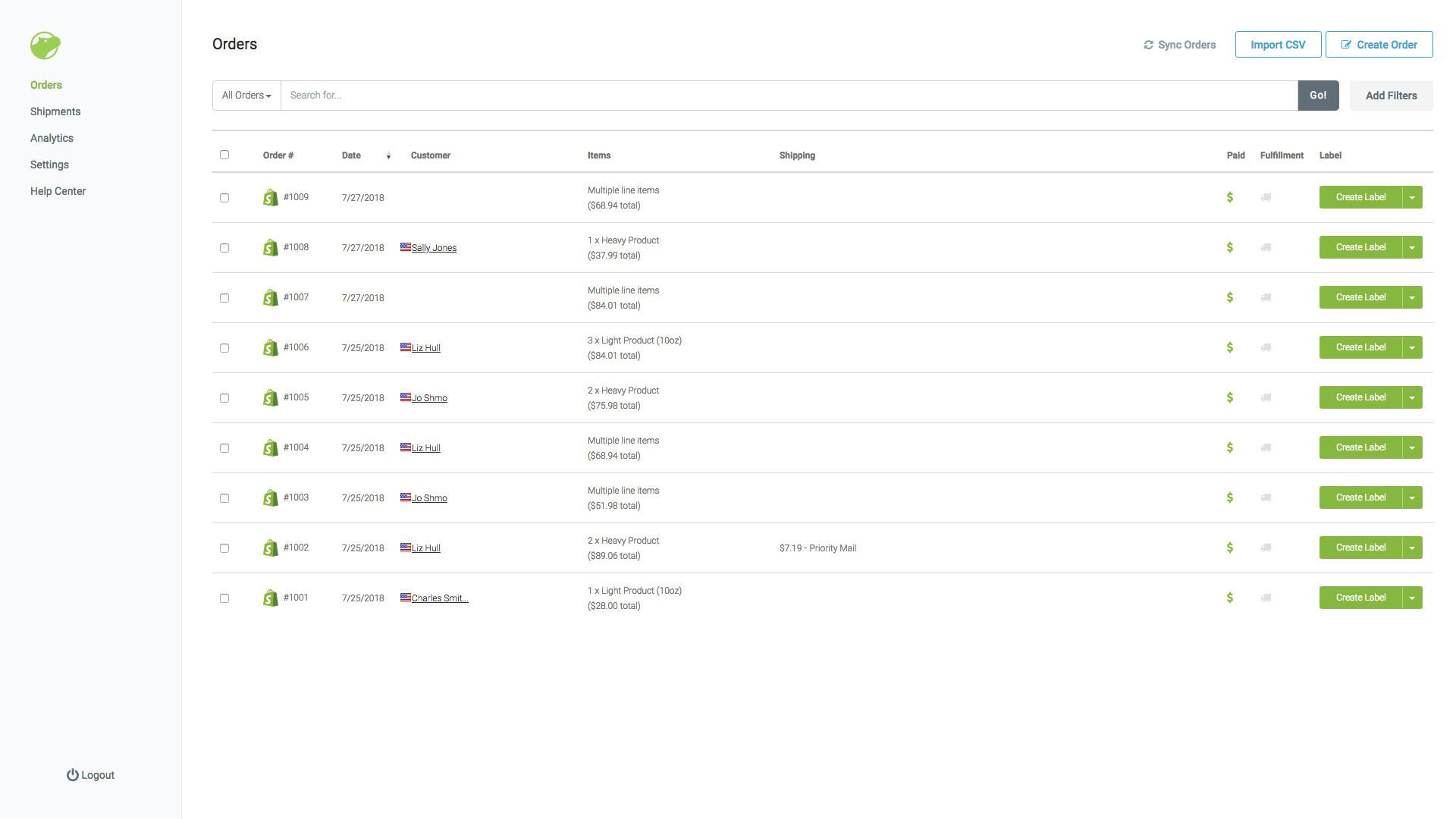 Shipping: View and select real-time shipping rates from multiple carriers. Shippo gives you access to discounts on shipping labels with USPS, UPS, and DHL (for US-outbound shipments only). You can also purchase discounted shipping insurance directly from your Shippo admin.
Multi-Channel Sync: Connect easily with multiple shipping carriers, marketplaces, and eCommerce software. Automatically sync your orders and tracking numbers between platforms and manage everything from one admin.
Shipment Tracking: Get shipping ETAs that display shipment origins and destinations.
Reports: Shippo enables you to view reports on how much you've spent on shipping, the number of labels you purchase daily, and the average price per package.
Shipping Labels: Shippo offers batch label printing features, which are a necessity for every shipping software. Print up to 100 labels at once. Scan-based return label features enable you to include return labels in your shipments; you're only charged if they're used.
International Shipping: Print customs forms for overseas shipments.
Customer Email Notifications: Notify your customers when products ship.
Built-In Address Validation: Shippo doublechecks customer addresses to make sure they are real addresses. Address validation is included for free with US shipments.
While Shippo has enough features to support many smaller businesses, it's missing some important features that I'd like to see added. For example, Shippo does not currently include important security features such as customizable user permissions. Insurance and global address verification are available, however, for additional fees.
Shippo Customer Service & Support
Shippo offers a number of different customer support resources. You can contact a representative via email and live chat, and there are also a few self-help options available. Here are Shippo's support options:
Email: All users have access to personalized support via email.
Support Form: Submit a support form, and have customer support reach out to you via email.
Live Chat: Users on the Professional and Premier plans can access customer support through live chat.
Help Center: Search Shippo's Help Center for articles and FAQs that answer your questions.
White Papers: Shippo's white papers include relevant surveys, reports, and ebooks. Shippo's Learning Center includes more guides and expert advice.
Videos: Shippo's YouTube page features short tutorial videos that teach Shippo's basic features.
Find An Adviser: Users on the Premier plan gain access to dedicated customer support.
Blog: Read product announcements and articles on efficient shipping practices.
Social Media: Shippo has active accounts on Twitter, Facebook, LinkedIn, and YouTube.
Shippo Reviews
In general, customers approve of Shippo. However, the software still has room to improve.
Negative Reviews & Complaints
Here's a brief list of the most common complaints users mention:
Billing Issues: Users report unexpected charges on shipping labels and difficulties getting refunds on canceled postage.
Poor Customer Support: I've seen an increasing number of complaints regarding Shippo's response time. It seems reps are slow to get back to email requests for support. Furthermore, some customers are frustrated that they cannot call in with questions.
Discounts Are Not The Lowest: Some users report that Shippo's discounted shipping rates are not as low as those offered by its competitors.
Positive Reviews & Testimonials
As I've said, customers are mostly satisfied with Shippo. Here are the reasons they approve of the platform:
Easy To Use: Shippo is very easy to use. I was able to figure out basic features without ever needing to visit the support documentation.
Easily Integrates: Shippo integrates easily with many popular shopping carts, which makes daily operations a whole lot easier.
Flexible Pricing Model: Many merchants love the PAYG pricing model. This model lets smaller merchants access automated shipping at a very low rate. I like that Shippo also now offers Pro and Premier plans that are better suited to most sellers.
Shippo Integrations & Add-Ons
Shippo integrates with 59 shipping carriers, eCommerce platforms, inventory management software, ERPs, and marketplaces. Here are a few eCommerce names you may recognize:
Amazon
Etsy
Zapier
Shopify
Square
Wix
Magento
Ecwid
Squarespace
BigCommerce
WooCommerce
Weebly.
You can integrate Shippo with fulfillment partners, too, including ShipBob, ShipHero, Cahoot, and ShipDaddy, among others. Carrier partners include USPS, FedEx, UPS, and DHL Express as well as an impressive number of regional and international carriers.
You can also import order information to Shippo via CSV files or by connecting your software via Shippo's API for Order Endpoint.
Security
Shippo does not offer any advanced security features, such as the ability to set user permissions for different user accounts. This means that everyone who accesses Shippo has the same permissions as the account owner. Shippo does not offer much information on its data security. The company is compliant with the EU-US Privacy Shield Framework, and we have seen that the site uses HTTPS security in the admin. However, aside from this, we weren't able to find much information on Shippo's security protocols.
Final Verdict
If you're looking for shipping software that lets you pay for only the services you need, Shippo may be the way to go. Shippo's flexible pricing models make the software accessible to many different types of merchants. Also, Shippo's simple UI and strong usability result in software that is a great option for merchants without a lot of technical experience.
Shippo is not a perfect option. Customer service could use some improvement, and there are a few areas, such as security, where Shippo could expand its features. Nevertheless, for many merchants, Shippo could be a good software solution.
If you're interested in testing Shippo, sign up for a free trial or test out the PAYG plan. To learn more about the range of shipping options available to you, check out this comparison chart of our favorite shipping software.
---
The Merchant Maverick Seal of Approval 🏆
Shippo


---



After hours of in-depth research and evaluation, we can confidently recommend this brand to our readers.
The Merchant Maverick Seal of Approval 🏆
Shippo


---



After hours of in-depth research and evaluation, we can confidently recommend this brand to our readers.
To learn more about how we score our reviews, see our
Shipping Software Rating Criteria
.
Read Next