WIX POS Review
Wix POS is an exciting new offering for retailers or service-based businesses that already use a Wix website to sell online.
Expert Analyst & Reviewer

UPDATED
Advertiser Disclosure: Our unbiased reviews and content are supported in part by
affiliate partnerships
, and we adhere to strict
guidelines
to preserve editorial integrity.
Wix POS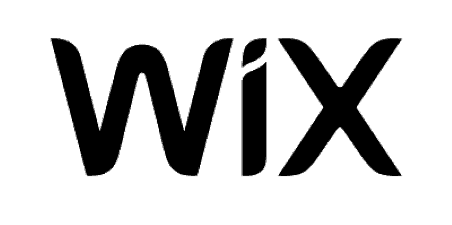 Pros
Good for retail, services, and events
Predictable flat-rate pricing
Inexpensive hardware
Built-in Wix eCommerce integration
Cons
Currently only available to select US Wix merchants
No free trial
Limited integrations
WIX POS Overview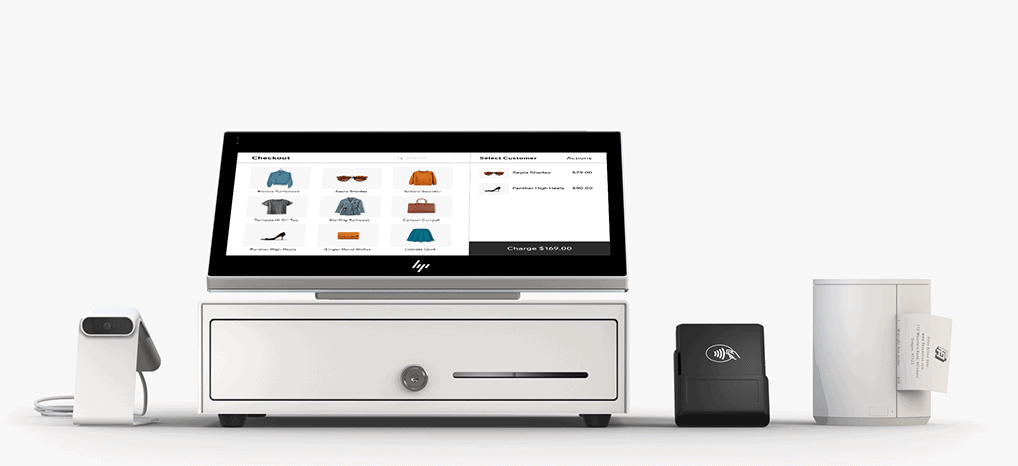 Wix POS is a brand-new POS offering that allows Wix eCommerce users to accept in-person and mobile payments. Over the years, this popular and easy-to-use website builder has become a favorite for business website hosting and online stores. Now Wix has teamed up with Stripe and HP to offer a mobile, online-integrated POS system. But how does Wix point of sale stack up when it comes to in-person sales?
With its attractive mobile POS hardware, flat-rate processing, and built-in eCommerce, Wix is a noteworthy point of sale solution for both retailers and mobile, service-based businesses. However, at this time, the POS is only available to select Wix users. Specifically, you will need to be a US-based Wix merchant using Wix Stores, Wix Bookings, or Wix Events and be verified for a Wix Payments POS account.
Keep reading this Wix POS review to learn more about Wix's new retail POS system and whether it could be a good choice for your small business.
WIX POS Pricing
Wix does not charge users any additional monthly fees to use its POS software. However, you will need a Wix Premium account to accept payments using Wix (either online or in-person). Wix Premium business plan options include the following:
Business Basic (Accept Payments): $23/month
Business Unlimited (Grow Your Business): $27/month
Business VIP (Full Suite): $49/month
On any of these plans, Wix merchants will have access to eCommerce (Wix Stores), scheduling software (Wix Bookings), and event management software (Wix Events), as well as Wix POS.
Other than your $23-$49/month Wix business plan fee, the only other costs associated with using Wix POS are your hardware costs and payment processing fees, which I'll get to shortly.
Cloud-Based Or Locally-Installed
Wix POS is cloud-based and needs an internet connection to process credit card payments or sync inventory across your sales channels. Though Wix Retail POS software comes pre-installed on your POS hardware, you'll need an internet connection to log in to your Wix account on the POS.
If you use Wix Mobile POS, you'll access the POS via a downloadable mobile POS app ("Wix Owner"), available for Apple and Android.
Specific Industry
Wix POS is suitable for retail businesses, eCommerce businesses, service-based businesses, mobile businesses, and event management businesses. To use Wix POS, you will need to have an online Wix store, use Wix to accept bookings online, or sell event tickets online using Wix.
Specific Size Of Business
Wix POS seems to be best suited for small-to-medium-sized businesses. However, Wix eCommerce does have an enterprise plan, so Wix may eventually roll out an enterprise-level POS offering to match.
Ease Of Use
Wix is known for its excellent ease of use when it comes to its website builder. I can't imagine that the ease of use for Wix POS would differ significantly from the rest of Wix's lineup. The UI of the POS is very similar to that of a Wix Stores website.
However, I can't speak to the ease of use of Wix POS in much detail since there is no free trial available, and I have not yet had hands-on access to a Wix POS system.
As far as setting up your Wix POS account, the steps seem easy enough:
Set Up Your Wix Plan: Note that it must be a Wix Premium plan with Wix Stores, Wix Events, or Wix Bookings.
Get Verified: Apply for a POS account with Wix Payments.
Buy Your Equipment: Purchase your POS hardware from the Wix Store.
Log In: Do this by logging in to your Wix account on the POS tablet or Wix Owner app.
After completing these steps, you'll be ready to start selling.
Hardware & Operating System Requirements
Wix Retail POS exclusively uses custom HP tablets, which come pre-installed with Wix POS software, and Stripe BBPOS Payment Terminals. You can also purchase other hardware accessories, such as cash drawers and barcode scanners, on the Wix POS website. If you are using the mobile version of Wix POS, you can use the BBPOS reader with the Wix Owner app installed on your own iPhone or Android phone.
When it comes to Wix Retail POS hardware options, you can choose from a $550 Your Retail Essentials kit or a $750 Complete Retail POS Package. Wix POS hardware has a 30-day money-back guarantee.
Here's what's included in Your Retail Essentials:
HP 14″ tablet with customer display
BBPOS card reader
BBPOS card reader dock
Wix POS software
The Complete Retail POS Package comes with everything in Essentials as well as:
HP cash drawer
HP barcode scanner
HP receipt printer
If you're only purchasing the BBPOS card reader (pictured below) for mobile selling with your smartphone, you'll just pay $49. The BBPOS is a standard Bluetooth mobile reader that can accept swiped, dipped, and tapped payments.
Wix POS hardware comes with a one-year warranty and a 30-day money-back return policy. It can be purchased by a verified Wix Payments user only.
WIX POS Features
Wix POS is a retail POS solution for a traditional storefront as well as a mobile POS for on-the-go selling. Wix also has specialized features for selling event tickets and services. The exact feature set will depend on whether you're using Wix Retail POS or Wix Mobile POS.
Here are some of Wix's core POS features:
In-Person Retail: Take payments, apply discounts and custom charges, and issue refunds.
Mobile Retail: Sell your wares on the go at pop-ups, markets, events, etc.
Employee Management: Set employee roles and permissions, enable time tracking, and view timecards.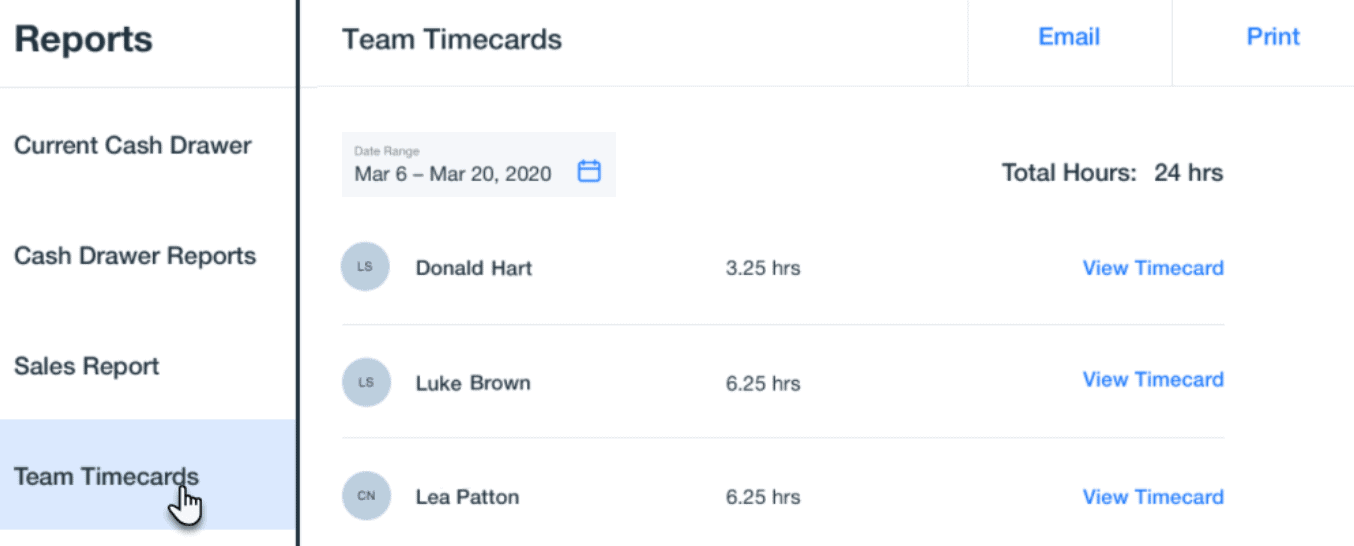 Catalog Management: Manage and edit your entire product catalog across all sales channels.
Mobile Services: Accept in-person payments for sessions, appointments, classes, and more.
Mobile Ticket Sales: Sell event tickets at the door using the mobile POS.
Mobile Invoicing: Create and send invoices for mobile POS sales.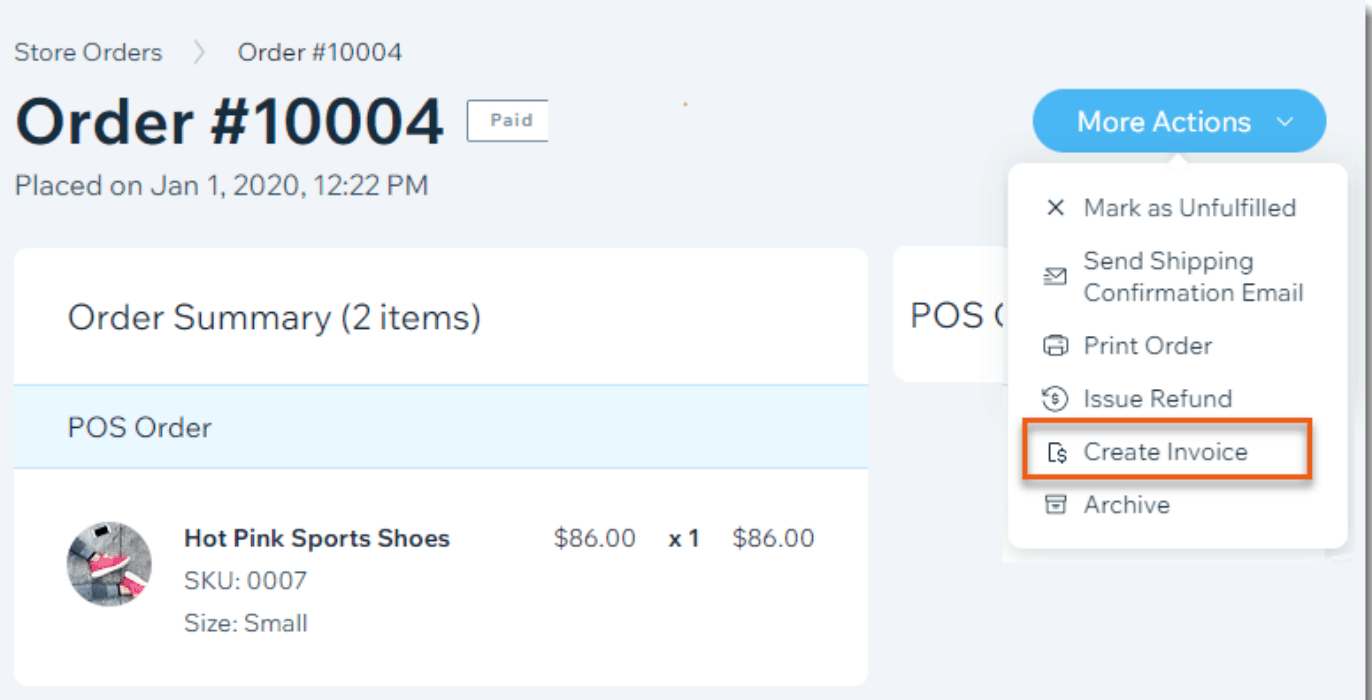 Sales Analytics: Access overview of all payments and payouts and from your dashboard.
Favorites Screen: Create a favorites list of your most popular products and most commonly used discounts.
Customer Management: Save customer information and purchase history by adding them to the system at checkout.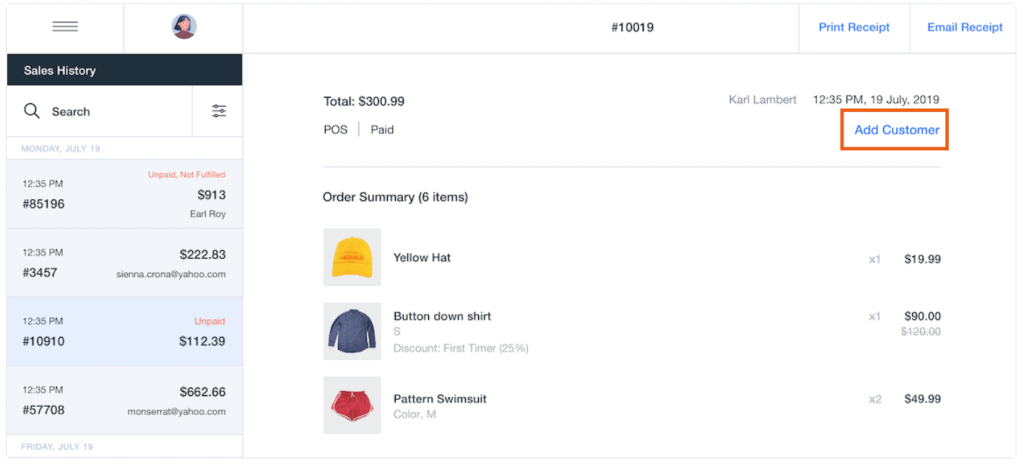 Wix POS also connects with the Wix features you have installed on your Wix website, which can include Wix Bookings to take appointments, Wix Events to manage online ticket sales, or Wix Stores to sell retail products online. For example, you can use Wix to sell tickets to a conference online and at the door. Or you can use Wix to book appointments and then collect payment for the appointments in person.
Although Wix POS doesn't appear to be the most advanced retail POS available in terms of features, the system's major draw is that it syncs with your Wix business website, making this POS a strong contender for businesses that already use the Wix platform.
Customer Service & Support
You can contact Wix support by submitting a web ticket or requesting a callback. Wix does not have a separate support website that's specific to POS, so you'll have to start at the main wix.com/contact page to place your callback request. For callbacks in English, the support hours are 24/7. Unfortunately, it's not possible to call Wix and speak to a live person immediately. Wix also has a support presence on Facebook and Twitter (@WixHelp) and an online help center for self-service.
Our own experience with Wix's customer support has been positive.
Compatible Credit Card Processors
Wix POS uses its own in-house payment processing solution, Wix Payments. Using Wix Payments, you can accept all leading debit and credit cards, including chip, magstripe, and contactless NFC cards, as well as digital wallets, such as Apple Pay and Google Pay.
Wix Payments payment processing fees are as follows:
2.6% for in-person transactions
2.9% + $0.30 for online transactions
Wix Payments does not charge a chargeback fee or other miscellaneous fees that traditional merchant services providers charge.
Wix eCommerce users can also integrate with Square as their mobile processor to take in-person payments. However, you can only use Square as your processor if you use Square POS instead of Wix Retail POS or Wix Mobile POS. For comparison, Square charges 2.6% + $0.10 for in-person transactions.
Some international merchants can integrate the SumUp mobile POS with their Wix eCommerce website to process in-person payments, but as with Square, you won't be able to use Wix POS with SumUp. Also, this integration is not available in the US.
WIX POS Integrations & Add-Ons
Wix has numerous software integrations for eCommerce websites, including QuickBooks, PayPal, Mailchimp, Eventbrite, and others.
However, it's not clear which, if any, of these programs will integrate directly with the Wix POS. The only third-party Wix POS integration options mentioned on Wix's website are these two mobile processors:
Some outside companies say they can integrate Wix with various popular POS systems for a fee. Some of those POS integration options may include systems such as Lightspeed Retail, Clover, ERPLY, and Vend. As mentioned previously, outside POS companies/payments processors will not work with Wix POS; they'll just transfer over your Wix eCommerce sales data to your POS dashboard.
As for in-house add-ons, Wix Retail POS integrates with:
Wix Mobile POS integrates with:
Wix Stores
Wix Events
Wix Bookings
Though there don't seem to be many (if any) third-party integrations that work with the Wix POS system, Wix's in-house add-ons are useful if you already use Wix for eCommerce, events, or bookings.
WIX POS Reviews
Because Wix POS is so new, there aren't really any Wix POS reviews to speak of, apart from a few customer testimonials on Wix's website. There are, however, a lot of reviews for Wix in general, some of which may be relevant to Wix POS users.
Wix Inc. has an A+ rating on the BBB website, with 670 complaints closed in the last three years. On Trustpilot, Wix's reviews are pretty bad, with a score of 1.6/5. On the other hand, the "Wix Owner" app has great reviews, with a score of 4.8/5 out of more than 11,000 ratings on the App Store and 4.5/5 on Google Play, out of 15,284 total ratings. (Wix Owner is the app that some Wix users can use as a mobile POS.)
Negative WIX POS Reviews & Complaints
I could not find a negative Wix POS review pertaining to the POS specifically. However, here are some common complaints about Wix in general:
Hard-To-Reach Customer Service: Many Wix reviewers say that customer service is hard to reach when there's a problem and that it's especially difficult to get a live person on the phone. Wix has issued generic responses to these complaints on review websites, stating:
Our support team is still here for you with the live chat on facebook and twitter. As well, you can request a callback with one of our Customer Care experts.
Issues With Wix Payments: Some Wix users report issues with online payments processed through Wix Payments, including withheld funds. Though this can be an issue with any third-party payment processor (Square and PayPal included), it's still not a fun issue to have to deal with, especially when it's unclear why your funds are being withheld.
Auto-Renewals: Some Wix website owners complain that their domain plan has auto-renewed after a year and that they were not issued a refund when they requested one after they noticed the charge. There is a process to request a refund from Wix, but some customers say that their refund request was denied.
Positive WIX POS Reviews & Testimonials
Here are some positive things Wix customers have mentioned in reviews and testimonials:
Easy To Use: Many Wix users have remarked how easy Wix's web builder is to use, even to the so-called "computer illiterate." Again, these accolades don't apply to Wix POS specifically, but based on the promotional materials Wix has released, the user interface of the Wix Retail POS seems to mirror that of a Wix Stores website.
Helpful Customer Service: While some Wix users complain about the customer service, others praise the customer service as helpful and courteous.
Multichannel Inventory: In a customer testimonial video posted by Wix to YouTube, one Wix Retail POS user praises the POS for making it easy to manage and sync online and in-store inventories, eliminating the need to do this manually. As COVID introduced many retailers to online selling, they want to keep their offline and online sales channels synced now that they're back open for in-person business.
Customer Management: In the same Wix POS testimonial video, a Wix user says he appreciates that the POS is "data-driven" and gives the example of how the system saves all of a customer's purchases to their profile.
WIX POS FAQs
Final Verdict Of Wix Point Of Sale
Wix POS is an exciting new offering for retailers or service-based businesses that already use a Wix website to sell online. Wix POS features affordable monthly pricing and competitive flat-rate processing. Being a Wix product, I have little doubt that this system would be a good bet for any existing Wix user who wants to sell in person.
Eventually, I imagine that the Wix POS will be made available to all merchants, including existing Wix users and those who are new to the Wix platform. But for now, this retail POS isn't easy for newcomers to access, especially since the software is locally installed on Wix's purpose-built HP POS tablets. It isn't even possible to test drive the mobile POS unless you are already on a paid Wix plan and have been verified for a Wix Payments account.
Until Wix POS becomes more accessible, giving the system a particularly meaningful rating will be difficult. When that happens, I will revisit this Wix POS review and update it accordingly.
Want a tried and tested retail POS or mobile POS? I recommend the following systems:
---
The Merchant Maverick Seal of Approval 🏆
Wix POS


---
After hours of in-depth research and evaluation, we can confidently recommend this brand to our readers. Get started today and see Wix POS for yourself.
The Merchant Maverick Seal of Approval 🏆
Wix POS


---
After hours of in-depth research and evaluation, we can confidently recommend this brand to our readers. Get started today and see Wix POS for yourself.
To learn more about how we score our reviews, see our
Point Of Sale (POS) Software Rating Criteria
.